Making your own diy crib sheet is easy, fun and actually quite affordable!
With this easy diy crib sheet tutorial you can really brighten up the nursery and choose fabrics that coordinate perfectly with your decor!
I whipped up a few DIY crib sheets one afternoon and my favorite is this striped teal sheet. I used seersucker and after an initial wash it is super soft. Plain quilting cotton works great too and I'm thinking of doing some in a cozy flannel or even minky for the cooler months

Since we have a mini crib (which I love!) it's nearly impossible to find sheets so I'm glad it's so easy to make my own. I also have all of the instructions you need to sew up some sheets for your full size crib or toddler bed as well. We have the full range of beds at our house 🙂

This tutorial is brought to you as part of the Home Sewn Series over at Living With Punks. Make sure you go check out all of the fun posts and scroll on down for an AMAZING giveaway!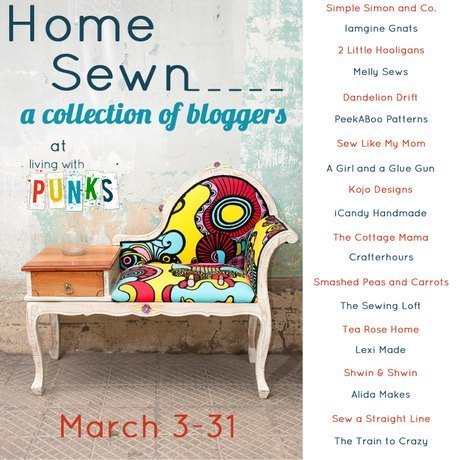 Let's get started!
DIY Crib Sheet Materials
Fabric: Seersucker, Quilting Cotton, Flannel… (1.5 yards for a mini crib and 2 yards for a full size crib or toddler bed)
1/4″ elastic (1.5 yards for a mini crib, 2 yards for a full size crib)
Crib mattresses do vary in depth but these dimensions should work for a majority of cribs.
DIY Crib Sheet Instructions
1. If you have your mattress handy just lay it on top of your fabric piece. Leave enough fabric on each side to wrap around the mattress. I left a 7″ overhang for my 3″ deep mattress and it would've been plenty for a thicker mattress as well. From each corner cut out a square in the same dimensions as your fabric overhang. For my mini mattress that was 7″.  Skip on down to get standard cutting dimensions for any sheet.

Here's the dimensions you'll need for a standard crib or mini diy crib sheet. I've included the mattress dimensions so you can measure against your own mattress and adjust as needed. The dimensions for the fabric are listed right on the "sheet" portion of the diagram.
2. Now fold the fabric at each corner so the right sides of the fabric are together and the "cut-out" edge from your square are lined up (7″ for mini crib and 9″ for standard crib). Sew together and finish with a serger, zig-zag stitching or pinking shears to prevent fraying in the wash.

3. Finish the entire outside edge of the sheet with a serger, zig-zag stitch or pinking shears. For an extra nice finishing touch you can also iron it under 1/4″ all the way around which will prevent fraying and give a nice finish. Fold the bottom edge up 1/2″ and sew in place to create your elastic casing. Leave a 1″ gap so you can thread the elastic through.

4. Thread your elastic through the casing, sew the ends together and close up the gap in the casing. You can use a large safety pin or a bodkin (much quicker!) to thread the elastic through. I find it's easiest to start with a long length of elastic and then tug it to the desired snugness and trim the excess after trying it on the mattress. For a mini crib you'll need approximately 1.5 yards and for a full size crib or toddler bed approximately 2 yards.

And that's it for the DIY crib sheet! Now make a few more… you know you'll need them 🙂

Need a Crib Skirt too? Learn how I made mine right here
Also, be sure to join our sewing community in our Peek-a-Boo Pattern Shop Facebook Group.