Welcome to Peek-a-Boo Pages!! Over the years we've had a few different tutorials on how to make a DIY Baby Mobile. Today, I've decided to combine them all to give you all 3 of our tutorials on how to make a mobile for baby.
In total we have:
The DIY Owl Baby Mobile That Requires Some Sewing;
The Black and White DIY Baby Mobile; and
The 3 Dimensional Bird DIY Crib Mobile.
Whether you're into sewing or would like to skip that and make one out of felt I hope you scroll through and check them all out. Without further interruption, here's our takes on how to make a mobile.
DIY Baby Mobile Tutorials
Baby Mobile 1 | Owl Mobile for Baby
Since we're living in a temporary apartment this summer the kids' room is a bit barren. I decided that it could use a little livening up and came up with this quick and easy owl baby mobile. The mobile will match our nursery back in Provo perfectly so we'll get to use it this fall too! I love all of those little owls and hopefully they will lull our little man right to sleep:)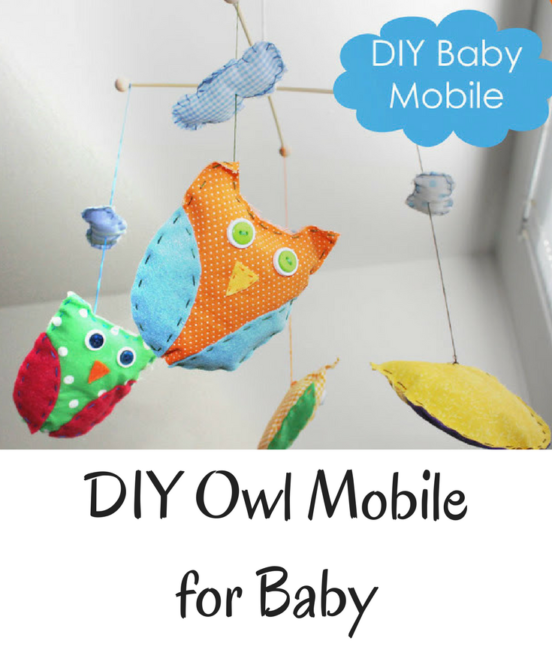 Owl Mobile Materials:
Felt, fabric scraps, etc.
Embroidery Floss
2 Dowels
4 Wooden beads that fit on dowel ends
Polyfill
String to hang with
Owl Mobile Instructions:
Owl Mobile Step 1: Cut out all of your mobile pieces- I used a mix of felt and fabric scraps. Since the mobile won't ever be washed or played with you don't have to worry about fraying too much. For the eyes I did buttons.
Owl Mobile Step 2: Sew on all of your mobile applique pieces- I used embroidery floss and a simple running stitch. I made sure to sew the eyes on super well- don't want buttons falling into the baby's bed! After everything is sewn to the front you can sew the front and back together. Add in a little stuffing before you sew it all the way shut to give your owls some poof when they're hanging from the mobile.
Owl Mobile Step 3: For the mobile skeleton, cross your 2 dowels (I actually used skewers because we already had some on hand) and secure together. I used hot glue and then wrapped around the 2 with a twist tie. Next I added wooden beads to the end of the skewers to hide my pointy ends and dress up the mobile a bit.
Owl Mobile Step 4:. Tie a length of embroidery floss to each corner of the mobile. Thread it through a cloud and knot on the other side and then knot it to the back of the owl. I tied it to the owl about 1/4 of the way down from the top of the mobile and mine hang so the baby can see them and they're visible from an adult point of view.
Happy little flock of owls all ready to go…
Hang the mobile from your ceiling with a piece of string and enjoy! ***Make sure you tie everything securely on the mobile so pieces can't fall into the crib. I triple knotted everything and reinforced the mobile with glue. Dowels are the sturdier and recommended option for the mobile structure.
Baby Mobile 2 | Black and White Mobile for Infant Changing Table
Now here's Cherie with the Black and White Mobile for Infants:
Projects for newborns have a special place in my heart because the arrival of my daughter is what really catapulted me into the world of sewing. And now I can't imagine my life without either! Today I'm going to show you how to make a stimulating Black and White DIY Baby Mobile for your baby's changing table.
Out of aaaaall of the things that I made for my daughter when she was an infant, the one that was the most loved and the most used was a diy baby mobile similar to this. She. Loved. It. She was so mesmerized by the high contrast designs on the mobile – we actually called it "the babysitter" for awhile because she could just lay there and stare at it forever!
Studies say that newborns can best register black, white and red in high contrasting patterns. These designs stimulate their eyes and promote brain development. This is probably most beneficial during the first 3-4 months of life, though my daughter loved her mobile well past her first birthday (we had to keep adjusting the height so she couldn't reach it)! Perfect for a nursery!
Because these mobile designs stimulate (not soothe), this mobile would be best placed over a changing table in the nursery or play area as opposed to a crib.
Black and White Mobile Materials
So let's get started! Here's what you'll need for this mobile:
An embroidery hoop (10 inches)
Paint and paint brush
White and black felt (I like wool or wool blend)
Embroidery floss
I bought this 10 inch hoop at Joann's and at full price it was $1.50. You can use polyester felt, but I prefer wool or wool blend felt because it's thicker and will make the mobile squares stiffer.
I bought 1/8 of a yard in white and black. Luckily I had the rest of the supplies at home already, so between the felt and the hoop (and a couple of coupons), I only spent about $3.50 for the whole mobile. Not bad . . .
Black and White Mobile Instructions
Black and White Mobile Step 1: So the first step for this mobile is to separate the two hoops. One has some hardware on it and you can toss that in your "stuff I swear I'll find a purpose for someday" pile (please tell me you have one too). The other hoop should have nothing on it. Paint your mobile hoop with acrylic paint or spray paint. A couple of coats will ensure a nice opaque finish. I went with black because I thought the dark circle against the white ceiling would add another visual element of interest. But you can paint it whatever you color you want!
Black and White Mobile Step 2: Set the mobile hoop aside to dry and cut your felt into 4×4 inch squares. You'll need 6 white ones and 4 black ones.
Black and White Mobile Step 3: Let's also cut your embroidery floss for the mobile strings. The lengths I give here are based on what I needed (determined by the height of my ceiling and my changing table), so you may need to make adjustments. I used one piece that was 90 inches and 4 pieces that were 50 inches.
Black and White Mobile Step 4: Sketch out some designs for your mobile pieces.
These were my original sketches, though some of the designs came out different. I'm going to walk you through the 5 diy baby mobile designs I made, but you can be as creative as you want!
Step 5 | Make the Felt Mobile Designs
1. Cut out strips of white felt and lay them down diagonally on a black square.
2. Cut a piece of white felt 4 inches long. Draw 4 wavy lines, cut them out and lay them on a black square.
3. Draw nine circles on some black felt (trace a coin). Originally I made them all the same size, but before I sewed them on I decided to make 4 of them smaller. A nickel and a dime might be about right.
4. Draw concentric circles about 1/2 inch apart on black felt and create a target design on a white square
5. This is probably the most complicated one. First cut two black 2×2 inch squares. Keeping in mind that 2 of the sides of the square will be part of the seam allowance (dashed line), draw a small square in the "middle." Carefully cut the square out, repeat with the other black square and arrange as shown. Don't forget that you'll lose a 1/4 inch on all four sides!
Black and White Mobile Step 6: Now top stitch all the felt designs on and trim anything extra felt hanging off the edge of the square. Take your time with the circles and curved shapes.
Here's what the mobile squares should like at this point:
(Notice the change I made in the 9 circles design)
Black and White Mobile Step 7: Put the mobile squares aside while we prep the other 5 squares, which will be the back pieces. Felt doesn't generally have a right and wrong side, but I've labeled them just in case you're using something that does.
Use a ruler to find the center of the mobile square and mark it on the wrong side. Measure about a 1/2 cm to either side of the center to make a 1 cm line.
Black and White Mobile Step 8: You'll need to decide which of the designs you want in the center of the mobile. That design will get the longest (90 inch) piece of thread. For the other 4 designs you'll use the shorter pieces of embroidery floss. Thread your needle and enter from the right side on one end of the centimeter long mark and then push the needle back through at the other end of the centimeter long mark (geez, did that make sense?).
Black and White Mobile Step 9: Now pull the mobile threads till they are even lengths and the felt square hangs parallel to the ground. Flip the square over and tie a simple knot close to the square. You don't want to tie it so tight that the square puckers. Make sure that it lays flat and it's ok if there is a little sliding room.
Black and White Mobile Step 10: Wind up the thread and lay it in the center of the mobile square so it'll be out of the way when you sew the two sides of the square together. Repeat with the other 4 squares (remember to use the longest piece of thread for your center square).
Black and White Mobile Step 11: To sew the square front and back pieces together, lay your patterned squares on top of the back square pieces, right sides together. Pin and sew them together with a 1/4 inch seam allowance, making sure to leave an opening on one side.
Black and White Mobile Step 12: Trim the corners and flip them right side out. Use a chopstick to poke out the corners and press. Top stitch all the way around with a 1/4 inch seam allowance making sure to sew the opening shut. As you top stitch, make sure to move the embroidery floss aside so you don't sew over it. Now you should have 5 felt coaster-like squares for the mobile with thread coming out the back side.
Black and White Mobile Step 13: Decide how long you want each mobile square to hang from the hoop and tie a simple knot at that mark.
Black and White Mobile Step 14: Separate the two pieces of thread and place the hoop in between them.
With the two pieces of thread back together, tie a knot above the hoop as close to the hoop as possible.
Black and White Mobile Step 15: Now repeat this with the other 3 mobile squares that will hang from the hoop. Place them exactly 90 degrees apart from each other. Pull all the thread to the center above the hoop in one hand. For the center mobile square, add the loooong threads to the bunch in your hand and adjust the length of the thread depending on where you want the center square to hang. Make sure the hoop is parallel to the ground. If it is tilted, you need to adjust the lengths of the thread. Tie a knot with all of the strands of thread about 6-7 inches about the hoop (the thread should measure at least 8 inches from the hoop to the knot – this will help for the next step).
Black and White Mobile Step 16: Trim the short threads to a 1/2 inch above the knot. Be sure not to cut the two long threads!!! You'll need those to hang the mobile.
Black and White Mobile Step 17: Cut out 2 circles about 1.75 inches in diameter.
Place them wrong sides together and top stitch around half of the circle.
Slip the circle over the knot and top stitch the rest of the circle making sure to sew over the thread so the circle doesn't slide up and down. If you can't machine sew this because the hoop gets in the way, you can hand stitch it.
Black and White Mobile Final Step : And you're basically done with the mobile for your nursery!! I just tied a loop at the end and used a ceiling hook to hang it.
Done with the DIY Baby Mobile ! Now give it a little spin, sing a song and watch how your baby becomes mesmerized by these handcrafted mobile designs. Can you see the synapses firing?? Well, maybe not, but I'm pretty sure you'll see the intrigue in their eyes.

Again, I used my toddler in these pictures because I didn't have a newborn on hand. I don't actually recommend this (or any) diy baby mobile over a nursery changing table for toddlers, mostly because it'll end up looking something like this:
Sort of like King Kong vs. airplanes? Anyways, thanks for letting me share this mobile tutorial with you. I hope you give this project a try and that your little one loves this mobile as much as mine did! And please come and say hi over at you & me some time! Thank you Cherrie – What a fun diy baby mobile! And such a great idea to hang it over the nursery changing table!
Mobile #3 | Bird Baby Mobile
Finally, to complete our mobile tour we have another diy felt crib mobile for your nursery. This homemade bird mobile is made out of felt and an easy baby crib mobile that will will make a fun addition to your nursery: Here it is:
To complete the nursery I made this fun bird baby mobile and I have a FREE diy tutorial to share with you so you can make your own 🙂
I made my cheerful mobile birds from felt and used my hot glue gun to assemble everything so this was a very quick and easy project
The mobile birds are 3 dimensional so our little bundle of joy will have something fun to look at:
For the strings I used baby ric rac and I love the extra bit of fun it adds to the mobile:
The mobile frame is courtesy of Monkey Town Mobiles and I couldn't be happier with it!
It took me all of 2 minutes to pop the pieces mobile together and it was already painted! It was so nice not having to track down wood, find our tools, get my husband to drill the holes (yes I'm a wimp when it comes to power tools), paint it, etc. Some things are definitely worth buying in my opinion and this is definitely one of them! Here's just a portion of their mobile frame color selection:
If you're planning to make your own mobile definitely check out Monkey Town Mobiles for your frame. They also sell a few complete versions as well
Baby Bird Nursery Mobile Instructions
Let's get started with this mobile for your nursery! First, you need to make a mobile pattern for the birds, clouds, etc. You could use google to find a number of easy patterns to use or just make your own.
DIY Baby Bird Nursery Mobile Step 1: Cut out all of your pieces for the mobile. I did 4 birds but you could definitely print the pattern off at less than 100% and add in a few small birds to your flock as well. All of my mobile pieces are cut from felt.
DIY Baby Bird Nursery Mobile Step 2:. Cut a slit through each bird piece along the marked line. Slide a wing in about 3/4″ and hot glue it in place on the wrong side of the bird's body.
DIY Baby Bird Nursery Mobile Step 3:. To make things secure I slide my ric rac through a button and then hot glued that right on top of the wing. You could use a paper clip too I just couldn't find any.
DIY Baby Bird Nursery Mobile Step 4:. Hot glue the other side of the mobile bird in place.
DIY Baby Bird Nursery Mobile Step 5:. Repeat until your diy mobiles flock is complete 🙂 For the clouds I did all 3 on one string to hang from the middle of the mobile.


DIY Baby Bird Nursery Mobile Step 6:. String them up on your mobile (if you got your frame from Monkey Town Mobiles it has holes pre-drilled for your string) and hang it up. I hung my mobile with an eye hook in the ceiling. Once our baby gets a bit older I'm planning to move it to above the changing table so we can get some more use out of it.
I sure hope you enjoyed all of our diy baby mobiles today. These baby mobiles will make the perfect addition to your baby's nursery and can be used as crib mobiles or, as noted in Mobile #2, they can be a great addition to a changing table.
Also, make sure to check out some of our other posts. We have a tutorial for about everything you would need to decorate a nursery for baby. Some, but not all, of our DIY Baby tutorials for the nursery include: Nursery Canvas Wall Art, Embroidery Hoop Wall Art, and the DIY Crib Sheet.
Of course, you should also be sure to come and join our sewing community in the Peek-a-Boo Pattern Shop Facebook Group. In our sewing group you can sew what you make, ask questions, and see our latest offers. We hope to see you there as well as over at KnitFabric.com – where we have our higher quality apparel fabric, at better prices, with flat rate shipping!
Happy sewing!