I love zipper pouches. They are super easy to make and have so many good uses. My kids use them for their markers and crayons, I use them for cosmetics bags, and they make great handmade gifts as well. These are really quick to make, and with this simple step-by-step zipper pouch tutorial, you'll have your zipper pouch made in no time. Let's get started!
Zipper Pouch Tutorial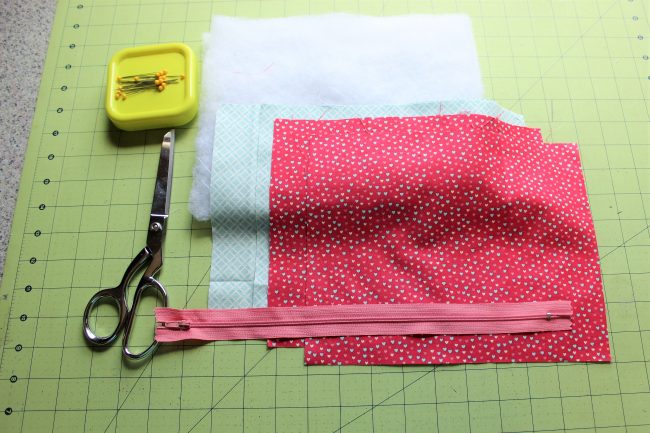 Pouch Supplies:
1/4 yard main fabric….check out Peekaboo Fabric Shop for your fabric needs.
1/4 yard lining fabric
Batting
12 inch nylon zipper
Basic sewing notions: pins, scissors, thread, etc.
Zipper Pouch Instructions:
Zipper Pouch Step 1: Start by cutting your fabric. You will cut 2 pieces of your main fabric, lining fabric, and batting. Each piece needs to be 8 x 10 inches.
Zipper Pouch Step 2: Next, we're going to layer our fabric and attach the zipper. First, lay down one piece of batting. Second, lay one piece of main fabric right side up on top of the batting. Third, lay the zipper right side down along the top edge. (Your zipper will be longer than the fabric. We'll cut off the excess later.) Fourth, lay one piece of lining fabric right side down making sure to line up the edge with the edge of the zipper. Pin the zipper in place.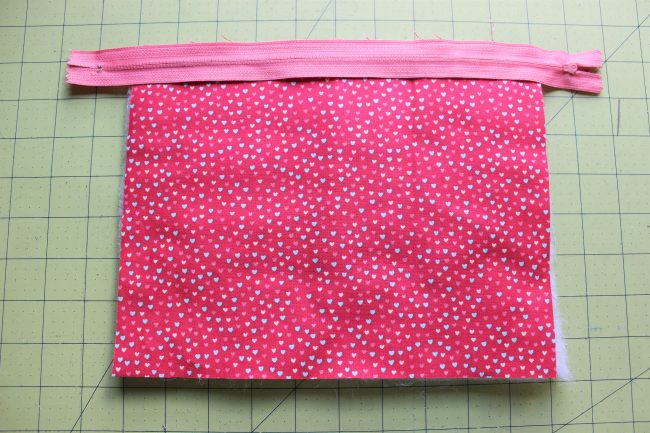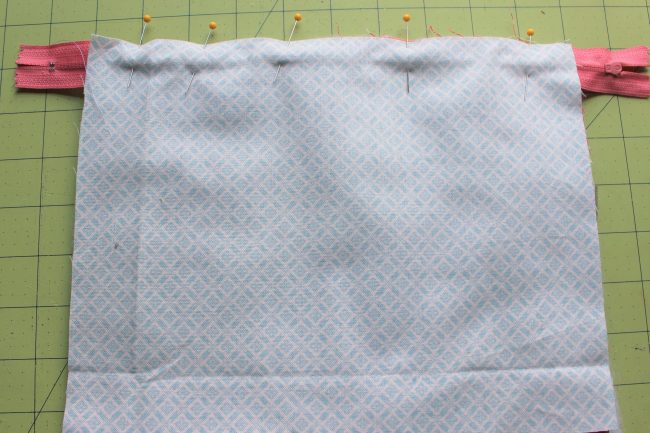 Zipper Pouch Step 3: Next, using your zipper foot, sew along that top edge to attach your zipper. Once you've stitched the zipper on, you can flip the lining to the back. From the front side, it should look something like the picture below.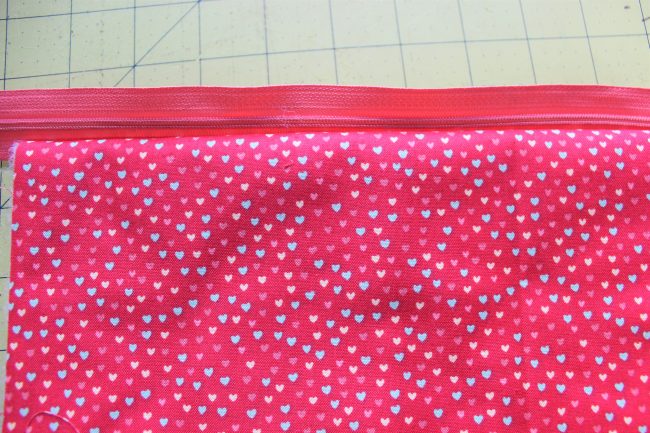 Zipper Pouch Step 4: Now we're going to layer the remaining pieces of fabric in the same manner to attach the other side of the zipper. First, batting. Second, main fabric right side up. Third, zipper right side down. Fourth, lining right side down. Pin and stitch along the top edge to attach the zipper.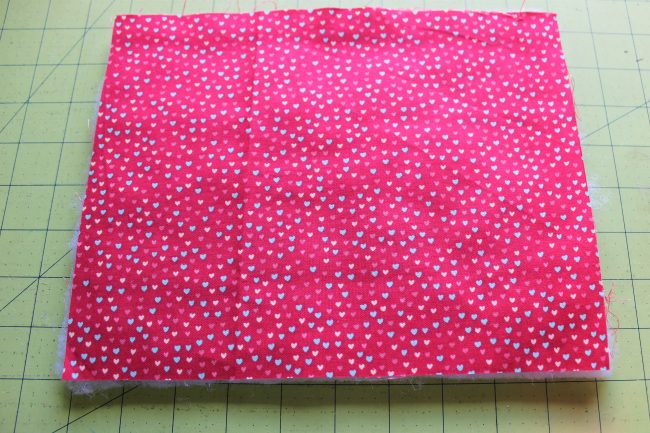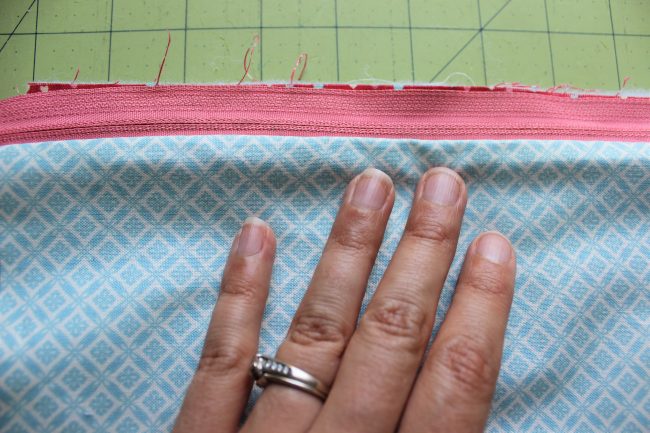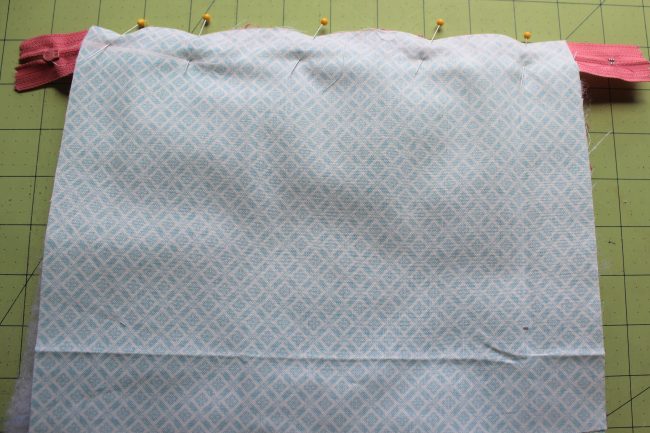 Zipper Pouch Step 5: When you open it up, both sides of the zipper should be attached as shown below. Topstitch along the zipper. Not only will it look nicer, but it will prevent the lining fabric from getting caught in the zipper.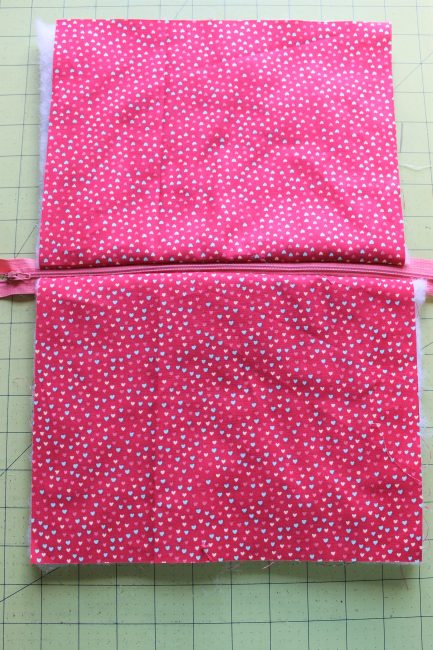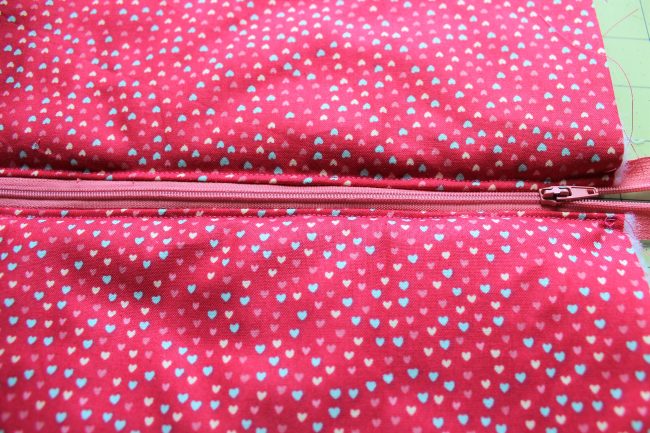 Zipper Pouch Step 6: Then, cut out a 2 inch sqaure from each of the four corners. This will help us create the flat bottom. You can also cut those squares smaller or larger depending on how big you want the bottom to be.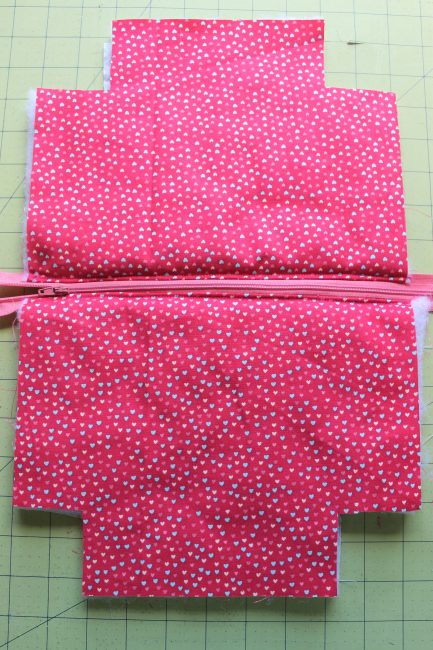 Zipper Pouch Step 7: Next, bring the lining pieces together, right sides touching. Also bring the main fabric pieces right sides together along with the batting. Pin along the edges. Very Important: make sure to unzip your zipper about half way. If you forget this step, you will not be able to turn your bag right side out and you will be sad!
Zipper Pouch Step 8: Using a 3/8 seam allowance, sew along the top and bottom edges as well as both sides. Do not sew the squares. Also Very Important: Make sure to leave a 3 inch opening along the bottom of your lining. If you do not leave an opening, you will not be able to turn your bag right side out and you will be sad. Once you have sewn the sides, you can go ahead and trim the excess zipper down to be even with the sides.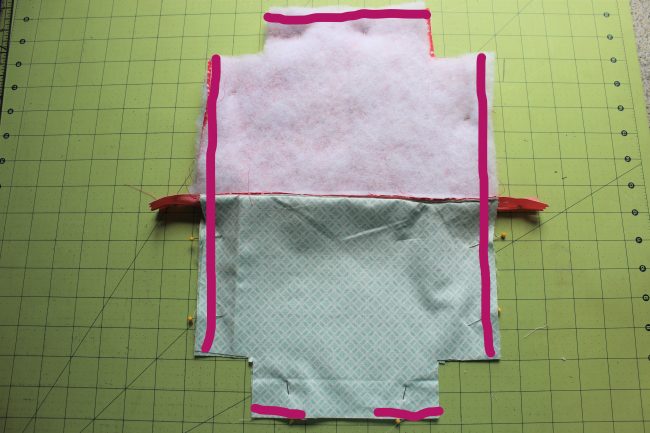 Zipper Pouch Step 9: Next we need to sew the corners. This part is a little tricky to describe and photograph, but trust me, it's not tricky to sew. Start in one square, and pinch the corners together, matching the side seam to the bottom seam. You can pin these together if desired, and then sew them together using a 1/4 inch seam allowance. Do this for all four corners.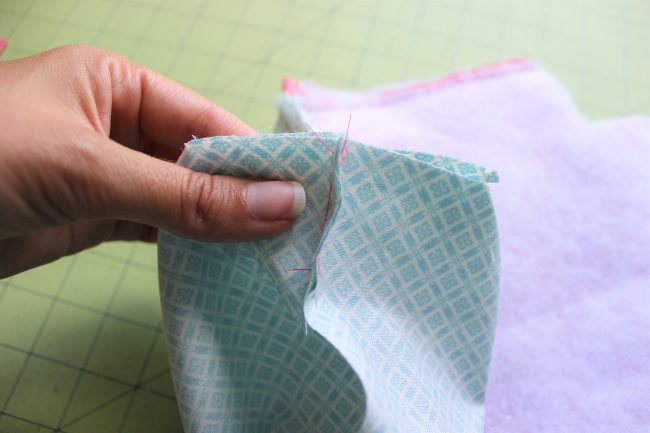 Zipper Pouch Step 10: Now the moment of truth. Did you leave an opening in the lining? Did you leave the zipper halfway unzipped? Then reach in the hole in your lining, and turn the whole bag right side out!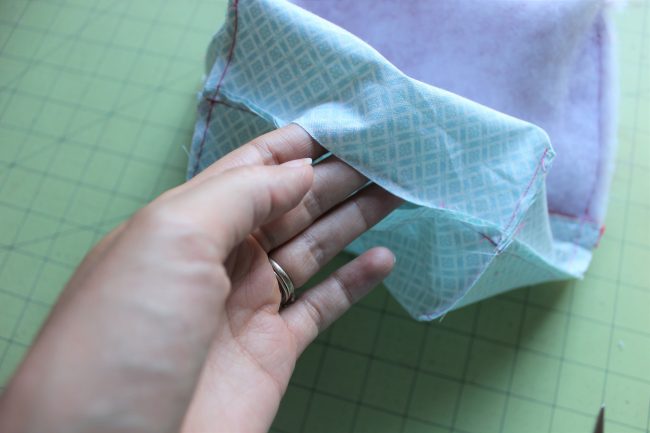 Zipper Pouch Step 11: Lastly, you just need to close the opening in the lining. If you're fancy and patient, you can hand-sew an invisible stitch to close it. If you're like me and don't mind a little seam on the inside of your bag, just close the opening using your sewing machine.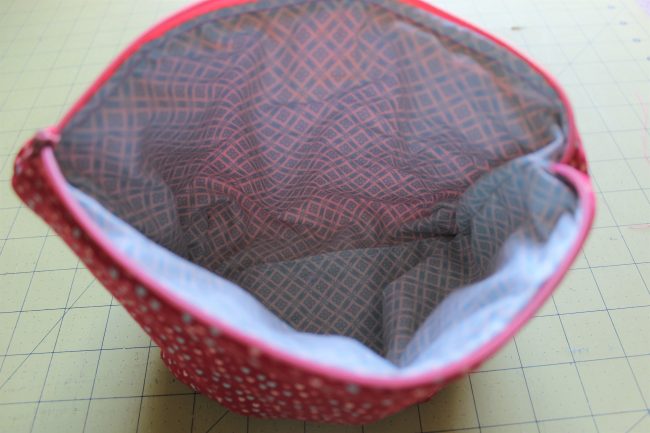 Feel free to fill your zipper pouch with whatever your heart desires. And now that you know how easy they are, go make a few more!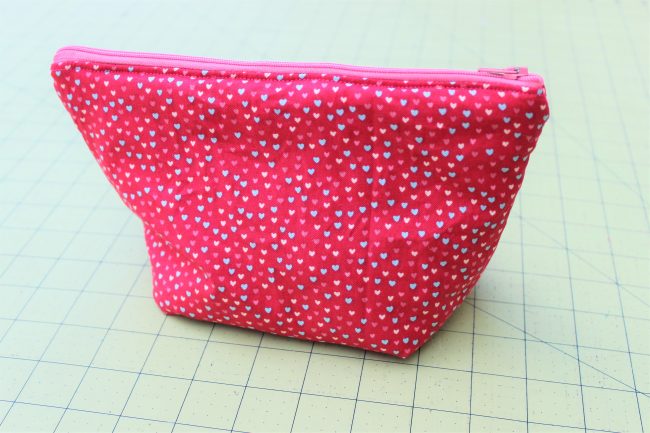 Other Easy Sewing Tutorials
For your sewing needs join us at: Peek-a-Boo Pattern Shop for Sewing Patterns and KnitFabric.com for your apparel fabric.
As always, come join us in our Peek-a-Boo Pattern Shop Facebook Group to ask your sewing-related questions and show us what you make.
If you enjoyed this tutorial, make sure to check out the following: