These toy sewing patterns (and toy storage patterns) are fun and easy to make. Many of them make great scrap busters and perfect baby shower gifts if you don't have a little one to sew for. For more info, check out our Toys and Gear Section at Peek-a-Boo Pattern Shop. Some of these patterns also include toy storage patterns.
With that said, let me show you what we have:
Baby Toy Sewing Patterns
We're going to start this post off by tooting our own horn. The Kid City Playset from Peek-a-Boo Pattern Shop is perfect for hours of fun. You can store all your kids favorite toys inside the play set and then fold down the flap to create a lawn or inside.
This works well for all sorts of toys – peg dolls, duplos, matchbox cars, calico critters, wood trains, and more. Templates include a house, barn, car garage, and train station. If you're looking for a fun and useful toy sewing pattern then this is it.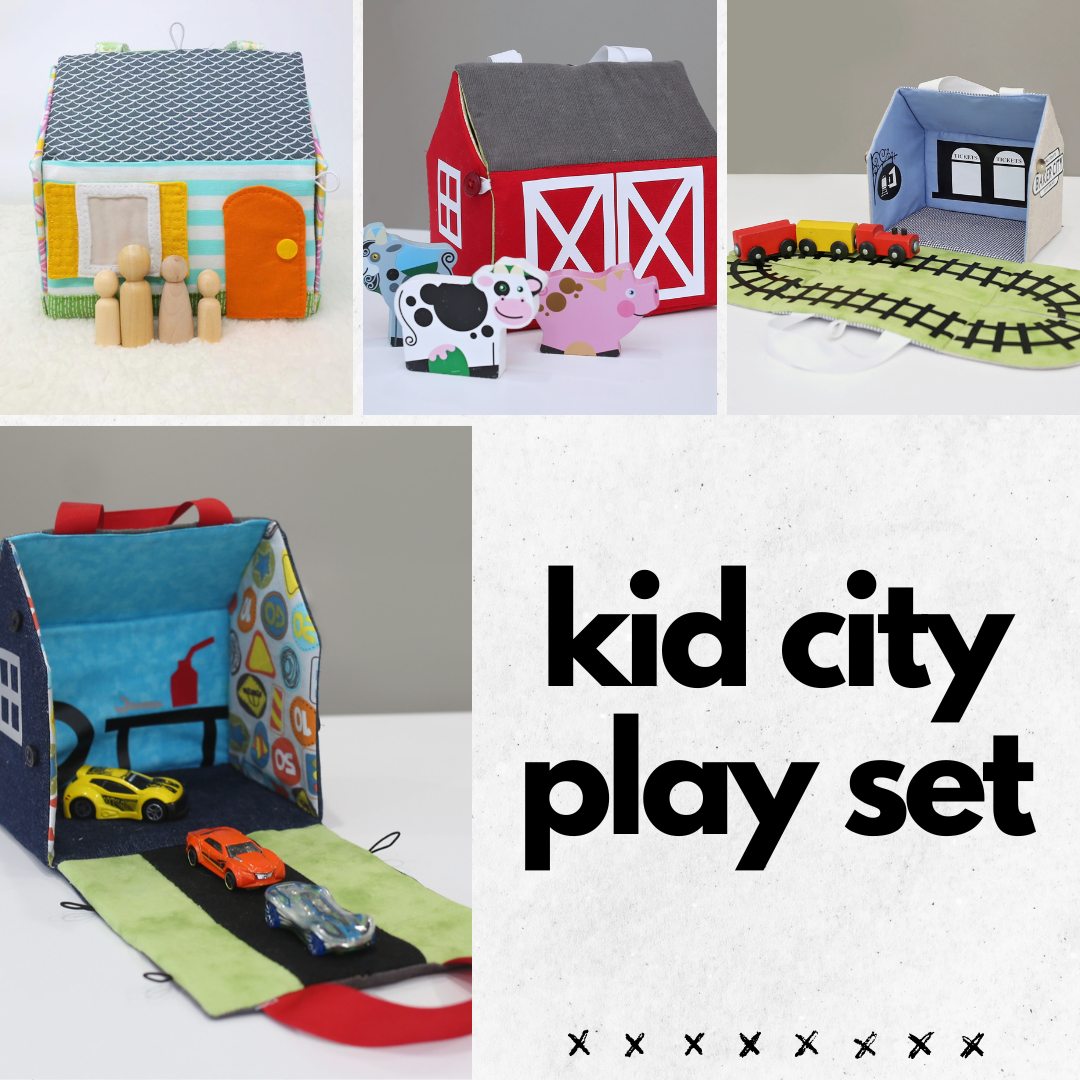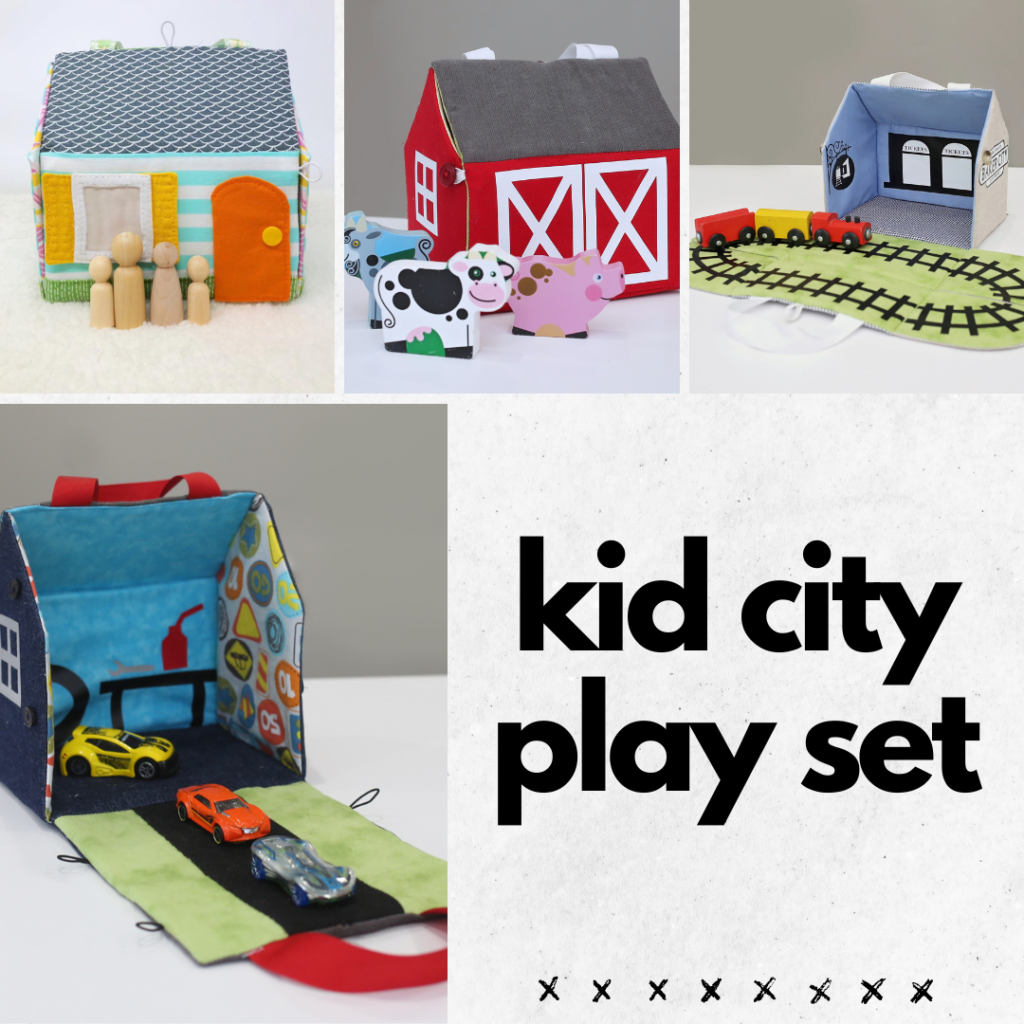 One of our other favorite toy sewing patterns is the Pocket Pillow Pal. This makes a great gift and is fun and useful. It comes with 14 different animals and features a zipper pocket. It's designed to be a "pajama eater" so your kid can put away their PJs when they aren't in use.
Th pillow is 14″ tall and 12″ wide and the pattern includes options for a Koala, Bear, Panda, Dinosaur, Monster, Dog, Cat, Sloth, Penguin, Owl, Dragon, Unicorn, Pig, or Cow.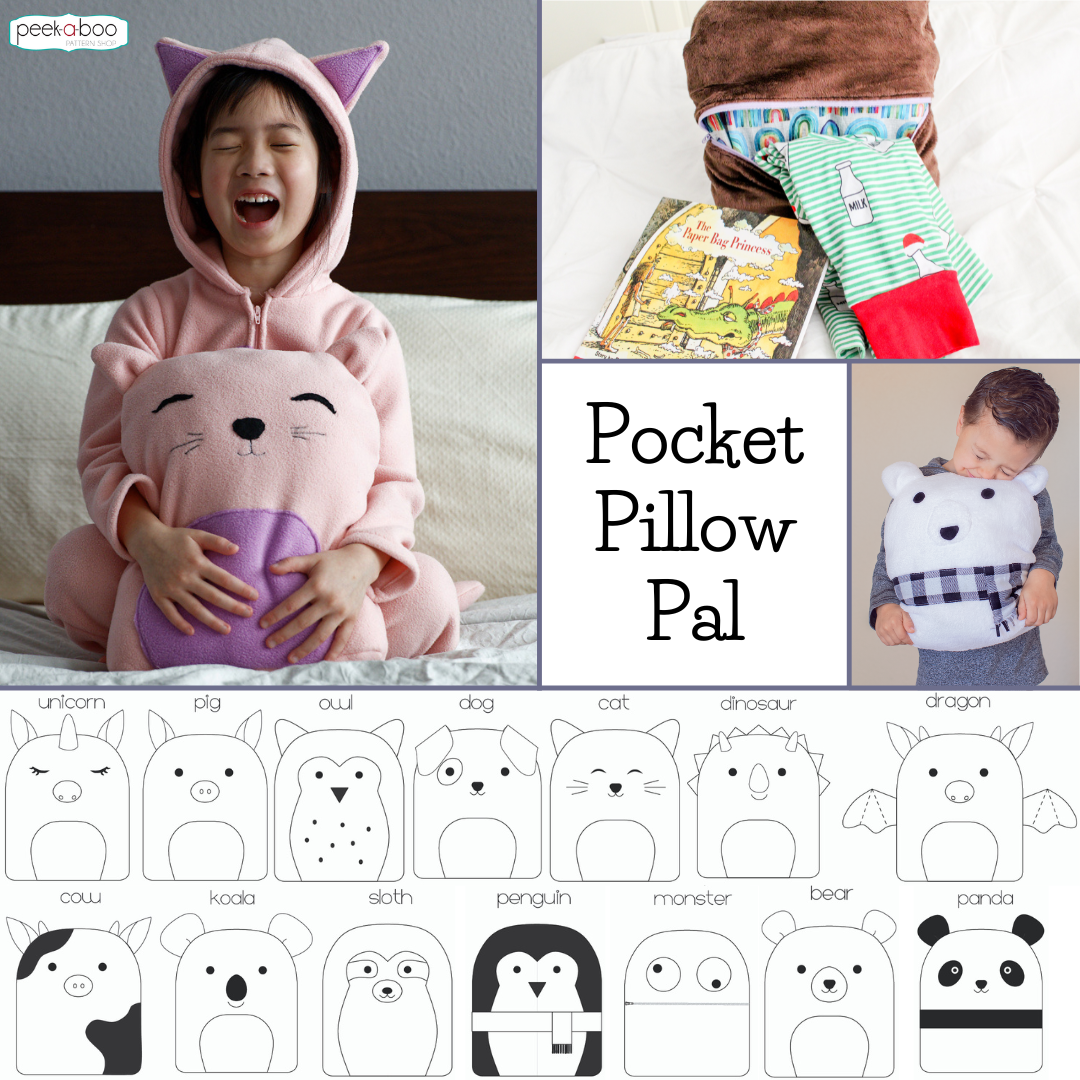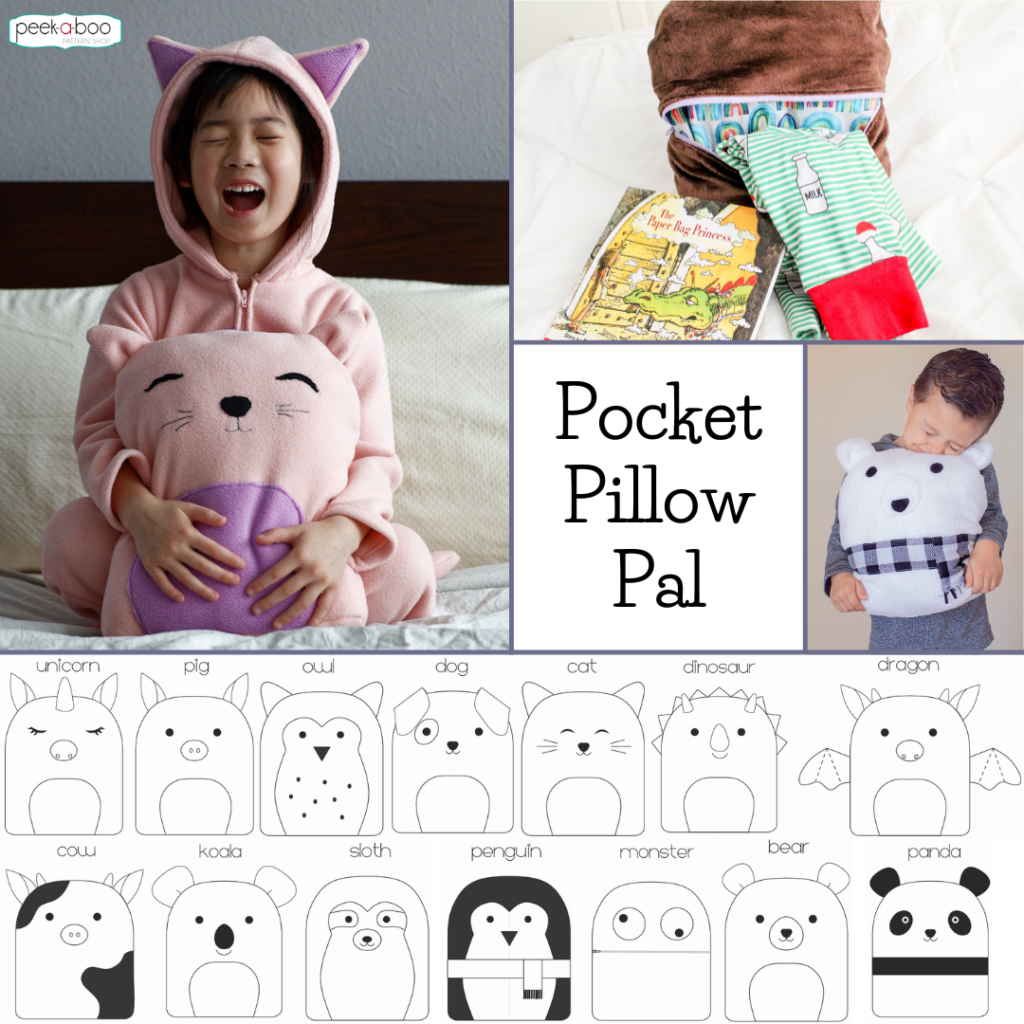 Kid's love costumes and dressing up. You've probably seen some of the patterns and free tutorials in our Costume Section here at Peek-a-Boo Pages…..but there's more. At Peek-a-Boo Pattern Shop we have the Ultimate Costume Creator which serves as the base template or starting point to make about any costume.
You can make costumes out of knit or woven and the possibilities are endless. It includes options for a collar, neckband, hood, a variety of ear, dinosaur spikes, unicorn horn, a variety of tails and manes, and more. You can make animals, a jumpsuit with collar (for Ghostbusters, mechanic, firefighters, pilots, and more), and a jumpsuit with a neckband (astronaut, racecar driver, prisoner, superhero, and more). Again – the possibilities are endless.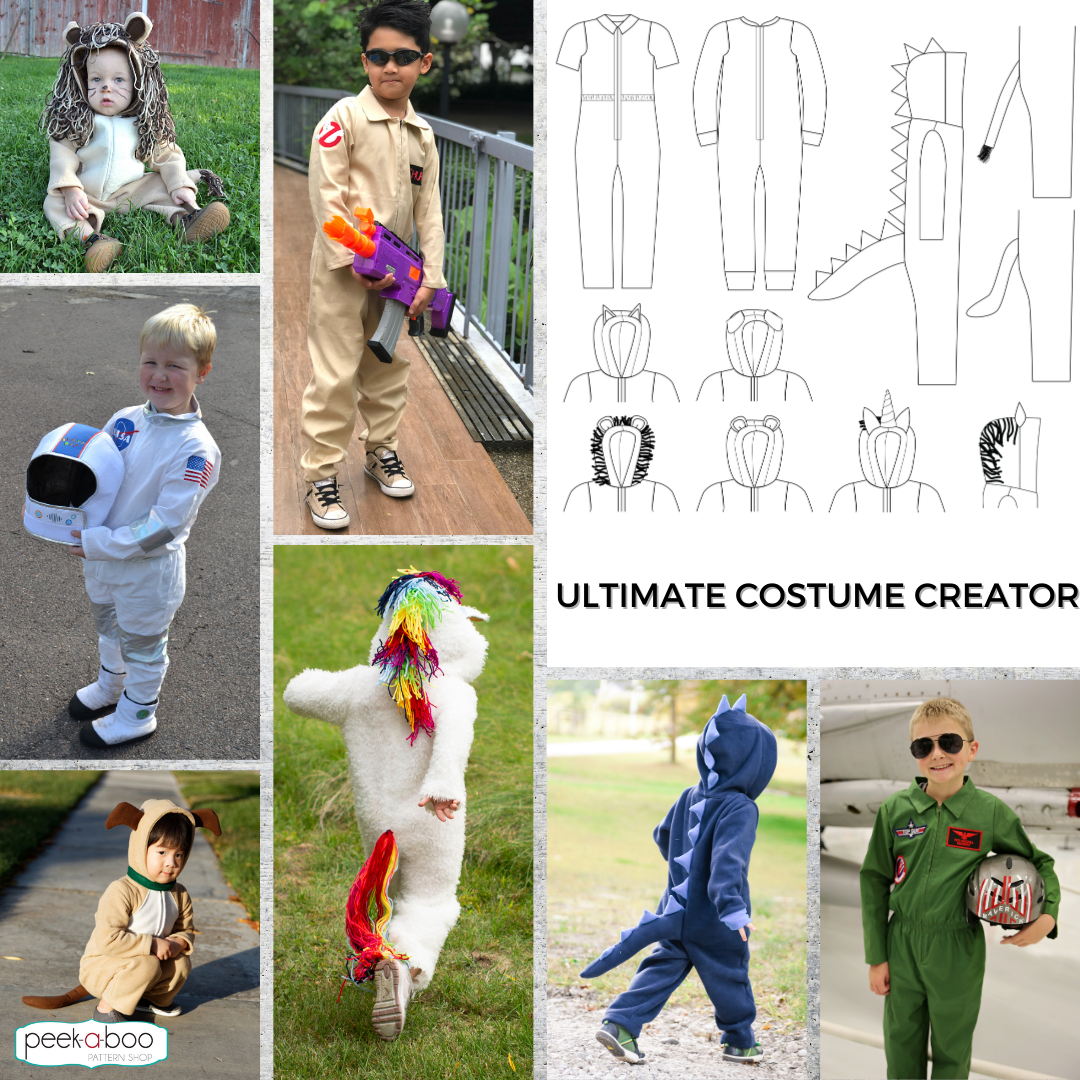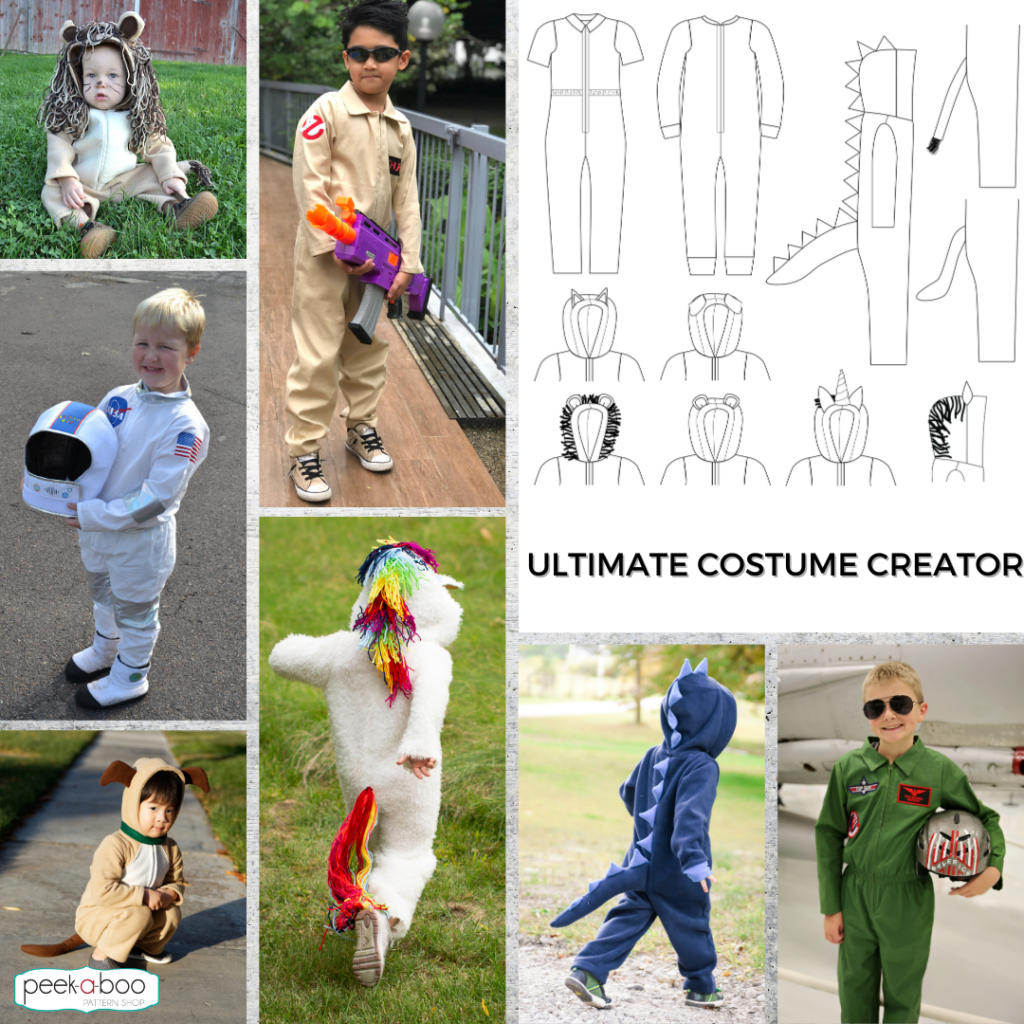 OK – now we'll get to a couple free things on the blog. To start, this drawstring toy bag by the Crazy Tailor is a simple project that incorporates a vinyl window in the bag so you can see what you're storing. This is perfect for a variety of toys.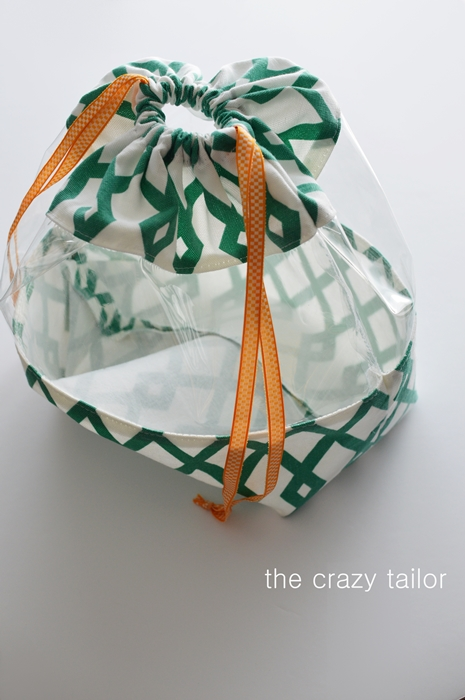 We've rounded up a variety of sock monkey toy sewing patterns from around the internet to make a fun and easy stuffed animal. Click below to see all five: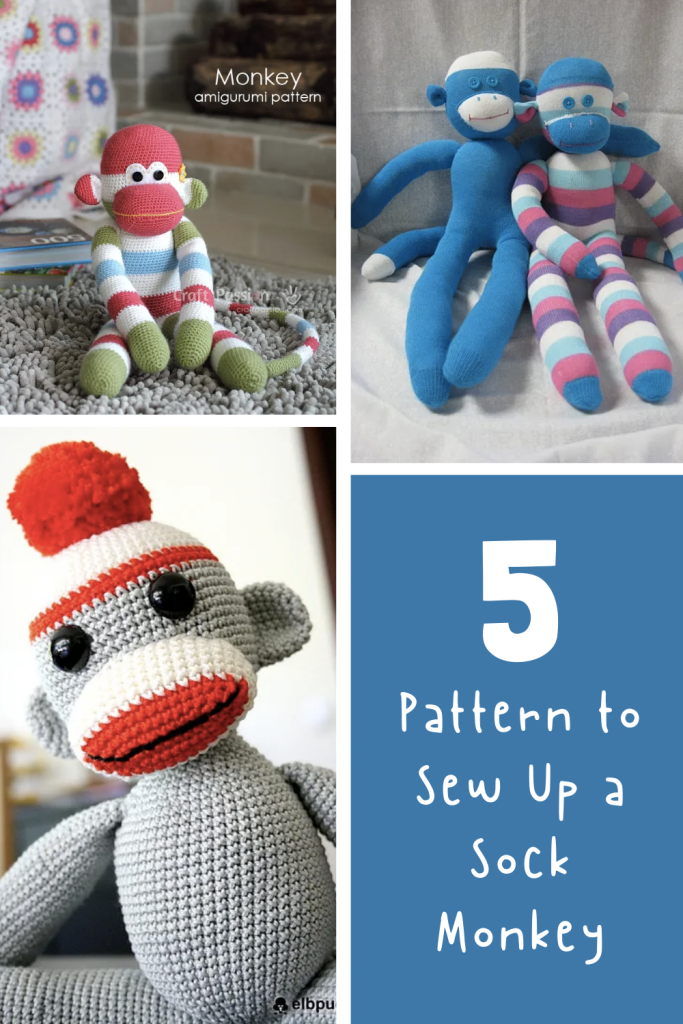 We actually have 3 separate tutorials to show you how to make a DIY Drawstring Bag. These are perfect for holding little toys. We used one for years to hold little cars, animals, and more.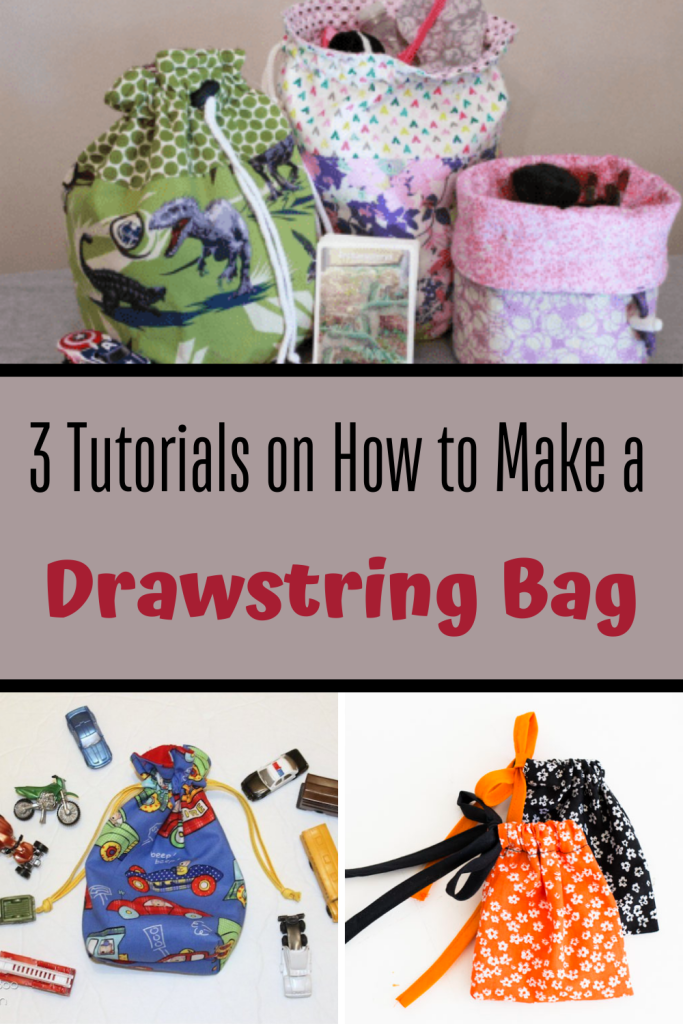 If you join our Facebook Group or Subscribe to our Newsletter you can get this pattern for free. It's perfect for play. The apron ties at the waist and has an elastic neckline for easy on/off.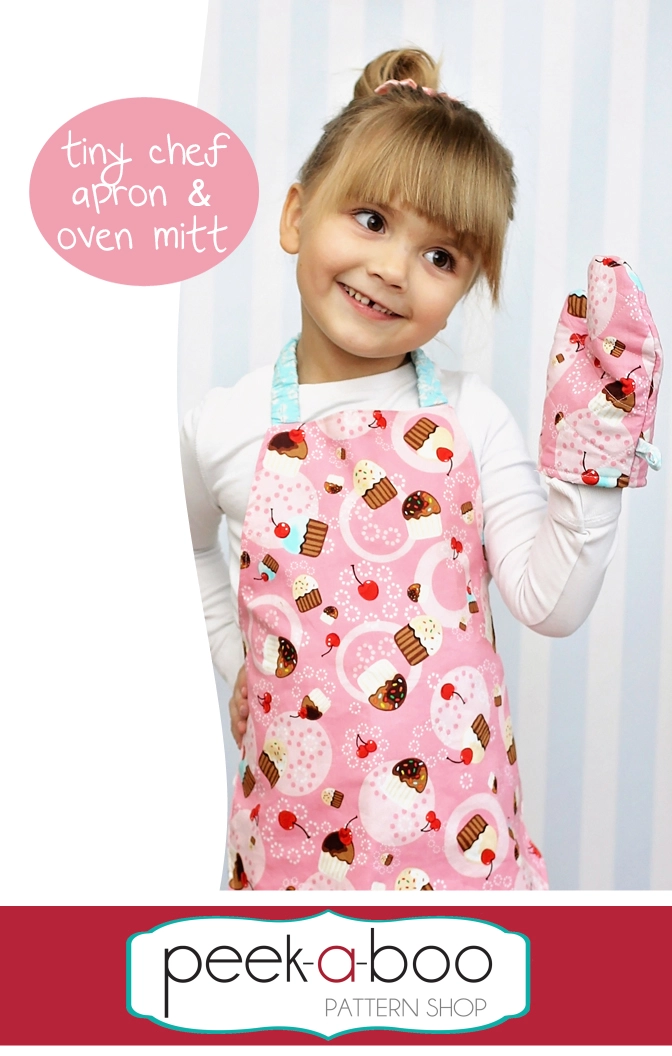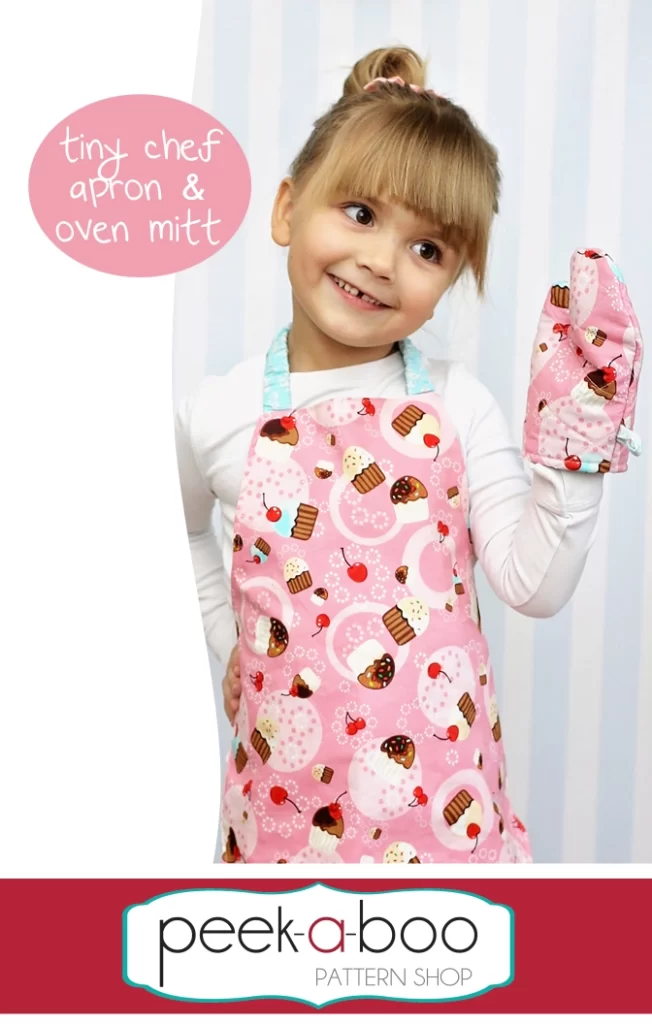 8. Drawstring Play Mat
Last but not least is our Drawstring Play Mat. This will make play time quick and easy and keep your clutter contained. When the play is over you can pull on the drawstrings to transform this play mat into a storage bin for legos, trains, blocks, stuffed animals, action figures and more.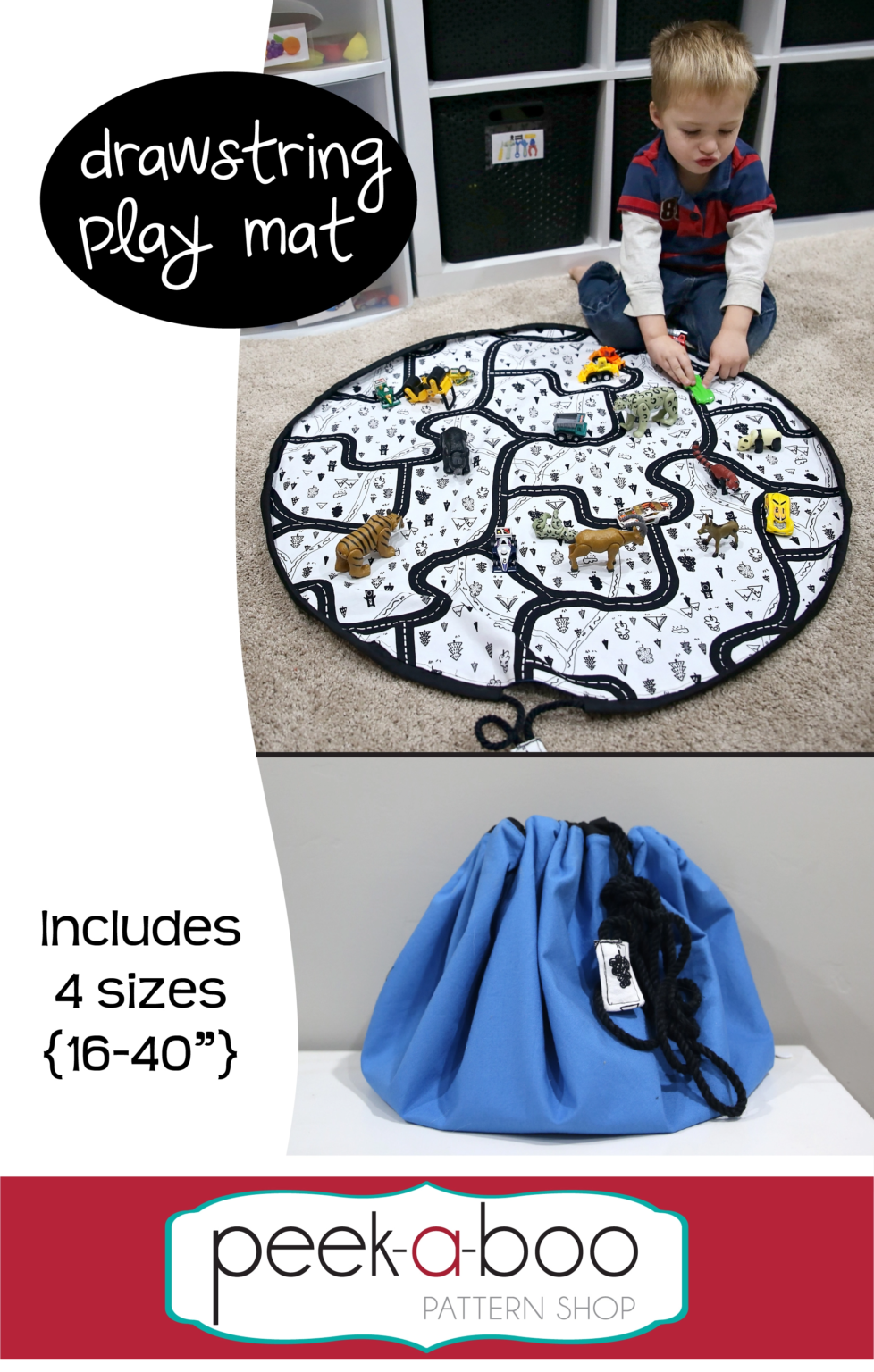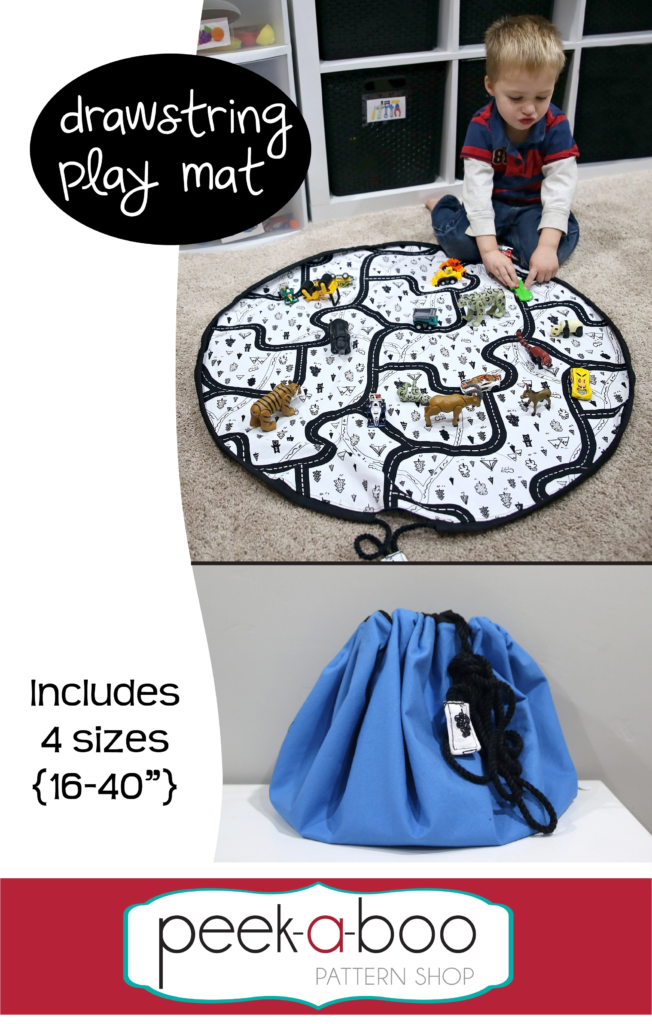 That wraps up our post on our top 8 toy sewing patterns. Thank you for joining us and I hope you enjoy making these toys or the bins to store them in. If you enjoyed this post you might also like some of these:'