Today we'll be going over swimsuit pattern altering. We'll teach you how to alter a swimsuit pattern to get the perfect fit. Sewing swimsuits is so much fun and I'm excited to have you sewing along with me.
As always, visit our Peek-a-Boo Pattern Shop Swimsuit Section for all your swimsuit patterns and visit KnitFabric.com for all your swim fabric needs.
Swimsuit Pattern Altering | How to Alter a Swimsuit Pattern

Choosing Your Size:
All Peek-a-Boo patterns include a sizing chart. Make sure you read it and measure your child 🙂 Sizing runs pretty true to RTW sizing and is consistent with my other patterns. Generally, you won't need to go up/down from the size your child normally wears to get a good fit. Here's an example of a typical size chart: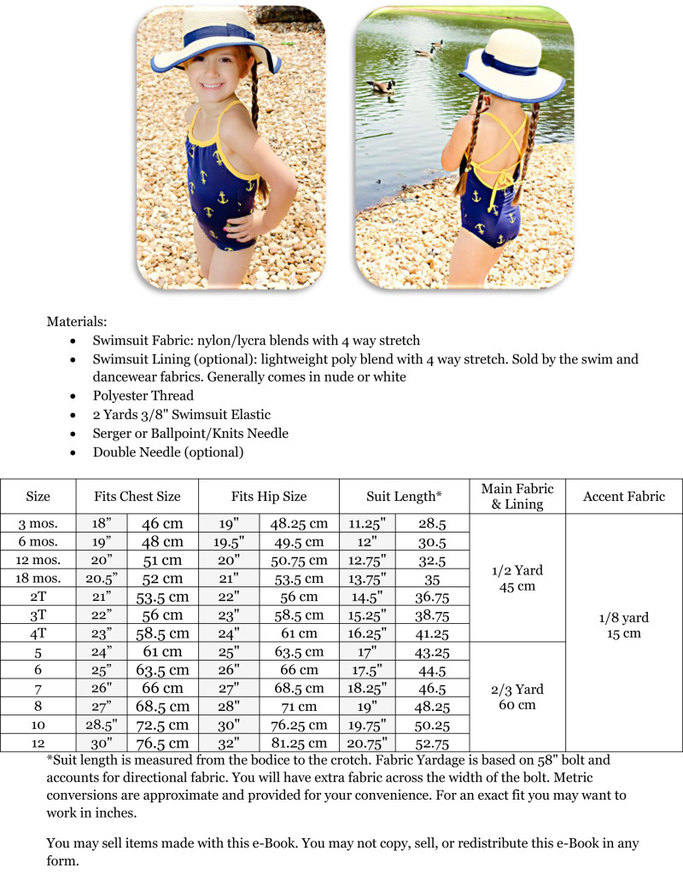 Altering Patterns
With a swimsuit, it's pretty important to get a good fit (one of the great benefits to making your own swimsuit!) so you might need to do a little tweaking to make things perfect. Anne normally wears a 4, sometimes a 5 lengthwise but has size 2/3 hips so when I make her suits I do a size 5 and a size 3 width.
These alterations are fairly simple to make and it's so worth it! This will vary some from pattern to pattern but here's a general guideline.
One-Piece Alterations
First let's look at sewing for a tall, slender child. Here you can see I am using a smaller width and then I continued up to the desired height. The alteration is shown with the thick black line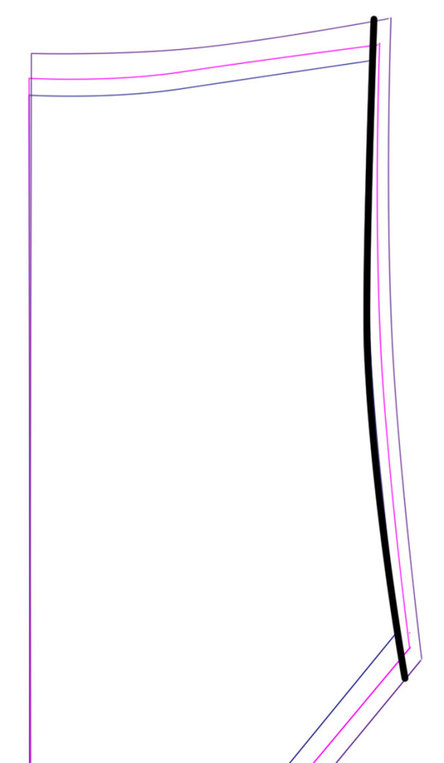 If you are sewing for a child who normally wears a plus/husky size you'll want to start with the length they need and then extend out to the desired width. You can tweak this even further to best fit your child. If the chest measurement is a close match but the hips are not you can keep the chest the same and then taper out towards the hips or vice versa.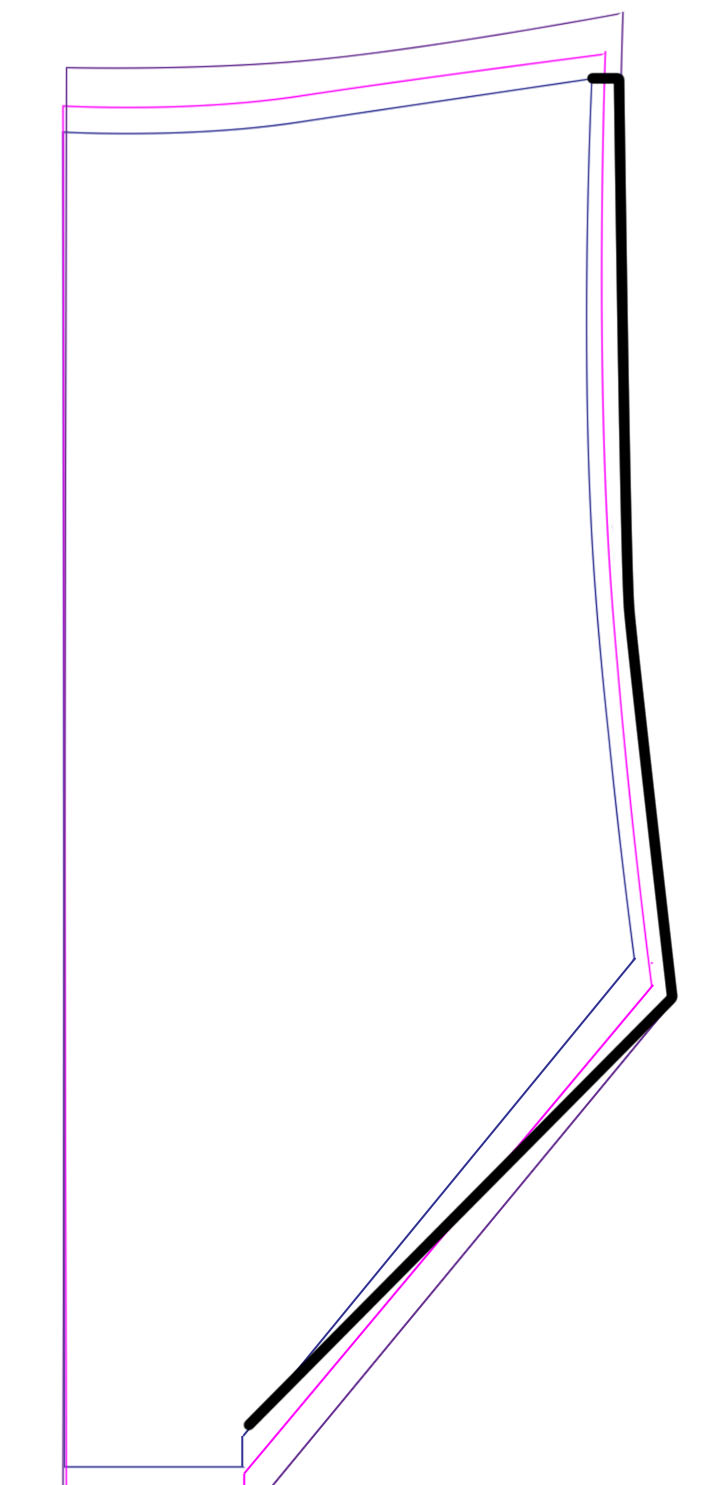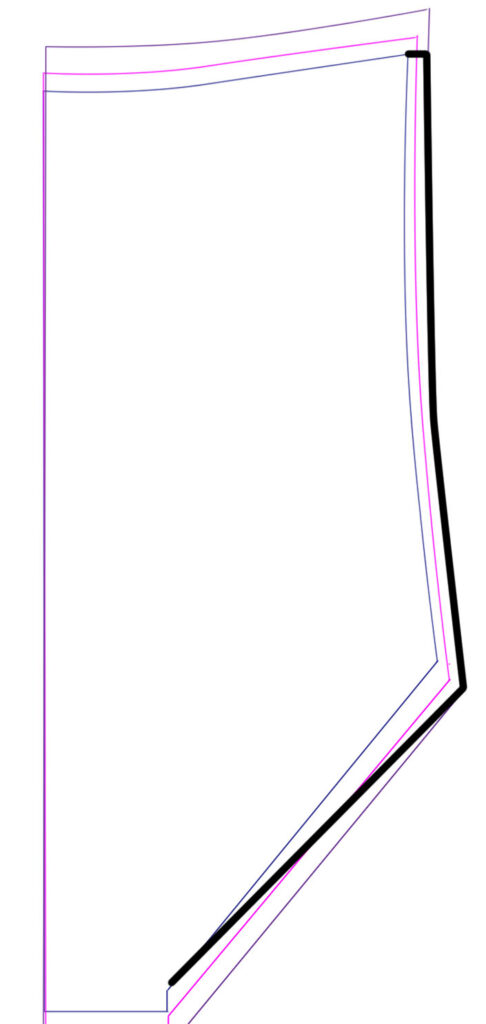 Tankini & Monaco Swim Trunks Alterations
For a super easy fit I recommend going with a tankini for the girls. As long as your child is within a size or two of their normal size you can just sew up the width they need for top and bottom (the sizes might not be the same and that's ok) and then lengthen/shorten the top as needed.
I recommend adding to the rise of the bottoms a bit if you are sewing a size more than 1 or 2 sizes different than your child's normal size (e.g. a 4 year old with a 12 mos. hip size). Or if you are going up a couple sizes for a plus/husky child you might want to shorten the rise slightly. It's always best to add to the rise if you are in doubt and then you can chop it off later if you don't need it. For the briefs style bottoms I like to just use the normal size and then take them in along the side seams instead of messing with the rise.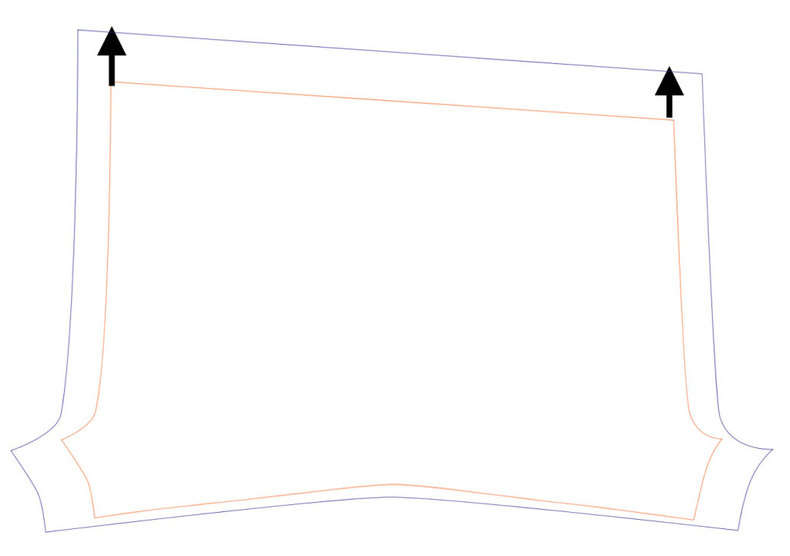 Board Shorts Alterations
With the board shorts you have way more flexibility in the fit. Generally I would recommend using your child's normal size and then cutting the waist elastic to get the perfect fit. Will is in the 20% for weight and just turned two and he fits in the 2t board shorts just fine (I just cinched in the elastic). He also fits in his size 18 mos. pair from last year without any trouble.
If you do need to go up/down a size I wouldn't worry about it much. Somehow I don't have any real photos of him in his board shorts from either summer (too busy playing!) but maybe this will give you a very general idea of the fit 🙂 This same size also fit a very average size child just fine.
Thanks for joining us today. Also, make sure to visit some of our other posts and tutorials: