Hi, I am Whitney of SewWhit Designs, and I am honored to be posting on Peekaboo Pages today about sewing supplies. Peekaboo Pattern Shop was the very first PDF pattern company I ever tried, back in 2013. I've been sewing since my grandmother taught me at age seven. My bachelor's degree is in Family and Consumer Sciences Education (FACS) with an emphasis in Clothing and Textiles.
I've taught sewing from seventh grade to Beginning College level courses. In addition, I have worked for multiple small businesses doing bridal work, custom swim and dance, and production assisting. Today I am sharing all the details of sewing supplies. Having the right tools for the job can make your sewing more successful and enjoyable. I'm going to share with you the basics every sewist needs. And a few sewing supplies that aren't essential but are great bonus additions to your sewing collection.
For my pics and links, I am linking to Wawak.com. They are my favorite place to get supplies. Wawak has been in business for over 100 years. I have nothing but good to say about them. (Not Sponsored) I've boughten so many supplies from them over the years – here are the essentials
Must-Have Sewing Supplies
Sewing Measuring Devices
Tape measure: A tape measure is a flexible tape that is essential for taking body measurements. It is usually 60 inches long with measurements on both sides.
Seam or Sewing Gauge: This is a 6-inch ruler with a sliding marker. It helps keep a constant marking for hems, seam allowances, button spacing, tucks, pleats, etc…
Fabric Marking Devices
There are lots of ways to mark your fabric. Depending on what you are marking, what type of fabric you have will determine which tool you would need to use. Not all of these marking tools are essential but you will want to make sure you have at least one way to mark your fabric.
Tailors Chalk: Great for construction markings, helpful for fitting and alterations. These come chalk wheels, pencils, or wax wedges.
Fabric Marking Pens: These pens can be washable with water or fade away with time. These particular ones I have linked are heat erasable.
Tracing Wheel & Paper: Tracing wheel is used to transfer the tracing paper markings to the wrong side of the fabric. This is a great way to transfer dart markings onto your fabric.
For more information on tools to mark fabric, Peek-a-Boo Pages has an article on Sewing Marking Tools 101. That article goes over all of these and more!
Cutting Tools for Fabric, Thread, Etc.
Sewing Shears: I prefer an 8-inch ginger shear, but there are lots of brands that are great. Kai scissors are another good option. These sheers should be designated to only cut fabric!
Rotary Cutter & Mat: A rotary cutter is a tool generally used by quilters to cut fabric, but I use it a lot for garment sewing as well. It consists of a handle with a circular blade that rotates, thus the tool's name. It must be used in conjunction with a cutting mat. Mats are usually self-healing and protect your cutting surface (your table or floor) from the blade. Rotary cutters are especially helpful to cut out projected patterns. They are faster than using scissors but sometimes they are not as accurate.
Sewing Aids
Pins: I like the longer quilting pins. They hold better and are easier to work with. Pro Top: Did you know you should pin perpendicular to your seams? This allows for smoother seams and makes it easier to pull out pins as you are sewing. You should also never sew over pins. It can easily break needles and throw off the timing of your machine.
Some prefer sewing clips to pins. Sewing clips are a nice addition to have around and I do use both, however if you must choose between the pins and clips, go with the pins they are more versatile.
Pin Cushion: A Pin cushion is a safe and handy place to store pins while keeping them accessible. There are traditional pin cushions, some of them look like tomatoes. And there are also magnetic pin cushions that grab and hold the pins magnetically.
Seam Ripper: I have tried so many different types of seam rippers over the years and my favorite one that I keep going back to is the small cheap blue one. I like how it fits in my hand! The proportions make it easy to use and I buy in bulk, so I keep one by all my machines and one in my nightstand. Easy access to seam rippers is a must have because everyone makes mistakes. Random Pro Tip: Seam rippers are also great for cutting out those tiny hair elastics out of girl's hair. So, I also keep a seam ripper in my bathroom.
Pressing Equipment
Pressing is important at every stage of sewing. A good steam iron and a firm well-covered ironing board are essential.
Iron: Industrial steam irons are great. I personally have had success with the Rowenta brand of Iron. I like professional or master series.
Some pressing equipment is not essential but is extremely useful and makes the task much easier.
Sleeve Board: A Sleeve board is like a mini-ironing board. It's set upon your regular board or on a table and it allows you to press sleeves, or pant legs easier. Because it's small it is useful when pressing hard-to-reach areas.
Tailors Ham: A tailor's ham is a stuffed round tool (sort of like a hard round pillow) that allows you to press curved areas that need shaping. It's perfect for bust darts and curved seams. It is also used to mold collars.
Seam Roll: A Firmly packed cylindrical cushion. A seam roll is similar to the tailor's ham with just a different shape. It's used for pressing long curved seams and very narrow seams.
Non-Essential but Very Helpful Sewing Supplies…
Hem Gauge: Hem gauges are marked metal rulers that help you get the perfect hem on your garment. You can turn and press in one step.
Pinking Shears: Scissors that cut fray resistant zig zags on your fabric. Pinking shears are great for finishing seams and raw edges on many types of fabric.
Needle Threader: The wire is inserted into the eye of a machine or hand needle. Thread is placed through the wire loop and then pulled back through the needle.
Thimble: Protects middle finger during hand sewing.
Bodkin: a tool shaped like a long blunt needle. Its used for threading elastic or cord through a casing. It can also be used to turn bias tubing.
Loop Turner: A long wirelike bodkin with a hook at one end the hook grasps the fabric when turning fabric tubes.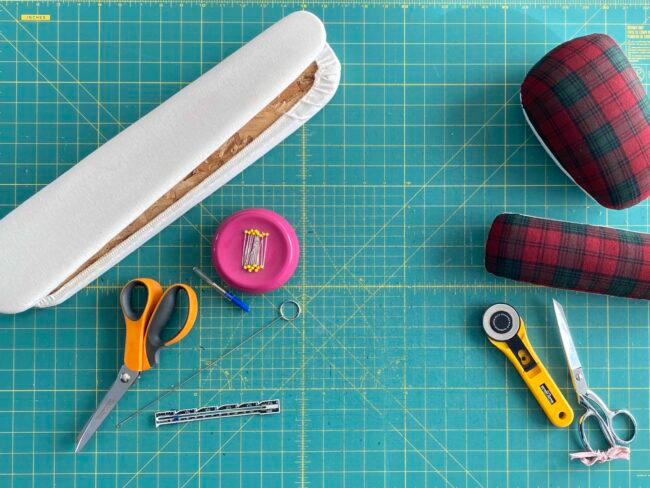 Other Resources for Sewing Supplies, Sewing Equipment, and Tools
We'd like to thank Whitney for this amazing article on sewing supplies – this covers the essential tools to get you started sewing. While you're here we'll point out a few more resources we have to get you started on your sewing journey:
Sewing Machines: This article goes over the top sewing machines and how to use sewing machines. This is from our experience and a survey of our Peek-a-Boo Pattern Shop Group.
30 Must-Have Sewing Tools: This is a similar post that goes over essential tools to get started sewing. Stephanie will go over her perspective on all the tools you need for a successful sewing space.
How to Use a Rotary Cutter: If you want more specific information about a number of the topics above (pin cushions, tools for cutting fabric, etc.) we have a number of articles that give you more information. One of those is this article on rotary cutters from Jillayne. She'll give you all the tips on using rotary cutters, mats, etc.
Thank you so much for coming to learn a little bit more about sewing supplies with us today. Be sure to join our Facebook Group to share your sewing projects or ask your sewing questions. As always, come visit us over at Peek-a-Boo Pattern Shop and KnitFabric.com.