Time for a Sewing Studio Tour at Peekaboo Pattern Shop! My own corner of the house to design, sew, and work.
Peek-a-Boo Pattern Shop Sewing Studio Tour


We moved into our house last August and I got set up right away. I'm happy to say that I am still loving my layout and have been able to keep everything organized and working well for me. I have some more posts coming over the next couple weeks with additional details but today I'm taking you on the overall tour 🙂
If you'd like to check out more inspiring ideas make sure you stop by 2 Little Hooligans for the Sewing Spaces Series!
Alright – now onto the sewing studio tour. My office is on the main floor right off our family room and kitchen. The kids' toy room is just down the hall. For me having an office space in the center of everything was an absolute must. My kids are little and like to come and go as I work and I like being able to pop in and out as well. This was super high on our priority list when we went house shopping and I'm so grateful we found something that works so well for us.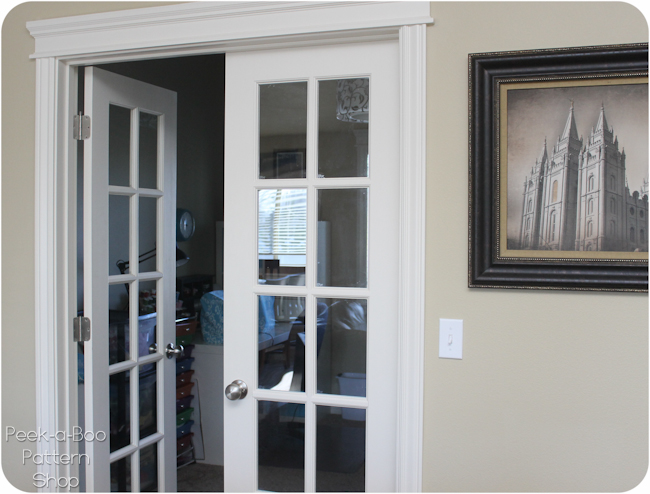 I love my french doors too for keeping an eye on the kids. Keeping them clean is another story 🙂
One one wall I have my fabric shelves and my computer desk. My husband built me this desk and I love it! It has plenty of room for my double monitors and cabinets on each side to store the computer tower, printer, scanner and a few other supplies. I have baby locks on there too to keep little hands away from those enticing glowing power buttons 🙂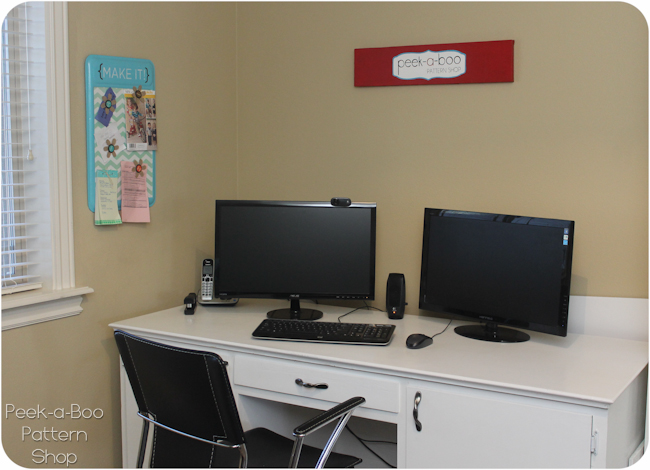 Along the other wall is my sewing station. I'm using the IKEA Expedit system and it works great for me. It has plenty of room to keep my sewing machine and serger out at the same time and I use the cubbies to store things I'm currently working on, notions, my upcycle pile, etc. I highly recommend getting the drawer option for one of your cubbies.
I keep my scissors and sewing machine feet in there. My only complaint about the desk is the finish is not super durable. The kids put a sticker on top and when I peeled it off that same day I lost some of the finish. Not a huge deal but that's the only issue I've had. I used my Sewing Machine Cover Tutorial to make both covers. It helps keep out the dust and make the office look a bit more put together when I'm done for the day.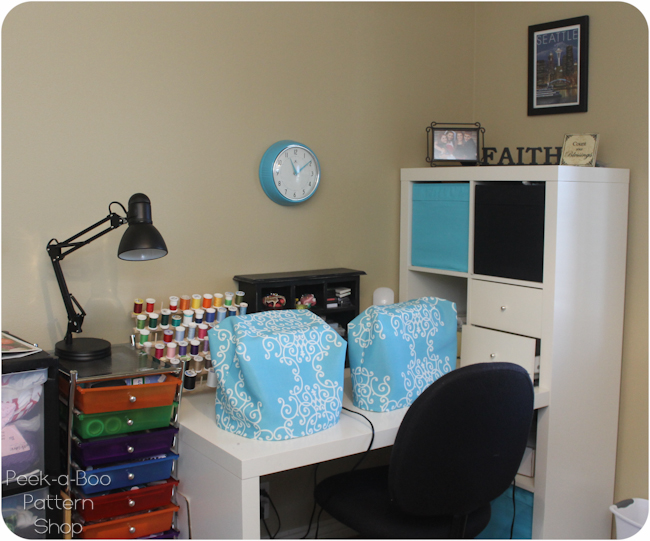 Tucked into the corner is the ironing station my husband built for me. I think it's my favorite part of the whole office! No more bulky ironing board just waiting for a toddler to tip over! I used to avoid pressing at all costs and now it's so easy that I press every seam just like a good seamstress should 🙂 Tutorial coming on the whole set-up tomorrow!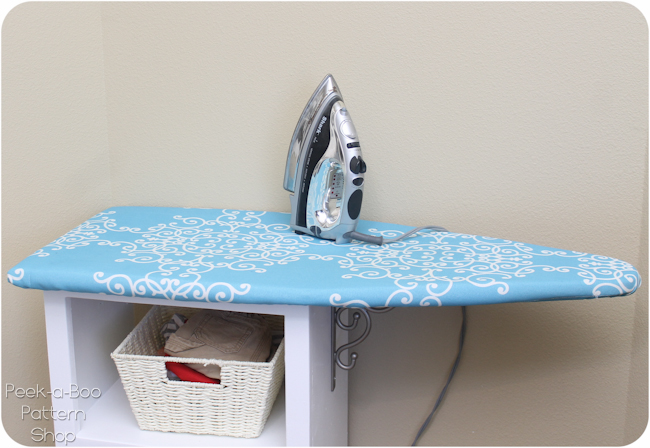 Over by my fabric shelves I have a little chair my mom picked up at a yard sale. It's almost always occupied 🙂 I keep making plans to re-cover it but that might be awhile…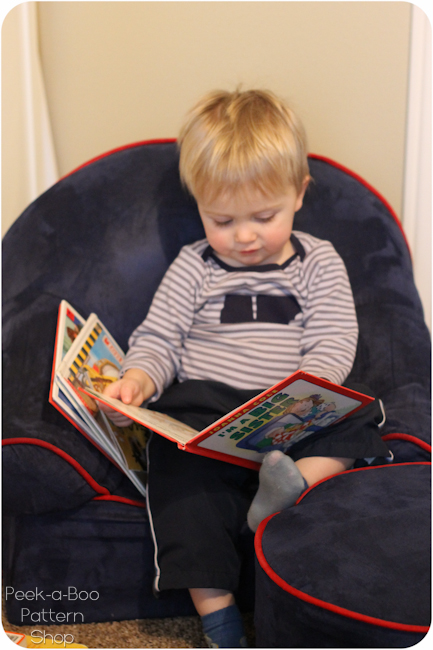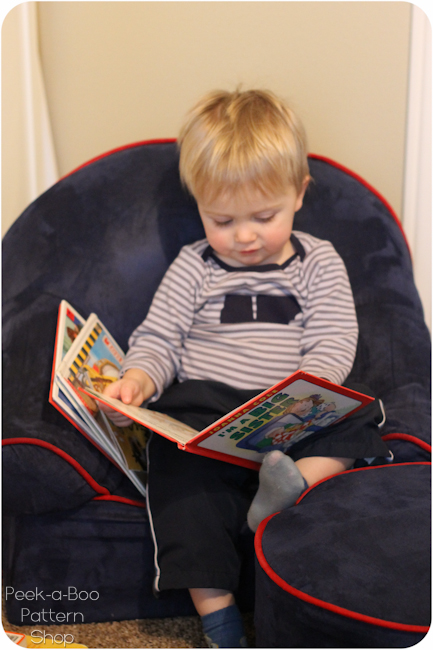 I have a few decorations throughout my office but not much. one thing I do have and love is this vintage notions shadowbox. My mom made it for my Grandma years ago and this year my Grandma gave it to me!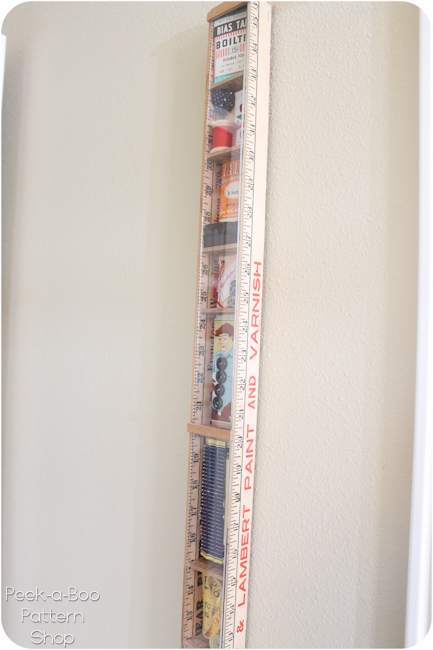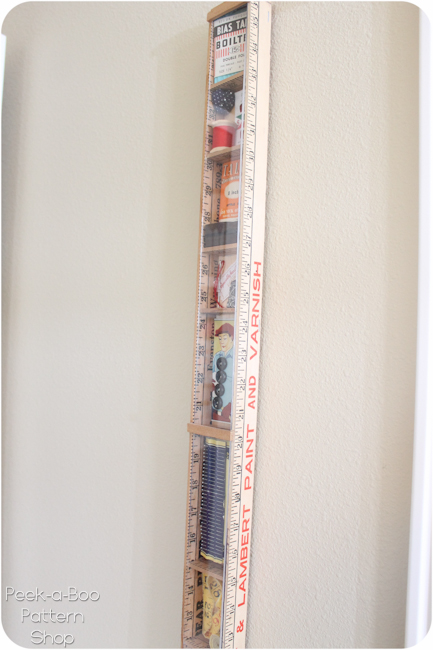 One thing that I'd like to add is a little drop-down table that folds down from the wall under my office window for Anne's sewing machine. Hopefully I'll have that all set up soon because she loves to sew!

And that wraps up the tour! But…I do have a few other photos to share with you. I used to feel very discouraged looking at other's wonderful sewing spaces so I thought I'd share a few of my past spaces. It is possible to create just about anywhere! Sure having your own space is wonderful but sometimes you just have to make do with what you have
I somehow never took a photo of my actual space in the apartment we lived in for 4 years while at BYU and BYU Law School but that built-in desk over in the corner was my sewing/crafting nook. This was our family/toy/sewing room and it was super crowded by the time we moved out! This was when we first moved in but it had 2 bookshelves and an armoire packed in there by the time we left. To save on space we used a love seat instead of a couch and that was our only true seating in the room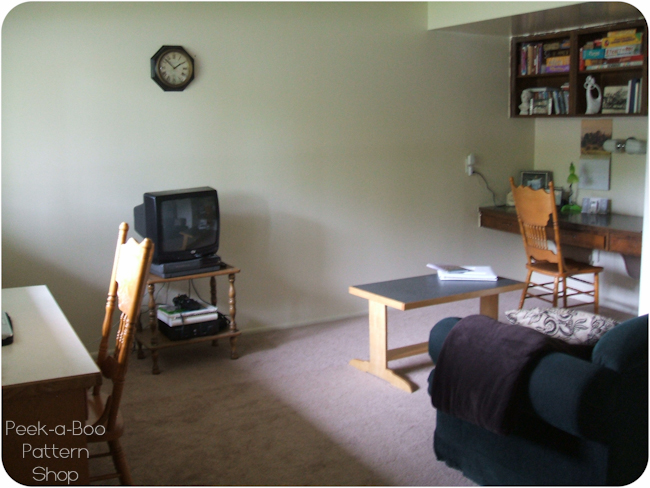 We spent 1 month in a hotel room in Des Moine, IA for an internship and that was really interesting. Luckily it had a desk so that's where I set-up: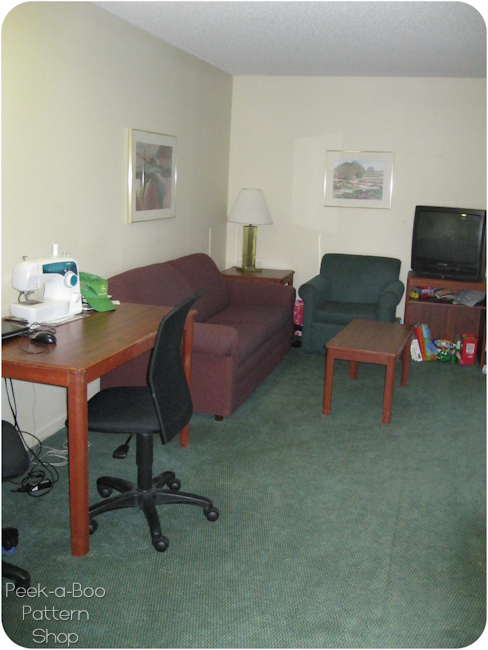 What it didn't have was a bedroom so Anne slept in the bathroom. That way I could use my sewing machine during her naps at after she went to bed without bothering her. It was a really tight fit to get her play pen in there but we did it!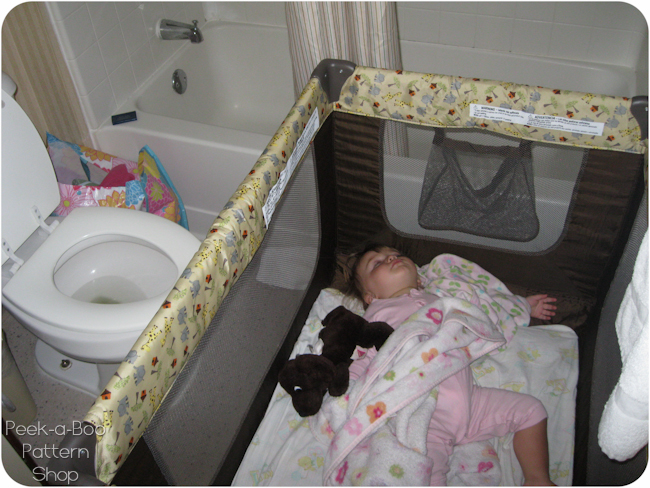 The summer Will was born we did another internship and my set-up was on a buffet style card table. We only had 1 folding chair in the room so I moved it back and forth between the computer and my sewing desk 🙂 That little table would shake like crazy every time I used my serger! I was so glad to get back to our regular apartment at the end of the summer.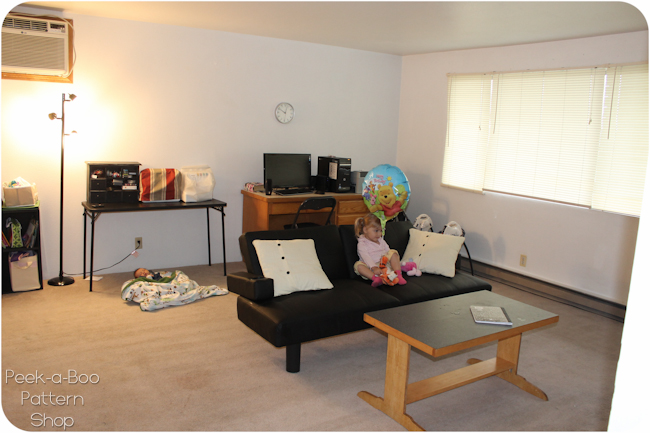 Thanks for taking a little trip down memory lane with me 🙂 Hopefully this gives you hope that you really can sew just about anywhere!

Keep checking in for more office/sewing room fun over the next couple weeks! I hope you enjoyed our sewing studio tour. You might also enjoy some of these posts: