Welcome to our guide on buying and using a sewing machine! For all the info you could ever want on a sewing machine, continue reading below. If you're getting serious about deciding which machine to purchase and want our thoughts, then check our full info is a way down in the article. But for now, we'll give you a sneak peek of some of our favorites:
Top Beginner Sewing Machines



Alright – now let's get into the nitty gritty of sewing machines. Whether you are new to sewing and just getting started or have more experience, having the correct sewing equipment will make all the difference. It will make your clothes look professional and your home look like a sewing pro lives there.
This article exists to help you consider which machine, or machines, you need by analyzing different functions and features. The goal is to get the correct machine for your skill level, budget, and what you want to create.
We'll go even further than that, though. We'll cover how to set up your machine, maintain it, and even do a little troubleshooting of common issues. I'm confident that this article will help you choose and use a machine like a pro!
Buying and Using a Sewing Machine
Types of Sewing Machines
There are several different types of machines available, each with their own set of features and capabilities. Some of the most common types include:
Basic Machines: Most basic sewing machines use electronic controls. They have a variety of features and stitches. Some sewists still like a more basic machine without computers.
Computerized Machines: These machines use computers to operate and offer a wide range of features, including advanced stitches, automatic threading, and various other options.
Overlock Sewing Machines: Overlock machines, also called sergers, are specialized machines used to finish seams and edges of fabrics to prevent fraying. This is especially handy for clothing creation which is what we do here at Peek-a-Boo.
Embroidery Machines: Embroidery machines specialize in creating decorative embroidery designs on fabrics. Many have a variety of preloaded designs or designs you can download.
Coverstitch Machines: A cover stitch machine creates a professional-looking hem in front and a chain stitch on the back to hold the hem together. Great for professional-looking clothing.
Quilting Machines: There are a variety of sewing machines that are specialized for quilting and feature a larger harp space and a walking foot to accommodate multiple layers of fabric.
Industrial Sewing Machines: These machines are designed for heavy-duty and high-volume production, and they are larger, faster, and more potent than domestic sewing machines.
Each machine has its own unique set of features and capabilities, and it's essential to consider your specific needs and skill level when choosing the right one for you. We have several articles to help you find the right machine for you but before we do that, lets get into what specifics you need to keep in mind when picking out a machine.
Choosing the Right Sewing Machine:
When choosing a sewing machine, there are several factors to consider to ensure that you get the right one for you. Here are some things to keep in mind:
Skill level: Consider your current skill level and the projects you plan to work on. Beginners may want to start with a basic beginner machine, while more experienced sewers may want to consider a machine with more features (more stitches, air threading, etc.)
Types of fabrics: Think about the types of fabrics you will be working with and choose a machine that is suitable for them. For example, if you plan to work with thick fabrics like denim or canvas, you may need a machine with a stronger motor. If you're doing a lot of clothing construction, you may need to budget for a serger and maybe a coverstitch machine down the line.
Stitch selection: Different machines offer a wide variety of stitches, including straight, zigzag, and decorative stitches. These stitches will give you more options for different types of projects.
Budget: Determine how much you are willing to spend on a sewing machine. Remember, the more advanced the machine is, the more it will cost. Below we have info on both beginner and advanced models.
Brand and warranty: Research the brand and warranty of the machine before you buy. Look for a reputable brand that offers a warranty and good customer service.
Accessories and add-ons: Consider the types of accessories and add-ons that come with the machine and if they will be helpful for you.
Size and portability: Think about where you plan to use the machine and if you need a machine that is portable or easy to store.
Additional features: Consider additional features like automatic threading, needle threaders, and built-in lighting, which can make your sewing experience more convenient.
Ultimately, the best machine for you is one that meets your specific needs and fits your budget. It is always a good idea to read reviews and ask for recommendations from experienced sewers before making a final decision.
Functions of Different Sewing Machines:
Basic Sewing Machines
The basic function, or purpose, of a sewing machine is to use thread to stitch fabric together. It does it far more precisely and consistently then hand sewing. Your basic machine will do a few things:
Stitch: A standard sewing machine will stitch fabric Together Using a Variety of Stitches (from basic straight stitches to more decorative stitches).
Create Buttonholes: Learn to Create Buttonholes Using a Sewing Machine
Embellishments: A number of basic machines will add embellishments like embroidery or applique.
Here are a few of our articles on what a basic or standard machine will do:
Serger or Overlock Machine
The next most important machine in your arsenal is the serger (or overlock machine). These are specialized machines to finish the raw edges of the fabric. You can also use the serger or overlock to join two or more layers of fabric together or create decorative edges. Here's a good summary of what this machine will do:
Seams: A serger can sew a seam with a finished edge, which is useful when working with knit fabrics or other fabrics that tend to ravel.
Prevents Fraying: A serger can be used to overcast the raw edges of a fabric to prevent fraying.
Hemming: A serger can be used to quickly and easily create a professional-looking hem on a piece of fabric. You can do a variety of hems – rolled hems, blind hems, flatlock hems, and more.
Gathering: A serger can be used to create gathers in a piece of fabric.
Decorative stitching: Some sergers come with a variety of decorative stitches that can be used to add interest to a piece of fabric.
Sergers are really an essential tool if you want to create professional-looking clothing. It can be done without a serger but it's much more difficult. The serger saves a lot of time and effort. Here's a few other articles that give you some more info on using a serger for various fabrics:
Coverstitch Machine
The third Machine in our arsenal for sewing clothing, especially when sewing knit fabrics, is the cover stitch machine. A coverstitch machine is a specialized type of sewing machine that is used to create a coverstitch, which is a type of stitch that is commonly used in the construction of knit garments and other stretchy fabrics. The coverstitch is is found primarily on the hem of clothing, including sleeves, pants, etc. It creates a truly professional look. This is a coverstitch: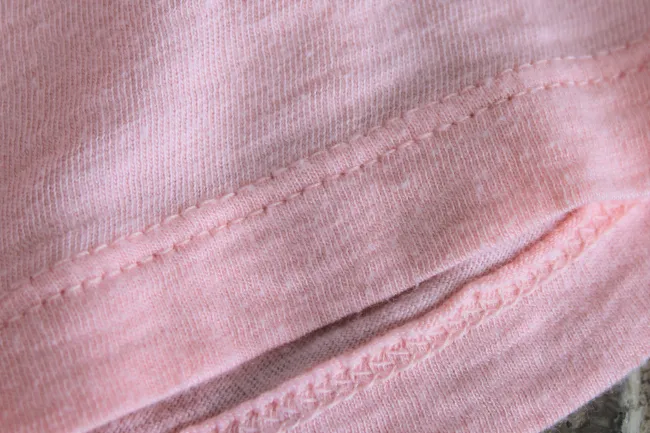 Overall, a coverstitch machine is an essential tool for anyone who wants to create professional-looking topstitching and hems on knit garments. It creates a strong, flexible and stretchy stitch that is perfect for knit fabrics and other stretchy materials. Here's some more info on coverstitching or what to do if you don't have a coverstitch when topstitching:
Setting Up Your Sewing Machine:
Setting up a sewing machine is an essential step to get going with your sewing projects. Here is a general overview of setting up setting up a sewing machine:
Unpacking and assembly: Carefully unpack your sewing machine and follow the manufacturer's instructions for assembly. This may include attaching the machine to the included table or stand, attaching the power cord and foot pedal, and attaching any additional accessories.
Threading the machine: Threading the machine can vary depending on the specific make and model of your machine. Refer to the machine manual for specific instructions. Generally, you will thread the machine by passing the thread through the tension mechanism, thread guides and the needle.
Winding the bobbin: The bobbin is the small spool of thread that sits in the bobbin case of the machine. You will need to wind the bobbin before you can start sewing. Refer to the machine manual for specific instructions on how to wind the bobbin.
Inserting the bobbin: Once the bobbin is wound, you will need to insert it into the bobbin case. Refer to the machine manual for specific instructions on how to insert the bobbin into your machine.
Adjusting the tension: Tension is the amount of pressure applied to the thread as it is pulled through the machine. Adjusting the tension is important to ensure that your stitches are even and consistent. Refer to the machine manual for instructions on how to adjust the tension.
Adjusting the stitch length and width: Your sewing machine will likely have settings for adjusting the stitch length and width. These settings can be used to control the size and appearance of your stitches. Refer to the machine manual for instructions on how to adjust these settings.
Testing the machine: Once your machine is set up and threaded, test it by sewing on a scrap piece of fabric. This will allow you to check the tension, stitch length and width, and make any necessary adjustments before you start your project.
By following these steps and referring to the manual, you'll be able to set up your machine correctly and get started on your sewing projects with confidence.
Sewing Machine Maintenance
Sewing machine maintenance is essential to ensure that your machine runs smoothly and continues to produce high-quality stitches. We occasionally take our machines to the local quilt shop for some maintenance – you can also do a fair amount at home. Here are some tips:
Keep your machine clean: The biggest issue we run into is failing to clean our machines and letting residue built up. You should be regularly dusting, cleaning, and/or blowing out your machine to remove lint, fabric, and other debris that can accumulate over time. Use a small brush or compressed air to clean out hard-to-reach areas.
Oil your machine: Oiling your machine can help to keep the moving parts running smoothly. Consult your sewing machine manual to find out which areas of your machine need to be oiled, and use a high-quality sewing machine oil.
Adjust the tension: If your machine's tension is not adjusted correctly, your stitches may be too loose or tight. Consult your manual to learn how to adjust the tension on your machine.
Check the timing: Over time, the timing of your machine can become off, which can cause your machine to produce irregular stitches. Consult your manual to learn how to check and adjust the timing on your machine.
Replace worn parts: Parts such as needles, belts, and bobbins can become worn over time and must be replaced. Check your machine's manual to see how often you should replace these parts.
Service your machine: Regularly have your machine serviced by a professional to ensure that all parts are working correctly and to prevent any major issues. As noted above, many quilt shops perform this service.
By following these tips, you can help to ensure that your sewing machine continues to run smoothly and produce high-quality stitches. Here's another article on sewing machine maintenance if you'd like some more information:
Sewing Machine Accessories
Sewing machine accessories can be added to a sewing machine to enhance functionality and make sewing easier. Some standard sewing machine accessories include:
Extra presser feet: There are many types of presser feet available for different types of sewing, such as a zipper foot, buttonhole foot, and walking foot.
Bobbins: Bobbins are small spools of thread that are used in the bobbin case of a sewing machine. Some machines require specific types of bobbins, so it's essential to check the manual to see which type is required.
Needles: Sewing machine needles come in different sizes and types for fabrics and threads. It's essential to use the right type of needle for the fabric and thread you're using to prevent damage to your machine and to ensure your stitches look their best.
Sewing machine accessories can help to make your sewing projects more manageable and more efficient, resulting in a professional-looking finished product.
Recommended Beginner Sewing Machines
Now let's spend a little more time on beginner sewing machines. The right choice of machine depends on your budget, what your trying to sew, and your preferences. We affiliate with Sewing Machines Plus and recommend using their website to purchase sewing machines. They have tons of information and reviews on sewing machines, a massive selection, and their prices are typically just as good as Amazon.
We already have an entire article on beginner sewing machines. Check it out to get our full top 10 rankings. For now, we'll just show you our top 3 picks:
Top Beginner Sewing Machines



Ultimately, choosing the best sewing machine depends on your needs, budget, and personal preferences. It's always good to read the reviews, manual and consult an expert before making the final decision.
Recommended Advanced Sewing Machines
Once you get a little more budget or are getting serious about making clothing or other sewing projects then it might be time to upgrade to an advanced sewing machine. Advanced sewing machines are designed for more experienced sewers and offer a wider range of features and capabilities than beginner machines. Here are our top 3 picks of advanced sewing machines:
Top Advanced Sewing Machines
Ultimately, the choice of which advanced sewing machine is best for your needs depends on your budget and preferences. We just gave you a taste of some of our favorites. For a complete list, see our article on Top Advanced Sewing Machines.
Choosing a Serger
As mentioned above, using a serger is super important for clothing construction. You can easily finish the raw seems of fabric, meh, and gather. We have another article on our Top 10 Sergers. You can buy sergers that have a lot of advanced features and cost a little more but many sewists prefer to start out with something a little more simple. Either way, this article gives you good options.
Here's a sneak peak of 3 of our top picks for a serger:

Top Coverstitch Machines
Finally, as mentioned above, if you're serious about clothing construction you might be in the market for a coverstitch machine. These machines will up the level of your clothing construction to the point where you can make professional-looking sleeves, pants, and more. Once again, we have an article dedicated to our Top 10 Coverstitch Machines. Here are our favorites:
Top 3 Coverstitch Machines

Excellent, Strong Stitches
Well, that wraps up our comprehensive post on choosing a sewing machine. I hope you found some useful information to help you both: (1) Understand the purpose of a sewing machine, how to use it, etc; and (2) Help pick out what sewing machine might be right for you.
If you have further questions, I'd suggest coming over to join our Peek-a-Boo Pattern Shop Facebook Group. We have almost 90,000 sewists who are ready and willing to help.