Sewing Interfacing? Today I'm going to show you how to use or how to sew interfacing in a sewing project. If you've never used it before, it's relatively easy! There are a few things to remember, so I'll go over everything you need to know.
First, we'll go over how to use fusible interfacing. At the bottom, we'll go over some other types of interfacing and uses for it.
Sewing Interfacing | How to Apply Fusible Interfacing
First, What is Interfacing?
Interfacing adds stability and sometimes structure to a sewing project. You place it between fabric layers or under fabric to add that structure and stability.
For example, adding it to the neckline or collar of a shirt adds crispness and subtle shaping. It is also used for stability when making bags, purses, or quilts. The benefit is that it adds both durability and dimension to your sewing project.
Sewing Interfacing Tip 1: Interfacing comes in different weights
Interfacing comes in various weights and compositions. You can use knit interfacing which can stretch with a knit fabric or a mid-weight woven that can be used fairly universally in an average project. It even comes in a super-heavyweight that you can make things like light cushions and mouse pads with!
So choosing the right interfacing for a project is important. Patterns will often specify exactly what kind you'll need for the best results. A common tip is to use a weight of interfacing that is comparable to the weight of the fabric you'll be using. Interfacing also comes in various colors so you'll want to make sure not to place dark interfacing behind the light-colored fabric. Read the instructions on the interfacing for pre-wash instructions before sewing.
For more details on the different types of interfacing, take a look at the bottom of this article.
Sewing Interfacing Tip 2: Fusible interfacing requires an iron
I'm using mid-weight fusible interfacing for the project below, which does require an iron. It has a fusible side that will feel rough to the touch, and a smooth silky side that is intended to face out. In other words, you will fuse the rough side to the wrong side of your fabric by using an iron.
Here is a doll shirt that my daughter is working on. The pattern calls for interfacing to be applied to the neckline, to make it crisp and neat looking. I cut the interfacing piece to match the neckline:
Sewing Fusible Interfacing Step 1: Pin baste
To begin applying fusible interfacing, I placed the rough side of the interfacing against the wrong side of the neckline. I pinned it in place around the outside of the curve because next, I will steam-baste the inside of the curve away from the pins. This ensures that I have it exactly where I need it to be before I fuse it to the project.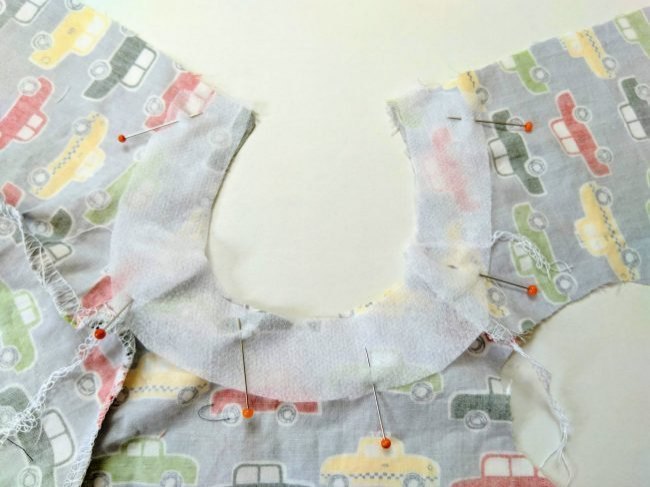 Sewing Fusible Interfacing Step 2: Steam baste
Next, I steam-basted the inner curve. This means that I am using a steam setting on the iron to steam above the interfacing, not directly on it. I set my iron to wool/silk to ensure the iron wasn't too hot. Always double-check to make sure the rough side of the interfacing is down and not facing up toward the iron!
Sewing Fusible Interfacing Step 3: Fuse the Interfacing
Using a very damp press cloth (100% cotton) and a gliding motion, I pressed and fused the interfacing to the wrong side. As you go, check to ensure the edges have fused to the fabric. If not, keep pressing using the gliding motion.
Turn the project over and press on the fabric again.
With the interfacing properly applied, the neckline has a crisp finished look and more structure than it did originally.
Other Types of Interfacing
We really appreciate Karrie's excellent tutorial on how to use fusible interfacing. Before we let you leave I might mention that there are other types of interfacing to add strength and stability to your sewing projects.
Sew-in Interfacing
There is also non-fusible interfacing – meaning that it cannot be attached by steam and/or heat. Sew-in interfacing (as non-fusible interfacing is sometimes called) does not have an adhesive side and cannot be applied with heat or steam. Rather, you can pin and sew it to your fabric like you would sew a regular piece of fabric. Non-fusible interfacing is often used when you have a textured fabric or a fabric you cannot iron.
Woven v. Non-Woven Fusible Interfacing
In the project above, Karrie used woven fusible interfacing which is great for providing support for collars, pockets, facing, and other areas of the garment on knit or woven fabrics. As noted, woven interfacing behaves like fabric and should be cut along the grain.
They also make something called non-woven interfacing. Whereas woven interfacing behaves and looks like fabric, non-woven interfacing is more akin to paper and can be cut in any direction. They make non-woven interfacing in both fusible (iron-on) and non-fusible varieties.
Knit Interfacing
Knit Interfacing is also a thing – sometimes called Tricot. It has a bit more stretch crosswise and can be helpful when sewing with stretchy knit fabrics. It works well for stabilizing or providing structure to garments and quilts.
Other Sewing Tutorials
We'd like to thank Karrie for teaching us all the tips and tricks to sewing interfacing. If you need any help or would like to share your finished product, come visit our Peekaboo Facebook Group. While you're here, check out some of these other sewing tutorials: