Thanksgiving is just around the corner! Or if you're Canadian, it's already been and gone. Regardless, this is a fun and easy little craft to make your dinner table just a little more festive!
I found this 6-pack of mini white pumpkins at my local grocery store. I already had paint and brushes on hand, so it was a very quick way to decorate!
I let the kids decorate their own pumpkins. I laid down some paper to protect my table, and then started them off with some navy paint (my lid broke on that navy bottle, so I don't know what the actual name is under the tape – any navy acrylic paint will do).
They painted the top half of the pumpkin and then we let that dry. Then I flipped them over and they painted the bottom with the gold paint.
I got a little creative with the others and did stripes (using the the pumpkin lines as my guide) and polka dots (dip the end of your brush in the paint and dot them on!).
Then I printed out names onto card stock using a calligraphy font. If you have nice handwriting you could just hand letter these and that would be even easier!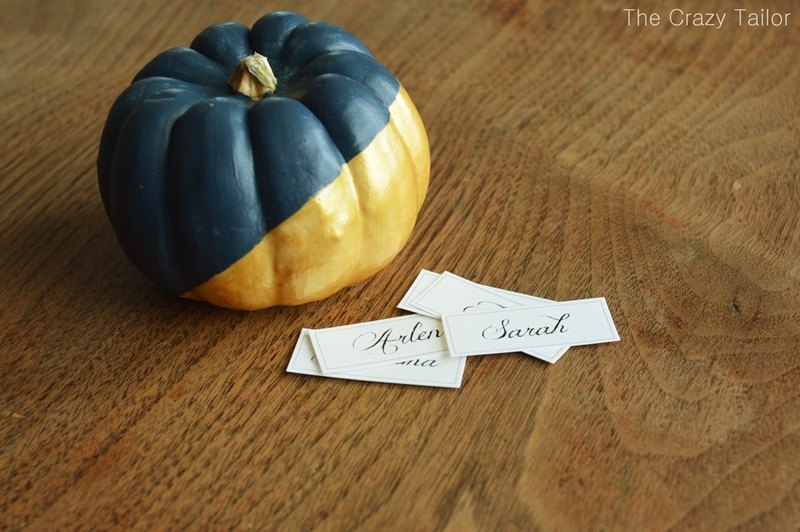 To make the pumpkins work as a place card holder, I used a sharp paring knife to gently "saw" a small slit in the pumpkin stem.
Slip the card in and you're done!
I did a very simple table setting of burlap, a lantern and some weeds (my husband asked me if I had jumped the back fence to grab some canola…haha, I had no idea what it was! But it was dead and in my backyard!) and some lavender picked from the front garden. The kids later picked some big leaves and we added those under each pumpkin. It was a very casual and fun table setting!
The possibilities with these are endless! Use whatever color scheme you want and make them as intricate or simple as you like! And be sure to get the kids involved – it makes setting the table a much more pleasant task when they've contributed something!