Today we're going to lean how to upcycle a t shirt!
How to Upcycle a T Shirt | Guide to Repurposing Shirts
It's no secret that I'm a huge fan of repurposing or upcycling clothing – using ready-to-wear (RTW) clothes as "fabric" for new garments. Although there are many more options available to home sewers/seamstresses in terms of knits than there used to be (even compared to just a few years ago when I started sewing clothing for my kids), those choices can sometimes feel a bit limiting. We simply don't have access to the variety (types of knits, colors, patterns) that clothing designers and manufacturers do.
It sounds a bit like what I heard a lot when I was pregnant with my son, actually. "You'll be so bored buying clothes for him." "You've been spoiled, shopping for your daughter first. Wait till you see how few choices you have!"
I suppose that's the case to an extent, but I've really enjoyed sewing for my little guy. As he's grown and developed opinions about what he wears, I've had a lot of fun making clothing that's not just handmade, but custom-made for him. It's true that finding knit fabrics with prints for boys can be a little challenging at times, so I've really taken to picking up mens' t-shirts in various colors and styles, stripes and cool geometric prints, and making it work. I've started to acquire quite a stash of mens' tees and much of A's shirt wardrobe is now made up of upcycles.
Actually, in the making of this post, as I've been compiling tips and tricks for upcycling and making a few modifications to favorite patterns (more on that shortly), I made 10 shirts for A's fall wardrobe – 5 short sleeve, 2 three-quarter sleeve, and 3 long sleeve. I used parts of 14 mens' shirts to work with, along with a few cuts of rib knits for neckbands, and two small cuts of fabric yardage. I made a bodysuit and pants set for my nephew from that same initial pile of shirts, and still have quite a bit of shirt left to work with. Upcycling is a great way to customize a wardrobe, and can definitely be cost-effective too.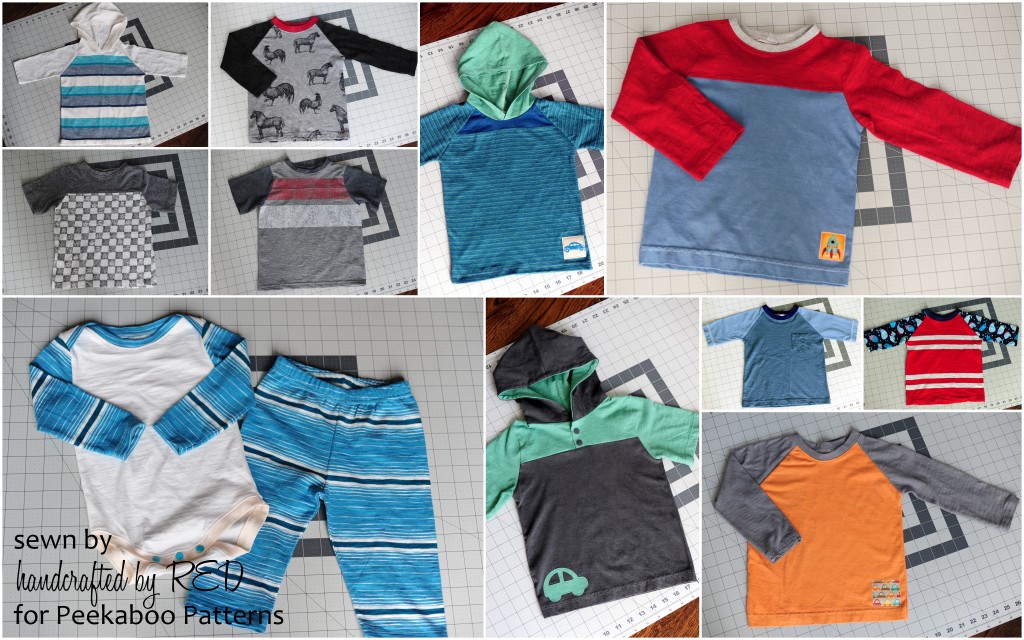 Grab a drink, sit down, and read on! Here are some of my favorite tips – and two mini-tutorials – for upcycling clothing:
Tips for Upcycling Shirts
Upcycling T-Shirt Tip #1: Don't shy away from buying solid color shirts, especially if they're a nice fabric (I especially love slub knit cotton jersey and pigment dyed cotton). I love having a pile of solids in all different colors on hand that I can use for coordinates. If all else fails, your local big-box craft store probably has solid tees (usually a poly/cotton blend) for a few dollar apiece (and often on sale) that come in many colors and sizes.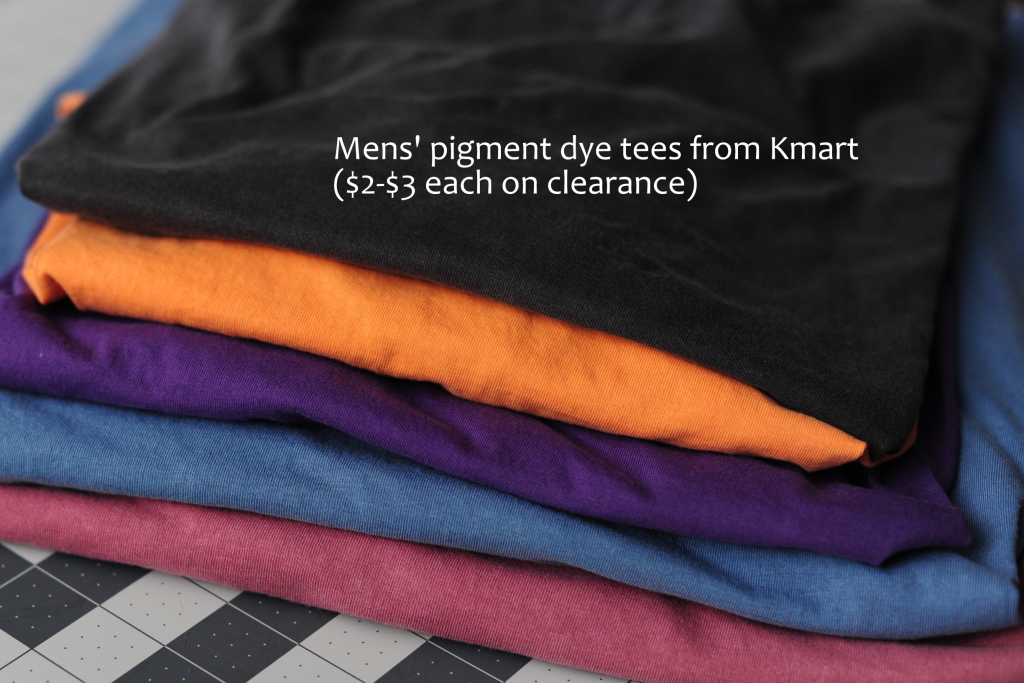 Upcycling T-Shirt Tip #2: The bigger, the better! One thing about buying RTW clothes to cut up and repurpose is that they are the same price whether you buy an XS or an XXL. If you can find 3XL or larger, you'll probably have to spend another couple of dollars, but you'll have even more fabric to work with. So buy the biggest you can find! (One exception to this would be if you're trying to upcycle a graphic tee – you don't want the graphic to be larger than the pattern piece you're working with, or parts of the design will be cut off.)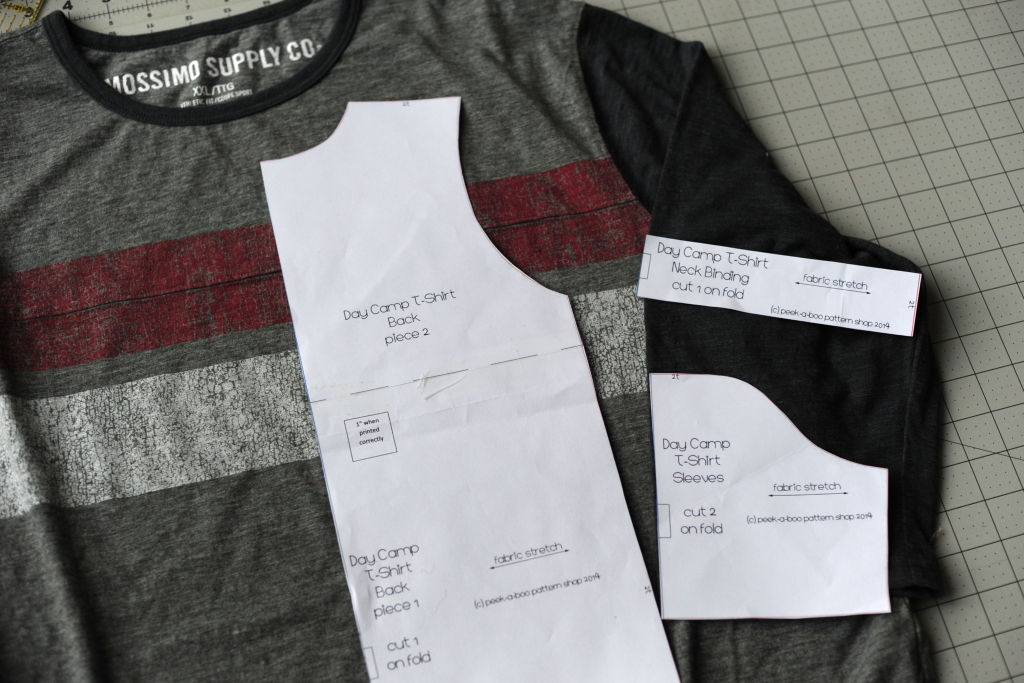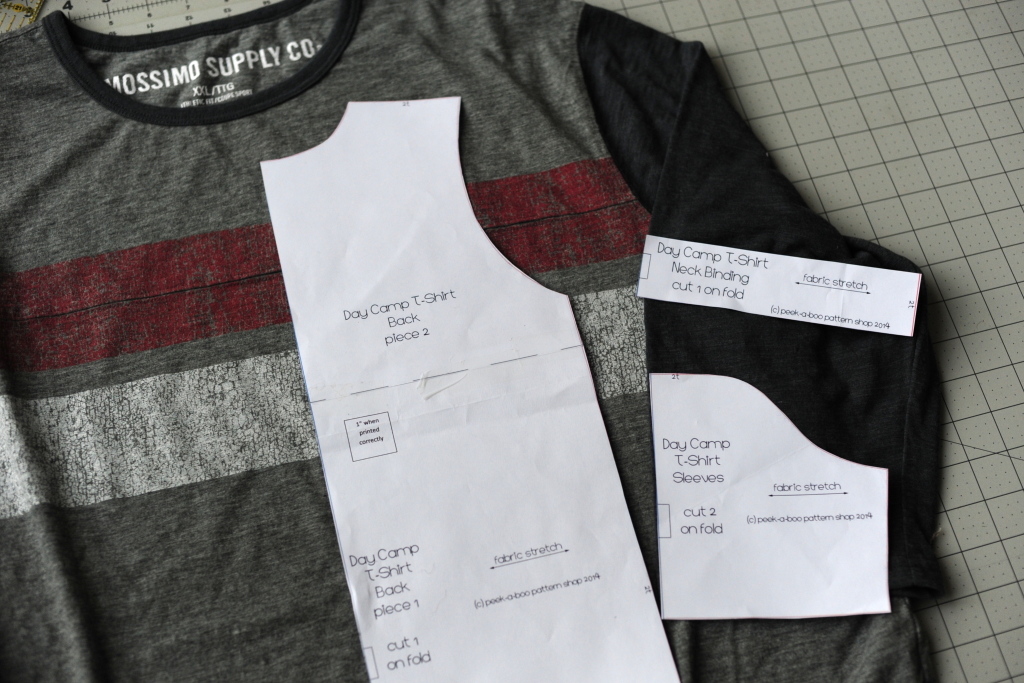 Upcycling T-Shirt Tip #3: This is somewhat obvious, but long sleeve shirts are a better buy than short sleeve shirts. 😉 April and May are great months to scoop up lots of long sleeve shirts on the winter clearance racks for super cheap.
Upcycling T-Shirt Tip #4: Reuse the factory hems on sleeves and shirt bodies whenever possible. They are coverstitched and not only look great, but are nice and sturdy as well. You'll need to make sure to reinforce your seams and/or tuck in your thread tails if you're serging, but that definitely takes me less time than doing all of the hemming myself. Just check to see how much of a hem allowance your pattern includes, and slide the pattern piece down past the factory hem by that amount. Unless you want to add a little length to your sleeves or shirt hem, in which case you can just line up the pattern piece with the edge of the fabric as usual.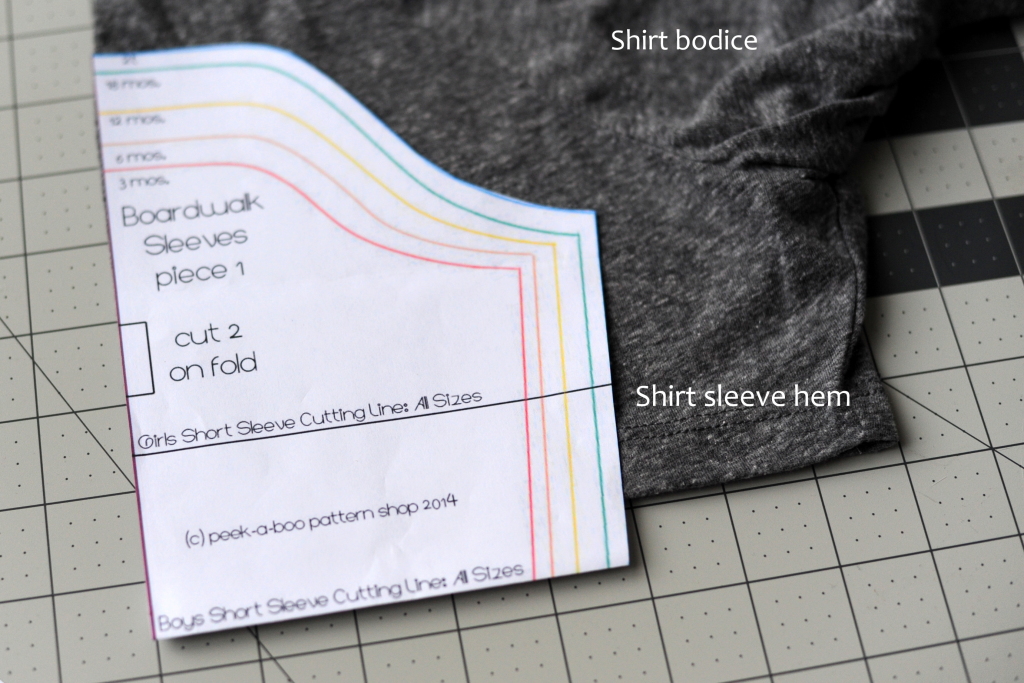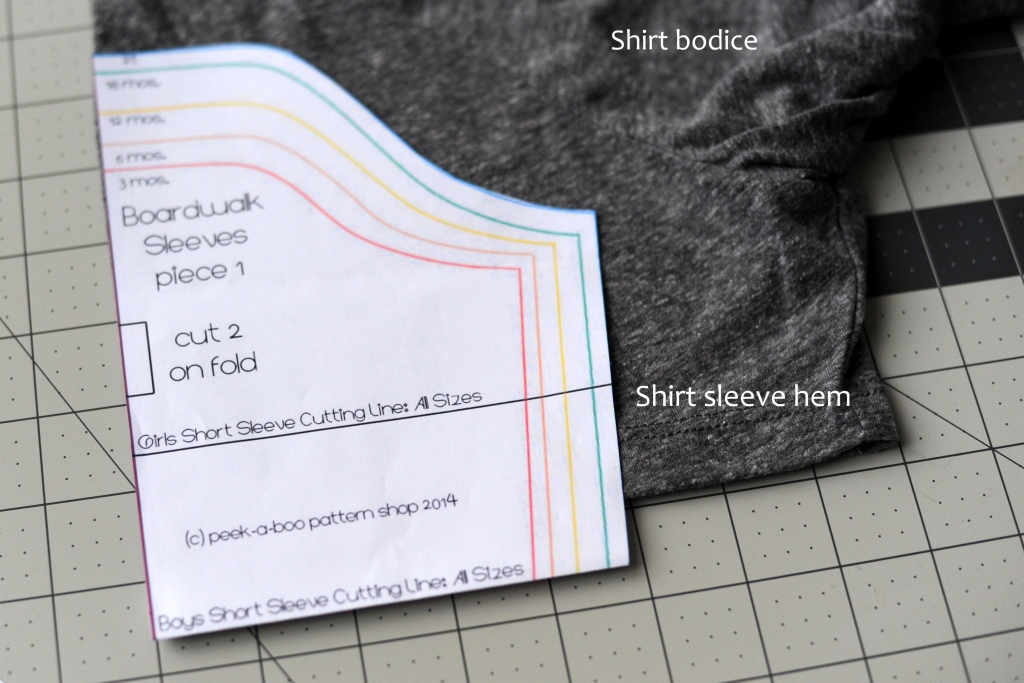 Upcycling T-Shirt Tip #5: Don't shy away from the women's department, either. Women's tees are often made of a cotton/lycra blend, which is what all of those yummy (and expensive!) Euro and custom knits are made from. Those cotton lycra upcycles come in lots of solid colors and make great coordinates – and are a great way to help you stretch a small piece of that fancy fabric a bit further. (I LOVE making baseball style tees with Euro knits – I only need a small piece to use for the body or the sleeves, and then I use a solid color or stripes for the rest.) You can also use cotton lycra as ribbing for neckbands, because of its stretch and recovery.
Upcycling T-Shirt Tip #6: It's helpful to have some rib knit (some call it ribbing) on hand for neckbands. Rib knit can be all cotton (I like the rib knit from Chez Ami) or a cotton/spandex blend (better recovery than some that are all cotton), and color selection can be somewhat limited. I like to have some basics – like navy, grey, white, and black – in my stash, and then I pick up some fun colors like turquoise, maroon, lime green, and yellow when I happen to find them.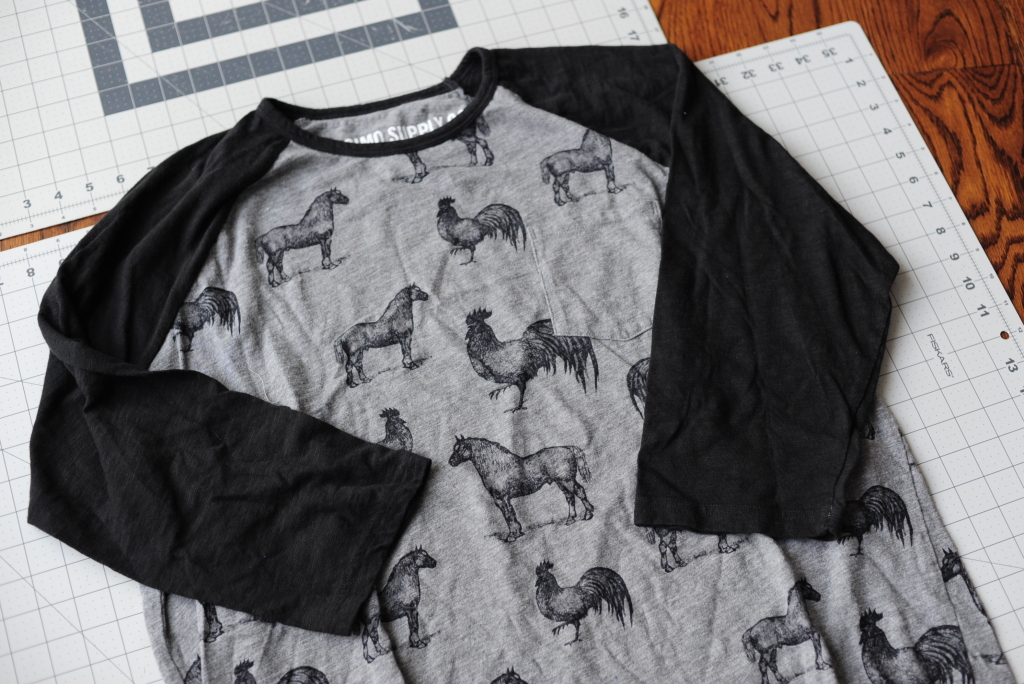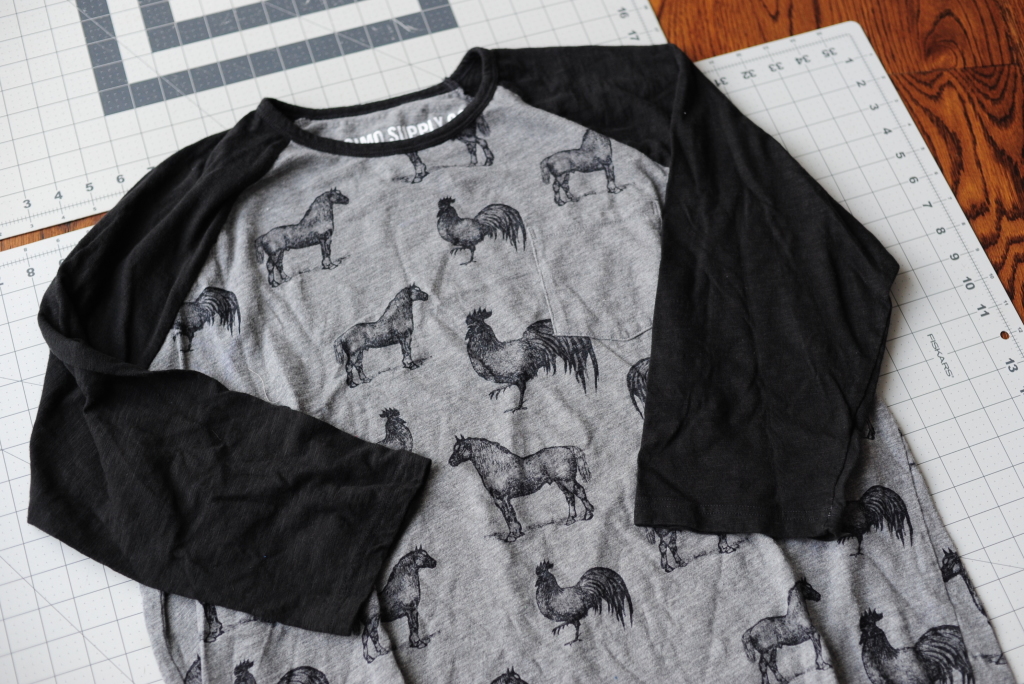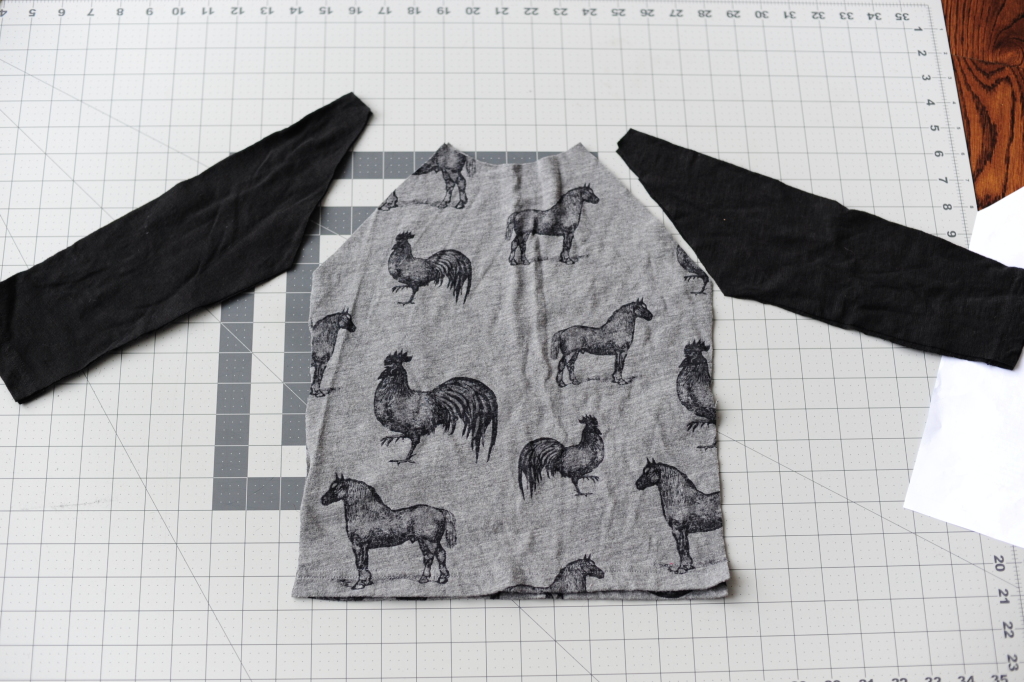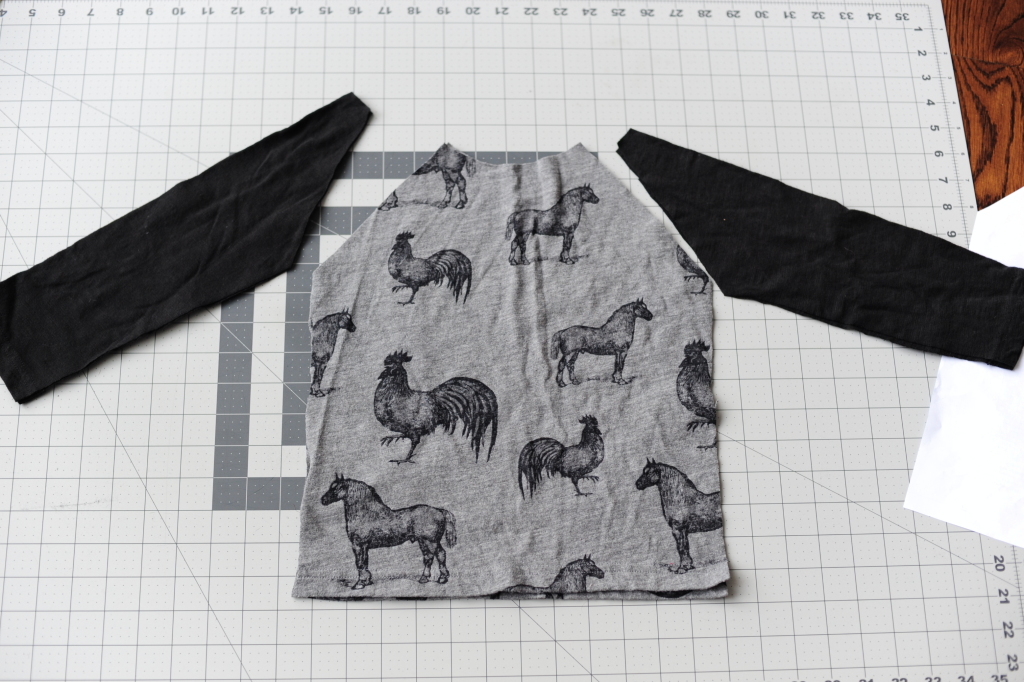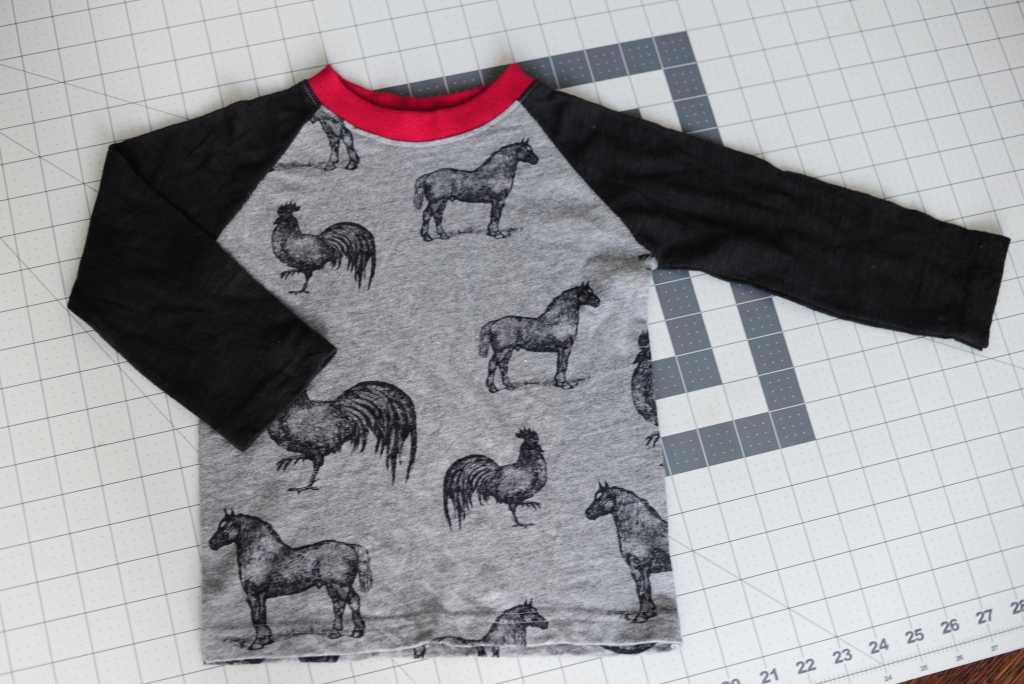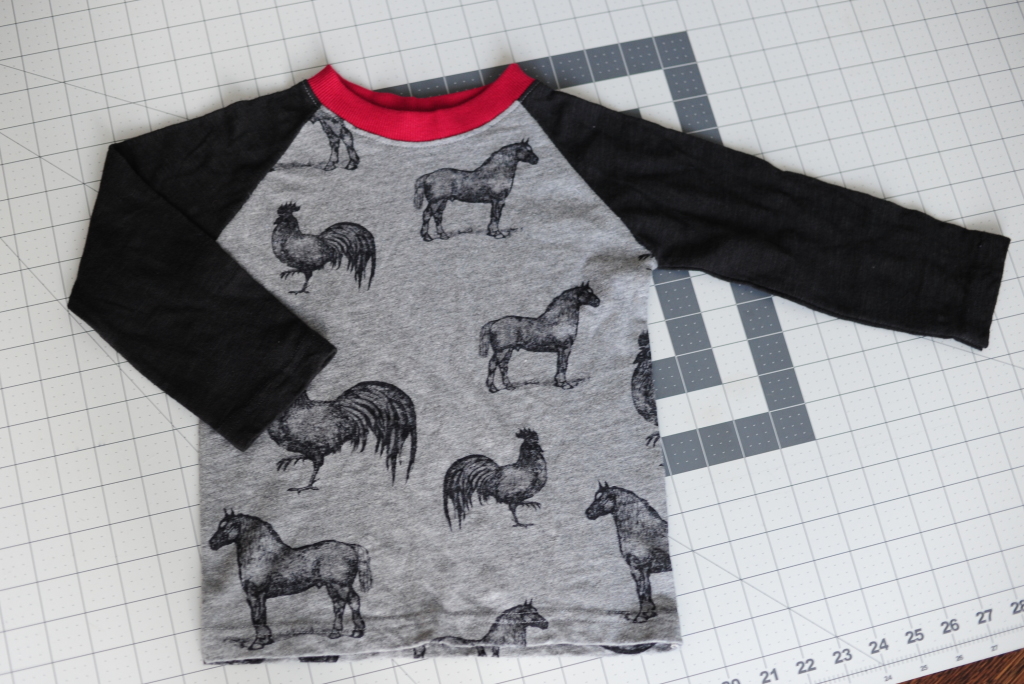 Upcycling T-Shirt Tip #7:Many people swear by thrift shops for great finds. Goodwill, Salvation Army, and other local shops can all be good ways to find new or hardly-worn clothes at a steep discount.
Upcycling T-Shirt Tip #8:If you're like me and live in an area where even the thrift shops are pricey, check out clearance racks at department stores and other big chain retailers. I've been to a few thrift shops around here, ranging from Goodwill to small, independent shops, and the prices are often higher than clearance prices at Old Navy and the like.
My favorite spots to pick up mens' shirts for upcycling are Old Navy, Target (both of these are fantastic for mens' shirts in less-typical colors and fun stripes; the younger mens collections at Target often have some fun geometric prints, too), and Kmart. We don't have Walmart in our area, but the Basic Editions line of clothing at Kmart is often 100% cotton and excellent quality. And our local Kmart has a big and tall section that has knits up to 4xl. I recently sewed up a tester version of Amy's Pine Lake Pullover in a size 2T from an army-green sweatshirt that was a 3xl – I still have the entire back of the sweatshirt for another project!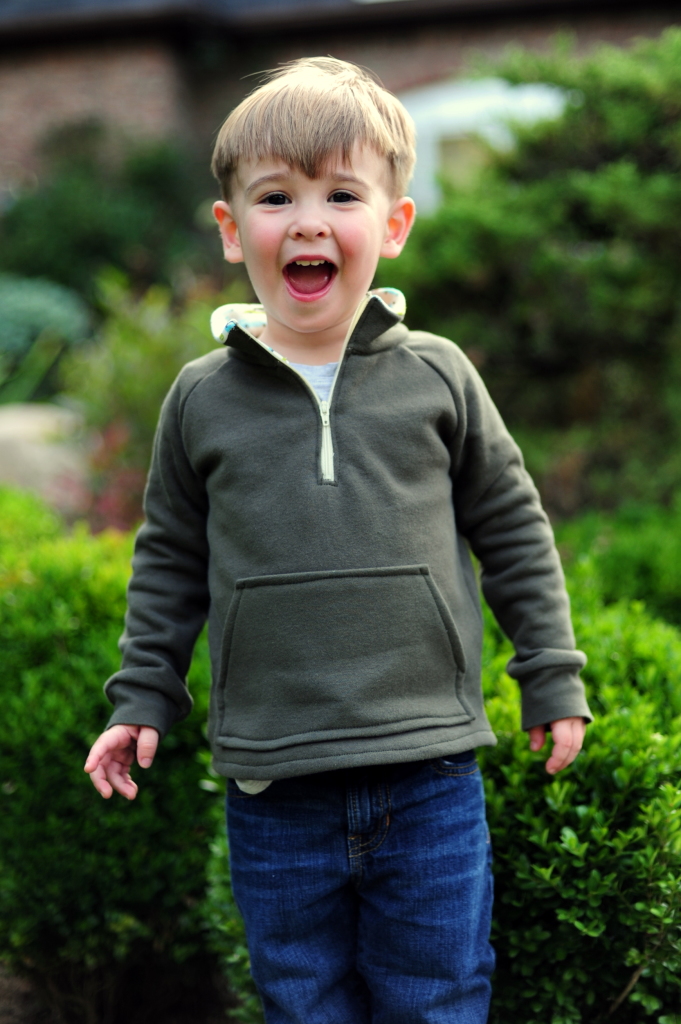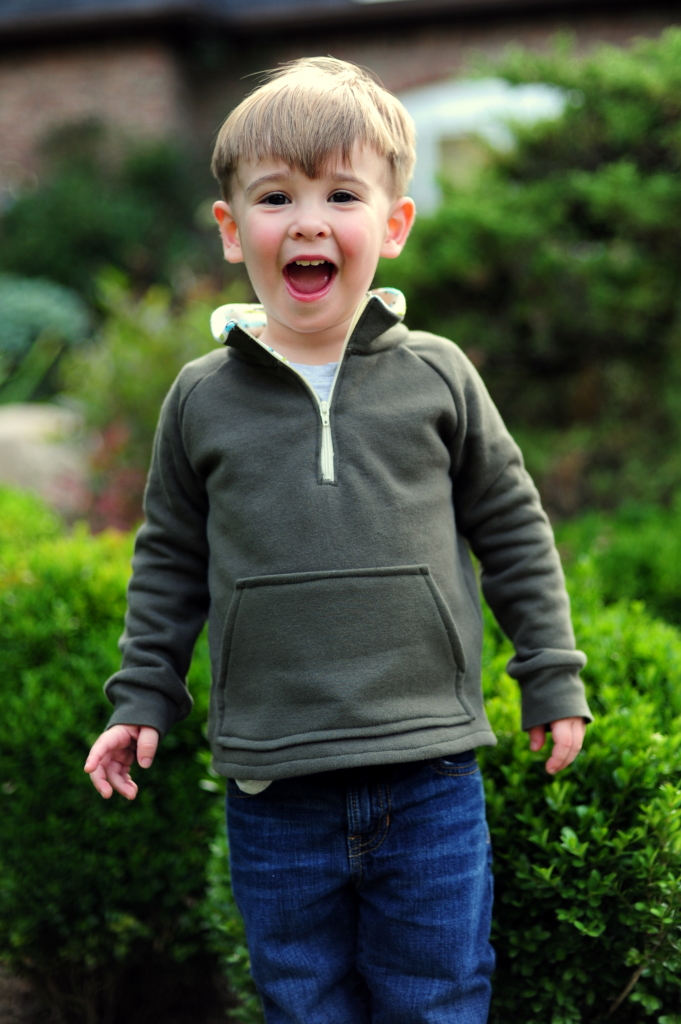 Upcycling T-Shirt Tip #9: Look for "coordinates" at the same time. Sometimes shirts will linger in my stash for awhile because I just haven't found anything to go with them. Buying two or three shirts at the same time to mix-and-match pattern pieces can help with that. Use the sleeves from one and the body from the other – and for a second shirt, just flip that around and use the remaining sleeves and body! (This is especially awesome if you have two little guys to sew for.)
Also, look for baseball-style tees since they often have a different color for body and sleeves, and the fabrics are generally the same type throughout the shirt.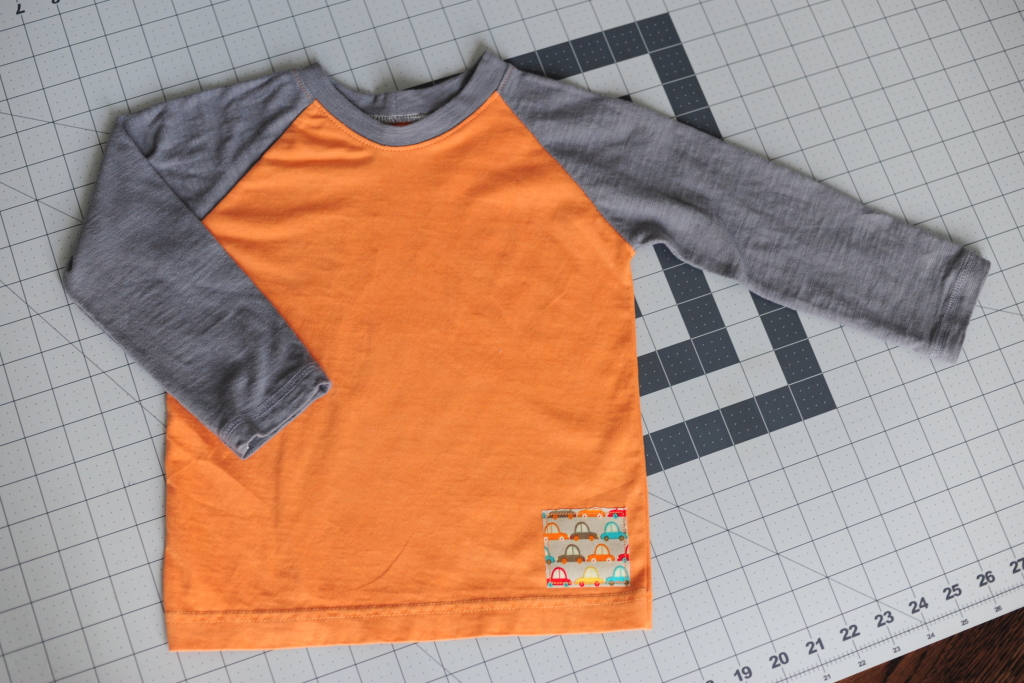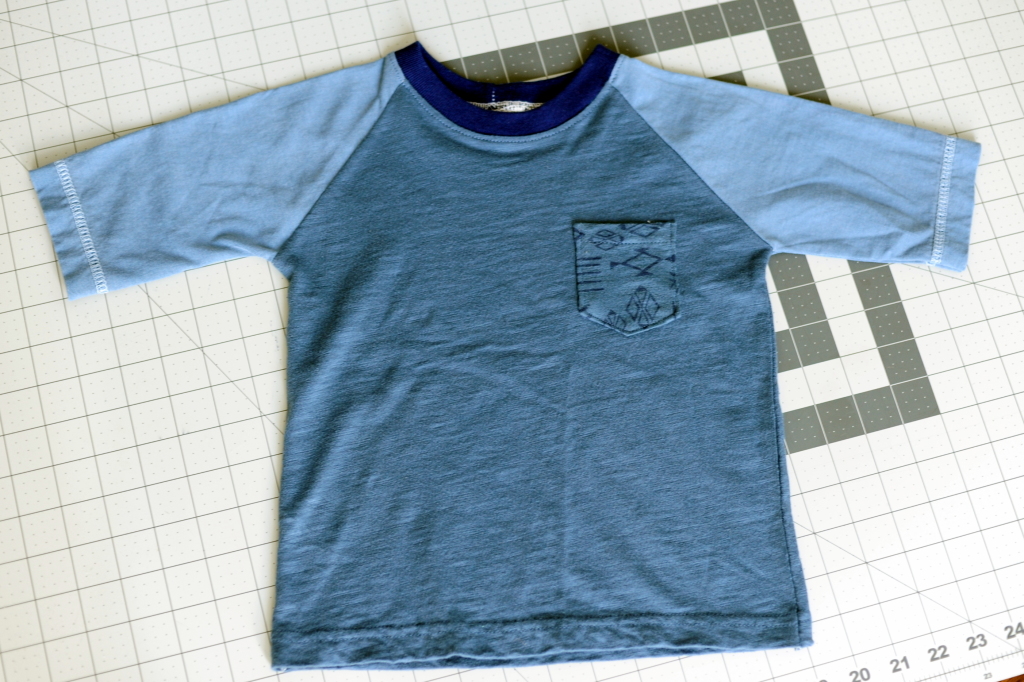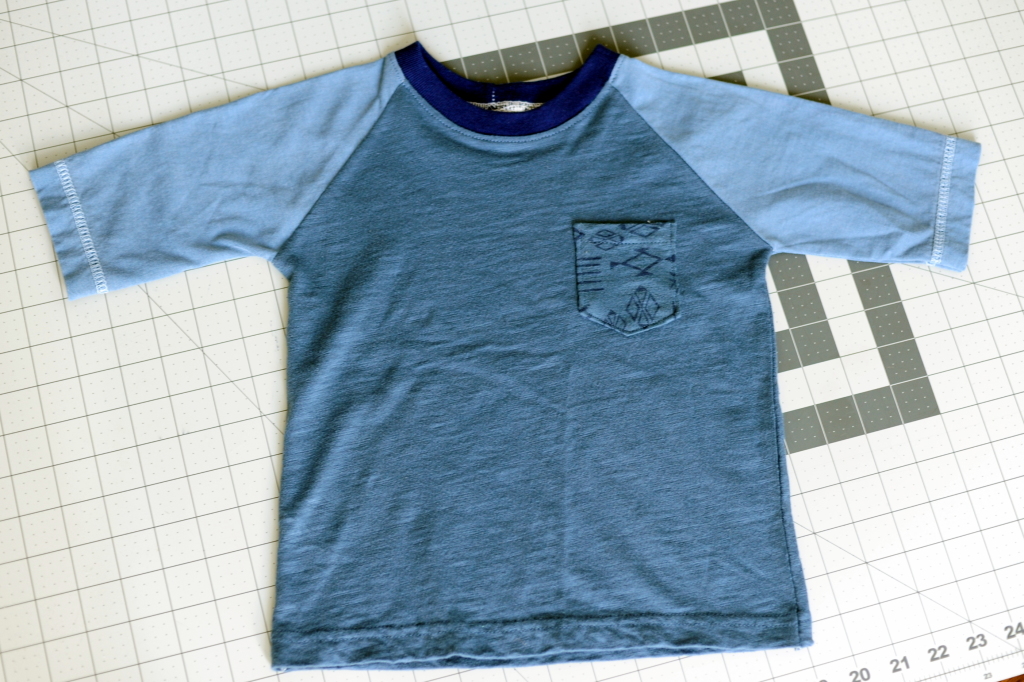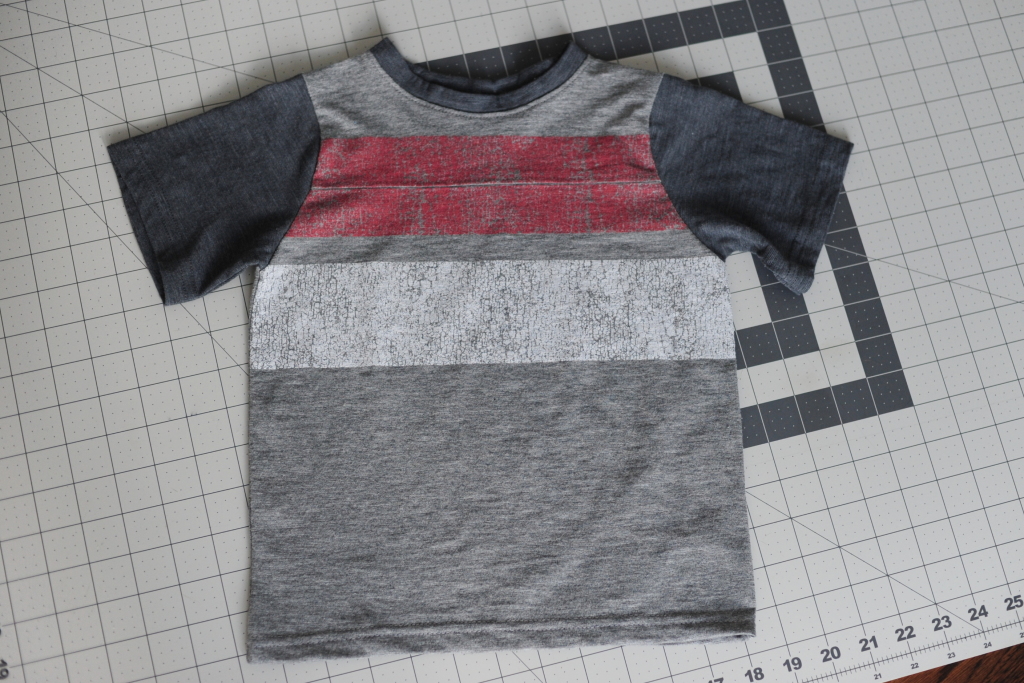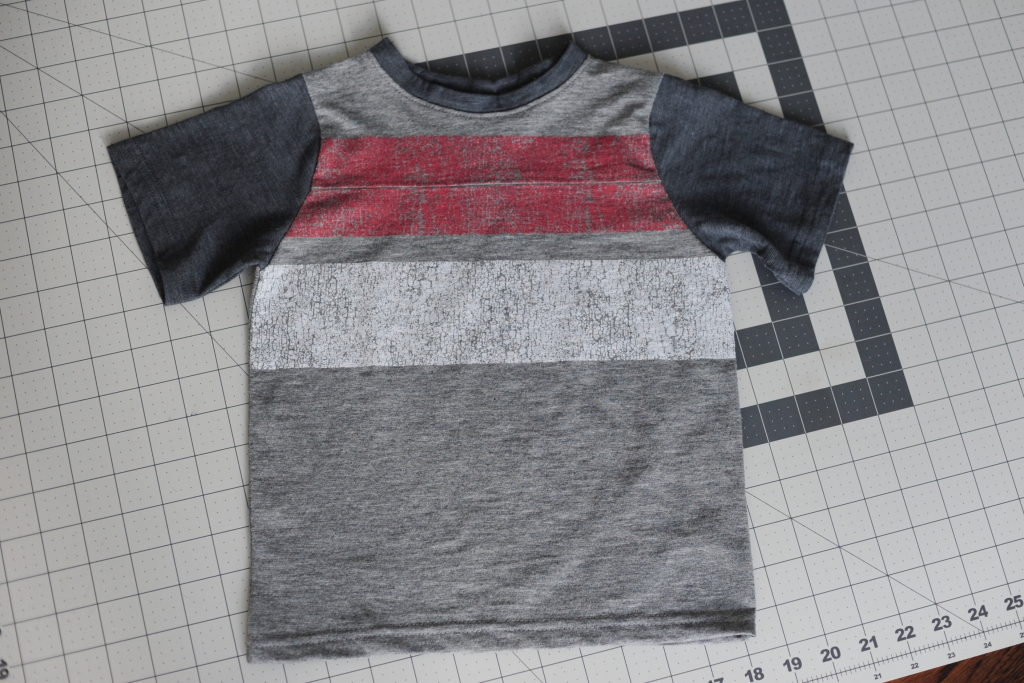 Upcycling T-Shirt Tip #10: Speaking of fabrics, use what you like, and experiment a bit to find out what works best for you and the recipient(s) of your upcycling adventures. Knits like interlock are more stable than a t-shirt weight cotton jersey, and are easier to sew with since they don't curl up on you and don't have as much stretch as some other knits.
Do try to be consistent within a garment, though – you may find your finished product to be a bit wonky if you're got very mismatched fabric weights or types (I'm thinking like sweatshirt fleece for sleeves but t-shirt jersey for the body as an example of a fabric mismatch).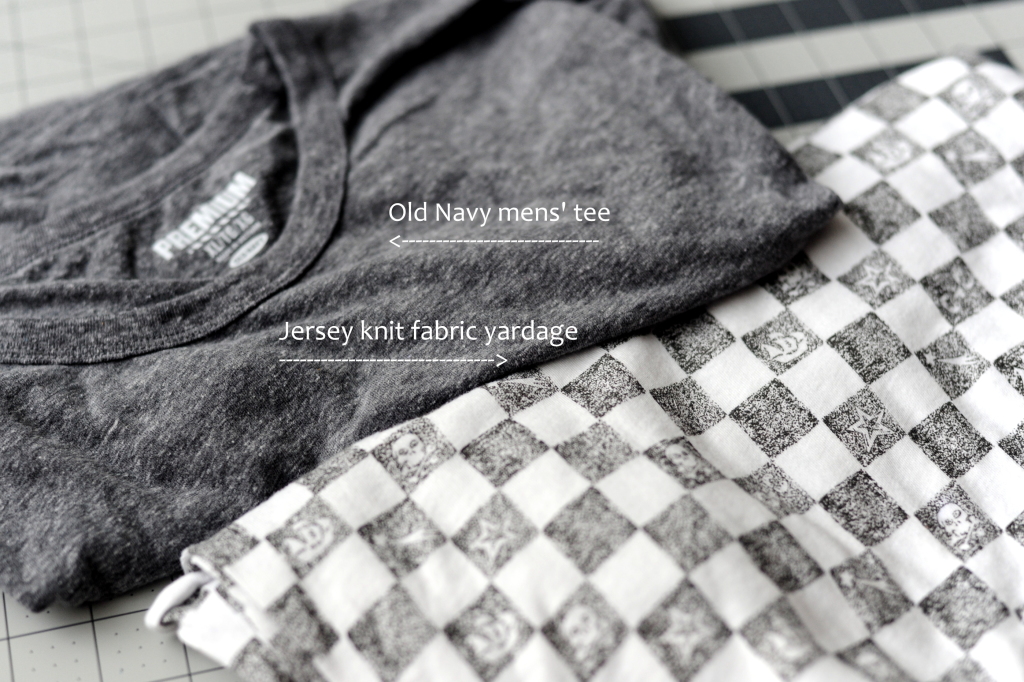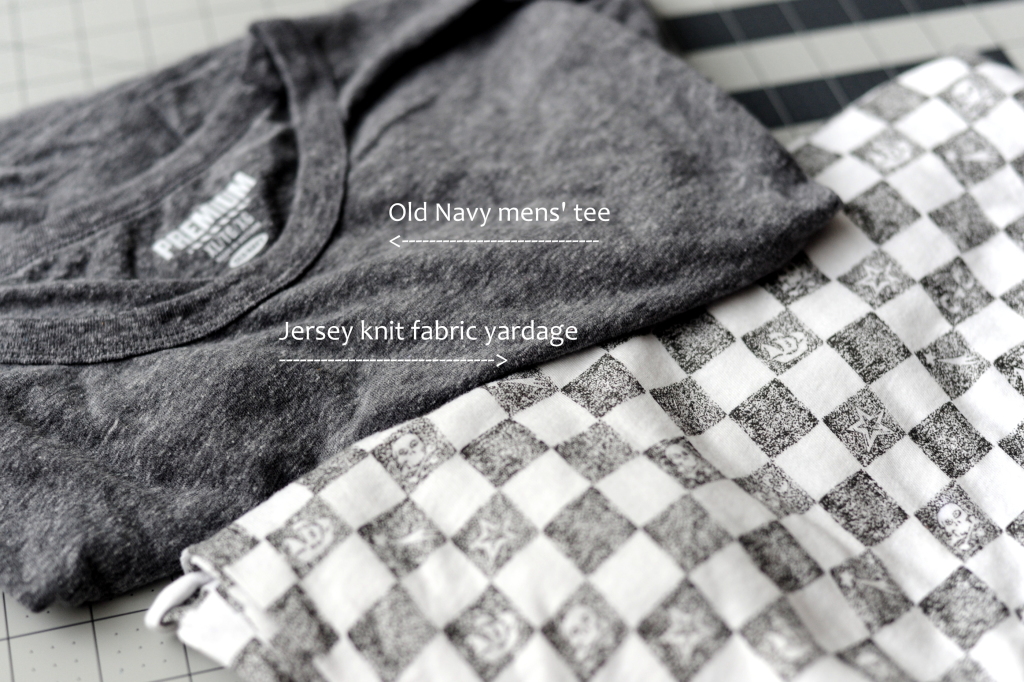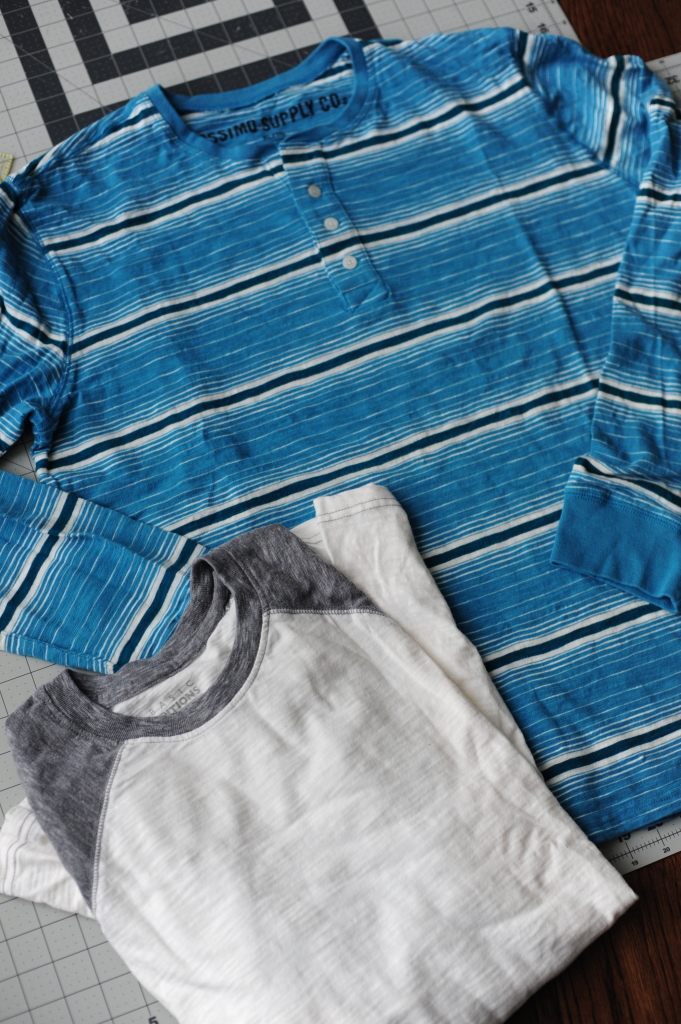 Upcycling T-Shirt Tip #11:Be creative with ways to personalize and embellish your garments. My little guy adores cars and trains and school buses and fire trucks; favorite colors include various shades of blue and orange (sometimes green or purple makes the cut) – basically, if I filled his dresser with a stack of blue shirts with cars on them he'd be thrilled. But hello, that's boring (especially when you've got a mama who sews). 😉
Sometimes I'll add a little applique to his shirt – my favorite spots are either front and center or down in the bottom corner, just above the hem. I like to buy woven fabrics that I can use to make a little "patch" also – some prints are large enough to just cut and applique onto the shirt directly (use a fusible adhesive like Heat n Bond lite or Pellon Wonder Under to adhere the patch to the shirt, and then topstitch to secure), and others I just cut out a small (usually about 2″ x 2″) square and attach it as though it were a "real" applique.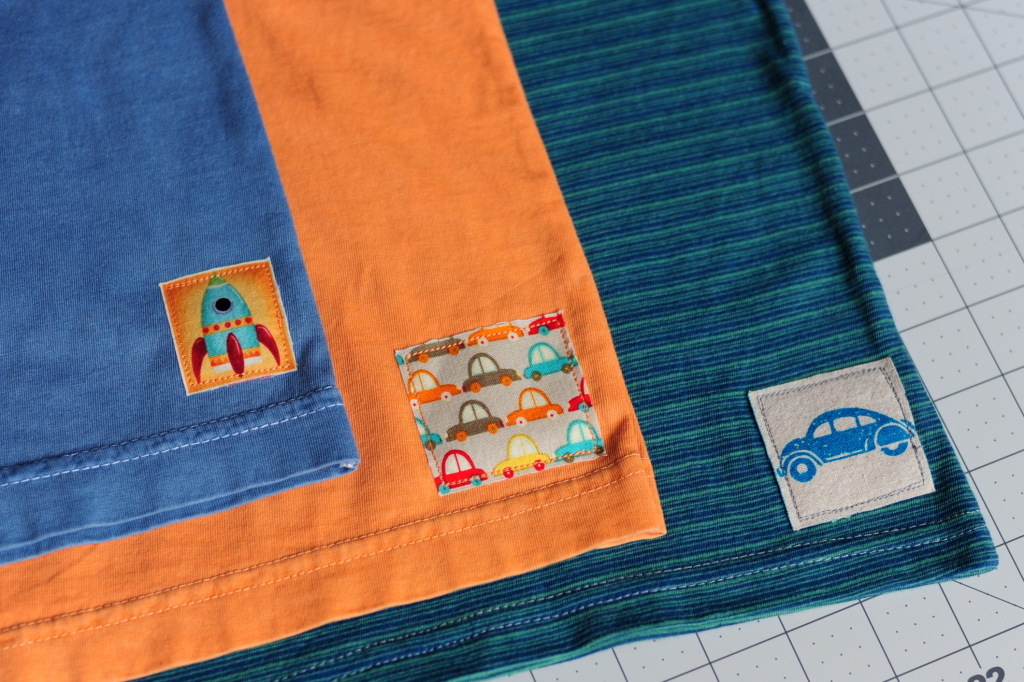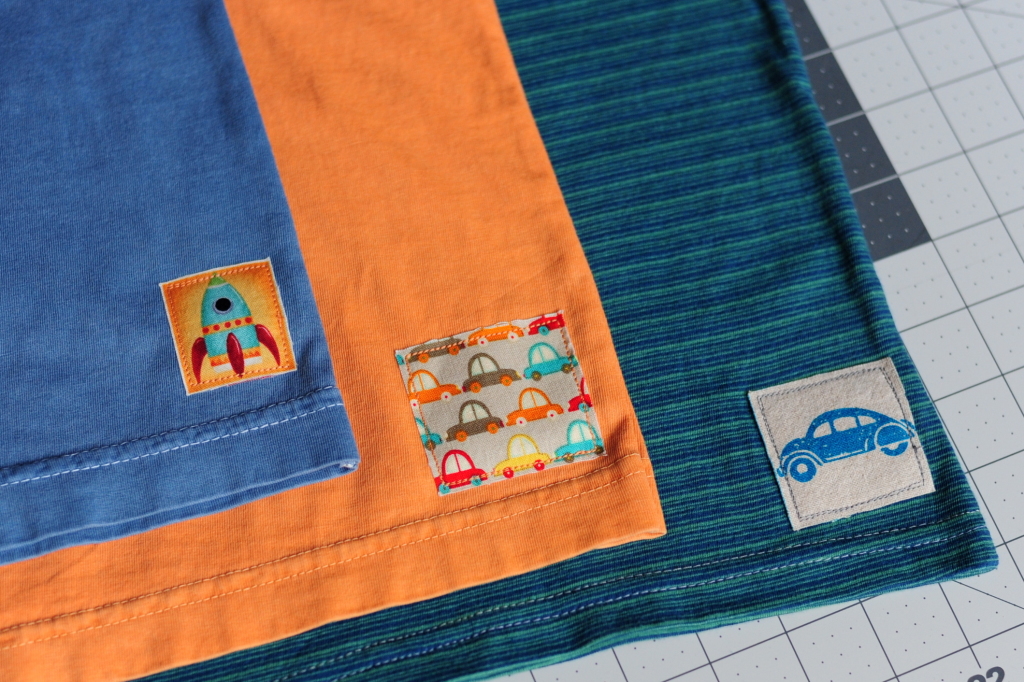 Upcycling T-Shirt Tip #12: Have a few "reliable" patterns on hand that you've got cut and ready to go, and know what size your kiddo(s) will need. When I made the stack of fall shirts for A, I worked primarily with the Peekaboo Patterns Grand Slam and the Day Camp Shirt. I also like using the Classic Ringer, especially when I'm making long-sleeve tees. I used the Lullaby Bodysuit for the set that I upcycled for my nephew.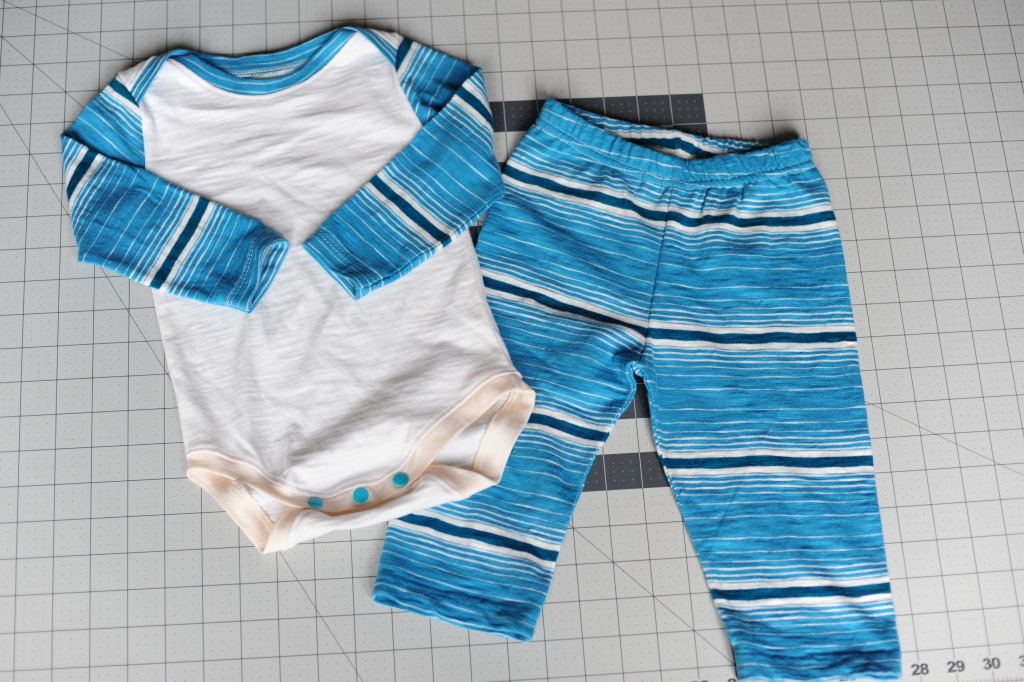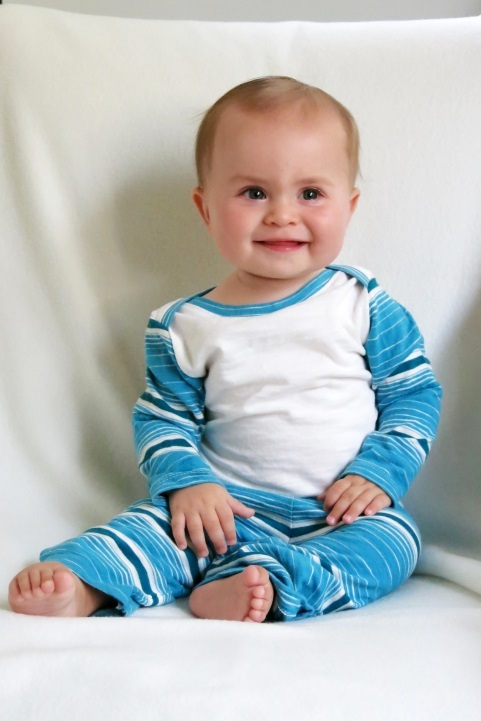 Upcycling T-Shirt Tip #13: Mix-and-Match your patterns, too! I love adding a hood to the Grand Slam pattern – it is such a cute look and so easy to do. I like to use the hood pattern piece from the Boardwalk pattern because it shares a similar neckline curve. I cut out the hood piece one size larger than the shirt, though, to make sure that the hood piece will go all the way around the neckline without making the shirt too tight to get over the wearer's head. I'll often cut the front neckline down a little further, too.
Tutorial on How to Repurpose Shirts
Here's a visual (these are 2T Grand Slams with a 3t Boardwalk hood – the Boardwalk is a retired pattern) and a mini tutorial for the step-by-step: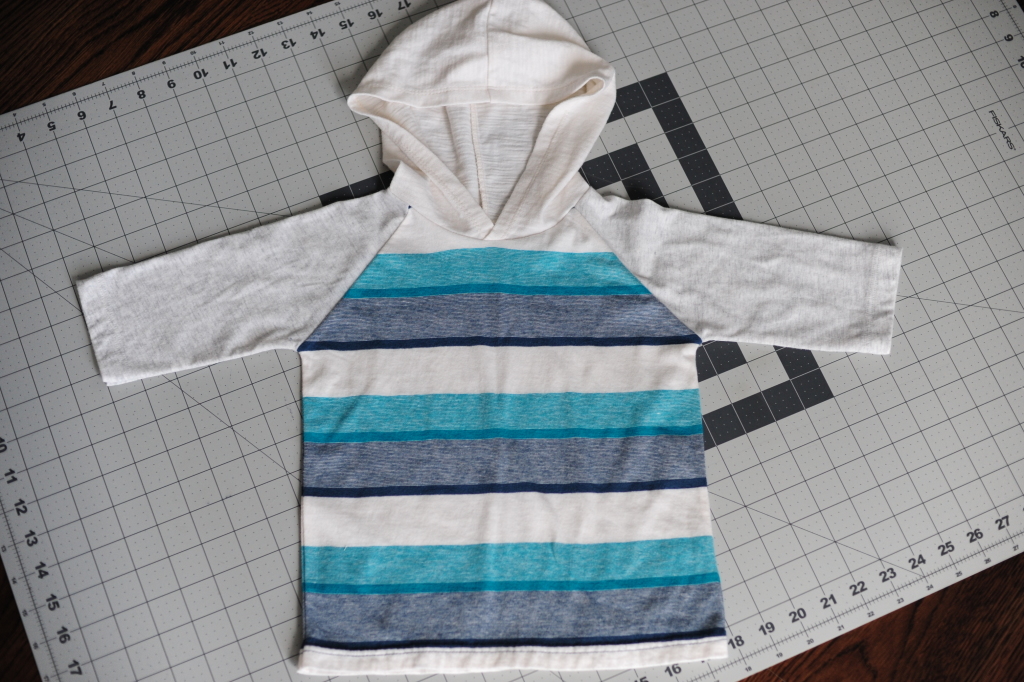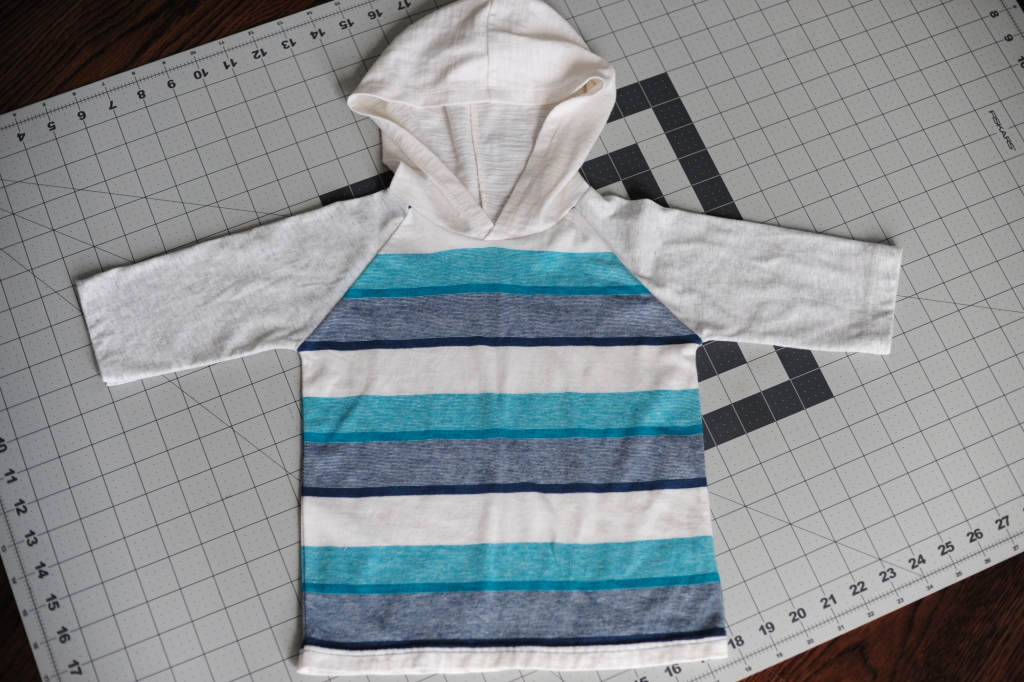 Upcylce Step 1: Sew up your tee according to pattern directions, completing all steps except for binding the neckline.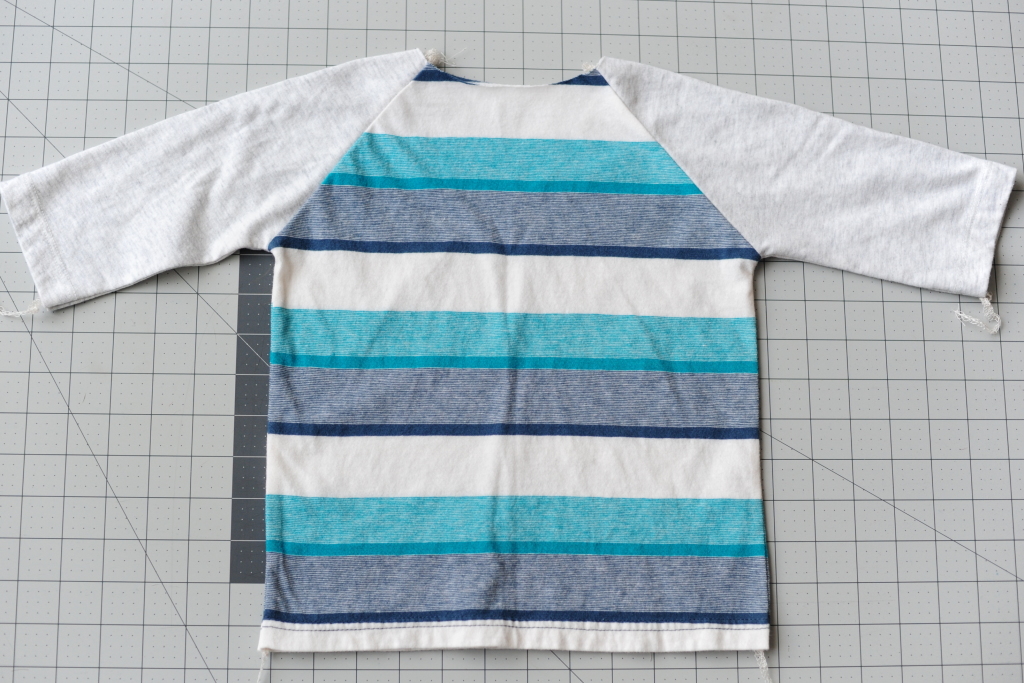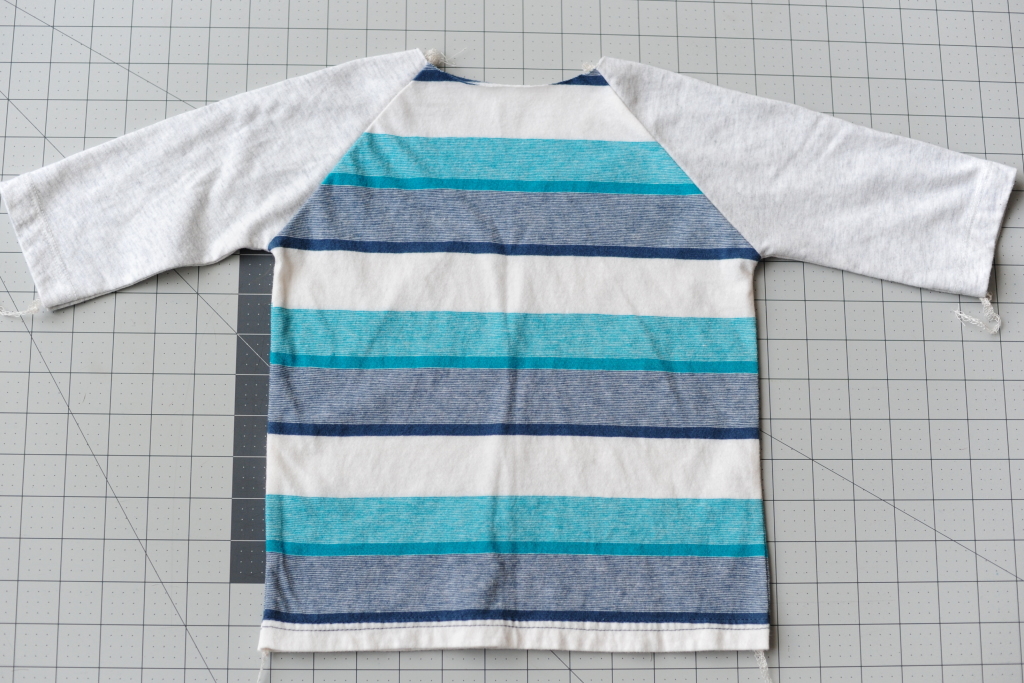 Upcylce Step 2: Prepare your hood. If you're doing a lined hood as in the Boardwalk pattern, follow instructions to assemble hood and topstitch the two layers together. If you would like to do an unlined hood (which I prefer sometimes when my t-shirt fabric is lighter weight), then cut 2 hood pieces instead of 4. Sew up the center seam as you typically would, and then do a small hem (I usually do about 1/2″) around the face edge.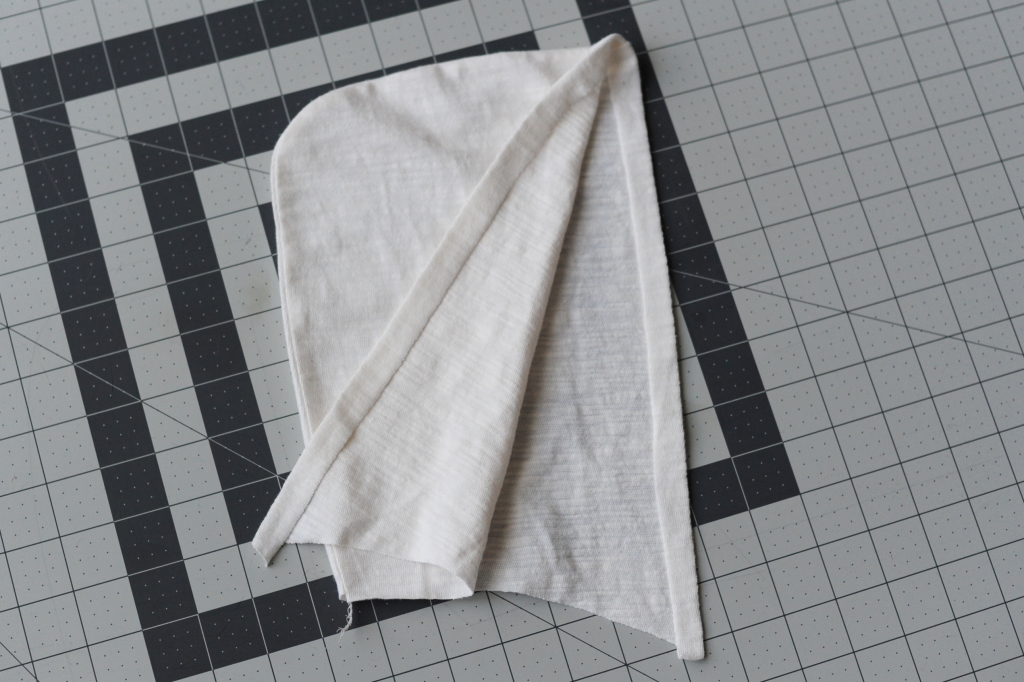 Upcylce Step 3: Beginning at the center back, pin the hood to the neckline RST and make your way all the way along the neckline, pinning (or clipping – I swear by Clover Clips) as you go. When you get to the center front, you should have a little bit of hood left on both sides, and overlap them slightly right at the center front. I like to baste these pieces in place so they won't slip away from me when I go to serge the hood onto the neckline, and also to check and make sure that it's all centered and even.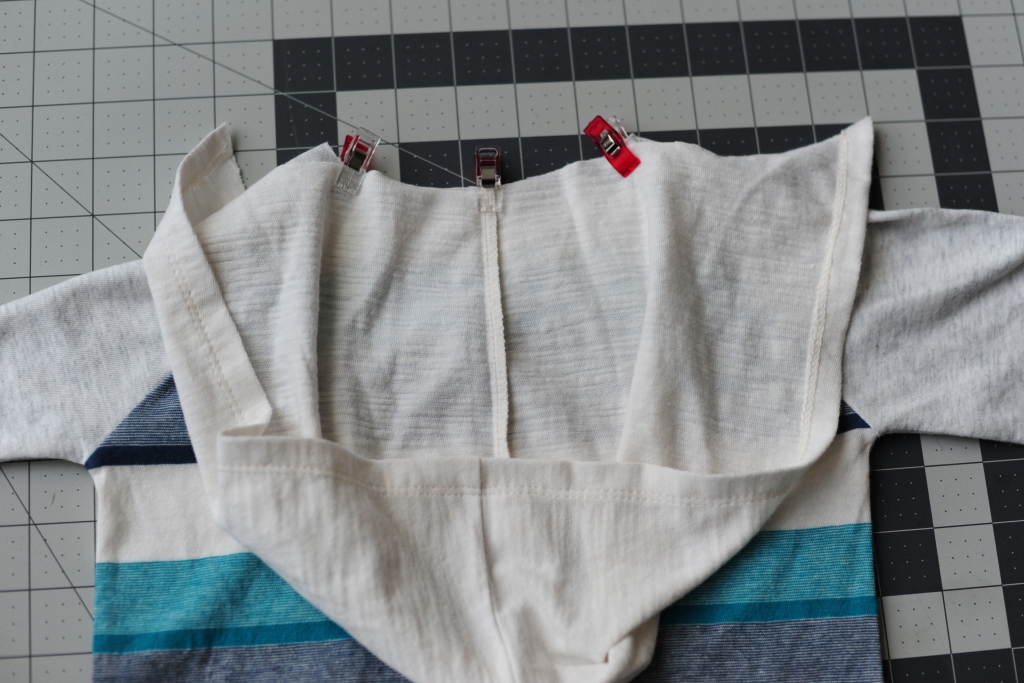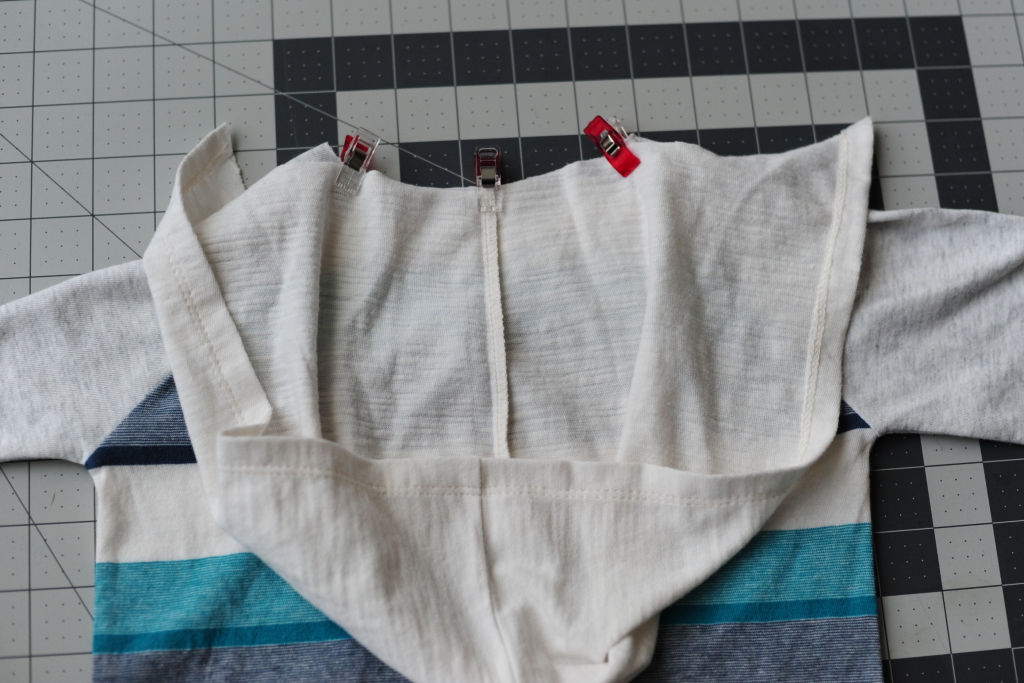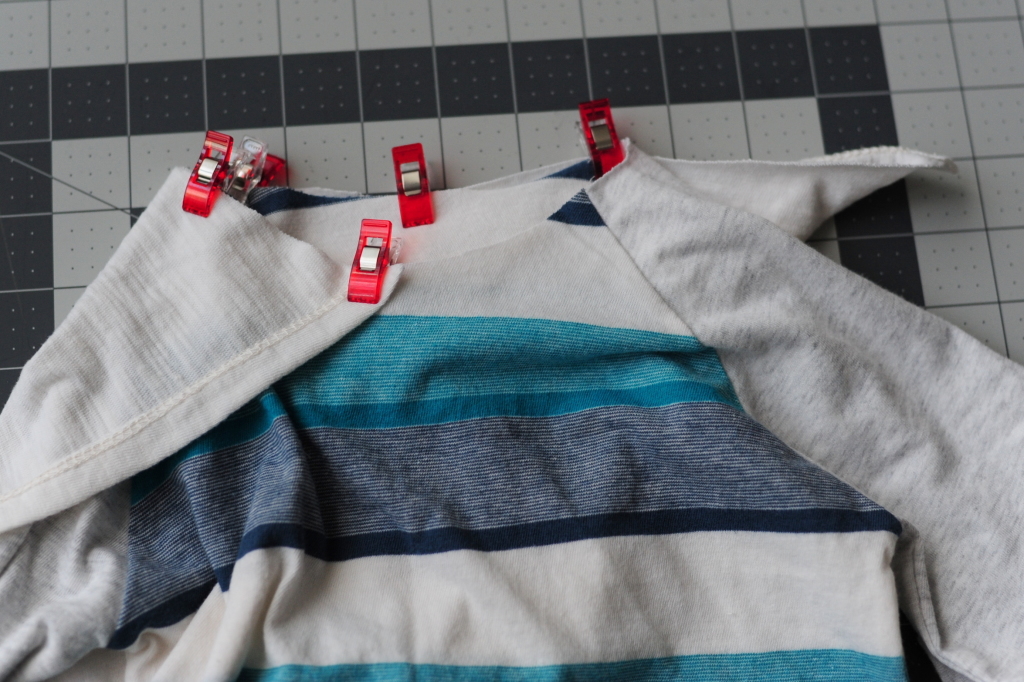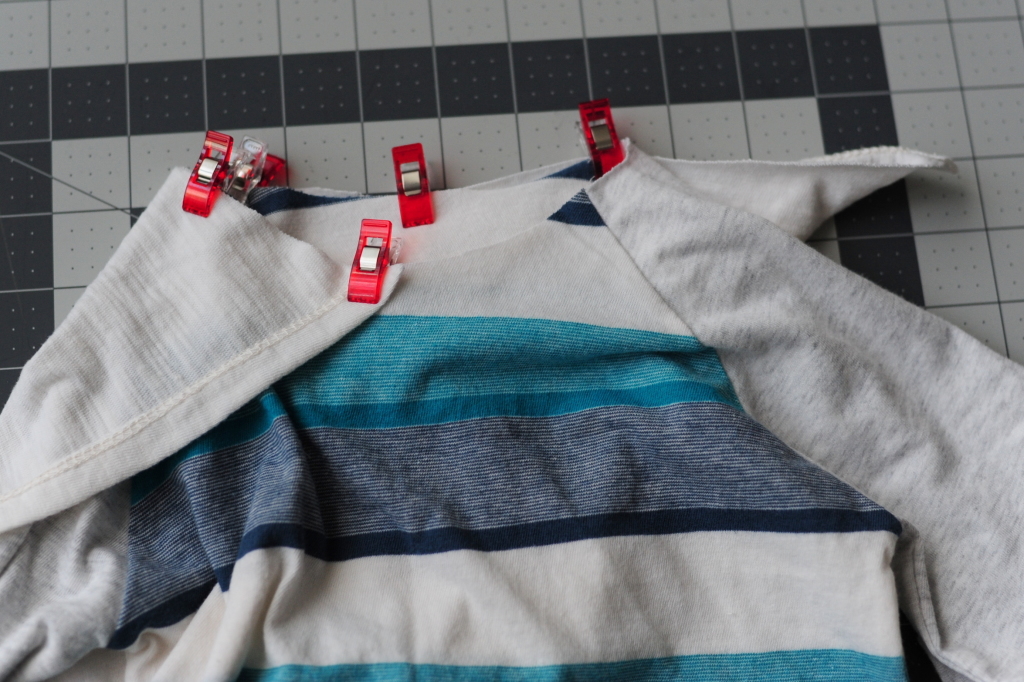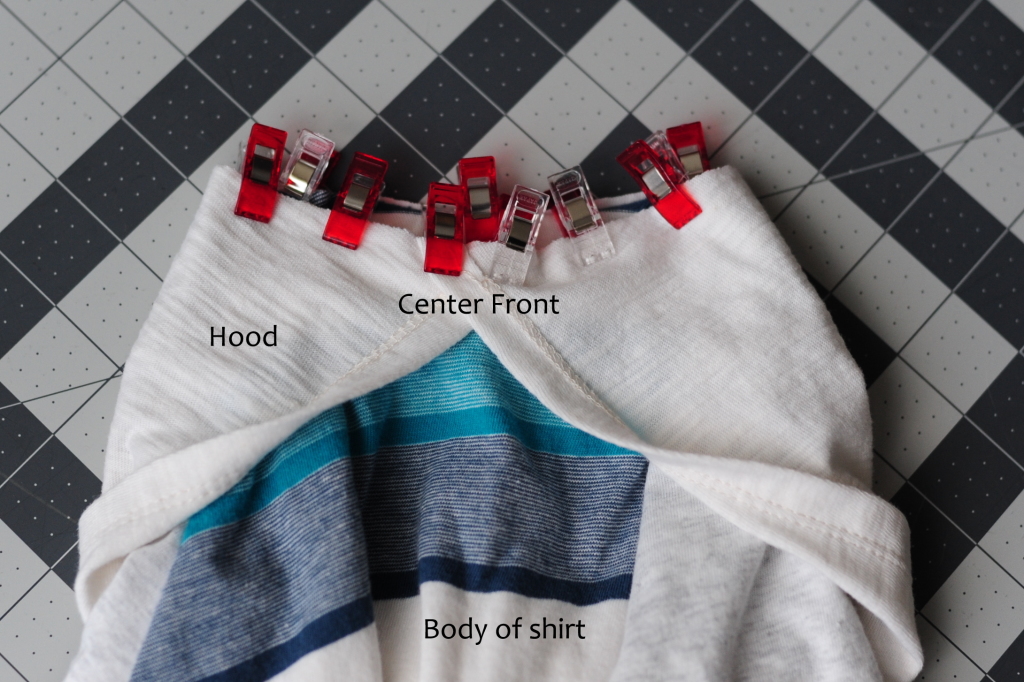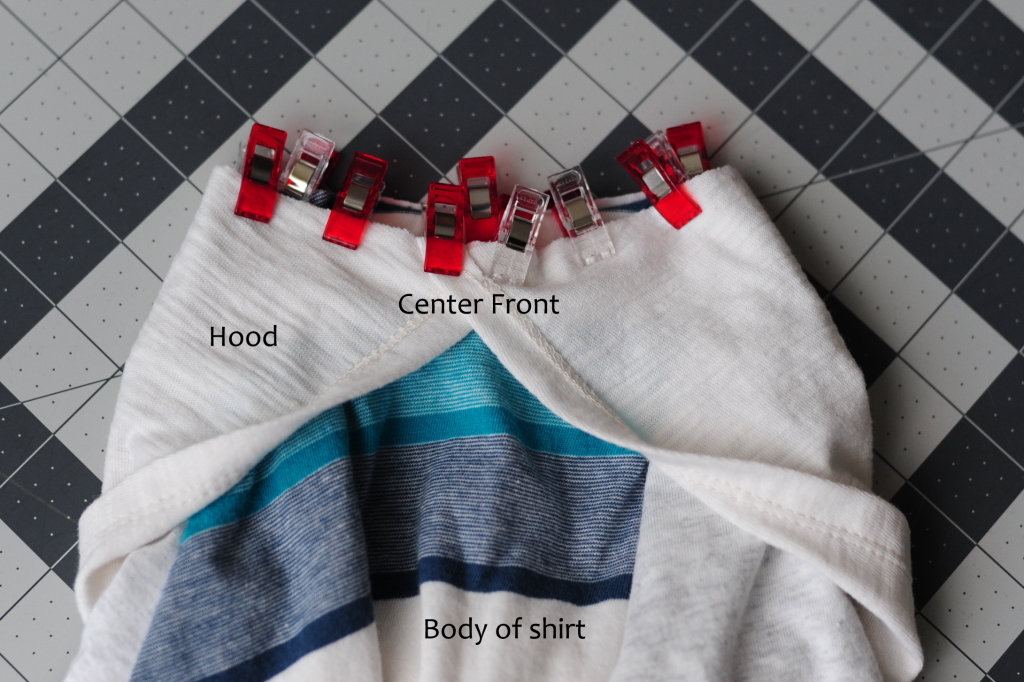 Upcylce Step 4: Serge (or sew using a stretch stitch) the hood to the neckline of your shirt. Press the seam down toward the shirt body (away from the hood). You can topstitch around the neckline (to keep the seam allowance down) if you'd like, although I often skip this step as I don't want to lose any more stretch from my neckline once the hood is added. If you choose to topstitch, make sure to use a zigzag stitch, a stretch stitch, coverstitch, or a double needle so the stitch won't pop when your little guy pulls the shirt over his head.
And that's it! Here's another one I did (the shirt I upcycled came already colorblocked, so the little bit of blue you see on the front wasn't something I added – the only thing I added here was the green hood):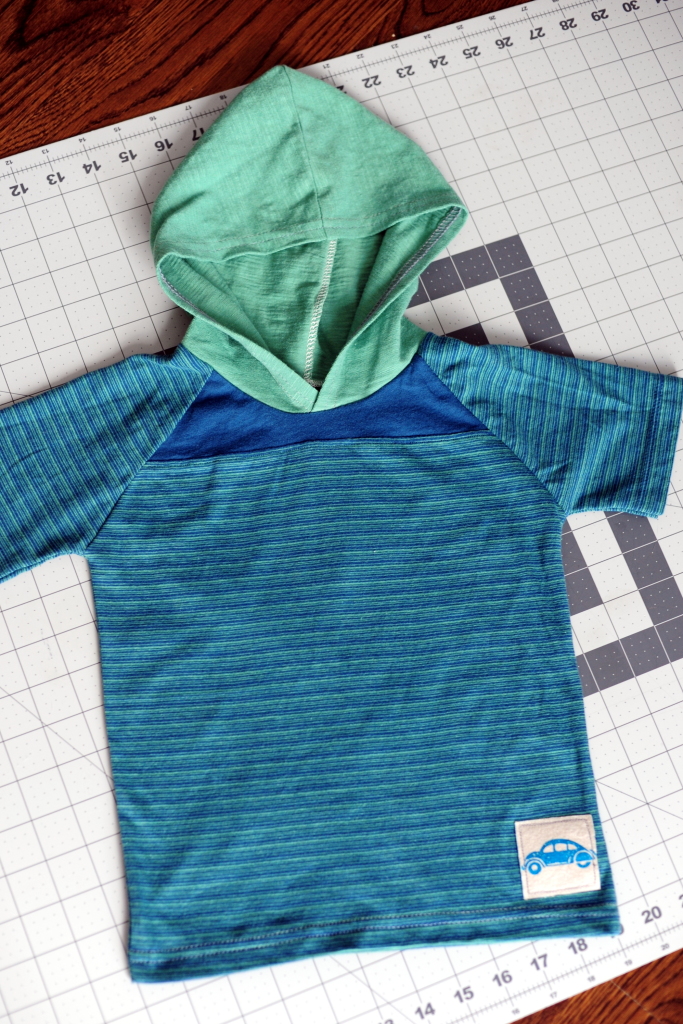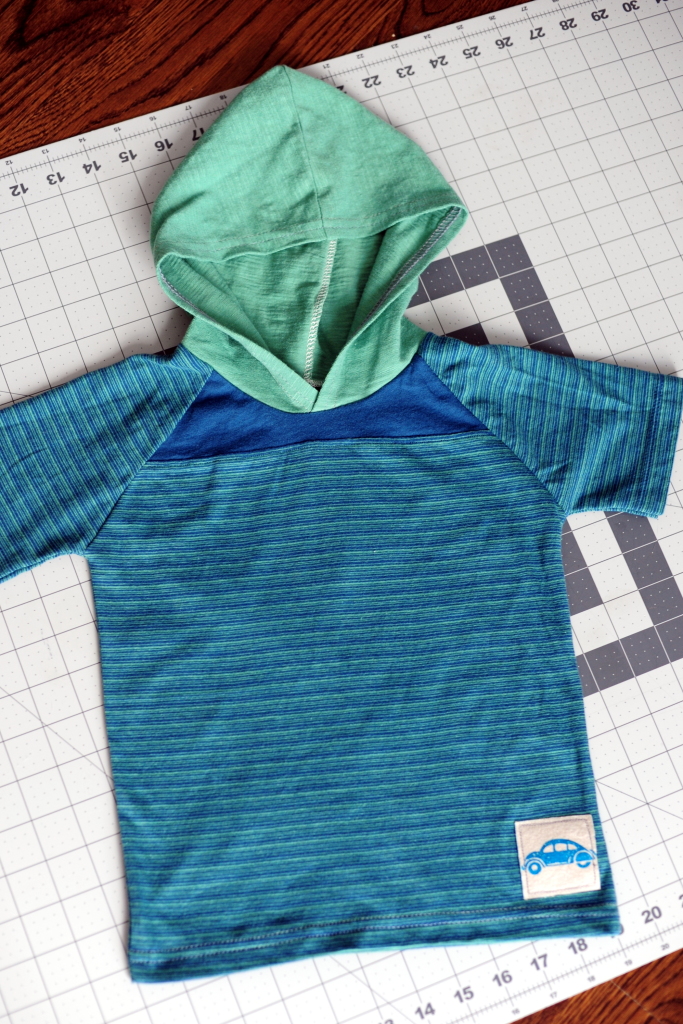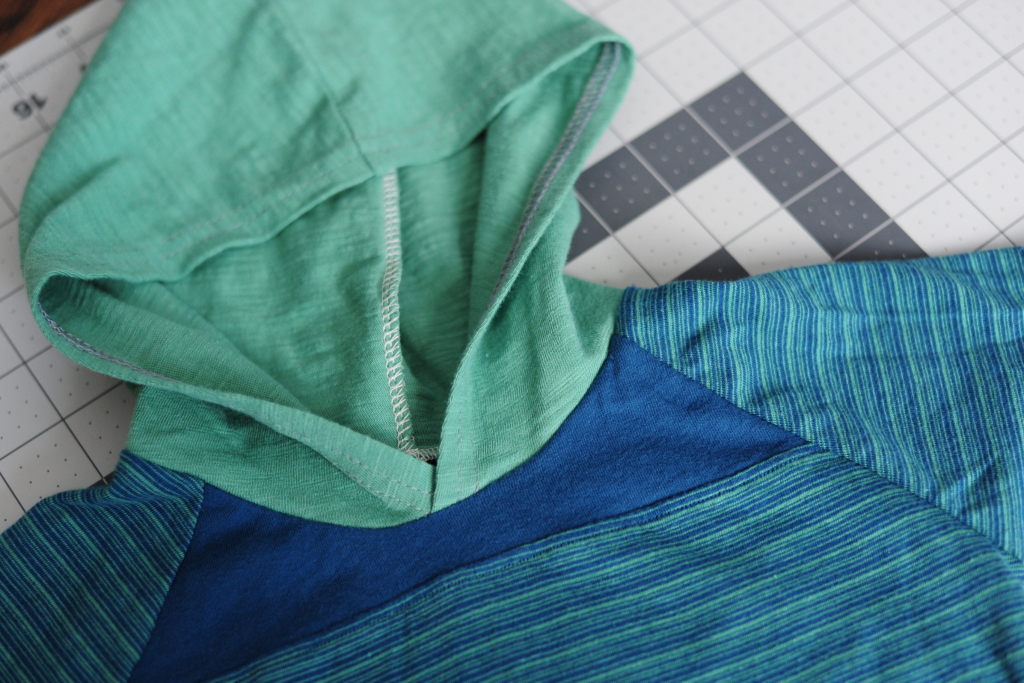 An Upcycled Colorblocked T-Shirt
Speaking of colorblocking, it's a great way to add more visual interest. An easy way to do this is use a pattern that already has the bodice blocked for you. Instead of cutting out front and back bodice pieces, cut two back pieces on the fold. Use another pattern to help shape the neckline of one of those pieces, which will become the front.
You'll need to lower the neckline a little bit to make it large enough to fit over the wearer's head. I'll usually just line up a pattern with a similar back neckline, like the (free!) Day Camp tee, and just that to scoop out my front neckline a bit (and help me figure out how long to make my neckband). Cut out the lower bodice pieces, sleeves, and neckband. Here are a few photos to show the step by step for this modification: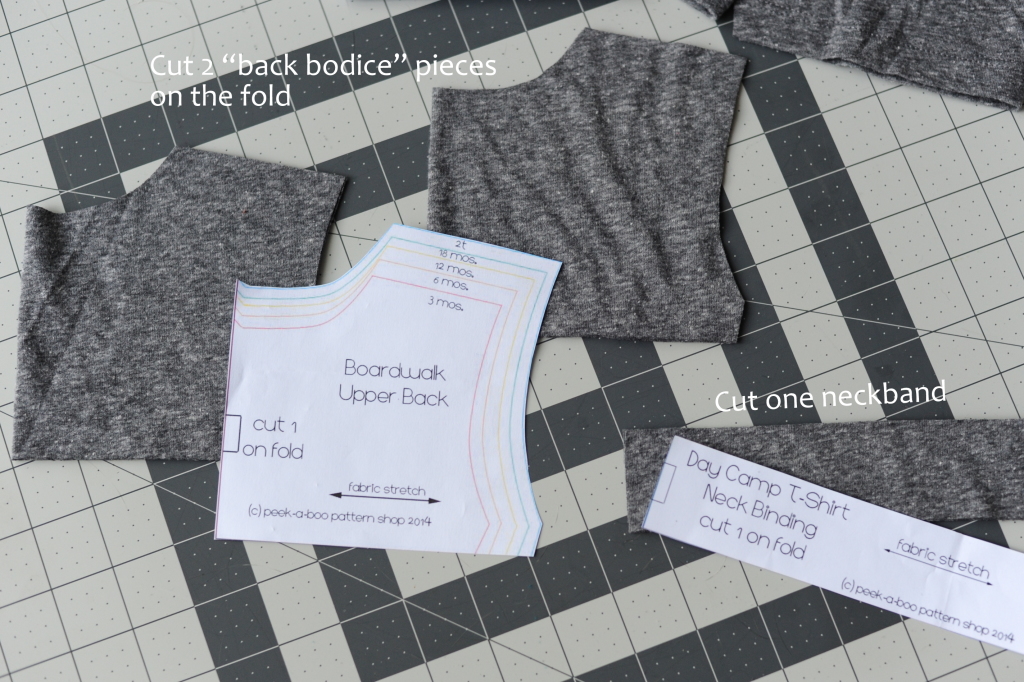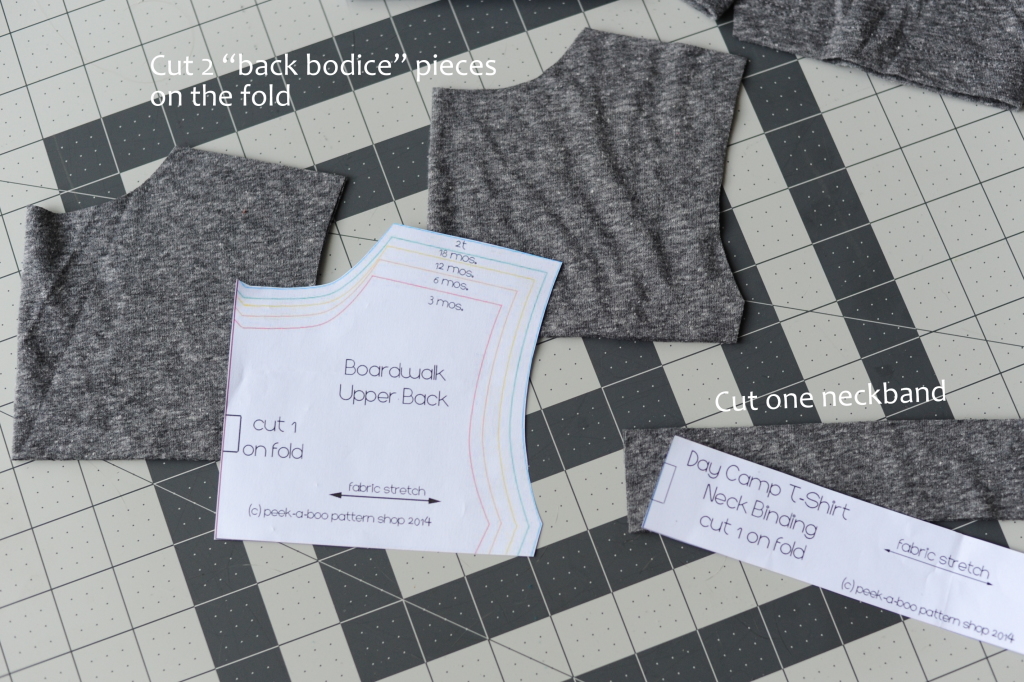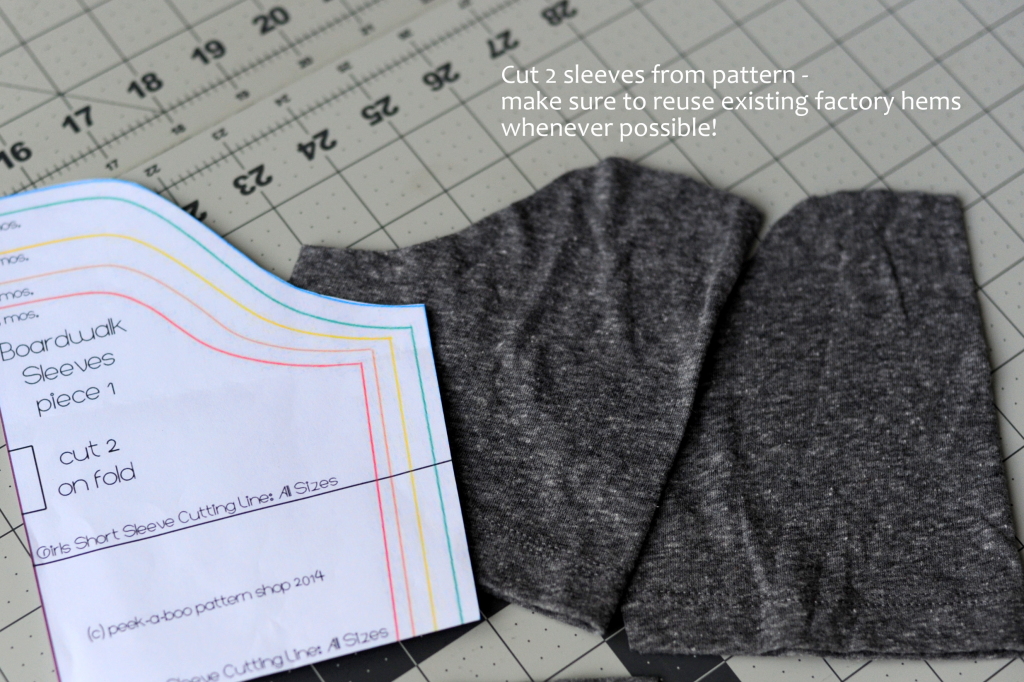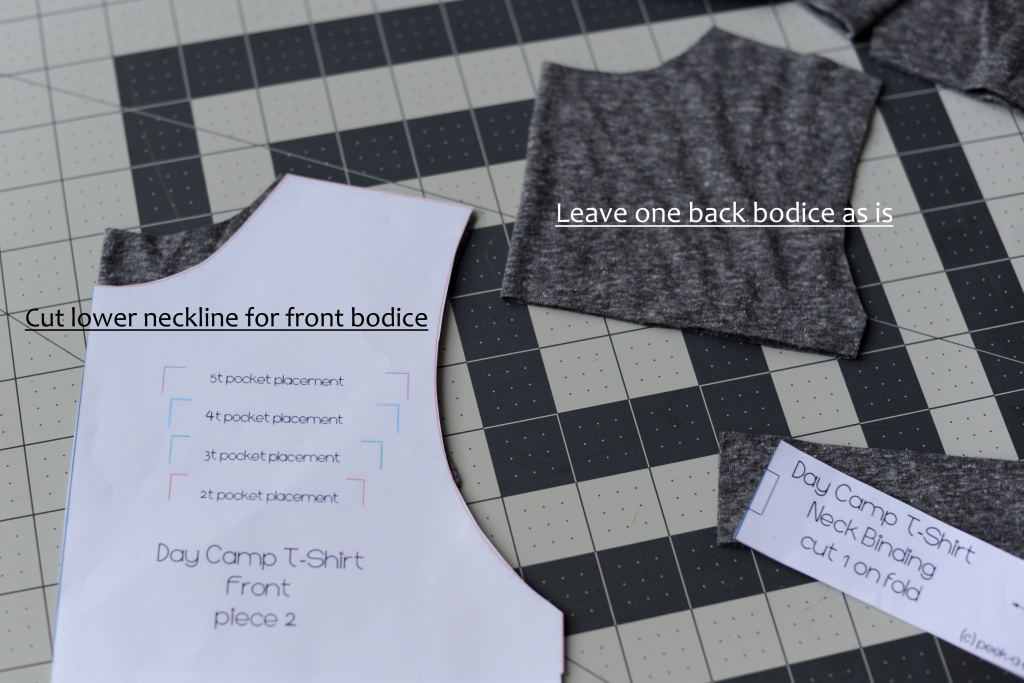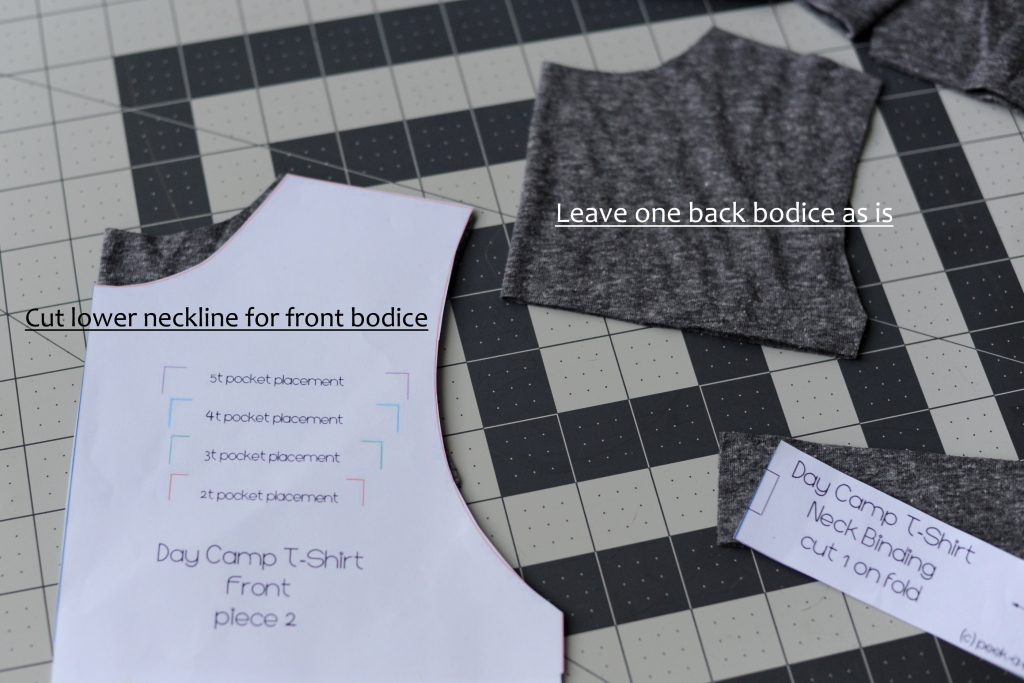 Assemble by following the pattern instructions, use the neckband to finish the neckline (sew the short sides of your strip into a loop, fold loop down onto itself and press in half, and then sew/serge the neckband to the neckline RST by matching raw edges), and you've got yourself a nice colorblocked tee. These are my finished colorblock shirts – the red and blue one is one of my favorites!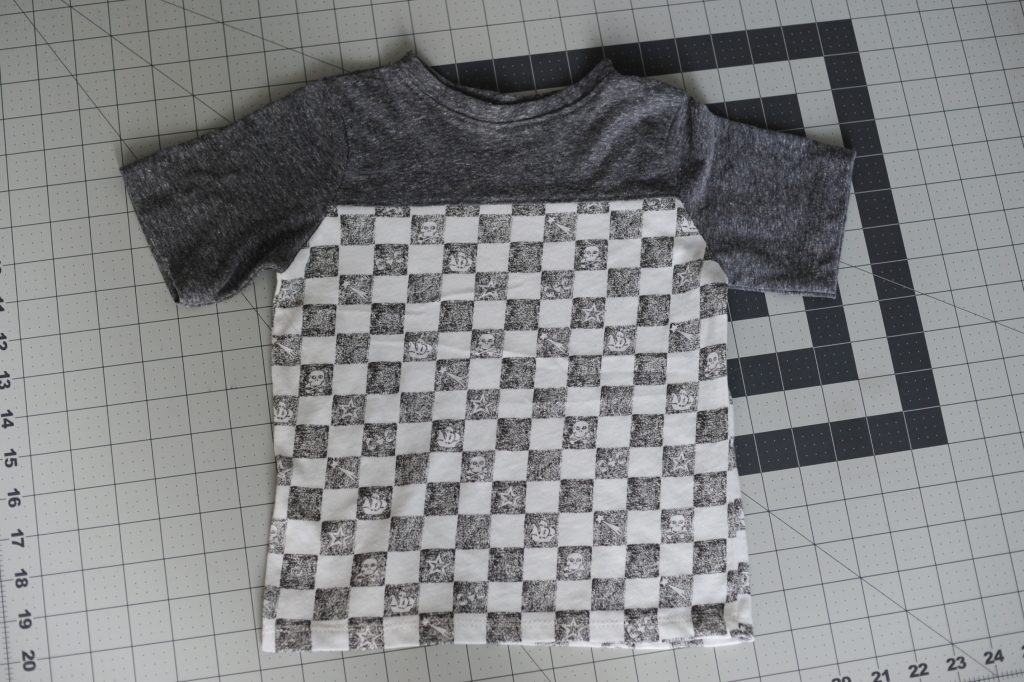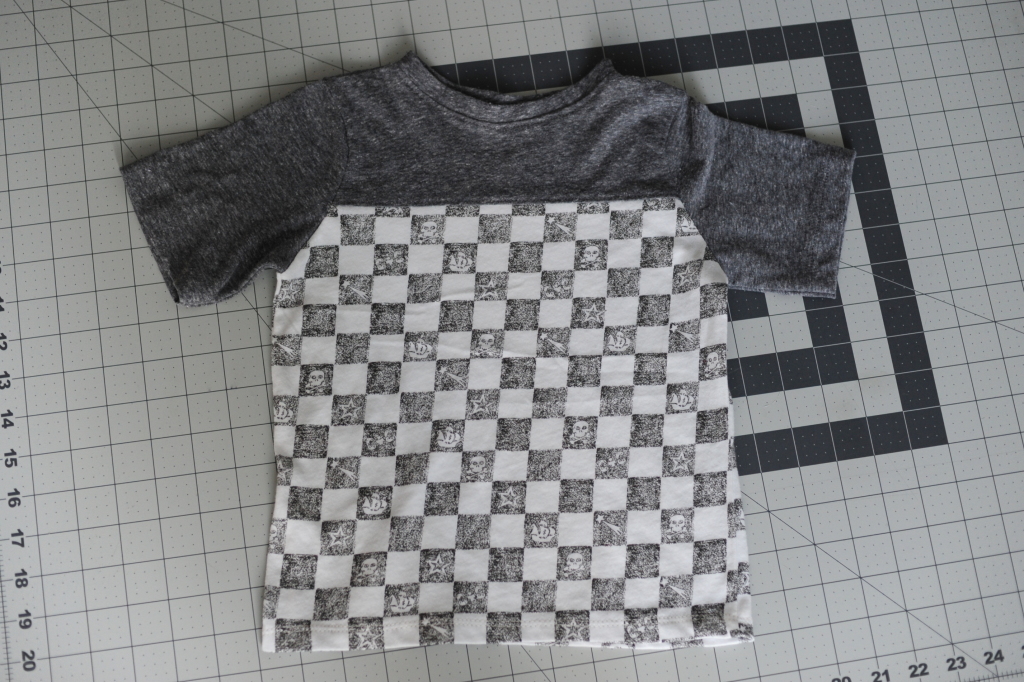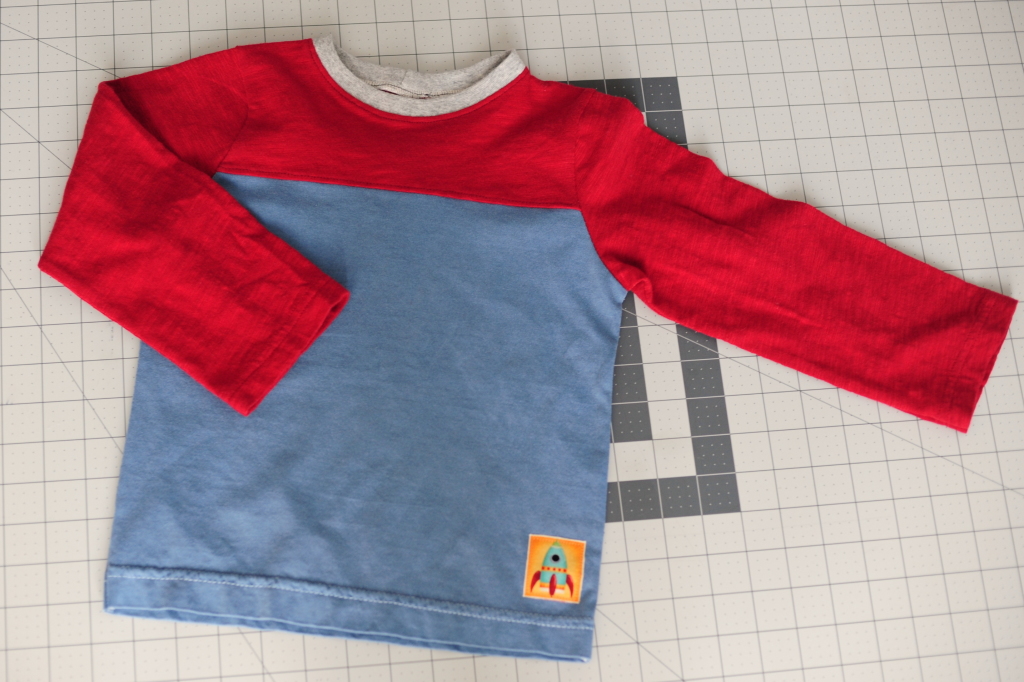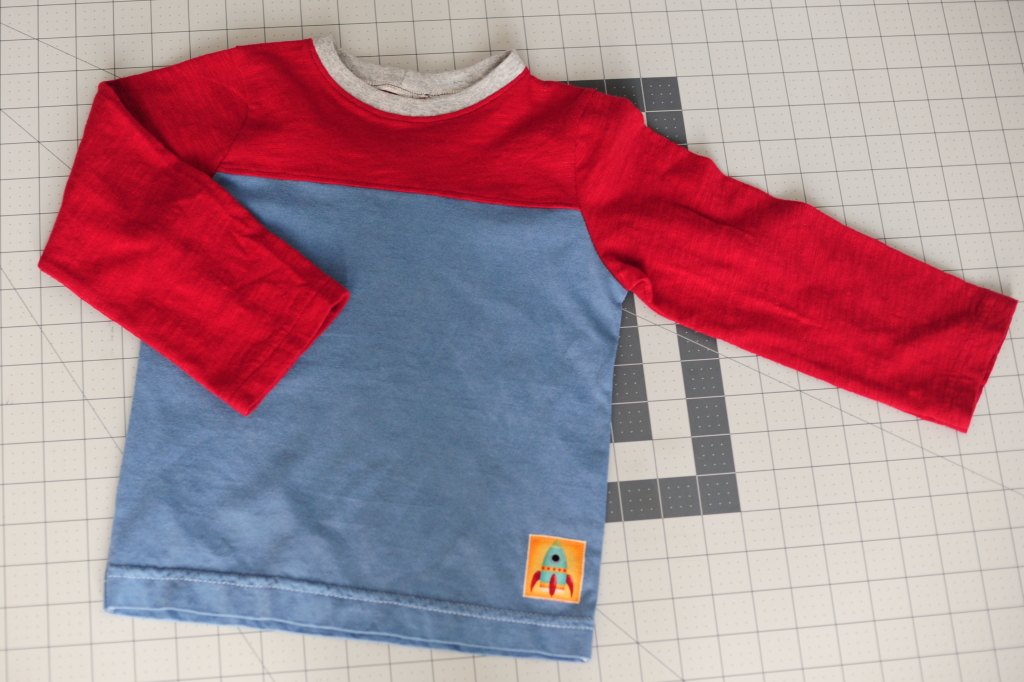 Lastly, have fun with it! If you're like me, part of the reason you enjoy sewing for little ones is to brighten their closet, make garments that fit them well, and set their wardrobe apart from what's available in RTW. Upcycling is a great and easy way to do that. I showed this haul to my little guy and asked him to pick his three favorites to model for photos, and he had such a tough time deciding – he kept pulling one off the pile and saying "I lub dis one, Mom. No, dis one. And dis one too!" Can't ask for more than that. 🙂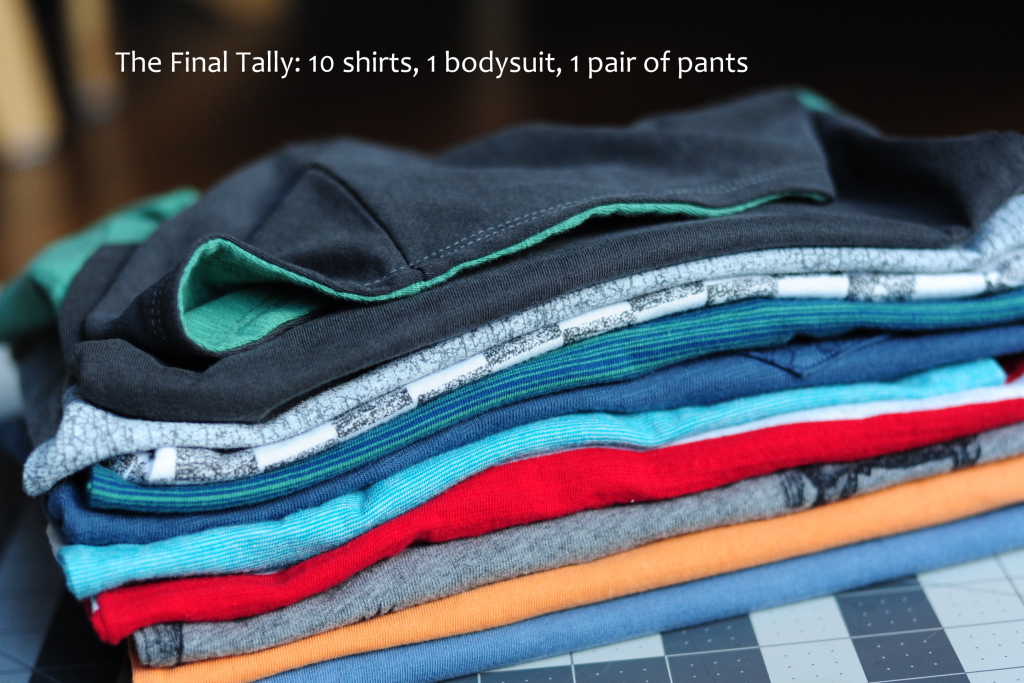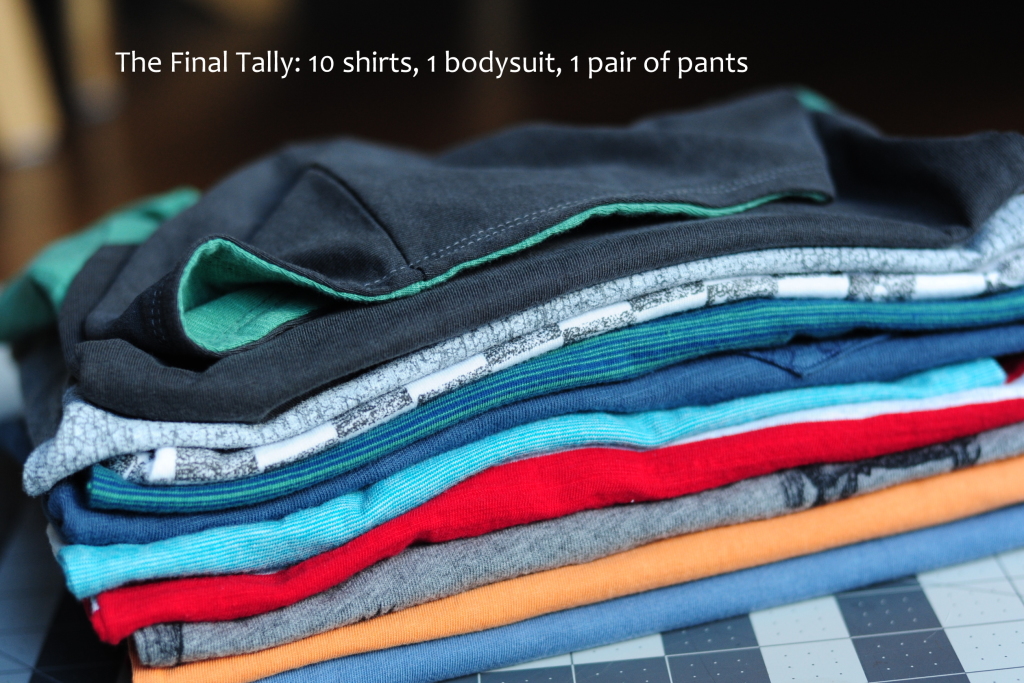 Now you know how to upcycle a t shirt. Make sure to stop by the Peekaboo Patterns group on Facebook and show us your upcycles – we'd love to see them! And finally, here are the three shirts that A settled on as his favorites – can't argue with those smiles!
Thank you for joining us to learn about how to upcycle a t-shirt. Before you leave, be sure to check out some of these other posts: