Today we're going to talk about sewing swimsuit fabric and discuss linings! As always, be sure to check out our Swim Fabric section at KnitFabric.com.
How to Sew Swimsuit Fabric | Swim Fabric Sewing Guide
Before we get started I have a very important secret to share….if you can sew knits you can sew swimwear! Sewing swimsuit fabric isn't that hard. I promise it really is not much different and if you bought high-quality fabric I find sewing swimsuit fabric just as easy as sewing interlock.
Needle Types for Sewing Swimwear Fabric
Confession…most of the time I can't remember what type of needle I have in my machine and miraculously I don't have any problems because of it 🙂 That being said the ideal needle for sewing with 4-way stretch swimwear fabrics is a stretch needle. These are super similar to ballpoint needles (what I normally recommend for knits) but they are designed to help prevent skipped stitches. If you are out shopping anyway I'd definitely pick some of these up but otherwise, give it a go with a ball point or universal and you'll probably be just fine.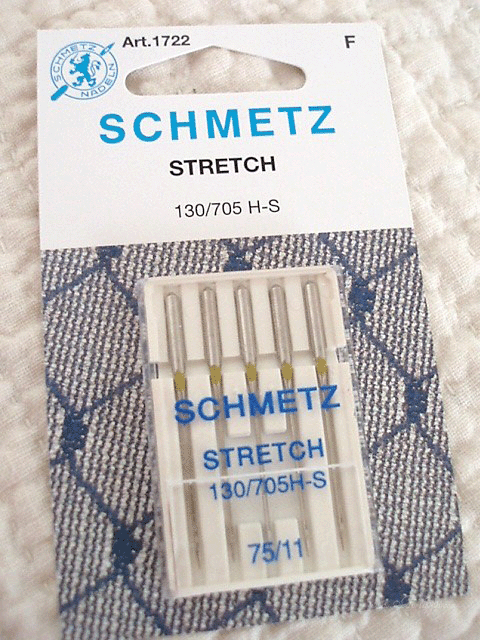 If you are making board shorts then a universal needle is a great choice.
For both options I also recommend picking up a double needle for sewing swimsuit fabric to give your hems a nice, professional finish. You can buy a stretch double needle but I generally just use a universal and haven't had any trouble.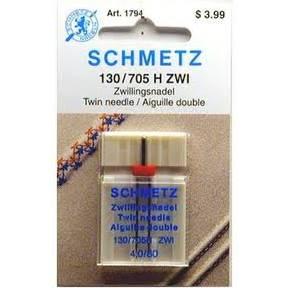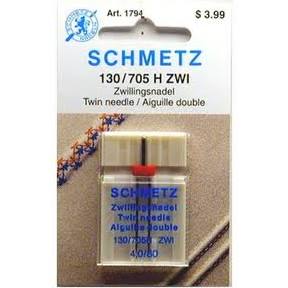 Thread Types for Sewing Swim Fabric
Since swimsuits quite often end up in chlorine and/or salt water I highly recommend using polyester thread when sewing swimsuit fabric instead of cotton so it will hold up well over time. Something I haven't tried but have heard rave reviews about is using stretch thread. Please note this is not the elastic thread like you use for shirring. Stretch thread will allow you to use a regular straight stitch for assembly and topstitching and the seams will still be nice and stretchy. I don't think you can get it in most brick & mortar stores but Wawak does carry it in a ton of colors. You can use this in your serger or your sewing machine.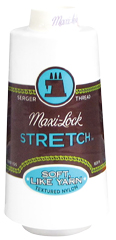 Pinning Swim Fabrics
Pins can leave little holes in swimsuit fabric. Personally, I've never had a problem with it but to be on the safe side you might want to keep your pins inside the seam allowance. Swim fabric can be a bit slippery so you might want to use a few extra pins if you're new to sewing swimwear. Generally, I just hold things in place with my hands and go for it but I know not everyone likes to sew so recklessly 🙂
Stitch Types for Sewing a Suit
You can sew swimwear without a serger! So don't panic if all you have is your regular machine for sewing swimsuit fabric because it's totally doable. One option is to get the stretch thread mentioned above and just use a straight stitch. The other option is the faithful zig-zag. I gave this quite a few trials and found a standard stitch length (2.5) and width (also 2.5) held up really well to some intense stretching. I use my serger for the main seams but I use my zig-zag all the time for topstitching. It's quick and durable.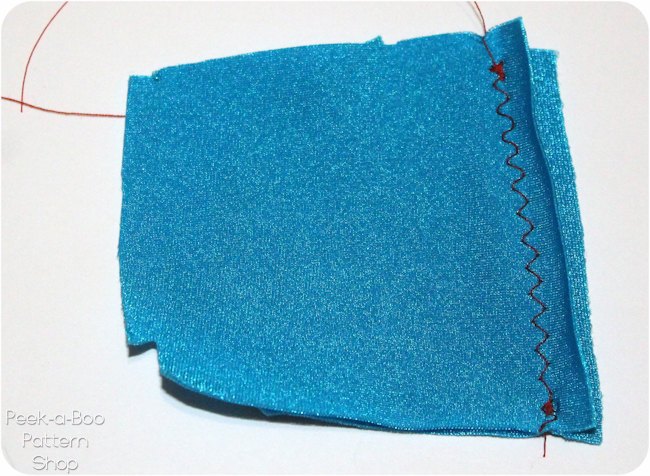 One downside of the zig-zag is if you use a wider stitch width (to give more stretch) is you can sometimes see your stitches a bit. I don't think it's super noticeable (especially is you use matching thread) but it is something to be aware of. I recommend playing around with different zig-zag widths to find the perfect setting for your machine and fabric. Make sure you backstitch before testing how it holds up to you stretching it or the stitches will come un-done no matter what settings you used.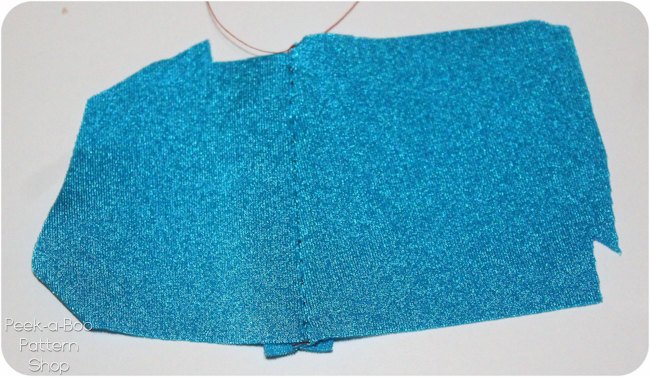 The ideal option is a serger so if you have one be sure to use it 🙂 I just use my universal needles and a 4 thread standard stitch. I don't change any settings. I recommend testing on a few scraps first to see if you need to tweak things on your machine. A serger will give you a nice clean finish that is also stretchy 🙂

For hems I like to use a double needle. I already went over this is the needles section but it is a stitch type too 🙂 The double needle gives you 2 even rows of stitching that also stretch. I love the way a double needle looks but if your kid is really hard on hems (you know the kiddo who tugs their clothes in 100 different directions while dressing) then I recommend sticking with a zig-zag stitch for hemming instead as it's a bit more durable. I use my double needle for hems on swimsuits with 4 way stretch or on board shorts (even though I don't need the stretch I like the look)



Swimsuit Lining
I get asked all the time…"Should I line my suit?"
– Is your fabric thin or see-through when wet?
-Are you sewing for an older child who might need a bit more coverage?
-Do you want the suit to be more durable?
– Is your child super-sensitive to seams?
If you answered yes to any of the above questions then I would line it. Most of my patterns include instructions for lining but here's a general overview. For one-piece suits, you sew front and back together at the crotch and then baste together around all edges with the wrong sides together. The fabric will shift as you sew…don't panic. Seriously don't drive yourself crazy trying to keep this all perfectly lined up. When I basted these pieces I pinned them at the crotch and that was it. The rest I just held in place as I went and at the end, I trimmed away a bit of excess lining around the edges. One really nice thing about lining a one-piece is the crotch seam is now covered up.
You'll use this same general process for tankinis…sew through the first step or 2 of the pattern (in the case of the one-piece the crotch, for bikini bottoms the side seams, for boy shorts bottoms the front and back rise and inseam) and then baste the pieces together with wrong sides together and continue with the tutorial. If you have questions about lining a specific pattern please feel free to ask 🙂
When I sew for Anne (age 4.5) I line most of her one-piece suits. I generally don't line her tankinis. Even with the boy shorts style bottoms that do have seams on the inside she hasn't minded one bit. Once she's a bit older I will probably line them but for now as long as I'm using nice, thick fabric it's just not a step I bother with.
I hope that helps you get started on your sewing your swimsuit fabric and getting suits ready for summer!
As always, check out KnitFabric.com for stylish swimsuit fabric and Peek-a-Boo Pattern Shop for stylish swimsuit patterns. For the latest deals on swimsuit sewing patterns and swim fabric (as well as some FREEBIES) sign-up for our Newsletter below. Also, take a look at some of these other tutorials while you're here: