Learning how to sew pants can be challenging. This article will provide you with the info on how to make pants with a professional look. From the topstitching to each seam, you can give your pants the professional style that will make your child look good.
If you are like me and have school aged kids, you are working on cranking out some clothes before school starts. And if your kid is like mine and has grown six inches in a year, pants are on that list of things to make. Not pajama pants, or lounge pants, or even sweat pants. I'm talking about how to make real pants. You can make jeans, trousers, and khakis with pockets and maybe even a zipper and button or snap! This article provides you all the tips and tricks on how to sew pants that look store bought!
If you check out the info below the post then you'll see a couple other more casual options for making pants – joggers and leggings.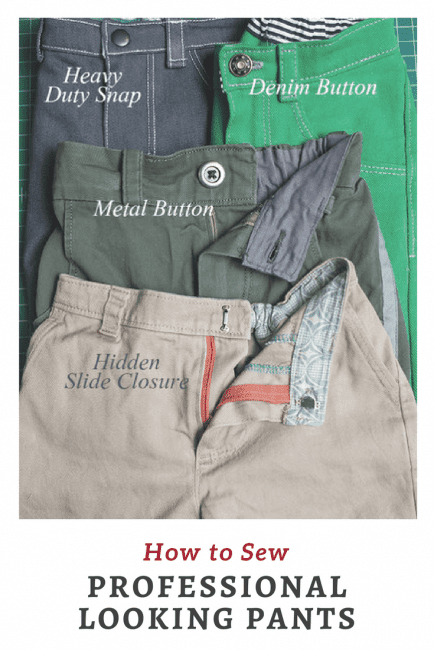 How to Sew Pants That Have a Professional Look | Sewing 101
Now, I know a lot of people are afraid to sew pants for older kids because they may not look professional, or worse, you're afraid they may look home made from 1985. Well, I'm going to give you some tips and tricks for how to sew pants that are both professional looking and also hand made!
Tips for Sewing Great Pants
1. Start with a great pattern. My go to patterns are the Classic Chinos and Castaway Cargos. Look for details like pockets, topstitching and hardware in the pattern itself to help make your pants look professional on the front, side, and back.
2. Pant fabric choice is very important when sewing to keep your school ager's pants professional looking. Yes, novelty prints are darling and fun and they do have their place, but this is not the time to pull out the quilter's cotton. Stick with sturdy fabrics. These are often referred to as bottom weight fabric. Cotton twill is my favorite. Duck cloth is also nice and gets softer with each wash and wear. Chino, poplin and broadcloth are often available in a variety of colors. And there is always classic denim and corduroy. Check out www.knitfabric.com for some great choices.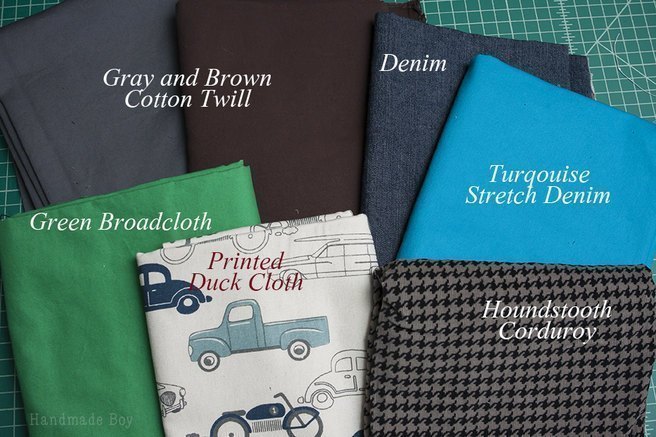 3. Choose the proper hardware for your pants. I know there are tons of fun plastic buttons in pretty colors and shapes, but for a more polished look, stick with what you would be more likely to find on ready to wear (store bought) clothes. A heavy duty snap, denim snap or slide closure is easier for younger children. A traditional denim or metal button all have a nice finishing touch for kids who are comfortable with buttons. The hidden slide is also nice for dressier pants like chinos or slacks.
And while we are looking at the waist band, interface that puppy! Even if the pattern doesn't call for sewing interfacing, go ahead and do it. You won't regret it! I like to use SF 101. It gives the fabric nice stability, but doesn't make it stiff.
For a touch of fun, I often like to sew in a fun brightly colored zipper. Nobody sees it, except the wearer, but it's still fun for them 🙂
4. Topstitching. For great pants, topstitching while sewing is everything. Think about it, what is the one thing that every pair of store bought pants has? Fabulous topstitching!!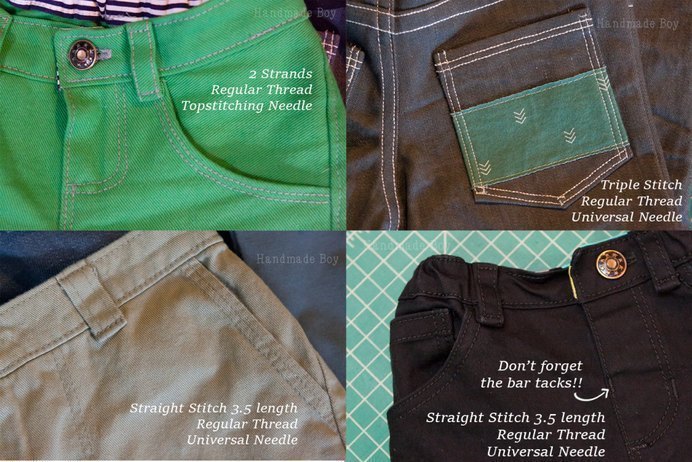 Now, the topstitching on your pant sewing doesn't have to be contrasting. It can match your fabric and still add a beautiful amount of detailing to your pants. There are a few keys to great topstitching.
Keys to Topstitching While Sewing Pants
A. Lengthen the stitch length. I like anything between a 3.6-4 on my sewing machine.
B. Stitch style for sewing. You could sew with a straight stitch. Another great choice for sewing pants is the triple stitch. It makes a nice thick stitch that doesn't get lost in the fabric.
C. Consider a double needle for your sewing. It's not a must. But it does add a lot of something wow, especially when sewing jeans. I prefer a wider double (twin) needle and use a 4.0.
D. Topstitching thread or cotton thread. Both of these threads are slightly thicker than the polyester thread you use to sew your pants with. Yes, you have to switch your thread, but switching thread can really be worth it. You may not be able to use the triple stitch if you use cotton thread or topstitching thread. But that's okay, because it will stand out on it's own with a regular straight stitch. You may also have to use a topstitching needle with either thread. Just depends on the sewing machine.
E. 2 strands of thread. If you don't have the color of topstitching thread you want, thread 2 strands of thread through your machine to achieve the same look.
5. Don't watch the needle when sewing pants! Line the seam up with a mark on the presser foot and watch that to keep it lined up. I use the inside of the presser foot. Sew your seam slow and steady. Sewing isn't a race.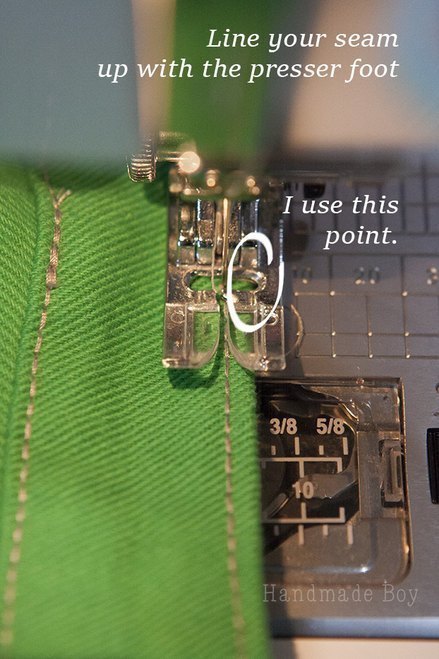 Are you still wanting to break into your stash of novelty fabrics? You can!! It's great for hidden secret details. I love to use fun fabric for the waistband lining, or the pocket bags. Or show a bit of it off and add a small bit to the back pockets for some fun! Like in one of the pictures above. Your kids will know what fun fabric is inside their leg, waistband, or pocket.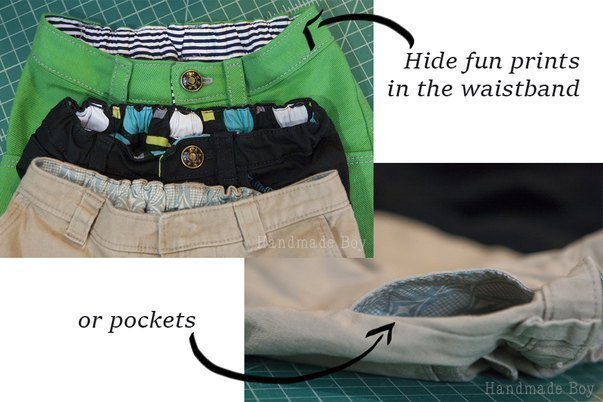 There you have it – now you know how to sew pants with a professional look! My little tips and tricks for sewing professional looking pants.
Other Resources for Sewing Professional Looking Pants | Pattern, Fabric, Elastic, and Sewing Blog Articles
We'd sure like to thank Kelly for stopping by today and sharing with us all of her tips and tricks for sewing pants. While you're here we thought we'd share a few additional resources that you might find useful for your sewing projects – these include additional patterns, fabric type, and other blog articles that might help you.
Sewing Patterns for Pants
Kelly's article above dealt primarily with how to make pants that look store bought – the pants she focused on were nice looking pants like jeans, chinos, etc. Every kid needs a pair of these or more when going back to school and we sure appreciate Kelly's shout out concerning some of her favorite sewing patterns she loves to make – the Classic Chinos Pattern and Castaway Cargos Pattern.
Before you leave though I'd like to point out a few other pants options you can make that are perfect for laying around the house or going to school, play, working out, etc.
To start, if you're just starting out sewing or sewing pants then you might be a little intimidated. One option might be to start off by sewing a joggers pattern. At Peek-a-Boo Pattern Shop we've come out with a jogger pattern for just about everyone – you can make the Jackson Joggers Pants Pattern for Men, the Jordan Joggers Pants Pattern for Kids, and the Java Joggers Pants Pattern for Women. Each joggers pattern is forgiving if you're looking for a professional look as a beginner sewing pants. These pants patterns have dozens of 5 star reviews that say how easy each pattern is. Take a look at some of these pattern reviews:
"I'm in love with this pattern! I just love making Java Joggers. It is easy to sew and they are so comfortable. I made 3 already and will definitely make more." – Susie
"New staple! The Jordan Joggers are easy to sew and are a new staple in my grandchildren's wardrobe!" – Kim
"Easy easy easy! First time making my hubby a pair of joggers…the instructions were well written and the pattern printed perfectly." – Suzanne
For more comfortable pattern options we also have the Athena Leggings Pattern for Women and the Agility Leggings Pattern for Girls. These include pants pattern options for basic leggings, embellishments of the leg, shorts of different lengths, different waistbands, and even different skirt options.
"Love it! They fit perfectly and such an easy sew!" – Cassandra
"Great fit and Easy to Follow. I fell in love with the huge pockets on these, which influenced my purchase. Just finished my first pair of capri length with the pocket and yoga waistband and couldn't be happier. I used athletic knit and don't notice my phone or keys in the pocket at all and the whole thing is extremely comfortable…." – Laura
So there you have it – you have an increase in options when sewing pants. If you want a more casual look then check out our leggings and joggers.
Fabric and Elastic Options for Sewing Pants
Kelly mentioned above how fabric choices are so important for pants. Your fabric needs for sewing pants will obviously depend on which kind of pants you decide to sew. The Classic Chinos mentioned above can be used to to make a fancier dress pant if needed. They need to be made of woven fabric and Kelly recommended options like cotton twill, duck clock, chino, poplin, denim, broadcloth, and corduroy fabric. Some other options for pants might include linen, khaki or suiting fabric. There's lots of good woven fabric options for pants.
For some of these looser fitting options we've shouted below, like the joggers and leggings, you'll need to choose knit fabric. Good knit fabric options for pants include Athletic Fabric, Cotton Lycra, French Terry, Interlock, and Ponte. You can also use Thermal and/orSweatshirt Fleece fabric for some applications. If you're looking for a good guide to these fabrics check out our Knit Fabric 101 Section.
Of course, we carry many of these knit fabrics over at our sister shop KnitFabric.com. Come over there and take a peek at what we have in stock. We carry high quality fabric, at better prices, with flat rate shipping. We also usually have a good selection of Elastic in stock.
Other Blog Articles to Help When Sewing Your Pants
In addition to all of the patterns and fabric, we have several articles here at Peek-a-Boo Pages that can help you to come up with professional looking pants when sewing. A few of the best are:
How to Hem Pants: In our blog article on How to Hem Pants we share multiple methods on how to hem a pair pants. These include hemming store bought pants, refreshing old pants with a new hem, and taking pants and making them into shorts. Each of these methods is covered in detail with pictures and instructions to help you learn different methods for hemming pants.
How to Add Pockets to Any Pants: In this helpful blog post, Nienke shares how to take a pants pattern that doesn't include pockets and add pockets to the pants. This article has become pretty popular and has great step by step instructions to help you add pockets to your pair of pants.
How to Topstitch an Elastic Waistband: We just shared a few of our favorite jogger pants patterns with you. When sewing these you'll need to know how to sew a knit waistband with elastic. Topstitching the seam helps keeps the elastic in place and makes for a more professional look. In this blog post, Stephie B shows us how to insert the elastic into the waistband and topstitch the seam with the elastic in there. Stephanie's blog posts are always super detailed and this is no exception in teaching how to topstitch an elastic waistband to pants.
Adding a Soft Waistband to Jeans: A lot of kids hate the feel of pants around their waist – especially a pair of jeans. In this blog post Becky shows us how to cut the waistband off of jeans, remove the zipper, and use elastic to put a soft elastic replacement waistband on the waist of the jeans. This is a really cool and unique solution to sensory issues that a lot of kids experience around their waist. You'll have to check this one out for yourselves.
Each of these articles adds some helpful perspective to help you come out with top of the line pants – pants that have a professional looking seam and look to be in fashion. Finally, if you need help of suggestions while you're in the midst of sewing pants or about anything else, them come Join our Facebook Group. The Peek-a-Boo Facebook Group has tens of thousands of members that are willing and ready to help you with your sewing questions, sewing problems, or about anything else. Come join our sewing community today.
With that, we'll leave you. I hope all of this information can help you sew professional looking pants! Before you leave though, make sure to take a look at some of our other articles: