Learning how to sew knit fabric is essential for everyday clothing construction. You'll notice that we love sewing with knits around here – we kind of specialize in it. We have hundreds of clothing patterns for knits over at Peek-a-Boo Pattern Shop. These knit patterns are generally are most popular sewing patterns. Customer LOVE them….
Apart from sewing patterns, we also have KnitFabric.com – where we sell hundreds (maybe thousands…) of different knits. We produce our own knit fabric designs and also bring in popular designs from many other companies and designers. At KnitFabric.com we strive to have higher quality fabrics, at better prices, with flat rate shipping.
Since we love knits, we need everyone to know the tips and tricks to sewing with it. That's why we we appreciate Rachel coming by today to share her tips and tricks for sewing with knits. Without ruther ado, here's Rachel: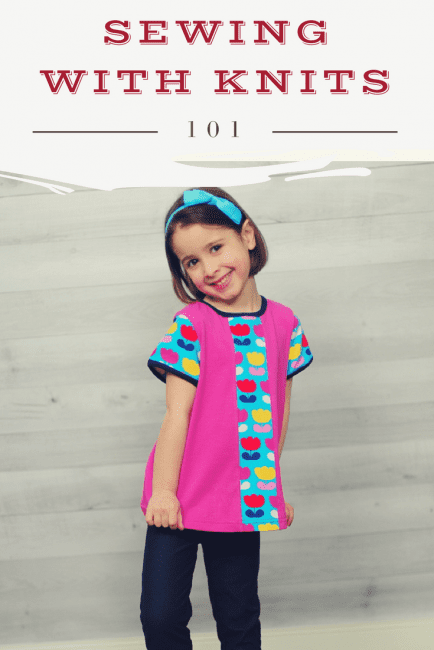 Sewing Knit Fabrics
For the past two years or so, the majority of my sewing projects have involved knits. This is mostly due to the fact that I do most of my sewing for my kids, who prefer knits for their everyday clothes. And why not? Knits are soft fabric, comfy, and can be stretchy and warm, too. What's not to love?
Well, for one thing, knits can be a bit more unpredictable (and less stable) to sew with when compared to woven fabrics. (Actually, I'm pretty sure my mom – an experienced seamstress herself – rolled her eyes and told me, "you're nuts!" when I said I wanted to start sewing with knits.) Just as not all wovens are created equal, the types of knits available to us vary widely also.
With just a few tips and tricks, some inexpensive knits to practice on (I like practicing on clothes that are bound for the donation bin – there are plenty of unworn treasures in my own dresser), and a willingness to experiment a bit, I was quickly hooked on sewing with knits. It took me a bit to start producing clothing that was hand-me-down worthy (that seems to be the true test in our family 😉 ) but with a lot of practice (and many, many knit neckbands, hems, and sleeves) I love what knits have to offer and how efficiently I can make clothing for my kids that looks like their favorite ready-to-wear styles.
Tutorials on Sewing Knit Fabric
New to sewing with knits yourself? There are SO many tutorials on sewing with knits out there to get you started – in fact, when I googled "tutorials for sewing with knits" in order to grab a few good links, Google offered me over 13 million results. That's a lot of knits! We have a few other tutorials for knits here at Peek-a-Boo Pages that I'll take a minute to point out. There's also a few other tutorials on knits from around the web that are helpful at the bottom of this section.
Amy's Tips for Sewing with Knits: When Amy ran the sew along for the Maui Muscle Tee and Rio Racerback last summer, she included some great tips for sewing with knits here, I won't rehash them and cover them in detail but she reminds us that the key to sewing knits is to not stretch the fabric as you sew. Then she gives some helpful advice with that.
Sewing Knit Neckbands: Amy also has There's a good tutorial for two methods of applying binding or neckbands here when sewing with knits.
Other Tutorials for Knits: There's a really comprehensive overview of knits from Threads Magazine here, and I have always liked the KNITerviews series with Rae of Made-by-Rae. This article from Rae about hemming knits is helpful, as is this comprehensive overview from Serger Pepper – which includes tips for using not just a serger for knits, but also a sewing machine.
So, to sum it up, there's a LOT of resources to help you out as you start sewing knit fabric. Take advantage of them.
Sewing Knits with a Regular Sewing Machine
Ummul did another tutorial on sewing with knits using a sewing machine. You'll notice below that I recommend using a serger for knit fabric but if you only have a sewing machine this is a good post to check out. She goes into good detail on the proper needles for knits, the proper thread for knits, how she likes to use a teflon foot for sewing knits, and the different stitches she recommends for knit fabric. Then she gives some tips and suggestions for hemming knit fabric with a sewing machine.
Sewing Knits with a Serger
I'll say that once I started sewing with knits pretty regularly I invested in a serger quickly; like many, I got the Brother 1034d and have been very happy with it. It's not super fancy and doesn't thread itself, but I quickly learned to thread it properly and it's served me quite well for the past several years.
We also have an article here on Peek-a-Boo Pages that goes over the 10 Best Sergers for Sewing Clothes. This article gives the pluses and minuses of the Brother 1034D and then gives a variety of other options that one can use for a more advanced serger. Amy uses the Juki 654 now and there are several more advanced options.
I will admit that after my first successful rolled hem (I used this tutorial and still keep it bookmarked for regular use) I got scared that I would never get my serger back to its normal settings and I didn't do a rolled hem again for two years. I only recently got over that fear, and still get a little nervous every time I change my settings so much. So far, so good, though. 😉
My Own Tips for Sewing Knit Fabric
To add a few of my own tips, I'd say these are the things (aside from many of the knit tips listed above, as in Amy's first tutorial) that have helped me be successful when sewing with knits:
1. PRACTICE SEWING KNIT FABRIC. And then practice some more. (When your partner asks you how many shirts your toddler could possibly need, tell him/her that you're practicing. No one asked Mozart how many concertos he needed to play, did they?) Sew multiples of a simple item, like a raglan tee, in an assembly-line style if possible.
It has been immensely helpful to me to be able to do several knit neckbands consecutively, really feel how the knit band should set into the neckline of the tee, and learn how different fabric choices can affect the stretch and recovery of a neckband. Sewing numerous knit shirts in a sewing session also helped me master the armpit curve with my serger. It sounds silly, but my kids' shirts had many a hole-y armpit thanks to an errant serger knife until I finally got the hang of it. (For the record, I straighten the curve as much as possible, just as I'm feeding it under the presser foot. I keep straightening every little bit as I feed it in – only about a half inch to an inch at a time – and that works well for me for serging the rises on pants as well.)
2. Clover Wonder Clips. I haven't used many pins lately, and my sewing has improved. These little clips help my knit fabric stay flat and force me to pause and slow down a bit since they can't jump under the bus (er, presser foot) like a pin can do so I have to remove them as I go. My kids love to steal them from my office, so I have to hide them. You can use paper binder clips as well for a similar effect, I've heard.
3. Washaway Wonder Tape. It's double sided, won't gum up your needle, and like its name promises, will wash away when you're done sewing and toss the garment in the washing machine. I start to get a little panicky when I think I've run out or have misplaced one of the several rolls I keep hanging around (it comes in a smaller roll than the one I linked here, but you'll want as much as you can get. I promise.). I use it to hold layers of knits in place temporarily, keep a collar lining pressed down to the seam line when topstitching from the outside, hold my zipper in place for basting, press a finicky hem, and many other things that I'm sure I'm forgetting. I <3 wonder tape.
4. Choose Your Knit Fabric Wisely: If it's your first foray into sewing with knits, don't run straight to the cutting counter with the drapey blend with skinny stripes – you'll make yourself crazy! Start with something more stable, like an interlock. Interlock knit fabric doesn't have as much stretch as some other knits (like cotton/lycra or jersey) so it is more stable to sew with.
The lack of stretch in interlock knit means the edges won't curl up on you as soon as you cut your pattern pieces, they won't try to wrap around your pins or clips, and it will be easier to focus on your sewing when you're not as consumed by coaxing the knit fabric to stay flat and behave. Along the same lines, even a stretchier or slinkier knit can be manageable for a knit beginner – aim for at least a medium weight fabric if possible (a lot of online shops will list the weight of the fabric, and I like to try to use knits that are at least 8-9 oz a yard in general. And even a little heavier/thicker if I'm making something like leggings or a fitted top/dress.
5. Experiment with Knit Fabric. Have fun, try new things. One of the things I like best about sewing knits is that with their stretch comes built-in ease. Fit doesn't have to be as precise as it does with wovens to still be the correct fit. And although there are certainly knit patterns that include buttons, zippers, snaps, and other closures, there are many other knit patterns that simply stretch and pull over the head. It isn't always the perfect swap (as woven patterns are designed – with the correct finishes and proper amount of ease – for wovens) but sometimes with a few tweaks a woven pattern can be made from knits as well. (I would NOT recommend using wovens for a knit pattern, however.) There are also a few patterns over at Peek-a-Boo Pattern Shop that can be used for both wovens and knits.
How to Sew Knit Fabrics: An Example
Now, I'll share a project I made with knit. One knit pattern I recently tried, and loved, is the Peekaboo Pattern Shop Evelyn tunic and dress. Here's how I did it, with minor modifications to the original pattern: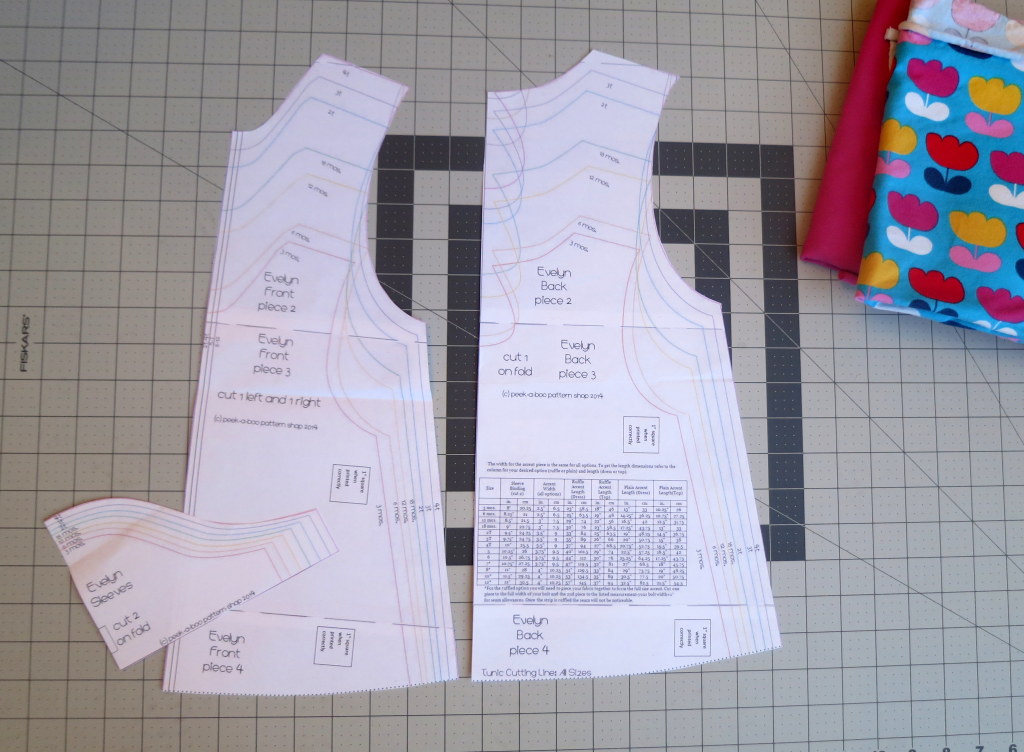 Evelyn Pattern Step 1: I cut the pattern pieces as instructed, with only one minor change – I eliminated the keyhole opening in the back. (For reference, I sewed a size 4 tunic for my 5 year old. I added a little length to the hem to account for her height, though.) Below is a closeup of how I extended the line at the center back (which is cut on the fold) to the neckline, rather than cutting out the keyhole from the woven version.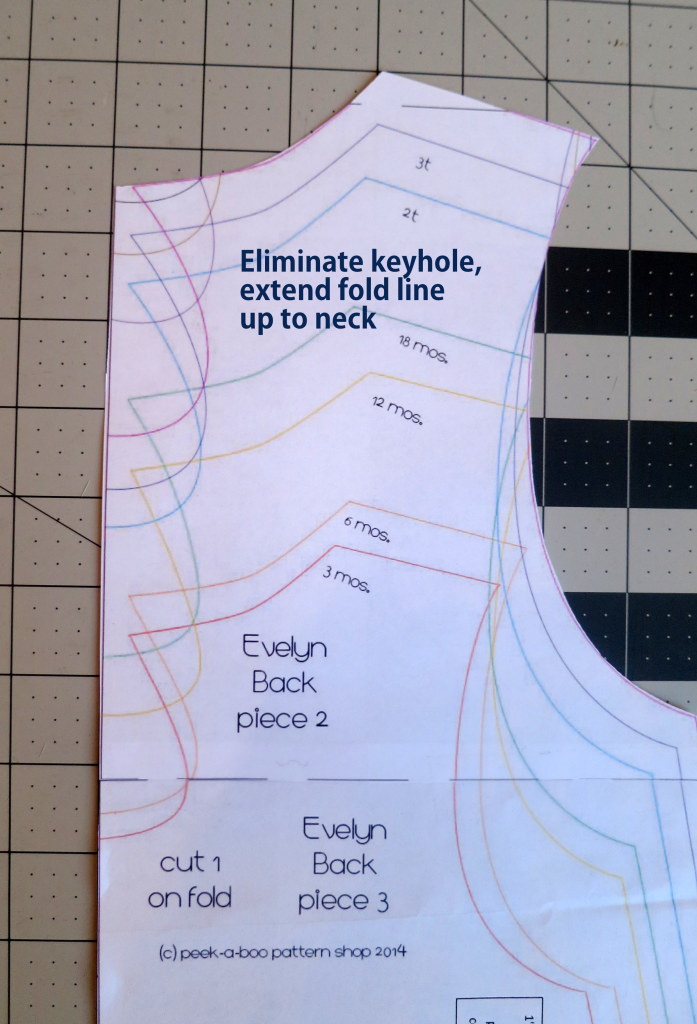 Eveyln Pattern Step 2: In the next photo you can see all of my pieces of knit fabric cut and prepped for sewing. I assembled the bodice and sleeves using my serger, and topstitched the binding and the center panel with my sewing machine. For topstitching the knit I used a ballpoint needle and a lengthened straight stitch.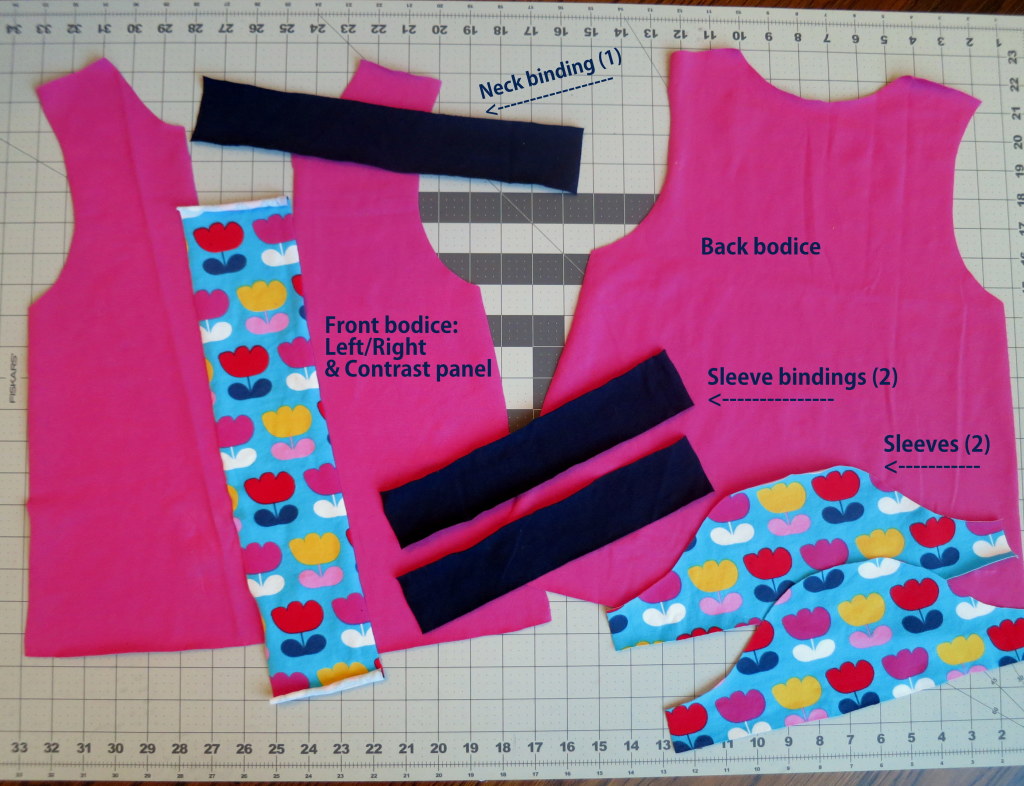 Eveyln Pattern Step 3: After sewing the front bodice, join front and back as instructed by the pattern. I'd advise taking a moment to try this on your intended recipient in order to make sure the neckline is wide enough to fit over her head. If it seems a little snug, you can scoop the front neckline lower. I usually do this by snipping down about a half inch to an inch right at center front, and then cutting back up to the shoulder evenly on both sides. You can repeat and cut a little more deeply if needed. (In this case, the original neckline was fine for my daughter.)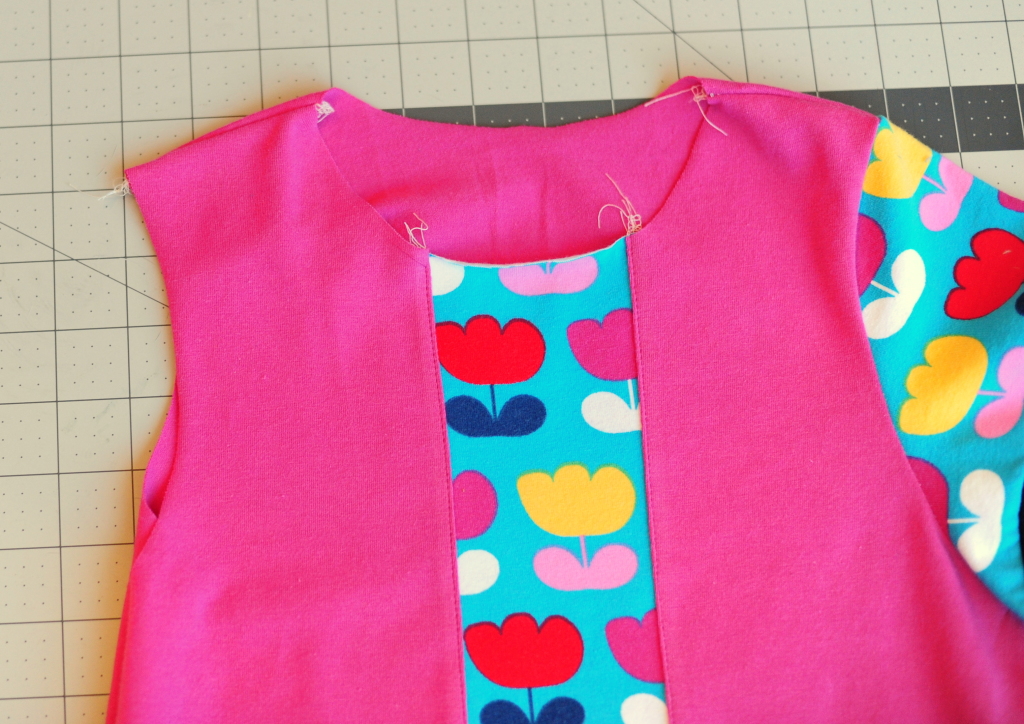 Evelyn Pattern Step 4: I followed the pattern instructions to sew the sleeves to the bodice, and then serged on the strips that I had cut for my bindings. I cut them to the lengths specified in the pattern this time. In the future, I might shorten the arm bindings a little bit (and just check her arm circumference to make sure I don't shorten them too much) and gather the sleeve edge before attaching the binding to make the sleeve puff a little more (as it does in the woven version).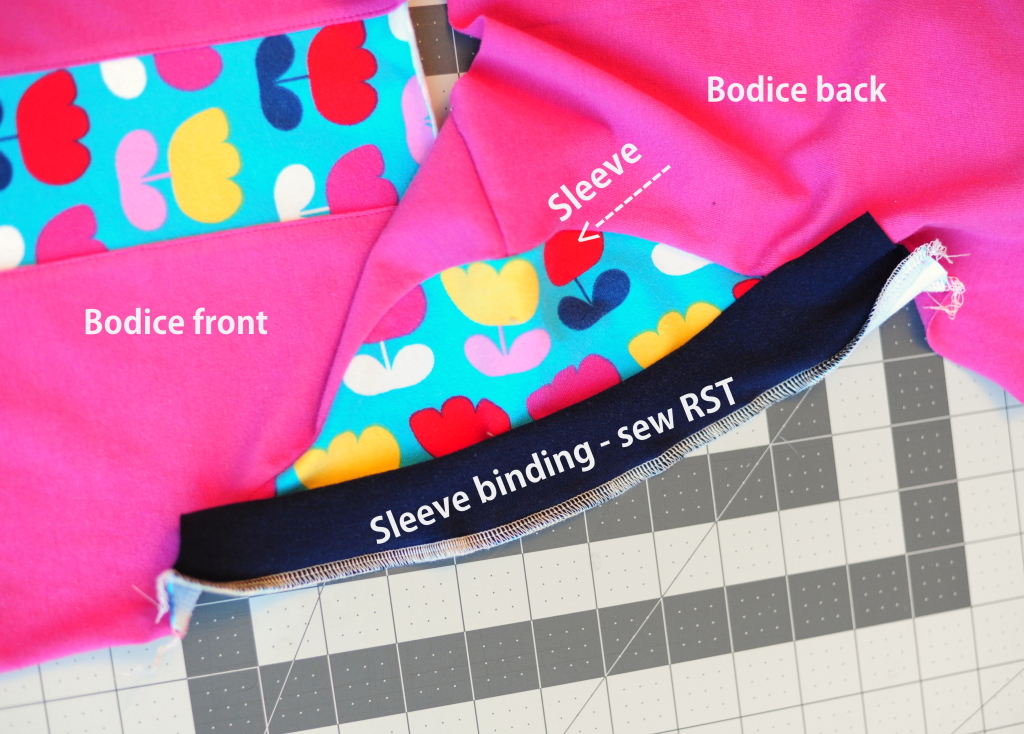 Evelyn Pattern Step 5: Next, I flipped – and pressed – the bindings up, and serged the side seams. (This way, I can fold the binding back over to finish it, and the side seam is enclosed in the binding.)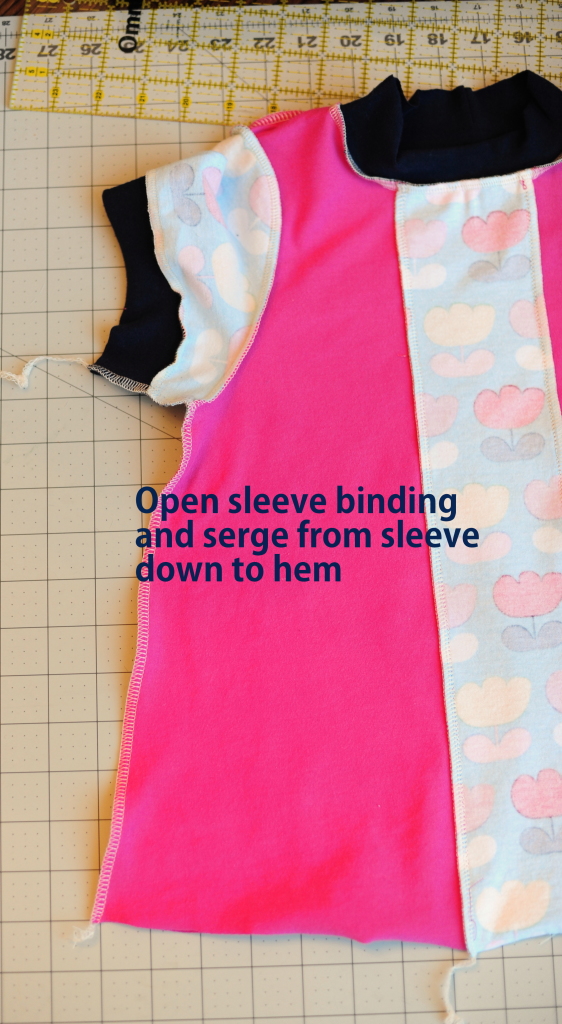 Evelyn Pattern Step 6: Then it was time to finish the bindings. Here's how I did them: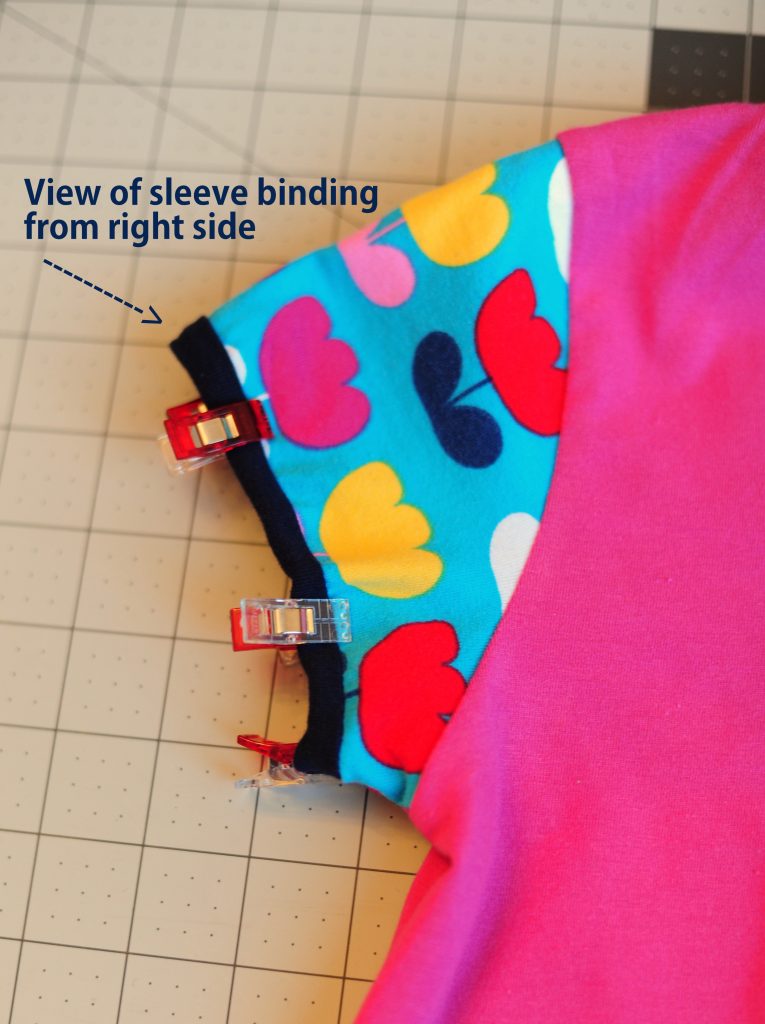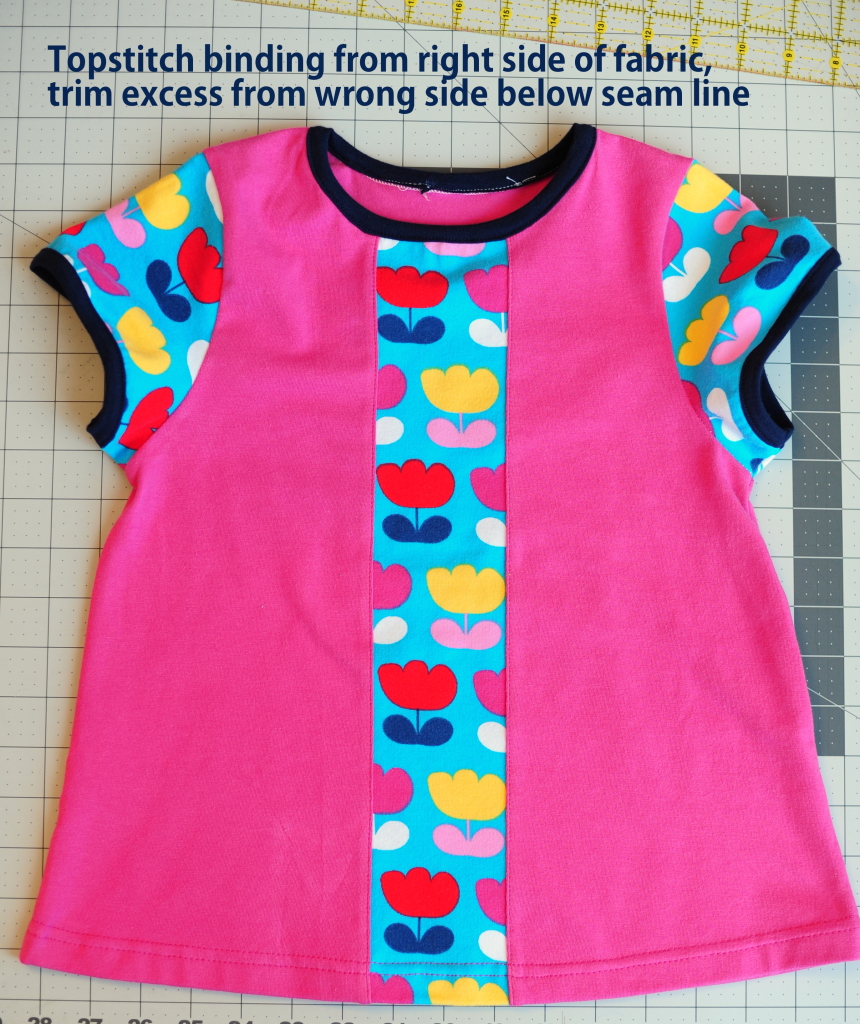 In Amy's tutorial about bindings, she shows the proper way to do them when sewing with knits, folding the inside edge back up to the seam line so there are no raw edges exposed. The way I did them here was just a little quicker (and a little less neat), since I didn't refold the binding under and just trimmed off the excess instead.
Here's the finished product – I love how it turned out, and it fit Miss P quite well. She loved how comfy it was (I used cotton lycra knit fabric for the main fabric, accent panel, and bindings), and I love how sweet and springy it looks. Spring is still a ways off here, but I can dream, right? 🙂 The Evelyn pattern is a great way to use a small piece of fancy/custom/precious/leftover knit fabric for the accent panel, and would be cute just colorblocked with different knit solids as well. I'll definitely be making more of these – I love the versatility of a pattern that I can use with both wovens and knits.
Now you know how to sew knit fabric. Have fun, and remember, don't fear sewing with knits!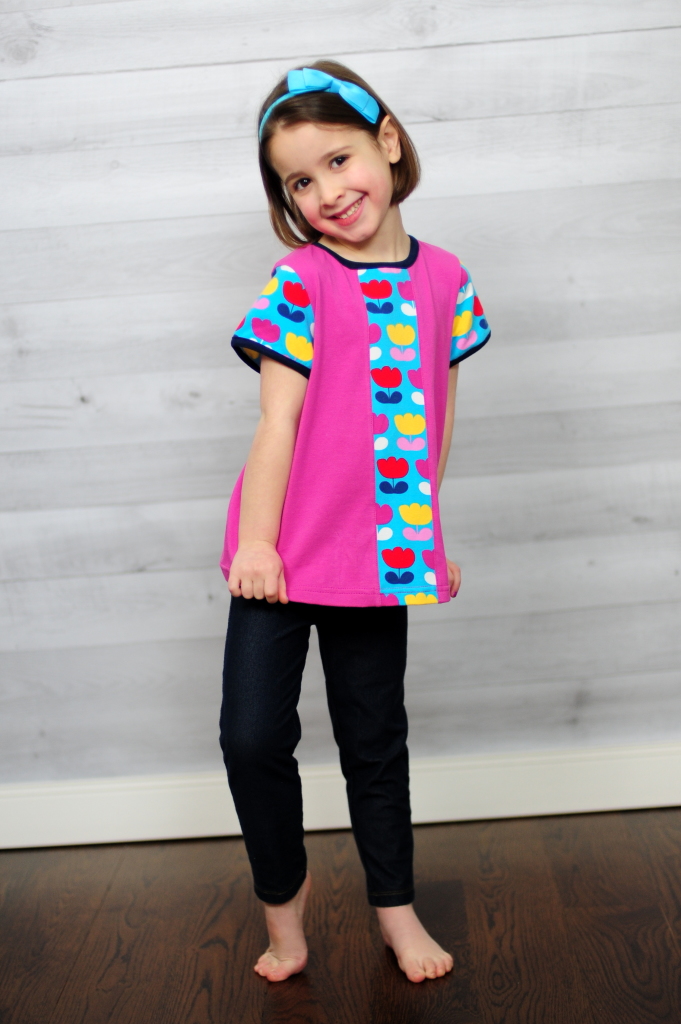 Thank you for joining Rachel today. We hope that this can be the starting point to your journey of sewing knit fabric. Remember, come visit us at KnitFabric.com and Peek-a-Boo Pattern Shop.
Also, be sure to check out some of our other articles: