Hi! Stephanie from Stephie B's Designs here again for another helpful post on how to sew knee patches. Little kids love to play hard, don't they?! Those little crazy monkeys don't care how many pairs of pants they wear in the knee because of falls, rough landings, and simply playing around.
How to Sew Knee Patches
That's where I come in with today's tutorial – how to add knee patches when sewing up a pair of pants. You can use the same concept for elbow patches, too! The sky is the limit with reinforcing kid clothes. As a toddler boy mom (and two twin girls on the way!), I'm excited about showing you this… it's quick, easy, and well worth a few extra minutes of your time. If you've ever added applique to an article of clothing, you'll soon realize this is the same process.
Now let's get started!
Knee Patch Materials
Your favorite pants pattern. My favorite for playful kids is Peek-a-Boo Pattern Shop's (affiliate link) Junior Joggers, and it's what you'll see in the pictures below. I can't seem to make enough of these for my son, and they are certainly a favorite of my customers as well. Definitely a go-to in my pattern collection.
Fabric for the pattern and patches. I'll be using some awesome fabric I purchased from Peek-a-Boo Fabric Shop (affiliate link), STOF Cars Knit. I love this fabric! It's super soft and stretchy, not to mention the fun print.
Additional fabric cut into two ovals, squares, circles, hearts, or any fun shapes you'd like. Can be matching, coordinating, or a completely off-the-wall print; it's up to you! The oval shapes I will be using on the 3T Joggers today are 4″ x 3 1/2″ but you can make yours larger or smaller depending on the size pants and how much damage your little one is capable of. **Make sure you account for your seam allowance when determining the size of your patches**
Iron-on Adhesive, such as Heat-n-Bond Lite
An iron, thread, sewing machine, and scissors
Process of Sewing a Knee Patch
First, follow the directions on the iron-on adhesive. Because I cut out my knee patches prior to ironing on to the adhesive paper, I cover the patches with parchment paper while ironing to avoid gumming up my iron.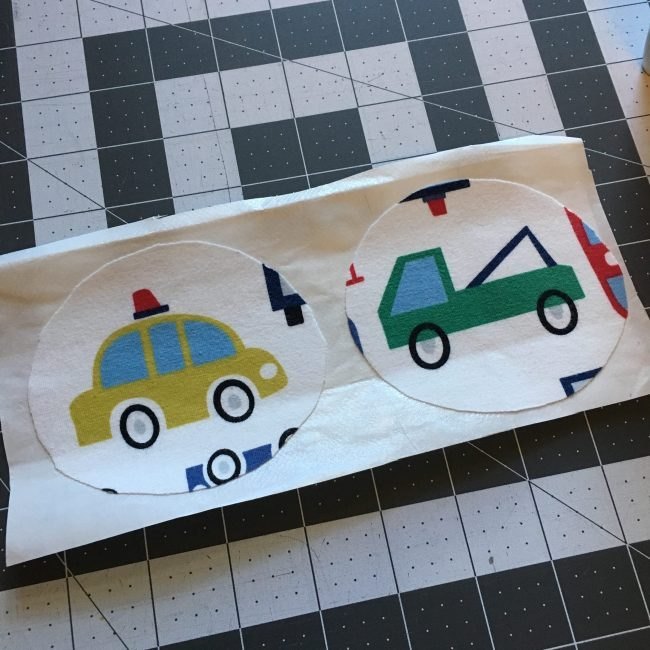 Next, determine where the patches should be. Either measure the front pants piece against your child, refer to other pants with patches, or estimate where they should be if you are making these for someone else. I add mine slightly lower than the center of the leg piece (in this case the center of the oval patch was 6 1/2″ above the bottom of the piece). Iron them in place once again following the iron-on adhesive directions.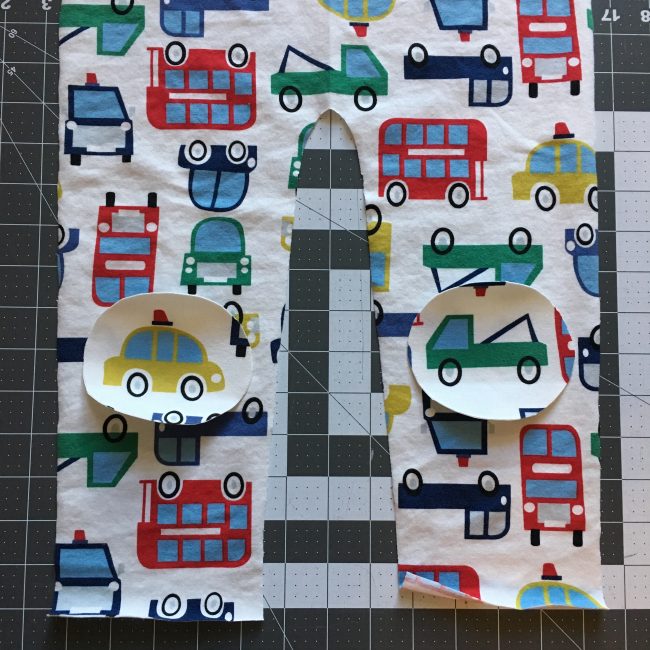 Finally, sew them in place! This is the fun and creative part. Play with your stitch length and width until you find the perfect look. Your stitching here is totally a personal preference, just as with the fabric, knee patch shapes, and thread color. Adjusting the width of your stitch increases or decreases the swing of the needle left and right, whereas changing the length determines how close together the stitches are, ranging from tightly packed (bar tack) to looking similar to a straight stitch.
For these pants, I set my width at 1.0 and length at 4.0. I recommend the right side of your needle/stitch landing just off the edge of the patch, however, again, personal preference!
Once you've sewn around your patch and arrive back at your starting point, lift your foot, pull out the fabric, and cut the thread with a tail a few inches long. At this point, you can double or triple knot the top threads and bottom threads in place or use a sewing needle to pull the top threads to the back to knot and tie off.
Run your iron over the patches one last time, then step back and admire your work.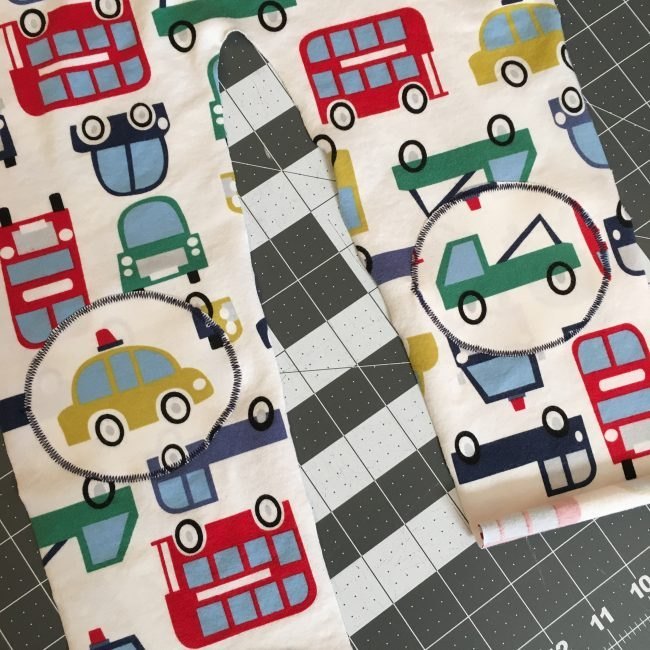 The last step is to sew up your pants according to the pattern instructions, then set your little one free to play!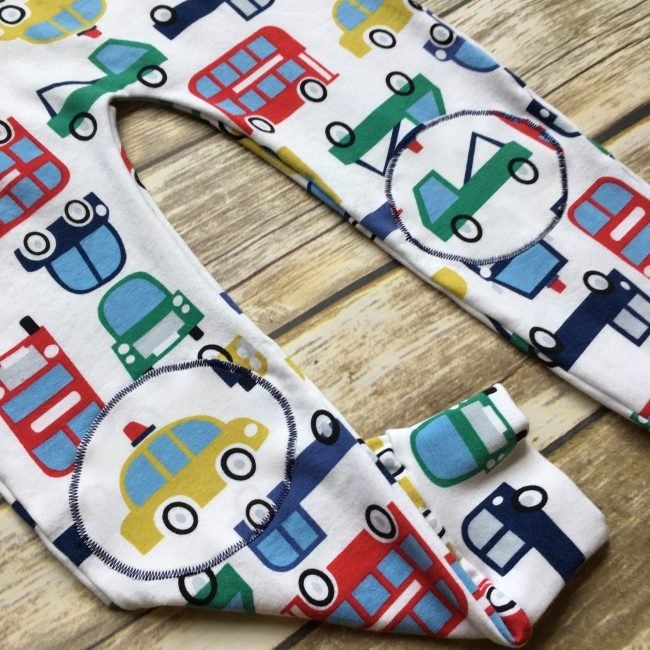 All done!! I hope you've enjoyed this post and learned a thing or two about adding knee patches. Like I said in the beginning, it really is an easy and fun process and adds that extra touch.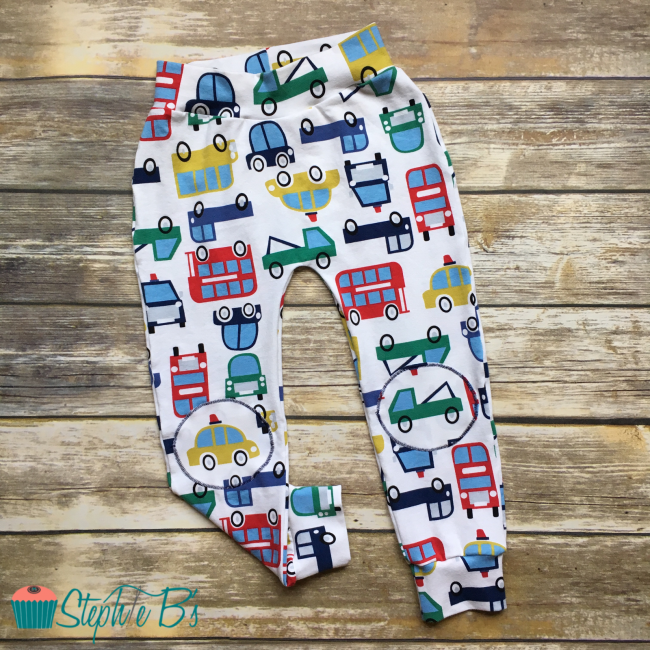 Below are two additional examples of the (affiliate link) Junior Joggers with knee patches. Super cute, aren't they??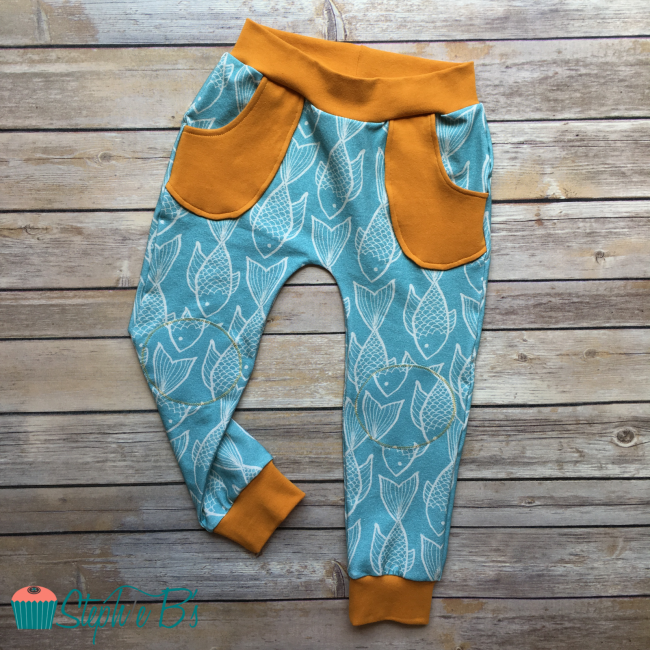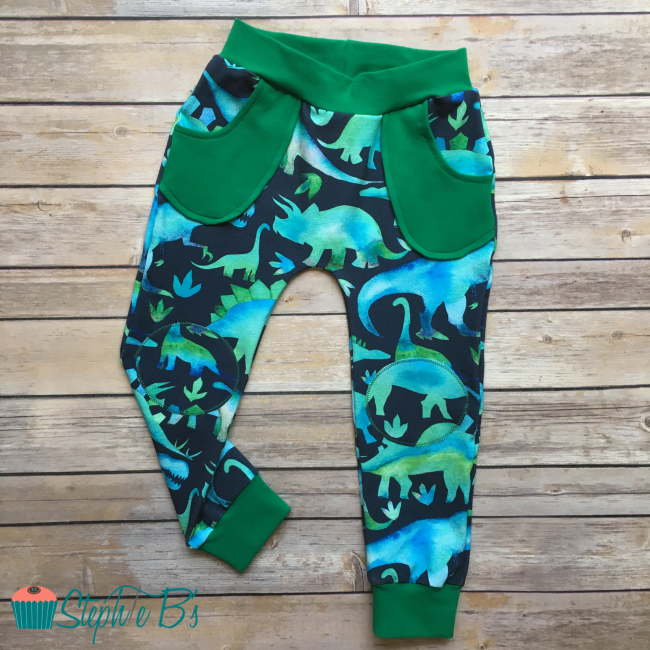 Thank you for joining us and learning how to sew knee patches. Before you leave, you should also take a look at some of these other tutorials we have: