Today I'll show you how to sew an exposed zipper. Sewing with zippers can be fun and easy! Zippers come in all lengths and even funky colors; they can really add pop to a small project.
How to Sew an Exposed Zipper
What is an Exposed Zipper | Exposed Zipper v. Invisible Zipper
An exposed zipper is the most common type of zipper sewing project that you'll come across. "Exposed" just means that the zipper itself and some zipper tape is showing and exposed on the surface of a project.
Another type of zipper project that we won't cover here is an invisible zipper. To get more information on sewing an invisible zipper take a look at our tutorial HERE.
You can sew an exposed zipper as the back closure of a top, the same techniques found here apply to garment sewing. For this tutorial, I decided to design a tiny zippered suitcase for my 8-year-old daughter's beloved doll. She has a standard 18-inch doll that she just loves to take on trips. Her doll has many accessories which needed a home for our upcoming vacation to NYC, so I chose this adorable taxi cab print from the Urban Patch collection by Monaluna…since I knew we'd likely be taking a cab on outings!
If you'd like to experiment with exposed zippers, check out these tips:
How to Sew an Exposed Zipper Tip 1: Zipper length
First, when a pattern calls for a specific length of zipper, the pattern maker is referring to the measurement from the very beginning of the metal zipper pull to the metal stopper. For example, I am using a 6-inch zipper for my doll suitcase.
Next, always aim to add about a 1/4 inch on either side of the beginning and end point of the metal zipper measurement when cutting fabric. Below, I used 6 1/2 inches as my width at the very top of my suitcase fabric. This ensures that the sewn zipper will look neatly tucked in when the project is finished.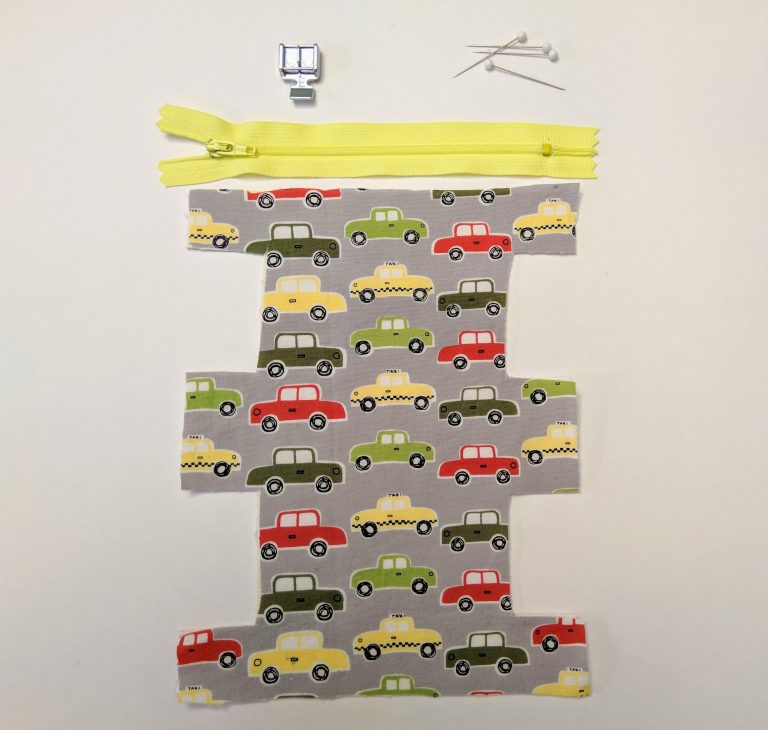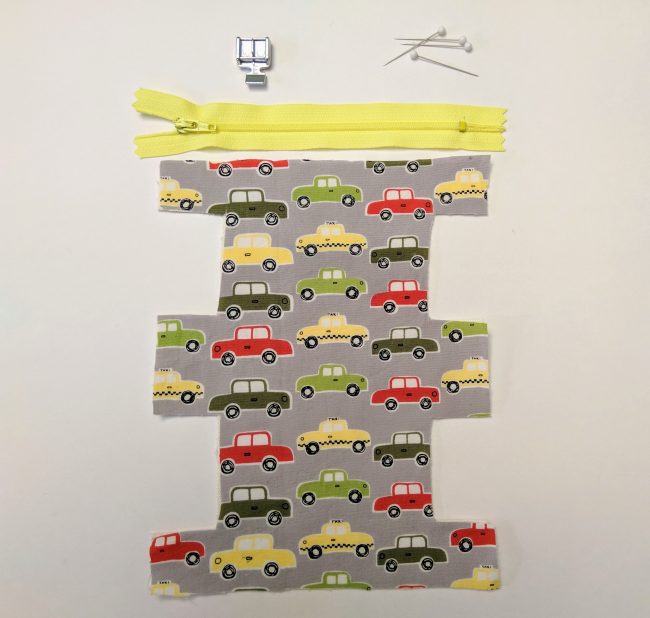 How to Sew an Exposed Zipper Tip 2: Zipper Foot
When sewing exposed zippers, always use a zipper foot as pictured above. Make sure to position the foot to glide past the zipper, and not directly on the zipper teeth. Depending on which side of the zipper you are sewing fabric too, the zipper foot can be clipped in two different spots. I have a Janome for this tutorial, so individual sewing machines may vary.
Sewing over the zipper teeth could break a needle, so definitely sew about 1/4 inch to either side of the teeth when sewing an exposed zipper. For a first project or even generally, I recommend plastic zipper teeth over metal ones.
How to Sew an Exposed Zipper Tip 3: Stabilize the fabric
Sewing an exposed zipper to a garment may require the use of interfacing to stabilize the fabric, especially if the outer layer is on the thin side. I used a layer of canvas as my interfacing for this project, so here my canvas/interfacing later is directly under the taxi print fabric.
Okay, let's tackle our exposed zipper!
(Here are the things that my daughter wanted to fit inside her doll's suitcase, so again, I ended up using a 6-inch zipper.)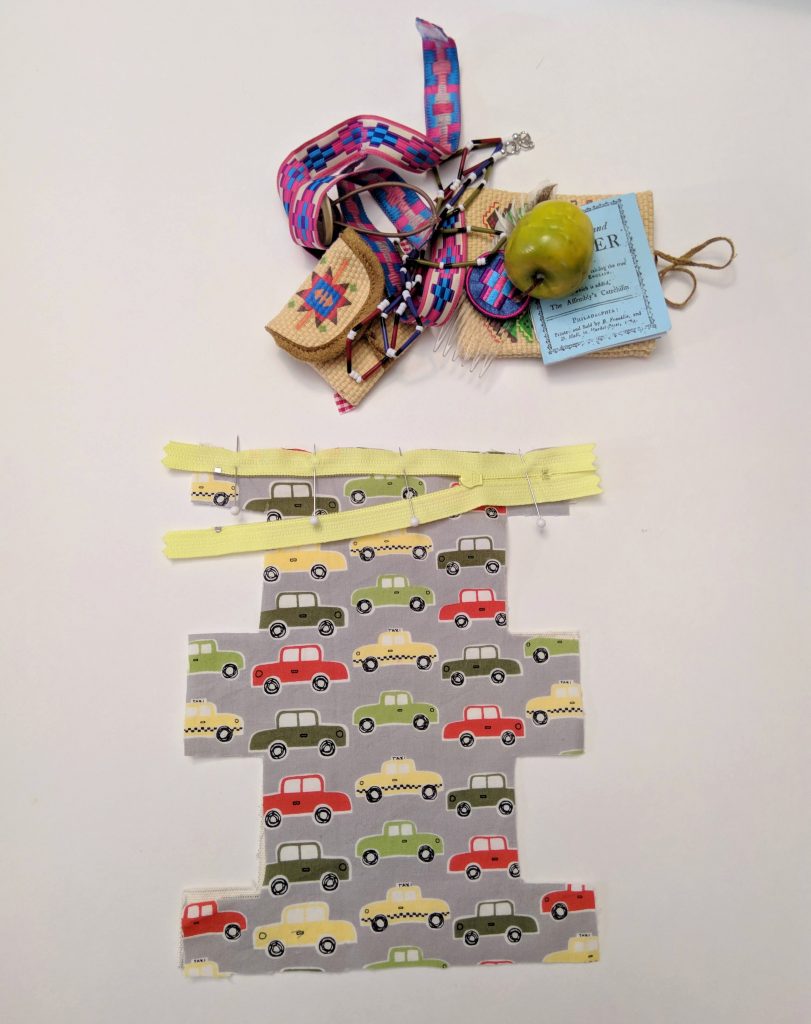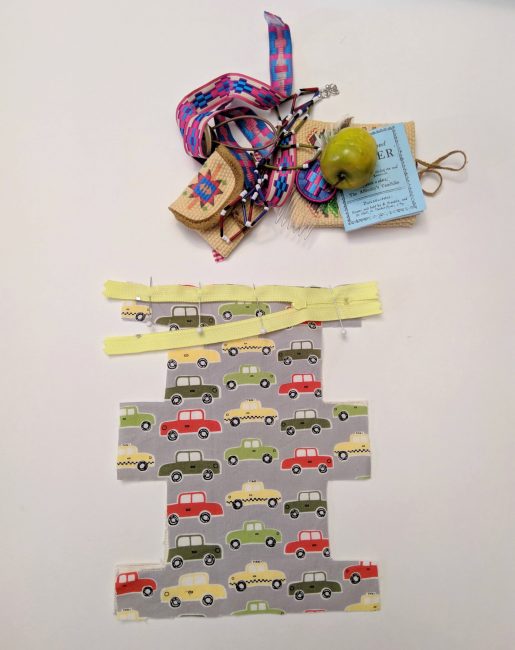 Tutorial on How to Sew an Exposed Zipper
How to Sew an Exposed Zipper Step 1
Place the zipper face down so that the right side of the zipper and the right side of the fabric are together. Unzip the zipper about halfway and pin along the edge, centering the metal end points along the fabric edge.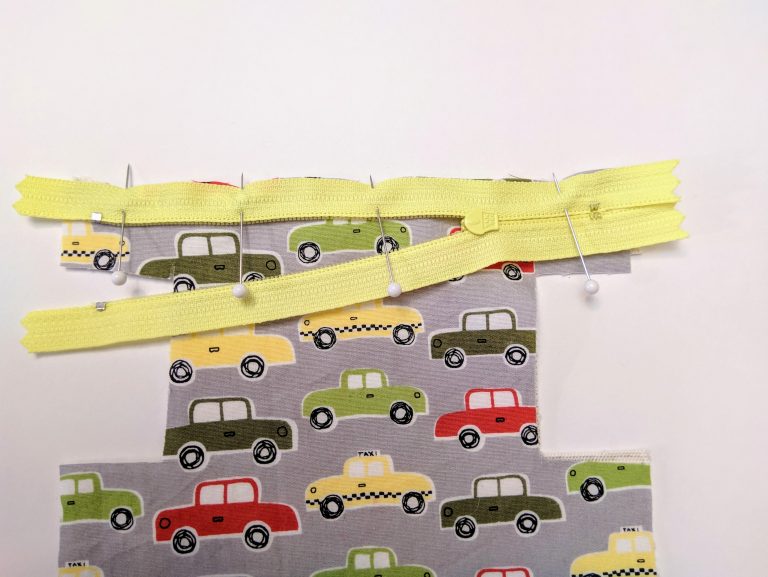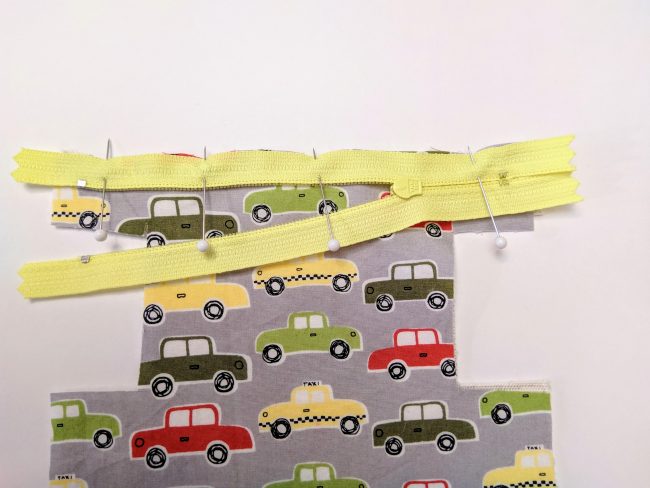 How to Sew an Exposed Zipper Step 2
Using a regular straight stitch and the zipper foot, sew 1/4 inch from the edge down the length of the zipper.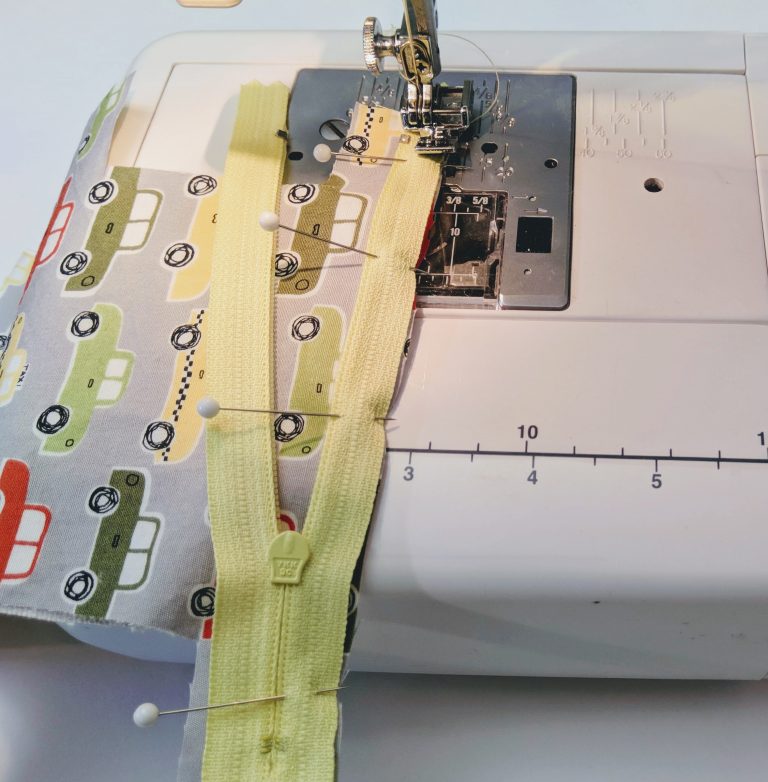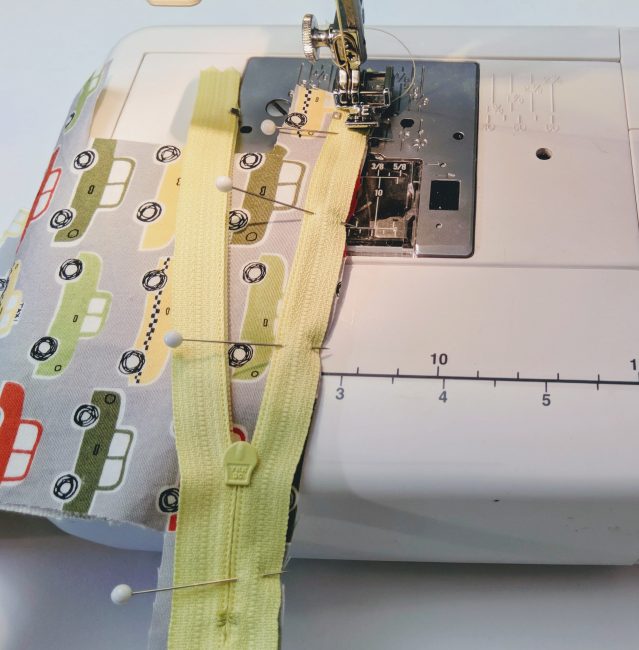 Stop before you get to the zipper pull, put the needle down and raise the presser foot. Swing the fabric out and close the zipper, continue sewing. Backstitch at both the beginning and end of sewing.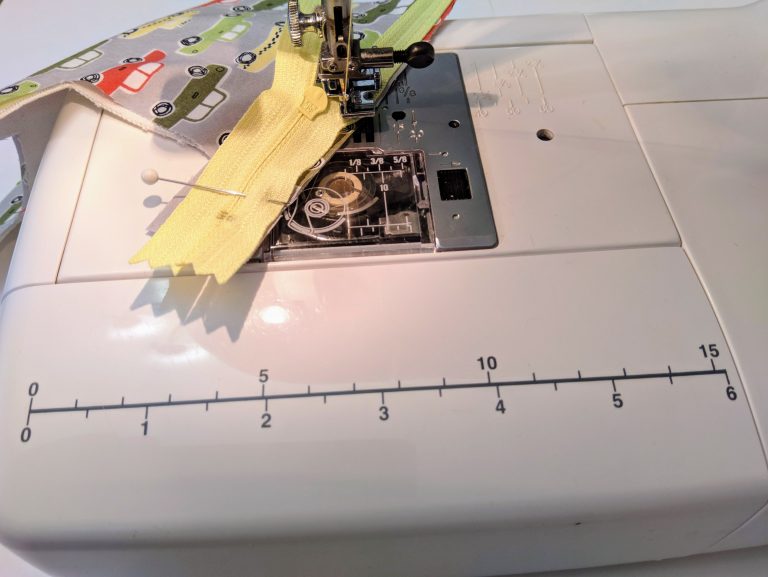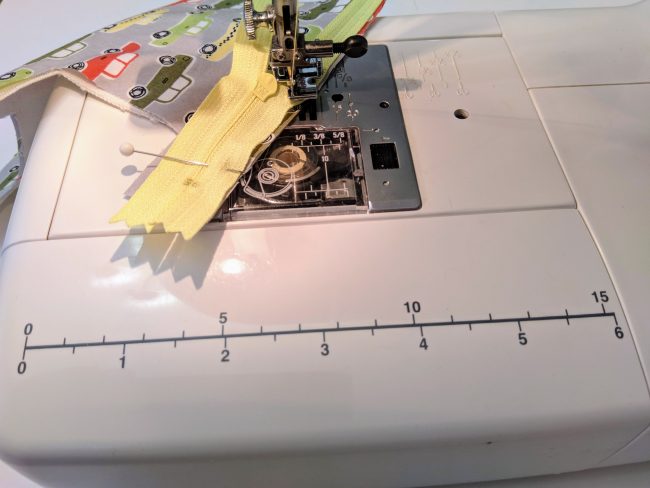 Repeat with the other fabric piece and the other side of the exposed zipper. Be sure to leave the zipper partially unzipped if you are sewing a tube as I was, so that the tube can be turned right side out.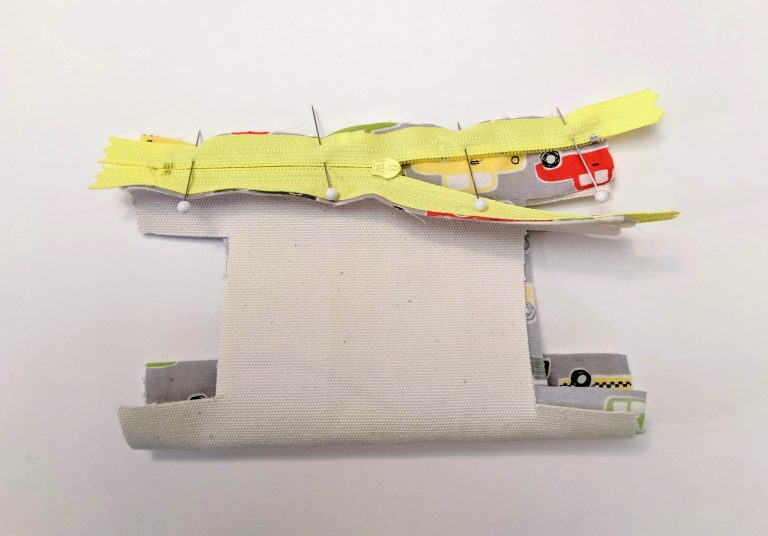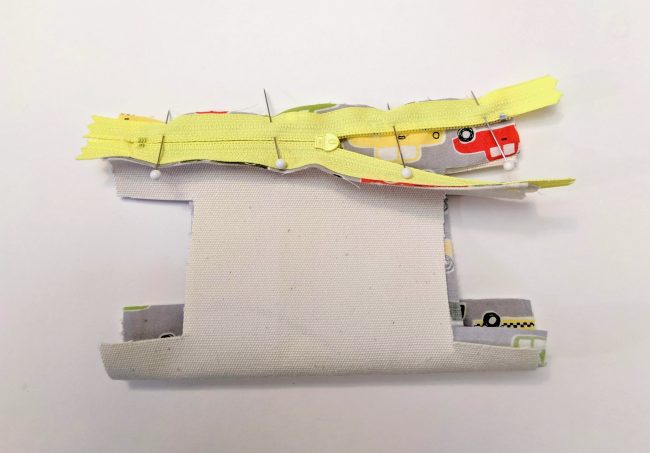 How to Sew an Exposed Zipper Step 3
Using a regular straight stitch and zigzag or straight stitch foot, topstitch if desired. Use the same technique as above, partially unzipping the zipper and using the needle down function along with swinging the project around to manipulate around the zipper when needed.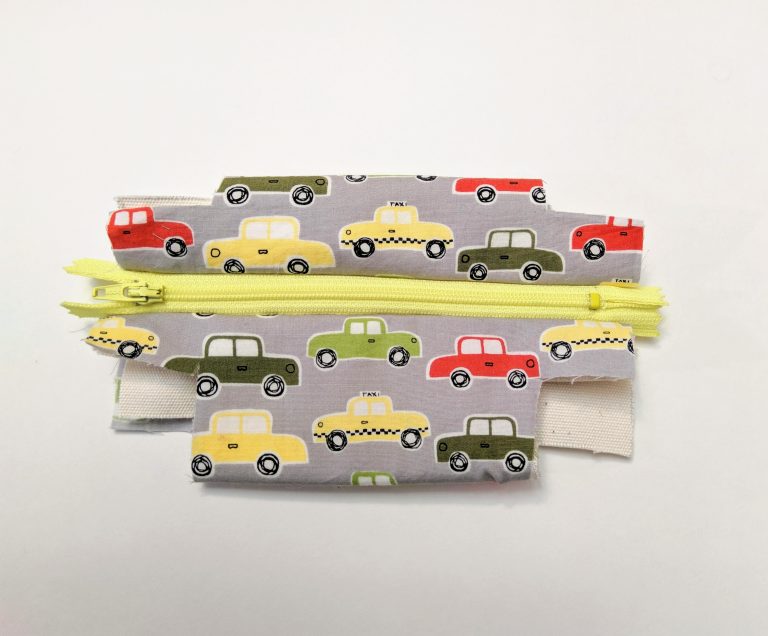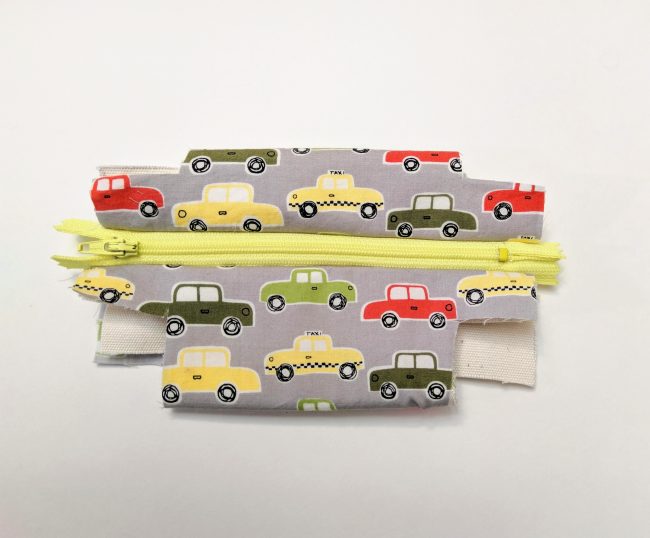 Here is my project reading for topstitching, I tried the topstitching with a zipper foot but quickly realized that I needed my regular foot.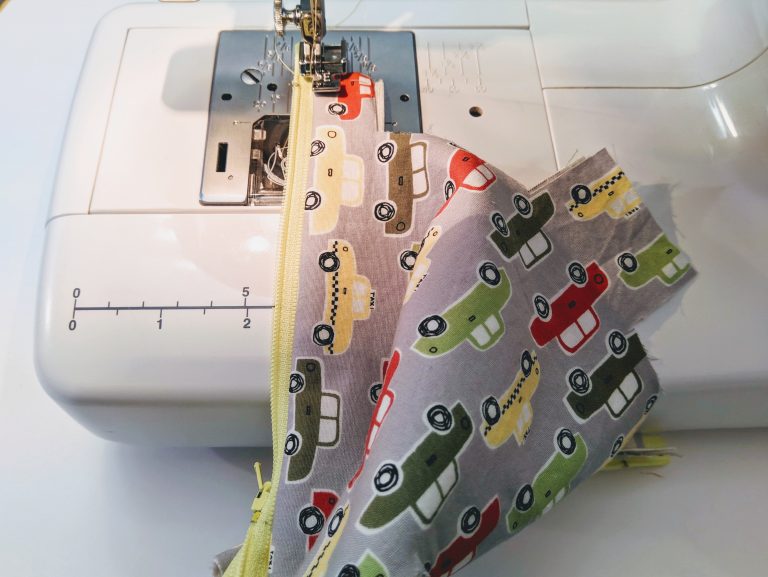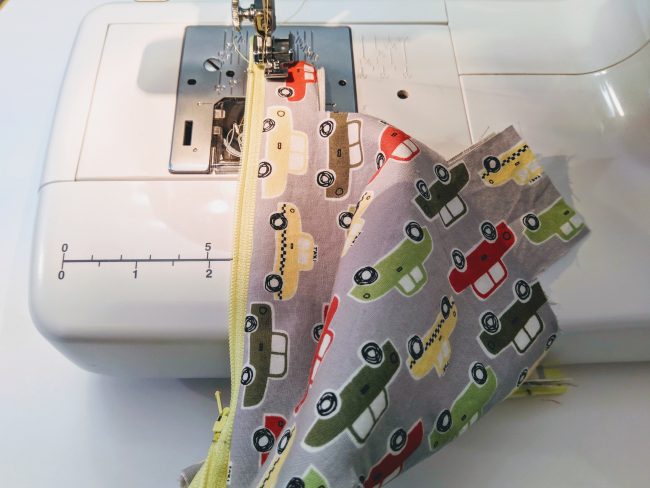 When you make a pouch or project like this one I'm using, you can safely sew the sides right up to the metal stopper as long as you don't sew over it.
There you have it, sewing an exposed zipper while keeping it simple. I love how this turned out! I added a tiny handle so that the doll can carry her own suitcase. You can use these same principles to sew an exposed zipper in different clothing patterns – like the one's listed below.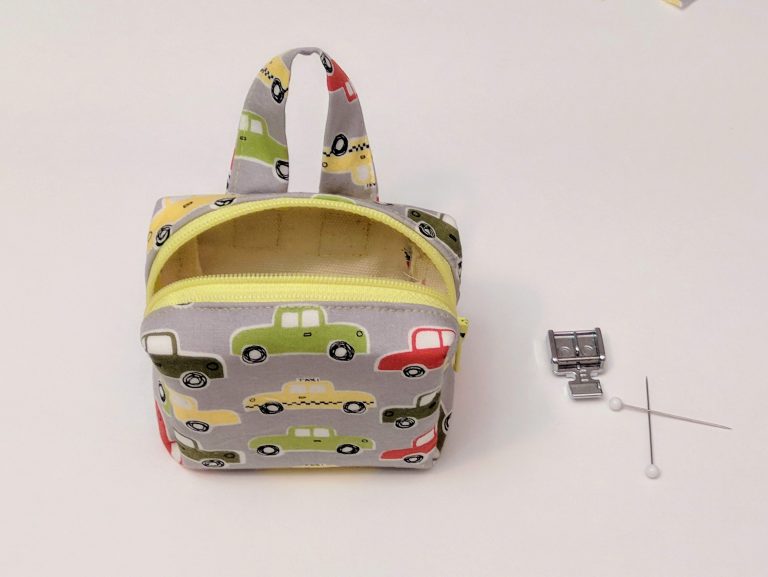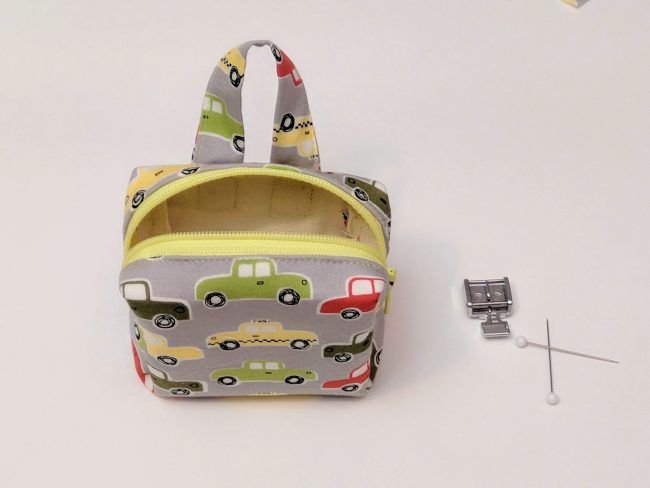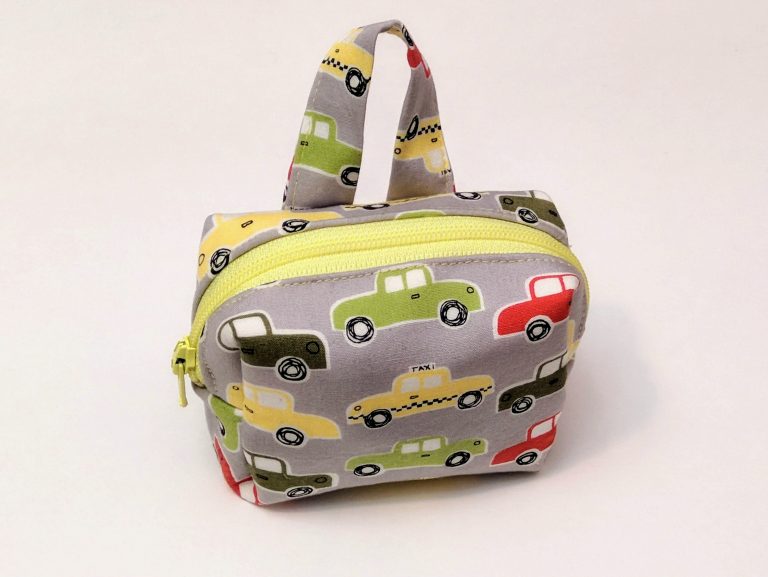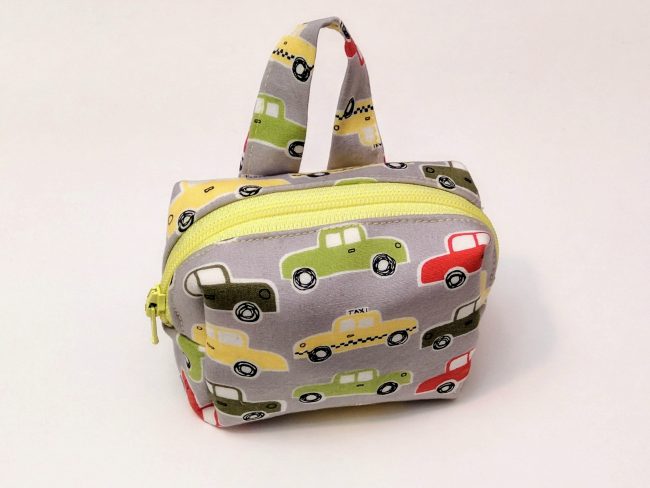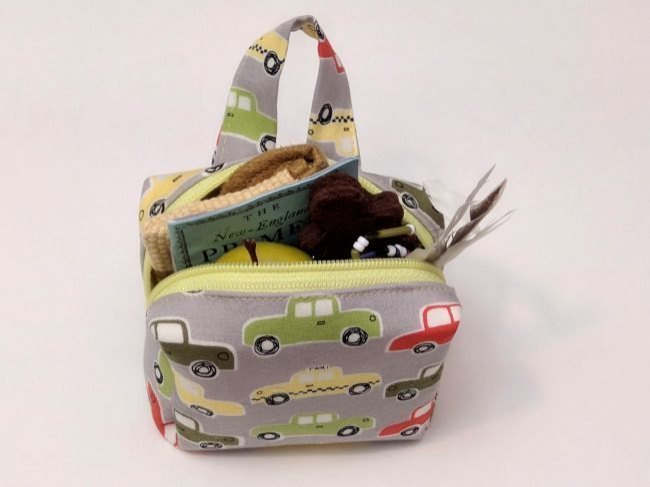 Sewing an Exposed Zipper With Peek-a-Boo Pattern Shop
We sure appreciate Karrie's tutorial on how to sew an exposed zipper today. Being able to sew an exposed zipper is essential for a lot of different projects. At Peek-a-Boo Pattern Shop we have a number of patterns that require sewing an exposed zipper. Here's a few of our favorite patterns with a zipper:
Other Sewing Tutorials for Zippers
If you'd like more information on sewing zippers then we have that for you too. The following tutorials will help you, combined with this one, to get a more comprehensive feel for sewing different types of zippers:
Also, be sure to join the Peek-a-Boo Pattern Shop Facebook Group to share your projects, receive pattern help, and be informed of new releases and sales.