Hello again! It's Stephanie from Stephie B's Designs here for another (hopefully helpful!) tutorial. This time I'll be showing you how to sew an elastic waistband two different ways: (1) a sewn-in elastic waistband; and, (2) an elastic waistband using a casing.
Sewing Elastic Waistbands
When sewing children's clothing I rely heavily on elastic to ensure a good fit that will stretch and grow with little ones, so I find myself either sewing in an elastic waistband or using a casing with the waistband constantly.
The methods on how to sew an elastic waistband below can be used on both knit and woven materials. The pictures here within this tutorial are all of woven material and I'm using a contrasting thread so you can clearly see my stitches.
Sewing with Elastic
Before we get started – let's talk about elastic. Most patterns will tell you the type of elastic required as well as how much you need for a waistband. But, what if it doesn't, or you are creating something from scratch or repurposing a garment? That's where I come in!
How much elastic do you need for your elastic waistband?
The most important step to consider when sewing a garment is ensuring it fits correctly. Even if your pattern recommends a length, if possible, you should always get a good waist measurement of either the natural waist or wherever the finished garment will be on the torso.
Once you have that measurement, I recommend subtracting at least 2 inches to get your elastic length. If you want a snugger fit, 3 or 4 inches may need to be deducted – its a personal preference.
From that measurement, add 1 inch so you can overlap and sew the elastic ½ inch to form the loop. (Why do my how-tos always seem to include math?!) 🙂
Around-the-waist measurement – ~2 inches + 1 inch = the amount you need to cut
When cutting your elastic, roll it out flat and do not stretch it as you're cutting. Once cut, try it around the waist just to make sure it fits the way you like.
What type of elastic should you use for your elastic waistband?
The two most common types of elastic used in waistbands (and the ones you'll see in this how-to) are knit elastic and woven elastic.
Knit elastic is perfect for most projects, specifically light to mid-weight fabrics. It can be used within a waistband casing or sewn into the fabric, making it perfect for leggings, shorts, PJ bottoms, briefs/boxers, and garments where this soft elastic is against the skin. I'll be using this type for the first waistband method below.
Woven elastic is also referred to as "no-roll" elastic, and is commonly used when the elastic is contained within a casing. It is thicker and harder than the knit elastic, so is not a good choice for the sewn-in waistband method. I'll be using this type for the second waistband method below.
Ok, now that you have the right amount of the right type elastic, let's get started!
The Sewn-In Method to Sewing Elastic Waistbands
Supplies Needed to Sew Elastic Waistband
Your garment
Elastic (knit elastic is preferred for this method)
Sewing machine or serger
Thread/scissors/pins
Steps Needed to Sew Elastic Waistband
Sewn-In Elastic Waistband Step 1: Prepare the elastic
Overlap the elastic ½ inch and sew together to form a loop **making sure your elastic isn't twisted when you sew the ends together**.
I use the barn door technique, where I sew around the edges of the overlapped part to form a square/rectangle, then sew a diagonal line from one corner to the opposite corner. This will ensure your elastic won't come apart when stretched. The good thing about this stitch – it doesn't have to look good because no one will ever see it!
Sewn-In Elastic Waistband Step 2: Divide and Pin
Divide both the elastic loop and your garment into quarters (back, front, side, side) and mark the placements with pins.
Once the two pieces are quartered, pin them together. I always pin my elastic to the garment a smidgy bit below the raw edge. I also prefer to line up the overlapped section in the back of the garment, but there is no rule saying you have to, so wherever you pin it, that's where it'll be!
Sewn-In Elastic Waistband Step 3: Sew the elastic to the garment
Using a zig-zag stitch, sew the elastic to the garment's waistband, stretching the elastic to fit between the pins and pulling the garment gently through the foot as you go. If you'd prefer to add more pins in between the quartered sections to keep the fabric and elastic lined up, go for it. I tend to do this for most projects.
I recommend setting your stitch length to 1.4 and your width to 3.5 if your machine doesn't already do so when you choose the zig-zag stitch.
Sewn-In Elastic Waistband Step 4: Fold over and sew
Fold the waistband over towards the inside of the garment and pin.
Using a zig-zag stitch once again, increase the stitch length to 2.0 and width to 4.0 or 4.5 and sew the waistband in place, close to the bottom edge of the elastic. Just as with the previous step, stretch the elastic to ensure the fabric lays flat, and pull the garment through the back as you go.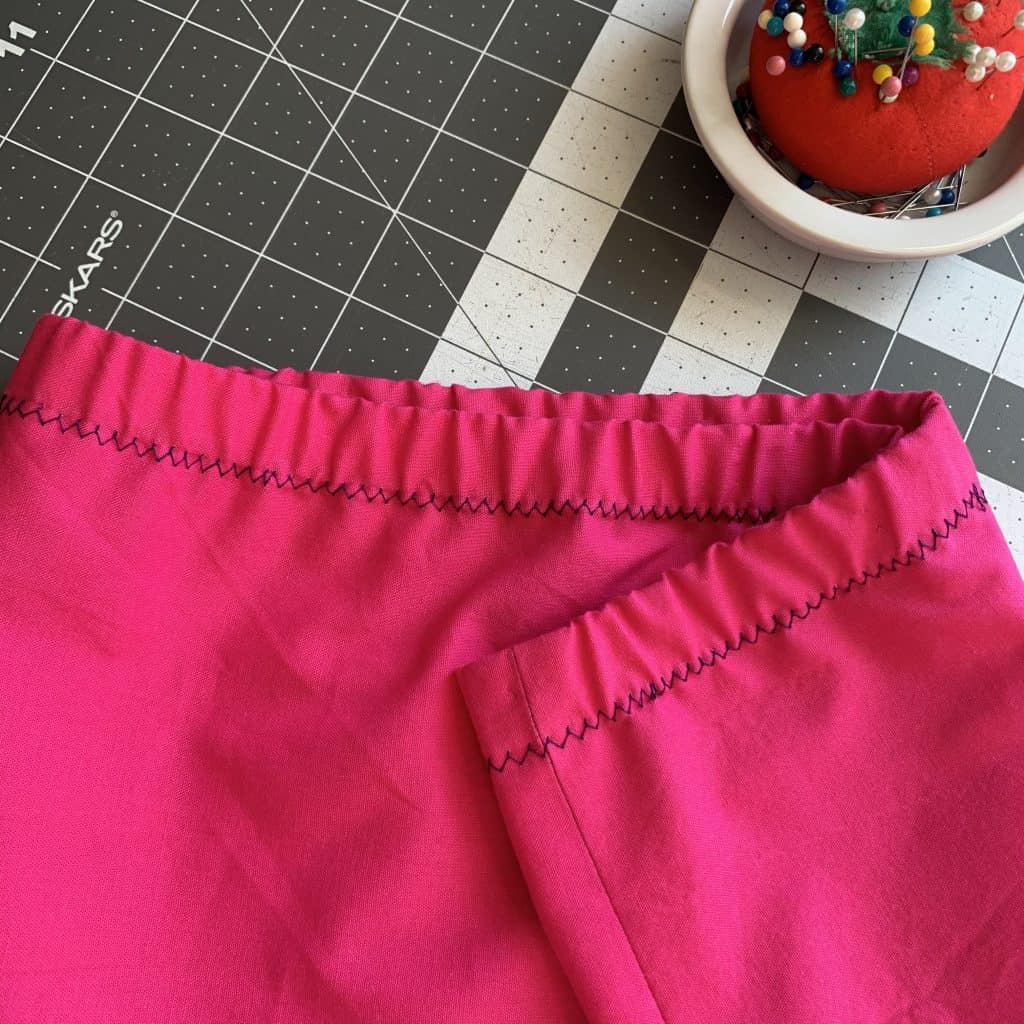 Remove the pins, and there you go!
Elastic Waistband Tutorial 2: Elastic Casing Method
Supplies Needed to Sew Elastic Casing Method
Your garment
Elastic (knit and woven elastic both work well)
Sewing machine
Iron
Safety pin or bodkin
Thread/scissors/pins
Steps to Sew Elastic Casing Method
Elastic Casing Step 1: Create the casing
Press the raw edge of the waistline over ¼ inch and press. A helpful trick is to sew a straight stitch around your waistband ¼ inch below the raw edge and use that stitch as a guide to press.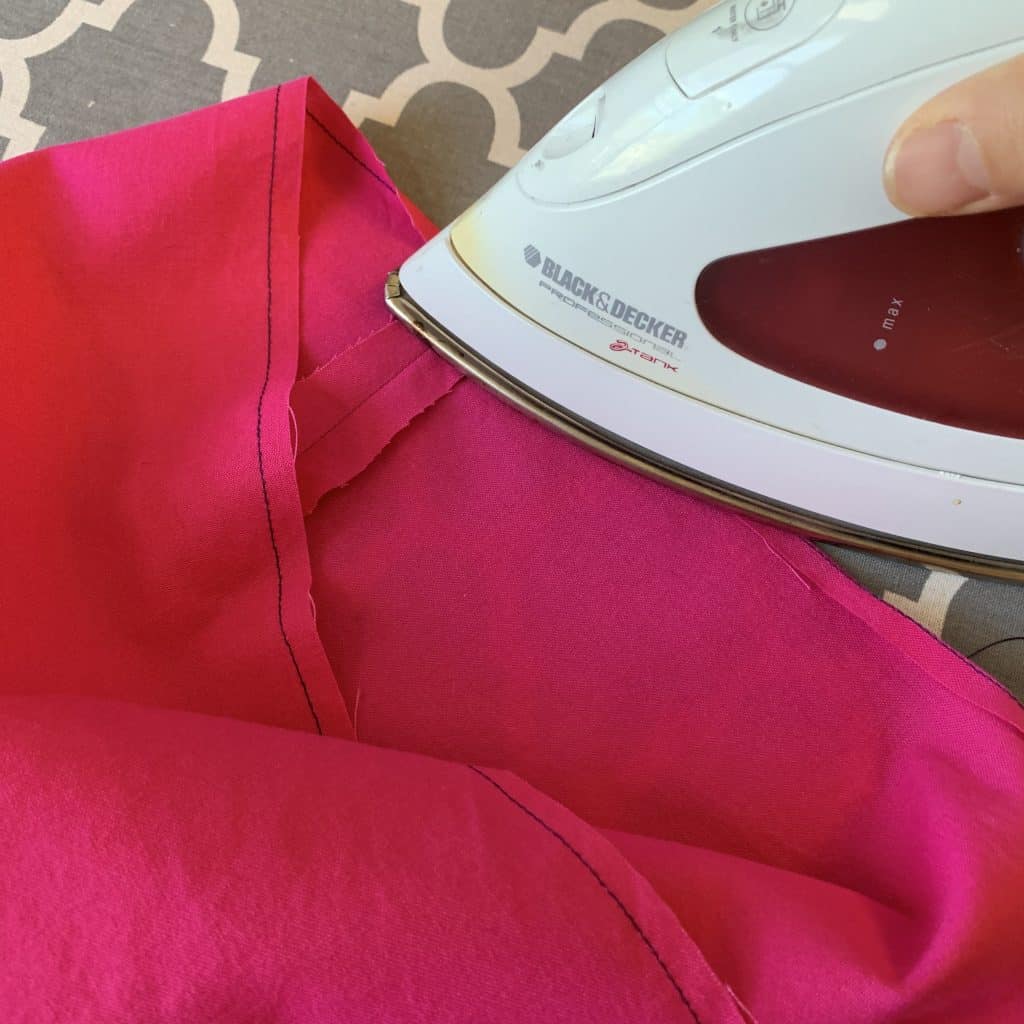 In order to determine your second fold – which once folded and pressed will create the casing – add ¼ inch to the width of your elastic. I'm using ¾ inch elastic for this tutorial, so will fold down and press 1 inch after my initial 1/4 inch fold.
Lay your elastic over the casing to ensure you'll have room to topstitch along the bottom.
Once you've created the casing, mark off a 1 inch gap at the center back. I like to use pins to mark my starting and stopping points so I don't forget and accidentally sew the casing closed.
Elastic Casing Step 2: Stitch the casing in place
Topstitch in place along the bottom folded edge…
… making sure you remember to stop about an inch before your starting point.
Elastic Casing Step 3: Feed the elastic through the casing
Thread the elastic through the waistband with a safety pin or bodkin.
I use a pin to hold the opposite end not attached to the safety pin/bodkin in place as I feed the elastic through to the other side.
Elastic Casing Step 4: Sew the elastic ends together
Once the elastic has been fed through the waistband and comes out the other end, pull each end out a few inches (to make sewing easier) and overlap by 1/2 inch.
Sew the two ends together where they've overlapped **making sure the elastic isn't twisted**.
I use the barndoor method, making a square around the edges of the fabric then a diagonal line between the top and bottom corners. This method secures the ends together so they don't come apart while being stretched.
Since the elastic will be tucked into the casing never to be seen again, your stitching doesn't have to be pretty… it just has to work!
Elastic Casing Step 5: Tuck the elastic and close the casing
Tuck the elastic inside the waistband…
… and topstitch the gap in the waistband shut, pulling the elastic and fabric flat as you sew around the waistband.
Distribute the fabric evenly around the waistband by stretching the elastic, and there you go! All done!!
There you have it – now you know how to sew an elastic waistband. As always, I hope I've taught you something new today. Come back next time for more How-Tos.
Make These Related Sewing Tutorials
If you enjoyed this waistband tutorial and want to keep doing more with elastic, you might also enjoy our tutorial on How to Sew an Elastic Headband.
Stephanie also made an excellent tutorial for us on How to Topstitch an Elastic Waistband. This is kind of the sequel to sewing elastic waistbands. Here, Stephanie goes over how to use topstitching to keep the elastic in place and keep it from rolling after washing.
If you're looking for help with your sewing projects, be sure to join our Peek-a-Boo Pattern Shop Facebook Group.