This Swimsuit sew-along will go over how to sew a bathing suit for women. We're not just going over just one swimsuit. We're using the Peek-a-Boo Pattern Shop Bamaha Mama line which allows you to choose different swimwear Tops (Blouson, Peplum, or Colorblock Tankini) and swimwear bottoms (Boy shorts or Bikini bottoms).
Bahama Mama Sew Along | How to Sew a Swimsuit for Women
Bahama Mama Part 1: Choose Your Patterns and Print/Cut Pattern Pieces
Planning a project is one of the best parts – exploring all the creative possibilities: choosing a great pattern, coordinating the perfect fabrics, and finding a way to personalize a piece to make it 'mine.'
Step 1: Choose (and purchase) your swimsuit top and bottom pattern.
This Bahama Mama Swimsuit Sew Along has tons of choices and options to make your perfect suit a reality. Here's a lovely little visual of ALL the pieces to help you choose your favorites! Did you know you can eliminate the skirt of the peplum swimsuit to create a crop top if you are looking for a little less coverage?
Step 2: MEASURE your body then choose the best swimsuit size for each piece according to the sizing chart provided with each pattern. This is the beauty of creating your own suit – customizing the swimsuit fit for YOUR body.
Step 3: Print and assemble your pattern. Now is a good time to make initial adjustments for the best fit. This PAB post has great visuals illustrating how to alter a swimsuit pattern. This is helpful if your measurements are between sizes, if you need to grade between two sizes, or if you typically need to lengthen or shorten a pattern.
Step 4: Cut your swimsuit pattern reflecting any changes you made in Step 3.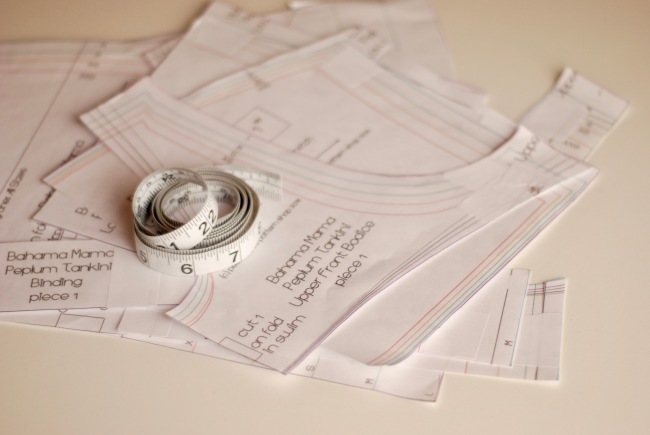 Bahama Mama Part 2: Choose Suit Fabric and Cut Into the Fabric
FABRIC! Who doesn't love shopping for fabric!?! And there is something especially fun about choosing swim fabric for a one-of-a-kind me-made suit!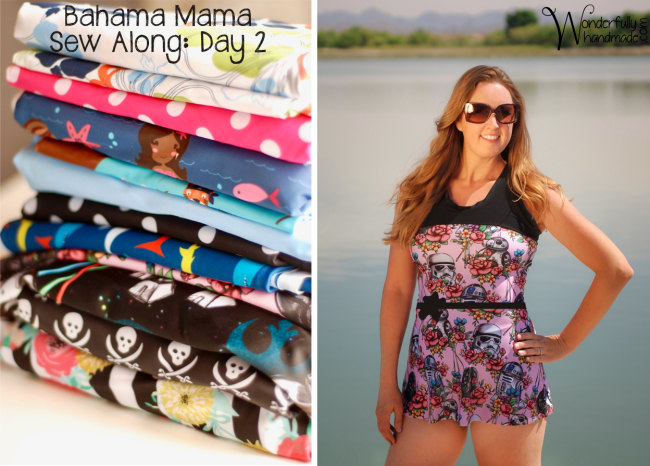 Choose Your Swimwear Fabric: Most sewists have learned the hard way that not all fabric is created equal. That is one reason I prefer shopping for fabric through KnitFabric.com; I have never been disappointed in a purchase. The custom designs are unique and on-trend made with quality fabric, and the solids (and other prints) are always amazing as well – which makes sewing that much easier (especially when it comes to swim fabric).
Check out the KnitFabric.com Swim Fabric Section. KnitFabric.com has an amazing selection of bathing suit fabric. They stock custom swim and swim fabrics from other designers as well. If you are new to purchasing/sewing swim fabric, this is a very informative PAB blog post focusing on swim fabric, lining, power mesh, elastic, and more.
A few more tips for swimsuit fabric:
Swim fabric can be used to line your suit – it's a bit thicker than swim lining so it provides a smoothing (and slight trimming) effect. Inexpensive solids are great for this purpose.
Power mesh is a great option for extra support and shaping. Things to know about power mesh:

it may irritate skin so consider using it between your main fabric and your lining.
it provides amazing support as an added layer to a shelf bra.
added as a layer to the front and back of bottoms creates a tummy-slimming effect (without creating a 'muffin top' on the high rise option).
too much power mesh can be a bad thing. 😉 Be sure to fit-check BEFORE final assembly. My shelf bra with power mesh fit great, and my tankini bodice with power mesh fit great; but when I tried to put them on together, I couldn't get it on. My final version fits perfectly. I added a layer of power mesh to the front and back of the shelf bra and sewed the tankini bodice as per pattern instructions (no power mesh).
Sort Your Pattern Pieces: After you choose your fabric, sort your swimsuit pattern pieces. I found that there were quite a few pattern pieces for this project, so I sorted my pieces by fabric (i.e.: upper front bodice, upper back bodice, front/back bottoms, and binding were in one pile because they would all be cut from the same fabric) to streamline the cutting process a bit.
Layout Your Swimwear Pieces and Cut: Fabric weights work well, especially with swim fabric because it tends to wiggle and slither, a lot. If you don't have any weights and are feeling crafty, PAB blog has a great tutorial to make your own fabric weights; they are adorable! In the meantime, anything with a bit of even weight will work.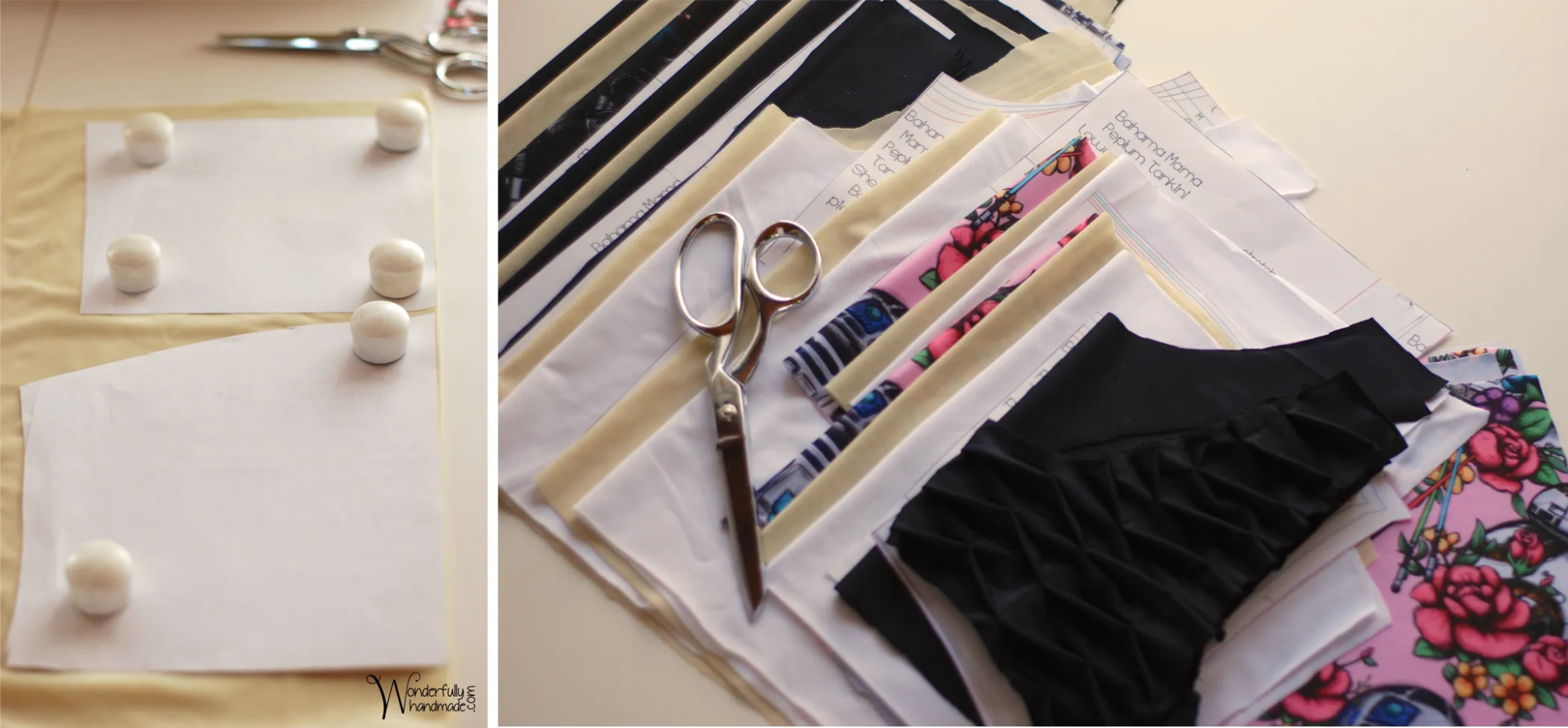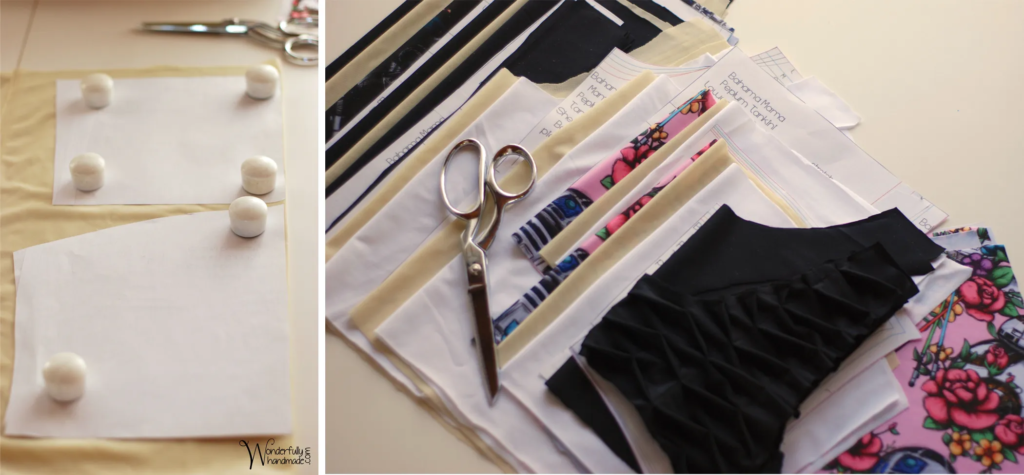 Bahama Mama Part 3: Learn to Sew Elastic and Sew the Swimsuit Bra
Sewing a shelf bra? With cups….and elastic?!?! It's easier than you think to sew the bra in your swimwear. You CAN do it!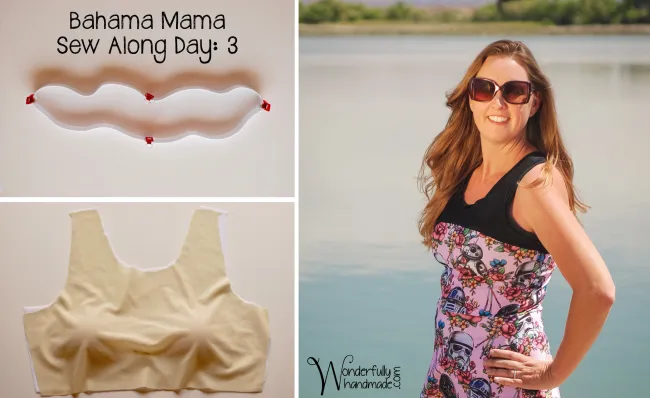 It wasn't so long ago that I was terrified when sewing elastic. Yes, elastic. I would avoid a pattern if it required elastic. I finally decided to give it a try, and I was surprised at how easy it truly is to sew with. Bra cups. Same thing. Thankfully, I am a learner. I love to learn new things, especially when it comes to sewing. I love learning new techniques and expanding my skills. And if I make a mistake, I just pull out one of my most useful sewing tools – the seam ripper – and 'just keep sewing' (said in my best Dory voice)!
Let's get started – whether you are a seasoned pro or this is your first time sewing elastic or a bathing suit!
Swimsuit Bra Step 1: Gather all your fabric pieces (main fabric, lining, and optional power mesh) as well as the elastic and optional cups for sewing the shelf bra. I used a main fabric and power mesh – no lining.
My supply resources (no affiliate links, simply my input/recommendation):

Bra Cups: I purchased these bra cups and am happy with them – not too thick/thin, nice, natural shape, easy to work with, and somewhat economical at $8 for two pairs.
Power mesh is available at the PAB Fabric Shop.
Swimsuit Bra Step 2: Begin at Step 1 of the swimsuit tutorial to attach cups. (Confession: I placed the cups on my chest and laid the fabric over the cups to find the best placement. I pinned each point of the triangular(ish) cup and sewed the cup onto the wrong side of the bra fabric (using a zig-zag stitch). The end result was smooth with perfect placement, and it eliminated Step 2 of the tutorial 🙂 ).
I added a layer of power mesh to the front and back of the shelf bra ON TOP of the fabric (so the power mesh is between the bra fabric and the tankini bodice). I basted the power mesh to the fabric, so I could treat the pair as one piece later in assembly (if using lining, I would baste that layer, too). If you do not have power mesh or lining, you can use an additional layer of swim fabric for a bit more support.

Swimsuit Bra Step 3: Prepare elastic for sewing.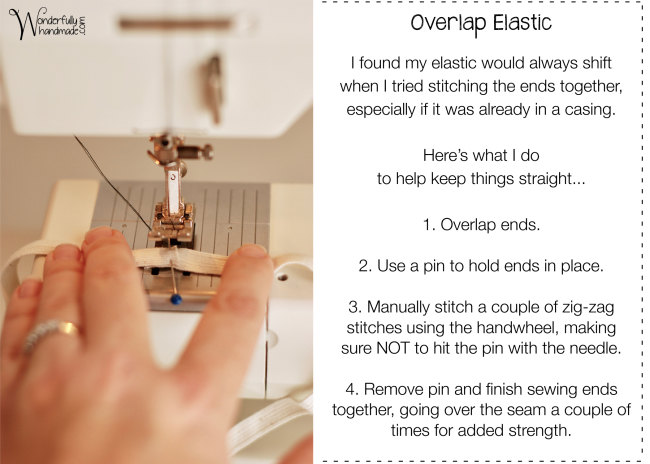 Swimsuit Bra Step 3: Quarter elastic and start sewing to fabric.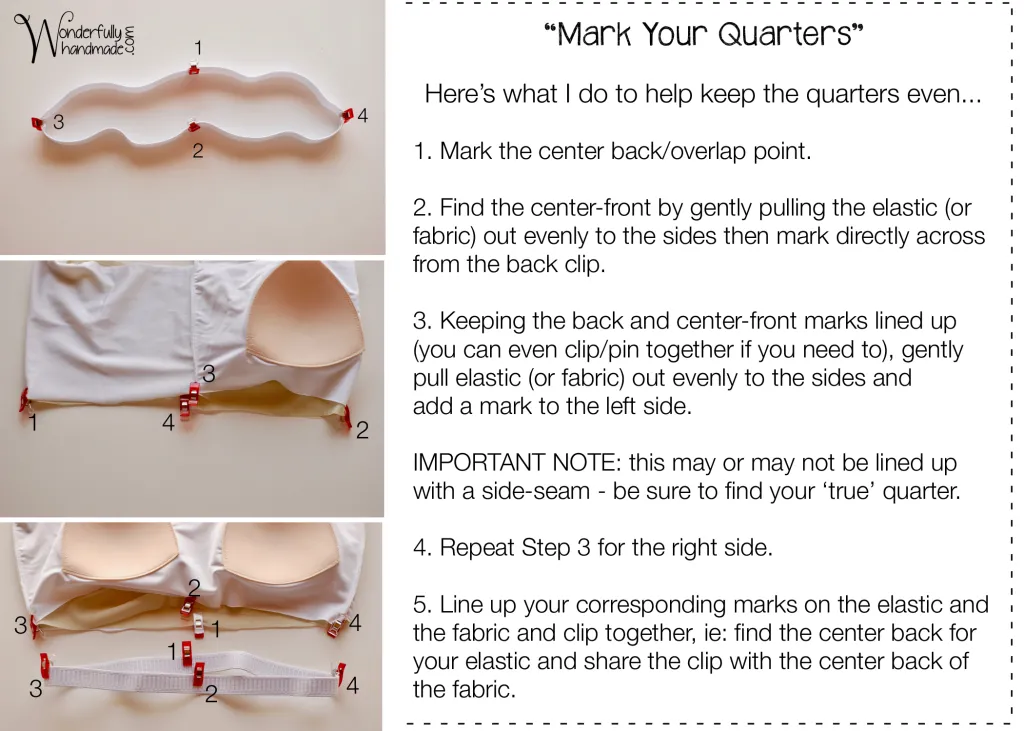 Swimsuit Bra Step 4: Fit Check. Test the bathing suit fit at this point to see if you need to flip the elastic before topstitching (I did). Also, check your armscye (arm hole). I made a slight adjustment to my shoulder seam for a better fit for my body. If you make a change here, remember to make the same adjustment to your tankini bodice in the next part.
Bahama Mama Part 3: Sewing the Tankini Bodice
You completed the "hard" part (elastic and bra cups) of sewing the swimsuit; now let's make that tankini pretty!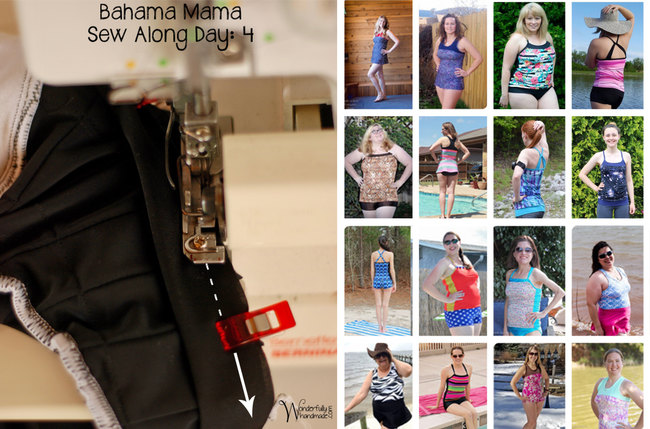 Sewing the main pieces for the bathing suit bodice is fairly straightforward, and the tutorial has excellent images to illustrate those steps. The binding, however, can be a bit tricky so that's the focus here. Please know, that with practice attaching binding gets much easier, but the following steps may help those who are new to sewing knit and/or swim fabric.
(Also, the steps outlined below are for sewing the Peplum Tankini; if you are sewing a different version (either the Blouson Top or the Colorblock Tankini), the instructions will be a bit different. Please follow the tutorial for that pattern and ask any questions that you may have – but hopefully this information is helpful to you, too).
Tankini Step 1: Create a loop with your binding fabric strip by sewing the ends together.
Tankini Step 2: Fold your loop in half lengthwise so RS are together (hiding/enclosing your stitches from Step 1) and quarter evenly. (The seam is a great place for your center-back mark).
Tankini Step 3: Quarter your bodice opening(s) (i.e.: neckline). Start by marking the center-back and center-front then gently expand the neckline opening and add left and right marks.
Tankini Step 4: Turn your bodice inside-out. Match up the neckline binding center-back mark with the center-back point of the bodice; pin or clip. Loop the binding around, making sure to keep your raw edges aligned, then match up the center-front mark of the binding with the center-front mark of the bodice. Repeat with the side marks. Add a few pins/clips in between to make sure the binding is evenly spaced/stretched – and stays that way while sewing. NOTE: Be sure to attach the binding to the WRONG SIDE of the bodice; the binding will wrap around to the front encasing the seam with the topstitch (most knit patterns attach RS together, so it's an easy mistake to make … which I made, twice?!?).
Tankini Step 5: Making sure to catch ALL the layers, gently stretch the binding to fit the neckline and sew/serge the binding to the WS of the neckline.
Repeat these steps for the swimsuit arm openings.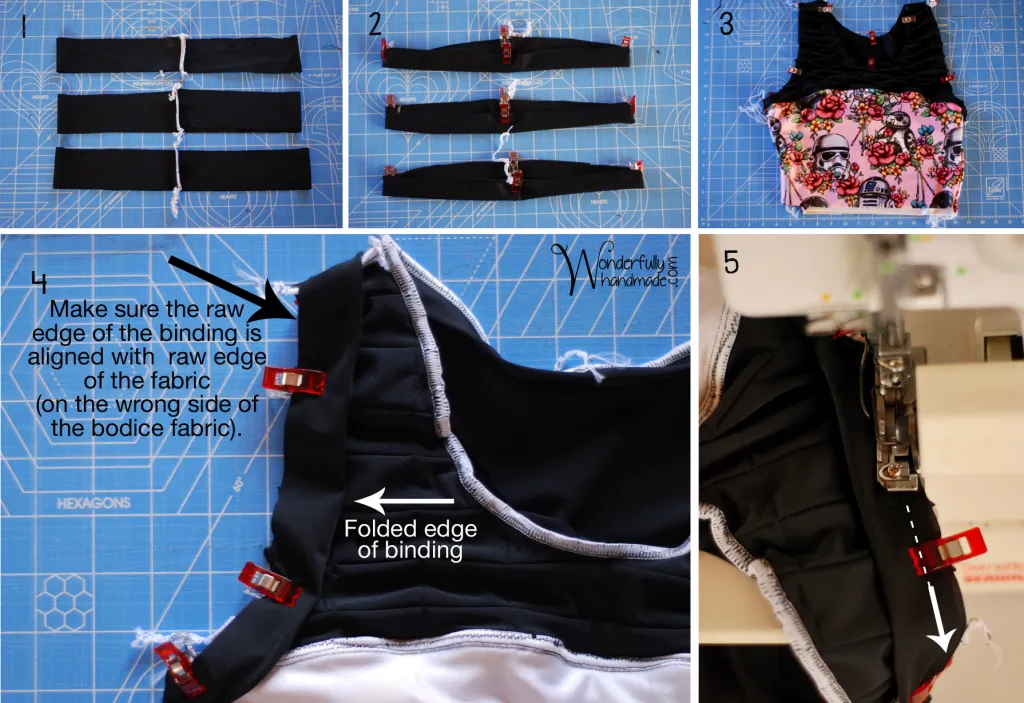 You did it! Now follow the tutorial instructions for topstitching and attach your skirt, band, or hem and your top is complete! Yay!
Bahama Mama Part 5: Sewing Swimwear Bottoms for Your Suit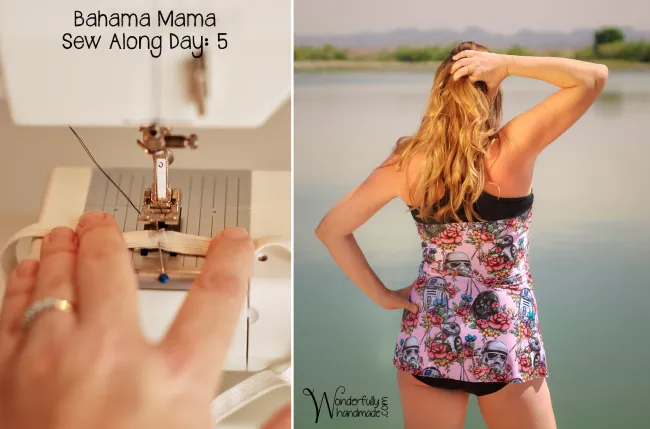 If you have been sewing along you should have your top completed! Now let's finish the look with a cute pair of bikini bottoms or boy shorts!
The assembly is fairly straightforward for sewing the bottoms; however, here are a couple of tips.
Bottoms Tip 1: If you are adding power mesh into the mix, the layering at Steps 1 and 2 are a bit different:

Bottoms Tip 2: After you layer your pieces, clip/pin your raw edges. As you can see on the image (above right), there will be a bit of 'extra' fabric on the back (this is included ease to account for our curves).
Bottoms Tip 3: If you are sewing the bikini bottoms, there is more elastic to keep everything in place. If it is helpful, please review the Part 3 topics for creating an elastic loop (overlapping elastic) and how to properly quarter your elastic and fabric.
At Step 5 in the tutorial, the leg elastic is sewn in. Here are a few tips for sewing in elastic:
Bottoms Tip 4: When sewing elastic onto straight edges or concave curves, apply a small amount of tension (do not stretch, just keeping a bit of tension, i.e.: lightly holding the elastic between your thumb and forefinger as the machine feeds to fabric).
Bottoms Tip 5: When sewing elastic onto a convex curve (i.e.: curve of your bottom), apply a bit more tension than you would for a straight or concave – a slight/minimal stretch; this will allow the elastic to cup or form to your shape better and not gape.
Bottoms Tip 6: Click here to view a great video that illustrates the elastic tension/stretching technique nicely.
Please continue to follow the tutorial to finish sewing your swimsuit bottoms …
And we are finished with teaching you how to make a handmade swimsuit for women! YOU MADE A SWIMSUIT! Please make sure to let us see your creations in the Peek-a-Boo Pattern Shop Facebook Group.
Shop All of Our Women's Swimsuit Patterns
Peek-a-Boo Pattern Shop has so many different swimsuit patterns for women. From vintage swimsuits to tankinis, bikinis, surf suits, and more – you'll be able to find what you want with Peek-a-Boo. Before you leave I thought we should at least show you what you could be sewing:
Other Tutorials
Thanks for joining us today. Before you leave, make sure to browse through some of our other tutorials: