Let's learn how to sew a sock snake. You can even do this with you kids. They might say, "Mom, can we sew another project?" If you have been sewing along with this series, I hope your child is just as enthusiastic as mine about our next project…
How to Sew a Sock Snake
Sock Snake Materials List
Knit Fabric (10-12 pieces of fabric…use socks that are missing a match or have holes, knit scraps, etc. in fun patterns and colors).
Polyester Filling

(or fabric scraps) for stuffing

Thread
Regular Shears
Pins

(or clips, wash-away tape, or fabric glue stick)

Optional Embellishments

(buttons for eyes, ribbon for tongue, bow for personality, etc.)

Fray Block

(optional, but keeps ribbon from fraying)
LET'S SEW a Sock Snake!
Sock Snake Step 1:
Gather and prepare your socks (or scraps).
Cut sock (or fabric) to create a flat rectangle: remove toe, heal, and/or ankle band and then cut tube so fabric piece lays flat (this makes it easier for the kids to sew).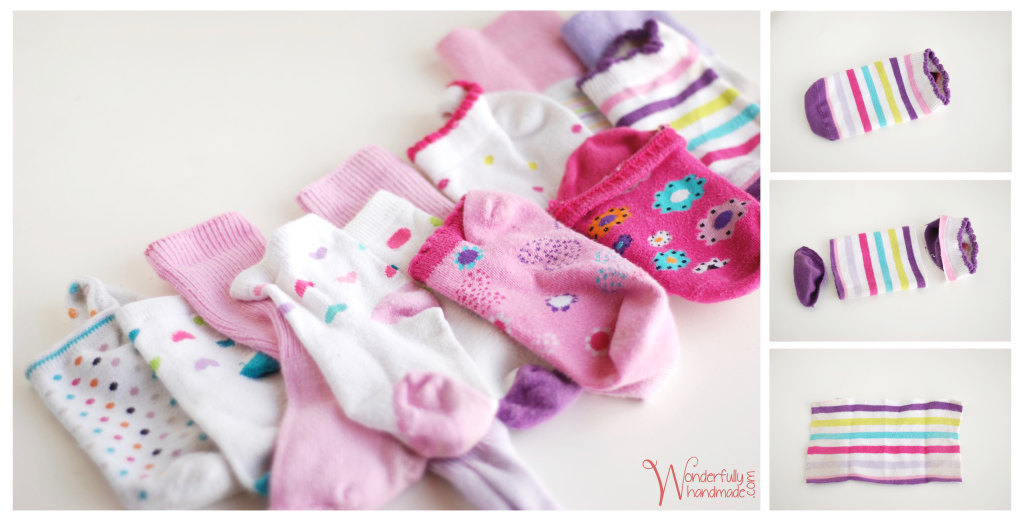 Sock Snake Step 2:
Layout your fabric pieces, purposefully mixing patterns, solids, and colors, with the stretch going across the width. To help give the snake a natural proportioned look, order your fabric to give a narrower 'head' and 'tail' as shown in image below: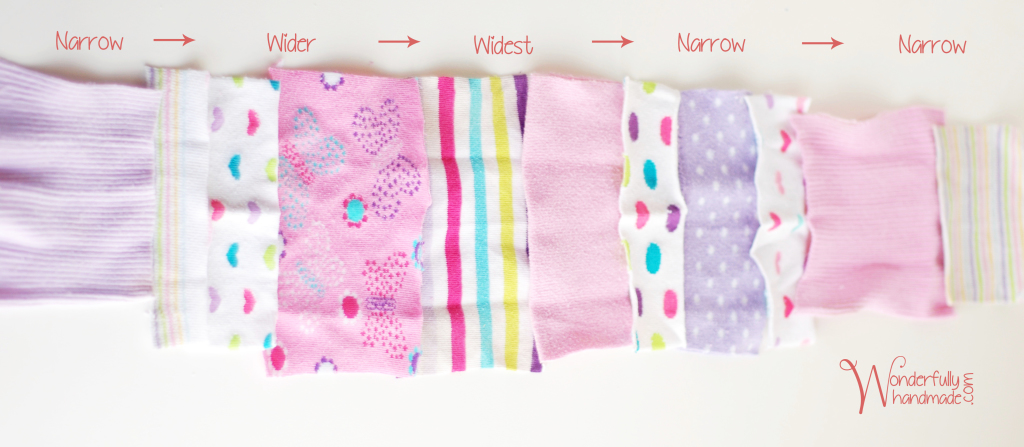 Sock Snake Step 3:
Sew segments together, WST, pinning/clipping one segment at a time. This will create the length of your snake.
Remind your child:
the throat plate is a hands-free zone while needle is in motion
to back stitch at the beginning and end of a seam (this probably isn't necessary on this step of the project, but it is good practice).
Teach your child:
knit fabric requires a stretch stitch to keep stitches from breaking, so use a zig-zag (or a preferred stretch stitch on your particular machine)
to gently stretch the knit fabric to make the narrower piece the same length as the next wider piece (real life application: attaching a neck band to a neckline).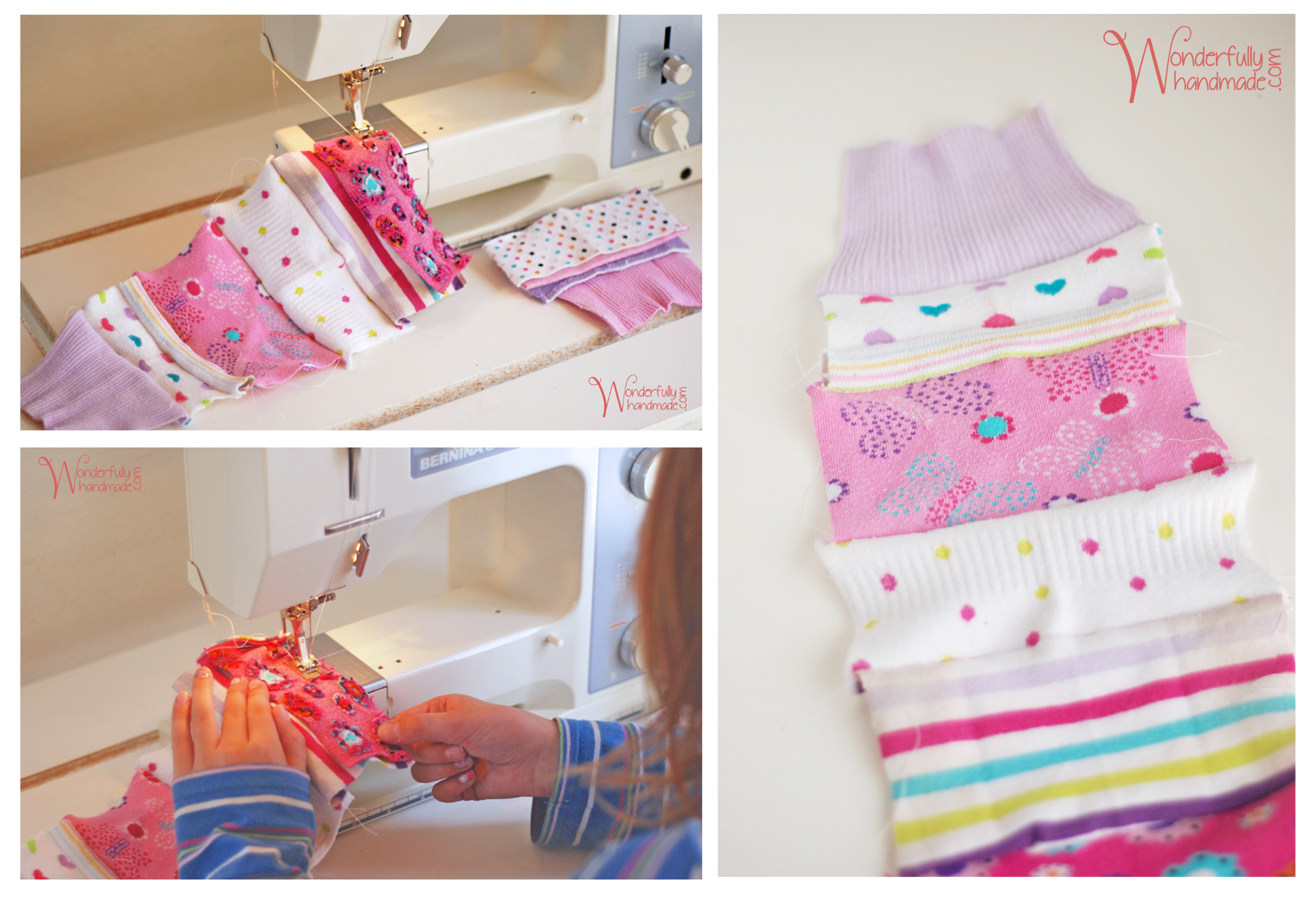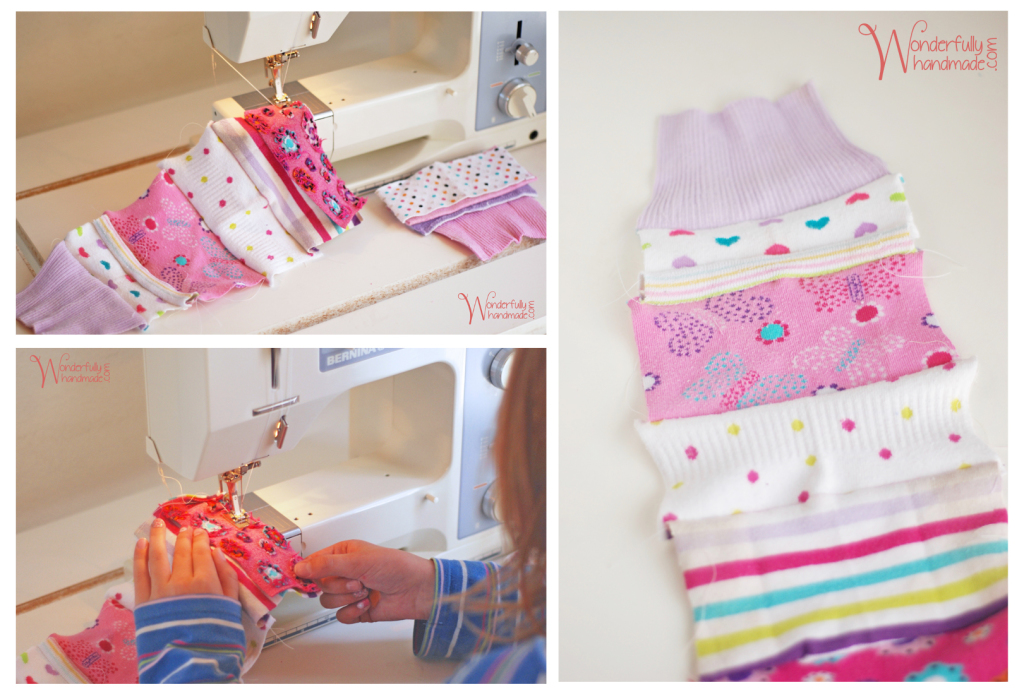 Sock Snake Step 4:
Give your snake some personality! Choose which end will be the head and add eyes, tongue, and even a bow! You can teach your child how to attach a button with the sewing machine or simply have your child hand sew the embellishments on. Tip: if you make a notch in the ribbon, Fray Block keeps the fibers from unraveling.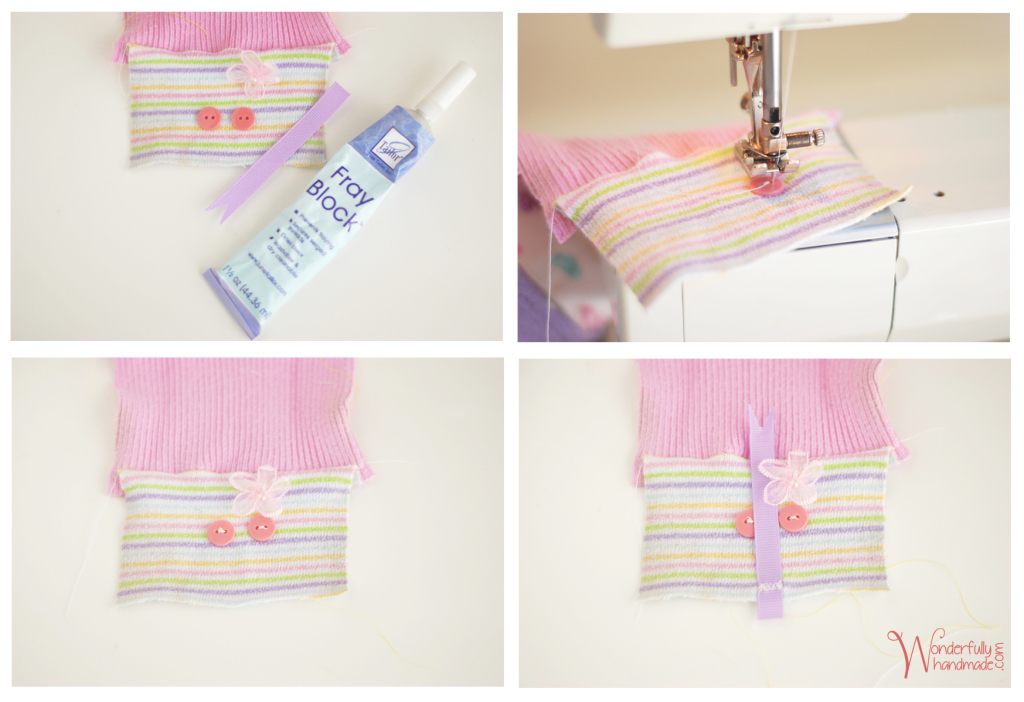 Sock Snake Step 5:
Fold the length of the snake RST. To give the snake a more realistic shape you can trim the head with a slight curve and tail at an angle (as shown in image below); then sew from head to tail leaving approximately 2″ unstitched for stuffing.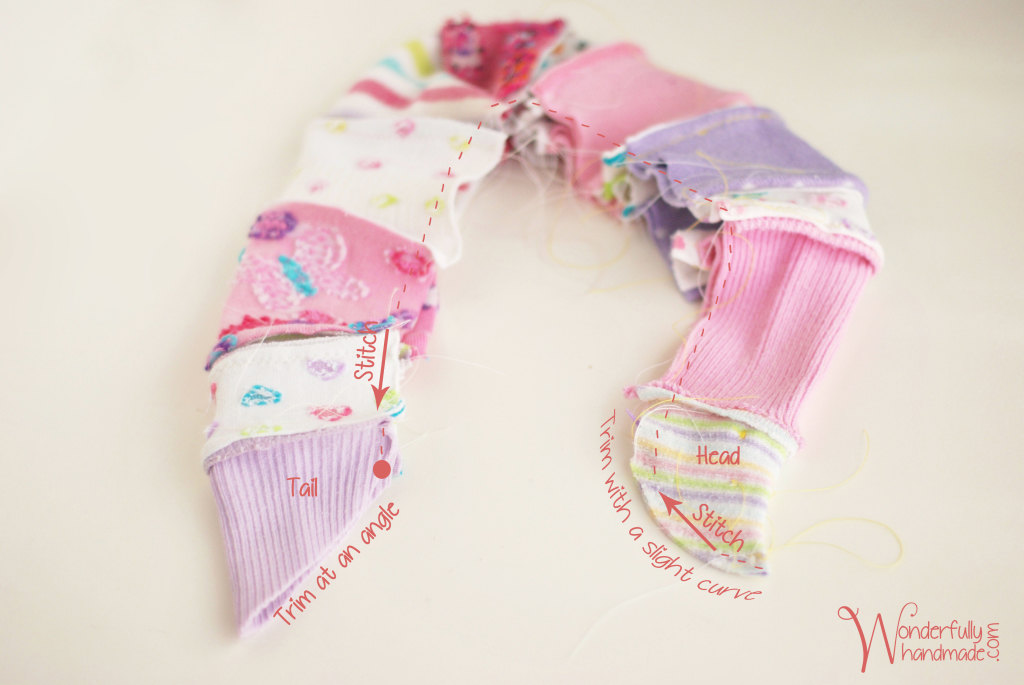 Sock Snake Step 6:
Turn the tube right-side-out and stuff!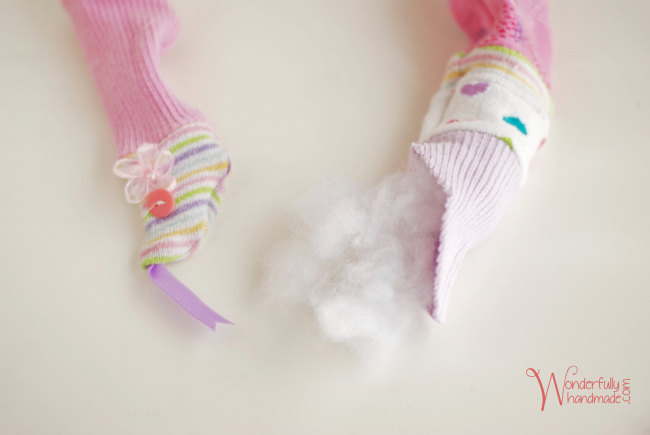 Sock Snake Step 7:
Stitch the stuffing opening/tail closed.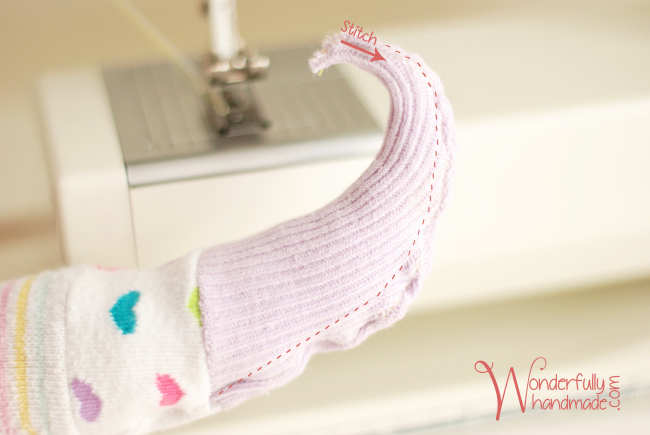 Sock Snake Step 8: PLAY!
I immediately made my son his own snake using fabric scraps from garments I have made him. I knotted the tail rather than stuffing; it looks a little like a rattle snake! I honestly cannot believe how much they have played with their new toys. They love them!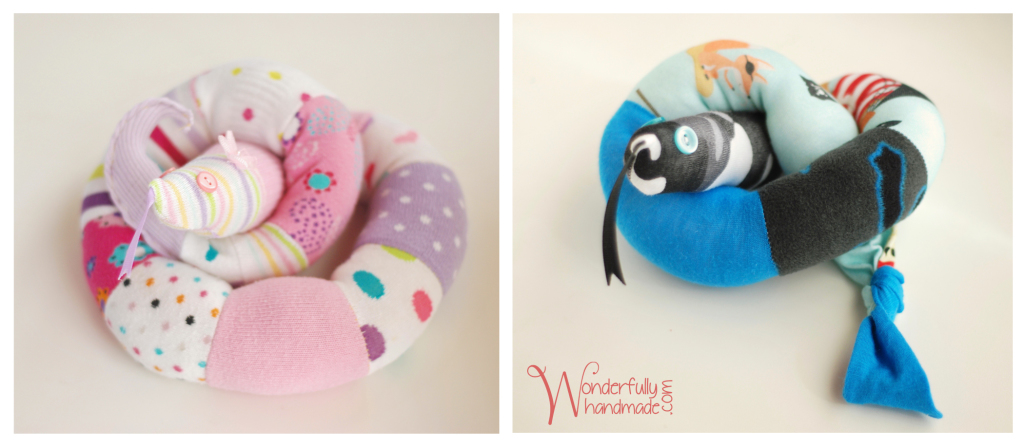 Thanks for sewing along! If your child sews up a snake (or a monster, or a caterpillar, or worm…), we would love to see you share it on the Peek A Boo Patternshop's FB page!
Happy Sewing!
Melissa
Other Posts
We hope you enjoyed learning how to sew a sock snake with us today. You might also enjoy some of our other tutorials: