Hello! Now that it is summer here in the upper Midwest, I am loving to sew rompers and onesies for my toddler. One of the things I was most scared about when sewing rompers and onesies was how to sew a snap. What kind do you use? Do you need tools? What size snaps? I'm here today to share with you how I install both metal and plastic KAM snaps.
All About How to Sew a Snap
How and When to Use KAM Snaps
This is Amy here for a minute – I get a lot of questions about using KAM snaps and where to get them so I thought I'd fill you in (in the middle of Alisha's tutorial). My go-to source for KAM snaps is I Like Big Buttons. They have super speedy shipping, the color charts are easy to use and make ordering a breeze, and the pricing is great.
I've ordered from them in the past and I Like Big Buttons was also kind enough to send me their awesome Starter Pack to review! For just $20 (plus shipping which I found quite reasonable) you get the pliers, 100 sets of snaps and a short how-to video. The video includes everything you need to know about installing the snaps and getting them back out if you make a mistake. It's the perfect way to get started 🙂
In the past, I had been using my Babyville pliers with my KAM snaps. It worked decently but now that I have the real deal I am in love! So much easier to use! The overall quality of the KAM pliers and snaps is much better than Babyville in my opinion. I did a full comparison of all the options for snaps and why I prefer KAM here. With a new baby in the house, I am finding lots of opportunities to use my snaps 🙂
Really anywhere you can use a button you can use a snap instead. Just like with your buttons make sure you add interfacing so the snaps don't tear or stress the fabric. Seen here on the V-Neck Cardigan
Snaps or so much easier than sewing buttonholes and with all of the color options it's easy to get a perfect match. Seen here on the Lullaby Line Bodysuit.

Need more ideas of what to use your snaps on? I've also used them on pj tops, button-up shirts, dresses, the inseam of rompers, overalls straps, and pacifier clips. I use them ALL the time 🙂
Alright – now back to Alisha:
How to Sew Snaps: Getting Started
I started out using plastic KAM snaps with a starter set that I bought on Amazon.
Size 20 has been working wonderfully on my big kids' clothes as well as dresses for my daughter but for rompers and onesies, I prefer to use size 16. I purchased my size 16 snaps from the KAM snaps website. In this picture, the navy is size 20, and the light pink is size 16.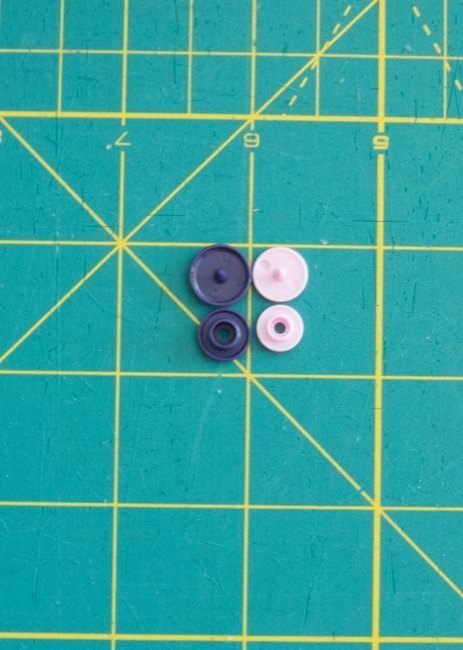 How to Sew a Snap: Installing Snaps
To install either kind, make sure you interface your fabric. I use SF101 interfacing on most of my projects. I iron it onto half of the placket. In the next steps, my placket will be shown folded in half.
Both kinds come with rings/prongs and sockets. There are both male and female sockets so be careful to use the correct one on each side of your placket.
How to Sew Snaps: Tools for Installation
Pliers or a snap press are used to insert KAM plastic snaps. Use the included awl to poke a hole through the layers of fabric where the prong will be inserted.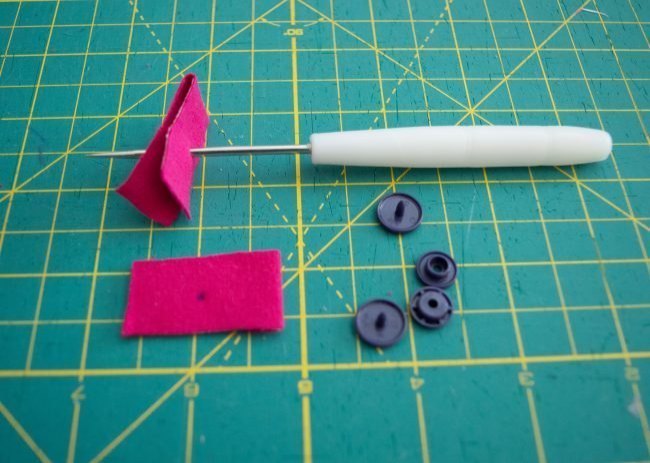 Insert the prong through the hole and add the corresponding socket. Insert into the pliers and squeeze. I usually use both hands to make sure I've applied enough pressure. Repeat for all the snaps you need to insert.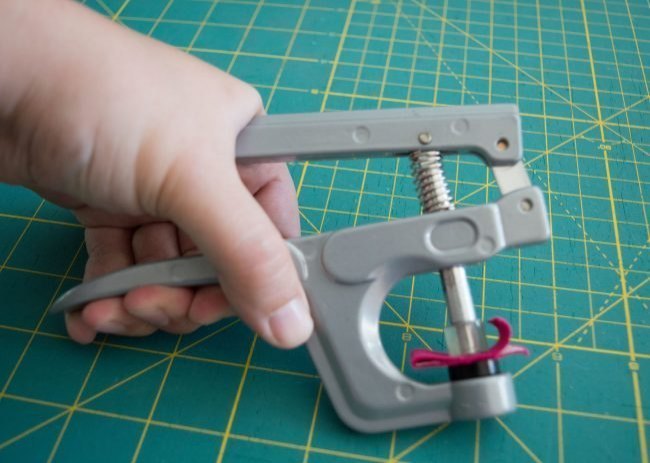 Sewing Snaps: Setter
I like to use metal snaps on my daughter's rompers and onesies. I use size 16 open ring snaps from Snap Source. They also sell a purple installation tool, but I recently found pliers at Walmart that work to insert them as well. The purple setter has three pieces.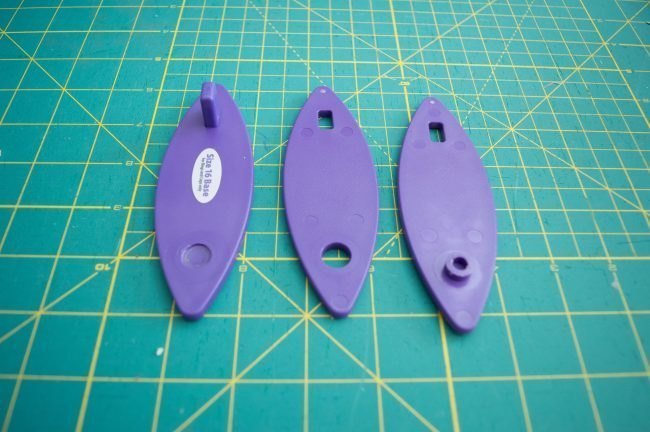 Take the bottom piece and insert the ring. I then lay my fabric on top and push the ring into the fabric to hold it steady.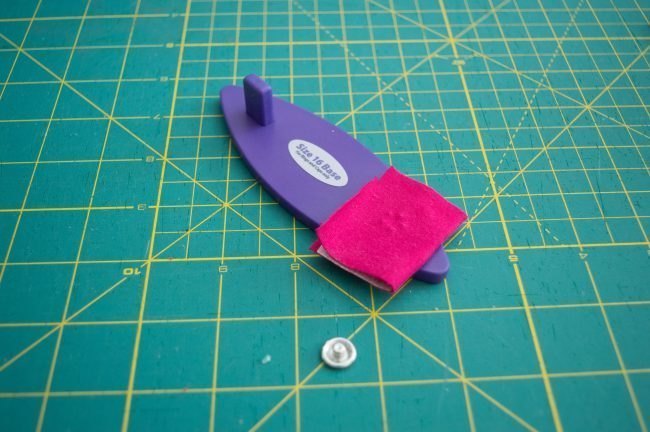 Add the second piece of the setter and the appropriate piece of the socket. Finally add the third layer of the setter. Place your setter on a block of wood or hard surface, and hammer the snap in. I usually sit on the floor with my block of wood and hammer. I've found that about 5 hits with the hammer are enough to secure the snap.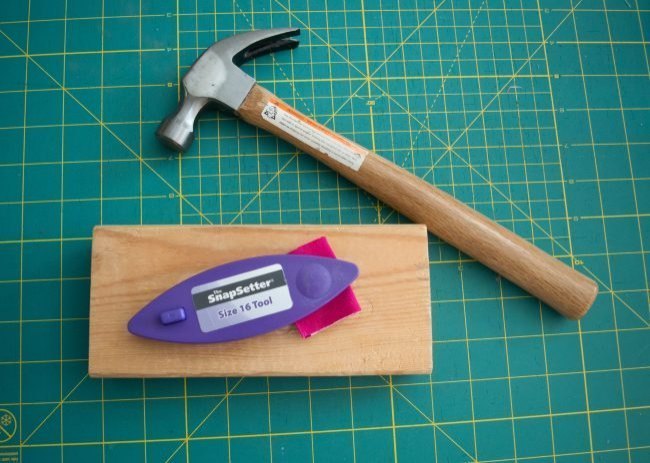 How to Sew Snaps: Pliers for Metal Snaps
Using the pliers for metal ones is much quieter. There are different dies depending on which size snaps you are using. Insert the ring and socket into the pliers.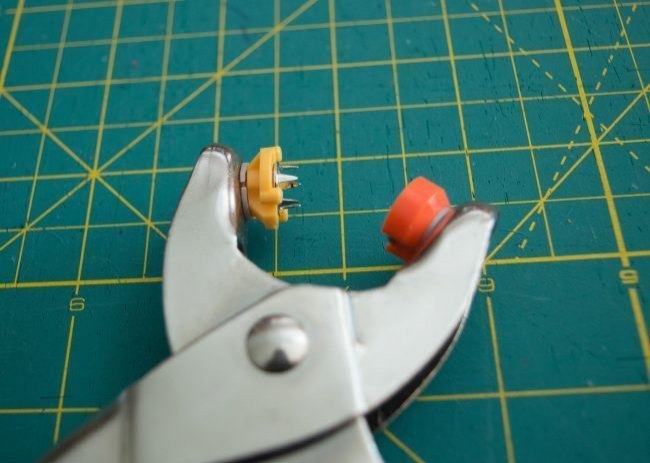 Insert over your fabric in the correct place, and squeeze. Apply the rest of them in a similar manner.
Here is a comparison of what both the plastic and metal ones look like after application.
Hopefully, this helps explain some of the mystery surrounding how to sew a snap and which ones to use. Make sure to share some of your pictures in the Peek A Boo Pattern Shop Group so we can see your creations!
Using Snap Tape
We'd like to thank Alisha for her amazing tutorial on how to sew a snap. I thought I'd point out one more things related to using snaps – Snap Tape. Snap tape is basically a fabric strip with embedded snaps in it. Instead of having to worry about getting your pliers and hammer out to put the snaps in you can just sew the snap tape into place. You can find these that have both plastic and metal snaps.
Now that you are an expert on sewing snaps, make sure to check out some of our patterns and tutorials: