Hello – today we're going to learn how to sew a pillowcase. Pillowcases are about the quickest, easiest, and most useful DIY project I know. They make great gifts, can be customized for holidays or using specific patterns, and I love making them in flannel as camping pillowcases for my family! With a total of 5 straight lines to sew, this project comes together quickly as a beginner or a group project.
How to Sew a Pillowcase | DIY Pillowcases
Pillowcase Tutorial #1 | Burrito Method
Pillowcase Supplies
Here is what you'll need and how to make it, with several pro tips along the way!
I would recommend using a non-directional print, which means a pattern that doesn't matter which direction it is used. It isn't a must, but my favorite pillowcases are all non-directional! You can use quilting cotton for holiday or themed pillowcases, and as I said earlier I like soft flannel for my family's set of camping pillowcases. A high-quality fabric will ensure these hold up also! This tutorial is for a twin-size pillow.
You will need 3/4 yard (27 inches) of your main fabric, and 1/4 yard (9 inches) for the accent fabric.
Wash, Dry & Cut the Pillowcase Fabric
Cut your main fabric to 27″ x 41″, and your accent to 9″ x 41″. If you are using scrap material, you can alter the lengths of these to use what you have. For example, you could use 25″ of you main fabric and 11″ of your accent. The goal is to end up with 36″ total!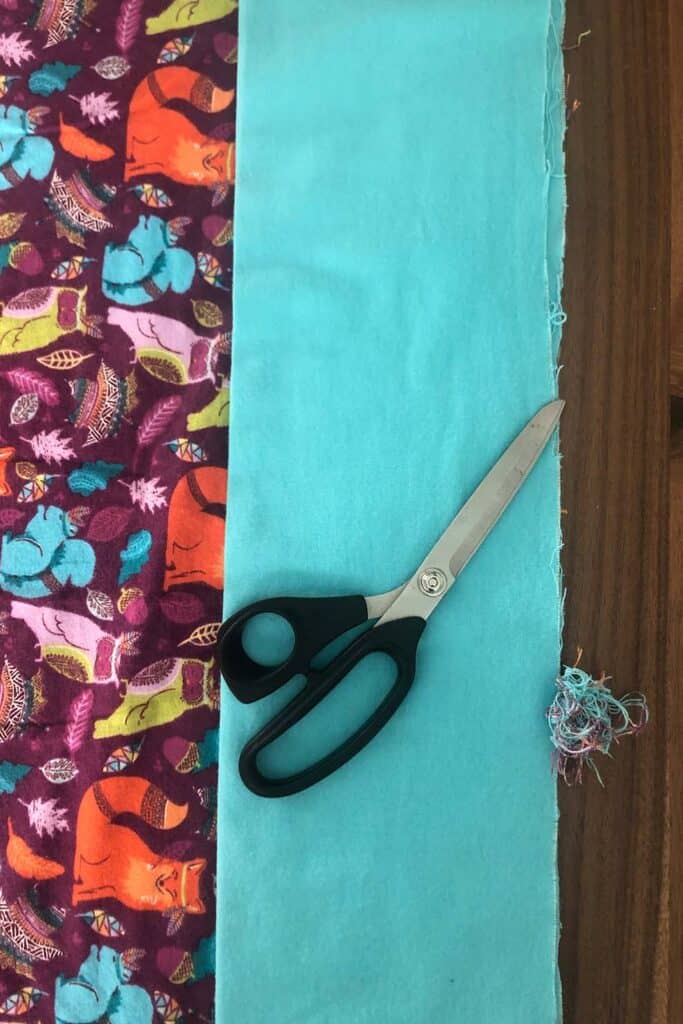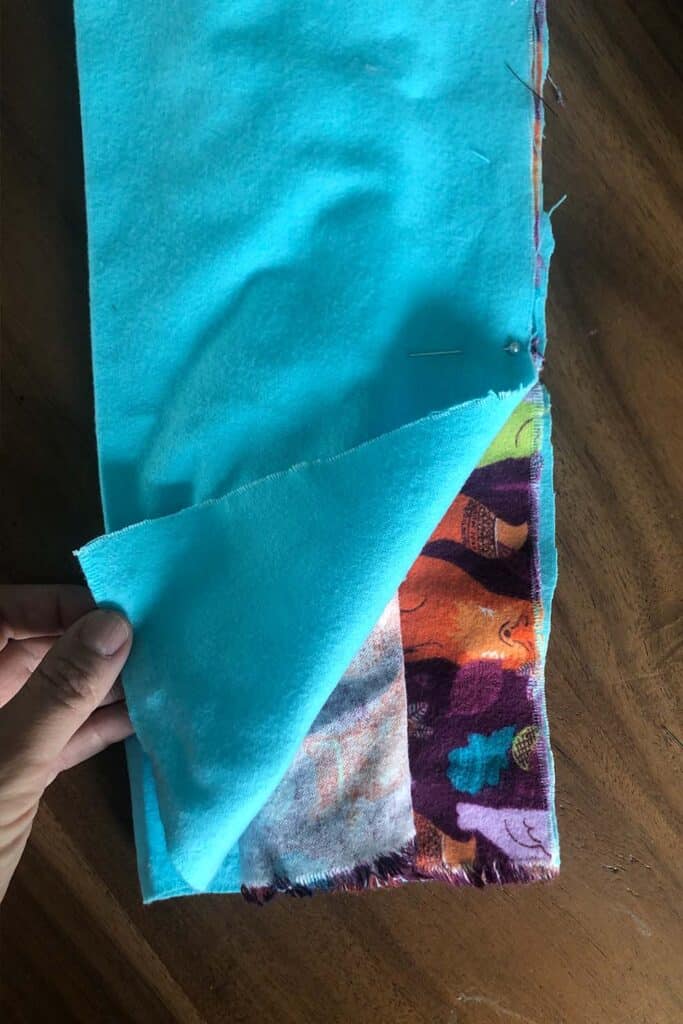 Pillowcase Sewing Tutorial & Instructions | Sew a Pillowcase With the Burrito Method
Pillowcase Step 1: Now line up your fabrics along the long edge to sew. First, lay your accent fabric down. Next, place your main fabric on top of that, aligning the raw edges. If you used a directional print, this is a good time to think about what direction you want it to lay. Now, roll your main fabric into itself, and wrap the other side of the accent material around and back onto itself. Check out the picture for a visual! Pin these 3 layers together. Make sure your roll of main fabric is out of the way from where you will be stitching!

Pillowcase Step 2: Next, sew your 3 layers together using a short stitch!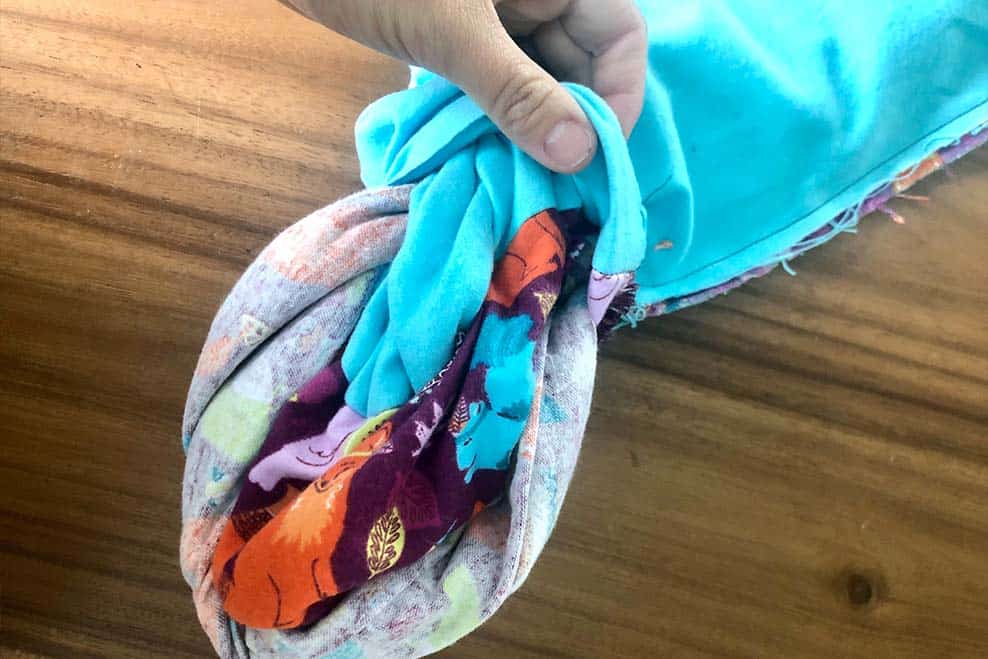 Pillowcase Step 3: Now, pull the main fabric through itself so you can see the right sides out! Press that seam well. At this point, you will have one large piece of material, with the cuff sewn in place at the end. I like to use french (or enclosed) seams for the rest of the seams, so that the pillowcase will be durable through washing. This is especially helpful for camping where you'll want frequent good washes between trips.
Final Pillowcase Construction
Pillowcase Step 4: Fold the pillowcase in half Wrong Sides Together, aligning each side. Take special note to line up where the cuffs will be sewn together on the side.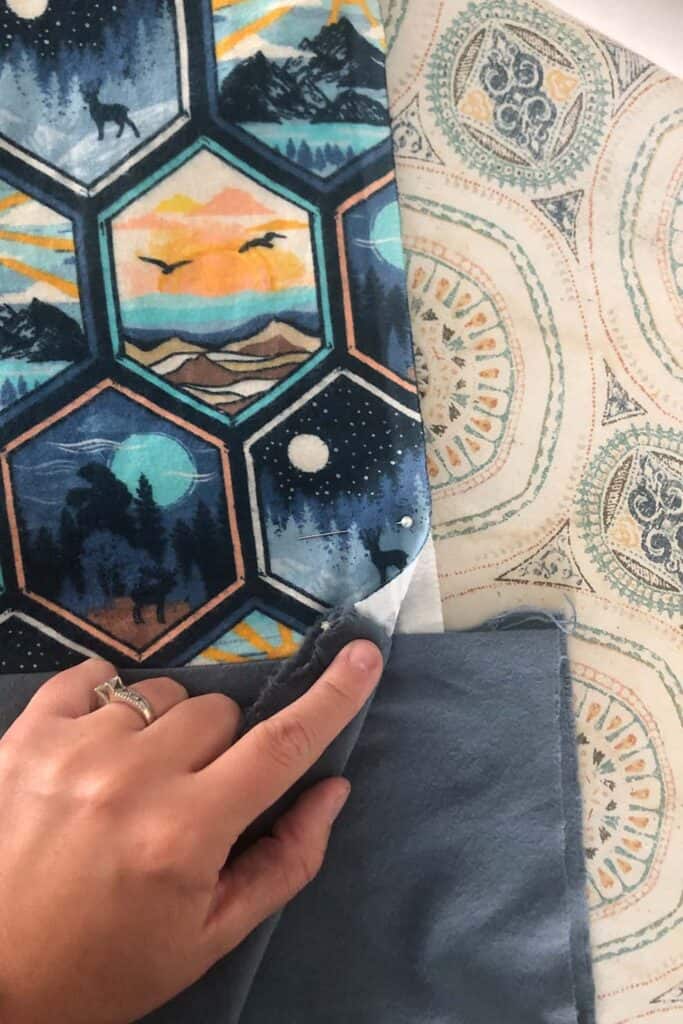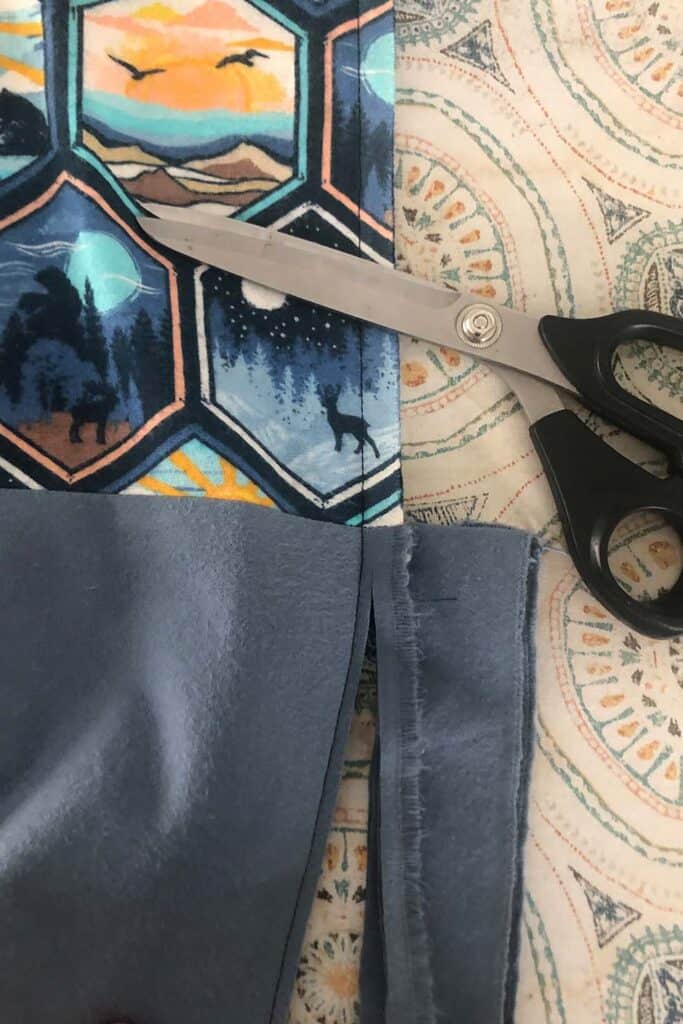 Pillowcase Step 5: Now, sew around your pillowcase. Now trim the edges close to the sea. Flip the pillowcase so it is now Right Sides Together. Sew around the same 2 sides of the pillowcase once more, enclosing that seam so it has a finished, professional and durable look!
Congratulations on your new pillowcase! Take a look at some other fun pillowcase tutorials below.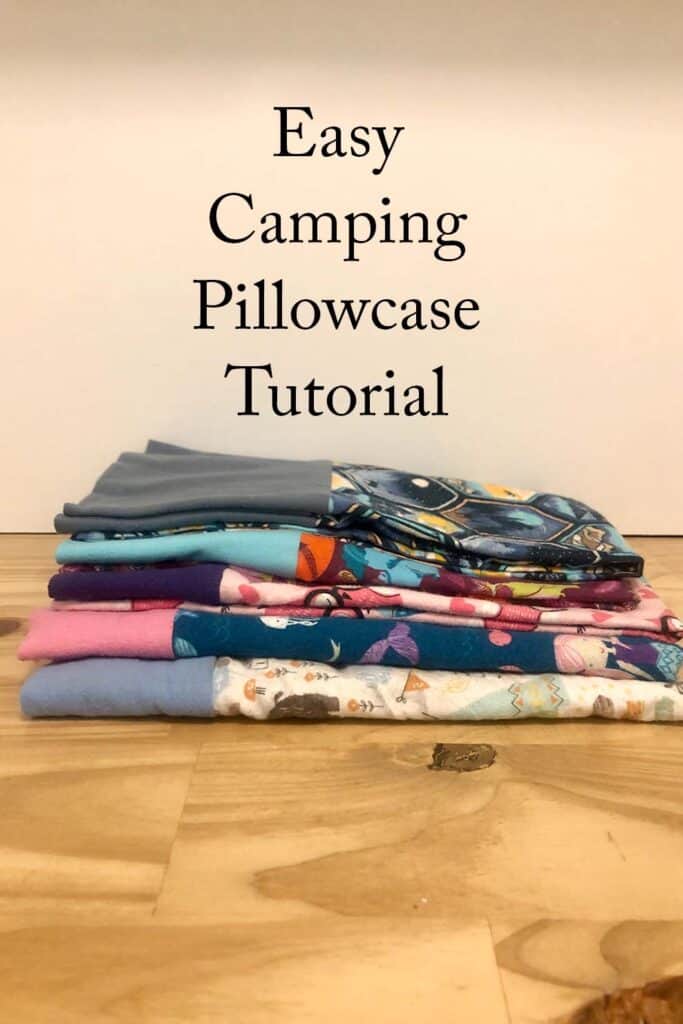 Pillowcase Tutorial #2 | Teach Your Child to Sew a Pillowcase
A pillow case is a great first project – it's simple and useful (and hopefully, it will make bedtime a little more fun)!
Pillowcase Preparation:
One of the best parts of a project is the creative process! Be sure to include your child in the decision-making:
Choose fabric: Invite your child to choose the fabric (purchase or 'shop' from your stash), explaining that this project calls for a woven fabric (non-stretch, quilting cotton, flannel, etc.). You can discuss complementary colors, contrasting colors, mixing fabric patterns with solids, etc. You can make your pillowcase with one fabric, a different fabric on front/back, or even add a cuff or color block!
Discuss notions. Choose a matching or contrasting thread and any fun embellishments to further personalize the pillowcase.
Educate your child on the importance of preparing fabric BEFORE sewing.
Always wash your fabric because it:

pre-shrinks your fabric so your finished project doesn't shrink
creates a clean canvas, free of any processing chemicals, residue, etc.

Be mindful that woven fabrics will fray, so seams/edges need finishing – cut with pinking shears, use a zig-zag stitch, or serge edges (with adult help).
Cut Pattern Pieces:
There are three basic sizes of pillows: standard, queen, and king.
The following chart shows the dimensions to cut the pattern pieces; cut two, one front and one back. Yes, you can simply fold your yardage in half, but I think it will be easier for children to work with smaller pieces of fabric, plus it gives them an extra seam to gain a bit more sewing experience.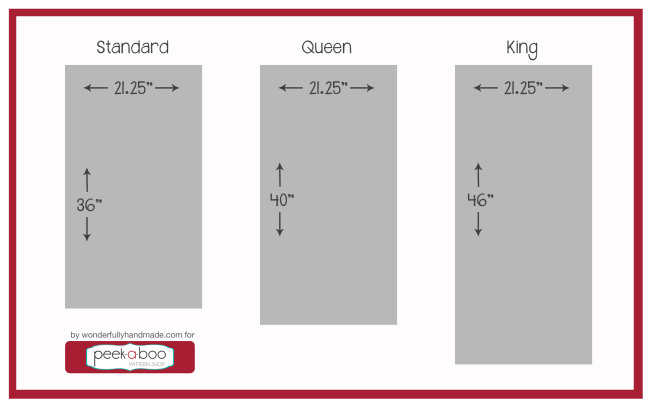 If you want to include a contrast cuff or color blocking, simply cut and piece your fabrics together so the finished piece is the correct dimension as listed above. Note: my one yard of fabric cut in half was only 20.75″ (due to shrinkage), and it worked just fine on the queen size. The 21.25″ width just gives a little extra room to make it easier to get the pillow inside the case.
Assembly:
There are only four quick steps to assemble the pillowcase; as always, please use your best judgment and assist your child when needed, especially when pressing with a warm iron.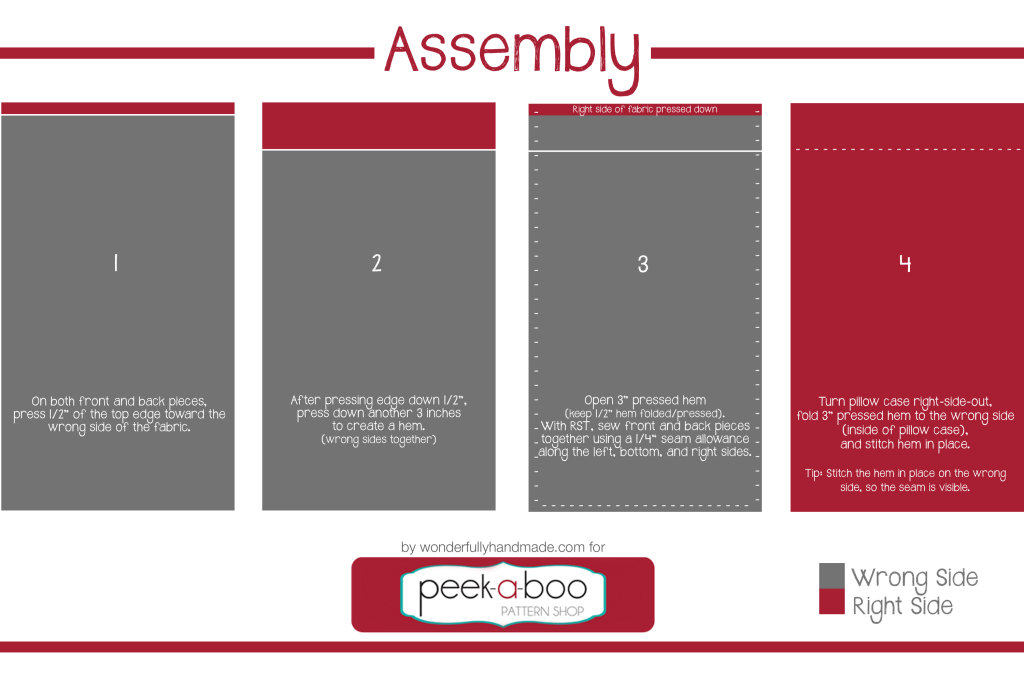 My daughter chose a very colorful solar system flannel fabric and a coordinating solid pink flannel. Here is how my daughter assembled her pillow case: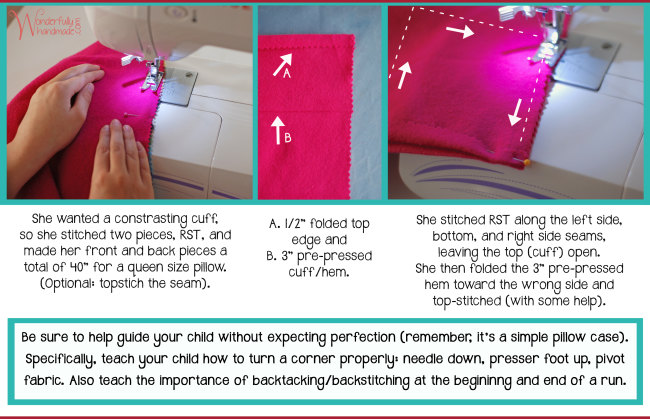 My teenage son participated and made a pillow case, too!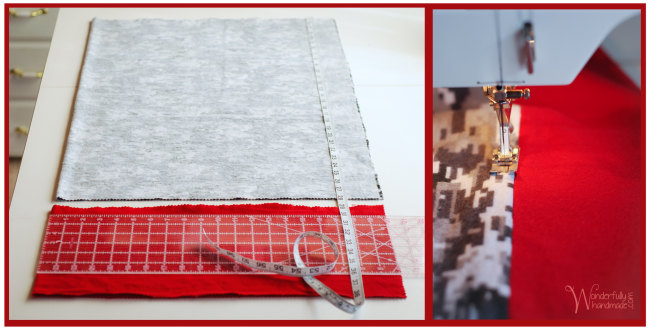 The kids love their new pillow cases, especially my space-loving, aspiring astronaut!
I hope this first lesson is a great introduction to teach your child how to sew. Throughout the month practice straight stitches and corners, and join us next month for some more fun with another child-friendly sewing project!
Other Pillow Tutorials
I hope you enjoyed learning how to make a pillowcase today using the burrito method. Be sure to check out some of our other tutorials and patterns on pillowcases:
As always, be sure to come join us in the Peek-a-Boo Pattern Shop Facebook Group to ask sewing questions and share what you make.