Today we're going to learn how to sew a paneled circle skirt. We'll show you how to do it for girls…and even dolls too. Be sure to check out our other Clothes Sewing Patterns and Doll Clothes Patterns too.
How to Sew a Paneled Circle Skirt | DIY Circle Skirt With Panels
One of Miss P's latest obsessions is the circle skirt. I can understand why, for sure. It's super twirly, nice, and full, and when sewn from knit it's soft and cozy to boot. And she just loves to lay them flat on the floor and admire the fact that something called a circle skirt is ACTUALLY a circle. 😉 But oh, man, it pains me to cut out those big circles from my fabric.
So I decided that the way around that would be to divide the skirt into panels and use small cuts of various fabrics. It's a win-win. Miss P gets her twirly circle skirt and I get to be stingy about every last shred of my knits.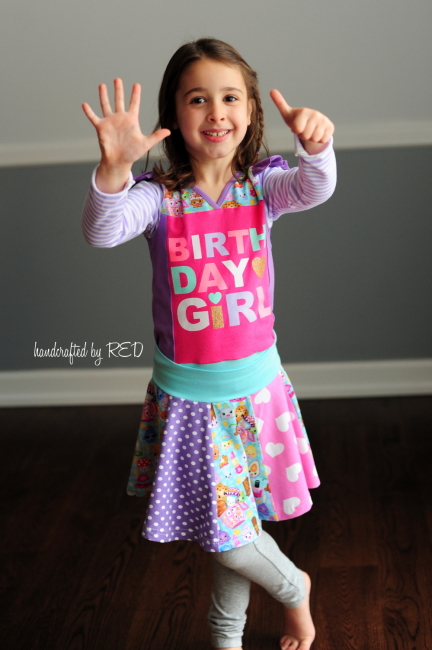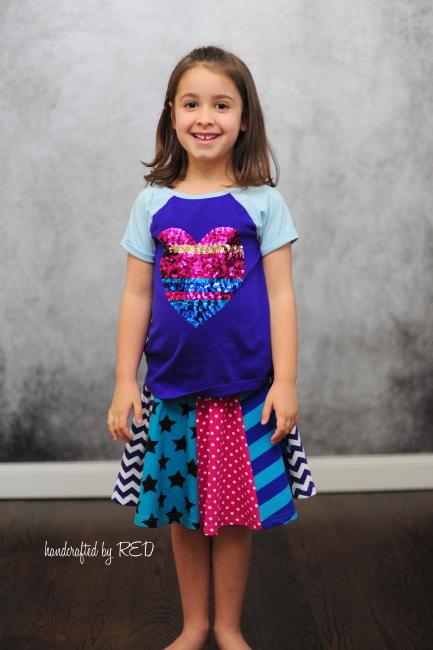 Want to make your own? They make great gifts, and can be pretty economical too – especially if you're using smaller cuts of fabric or scraps, and since you can mix less-expensive fabrics in with the spendy ones. I used the add-on pattern from the Gloria dress for these, but you can draft your own circle skirt if you don't have one handy.
How to Sew a Paneled Circle Skirt | Instructions
I actually used the peplum version, just so I didn't have to print as much. The size 12 length was the right skirt length that I wanted for Miss P, so I just cut the size 5 waist and width with the size 12 length. You'll want to decide how long you want your finished skirt, subtract the height of the finished waistband, and make sure you add a hem allowance.
The nice thing about these skirts is that the sizing is pretty flexible. The non-elastic yoga-style waistband is nice and stretchy so the size doesn't have to be an exact match to the wearer's waist size, and if it's a little too short she can just wear leggings or shorts underneath. (One of the first skirts that I made like this was a gift for one of Miss P's kindergarten classmates, and her 2nd-grade sister has worn it a number of times herself, too.)
Here's how I went about using the circle skirt pattern to make the template for the panel, first with pictures to illustrate: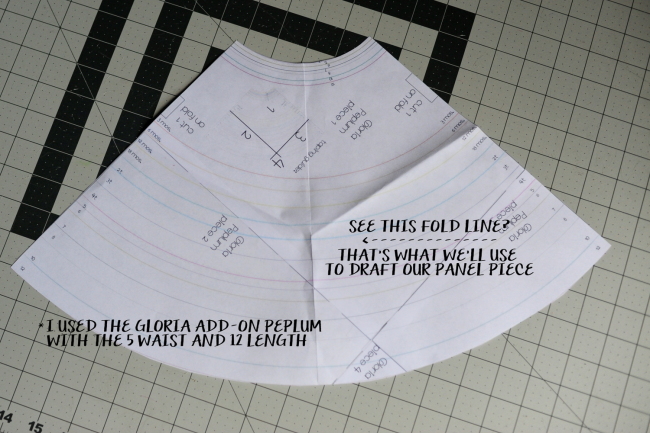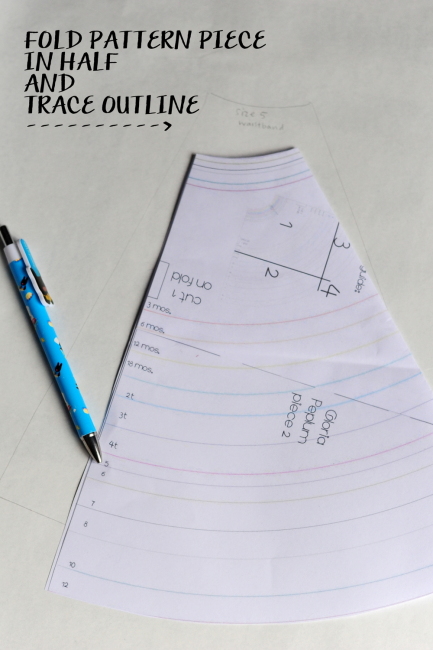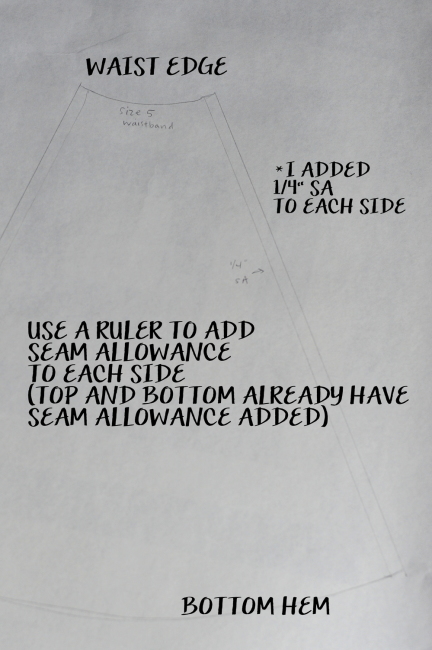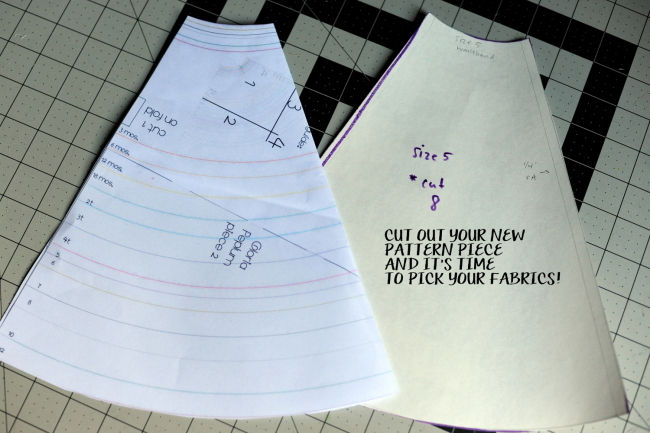 Is it making sense? The pattern piece for a circle skirt is one-quarter of the circle; you cut it on a double fold to open it to the full circle. If you want to have 8 panels as I did, you can start by using half of the given pattern piece (since 1/4 divided in half is 1/8). What's missing from this piece (the 1/8th circle that you have in front of you) is the seam allowance on each side for where you'll join the panels together. You can add whatever seam allowance works best for you.
In this case, since I'll be using my serger to construct the skirt, I added 1/4″ seam allowance to each side and just made sure not to trim off any extra when I serged the panels together. You don't need to add any extra seam or hem allowance at the waistband or bottom hem of the panel, since it's already included from the original pattern/pattern piece.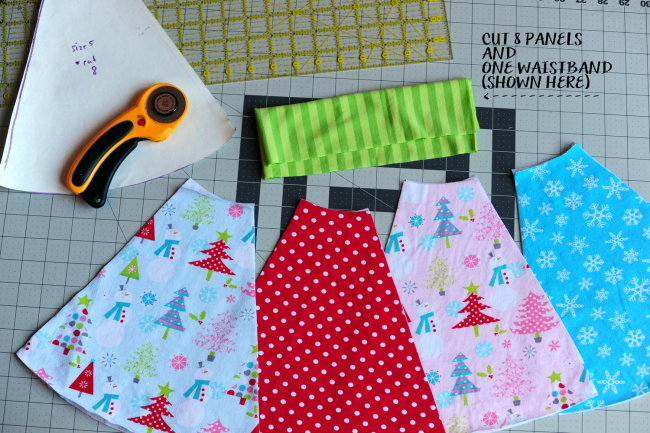 Once you've cut out your panels, you'll also need to decide what height and width you'd like to make your waistband. If you make it tall, the wearer can fold it over like a yoga-style waistband. I like to cut waistbands for my daughter to be 6″ tall, so the finished waistband height will be about 2.5″.
How'd I get that finished height? You'll want to press the waistband in half, long sides together (like a hot dog bun), and then sew the short ends together with RST to make a loop. Then you'll fold the waistband back onto itself so the seam that you just sewed is enclosed, and you'll attach the raw edges of the waistbands with RST to the raw waist edge at the top of the skirt.
PAB patterns like the Yoga Girl pants, the Happy Buns Britches, the Spunky Girl Skater Skirt, and the Skip-Along Skort all include measurements for non-elastic stretch waistbands that you can use for a starting point. (For reference, I generally cut a size 5 waistband for my daughter at about 6″ tall by 19″ wide. Her waist measures about 21.5″.)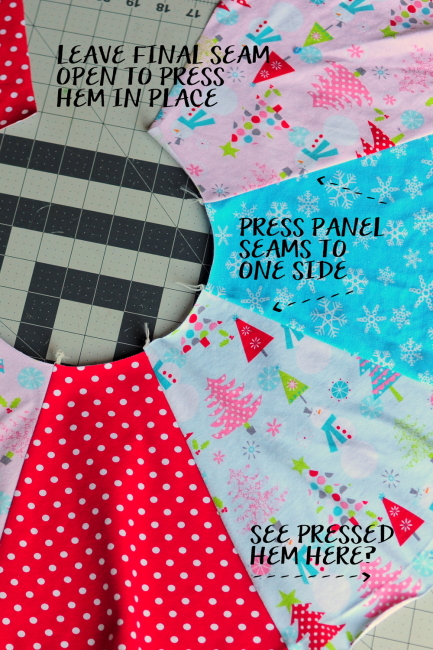 A quick note about construction before we finish up the skirt. You can certainly do a rolled hem, but I like to do a pressed hem and use my coverstitch machine to topstitch it. (You can also use a double needle in your sewing machine, or even a zig zag stitch.) I've found the easiest way to do this is to attach all 8 of the panels to each other but leave them in a long strip before sewing the last one back to the first one to complete the circle.
While the circle is still open, I like to press the seams all to one side, and then use a good shot of steam to press the hem in place. I just work section by section to press the hem, and it's pretty manageable that way. Make sure to unfold that hem when you attach the last panel seam, and then fold the hem back up to topstitch. The only other step that's left is to attach the waistband, which I described a little earlier. Here are a few pics of those steps.
In this photo, the raw edges are aligned at the top and clipped together. The folded edge of the waistband is shown as the bottom of the waistband here.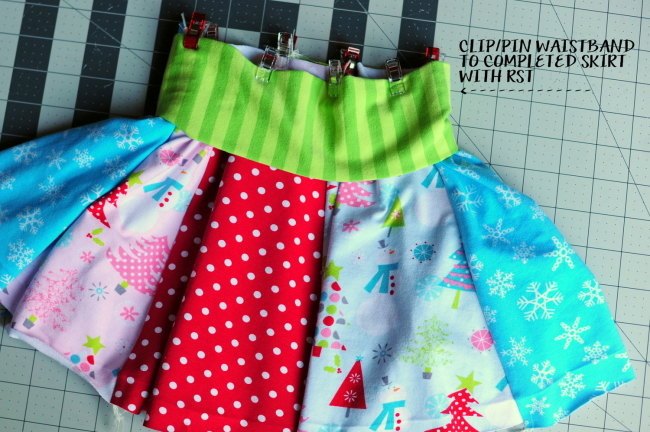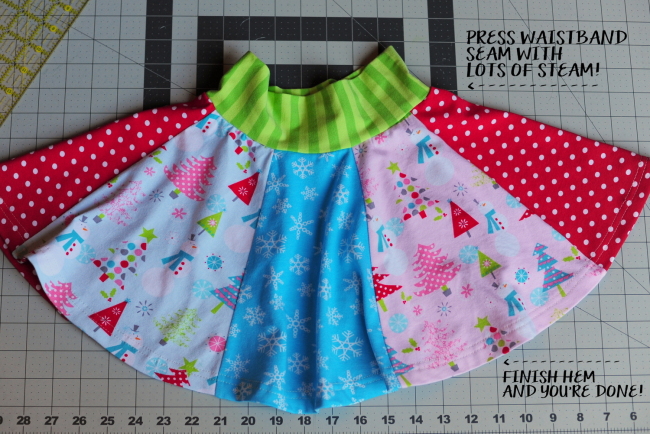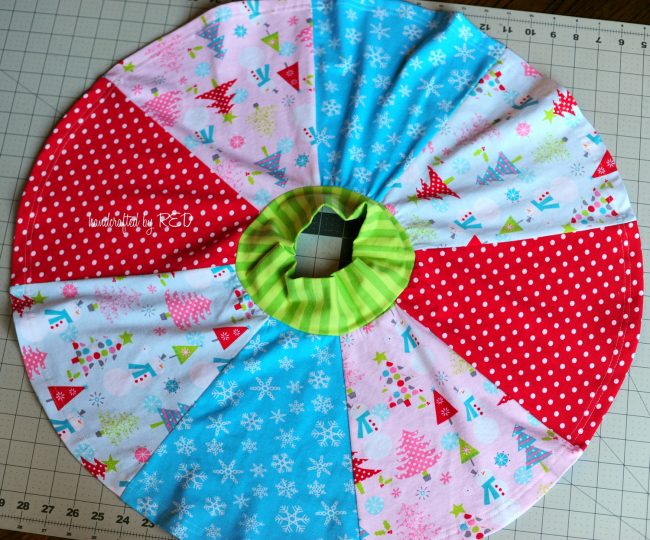 Man of these fabrics can be found at KnitFabric.com.
Miss P loves her finished skirt and has already been dropping hints about what fabrics she'd like for me to use next. (Not surprisingly, it's an assortment of these.)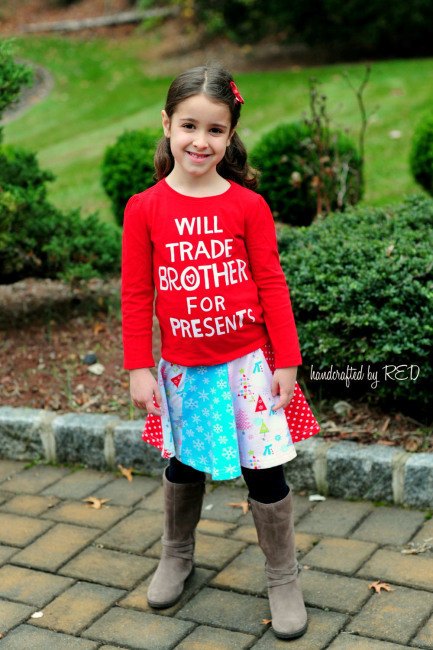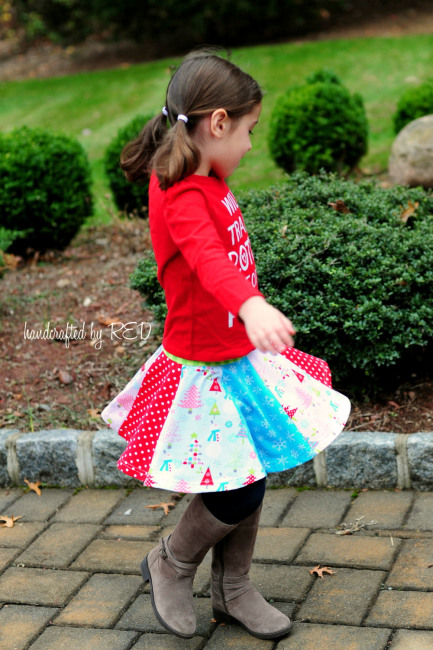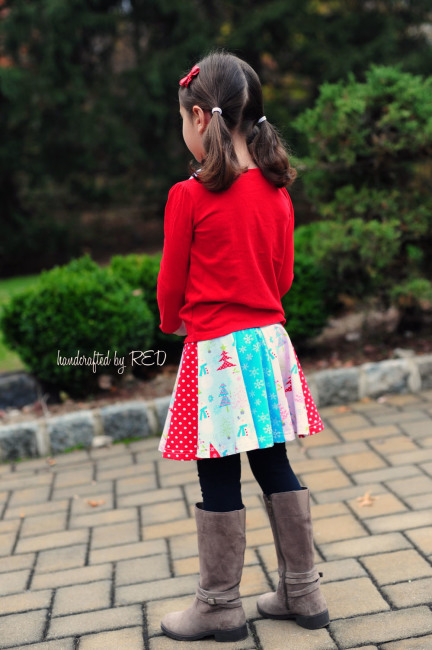 If you want to use your paneled skirt as part of a dress, that's easy to do as well. You'll simply leave off the waistband and attach the skirt directly to the dress bodice. If you use the Gloria add-on as your base, like I did, you know you'll have a perfect fit with the bodice and not have any easing to do to get them together.
You can also shorten a top pattern (I like to use the Alex and Anna pjs pattern, or the Twist and Shout, as I did for Miss P's birthday outfit above) and add a small waistband to provide a little contrast between the bodice and the skirt.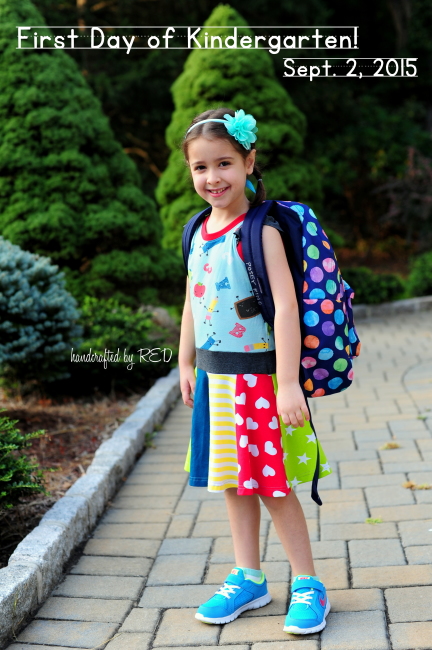 Doll Circle Skirt Pattern
Now, let's talk about that dolly pattern too, shall we? My big girl just celebrated her 6th birthday earlier this week and got her first American Girl doll from her grandparents. She's had two other dolls (that she calls just "Girl" dolls lol) for the past year and has really enjoyed having coordinating outfits with them. Sewing doll clothes can be a little finicky since they're so small, but on the plus side, they are the absolute best scrap buster eve
Amy drafted a circle skirt pattern for 18″ dolls (like American Girl, Our Generation, and Springfield Girl dolls) and I used the same approach outlined above to make a panel template from that size. It worked perfectly!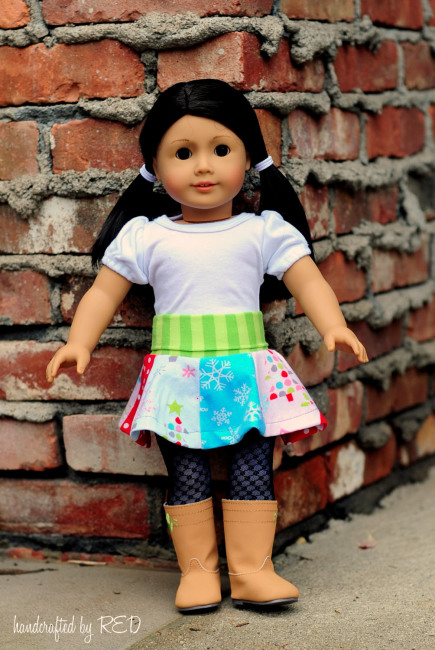 I did a pretty wide hem here (ahem, not intentionally) so it ended up a little on the short side, but a rolled hem would be perfect for this skirt. I also decided to do a foldover waistband for the dolly version, and I like the finished look.
I cut my waistband for this version at 3″ tall by 10.5″ wide, and used a 1/4″ seam allowance both to join the short ends of the waistband and also to attach the waistband to the skirt. (The waistband fit snugly, but P was able to slide it onto her doll easily. Since the doll isn't going to be as active as an actual kiddo, you don't need to make the waistband that snug and it'll still stay up. I might try 11″ wide for my next one, depending on the stretch of my waistband fabric.)
You can certainly play around with the height and width of the waistband and decide what looks best to you (and all dolls are shaped a little differently, so the finished look may vary slightly as well). Miss P was THRILLED to have matching looks with her new doll!
Amy generously digitized the doll panel template and you can download it here. The Pattern is free when you subscribe to our newsletter or join our facebook group (pattern coupon code in New Subscriber E-mail or on the first post in Facebook Group). The assembly of the doll skirt is exactly the same as for the girls' version that I have outlined above. My daughter's friends have been admiring her skirts, so we'll be making a few more dolly-and-me sets for holiday gifts this year. They'll be easy to customize for each recipient, too – one of my favorite types of gifts!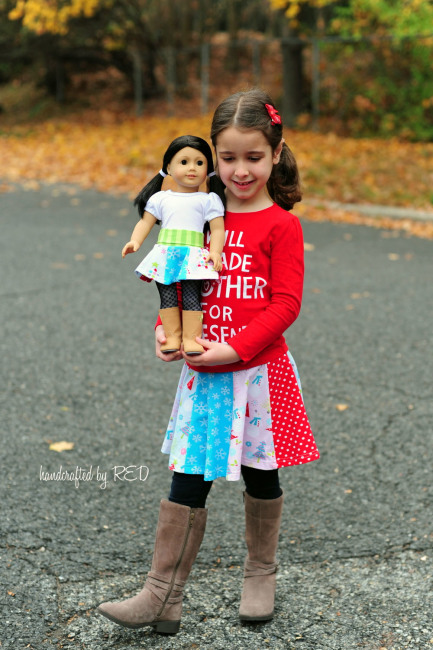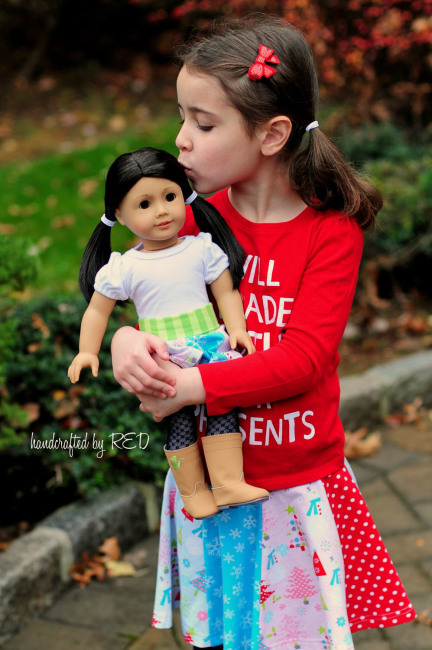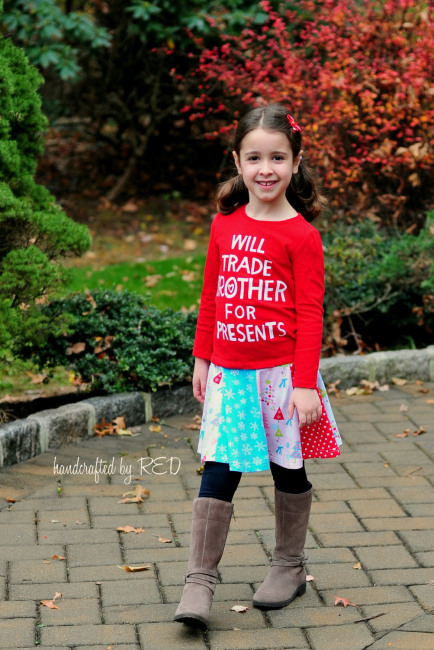 Thank you for joining us to learn how to sew a paneled circle skirt. Again, you can find the doll skirt panel template here, and make sure to join us over in the PAB group on FB to share what you've been working on!
Other Sewing Tutorials & Patterns
If you enjoyed learning how to sew a paneled circle skirt, you might enjoy some of these other patterns and tutorials.