Welcome to Peek-a-Boo Pages to learn how to sew a hoodie. We'll be using the Hangout Hoodie from Peek-a-Boo Pattern Shop for our sew-along today! The Hangout Hoodie is packed with options, including:
View A: Hood with Placket
View B: Standard Hood
View C: Neckband
Pullover with standard hem or band
A-line Tunic and Dress
Optional Pocket
Short or Long Sleeves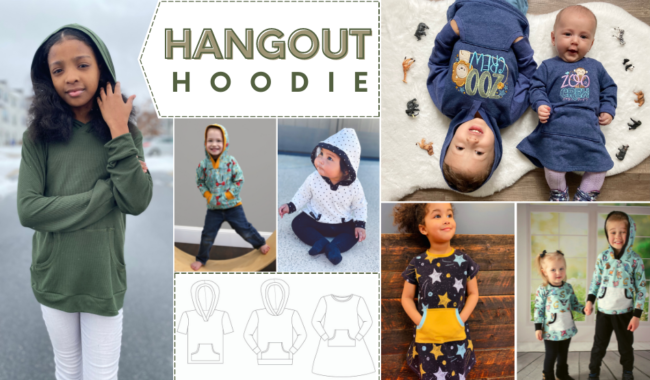 Alright, let's get started with how to sew a hoodie!
How to Sew a Hoodie | Hangout Hoodie Sew-Along
Part 1 | Picking Your Hoodie Fabric, Choosing a Size, Printing and Cutting
Hoodie Fabric:
The Hangout Hoodie is a knits-only pattern. Since it is an outfit rather than a coat you'll want something light-midweight such as jersey fabric, interlock fabric or waffle knit fabric. On Page 2 you'll find the yardage needed for your size along with the full materials list.
Choosing Your Size:
First, let's decide what size hoodie to make. Moving on to Page 3 you'll find a helpful section for choosing the right size. Remember this is a fitted outfit, not a coat. I made this when Will was 16 mos. and I went with the 2t so he'd have some growing/layering room. He also has a bit of a belly 🙂 When in doubt I always recommend going up a size.
Printing Your Pattern:
Make sure you print out your hoodie pattern at 100% with no scaling and then check the 1″ scale box to make sure you printed the pattern correctly. You need pages 8-16 for a dress and 12-18 for the top.
When I tape my pieces together I like to cut one edge on the dashed line and then leave some paper hanging off the corresponding piece (see the sleeve…). Then I can overlap and tape a bit easier.
Cutting Your Pieces
To save you some paper/ink the front and back pieces are the same. You need to cut the back piece of the hoodie pattern first. If you'll be matching stripes later it helps to have the bottom edge flush with the bottom edge of a stripe. Remember we're cutting on the fold.
Now trim your pattern piece on the dotted line to create the front pattern piece. The front is also cut on the fold.
To match the stripes on the hood I like to cut the left and right at the same time by folding my fabric in half. You aren't cutting it on the fold though…see the little edge I left?
Don't forget the hood binding and sleeve cuffs. Measurements are in your cutting chart 🙂 The stretch should go across the width of the piece.
All cut and ready to go assemble the hoodie!
Go to part 2 for the hood and hood binding 🙂
Part 2 Hoodie Sew-Along | Sewing the Hood and Hood Binding
Again, thank you for coming and joining us to learn how to sew a hoodie with the Hangout Hoodie Pattern. Come back soon! Before you leave, you should check out some of these tutorials too: