Let's learn how to sew a color-blocked shirt for the Fourth of July!
Here in the USA, the summer has several Patriotic holidays. And while I don't usually do holiday specific shirts, I like looking patriotic on these holidays. And I know my kids do too! And yes-I can just head to Wal-Mart or Old Navy or some other box store and pick up a quick shirt.
But……I've got all this fabric…and then it can easily be worn throughout the year even when it's not a Holiday. So here's a quick idea for how to make a Patriotic Tee by color blocking your favorite tee. Don't live in the USA? Change the colors and make a patriotic tee unique to your country!
How to Sew a Color-blocked Shirt | Learning How to Do Color-Blocking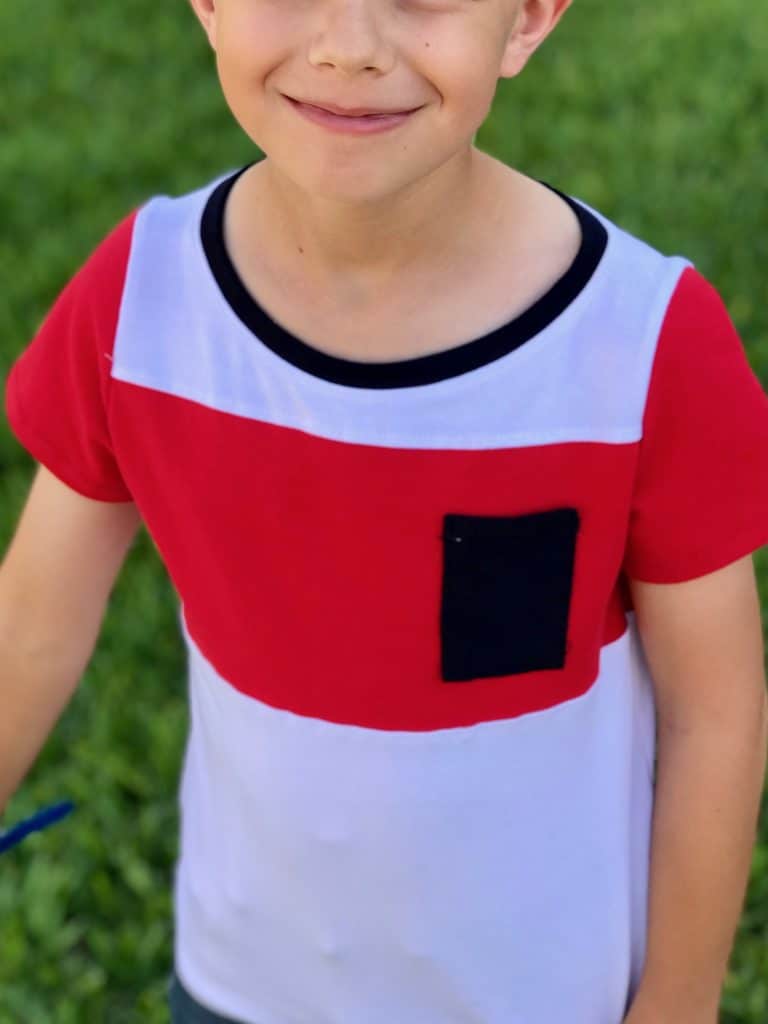 You can color block any tee you like-kids, women, mens. Peek-a-boo patterns has lots of patterns that are the perfect blank canvas for your creativity. The Classic Ringer Tee would work great for all the littles in your life (and it already includes a pocket). So select your pattern and trace/cut it out ready to make a few modifications to the pattern. You can pick any color combo that inspire you
Tips and Tricks for Color-Blocking
Now, if you'd like a very thorough tutorial on color blocking, head over to this post on Peek-a-boo Pages. I'll admit that I cut a few corners here and there to speed up my sewing. But here are my Rules for Color Blocking:
Colorblocking Tip # 1: Draw the lines where you want to create the color blocking right onto your pattern. Stick to straight lines or gently curving lines. Then cut the pattern along those lines.
Colorblocking Tip # 2: Add Seam Allowance anywhere you cut apart the pattern-BOTH sides of the cut. I generally do not trace out new pieces with added seam allowance like in the tutorial because I'm lazy. That is a corner I cut. But tracing out new pattern pieces is the best way to make sure you do it right.
Colorblocking Tip # 3: Label the new pieces you've created so you know how to put it back together.
Now…On to Making your color-blocked patriotic tee!
How to Make a Color Blocked T Shirt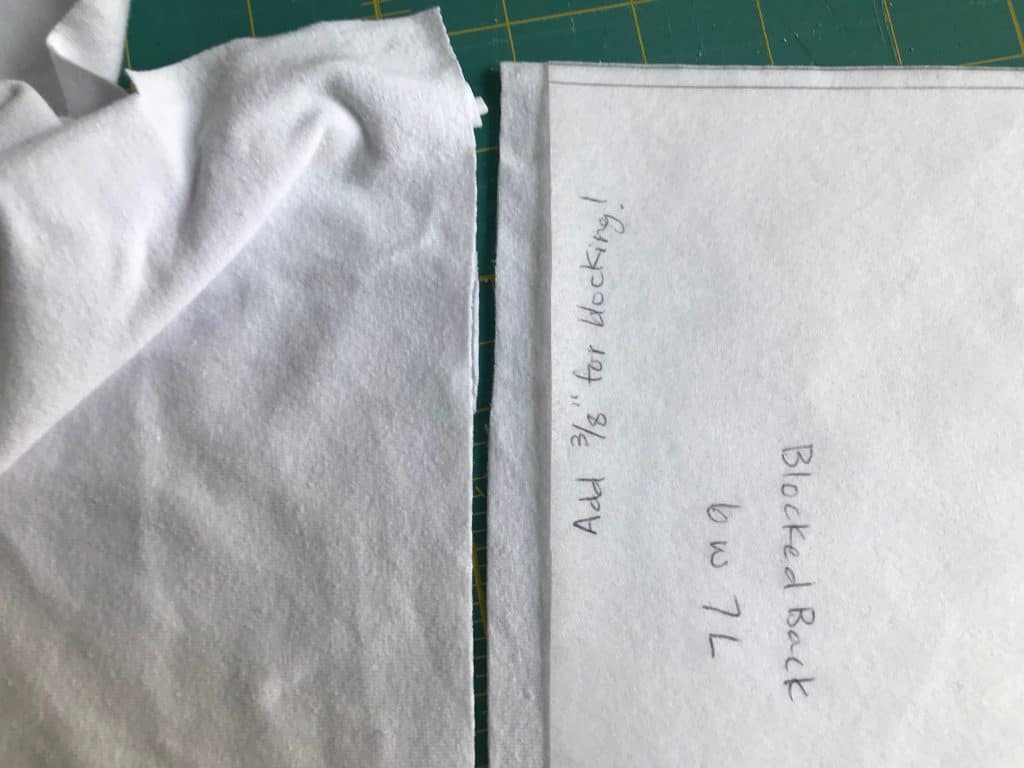 Colorblocked Shirt Step 1: Cut out all your new pattern pieces. Like I mentioned before, I don't usually trace out new pattern pieces with added seam allowance where I've cut my pattern. Instead, I add a note to the edge that needs seam allowance added and add it as I'm cutting out my pieces. When it's a straight edge (as mine almost always are) I'll use my quilting ruler to measure out the seam allowance.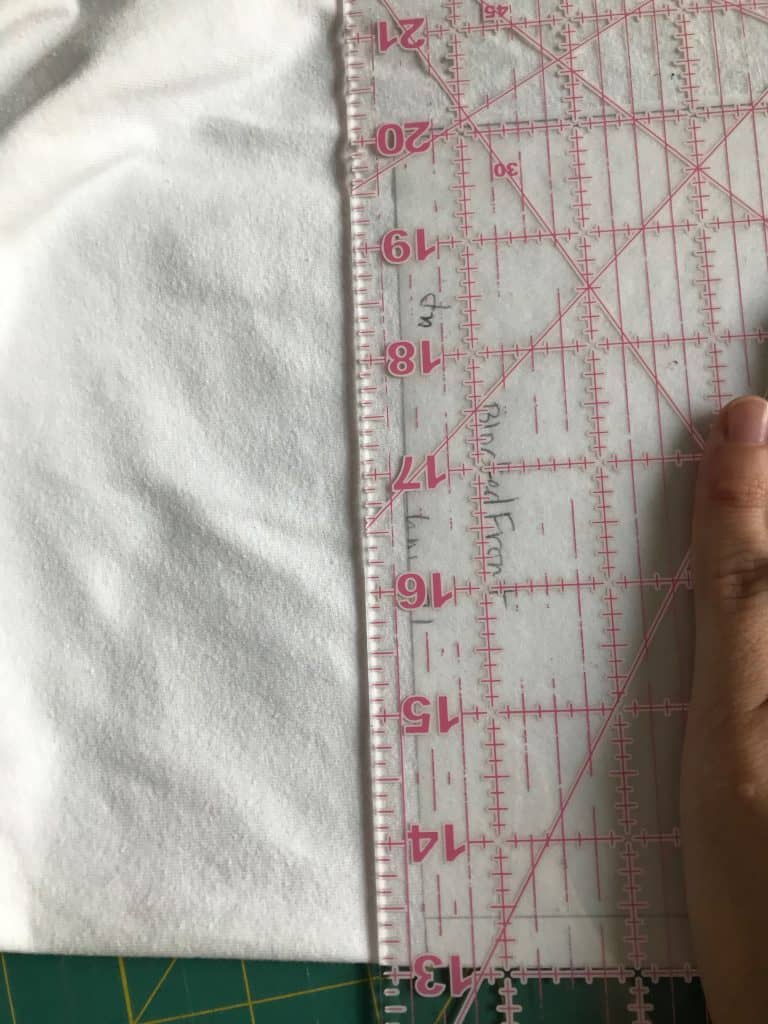 Colorblocked Shirt Step 2: I've chosen to cut my shirt into three sections. The top will be white, the middle red, and the bottom white. I've also chosen red sleeves, a navy pocket, and a navy neckband. You do you and put the colors where you like them best.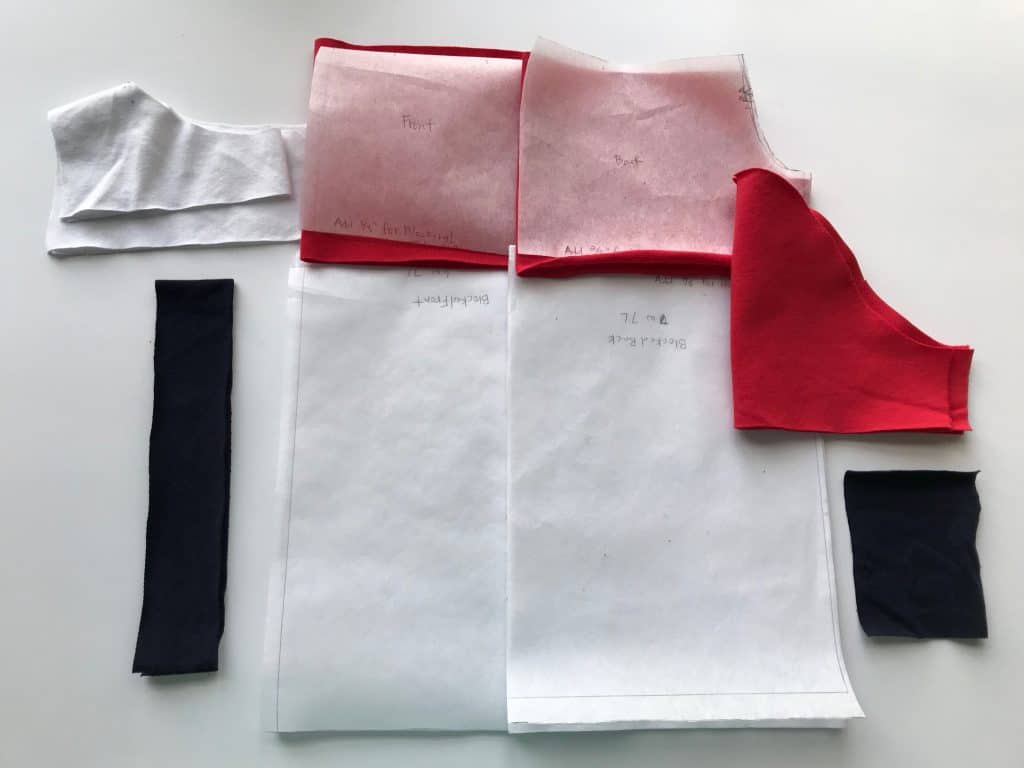 Colorblocked Shirt Step 3: Assemble the color-blocked parts of your pattern so you end up with pieces that look like the original pattern pieces. I like to top stitch the color-blocking seams down but that's optional.
Colorblocked Shirt Step 4: If you're adding a little pocket-sew it on before sewing the side seams of your shirt. (Pocket not included in your pattern? Here's a tutorial for adding a patch pocket!). If you forget you can still sew it on after the side seams are done but it is so much easier if you do it before.
Colorblocked Shirt Step 5: Then finish sewing your shirt up according to the pattern instructions! Try adding a ruffle into one of your color blocked seams or an appliqué star in place of the pocket. So many options!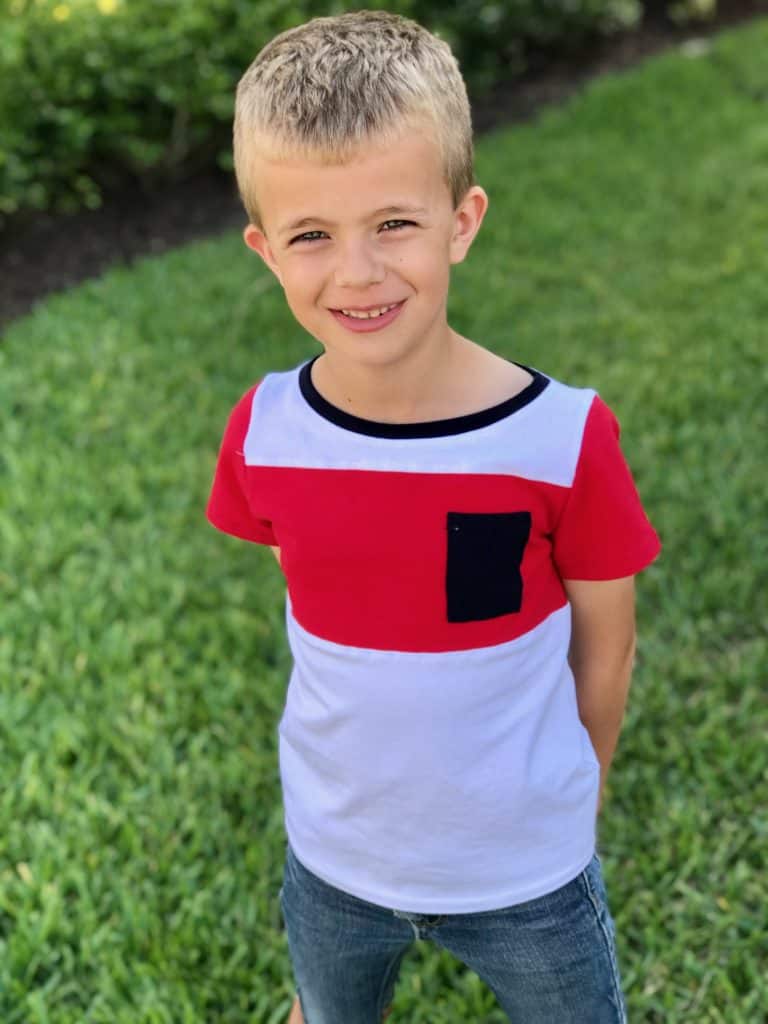 Now you're ready for a summer of BBQ, fireworks, and fun!
Other Sewing Tutorials
Also be sure to join us in the Peek-a-Boo Pattern Shop Facebook Group to share what you make and ask sewing-related questions.