Printing Digital Sewing Patterns
Like many things these days, sewing patterns have gone digital in the form of PDF Sewing Patterns. Learning how to print pdf sewing patterns efficiently is essential. If you're new to Peekaboo, come see the Pattern Shop.
Some may relish the traditional tissue-like paper patterns that grandma used, but I am thankful for the progression! There are so many perks. I can re-print whenever one of my children inevitably rips my pattern to pieces. I also love layered patterns so I only have to print the size I wish (with no tracing individual sizes!). Being able to print the pattern on a much sturdier paper is also invaluable.
Printing Digital Sewing Patterns
Some people may consider PDF digital patterns to have some drawbacks like resources of printer ink and paper or the time required to put the pattern together. I think the trade-offs are minimal to the benefits. Once you get the hang of putting them together, digital patterns really do not take much longer than tracing individual sizes onto freezer paper from traditional printed patterns.
Many digital pattern designers are releasing patterns with layers. This is great for only printing the size you need, and the options you wish from the patterns. For this example, I will use the Mariposa Dress and Top from Peek-a-Boo Pattern Shop.
Getting Started
To begin, open your pattern in Adobe Reader to access the layers function. You are looking for the icon on the left of the screen that looks like three pages stacked on each other.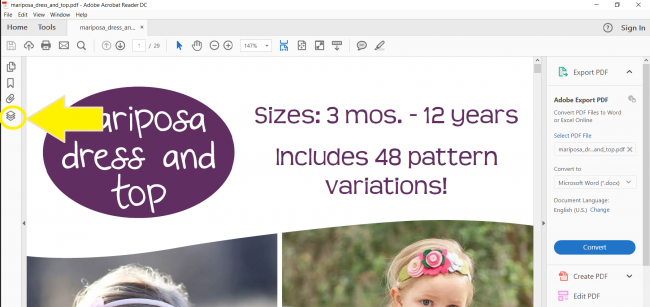 After clicking the layers icon, you will most likely need to select the drop-down icon.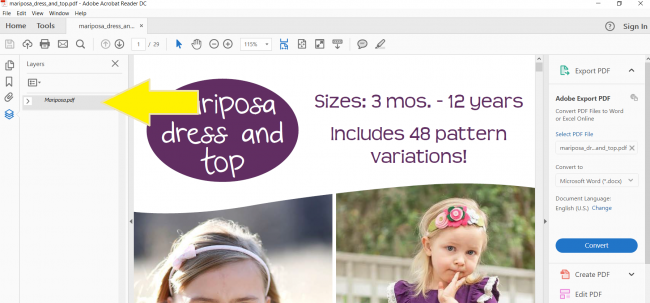 Selecting the Layer / Size to Print
Now you are able to select your size by deselecting (the eye icon beside the listed size) the sizes you do not wish to print. If you need to grade between sizes, select more than one. Make sure to leave the option "print for all sizes" selected as well!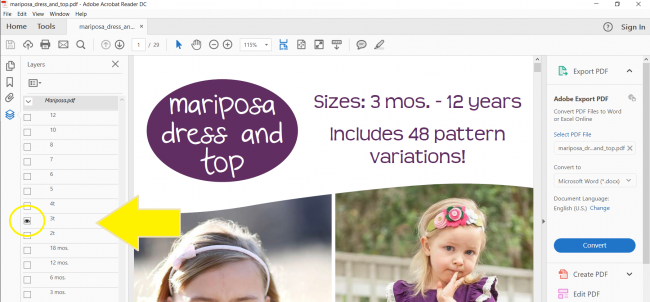 Printing Guide
Make sure to read all the pattern instructions before printing, especially if a printing guide like below is included. This way you are saving paper and only printing the options you need!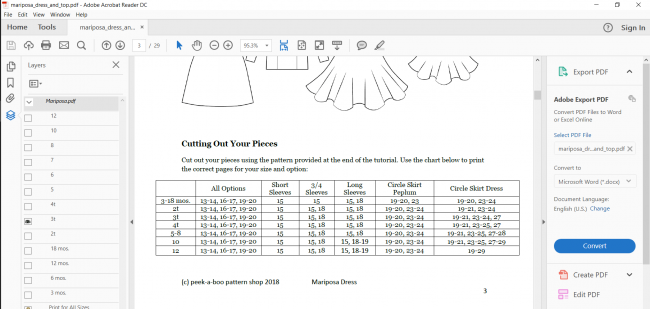 Printing to Scale
At the "print" screen, make sure that "Actual size" or "Custom Scale" is set to "100". Test print the first page before printing the entire pattern. This will let you measure the 2 inch box before printing your entire pattern incorrectly.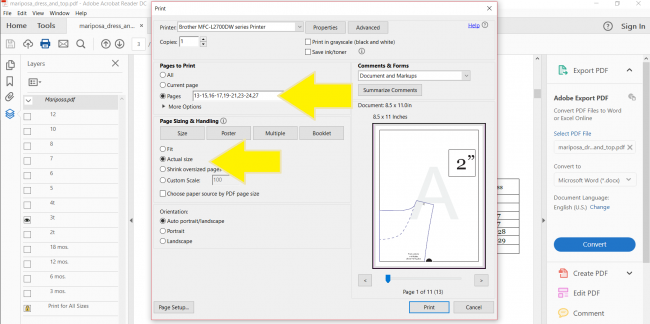 Once you have your test page printed, make sure to measure the 2-inch box. If this is off, double-check your print setup page and try again. Once you have correctly printed the first page, continue with the rest of the pattern pieces. You will need scissors or a rotary cutter, and tape. There a few ways to go about piecing the pattern together, but in general you will want to make sure that the pages align. In this pattern, the half circles will align to form a circle.
Cutting Your Pattern
Now you know how to print pdf sewing patterns. Next, is cutting. Using a light source (window or lightbox) overlap pages aligning the circles, or trim the pages and align the circles.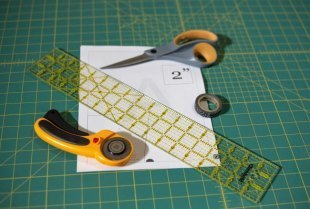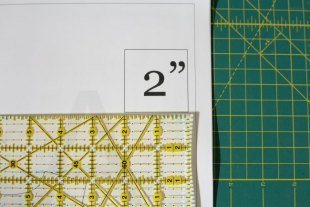 If trimming the edges of the pages, you can use a rotary cutter or scissors. You generally will only need to cut the left and/or top edges of the pages, not every single border. With such a small size (3T) and small pattern, I find it easier to trim only the pages I need with scissors. If this was a larger pattern, you could stack the pages and using the rotary cutter and ruler, trim multiple pages at a time. Be careful if your printer is prone to printing pages at an angle, as you might end up cutting some of the patterns if trimming multiple at a time.
Saving Time / Paper
Try to lay out your pattern before trimming or taping, to see which pages will need to be trimmed and pieced together to save time. To save tape, only use tape when conjoining pattern pieces. Do not worry with taping the entire page or blank spaces.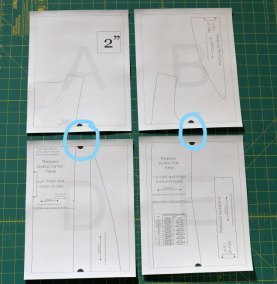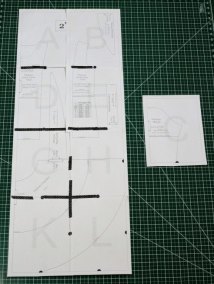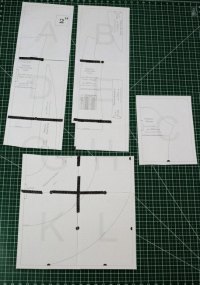 Save time and only print the pieces/pages that you need. For this pattern, I only plan on doing the peplum or tee length with short sleeves. It's Spring now and by the time longer sleeves is needed, my kiddos will most likely need a larger size. If I were printing out an adult sized pattern, I would print all options at one time, storing them all together.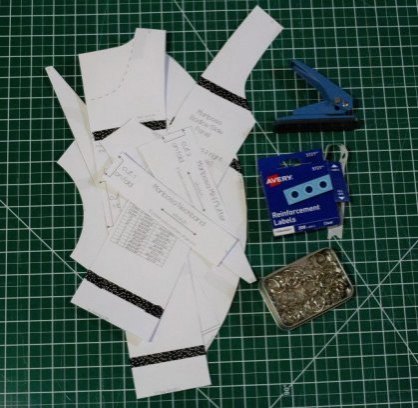 Pattern Storage
This brings me to storage. How do you store all of these printed patterns? I print on heavier paper and I find it easier to store them flat in a plastic container. I punch holes in each piece, use a reinforcement label, and keep them together with a binder ring. For some other ideas, look at Peekaboo's tips on Storing Sewing Patterns.
There you have it – now you know how to print pdf sewing patterns!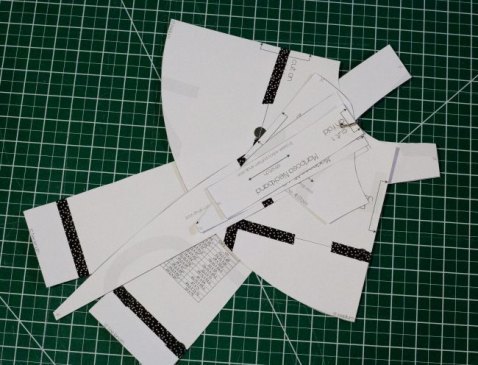 Before you leave, make sure to check out some of these other posts: