It's time to learn how to make overalls!! We'll be going over how to make DIY overalls today with two of our favorite Peek-a-Boo Pattern Shop Patterns – the Okey Dokey Overalls and Oopsy Daisy Overalls Jumper!
The Okey Dokey Overalls include all of the classic overall details you love. It has a front bib pocket, front slant pockets, faux fly, back pockets, optional snap inseam, and button tabs at the side seams for easy dressing. The pattern also includes everything you need to know about overalls hardware.
The Oopsy Daisy Overalls Jumper also includes all of the fun overall details like the front bib pocket, front slant pockets, back pockets, and button tabs at the side seam. It's a fun jumper look that your girl will love.
With all that, make sure to get your pattern and we'll get started with how to make overalls:
How to Make Overalls | DIY Overalls
Part 1 | Choosing Your Overalls Size
Make sure you measure your child's hips and height and choose the corresponding overalls size from the size chart. If your child's height and hip size don't match up go by the hips size and adjust the length accordingly. I always recommend checking the finished garment measurements for a custom fit. The Okey Dokey Overalls and Oopsy Daisy Overalls Jumper have plenty of room for layering over clothing so there is no need to size up.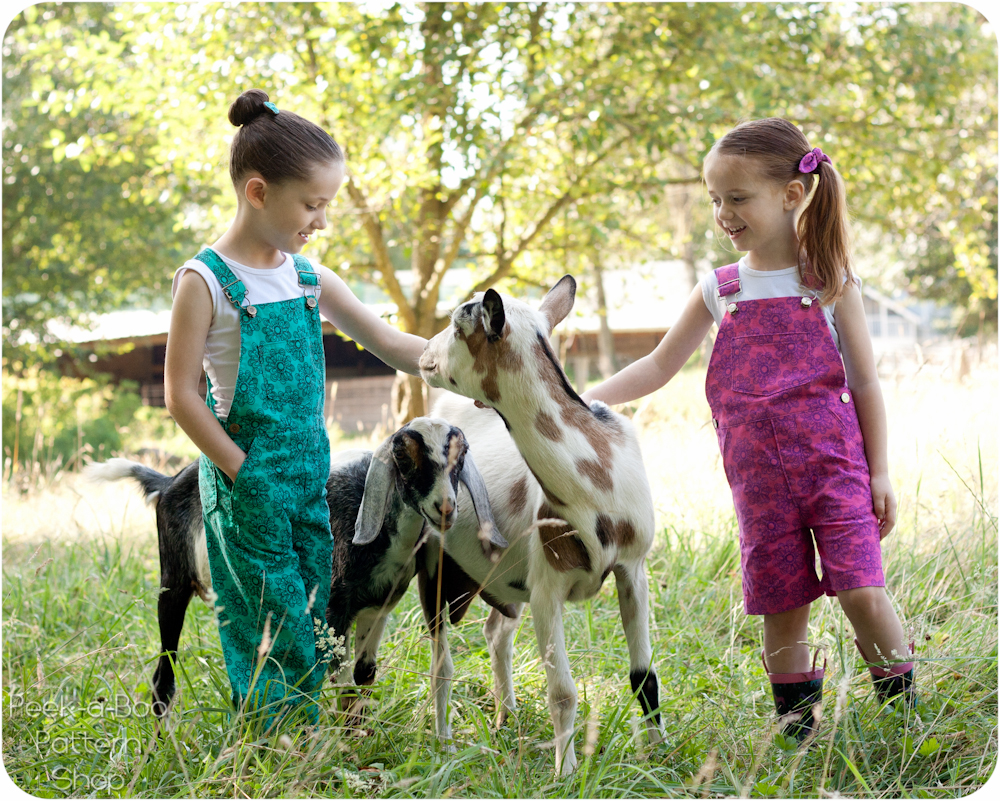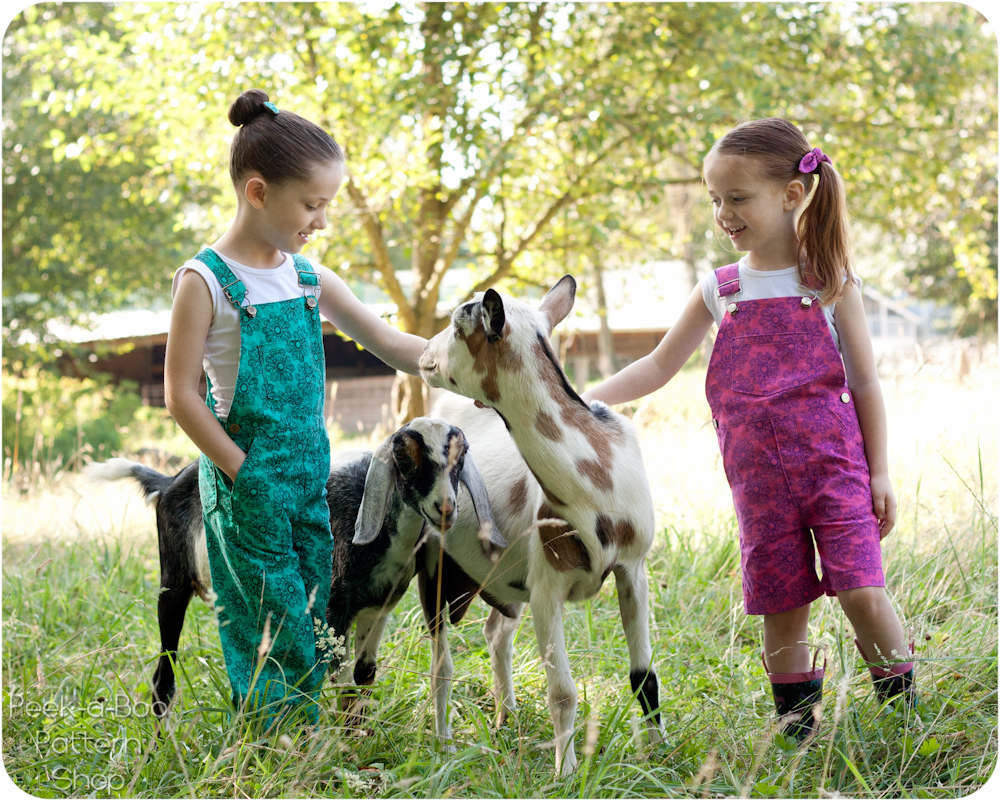 Part 2 | Choosing Your Overalls Fabric
For a traditional overalls look I recommend going with a bottom-weight fabric: denim, twill, corduroy, etc. If you are using denim one of the best sources is an old pair of jeans! By up-cycling, you get fabric that is already distressed and it gives the finished product a more authentic look. In larger sizes, this can be a bit more difficult but it works great for the little ones 🙂
Although I recommend bottom weights you definitely can use quilting cotton and the results are adorable! I would avoid it for the pants-length overalls on older kids since they tend to be rough on the knees but as a jumper, shorts, or pants for a baby it's a great option
Part 3 | Overalls Hardware
Both overalls patterns include detailed information on hardware so make sure you read that section 🙂 For the buttons, I have recently found some that go in without a hammer! I don't know which stores carry them but I found mine at Wal-Mart. They just push right together and are super easy to install! Here's what my packaging looks like. I bought my buckles there as well and those buttons were hammer-in so I used these instead.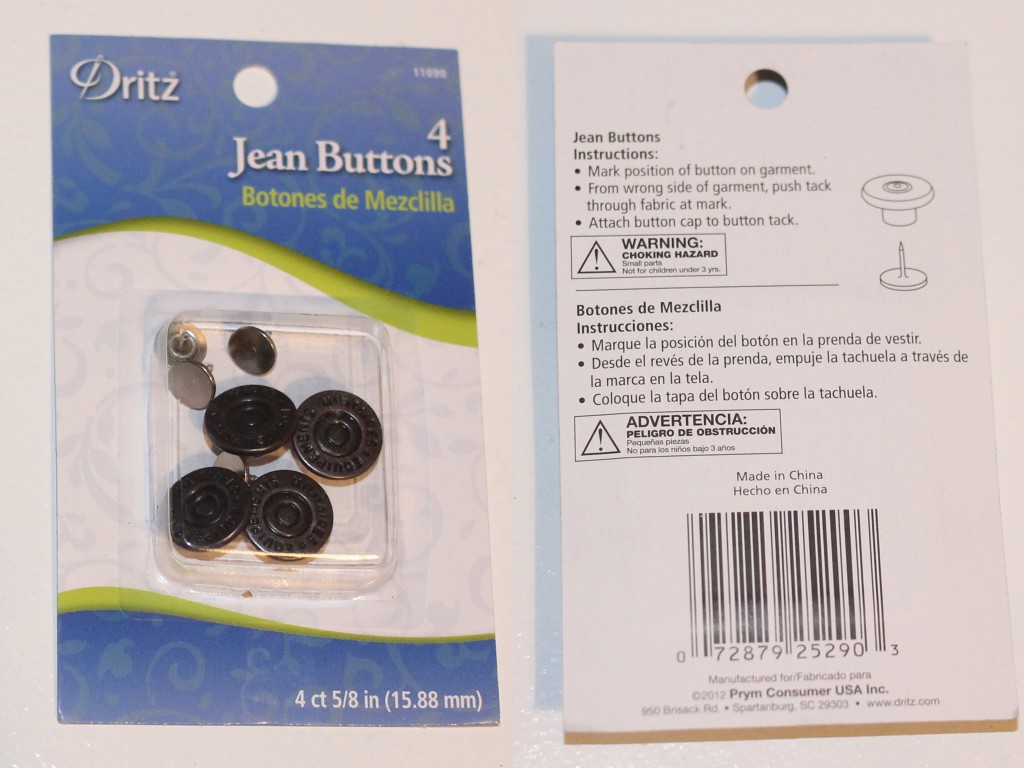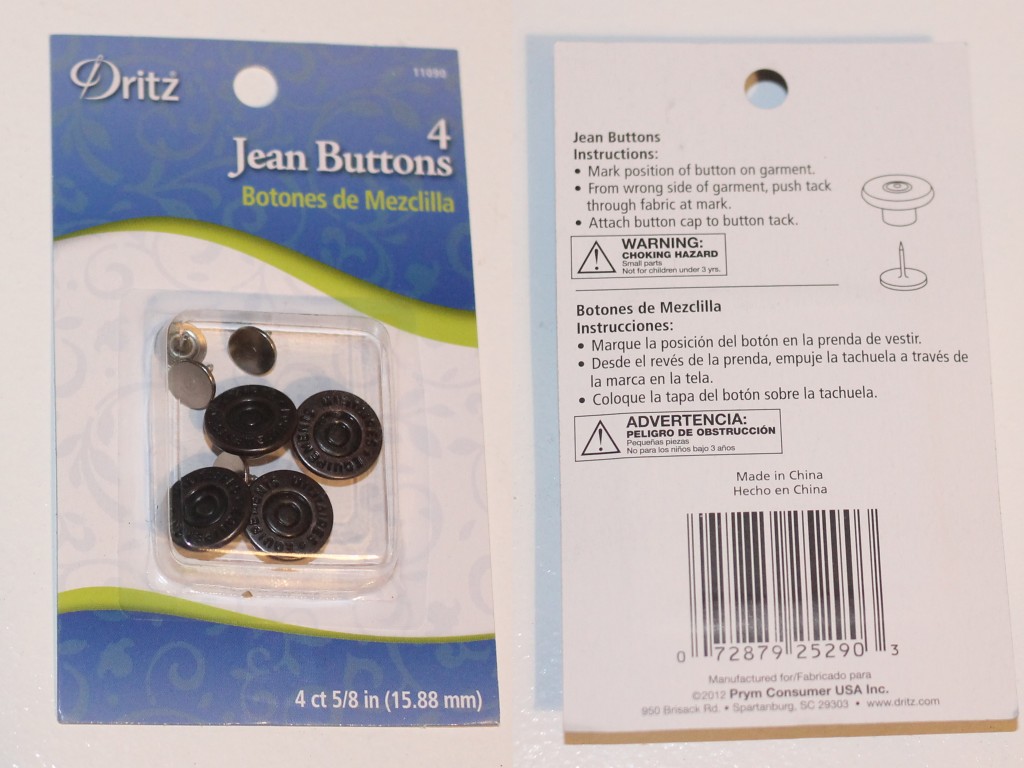 Part 4 | Cutting Out Your Pieces
Make sure you print your pattern out at 100%. Tape everything together along the dashed lines and then it's time to start cutting! A couple of things to note:
Remember if your overalls hardware is a different size than recommended (not a problem at all) you'll want to adjust the tip of the strap to the correct width. For the pair I'm sewing this week I'm doing a size 12 mos. but my buckles are 1.25″ instead of 1″ so I'm going to widen the straps as I near the top:


If you are making the overalls jumper the front and back are pieced for an authentic denim look. However, if you are using a busy print you might prefer to skip this. Just trim 1/2″ off the center front and center back and then cut on the fold instead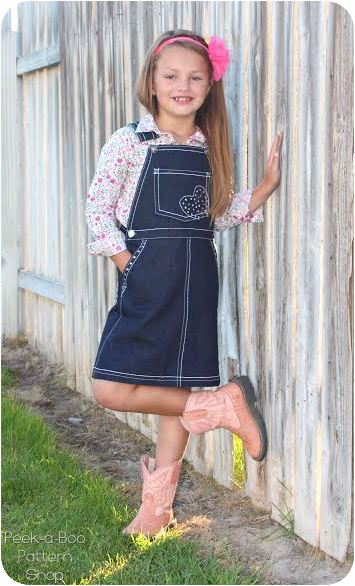 Part 5 | Sewing Patch Pockets on Overalls
Let's start with how to sew patch pockets for the bib pocket and back pockets
Patch Pockets Step 1: Fold the top edge over 1/4″ towards the wrong side of the fabric and press flat.
Patch Pockets Step 2: Now fold the top edge over 1/2″ towards the right side of the fabric.
Patch Pockets Step 3: Sew the folds in place 1/2″ from the sides. trim the seam allowance at each corner
Patch Pockets Step 4: Turn the top of the pocket right side out. Fold the sides and bottom edges in 1/2″ and press flat. I like to poke the top 2 corners out with a crochet hook to make sure they're nice and square. Top stitch across the top edge.
Patch Pockets Step 5: Now fold the pocket in half and make sure your point meets right in the middle. Adjust if needed and now you have a perfectly symmetrical pocket!
Patch Pockets Step 6: Pin to your project and top stitch in place along the side and bottom edges

Also, sew the front slant pockets and front facings. Make sure you follow the instructions to finish the side seams before you attach the front-facing.
Part 6 | How to Sew a Faux Fly
The jumper doesn't have a faux fly so if you're making that option you can skip right on over and get your bib attached and you'll be ready for t! This is the faux fly of the Okey Dokey Overalls but these same steps will work on most projects.
Faux Fly Step 1: Sew your front pieces together starting at the crotch and continuing around the curve of your fly. This section is a little tricky to finish the edges so if you're using a serger I recommend disengaging your knife to avoid any accidents.
Faux Fly Step 2: Now flip your piece over so you're looking at the wrong side. Make sure the center front seam is straight


Faux Fly Step 3: Then fold the fly piece over to the left and press flat.

Faux Fly Step 4: Flip it back over to the right side. Extend the fly and top stitch along the fold in your fly. This portion is optional:

Make sure everything is laying flat and top stitch along the edge of the fly and continue top stitching down the center front seam allowance. And that's it!


If you're working with a pattern that doesn't have a faux fly and you'd like to add one just draw a fly extending out from the center front and follow these steps.
Alright, now you have to finish attaching your overalls bib. Then the next step is to get the back of the overalls assembled:
Part 7 | Assemble the Back fo the Overalls
Today we're going to assemble the back of the overalls. I know the back button tab is a common trouble spot so I have new photos for you in a different fabric. Sometimes seeing things twice is helpful 🙂
Back of the Overalls Step 1: Press the bottom edge of the button tab up 1/2″ towards the wrong side. Lay the button tab on top of your side seam (remember you should have already finished that edge to prevent fraying) with the top edge 1/2″ above the top of the back piece. Sew in place along the side seam
Back of the Overalls Step 2: Now here's the spot that seems to cause some trouble 🙂 We're going to fold the button tab back against itself and then sew across the top edge
See the rest of the button tab under there? The fold meets up with the seam line from the last step.
Back of the Overalls Step 3: All good? Now turn it right side out and topstitch
Part 8 | Overall Straps
Today we're also doing straps. When you attach the straps to the back accent make sure your seams at the corner are right up against the edge of your strap. If you need to take a slightly larger/smaller seam allowance up at the top corner that's just fine (this can happen if your strap seam allowances or cutting job wasn't spot on). Make sure you stick to the 1/2″ seam allowance down at the bottom though so it will match up with the back of your overalls
Part 9 | Sewing the Side Seams
Let's get these finished! I've heard the side seams have caused trouble for some of you so let's take a look. Make sure you get your side seams lined up and stick to your 1/2″ seam allowance. Stop sewing when you reach the bottom of the front-facing. I like to button my front and back together to make sure everything will line up well through there and then pin down.
When you open up the side seam you might have a little gap and that's fine. When you topstitch it will get closed up.

Now just hem and throw them on a cute kiddo and you're all done!
I hope you had fun!! Make sure to upload what you make and see everyone else's finished photos in the Okey Dokey Overalls or Oopsy Daisy Overalls Jumper Album.
Also, make sure to join the Peek-a-Boo Pattern Shop Facebook Group to share what you make and ask questions if you have any trouble along the way.
If you enjoyed this tutorial you might also take a look at How to Make a Hoodie or How to Make a Women's Swimsuit.