Are you ready to learn how to make a woven headband? I love to sew headbands for my little girl to match her outfits. Today, I'm going to show you how I made a woven headband to match her new Hazel dress.
Woven Headband Tutorial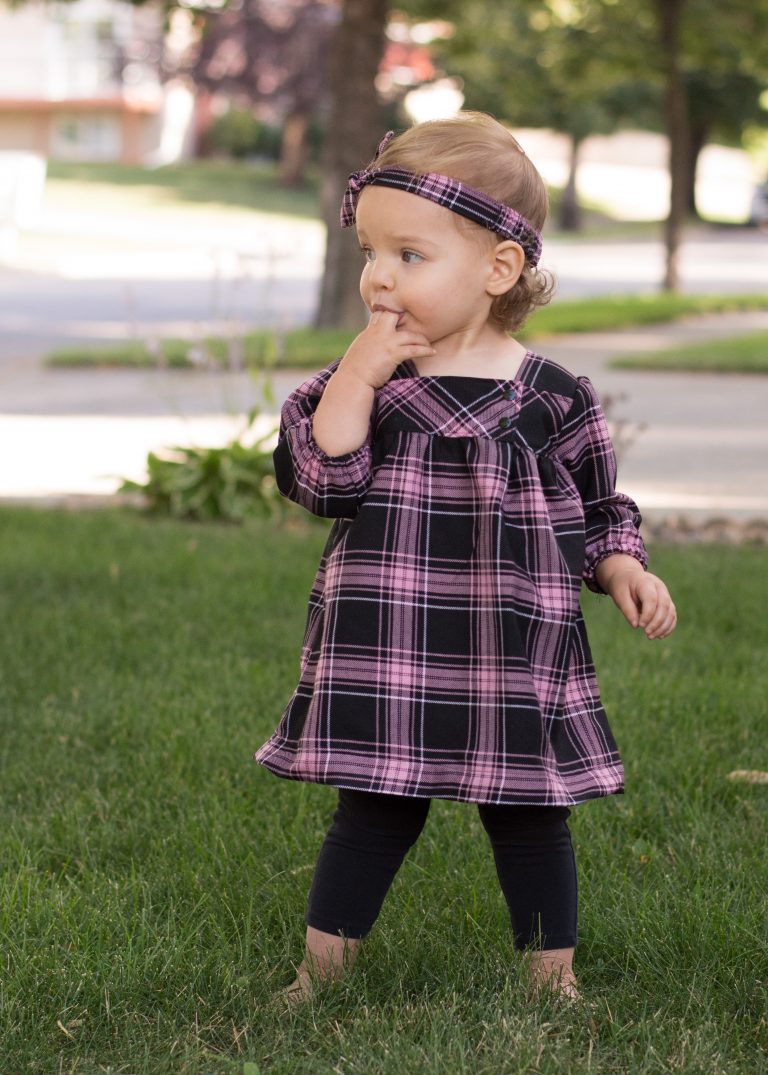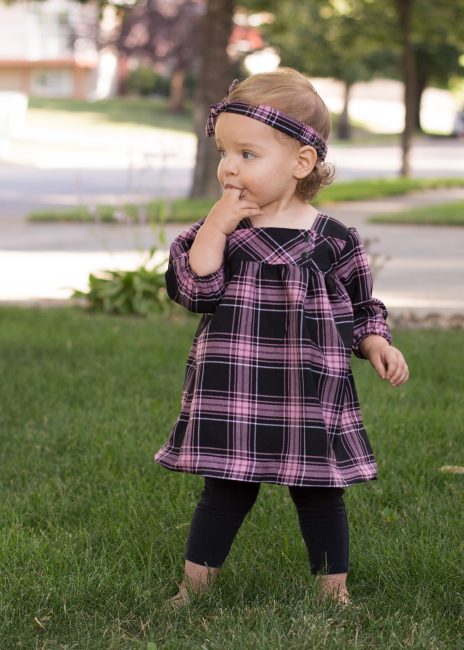 Woven Headband Instructions
Woven Headband Step 1: To start, I measured my daughter's head. She is 16 months old, and her head is roughly 18″ around. I added 12 inches to the measurement to have room to tie the knot. For an older child or adult, you may need to add more to the measurement or cut your fabric wider as well.
I cut a piece of woven material 30″ by 3″. In this picture, it's folded in half.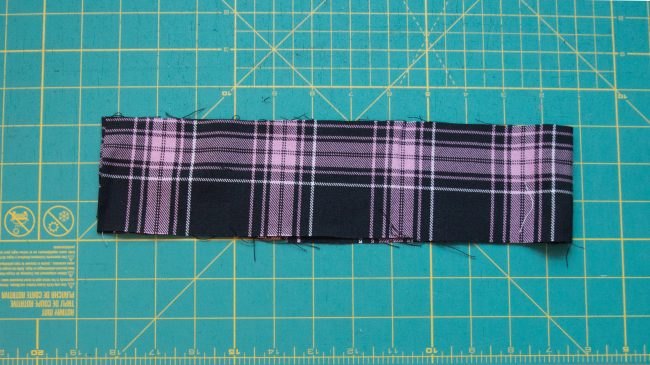 Woven Headband Step 2: I then rounded off the ends using my masking tape roll and rotary cutter. My piece is still folded in half so I could cut both layers at the same time.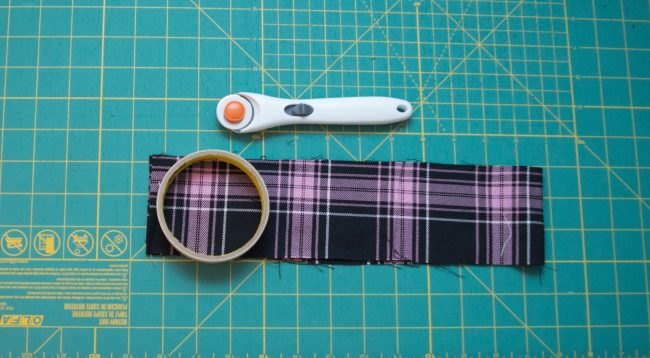 Woven Headband Step 3: Unfold the fabric and refold it right sides together with the long sides touching. Sew around the edges with a 1/2″ seam allowance leaving a 4-6″ gap in the middle unsewn. Trim the seam allowances except by the opening.

Woven Headband Step 4: Turn the fabric tube right side out and press well. I used a 6″ piece of elastic for my toddler daughter which worked well. I measured to find the middle of my headband. I then measured 5 inches on either side of that. This would be where I'd attach the elastic. I slid the elastic inside the headband and attached it at one 5 inch mark. Then I slid the other end over to the other 5″ mark and attached it. It took a bit of wiggling to encase the elastic, but it was not difficult with the untrimmed seam allowance.

Woven Headband Step 5: After stitching the elastic at both ends, top stitch with a long stitch length all the way around the headband, stretching out the elastic while sewing. This will close the edge you had left unsewn to insert the elastic into.

Woven Headband Step 6: Finally, tie the headband into a knot based on the size of the wearer.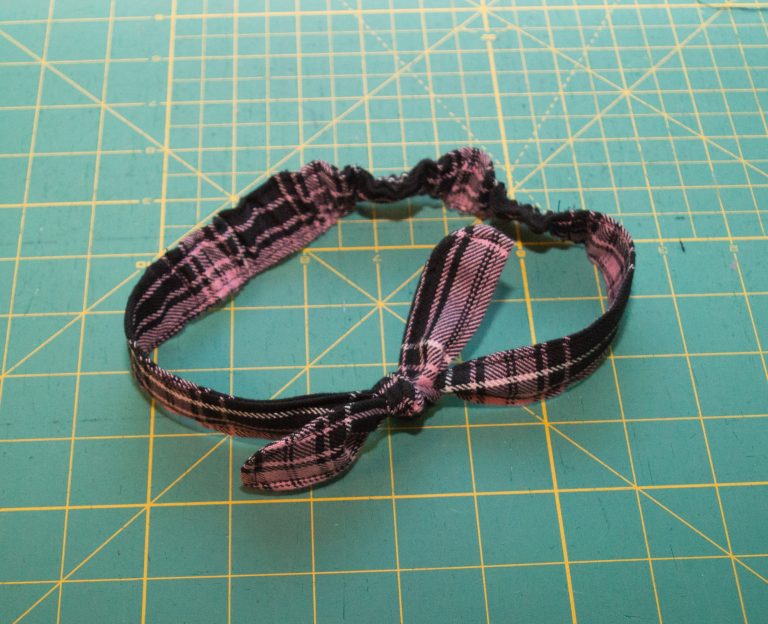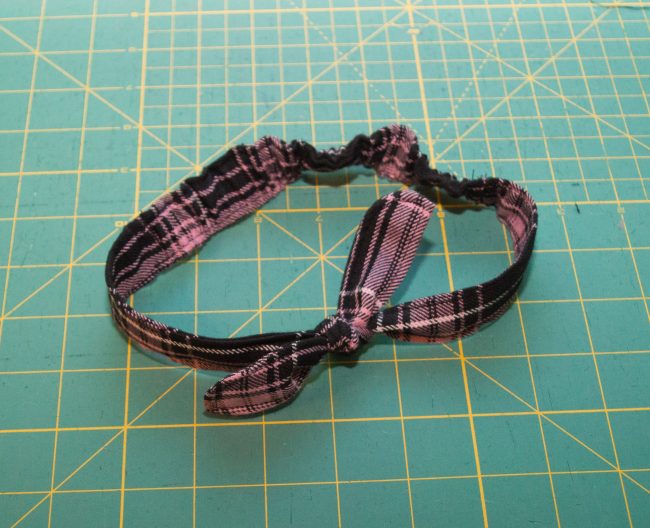 Now you have a cute woven headband to pair with your winter dresses and tops!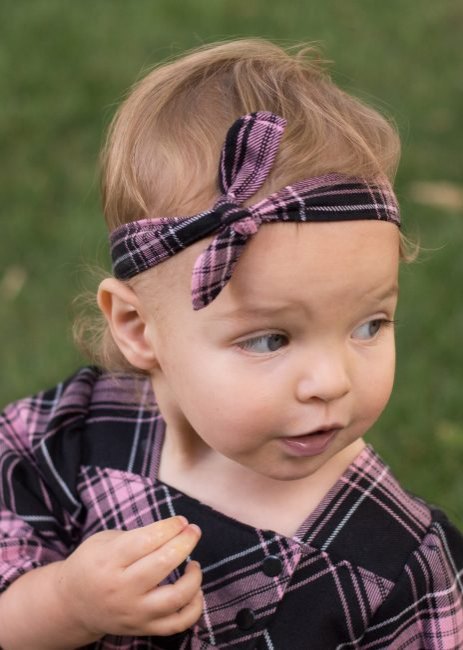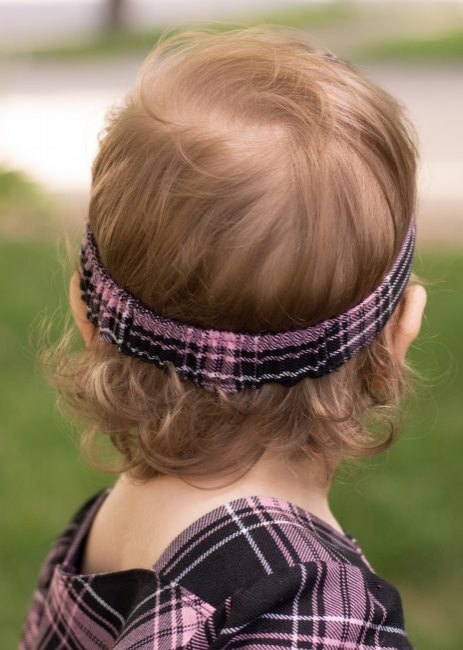 Another Woven Headband Tutorial
I'd like to thank Alisha for that fun woven headband tutorial…..I also have one more for you with a slightly different style.
Need a fun spring accessory? I made this other woven headband up a number of years ago. You can whip up this woven headband in no time! And then embellish to your heart's content:)
Something about a 4 strand braid really makes me happy! It's simple to do but has so much more punch than our good friend the 3 strand braid.
The perfect finishing touch for any outfit
And in case you're wondering- this darling little girl isn't mine. She was helping me model a dress I made and I made her a headband to go with it just for fun:)
Ready to make your own?
Amy's Woven Headband Step 1: Cut 4 pieces of fabric- 1.25″ wide x Double your desired finished length. You'll also need 2 strips for the ties and 4 circles for the flower (mine were about 2″ across)
Sew the strips together along the long edges with right sides together. Attach a safety pin to one end and then guide it back through the strap to turn right side out.
Amy's Woven Headband Step 2: For the actual braiding I just went for it and wove them together. But if you're more of a visual person this might help:
Amy's Woven Headband Step 3: On each end leave 1 piece hanging out about 3″. When you're finished braiding sew across the ends to hold everything in place and then sew a tie to each end of the braid (my ties are cream and the tail piece is in purple).
Amy's Woven Headband Step 4: Wrap the extra tail piece around the end of the braid to hide your work and then sew in place by hand or use your hot glue gun
Amy's Woven Headband Step 5: Now you can embellish! I did a simple pleat on each of my 4 circles
And then hot glued them to the headband to form a flower. A little button on top and it was ready to go!
Amy's Woven Headband Step 6: If you want you can hot glue some non-slip fabric or shelf liner to the back to help keep the headband in place.
Happy sewing and happy spring!
Come share your headbands in the Peek-a-Boo Pattern Shop Facebook Group. I'd love to see what you made.
Other Tutorials
I sure hope you enjoyed this woven headband tutorial. You might also enjoy these: