Hi friends! Stephanie from Stephie B Has Three here again today to teach you something that will change your life! 🙂 Today's project is one I'm excited to share with you – how to make a TV tray ironing board! You can make this ironing board out of a standard tray table.
Trust me… this project will indeed change your life. No more standing up a hundred times during the course of your project to walk over to your ironing board where you have to stand on those tired legs of yours… all you have to do is swivel your chair and you're ironing as you sit!!
It is beyond handy having this ironing board so close to me as I sew. I also use it as space to pin and cut in my small sewing corner. It's just as important in my sewing space as my machines are.
I made this portable ironing board for the first time several years ago. I've had to change the cover on mine three times now, and find that every year or so it needs to be updated. Why? Oils from your skin rub off on the edges and random stains appear out of nowhere. Or from your toddler. Either or…
The first part of this tutorial will show you the steps to create your own ironing board, and the second part will show you what to do when it's time to re-cover the table (as I am actually doing today for this blog).
So lets get started, shall we?!

How to make a TV Tray Ironing Board Table
Step 1: Gather your portable ironing board materials.

TV Tray (You can find a tray table at Walmart, Target, Amazon, etc. – or better yet a secondhand store!)
Ironing board replacement cover (you can buy these at any of the stores I just listed – I got mine in the Walmart clearance section for $3.50!)
Staple gun
Staple gun brads/staples
Scissors
Goggles and gloves for safety
Step 2. Lay the ironing board cover down and trim

I recommend cleaning your work space or using a towel/blanket to place under your table. You don't want a dirty ironing board before you even get to enjoy it! (I'm using my son's favorite blanket because it was right next to me… but shhh… he's at school… don't tell him!)

Unroll your ironing board cover…
…then place your tray in roughly the center, with the long sides of the TV tray laying parallel to the long sides of the cover.
I find it easier to unfold the legs of the table so they stick up into the air.
Trim the excess cover along the short edges of the tray, leaving 6-8 inches of material to work with. You will trim this again later – this step just gets rid of the extra cover that will otherwise get in your way as you staple.
Now comes the fun part!
Step 3. Staple down the cover on the tray table
SAFELY, and according to the instructions for your particular staple gun, load your brads/staples to prepare to staple the cover to the table.
I usually put my first staple in the middle of the side of the table facing me, which is one of the long sides.
Then I move to the opposite side of the table, pulling the cover tightly across the TV tray before I staple.
Continue along those two sides of the table, pulling the cover as tightly as possible on all sides as you staple.
When you get to the edges, staple as close to the edge of the table as possible to ensure a tight fit.
Once those two sides of the table are stapled, trim the cover on the remaining sides down a bit more, leaving roughly 2-3 inches – enough to fold it over and staple.
Just like before, you can always trim more if you find you need to, but you can't replace what's been taken, so leave more of the fabric than you think you may need.
Continue stapling the fabric, just as you did on the first two sides. It's important that you pull tight before every couple staples so the cover is as tight against the top of the table as possible.
When you get to a corner, fold one side of the fabric under, then the other side over that, and staple, staple, staple!
And there you have it!! You're all done! You made something VERY useful… you should be very proud. 🙂
Here's my ironing board, set up and ready to work (On a Roly Poly Romper, of course from Peek-a-Boo Pattern Shop)!
Helpful hint: I recommend keeping a quilter's ruler or small rotary cutter mat nearby your ironing board so once you've ironed and you're ready to pin, you can use that under your fabric as your base.
Bonus project: How to replace your existing tv tray ironing board cover

I've been using this current cover for almost a year on this table, and it's been time to replace it for a little while now because – like I said in the beginning – it has acquired some not-so-desirable discoloration and spots.
Step 1 (really, the only step…): Remove the brads/staples
You're going to need a flat head screwdriver and pliers for this project so you can remove the staples on the table.
Lay your table on the ground with the covered side facing down, and using your screwdriver and pliers, CAREFULLY and SAFELY remove all the staples.
And that's all folks!
Now you have a clean slate, and are ready to start this tutorial over from the beginning.
I hope you've enjoyed this tutorual! Please check back on Tuesdays and Fridays for the latest blogs from all the amazing blog writers at Peek-a-Boo Pattern Shop, and don't ever stop learning new things. 🙂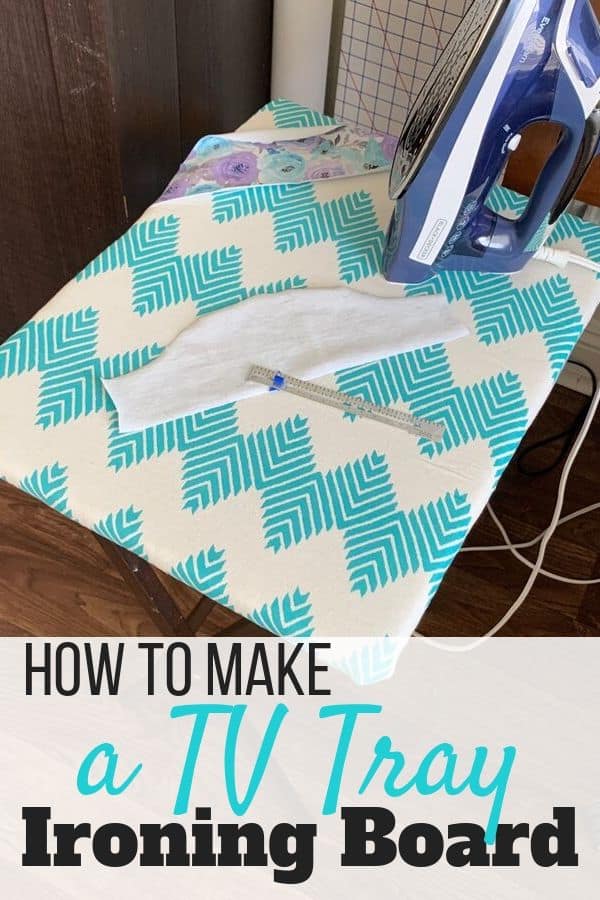 Before you leave make sure to also check out our tutorial on how to make a DIY Ironing Board. This ironing board is an excellent addition to your sewing space. The tutorial provides step by step instructions on how to make a proper underlying cabinet, make a table for the board, and then how to take the ironing board and cover it with batting and fabric to make the perfect ironing surface.
Other Tutorials
If you enjoyed this article, be sure to check out some of our other posts: