Today, we're going to show you a couple different methods of how to make a rag quilt. If you are looking for a fun beginner sewing project you're in the right place. Thank you for joining us today at Peek-a-Boo Pages.
How to Make a Rag Quilt
Over the years, we've had a couple different tutorials on how to make a rag quilt so I thought I'd put both of them here in one place so you could see a couple different takes on the rag quilt project.
First, What is a Rag Quilt?
A rag quilt is a quilt made with exposed seams between the quilt panels. The exposed seams are not finished and fray when you put the quilt into the washing machine. These rag quilts are easy to make and come together quickly. They make a fun gift for kids and adults alike. I made these for a service project and gave them away to a shelter. You can make a rag quilt out of a number of different fabrics – we have them made out of flannel, woven, or even denim.
You can get new fabric from the store or make them with scraps or old clothing that you have laying around the house. Rag quilts are a fun beginner project because they look harder to make then they are. In reality, these quilts come together quickly and are a fun beginner quilting project if you're starting out sewing or quilting and looking to get your feet wet.
With all that said, here are a couple different methods for sewing a rag quilt:
Method Number 1: My 30 Minute Quilt Pattern
Today I have a 30 minute rag quilt pattern tutorial to share with you!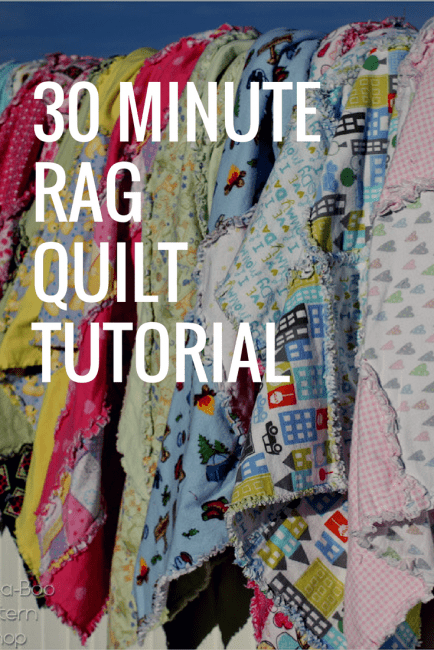 If you can sew a straight line you can make a rag quilt with this rag quilt pattern tutorial. I've made a ton of these and had a lot of fun coming up with a few different rag quilt designs. All of these were made with 1 1/4 yard cuts of flannel. This gives you a 44″ square approximately to start your project with.
For quick cutting I laid my 2 fabrics on top of each other with wrong sides together and then cut through both layers at the same time. If I was working with squares I would cut across the whole row rather then cutting each square individually.
here's a few of the designs that I used on my rag quilts:
DIY Rag Quilt Pattern
Rag Quilt 1: Cut Squares for a Square Rag Quilt
First, all you need to do is cut out your squares of fabric for the quilt. As noted, I used flannel but you could use a variety of different fabrics (denim, woven, etc.)
I made some of the rag quilts with sixteen (16) 11″ squares of fabric.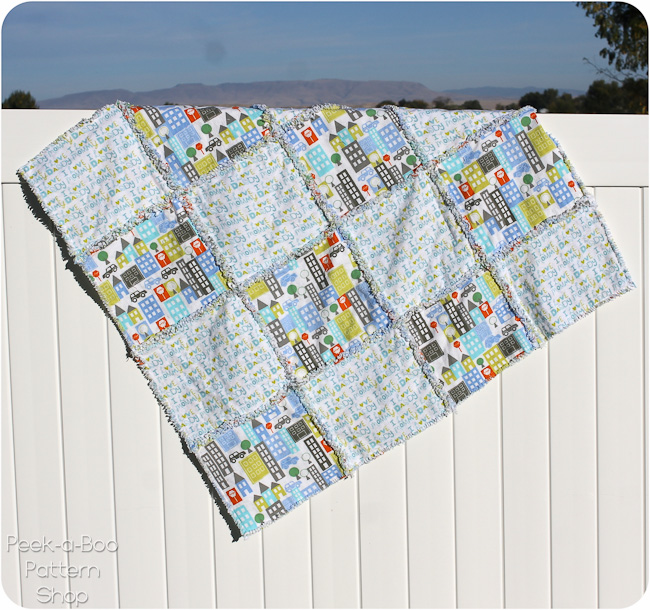 I made some other rag quilts using nine (9) 14″ squares of fabric. Just make sure that you have enough squares to get a perfect square laid out in a symmetrical pattern.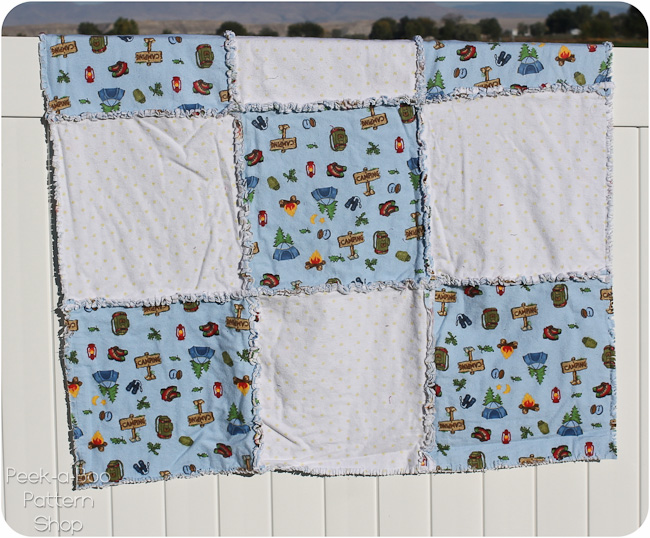 Rag Quilt 2: A Quilt with Diagonal Stripes
A rag quilt doesn't have to be made with squares – you can use a variety of different designs. I did this one with diagonal stripes. This rag quilt pattern design was a bit tricky to sew since the fabric stretched along the bias but with a little trimming at the end to even things out it worked out fine. My stripes are approximately 6″ wide.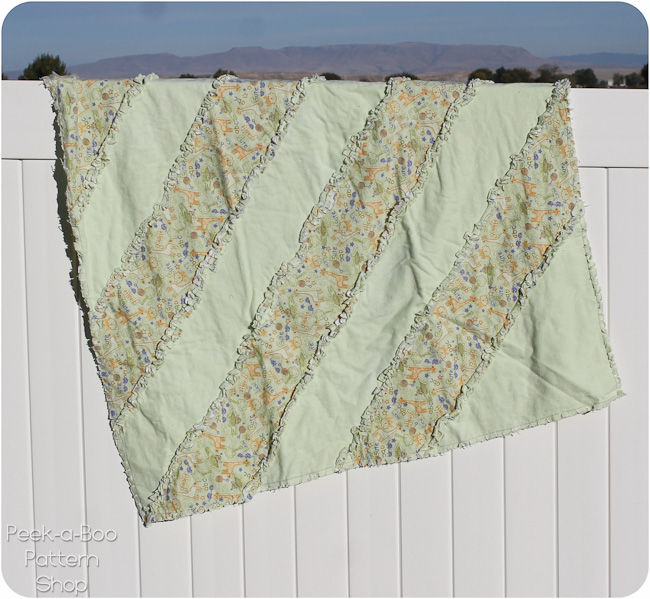 Rag Quilt 3: Basic Stripes
I made another rag quilt using some basic Stripes.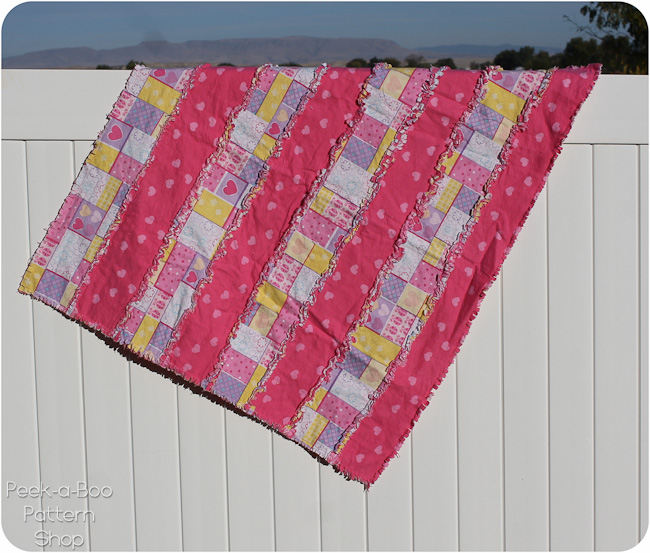 Rag Quilt 4: Triangles rag quilt pattern
For a triangle quilt pattern you can cut your fabric into 4 equal squares and then cut through each square from corner to corner to create your triangles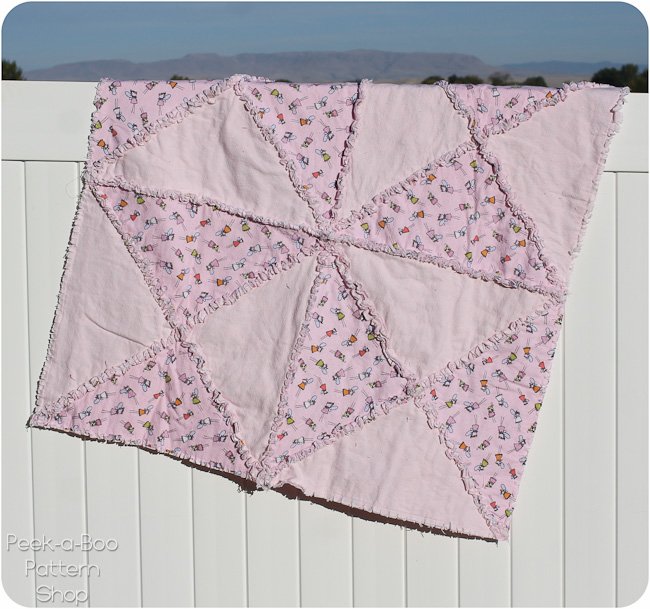 I was able to sew each of these rag quilts in under 30 minutes. Then I had a group of women at church help me snip the fringe and we donated them to a children's shelter.
The rag quilt tutorial is a great project to work on with a group because anyone can snip fringe and it's fun to chat while you snip 🙂 We didn't get through the whole pile so some of the 8-12 year old girls worked on a few as well. It's a great way to get the kids involved!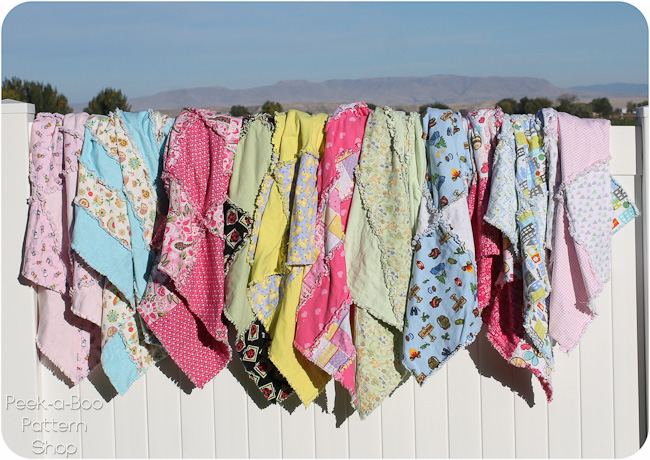 Here's a quick look at the back of the rag quilt. On the front you have fringe and the back is all finished seams.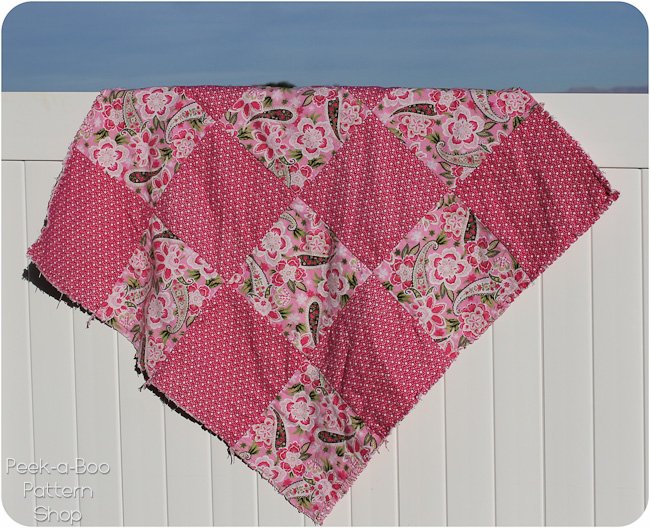 Easy Rag Quilt Method 1 Instructions:
Let's get sewing! Here's the steps I used to make my 30 minute rag quilts.
Rag Quilt Step 1. Decide on your design and get your fabric cut. You can use of the quilt designs above or you can come up with something else. If you google rag quilt designs you'll see a TON of different options you can make easily.
For an alternating pattern flip half of the pieces over. Each piece should still be double thickness with wrong sides together
Rag Quilt Step 2. Get started sewing. Grab one piece (remember still double thickness) and sew it to the next piece in your row (also double thickness). Repeat the process across the row making sure your exposed seams are all on the top of the quilt.
Rag Quilt Step 3. Sew your rows together. Again the exposed seams are on the top of the quilt.
Rag Quilt Step 4: Trim any uneven edges around the quilt and then sew around the entire quilt 1/2″ from the edge. Now snip, snip, snip! I snipped my fringe about every 1/4″. After you're done toss it in the dryer and it will fluff up.
And there you have it – all the details of how to make a rag quilt. Now you have my method on how to make a rag quilt in just 30 minutes. I hope you enjoyed this rag quilt tutorial and can start making your own. You'll find this quilt project is easy and fulfilling.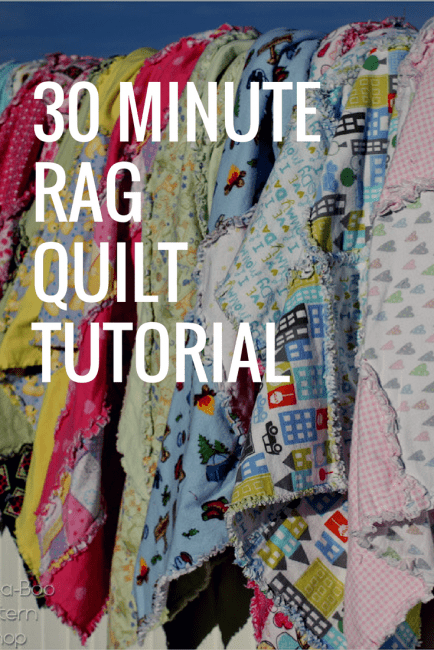 Method 2: Rag Quilt from Just Enough Style
Like I mentioned above, we have another take on how to make a rag quilt. Jessica from Just Enough Style showed us step-by-step how she made her rag quilts. Without further ado, here's Jessica:
Quilt Tutorial 2: Another Easy Rag Quilt
Quilt Supplies needed:
Flannel fabric- For this quilt I used 3 coordinating fabrics so I got about 3/4 yards in each fabric. If you just wanted to use two colors you will need 3/4 yards of each fabric.
Good pair of scissors
Sewing machine
Rotary cutter and mat
Quilt Instructions
Quilt Step One: Wash your fabric. After you've washed and dried your fabric now you are ready to cut it in strips. Cut your strips 4 1/2 inches wide in each fabric. You'll end up with 12 strips all together.
Now you need to decide on your rag quilt pattern. If your doing just 2 colors you don't really need to do this step. Here's a picture of the pattern I decided on.
Quilt Step Two: Sew the strips together. Take your first two strips and place them right sides facing out.
In other words – wrong sides of you fabric should be faced together before sewing for this flannel rag quilt. Like this
Now sew the two pieces of fabric together. I used the end of my presser foot as a sewing guide. You don't want to sew right along the edge of the quilt though. Make sure to give yourself about 5/8″ seam allowance.
This is what your blanket should look like after sewing the two pieces together.
Now take your third fabric piece and place right sides facing out and start sewing. Do this with all 6 pieces for the front.
When your done with the quilt you'll have something that looks like this. Now, do the same for the back of the quilt. Sewing each strip together.
You should have two quilt blankets now. One for the front and one for the back.
Quilt Step Three: Now you need to even out the edges. Get your rotary cutter and even out the front and back pieces.
Quilt Step Four: Place your front and back pieces together with right sides facing out. Line up the edges and pin.
Quilt Step Five: Sew all the way around the quilt. Make sure to use the same 5/8″ seam allowance as before.
When your all done sewing around the entire quilt it's now time to cut. Make sure you have good sharp scissors. They'll come in handy when cutting here.
Start cutting. Just make sure that you don't cut the stitching.
There you have it – 2 methods to make an easy rag quilt. These quilts will be a big hit and great for gifts or giving to charity as we did above.
If you enjoyed this tutorial, you might also enjoy some of our other basic quilting tutorials: