Looking to brighten up a room AND use up tons of scraps? Well, I have just the project for you! Here are the quick and easy steps to make this patchwork wall hanging! This project is great for beginners and tiny sewists who are eager to learn to sew and quilt.
How to Make a Patchwork Wall Hanging
Patchwork Wall Hanging Supplies
5″ charm pack or squares of scrap fabric cut into 5″ squares
1 yard of background fabric
Pom-pom trim
Basic sewing supplies (scissors, coordinating thread, iron, etc.)
For this project, I bought my daughter a precut 5″ charm pack. You can find these at your local quilt shops or order them online. I love using these with my kids because the fabric is already cut into the proper size and it's sort of a "grab & go" to make it a little faster. Precuts are also available in smaller and larger sizes. I love the 5″ size for this project.
The background fabric needs to be bigger than your patchwork heart. I listed 1 yard in the supplies, but you may need more or less depending on how big your heart is. Same for the pom pom trim. I bought a few yards on clearance and just made sure I had enough to go around all sides (so if you make your project 36″x36″ you'll need 4 yards of trim).
I do not recommend washing the fabric before using. The precuts are ready to go with nice edges, your background fabric will be mostly wrinkle free and since this is a wall hanging we don't need to wash the fabric.
Prep Time for the Wall Hanging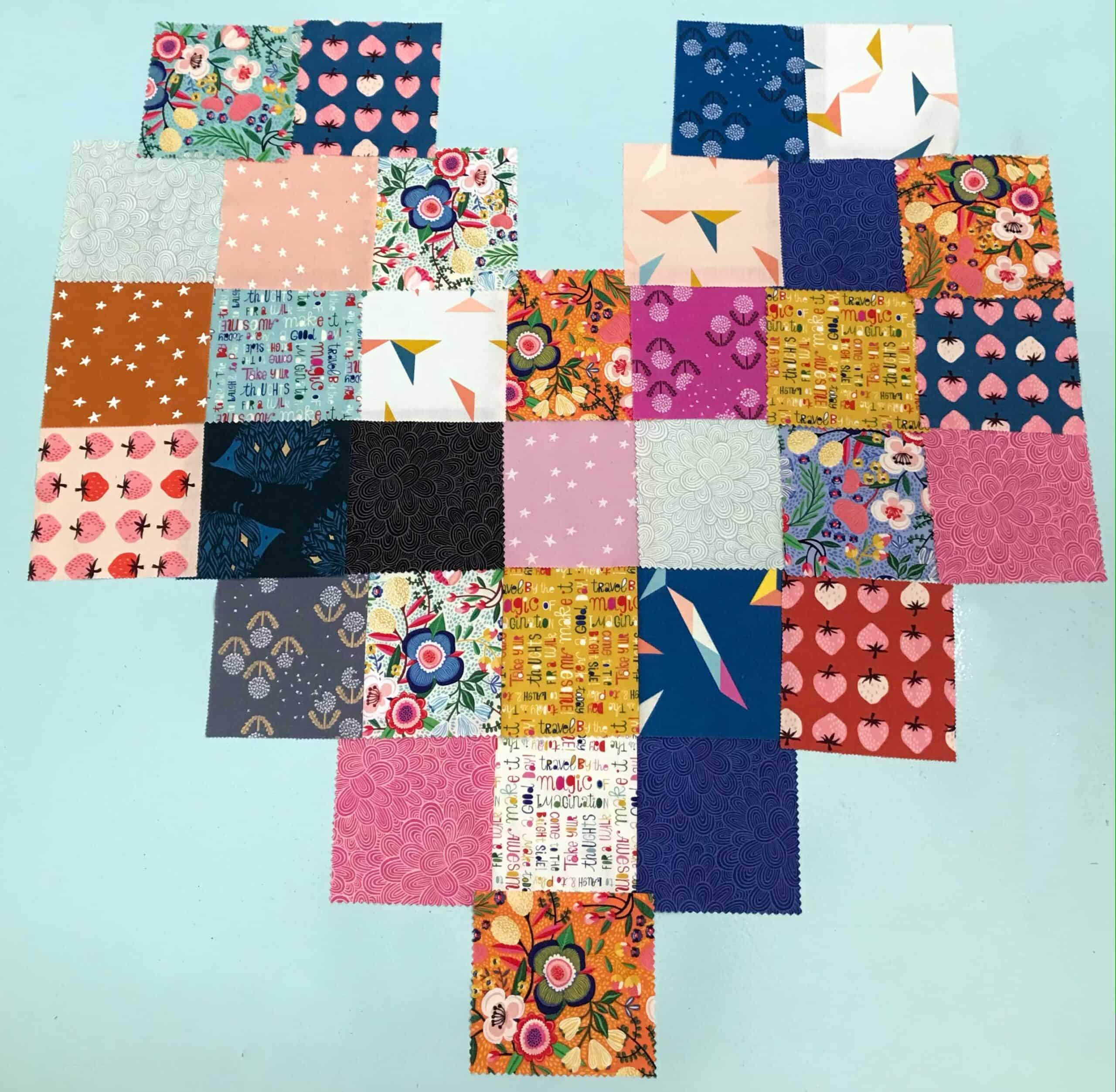 I am not a fan of prep work! Ironing fabric, applying interfacing, tracing patterns, marking fabric….I usually dread these steps! However, the prep for this is actually pretty fun!
First, if the 5″ squares are not trimmed with pinking shears, trim them. I did not hem the edges or turn them under as a final step because I liked the way the pinked edge looked.
Next, lay out the squares in the shape of a heart. This is the time when you will mix up prints and patterns and solids. Take a good look once everything is laid out to make sure that no two same fabrics are touching (this is a personal preference and something that would make me bananas if I didn't fix before sewing).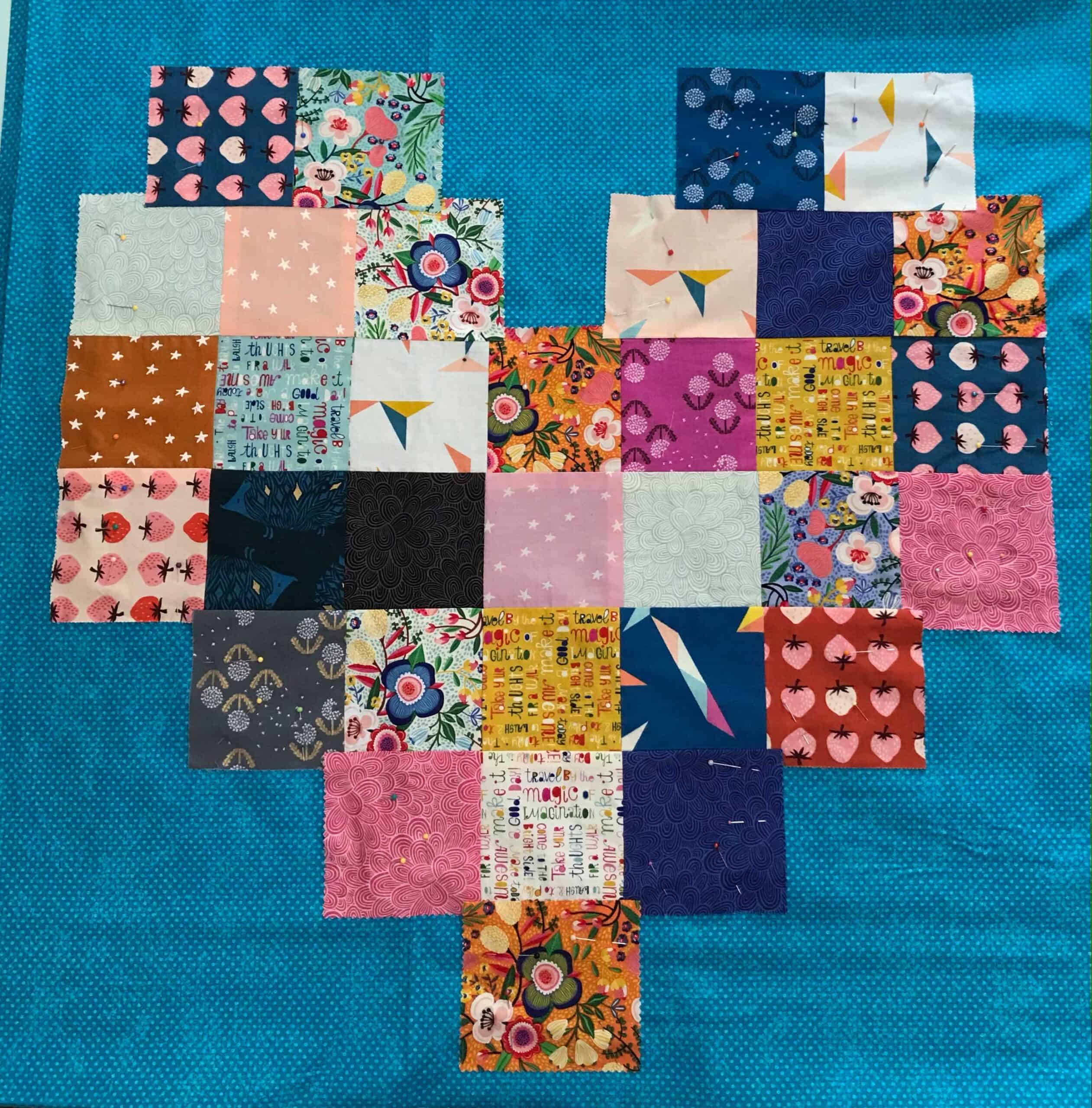 Now take a picture of it! Trust me! In case you drop your stack of squares, or your dog comes in and knocks them all over (don't ask how I know)….it's best to take a photo once you get it just as you want it! I took a pic on the background fabric to make sure I liked the way it would look!
Also, keep in mind that when you lay the fabric squares out, you will need to account for a seam allowance to get the full idea of how big the patchwork heart will be. I tried to overlap mine a bit.
Time to Sew the Patchwork Wall Hanging!
I used a 1/4″ seam allowance.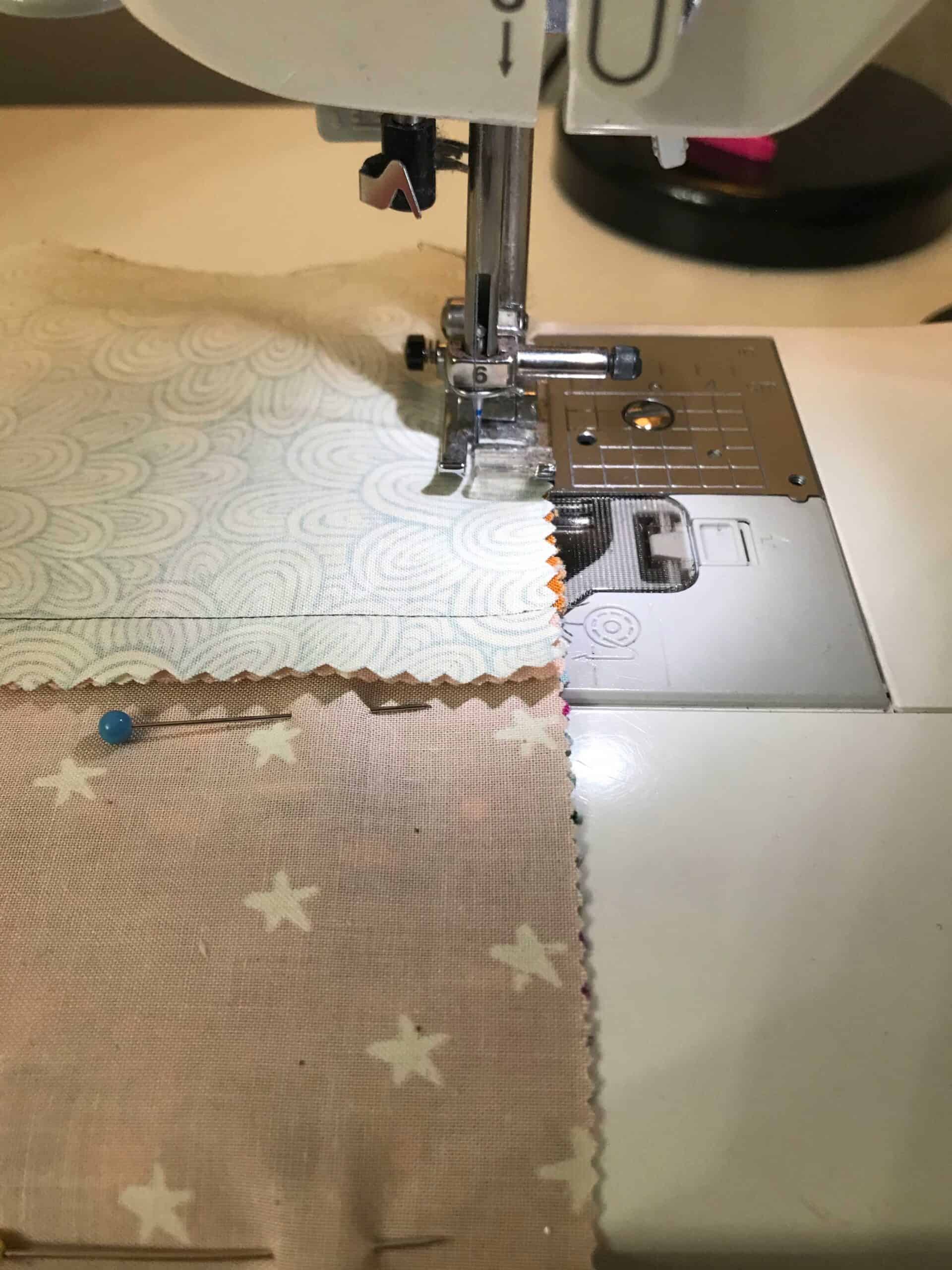 I recommend starting with the top. I stacked up squares one row at a time and brought them to my machine. I had my photo of the layout next to me and as I sewed, I reassured myself that I was sewing the correct squares together. Don't skip this! There's nothing worse than having a super fast DIY and having to undo steps because you were rushing! I sewed all of the rows together and I pressed my seam allowances downward (take notice around the top "point" of the heart in the middle. As I mentioned earlier, I did not turn the perimeter raw edges under – I left the pinked edge raw as a personal preference.
Attaching the Heart to the Hanging
Next, take the heart and lay it on the center of your backing fabric and pin. You can also use Wash Away Wonder Tape to secure it in place when sewing. Edge stitch around the perimeter of the heart, backstitching when you start and stop.
A Little Trim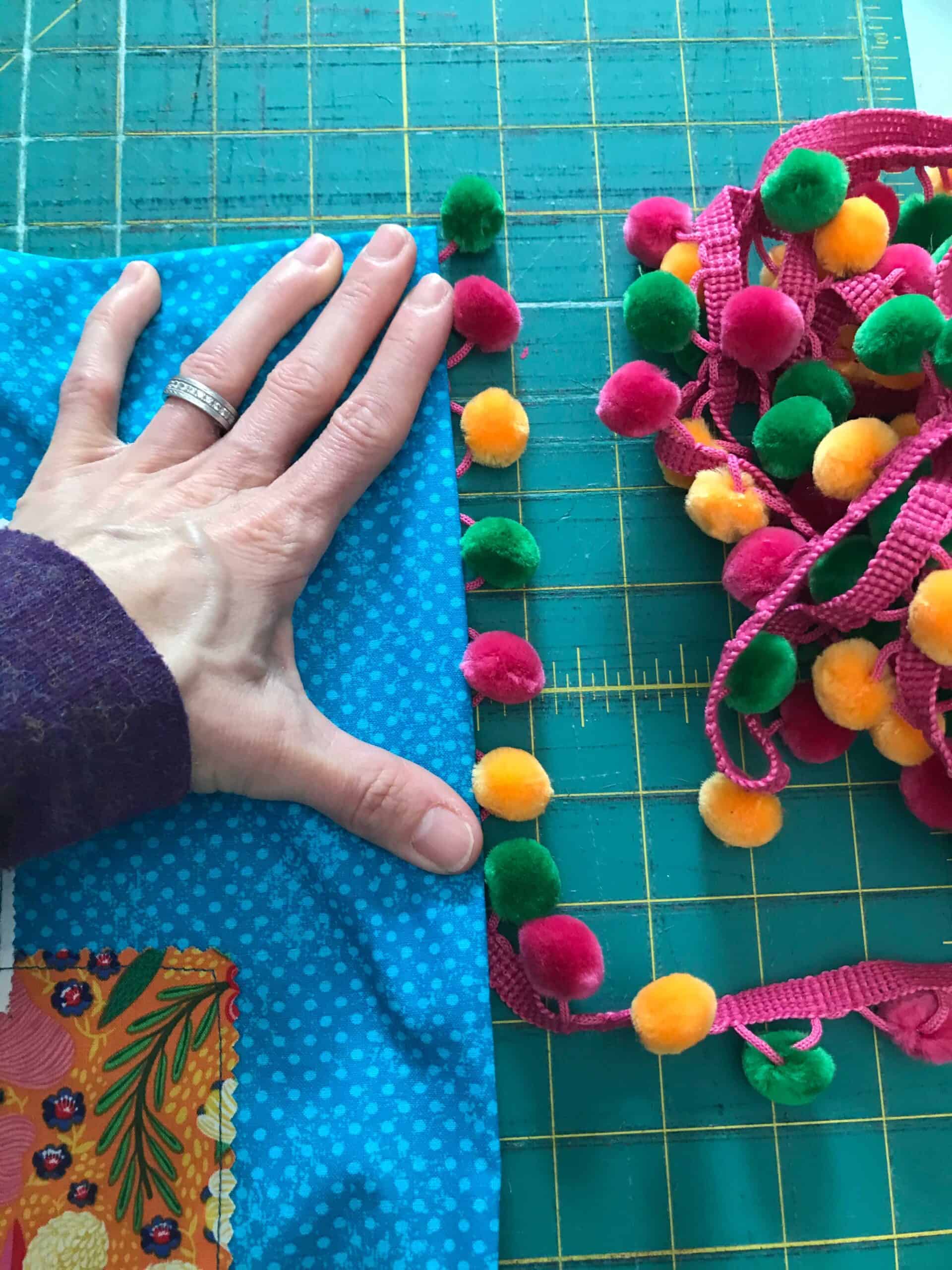 While the heart sewn on the backing was cute, I found that this pom pom trim really added a pop of color and tied the whole project together. Before attaching the trim, press the raw edges of the backing fabric to the wrong side 1/4″ twice. Using pins, wash away tape or just holding in place as you go, apply the trim to the wrong side of the hem.
Stitch around the perimeter carefully; take your time as you are hemming and attaching the trim at the same time. Mind those little pom poms! I switched to a 1/4″ foot on my machine to help with this. If hemming and attaching the trim are too much at once, you can certainly hem it first and then go back and attach the trim (this method may be easier for sewing this with kids).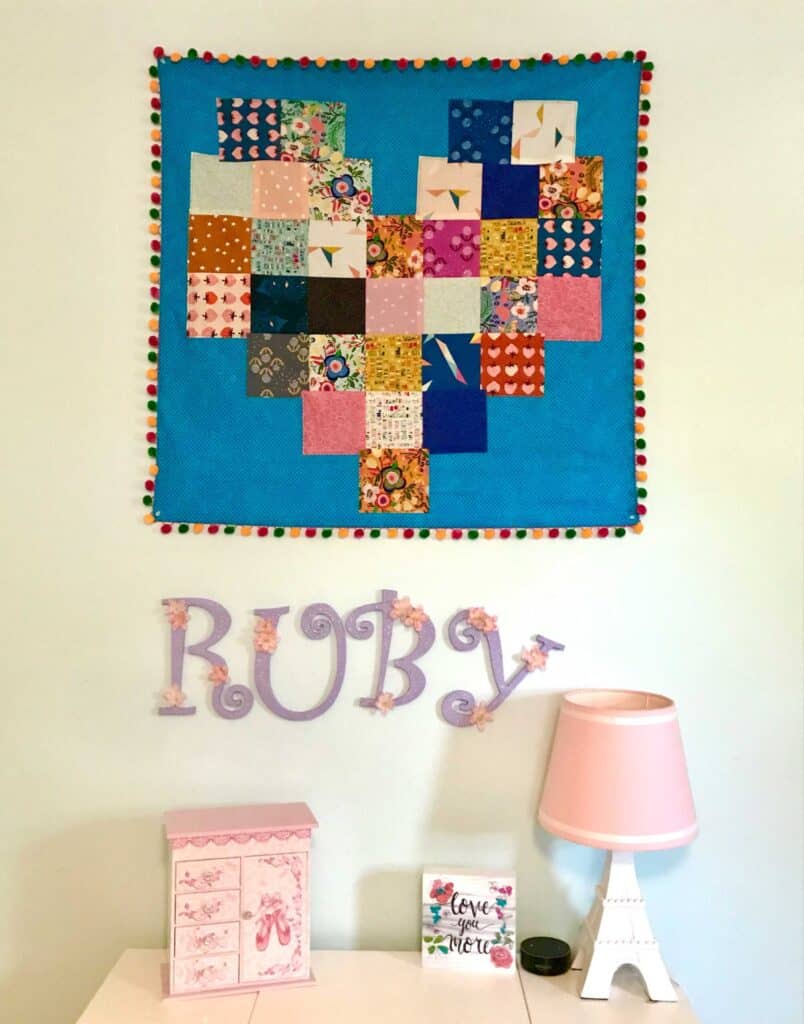 And there you go! A fun wall hanging that makes a quick and easy birthday gift or a way to jazz up a drap wall!
Thank you for learning how to make a patchwork wall hanging with us today. Check out some of the following as well: