How to Make a Hoodie | Hyak and Huckleberry Sew Along
We're here in this article to show you how to make a hoodie. For our project, we'll be using the Hyak (for women) and Huckleberry (for kids) from Peek-a-Boo Pattern Shop. These are very popular sewing patterns and feature a cozy crossover hood with button loop closure, optional piping, and welt pockets with an internal kangaroo pocket.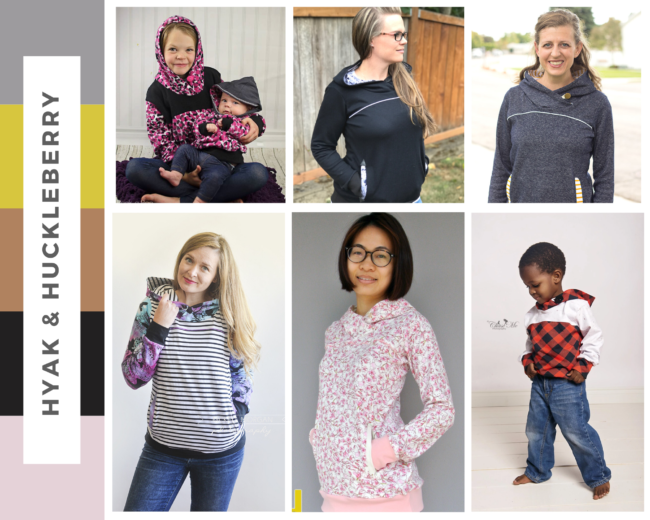 This tutorial will go over how to make a hoodie using these patterns. Of course, these principals can be adapted to other hoodie sewing patterns or other sewing patterns in general.
Alright, make sure you get your Hyak and Huckleberry (save $2 at checkout when you buy both with the code "HUCKLEBERRY" ). Let's get started:
How to Make a Hoodie Part 1: Sizing, Assembling and Cutting the Pattern, Choosing Fabric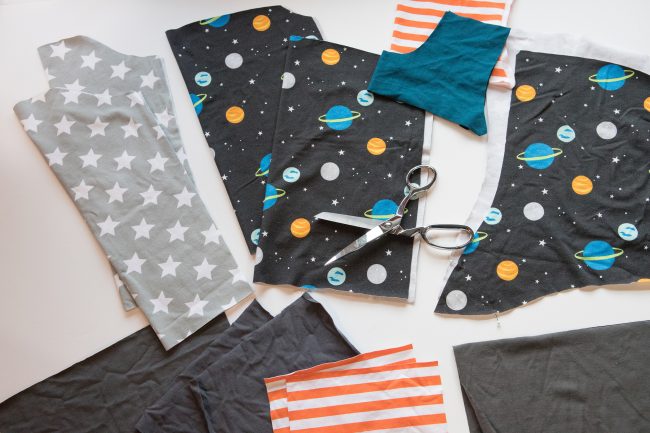 Choosing Fabric: The Hyak and Huckleberry Hoodies are great for a wide variety of fabrics. KnitFabric.com has so many choices available! French terry, Sweatshirt Fleece, and even Cotton Lycra or Interlock are great for this hoodie. My son tends to get hot easily, so he prefers some cotton lycra. But I'm always freezing, so I like the warmth of the French terry.
Measuring Your Size: Measuring yourself or your child for the Hyak or Huckleberry Hoodie is simple. Just use the bust measurement to determine what size hoodie you need. If you tend to need to make length adjustments, refer to the finished measurement chart to decide if you need to adjust the length. After you have your size, use the layers feature on the sewing pattern to print just the size you need!
Cut Your Pattern Pieces: Now, cut out all of your pieces. Don't forget to cut out the pieces that don't have a pattern piece! There is a cut chart included in the pattern pieces. You can also find it on page 4. I like to take the cut chart and tape it to the hoodie piece so it doesn't get lost.
Hoodie Part 2: How to Sew Welt Pockets
Now, I know that welt pockets may be intimidating. Well, I'm here to tell you, they are really quite simple! And you are going to feel like a rock star after you sew one. Ready? I have a video for you showing you exactly how to create your welt pockets.
See, not difficult at all!! Just take your time and you will be sewing beautiful welt pockets that you will be proud of!
How to Make a Hoodie Part 3 | Assemble the Body
Let's focus on that fun curve on the bodice of the hoodie. The pattern has instructions for adding piping to this seam. If you need some more help with this option, we have a great tutorial on piping here. You can even learn how to make your own piping with that tutorial!
Faux/Flat Piping for the Hoodie
Now, what if you want the look of piping, but you don't have any cording? Well, we can make some faux/flat piping with a strip of knit fabric. It's so easy and it adds a great detail element!
Start by cutting a strip of knit fabric 1.5″ wide by the length needed to fit your bodice.
Press in half the wrong sides together.
Now, sew it onto the bottom edge of the upper hoodie bodice piece, just like the instructions state for adding piping, and continue on with the instructions as written.
Isn't that a fun detail! Such an easy way to add an accent color or emphasize that lovely curved seam in the hoodie bodice.
2-way Invisible Zipper for the Hoodie
Now, what if you are sewing a nursing-friendly version on the Hyak? Have you thought about adding a 2-way invisible zipper to that hoodie seam to make it even easier to feed your baby? Well you can! And you don't even have to buy a special zipper! I'm going to show you how you can create your own 2-way invisible zipper!
You will need two invisible zippers for this.
They must be the same size zippers and have the same size pulls. You want to use a zipper longer than you need. Attaching the second zipper pull can cause some fraying and damage to the first few zipper teeth.
Cut off the bottom zipper stop on from the zipper you want to become the 2-way zipper (dark zipper). Cut the top zipper pull off of your extra zipper (light zipper). Remove the pull from the second zipper.
You will need to iron open your zipper and iron the bottom flat, just like you would do before installing it.
After I ironed the zipper, I clipped one end so it was slightly longer than the other. This allowed me to have a "runway" of sorts for the zipper pull.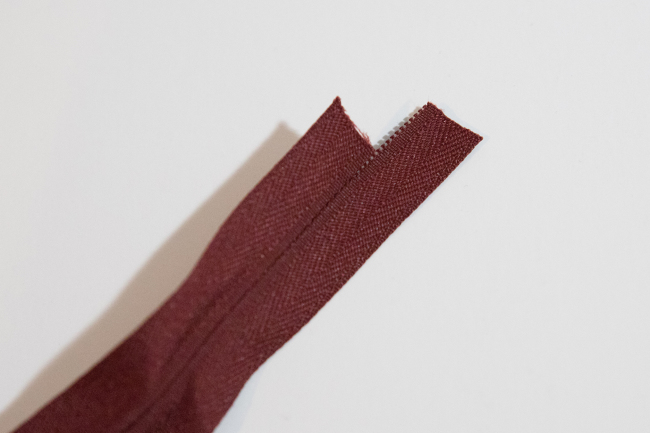 On the longer zipper tape, thread the second zipper pull onto the zipper, with the skinny end of the zipper leading.
When you get to the second side of the zipper, feed it into the other side of the zipper pull.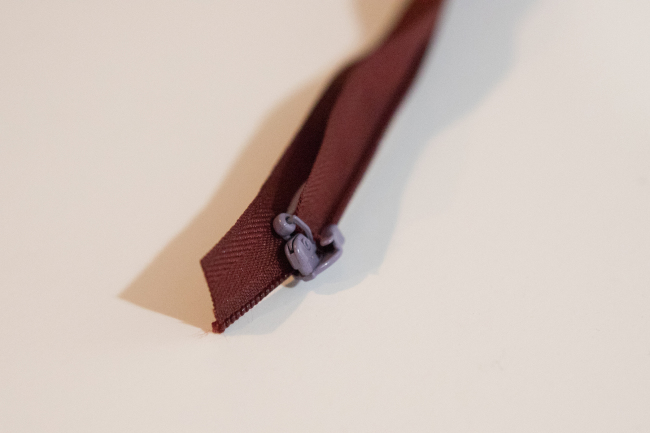 Now holding snuggly to the end of your zipper tape, pull on the zipper pull. You may need a little force to get it to go. It can help to have somebody help hold the zipper tape while you pull on the zipper pull. Three hands make this a little easier! Trim the zipper tapes even when you get the pull on.
That's it! You have a two-way invisible zipper!
Here's a video explaining how to install the invisible zipper:
After you have your bodice front complete, assemble the back bodice, sew the shoulder seams and attach the sleeve and sew down the side seams.
Part 4 | Attach the Hoodie Hood, Cuffs, and Bands
Alright, can we love on the button for a moment? The button detail on the hood is a great opportunity to have some fun! I picked a large chunky button that mimics the planets on my fabric.
When you attach your button, make sure to do it before you attach the hood to the body of your shirt. You want to go in between the hood lining and the main fabric and hide those stitches! For the loop, I used a strip of the same cotton lycra I used for the faux piping. I just cut a narrow strip, about 3/4″ wide, and pulled so it curled in on itself and attached.
For my cuffs, I went with a fun stripe fabric. Because, why not. LOL
After you have your cuffs, band and hood attached, you have a completed hoodie!
Part 5 | Make a Zipper Pocket for Your Hoodie
Now I am going to show you how to make a zipper pocket for your hoodie. And then, I have a fun idea you can use that zipper pocket for! Ready?
First, you want to find the center of your hoodie and mark it. Now, determine how wide you want your pocket. Mine is 8″ on a size 8. Mark that line. Make a rectangle 3/4″ wide.
Now, you need to create your pocket piece. You need it 2″ wider than your rectangle. To determine the height, measure from the top of your pocket down to the bottom of your bodice. Add an inch to that measurement. (mine is a bit different because I upcycled a men's sweatshirt and left the band in place) My pocket piece measured 10″ wide by 6″ tall. Mark your pocket opening on your pocket piece. It will be centered, 1″ from the top.
Using the same method we used to create the welt pocket. Place your pocket piece on your bodice front, right sides together. Sew around the rectangle.
Cut the rectangle open and pull the pocket through to the back side. Press well.
Time for the zipper! Place it under the retangle, so that the teeth show through the hole. Pin into place.
Stitch the zipper into place all around the rectangle.
Now, cut a pocket lining the same size as your pocket piece. With the front of the bodice wrong side up, place the pocket lining right side down onto the pocket, lining up the edges, just like the pocket lining in the tutorial. Now stitch it in place.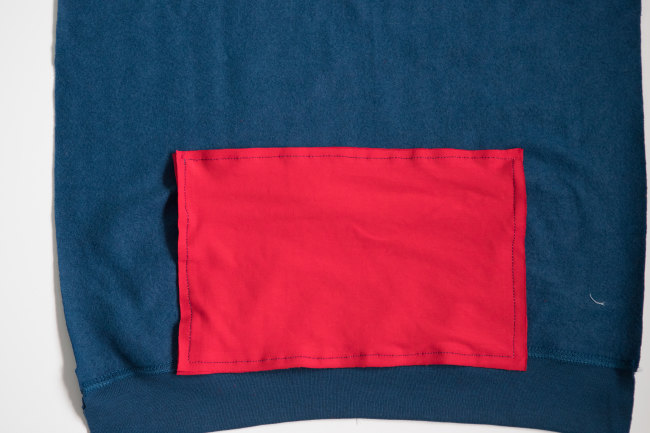 There you have it!! A fun zipper opening! You can do this on the original welt pockets have have two zipper pockets.
Now, we can keep going and create a fun zipper mouth character!! I hand-drew two sets of ears and stitched them right sides together leaving the bottom open. Clip the seam allowance at the point.
Baste them in place along the top of the bottom bodice piece.
Now, attach the upper bodice. Your ears will be sandwiched between the upper and lower bodices.
There, ears!!!!!
Now for the rest of the face, I just found some eyes I liked and cut them out of heat transfer vinyl with my Silhouette. You can cut some out by hand, embroider, or use your sewing machine to create an applique. So many options! Have fun with it!!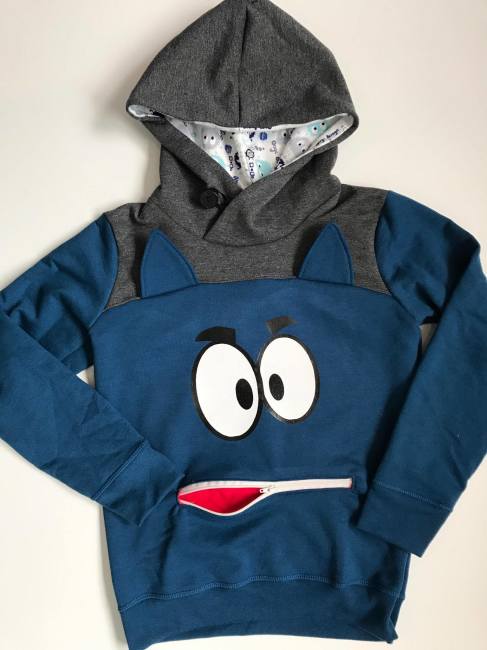 Thank you for joining us today to learn how to make a hoodie. The Huckleberry and Hyak Hoodie are sure to be a fun addition to your wardrobe. If you have questions or want to show what you make then be sure to join us in our Peek-a-Boo Pattern Shop Facebook Group.
Also, take a look through some of our other posts: