I LOVE box pleats and today I'll show you how to make a box pleat. Pleating a garment is a good way to gather, so you can have volume where you want it (a fuller skirt!) but still have garments nice and tidy around the waist. I prefer box pleats to other forms of gathering because I like how flat my gathered fabric is, my gathering is more even and consistent, and I think it's faster! I also like the visual interest these pleats add.
How to Make a Box Pleat
Sewing Pattern & Fabric I Used
My favorite project that uses box pleats is our Edenbrooke dress (which also comes in a kid's version, the Everly). This pattern makes it easy because the pleats are part of the pattern, no math is required, but once you understand the basics of how a box pleat works, you can add them to just about any project that requires some gathering! That will be a post for another time though, today we are just going to go over the basics of sewing a box pleat.
For this project, I used a super soft Harry Potter rib knit fabric from our sister company, KnitFabric.com. The finished product is so comfortable I could live in this dress. Any light to medium-weight knit with at least 50% stretch is a good choice for this project.
I've also made a video walkthrough of sewing a box pleat. You can find that video HERE!
Sewing Box Pleats
Okay, let's get started! I cut out all my pattern pieces with my projector, and I marked the pleat lines on my garment. I transferred these directly from my pattern. I marked the right + wrong sides of my fabric, but that was just overkill; you don't really need both!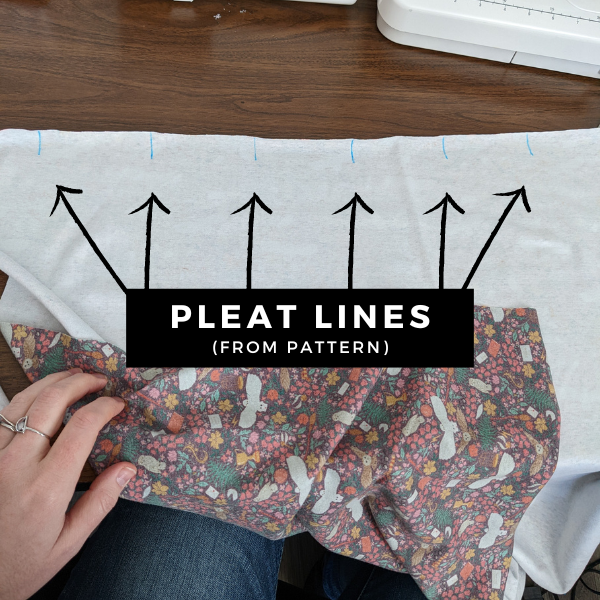 Next, with the right sides together, I matched up the first two pleat lines. Fold the fabric with the right sides together until the lines are directly on top of each other. I put a pin through my blue line to make sure everything was lined up and to hold the fabric secure just until I put my sewing machine foot down.
Then, starting at the top of that drawn pleat line, use a regular sewing machine (do NOT use a serger!) with a straight stitch and sew to the bottom of the marked line. Don't forget to backstitch at the bottom. You don't need backstitch to at the top because you will sew over those threads again.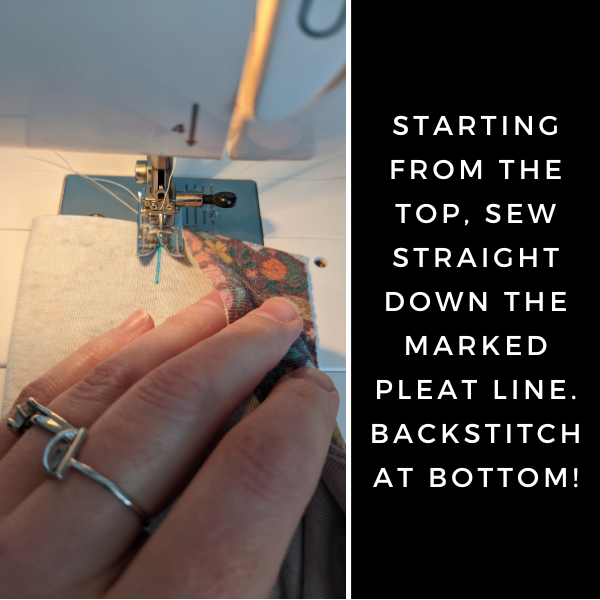 After that, open your fabric back up. What you sewed together should make an "o" shape. Flatten the top of that so it lines back up with the top edge of your skirt. Make sure your sewn line (from the step above) is centered with your flattened "o". You should now have 2 folds in opposite directions.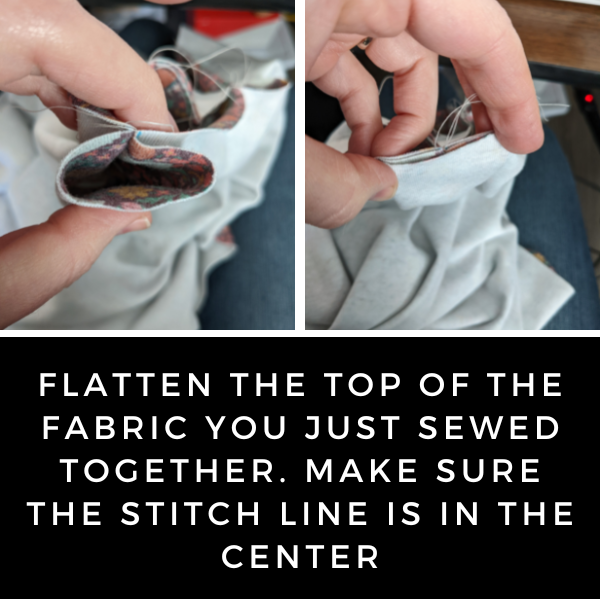 Sew across the top of that flattened part within your seam allowance. A baste is fine since we will sew over it again when we attach the skirt to the bodice. Make sure you sew completely over the edge of each fold.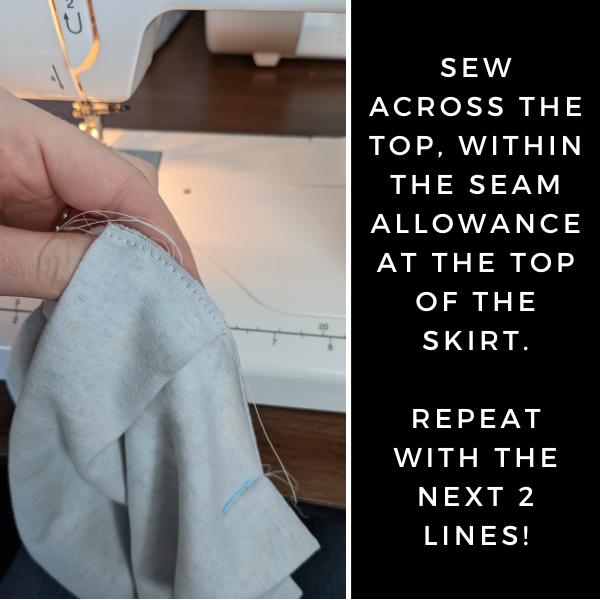 Repeat the above steps with the remaining pleat lines. For this pattern, I had four pleats on each skirt piece (I started with eight drawn lines). You can see from the back of the fabric our pleats created little boxes, and from the front of the skirt, you have nice, neat, gathered sections.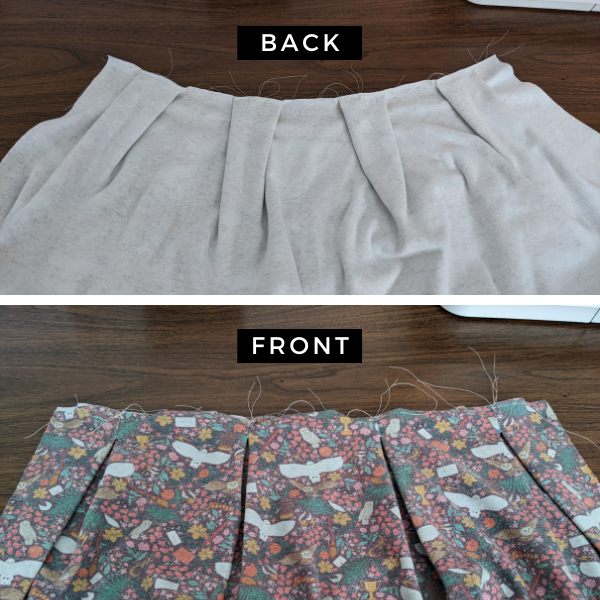 Once my box pleats were done, I followed the rest of the assembly instructions to complete the dress!! I love how smooth the waistline is, with no puckering or extra bulk.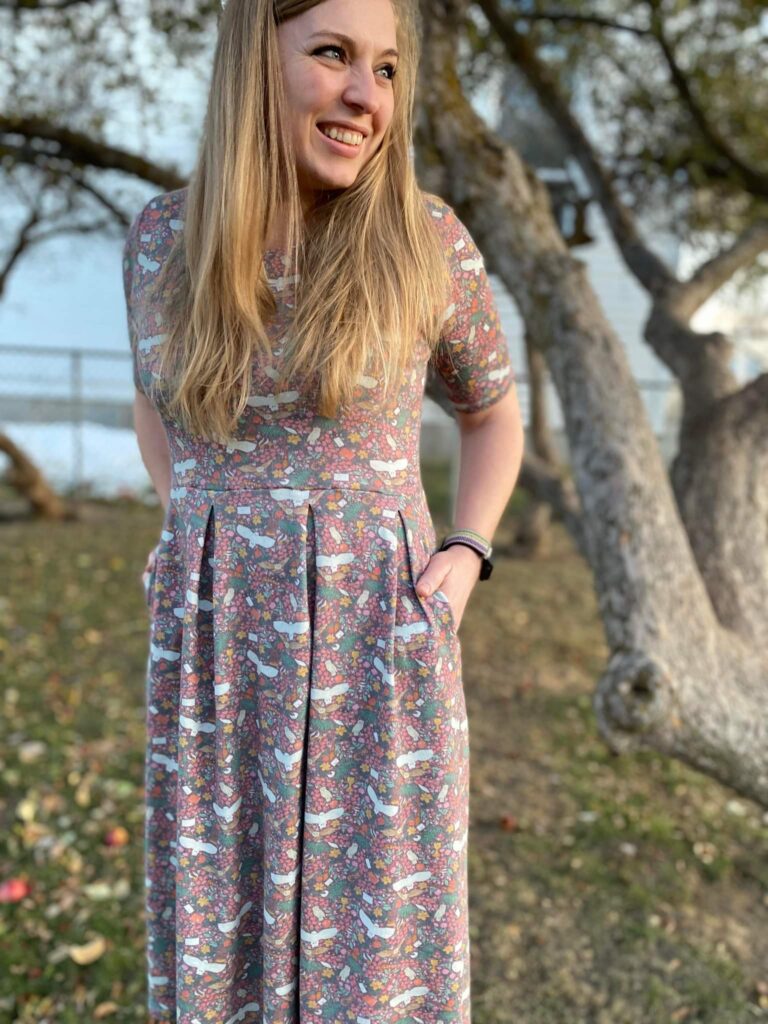 Box pleats are way less work than I first expected, and now it is one of my favorite gathering methods. I especially like knowing that my gathering is exactly the same on all sides of my skirt 🙂 Hopefully, this helps you feel prepared to tackle your own box pleats!
Again, make sure to check out our YouTube Video for more help sewing box pleats:
Thank you for joining us today to learn how to make a box pleat. If you have questions, need sewing inspiration, or want to show off your completed project, head over to our Facebook Group! We also do weekly giveaways 😉
Happy Sewing 🙂
Other Sewing 101 Tutorials
If you enjoyed this tutorial on how to make a box pleat, you might also enjoy some of our other Sewing 101 tutorials: