Hi, Nienke here again with a tutorial on how to make a bandana! Though it's definitely not summer yet in our remote corner of our remote country, we've had a few sunny days to get in the mood. So for this month's post, I wanted to show you how to sew a reversible bandana.
How to Make a Bandana | DIY Bandanas
The easiest bandana is of course just a triangle of fabric, knotted in the neck. However, these tend to not stay put. Therefore, this one has elastic at the back. No knots are required, so the kids can put them on themselves and because of the stretchy elastic, they stay where they belong.

Bandana Fabric & Materials:
– Fabric: I used two different prints. However, this project is perfect for stash busting, colour blocking or patchwork of any kind. I prefer to use quilting cotton but other fabrics might work as well. This tutorial is not meant for knit or stretch fabrics.
– Fold over elastic: Just a small piece.
– Matching thread and other regular sewing notions.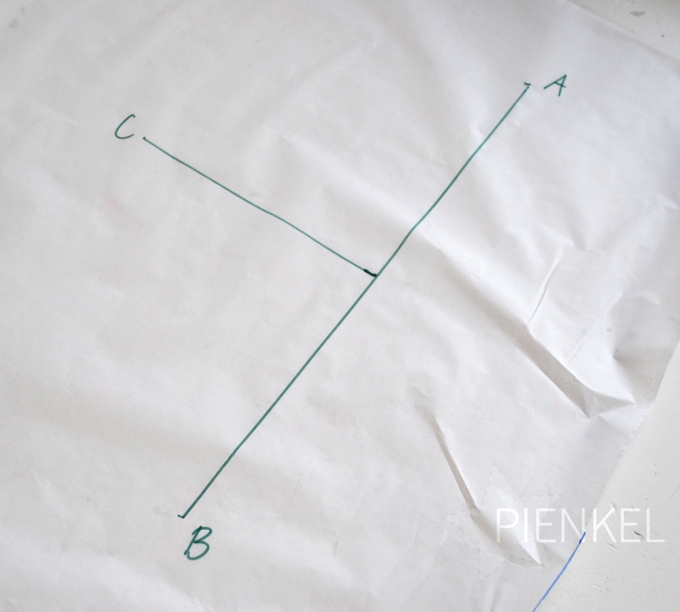 Instructions on How to Make the Bandanas
Bandana Step 1: Your first step in how to make a bandana is deciding on the size of your triangles. To get this measurement, measure the head of the designated wearer along the line where the bandana should be. My girl has a head circumference of 19″.
The long size of the triangle will be 3/4 of this amount, so 12 2/3″. This is the line A-B on the photo above. Mark the middle of the line and draw a line square out of that mark, up to point C. The length of this line is half of the line A-B, so in this case it's 6 1/3″. Connect A, B and C to form a triangle.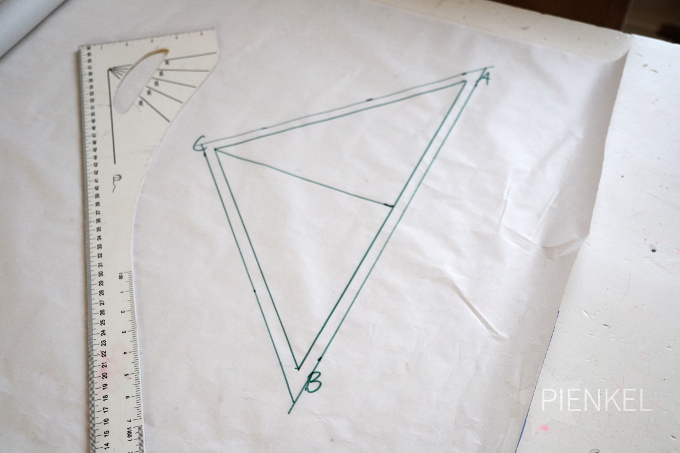 Bandana Step 2: Add 3/8″ all around the triangle for seam allowances. Cut one of these triangles from each of your fabrics. Place them right sides together and sew along the long line with a straight stitch and the added 3/8″ seam allowance, as pictured below.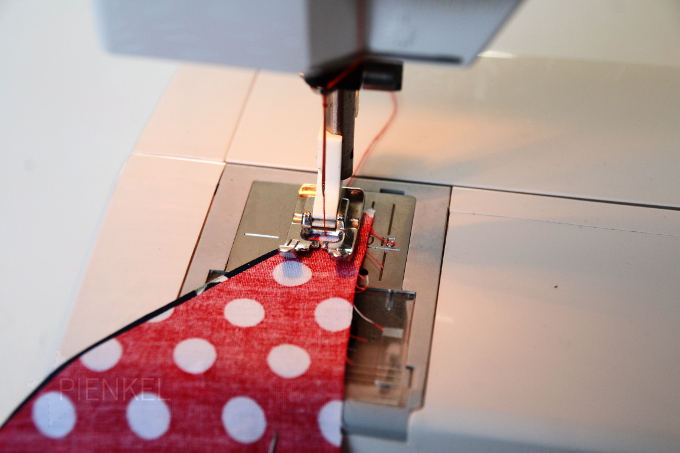 Bandana Step 3: Press the seam open and place your piece of elastic along the seam, on the right side of the fabric. I used 1/4 of the total head circumference as the length of the elastic, since I used 3/4 of it for the fabric triangle.
I figured the length of the elastic that would disappear in sewing would make it nicely stretched in wearing. However, it is a bit too tight now, so I recommend a length of elastic of 1/4 of the measured head circumference, plus 1/4″ for seam allowances.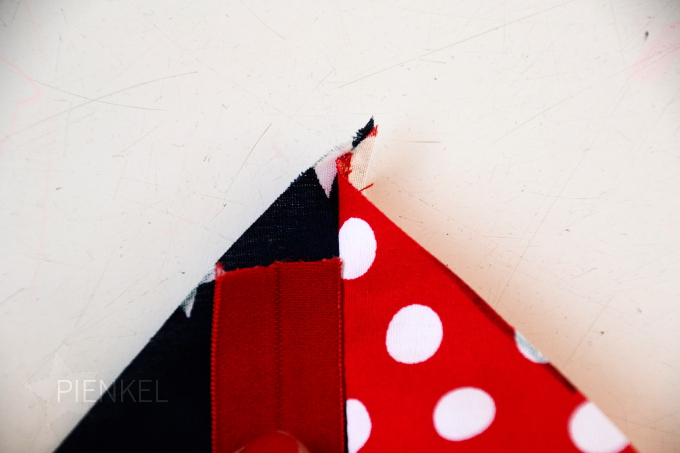 Bandana Step 4: Place the elastic along the seam, at a distance from the corner of the triangle, so that the side of the elastic touches the side of the triangle, as pictured above. Close the triangle again, right sides together, with the elastic sandwiched in between at one corner. Sew along one side, with a 3/8″ seam allowance.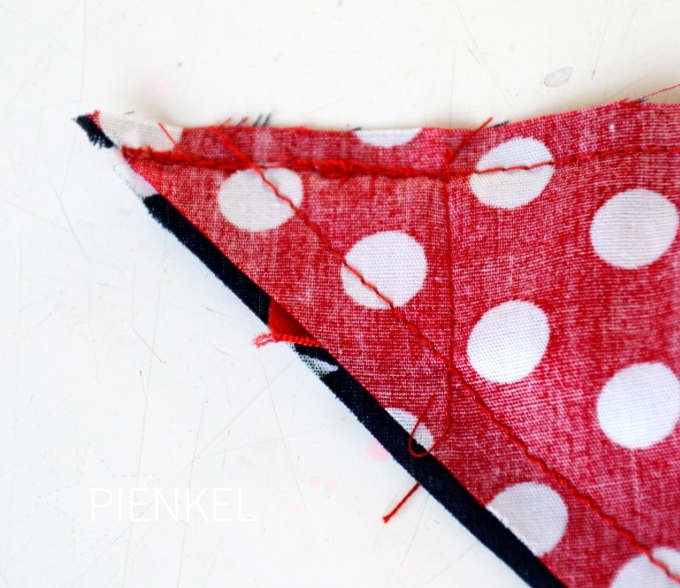 Bandana Step 5: Now sew straight across, from the place where the elastic crosses the seam you just sewed to the first seam of the triangle, as pictured above. Cut off the small point of the triangle, as pictured below.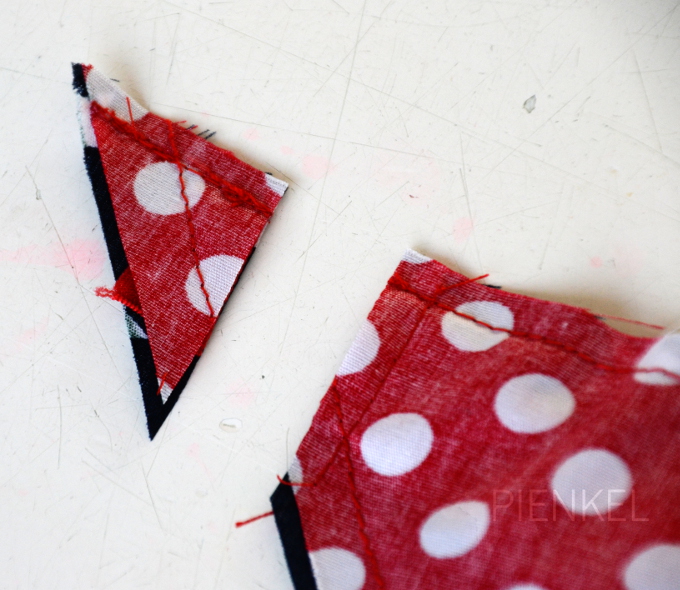 Bandana Step 6: Repeat the process for the last side of the triangle. However, do not sew this last seam completely, but leave an opening to turn the bandana. After sewing the seam, turn the bandana right side out. Make sure you press out all corners properly.
A chopstick might be useful with this part of the job! I often use my – closed – kitchen scissors if I can't find anything better and though it usually works out fine, I have pierced through corners more than once… So I recommend something slightly less pointy, like a chopstick. After turning the bandana right side out, give it a press and topstitch along all edges. This is at the same time decorative, keeps the layers in place, and closes the opening in the last seam as well.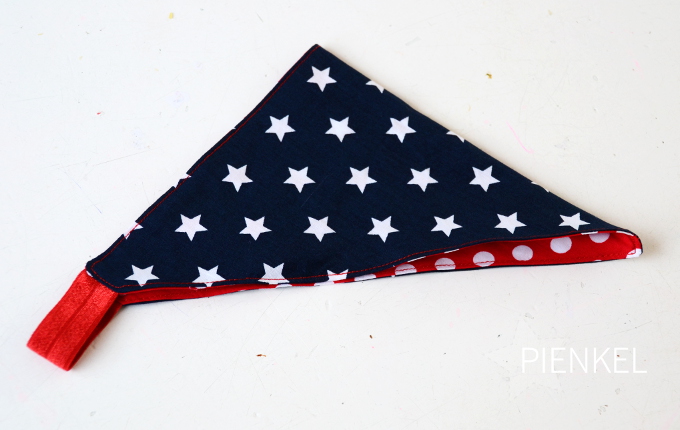 And you're done – now you know how to make a bandana! Now find a kid to put it on and enjoy those sunny days… I hope you enjoyed this DIY Bandana tutorial.
Other Bandana Tutorials
We have a couple other bandana tutorials here at Peek-a-Boo Pages and Peek-a-Boo Pattern Shop to teach you how to sew a bandana. Take a look at them for more advice on how to make your own bandana for you, your baby, or even your dog!
Free Baby Bandana Bib Pattern: This bandana drool bib is a quick and easy sew that helps keep your baby clean.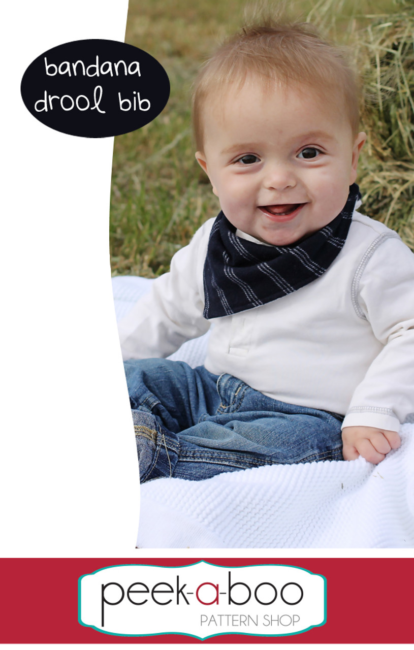 2. Dog Bandana Pattern: Our dog tends to find herself with a bandana on during certain holidays at our house. This tutorial from Kristen provides 2 separate methods to make a dog bandana. She goes over what you need to do in step by step detail to make these awesome bandanas.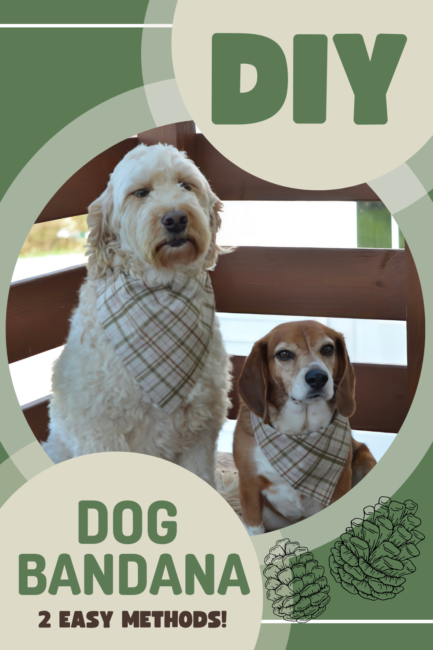 We sure hope you enjoyed our tutorial today on how to make a bandana. Also, be sure to join our sewing community at the Peek-a-Boo Pattern Shop Facebook Group. You'll find help on your sewing projects and be able to share what you make.
Other Posts
Thank you again for joining us to go over how to make a bandana. You might also enjoy some of these other posts: