Hemming pants is necessary sometimes. Over the years, we've had a few different blog contributors provide their own ways and methods on how to hem pant legs. This post provides a couple different methods that you can use on your pants. Sometimes hemming is needed because pants come new from the store and aren't quite right. Sometimes its because the pant legs on your pants are a little worse for wear after being around for a little while.
Whatever, the reason, get out your sewing machine and follow along as we show you how to hem pants.
How to Hem Pants Method 1: Store Bought Pants
First, our blog contributor Rachel Boyse shares her step by step tutorial for hemming pants that came from the store and weren't quite right- in this case denim pants or jeans. On hemming pants, Rachel says:
As most of us have experienced, store bought clothing doesn't always fit us perfectly. My husband has a hard time finding jeans that fit his waist and are the correct inseam. We generally end up buying them too long and I hem them for him to decrease the length. I have found some great tips along the way to make hemming jeans less stressful. Lets face it, they are a tad more difficult just because the heavy material.
Materials to Hem
To hem denim pants, you will need:
scissors
cutting mat
ofla cutter or similar
quilting ruler or similar
denim needle (don't try to cheat)
denim thread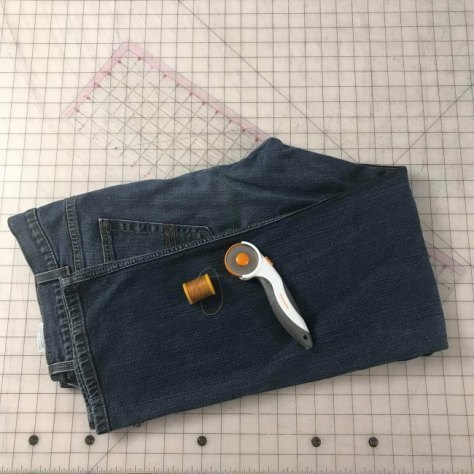 I always just have my husband try on his pants and pin them but you could mark the inseam length by measuring with a tape measure. Take it from the crotch seam to the correct length and pin.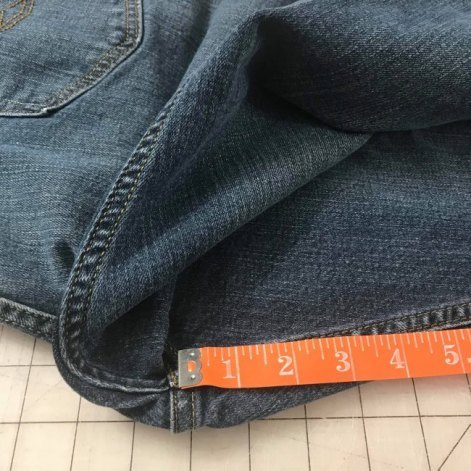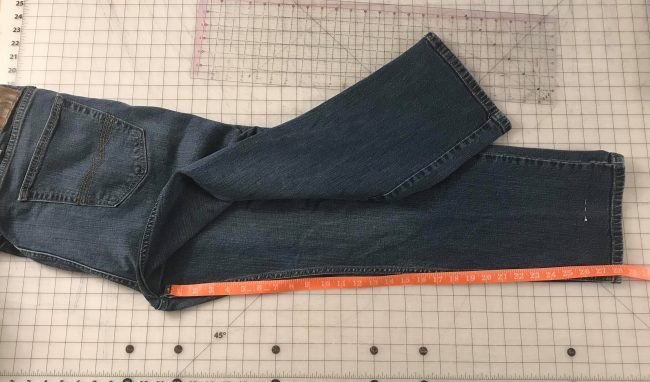 After you pin the correct length ADD some length for the actual hem. I always do about 1.5 inches but you could do as little as 1 and it would work well. You will them take your ruler and cut off the excess pant material.
At the seams, cut off the bulk so that the side seams are easier to sew over, this means you will have to seam rip a tad of the inseam to clip the bulk. When I worked for an alterations shop, we did this every time and it really does help.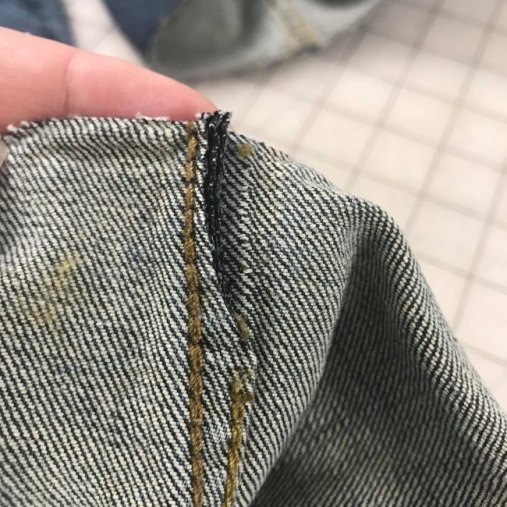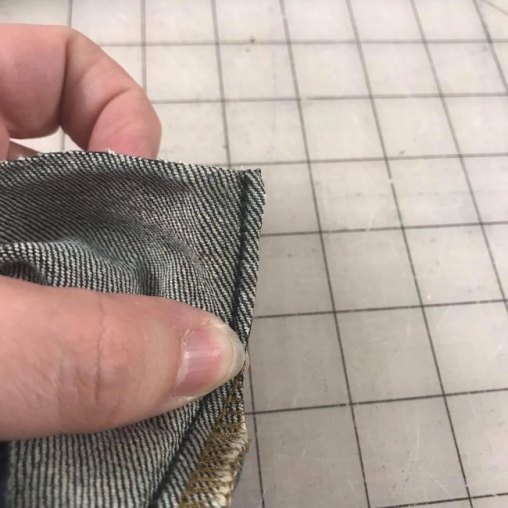 Fold half of your alloted hem allowance over and press, then fold the other half over and press again.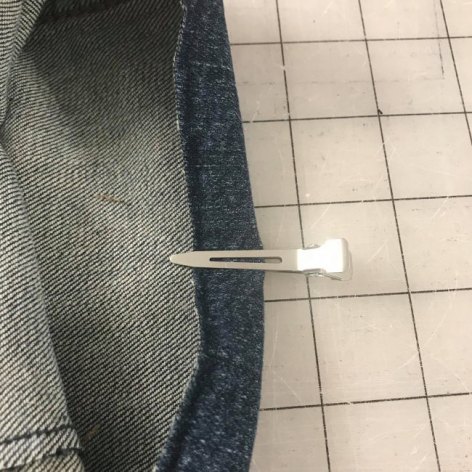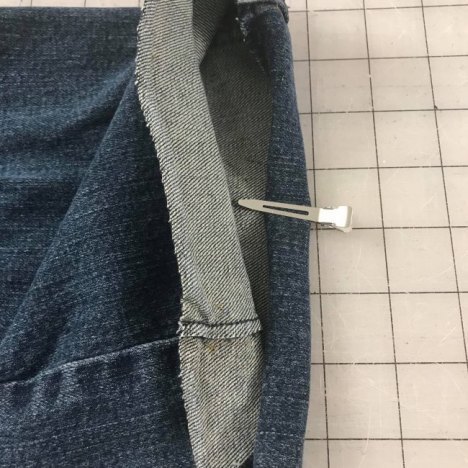 Using a DENIM NEEDLE on Jeans
Make sure to put a denim needle in your machine along with denim thread. IT MAKES A HUGE DIFFERENCE. It will end up looking very similar to the manufactured finish. Also, maker sure you wind a bobbin with the denim thread. Regular thread will not work for the bobbin – it will look wonky. The biggest tip: Take your time and sew slowly, it is worth it when hemming pants.
And there you have it! A pair of jeans that are the perfect fit and length. Know you know how to hem pants, specifically denim pants. I hope you've found this blog tutorial on hemming pants helpful.
How to Hem Pants Method 2: Refreshing Old Pants With a new Hem
Amy made a blog post long ago about hemming pants that had seen better days. This simple tutorial will help you refresh your old pants that look like the picture below.
Step 1: Decide how much shorter you want your pants – I wanted to take off 2″. Cut that amount in half. Cuff your pants and measure from the bottom to the original hem and pin in place. Make sure you measure all the way around so it stays even.
Step 2: Sew around your cuff right next to the original hem edge. You might need to use a denim needle.
Step 3: If you didn't take off much you can just iron it upwards into the pant legs. Or… you could cut it off- I'd use pinking shears to cut down on fraying.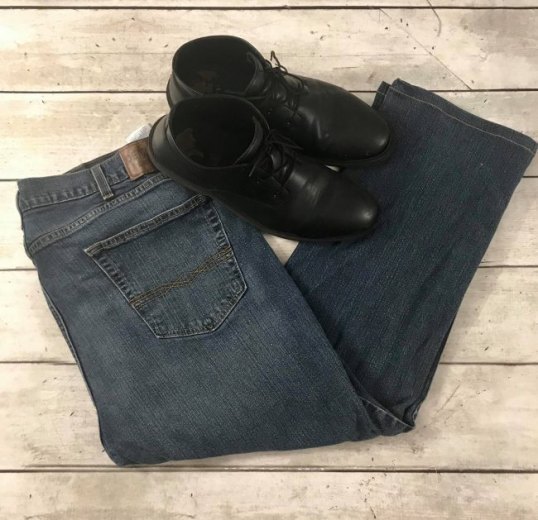 Step 4: You need to flip your pants over and iron down the other side. ***If you don't want to iron these everytime they come out of the wash I would use some fusible web to keep the hem where it belongs. I didn't have any on hand, so I skipped that step- you can always go back and do it later.
Finished- I LOVE having a "new" pair of pants that fits perfect!! There you have it – that's how to hem pants. Happy Sewing:)
Method 3: How to Make Shorts from Pants
If you've worked through the possibilities of hemming your pants and decide they can't be saved then we have one more option for you – get out your sewing machine, take those pants, and make shorts out of them.
Stephanie – from Stephie B's Designs – provides the following excellent tutorial on how to accomplish it. She says:
Inevitably, when the weather starts to warm up, my son has pants that he's never warn that I know won't leave his dresser unless I do something about it. My little string bean is getting taller by the second, so those 2T pants I bought at the thrift store last Fall, that have been folded up and neglected in his drawer for months, will be too short when its cool weather time again. So… my solution? Cut the pant legs off and make shorts!
That brings me to today's fun (and useful!) tutorial – how to make shorts from pants. This is an easy project that if you haven't tried already, you will definitely want to once you've read through this thread.
Within this one tutorial you'll be shown THREE options to hem your new shorts!
#1 – Cut-off exposing the raw edge
#2 – Classic hem design
#3 – Cuffed
I'm sure you already have a pair of pants (or two!) in mind that you'd like to try this on. That's great! Go get the pants! I'll wait. 🙂
I have mine ready, too, so let's get started!
1. Decide how long you want your shorts
The best way to determine how long to make your shorts is to grab another pair of shorts from your kids' closet and measure the inseam – the seam that runs along the inside of the pant leg from the crotch to the hem.
As you can see in the image above, the inseam of these existing shorts is 4″.
Girls' shorts are generally shorter, so if you have a little girls you're making shorts for, don't use the measurements I mention below unless she likes longer shorts – which she might… I've always preferred long shorts!
On just one pant leg, measure your desired inseam length from the crotch and mark it off, as shown at the 4″ measurement below.
In order to know where to mark off along the outseam (which is, you guessed it, the seam that runs along the outside of the leg from the waistband to the hem), measure the distance from the spot you just marked down to the bottom of the hem.
As you can see below, I get a measurement of 8″.
Move to the outseam, and mark that measurement along the seam. In the image below, I have marked 8″ up from the hem.
2. Decide if you want to hem your shorts
Hem option #1 is to not have a hem at all, and instead leave the shorts cuffless. This will leave a raw thread edge that will fray through wearing and washing. I like that look, and I made my son a pair that were like that last year, so if that's what you want, go for it!
If you want to stick with option #1, skip the next step, and head down to step 4.
However, if you'd like to hem pants (I'll show you two hemmed options below) keep reading.
3. Decide how long to make your hem
I wanted this hem 1″ wide.
I plan to make it easy on myself but just doing two 1″ folds in order to hide the raw edge and create the hem/cuff at the same time. Therefore, I will be adding 2″ (1″ twice) to my previously marked measurement.
Now… if you'd prefer to have less bulk within your hem, (or you really like to iron), you can add 1/4″ onto your desired hem width. In this case, you'd be folding over and ironing 1/4″ to hide the raw edge before folding up the desired hem amount. If I personally choose this method, I'd mark 1 1/4″ from my previously marked measurement
But why make it hard on yourself! I suggest the two 1″ folds. 🙂
Regardless of what you choose to do and what width you prefer, measure that distance down from your first measured mark on both the inseam and outseam, and mark again. This will be your actual cut line.
4. Cut!
Using your rotary cutter or scissors, cut the measured/marked leg from the inseam to the outseam at the second marked points.
Fold the pants in half, aligning the waistline, crotch, and seams as closely as possible…
…then cut the extra length off the second side by cutting at the bottom of the portion you just removed.
Ta-da! Shorts!
5. Hem options
There are three hem options I'll talk you through below.
One thing to keep in mind with the following two options: as you roll up your hem, you are rolling from a thinner spot on the pants/shorts leg to a wider one, which will result in a tiny bit of extra fabric that will bunch as you sew. I tend to push this extra fabric more towards the inseam so its not as noticeable.
Option #1
If you wanted the uncuffed/unhemmed look, leave your shorts as is. Wash them, play in them, explore with them, and let them fray!
If you choose this option, this is where I leave you (so sad!). Go forth and use your new shorts-making skill for good, and come back again for more blogs. 🙂
If you're hemming the pants, lets's keep going!
Option #2
Roll the hem under, towards the wrong side of the fabric, as you would with sleeves, dress hems, etc.
You can double roll your desired hem width as we discussed above (for example, in my case I would roll under 1″ then another 1″) or you can measure and iron under 1/4″, then roll up another 1″. Whichever you choose!
So long as the raw edge is hidden so it doesn't fray, it's entirely up to you how you roll.
The image below depicts what this hem option will look like, prior to sewing.
Sew along the top edge of the hem with your sewing machine as you would with any sleeve or dress hem.
Your shorts are complete! Aren't they awesome?!
Option #3
The last options I'll be discussing is rolling the hem outwards to create a cuff. I like this look the best, so this is the option I will be finishing these shorts with.
To get a general idea of what this option will look like, here it is prior to sewing.
As I mentioned before, I'll be rolling my hem up twice, measuring 1″ each time.
If you choose 1/4″, this will be the width of your first roll.
In any case, roll up once and measure each seam and the front and back to make sure the roll is even.
Roll then measure again.
Press to ensure your hem stays in place.
I also prefer to pin my hem in place along the seams to help everything line up.
With this option, I suggest turning the shorts inside out and sewing from the inside.
Sew as close to the top edge as you'd like.
And voila! You've taken your pants and made some shorts.
If you enjoyed this tutorial, you're sure to like some of our others:
6 DIY Tutorials for Jean Alterations: https://www.peekaboopages.com/2016/08/6-diy-tutorials-for-jeans-alterations.html
How to Sew Pants With a Professional Look: https://www.peekaboopages.com/2015/08/sew-professional-looking-pants.html
For your pattern and fabric needs, come visit www.peekaboopatternshop.com