Today – we're going to go over some basic sewing terms. Are you just beginning your sewing journey, but you aren't sure where to start? Or maybe this isn't new for you, but you'd like a refresher? Well, this list is by no means exhaustive in the realm of sewing but it could be a good start to help familiarize yourself with these terms and definitions listed below.
Whether your sewing projects include accessories, garments, quilts etc. or down to the type of fabric base being used; all of these decisions will require some knowledge that you will no doubt come across as you begin to sew. It will be of great help to familiarize yourself with sewing definitions as you move forward and go along. Before you know it, it'll just be second nature the further you press on!
So, let's jump into the sewing terms!
Learn Sewing Terms | Guide to Sewing Vocabulary
Armscye
The armhole opening where the sleeve is attached. You'll see this term used in our shirt sewing tutorials like How to Sew Flutter Sleeves or Sewing Raglan Sleeves.
Backstitch
To sew in reverse to lock your beginning and ending stitches in place. This technique will come in handy in many, many, sewing projects. See how it's used in our How to Make a Box Pleat and the Eye Glass Case Tutorial.
Basting
Long, loose stitches done by hand or machine to hold pieces of fabric in place before permanently sewing them together. These basting stitches are put to use in the Pain and Panic Costume and Free Doll Dress Pattern.
Bias edge
A 45-degree angle cut to the selvage, which has the most stretch. Learn more about the bias in our Make Your Own Bias Tape and 3 Ways to Use Bias Tape tutorials.
Binding or Bias Tape
A folded strip of fabric is used to cover and finish the raw edges of a garment or blanket, for example. See the Bias Tape article referenced above or the Binding Knit Fabric tutorial.
Bobbin
A small spool is located inside the machine and feeds the thread to the bottom of your fabric. Learn more about this in How to Thread a Sewing Machine.
Buttonhole
A hole is created using a buttonhole attachment for a button to slide through. We also have a handy tutorial on How to Sew a Buttonhole.
Casing
An empty tube for inserting drawstring, elastic etc. is created by folding the fabric onto itself and sewing hence creating a "tube." Learn how to put casing to work in the DIY Apron Pattern or the DIY Headband.
Clip
Snipping your seam allowance around the curves to prevent puckering, being careful not to cut through the thread. Learn more about Clipping and Notching.
Color Blocking
Color blocking is the process of combining or meshing different colored or patterned fabrics in a garment. We have a great Color-blocking Tutorial.
Cross-grain
An imaginary line that runs perpendicular from the selvage edge. The concept of the cross-grain is well explained at the beginning of our Sewing Piping article.
Cut on the fold
Fabric folded onto itself and then cut out to the shape of the pattern piece except for the area on the fold line. Learn how to cut on the fold in our How to Cut Out Pattern Pieces article.
Drape
The fluidity in which a garment hang's. For a dress with drape and flow check out the Sicily Swing Dress Tutorial. Also, pick out the right fabric in our Apparel Fabric Guide.
Ease
The space allowance in a given pattern for comfort in each size.
Fabric glue
Used to hold something in place, such as a zipper, before permanently sewing in place. Chinmy recently put fabric glue to good work in How to Applique Fabric.
Feed-dogs
Jagged feet located under the presser foot move the fabric through the machine. See when and when not to use feed dogs in How to Topstitch an Elastic Waistband and How to Use Clear Elastic to Stabilize Knits.
Foot Pedal
The corded mechanism is plugged into the side of your machine that is pressed by your foot to operate it. We have a great guide to Using a Foot Pedal.
French Seam
A french seam is a strong seam with a stitch on both sides of the fabric to enclose the raw edges and seam allowance. You basically sew french seams like a normal seam but stitch it twice. The raw edges / extra fabric/seam allowance gets tucked away – leaving a clean edge and professional look on the right and wrong side of the fabric. Check out our How to Sew a French Seam Guide for more info.
Gather
To shorten a longer piece of fabric to size by gathering (pulling the threads) to create ruffles or fullness. We have lots more information on this – check out our guides on How to Gather Knit Fabric, How to Gather Fabric 8 Ways, and How to Sew Gathered Sleeves for starters.
Grain
The direction of the warp and weft in woven fabric. Learn all about fabric directions and grains in our 3 Ways to Use Bias Tape tutorial.
Gusset
A piece of fabric added to a garment or item to reduce thestress and add ease to tight fitting areas. See a gusset in use in the Where are the Wild Things Costume.
Hand
The feel and texture of a particular fabric. For a guide to different fabrics, check out our Apparel Fabric Guide or Knit Fabric 101.
Hand wheel
Manually moves your needle up and down. See how to use the hand wheel in our Guide to Threading a Sewing Machine.
Hem
The finished bottom edge of a garment. Learn how to sew a blind hem, how to hem a circle skirt, and how to sew hems with a sewing machine.
Interfacing
Adds stability. Can be sewn or ironed on. Learn more in Sewing Interfacing 101.
Knit
A type of fabric that can have 2-way or 4-way stretch. We'll teach you how to sew with knit fabric and give you a wide variety of knit fabrics for purchase.
Lining
A layer of fabric underneath the main. We have a variety of Sewing Patterns that can be lined.
Muslin
A cheaper piece of fabric used to practice on for fitting purposes before sewing on the nicer fabric. Learn how to make a muslin as a practice run in the Button-Up Shirt Dress Tutorial.
Nap
Fabric fibers that don't lay vertically. You want the nap to run vertically for your projects.
Needle
What the thread goes through to sew in place. Also learn about Sewing with Double Needles.
Notch
A triangular shape on the pattern used to match pattern pieces together as you sew. Learn more about matching up pattern pieces HERE.
Notions
Sewing supplies specific to each pattern or project.
Pattern
Sewing instructions and template pieces to create and finish a project. We have a great article on How to Use PDF Sewing Patterns.
Placket
An opening created for fitting a garment onto the body. Learn How to Sew a Placket.
Pleat
Doubling a fabric onto itself to create a fold and then sewing together. Learn how to sew a box pleat or take a look at the DIY Pleated Skirt.
Presser foot
A piece of metal is located near the sewing machine needle that keeps your fabric in place while you sew. Learn more about using a presser foot in our How to Thread a Sewing Machine Guide.
Press
To iron your fabric. Pressing is an important part of sewing – take a look through our Pressing Aids Round-Up as well as our Guide to Pressing while Gathering Fabric.
Pre-wash
Washing your fabric upon receiving in like manner as you would wear the finished garment. Very important for colors that bleed a lot like red for example. Also aids in shrinking the fabric before you start/finish a project. For more information, take a look through our Guide on How to Prepare Fabric for Sewing.
Raw edge
The cut edge of a piece of fabric before it is hemmed.
Right side
The front of the fabric.
Ruche
A gathered or pleated strip of material.
Rotary Cutter
A circular blade is attached to a handle that glides and cuts across the fabric for a clean cut. Learn more about How to Use Rotary Cutters.
Spool
Holds your thread.
Seam
The line that holds two pieces of fabric together with thread. Take a look at our guide on 11 Ways to Finish a Seam.
Seam allowance
The width of fabric beyond the seam line. Learn more about Seam Allowances.
Seam guide
Helps you sew the correct seam allowance for your project. Measurements can be found on your machine, or a magnetic attachment may be purchased separately.
Seam ripper
A sharp tool that cuts through stitches that need to be removed. Join us to learn How to Use a Seam Ripper.
Self-healing mat
A cutting surface with measurements used for cutting that heals itself after use of a rotary cutter.
Selvedge
The finished edge on woven fabric that does not fray.
Serger
A machine that finishes seams in one go by cutting, seaming and overcasting the raw edges. Check out our Guide to the 10 Best Sergers.
Shirring
Shirring is a method to gather fabric that brings it together or adds a decorative look. It's done by making rows of parallel, elasticized stitches to create a stretchy / gathered line of stitches. Check out our Guide to Shirring 101.
Staystitch
Stitching is placed near the seam line to lock the stitch in place for more stability.
Straight stitch
A straight stitched line.
Tension
The amount of thread flowing through a machine for a tighter or looser finish. Heavier fabrics need more tension and lighter fabrics will need less. Learn more about Adjusting Sewing Machine Tension.
Thimble
Worn on the finger for sewing as a protective measure.
Thread
Fibers wound together to create a thin string.
Top stitch
A decorative and or reinforcing stitch added to the right side of the garment. Learn How to Topstitch Knits.
Turn
To leave a small opening after partially sewing an item enclosed to be turned right side out.
Walking foot
A presser foot that walks across the fabric versus gliding across the fabric. In our Guide to Hemming with a Sewing Machine, we go over some uses of the walking foot.
Warp
The lengthwise thread in woven fabric.
Weft
The crosswise thread in woven fabric.
WOF
Width of fabric.
Woven
A type of fabric that is made up of two sets of crisscross threads and only stretches across with the bias. Take a look at our Woven Fabric section at KnitFabric.om.
Wrong side
The back of the fabric.
Zig-zag stitch
A multi-use stitch for sewing knits or to finish a woven edge. Learn more about the zig-zag stitch in our Sewing Seams Post.
Zipper foot
A sewing machine attachment is used to aid in attaching zippers. For more info, check out our Guide on How to Sew Zippers.
Thank you for joining us today to learn about different sewing terms and vocabulary. Be sure to come to join us in our Facebook Group.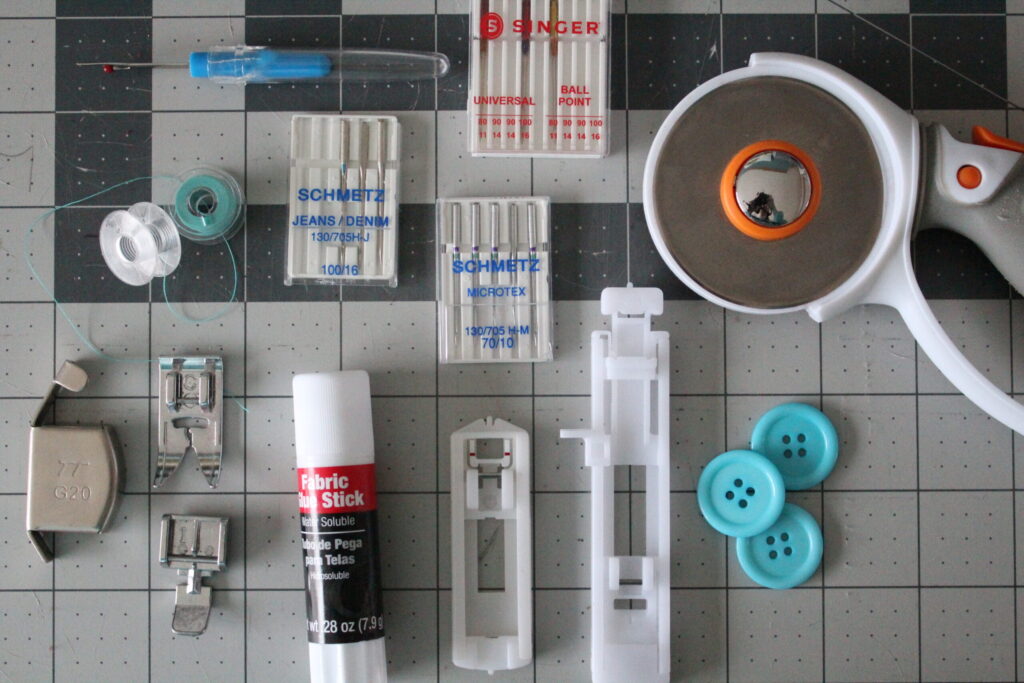 Other Posts
If you enjoyed this post on sewing terms you might also enjoy some of these other posts: