Hi, Peek-a-Boo readers! Kelly here again with a DIY Garden Flag Tutorial. Has spring arrived at your house? It has here, and I love it! After a long, cold winter of lifeless brown blahness, nothing is better than seeing the green grass and rainbow flowers bloom.
And to celebrate spring and add even more fun color to the yard, I thought a garden flag would be the perfect addition! These would make great, easy Mother's Day gifts! You can personalize these in so many ways! You could create a set with one for every season. It would be the Mother's Day gift that is year round!
DIY Garden Flag Tutorial
DIY Garden Flag Supplies
14″x20″ cut of sturdy fabric. Duct cloth, bottomweight, or outdoor fabric are all great choices.
Scraps of woven fabric to applique with
Scraps of ribbons
Sharpie, or other drawing utensil
Ruler
Heat n Bond
Basic sewing supplies
Garden Flag Instructions
If you haven't already done so, cut your main fabric into a 14″x20.5″ rectangle.
Hem the long sides by folding over 1/2″ and pressing, then fold over another 1/2″ and press again. Topstitch into place from right side 3/8″ from edge.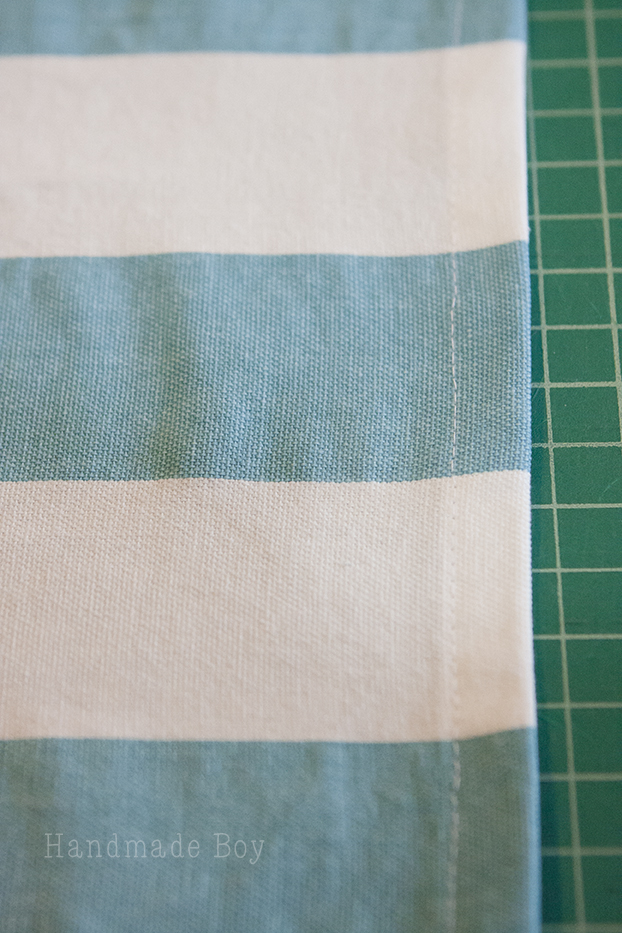 Repeat with the bottom hem.
Create a pocket at the top to slide the hanger into by folding the edge over 1/2″ and pressing. Now fold over again 2″ and press. Stitch into place from right side. You can also stitch 1/8″ from the top fold to help the pocket keep it's shape.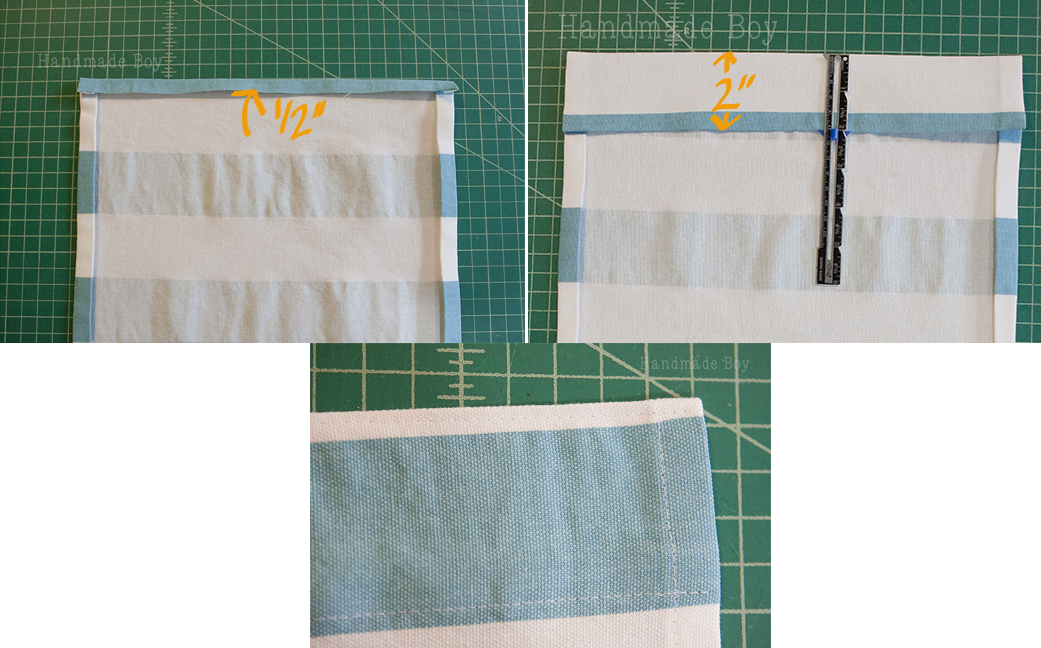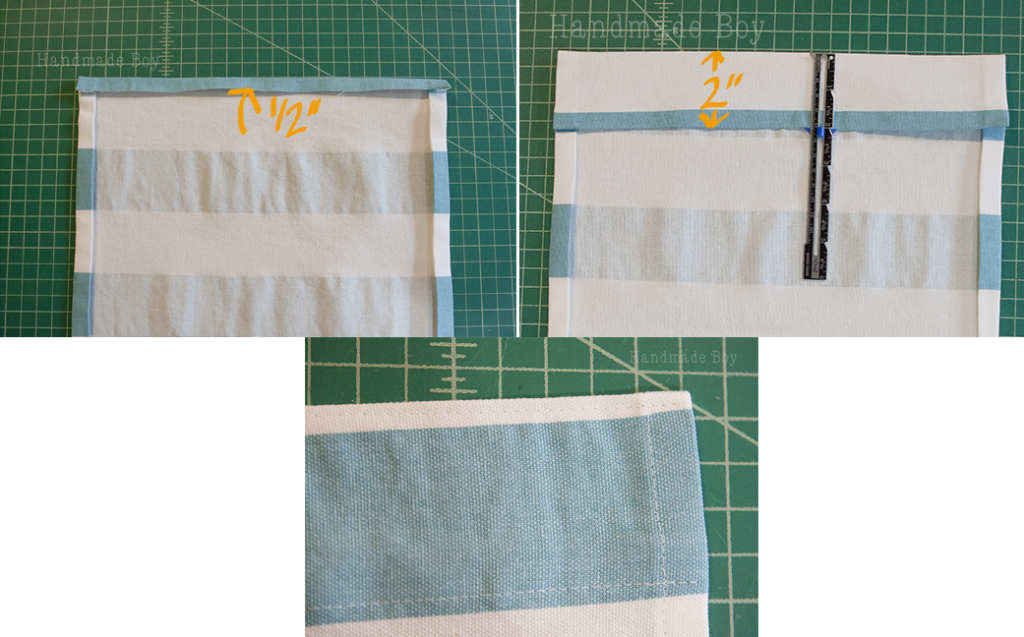 To create your kite, on the paper side of your heat and bond, draw a line 10″ long. 4″ from the top, draw an intersecting line 6″ long.
Now connect the lines to create a diamond. Cut out your diamond, around your shape, not on the lines.
Iron onto the wrong side of your fabric for your kite.
Once cool, cut out along the outer lines. Do NOT remove the paper backing yet!

To place an initial on your kite, you can either use a freezer paper stencil (tutorial for how to here) or you can use heat transfer vinyl (HTV). I used HTV. You can either print off a letter and trace it onto the HTV like Nienke used here for her tulip pillows, or use an electric cutter like a Silhouette Cameo. Just remember to cut the mirror image of your letter onto your HTV if you use an electric cutter!
After you have your letter cut and excess vinyl removed, iron it onto your kite following the directions on your HTV.

Remove the paper backing from your kite and place it onto the flag. Don't iron it on yet. First, tuck your kite tail under the end, arrange the tail how you like and pin into place. Remove kite and stitch tail into place.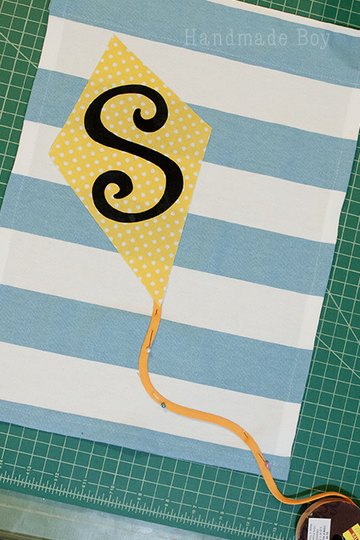 Place kite back into place and iron onto flag. Be careful not to touch your letter directly with the iron. Just iron the edges to secure it into place. Once secure, you can flip your flag over and iron the back to be sure the kite is attached well.
Stitch around the edge of the kite. You can use a zig zag stitch, straight stitch, or a decorative stitch for fun! Since this isn't going to be washed and dried, and I'm not worried about fraying, I used a triple stitch (the stitch that looks like three parallel lines) in three different colors to give my kite a little detailing.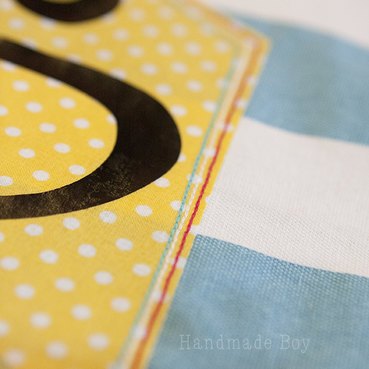 Using bit of ribbon, make the ties on your kite's tail. Cut a piece of ribbon approx 6″ long. Tie a knot in the middle of it. Fold the ends in half and make a 45-degree angle cut.

Arrange your ties onto your tail and tack into place. My knots were too thick to sew through, so I tacked on each side as close to the knot as I could get. I used my machine with a zig zag stitch set to a stitch length of zero. You can hand sew into place if you like also.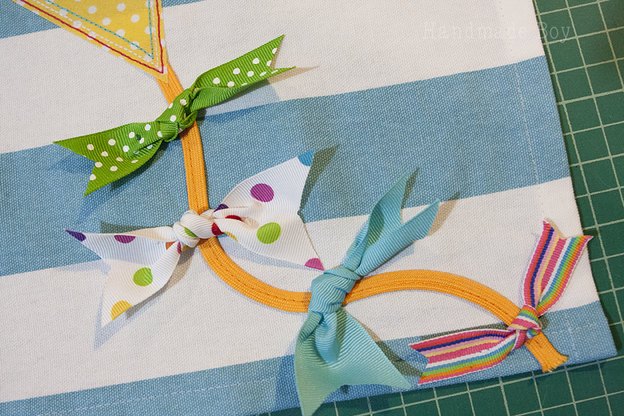 And that's it! A cute little garden flag perfect for spring!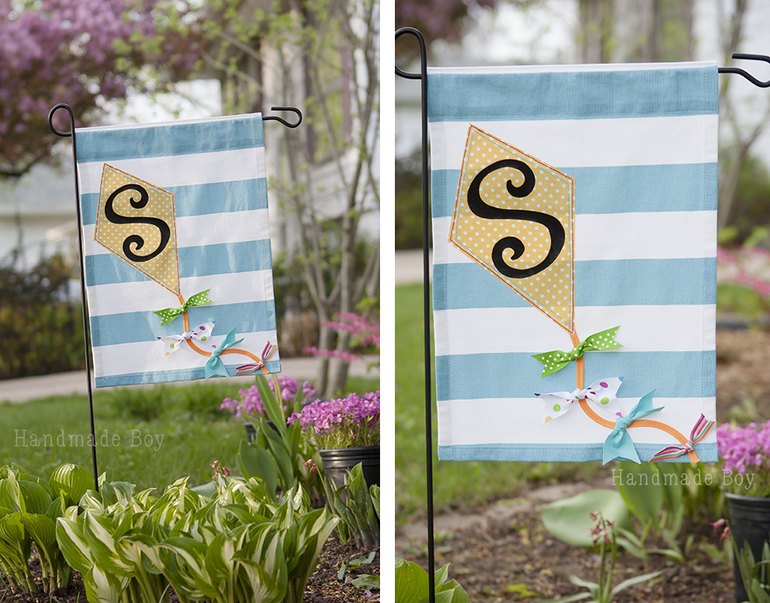 Thank you for joining us today for the DIY Garden Flag. Before you leave, check out some of our other articles: