Today we have a free 18″ doll shirt pattern. While you're here, be sure to check out the rest of our
Doll Clothes Patterns
.
Free Doll Shirt Pattern Tutorial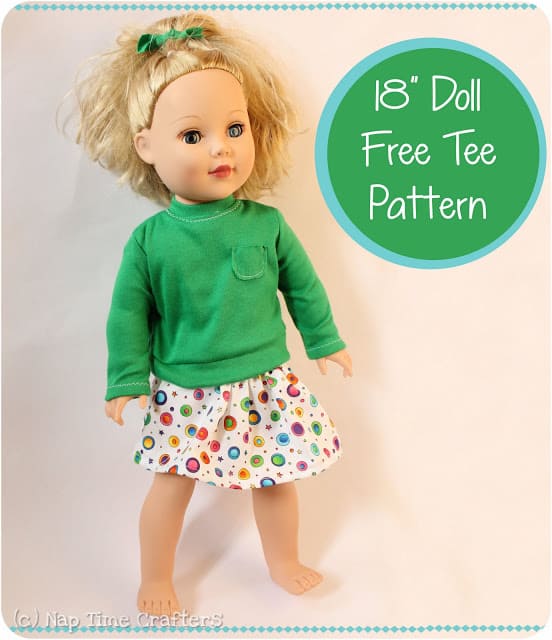 Even dolly deserves a comfy outfit 🙂
To complete the outfit I made a simple skirt with an elastic waistband. Anne has dubbed this the "Aunt Katy" outfit because green is her aunt's favorite color 🙂
Doll Shirt Instructions
Let's sew it up!
Doll Shirt Step 1: With right sides together (RST) sew the 2 back pieces to the front at the shoulder seams
Doll Shirt Step 2. With RST sew the sleeves into the armholes
Doll Shirt Step 3. Hem the sleeves
Doll Shirt Step 4. With RST sew up the sleeve inseams and side seams
Doll Shirt Step 5. Fold the shirt band in half with wrong sides together and sew the raw edges to the bottom of the shirt (sorry no photo)
Doll Shirt Step 6. Fold back the edges of the back of the shirt 1/4″ and topstitch in place. Sew on some velcro.
Doll Shirt Step 7. With RST sew up the 2 short sides of the neck binding. Turn right side out and press flat.
Doll Shirt Step 8. With RST sew the neck binding to the neckline (you'll have to stretch it to fit). Flip the seam allowance down and press flat and then topstitch in place.
I hope you enjoyed this free doll shirt pattern! As always, be sure to come to join our P
eek-a-Boo Pattern Shop Facebook Group
to share what you make and get help with your sewing-related questions.
Other Doll Sewing Tutorials
If you enjoyed this tutorial, make sure to take a look at some of our other doll clothing tutorials: