Are you ready to learn about fabric storage or fabric organization? If so, you're in the right place. Today I'm going to show you a system I used to organize and store fabric. I'll also show you some methods that others have used.
How to Organize Fabric & Organize Sewing Supplies
I admit it…I hoard fabric…and sewing supplies 🙂 If you have a tendency to collect fabric as well then you definitely need these fabric organization tips to keep you sane and your sewing space tidy! I'll also share a few other systems I've found for fabric storage. Hopefully, you'll find something to help your storage needs and keep the stash under control.
#1 Tip | Have Some Extra Space for Your Fabric Storage
I'm always using my fabric and supplies but I also buy more so having some space to put those things away when I stock up is essential. When things get too full it's time to do some stash-busting but if you have absolutely no extra space to begin with your storage system is doomed to fail.
The more room the better! With the systems here I'm showing you how to organize fabric in a farily small space but I've upgraded and found more space over time to make storage much easier.
#2 Tip | Storage With Fabric Organizer Boards
I keep the bulk of my fabric on my bookshelves with the yardage folded on comic book boards. I found mine on Amazon (100 boards for $12.95). I thought that would be plenty but I'm now working on my second set of these "fabric organization boards."
Basically, you just wrap your fabric around them like a bolt you'd find at the fabric store. It keeps everything neat and tidy and it's easy to see what you have in your storage. I sort by fabric type (wovens and knits) and I have anything from 1/4 yard cuts up to 2-3 yards stored on these. Seriously love them!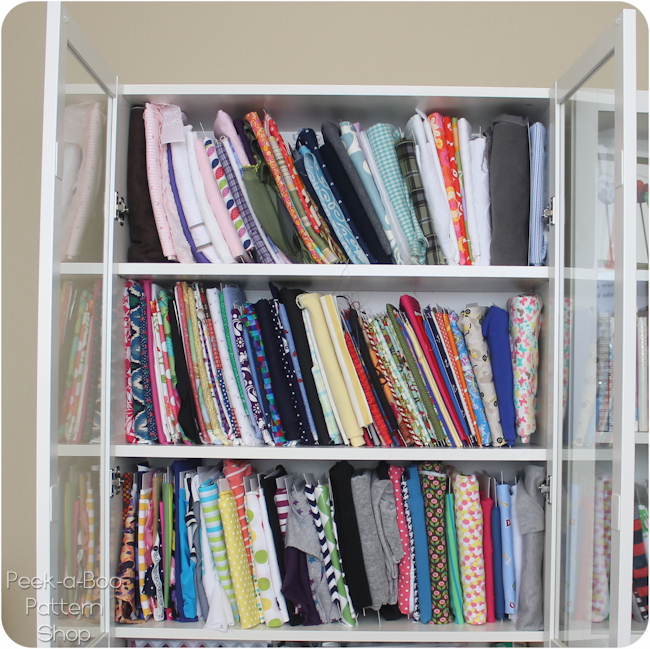 Tip #3 | Get Fabric Storage Shelves That Work Well and Are Sized Properly
My bookshelves are the BILLY shelves from Ikea. I added on the glass doors and they are perfect! I can showcase my fabric storage up top and then hide a lot of other sewing supplies in the lower half. It also deters my kids from de-shelving everything as they're a bit hard to open without any knobs.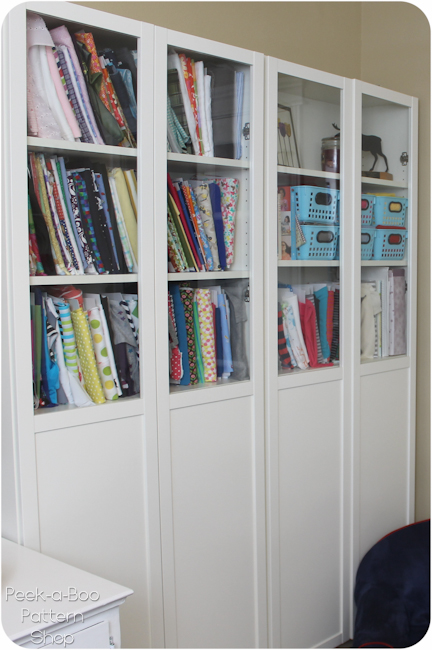 I save pretty much any usable fabrics and they get pulled out all the time for appliques or small projects. I'm always glad I have them 🙂 The woven scraps are sorted by color in these little bins I found at Jo-Anns on the top half of my other bookshelf.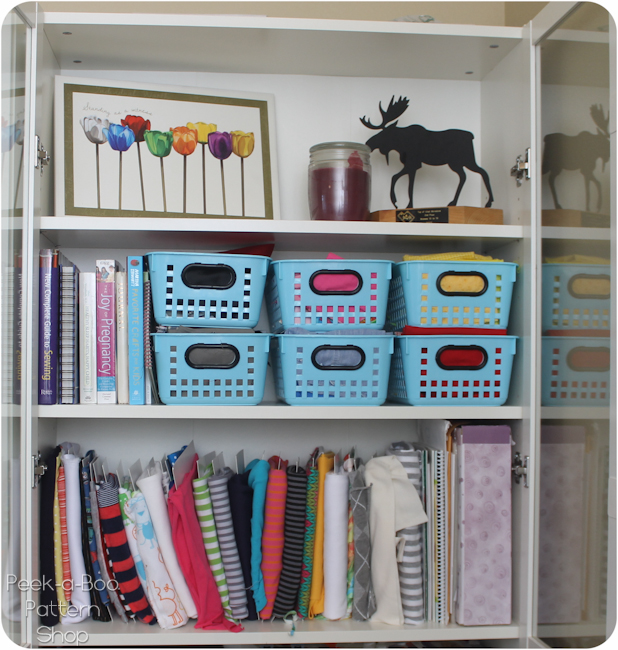 Maybe a little OCD but I love having them sorted 🙂 They're just folded up like little index cards that I can flip through. I have one extra bin as my "receiving bin" that I can toss things into and sort out later. Once the bins get too full I do a little purging and let my toddler go to town with any un-wanted scraps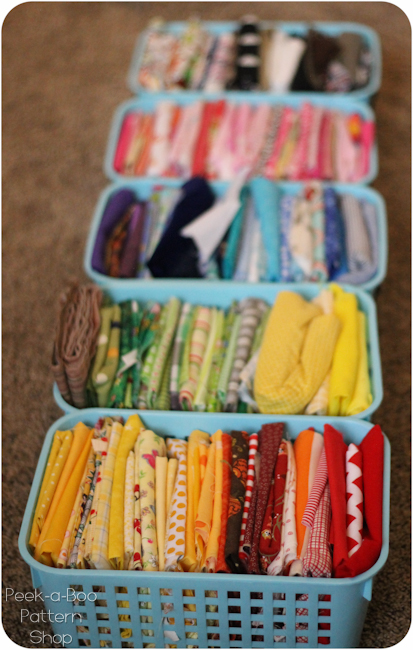 I could just look at these fabrics all day 🙂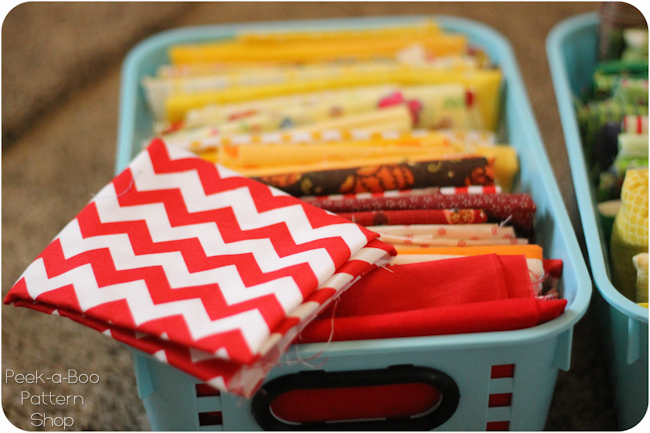 Tip #4 | Using Bins to Organize Your Other Sewing Supplies
Don't worry though I am definitely not perfect…here's the underbelly of this bookshelf with other sewing supplies 🙂 I have photos and cards in the boxes, buttons and KAM snaps in the little organizer, paper patterns and ribbon scraps in the bins and assorted junk on the bottom shelf (laminator, scrapbooking bits and pieces, some interfacing, etc.)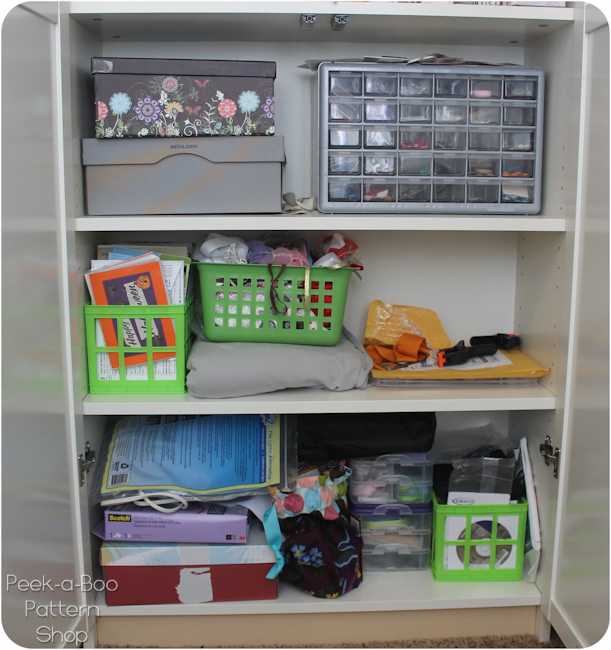 Underneath my fabric bolts on the other bookshelf, things are a bit tidier. In the chevron bins, I keep my knit scraps (1 bin for solids and 1 for prints), extra serger thread and my flannel scraps. The next shelf down has my ribbon spools, paint, and black and white thread (when it's on sale I buy BIG). The bottom shelf is Anne's sewing supplies for her fabric organization and my camera bag.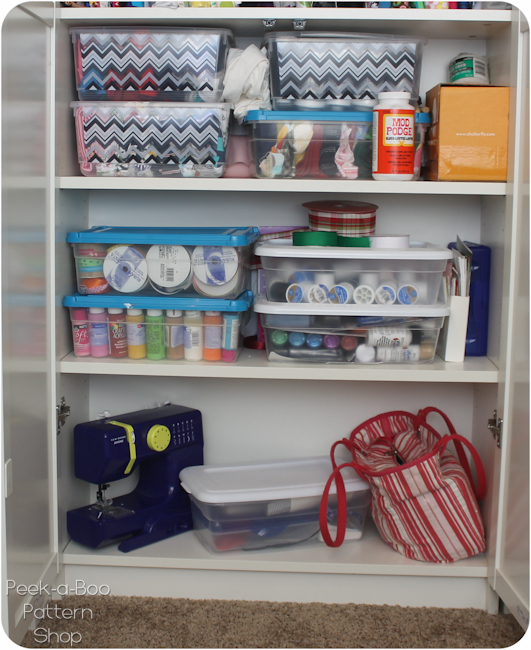 On this shelf is also one of my favorite little organizers ever! I collect bias tape, ric rac, piping, etc. whenever I find it at the thrift store so that I always have some on hand. To keep it all tidy I store it up right in a box our Christmas Cards came in. It's so much easier to see what I have and it keeps it from all unwinding.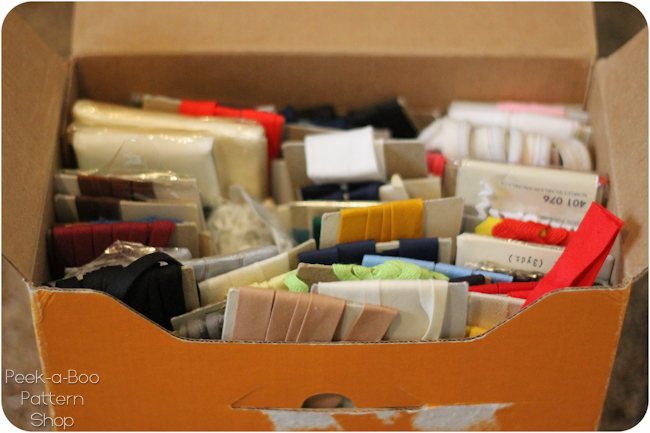 Along the other wall I have a drawer of bins for storing fleece, upcycles, felt, etc. They're a bit of a mess but it's a good way to store bulkier items

Tip #5 | Pull Out Drawers for Small Items, Notions, Etc.
The little drawers aren't great for fabric organization but are amazing for storing smaller items. I keep a lot of my scrapbooking items in here (stamps, card blanks, etc.) along with my sewing notions. I have a drawer for zippers, 1 for elastic, 1 for snaps and velcro, etc. Will pulls out the elastic all the time so I gave up on winding it but at least I can find it when I need it 🙂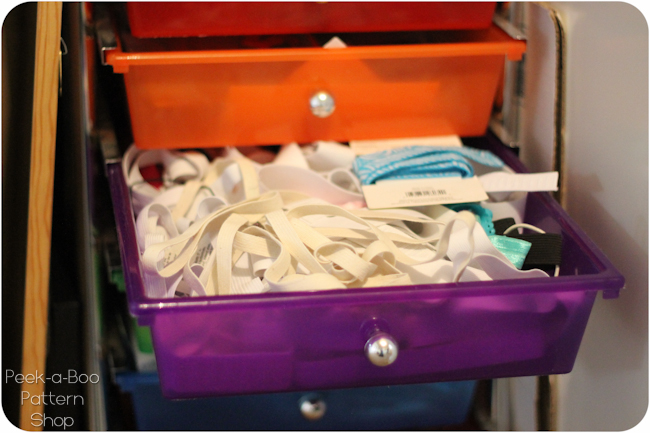 Tip #6 | Thread Storage Rack
I keep my thread up on my sewing desk and I always keep every color on-hand. If I run out I make a note and pick up another spool the next time Jo-Anns has a 50% thread sale. It really saves me a lot of hassle to have any color I might need (or close enough) at home. And yes I like to sort by color although looking at this there are a few runaways 🙂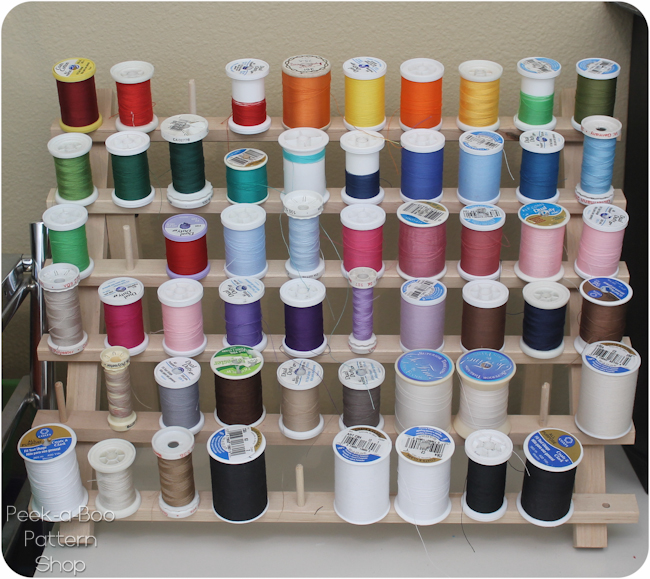 My sewing desk also has a few cubbies and I use one for fabric organization to store all of the projects I'm currently working on. Items I don't use frequently (more upcycles, my Cricut, scrapbook paper, etc.) are stored in the bottom cubbies. I keep my scissors, tape, seam rippers, etc. in the little drawers and other frequent use items in the little black shelving unit on my desk-top.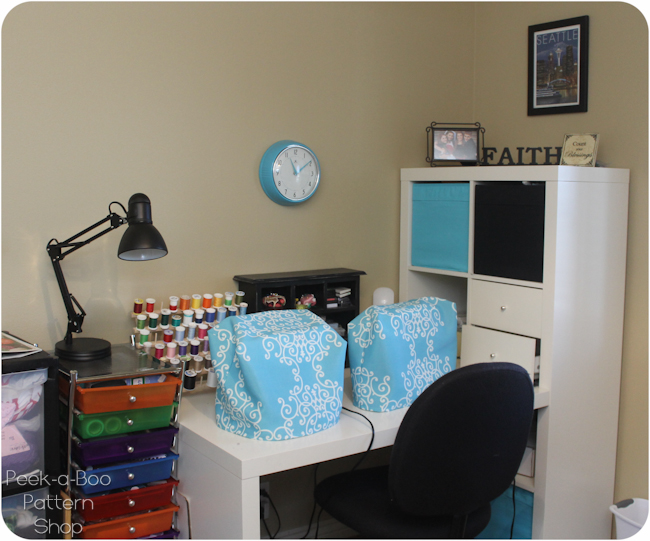 It was a huge under-taking to get all the fabric organization set up but I love it! Everything has stayed right where it belongs for over 6 months now which I think is a good sign that this system will continue to work well for me 🙂 I've had many other systems in the past and they all failed miserably so I'm glad to have something that works!
Tip #7 | Other Fabric storage Ideas
These fabric storage and organization methods worked well for me when I was starting out. I'll admit a few years later we moved and I organized my new sewing space – still using a lot of the same ideas and principles here for fabric organization…but luckily…I had a bit more room which always helps.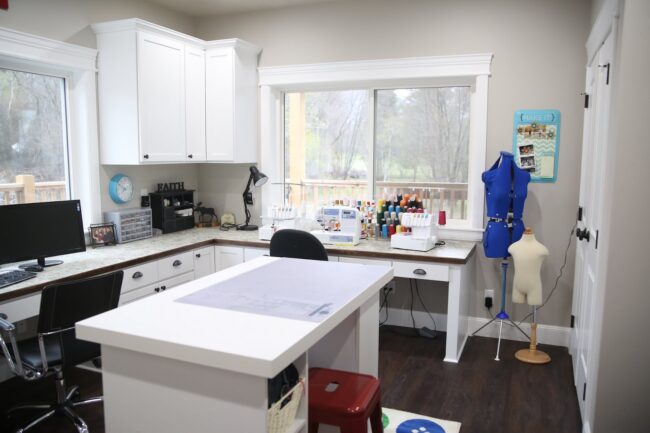 Here's a few other ideas for fabric storage to find out what works for you:
Roll Your Fabric
At one point my knit stash was quickly growing out of control so I started rolling a lot of the fabrics. It's easy to see and I can pull one "log" out without disturbing the whole pile.
File Your Fabric
I saw this fun idea to file your fabric from an article at the Thinking Closet. For this method she uses an actual filing cabinet and drops in the fabric over the files to store the fabric in. This might not work for larger pieces of fabric but would be another great idea for fabric scraps or small pieces.
Hang Your Fabric
Over at Craftaholics Anonymous, they have a tutorial for how to store smaller cuts of fabric on a curtain rod. It doubles as wall art too!
Color Code Your Fabric
For all of my small scraps of fabrics I like to sort by color so they're easy to find for applique, trim, etc. I fold them up and store them in little bins but you could also use shoe boxes or gallon size bags.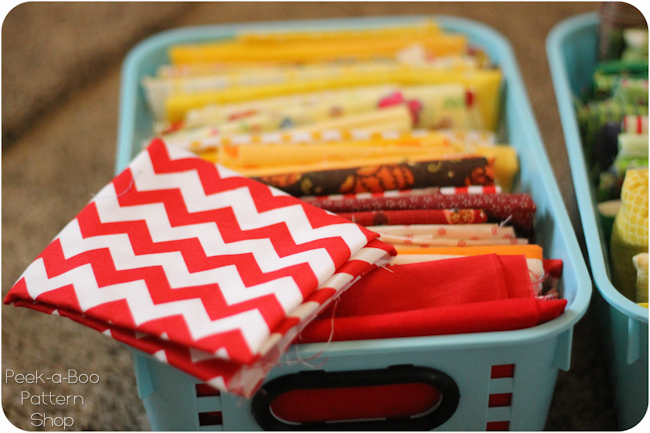 Happy Fabric Organization 🙂
Thank you for joining us today for tips on fabric storage. Of course, you need some fabric to store so come over and visit us at KnitFabric.com where we offer higher quality fabric, at better prices, with flat rate shipping.
Other Tutorials
Thank you for joining us today. While you're here, check out some of these other posts: