Today I'll show you how to make a DIY Winter Soldier Costume. I don't know about your house, but in mine, the Avengers are a big deal. Everyone around here likes Captain America because duh! But, I have always been attracted to the broken characters, the villains that were just misunderstood, the bad guy everyone is rooting against.
Enter Winter Soldier. He is quite possibly my favorite comic book character EVAR. I just knew I wanted to be Winter Solider this year for Halloween. I live in Oklahoma and the last couple of years its been a bit chilly, so a jacket mod felt perfect!
DIY Winter Soldier Costume
Winter Soldier Supplies:
Cascade Jacket Pattern
All notions listed on the pattern
Silver Performance Knit*
Black Knit**
Red Knit Scrap
Tracing Paper or Vellum
Pencil
Yardstick or quilting ruler
Patience!
*I bought Venezia Solid Silver Foil (92poly 8spandex) from Joanns. It's basically dance leo fabric.
**I picked out Sportwear Reversible Black/Gray Heavy Knit with foam from Joanns. This feels like neoprene – like a wet suit. Great structure. Pricey – use a coupon!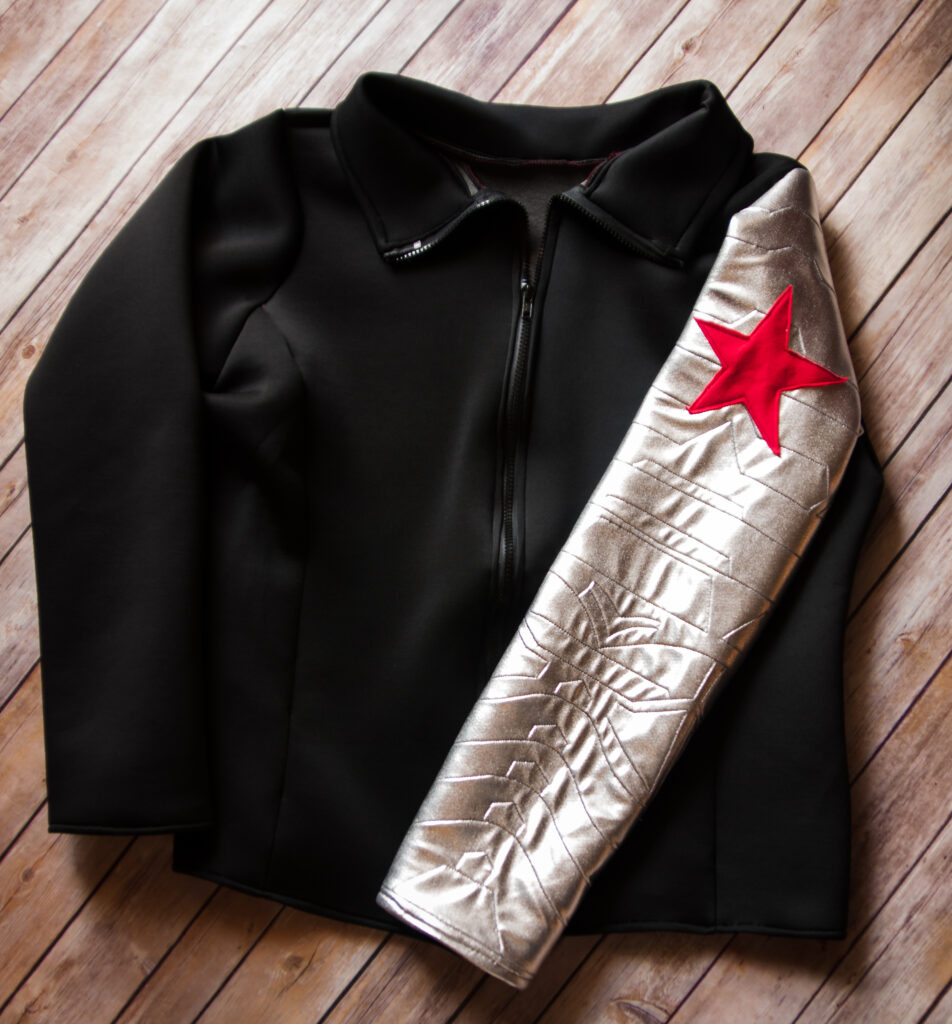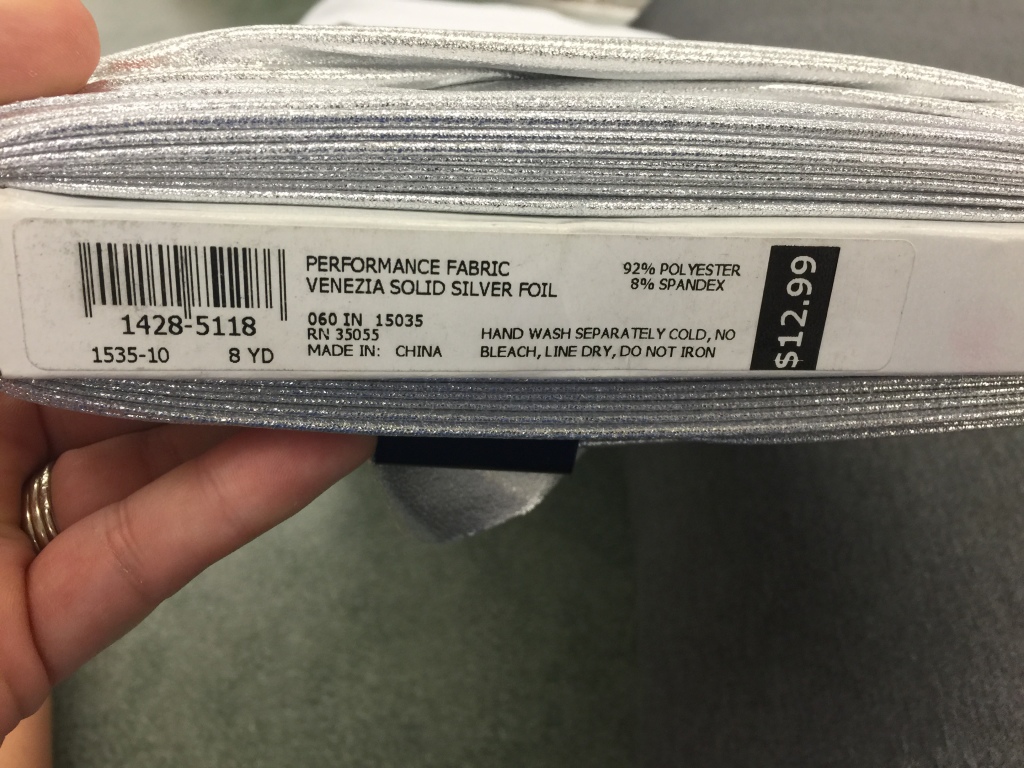 To get you started, take a look at my
Print off your pattern and tape it together. Get your size cut. Cut all your pieces out of the black fabric. You will also be cutting one silver sleeve (this sleeve will have two layers – one of the black knit and one of the silver). So you should have three sleeve pieces – 1 silver and 2 black.
Get out your pencil and tracing paper or vellum. I use tracing paper from Canson (Hobby Lobby) and ended up taping a few pieces together.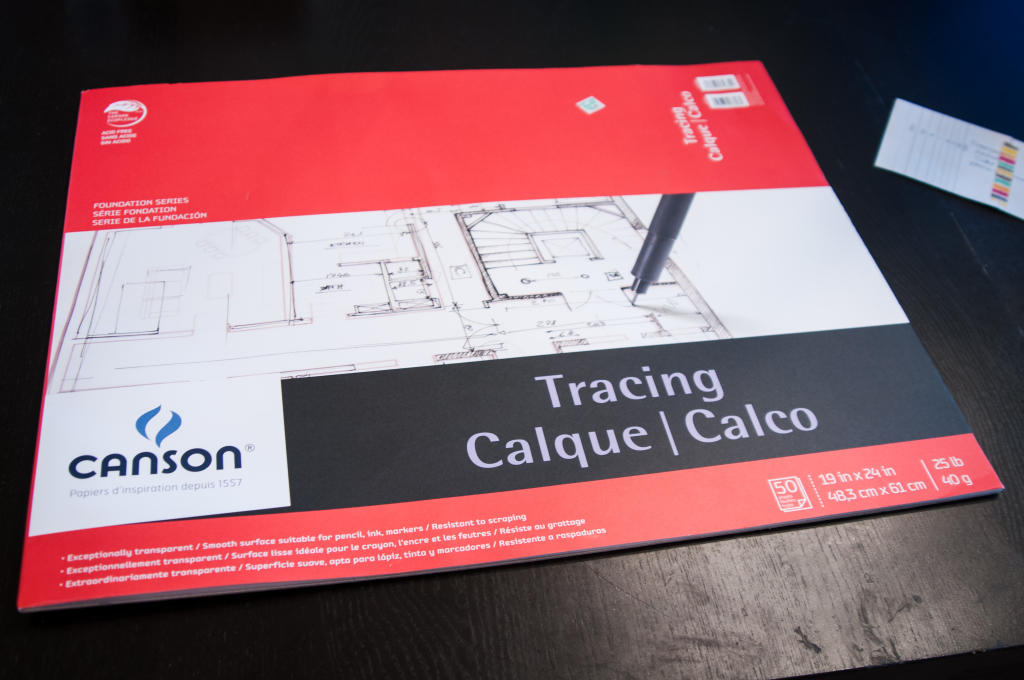 You need a sheet that's as big as your sleeve. Trace the outline of your sleeve and mark your center line.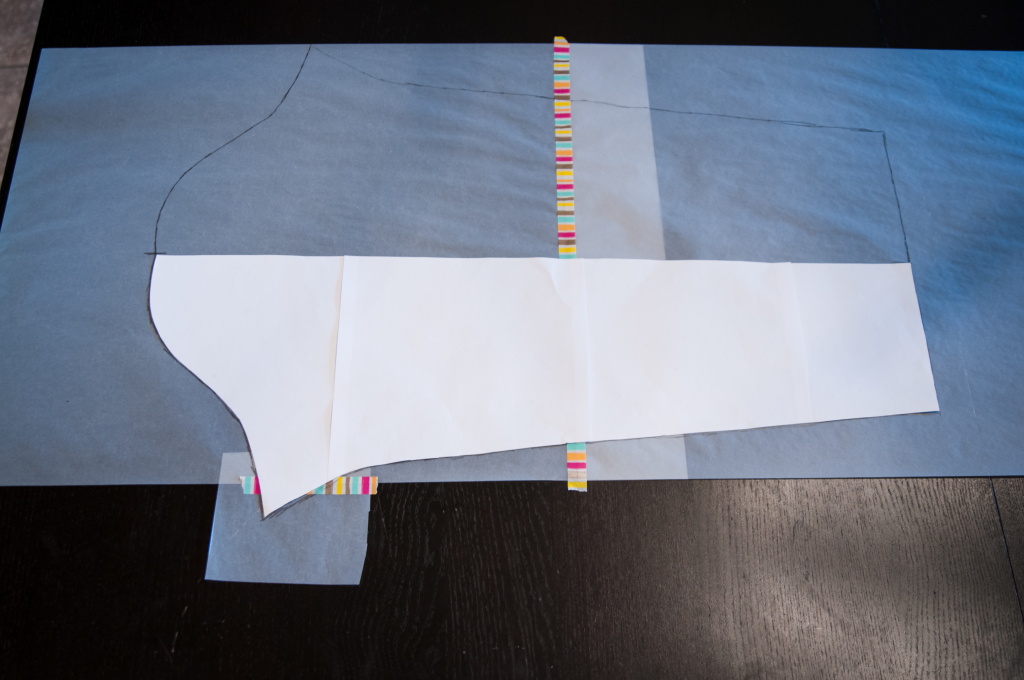 Fold the paper in half.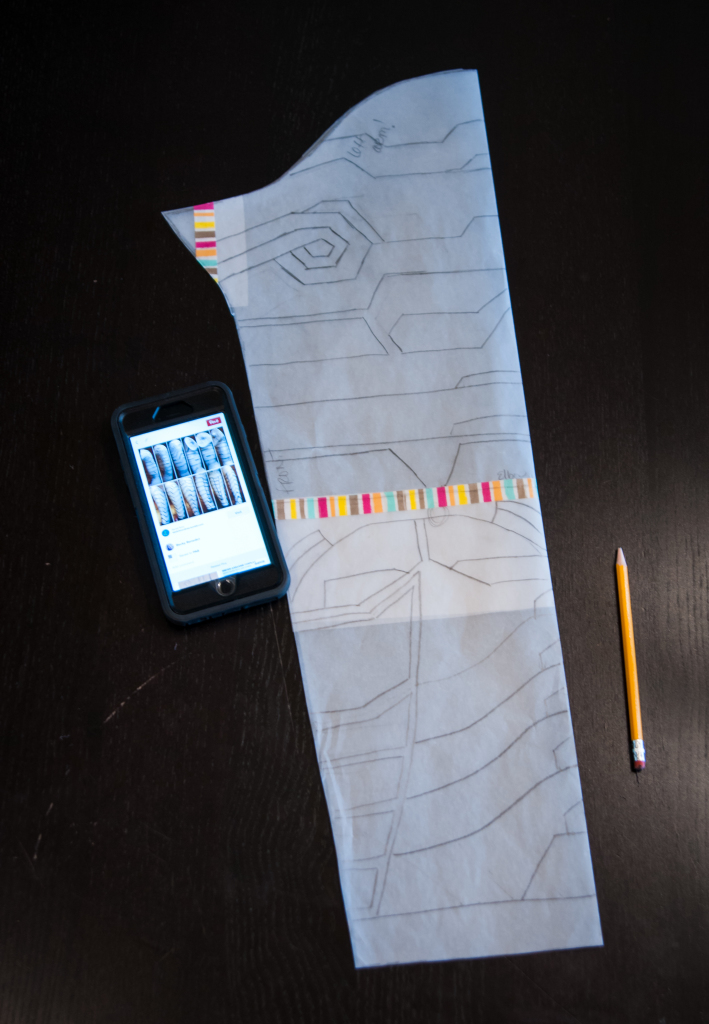 Now, depending on your level of creativity, or the desired effect, you just start drawing. Ha! Right? I used a pin from my board to get the general idea and then just went with it. You cannot go wrong here people. Just make the arm look reticulated and robotic. Most of the arm is all about lines and geometric shapes. Lots of trapezoids, hexagons, and stripes. Really! You can do this.
Here's what mine looked like if you wanna try to copy or get a better idea. Also, it's easier to make your design on one side of the vellum and then flip it over and trace it through the paper so both sides are symmetrical (and roboty – yes that's a word.)
Pro Tip – make a straight line somewhere near the middle of the arm. It will help you later. Trust me!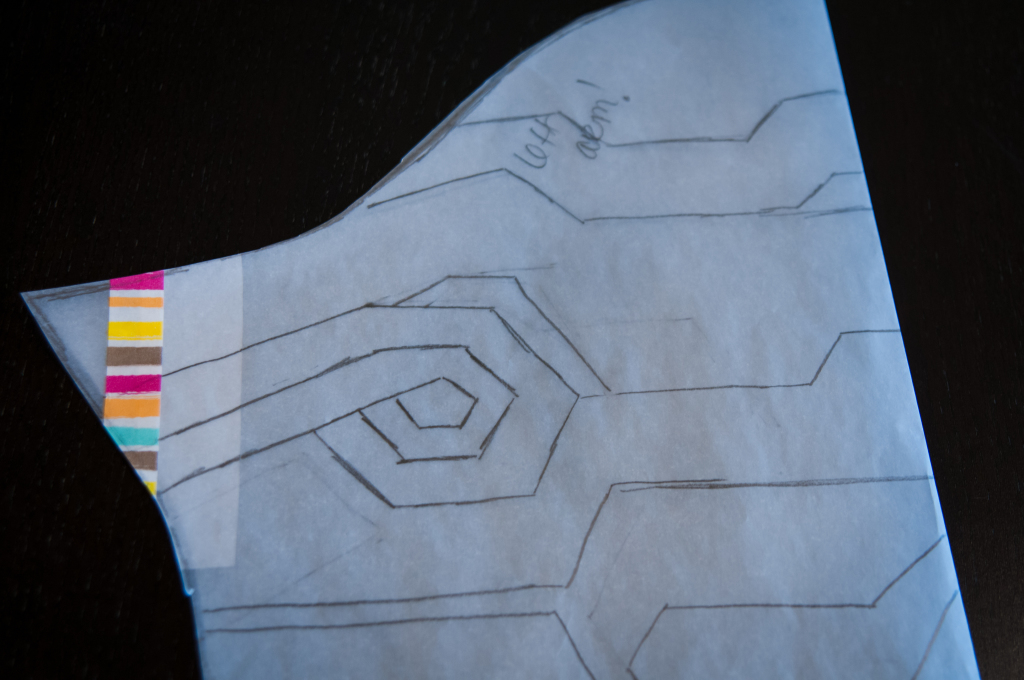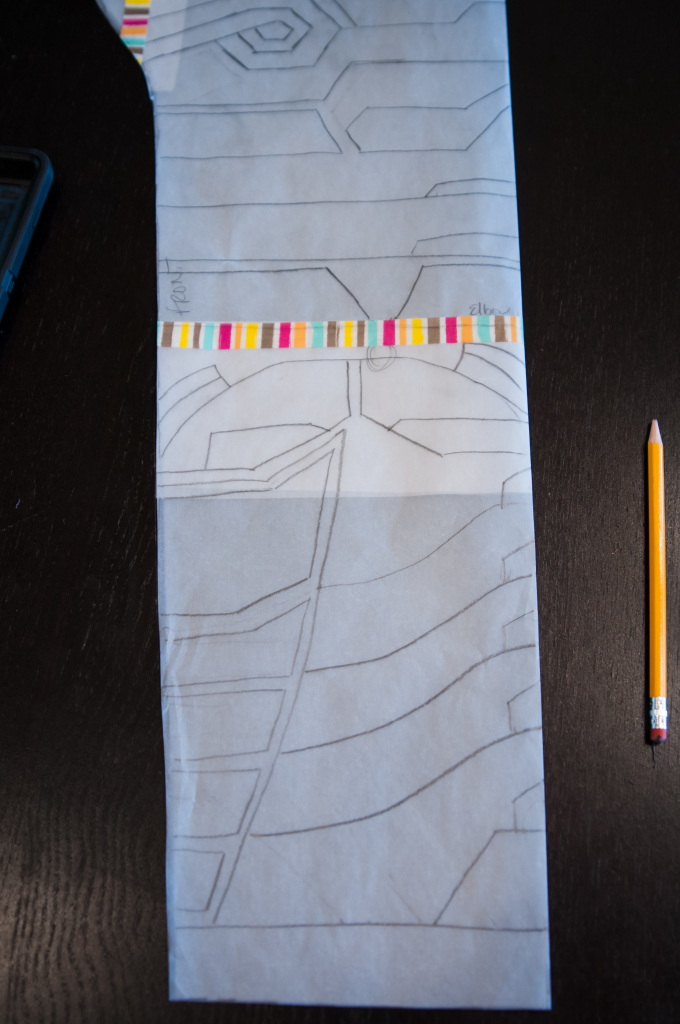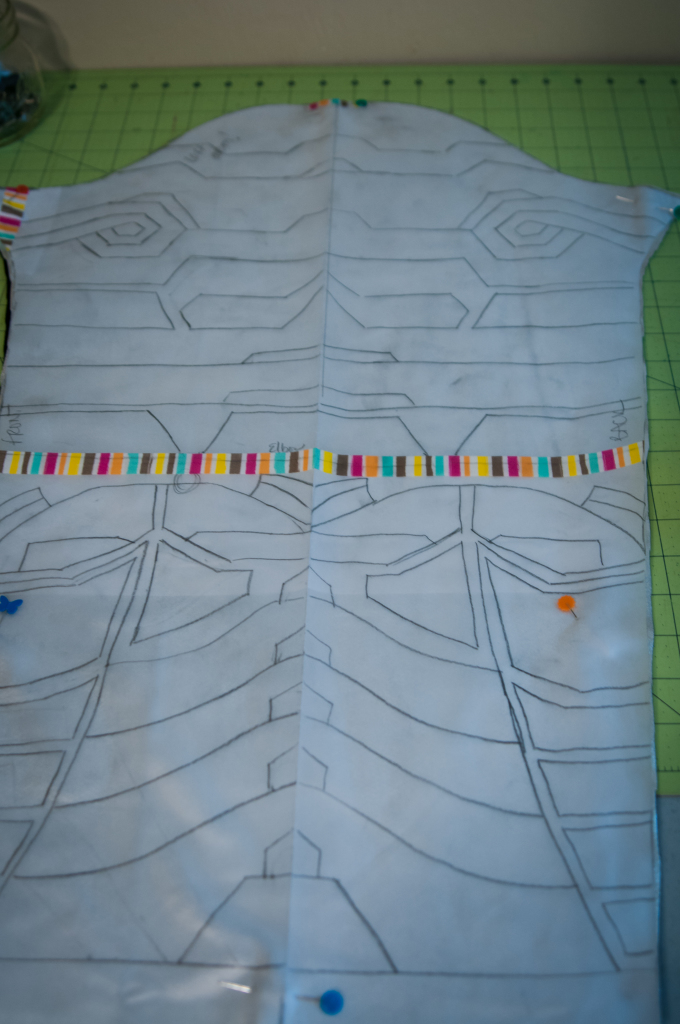 Now go wash your hands. If you're like me, there's pencil all over your hands.
Muster your patience because this part is essentially like quilting. It takes a slow and steady stitch so get ready. You will make a quilt sandwich to get the look we are going for. Bottom layer is the black knit. Next add the silver. On the top is your vellum pattern. If you want to make more than one jacket of the same variety arm, make a copy of this paper. You will not have a pattern left after you sew. Think ahead!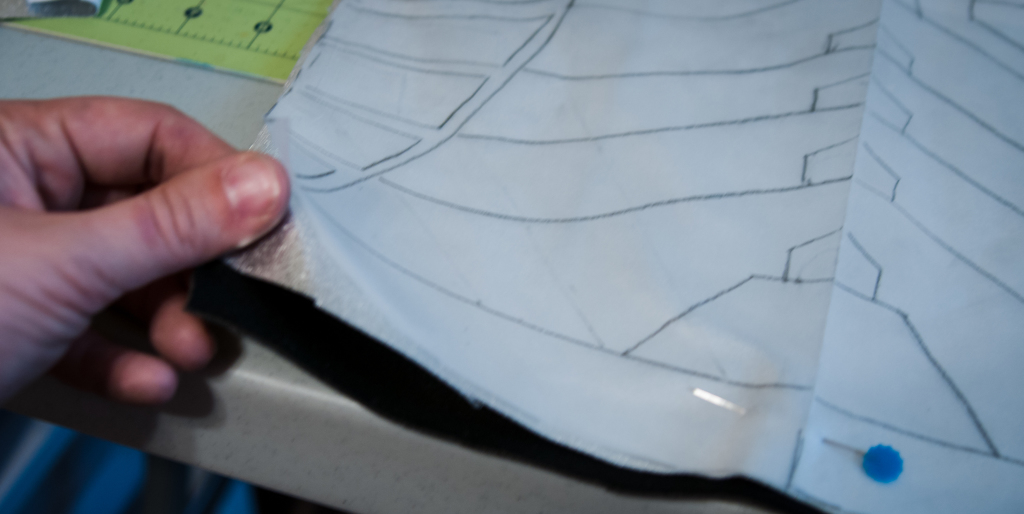 Right, so you've got layers. Pin them together around the edges. Not too much because the pins can punch holes right through that silver. If you hvae clippy deals use those. Remember that straight line I told you to make in the middle of the sleeve? It's your best friend now because it will be the first place you sew to keep this slippery shiny (awesome) sleeve together.
Please use a knit needle and be prepared to swap it out about half way through. You will not regret making this choice as it will save some heartache. I used black thread on my sleeve so my stitching would stand out. Start slow. I turned down my speed for this one.
Make deliberate turns. That means leave your needle down, lift the presser foot, and turn the fabric. You don't want wavy or curvy lines (at least I didn't) so make those corners sharp.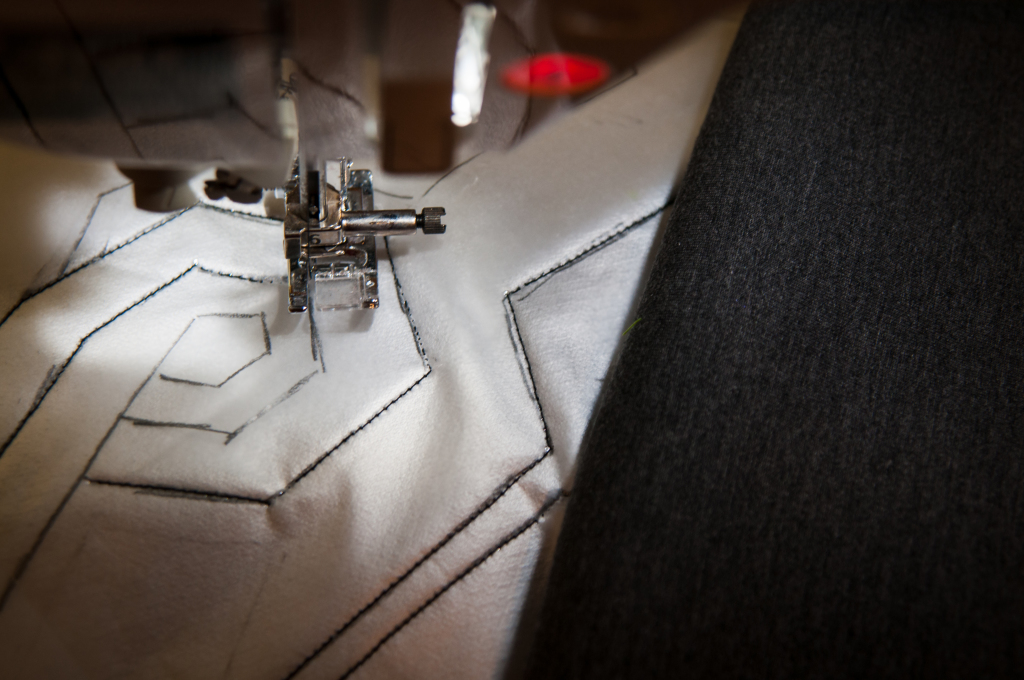 It gets a little cumbersome, so roll on side of the sleeve. I worked from the middle out to one side and then flipped. I wanted any fabric that would move to move outward so there wouldn't be weird bunching in the middle.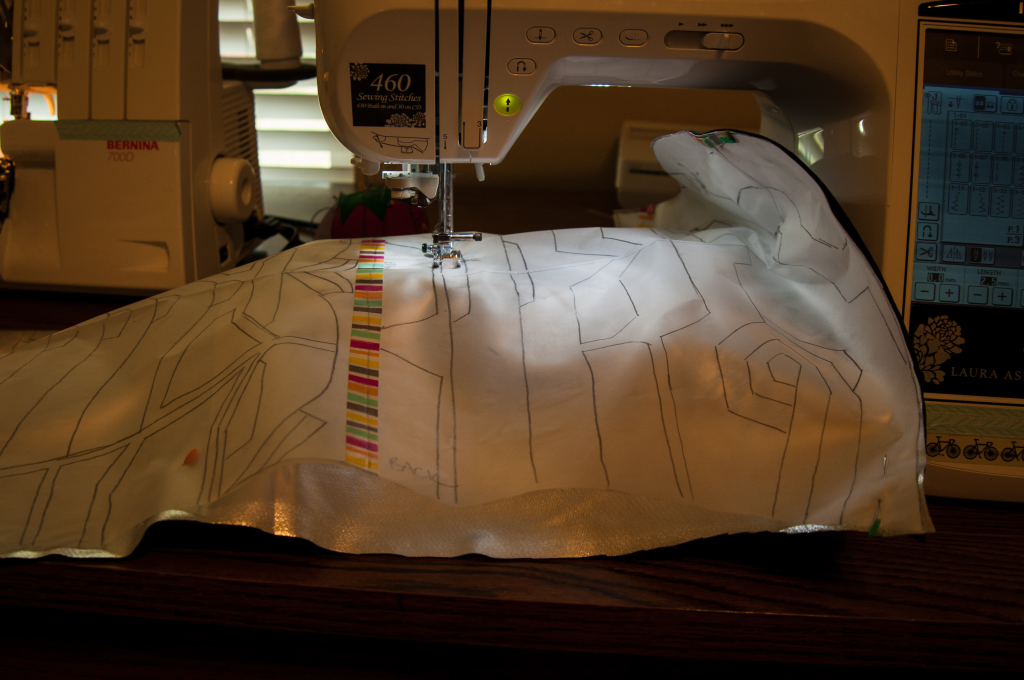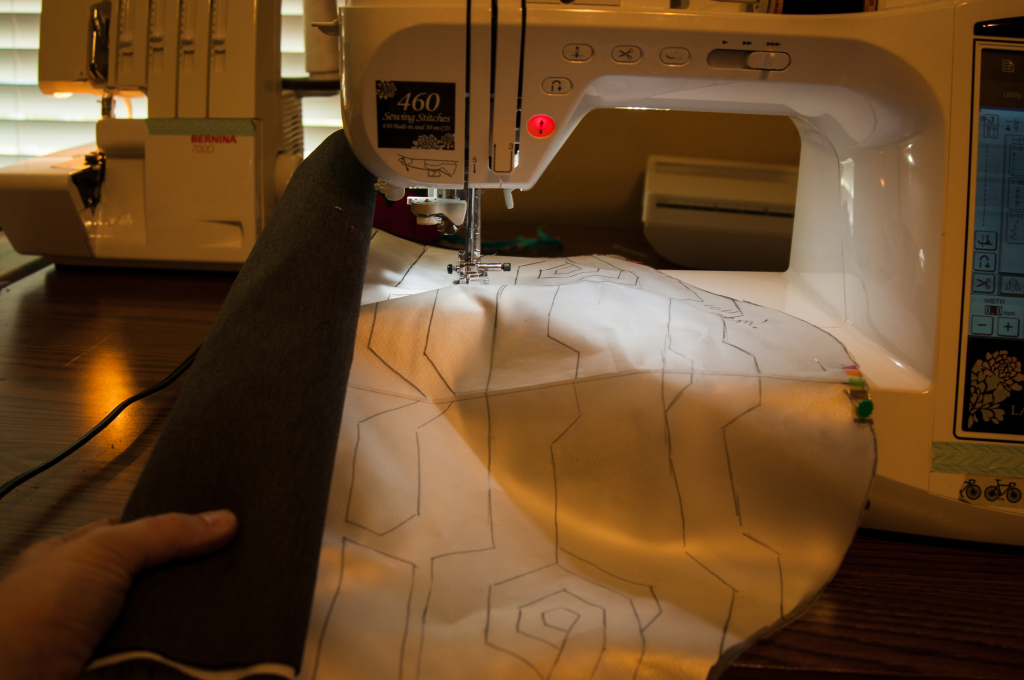 After much labor and love, you will have a sleeve that looks like this – or something like it!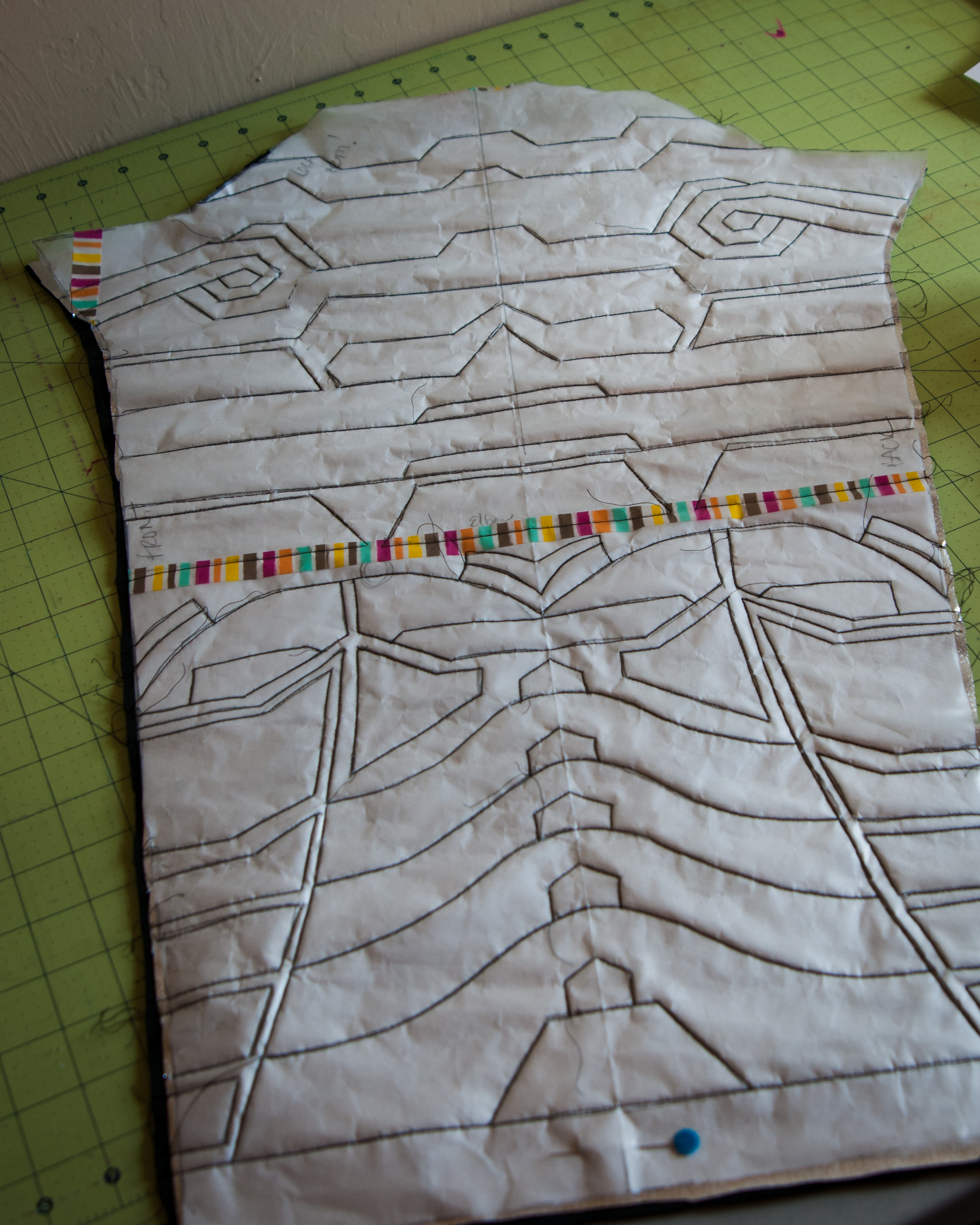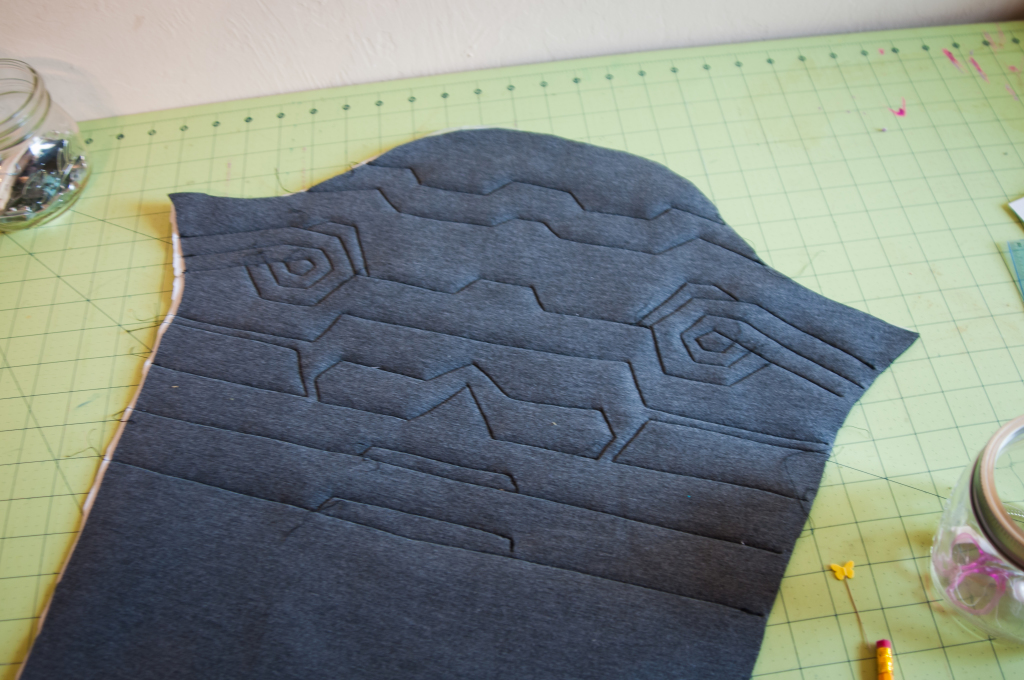 Now crank the tunes and wiggle a bit because I'm sure your shoulders are tense and your hands ache a bit. Mine did! Grab a trashcan and get to ripping off that vellum. Tear away from the stitching. Be gentle! If you had to tape your pattern together tear those parts carefully. It worked for me to pull down and then pull up if I had to stitch across the tape.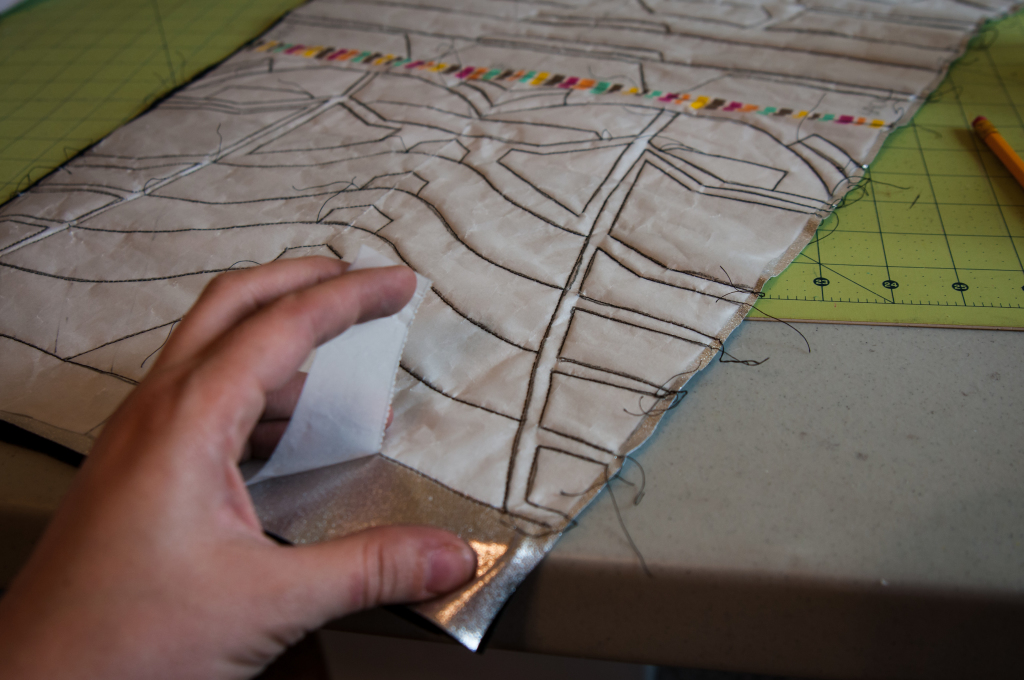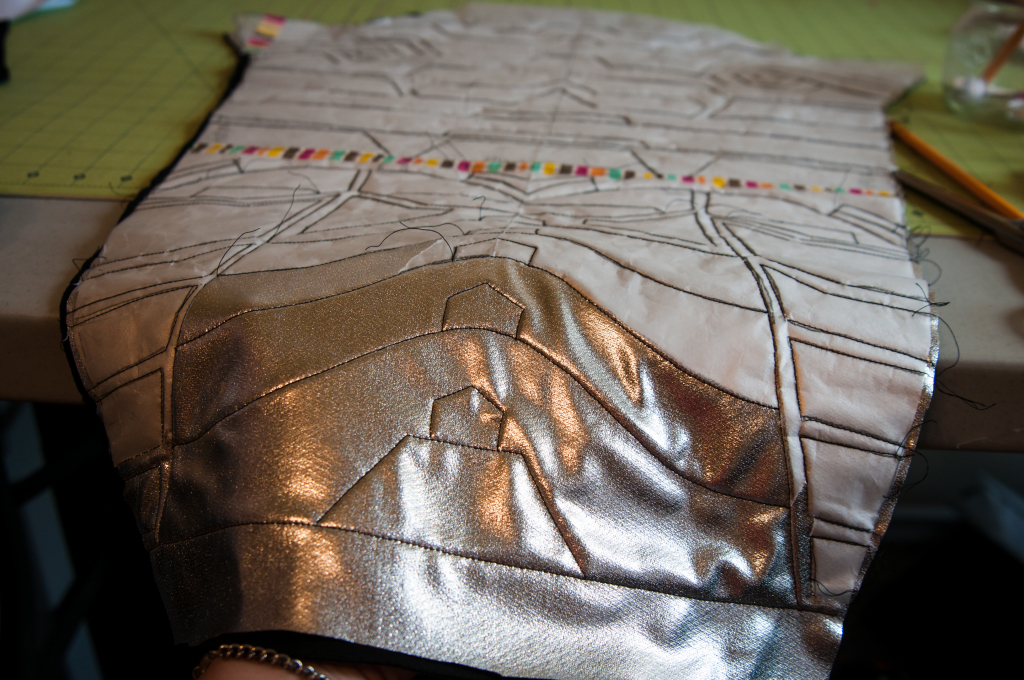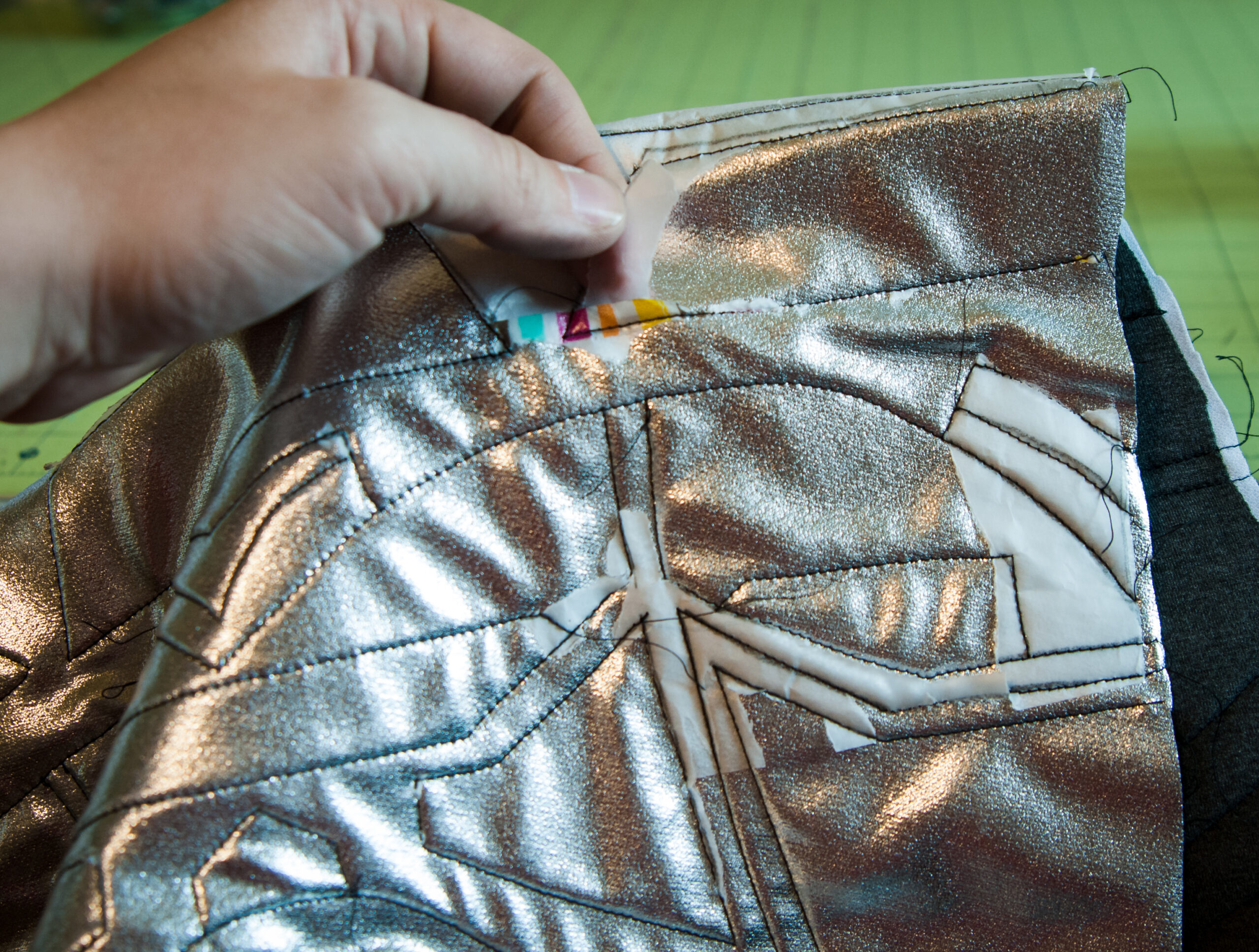 Now! Look at that shiny sleeve!!! You've got one more step to make it an official Winter Soldier sleeve and that's the red star.
Go here to find the one I used –
Print that star and cut it out of the red knit scrap.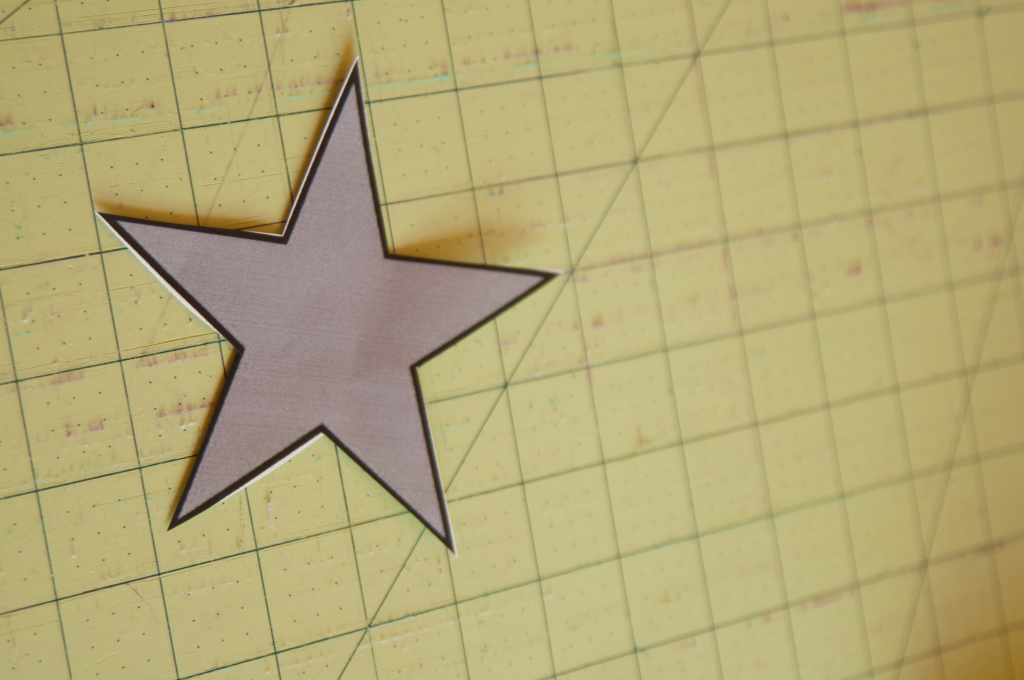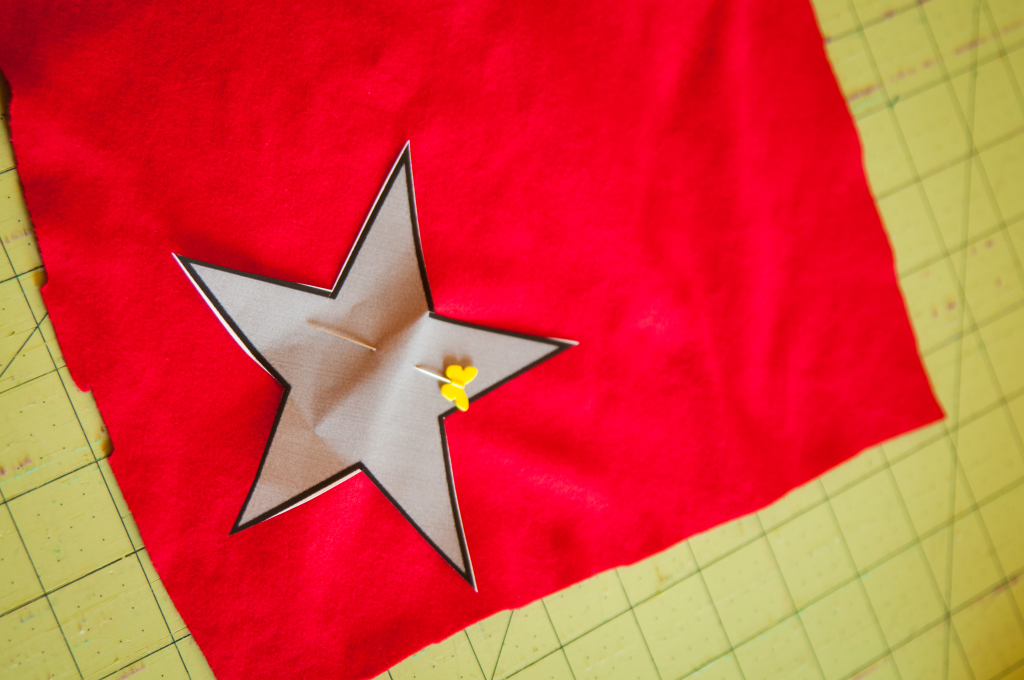 Pin it to your sleeve – near the shoulder. Put a piece of vellum over it and get ready to stitch it down. Slow! Deliberate turns! Nice sharp corners!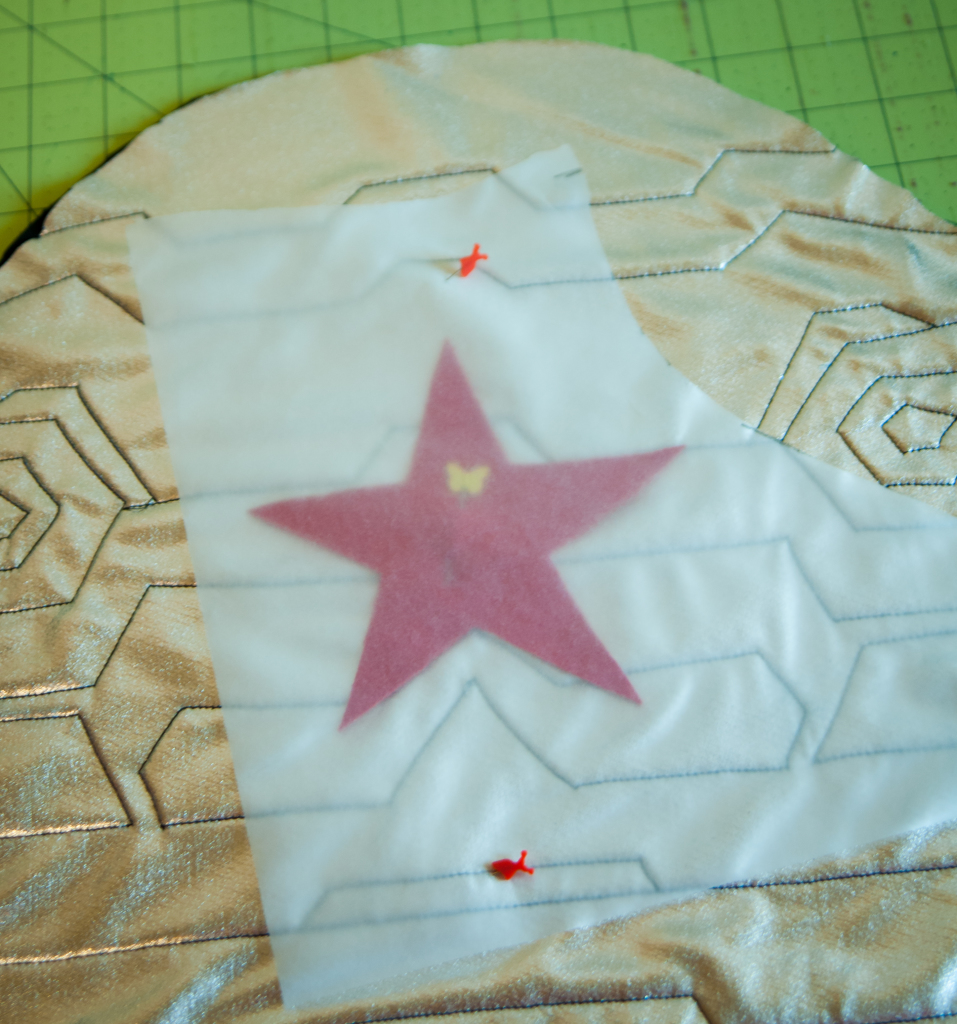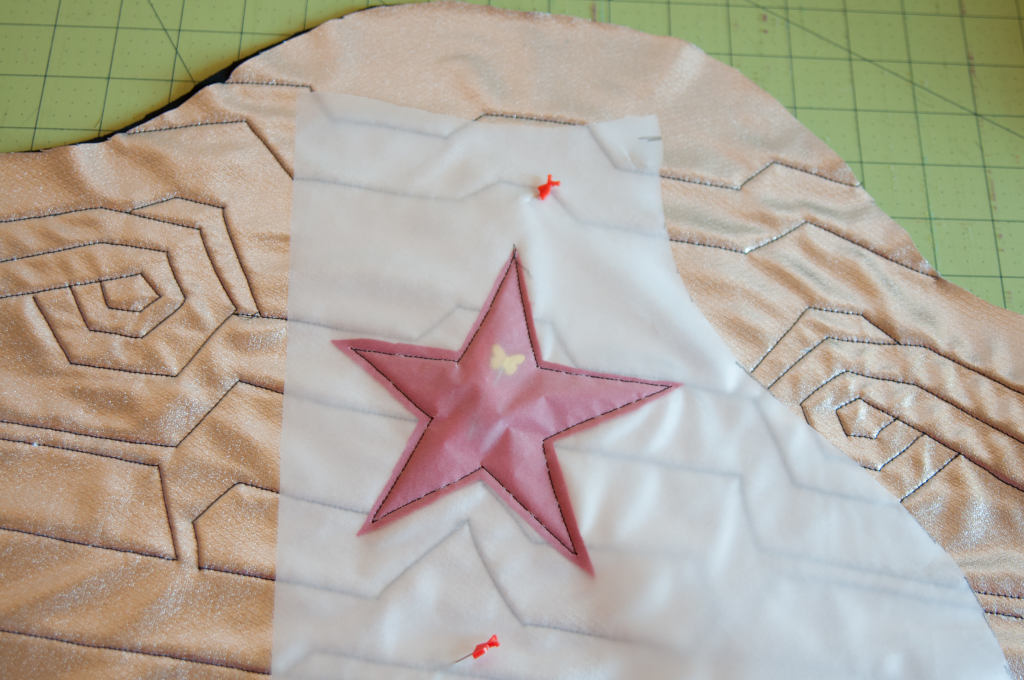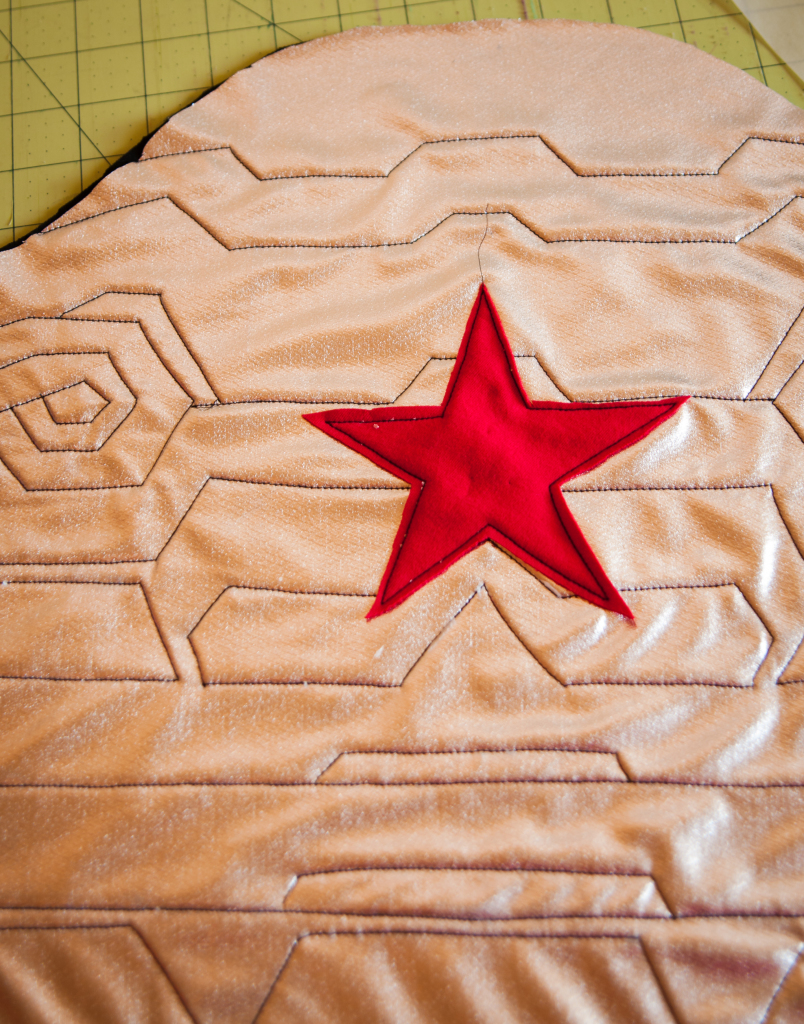 Pro Tip – Stay close to the edge of your star. If you don't it'll look like a starfish after wear. I could have stayed a little closer on the edge of mine.
Now, finish your Cascade Jacket according to the directions! Congrats! You now have the coolest jacket ever. For realsies!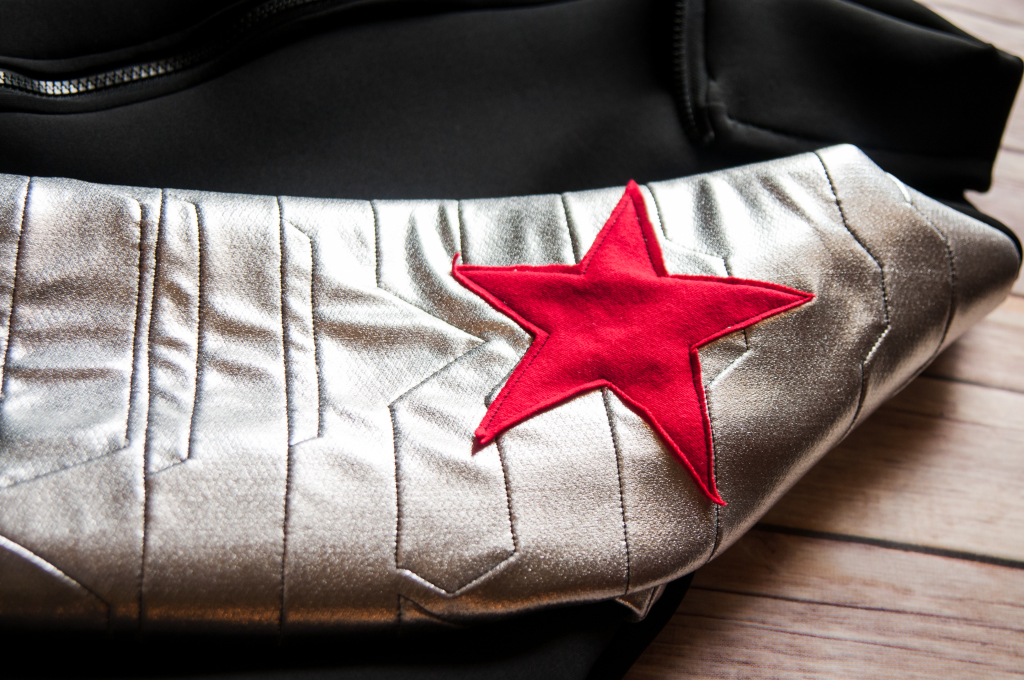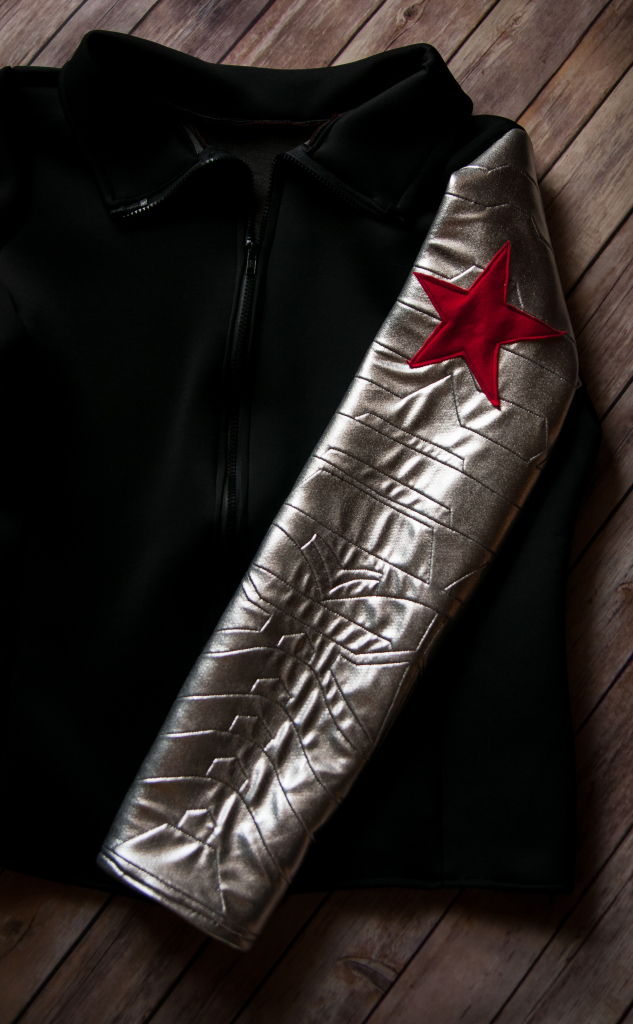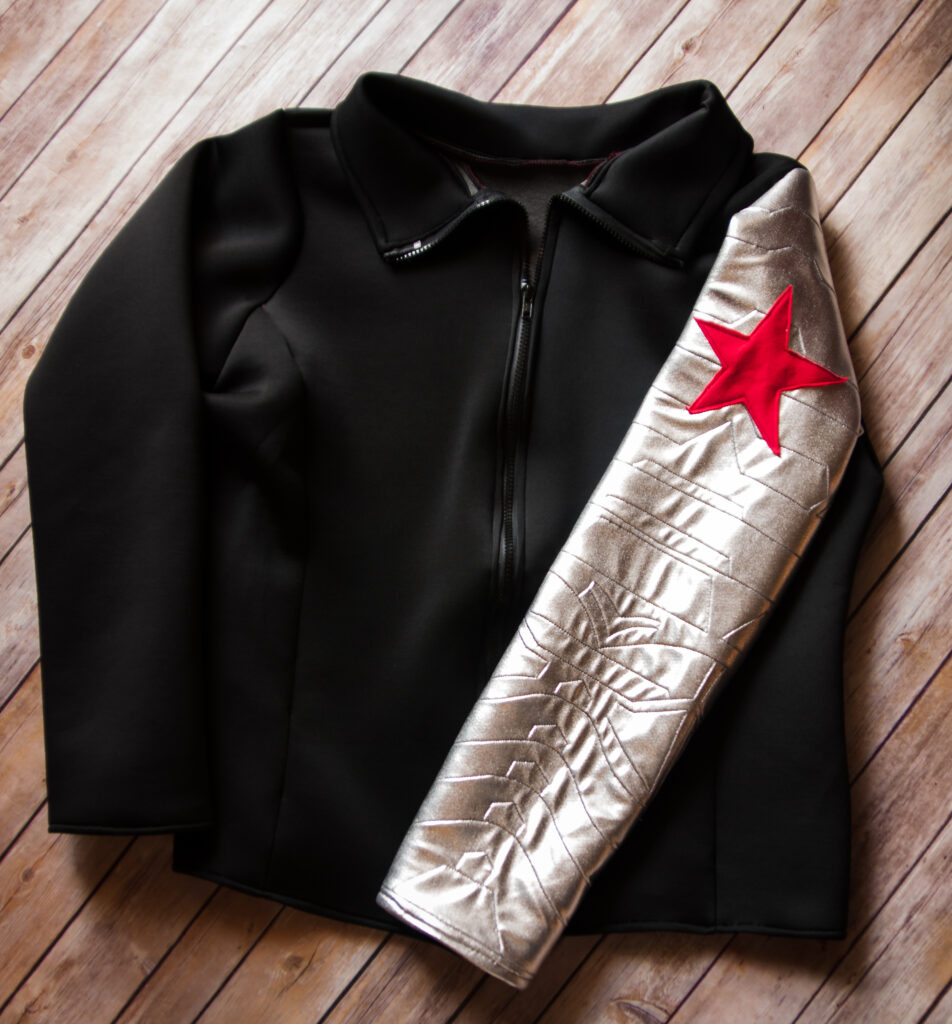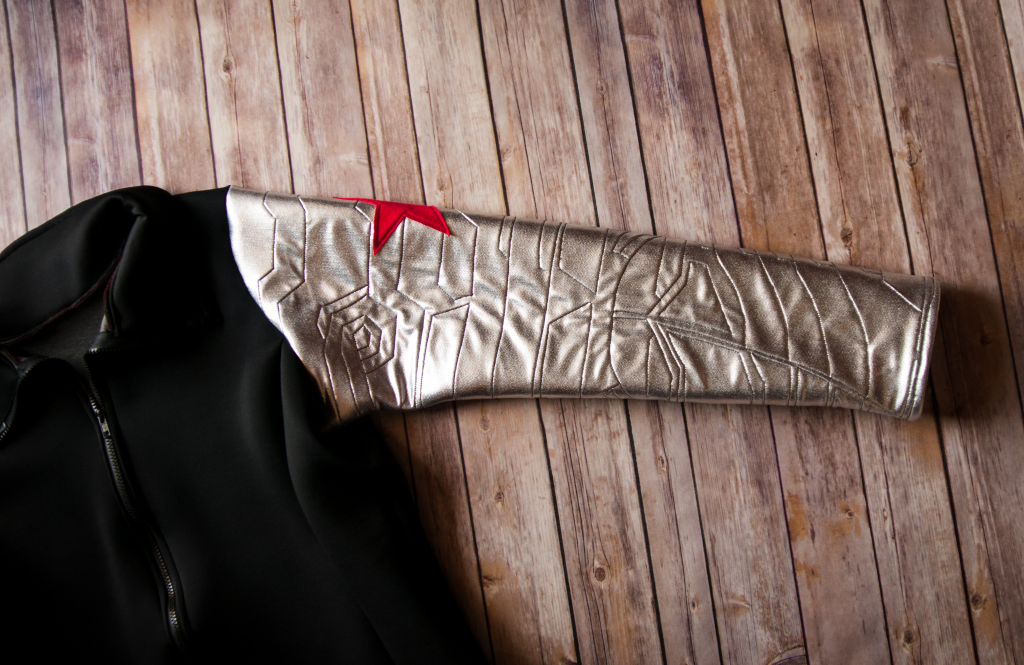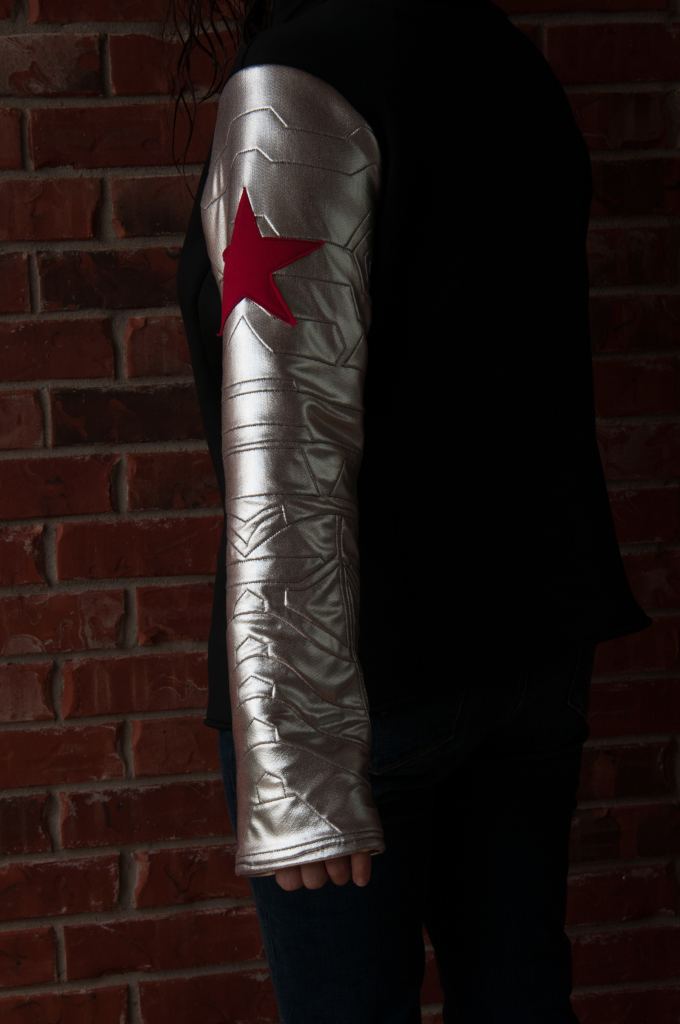 For me, this is the first step to a Winter Soldier costume for this year. I'm working on the Gator (the face mask) next and then will put together a tac vest. Squee! I hope you guys liked the tutorial and PLEASE post photos of your jacket mods. I would love to see where you guys take it!
xoxo
b.
Other Posts
We hope you enjoyed this post on the DIY Winter Soldier Costume. You might also enjoy some of these articles: