DIY Tulle Skirt | How to Make a Tulle Skirt
I remember vividly the first time I gave my older girl a tulle skirt. Her glowing eyes, her happiness, it's an image I won't forget… She was three at the time and she loved to spend her day dancing around all over the house pretending she was a ballerina in her skirt, so I thought a tulle skirt was the perfect gift for her. Some time later, when she was four we put her in ballet classes and she was oh-so thrilled!
The truth is, every little girl (hmm, every grown up girl too! 🙂 ) loves tulle skirts! And the skirt is so fun to make and so versatile! You can make a tulle skirt for dance classes, for a fancy outfit, just for playing around the house, or… for a costume! Today, I'm going to to teach you how to make a tulle skirt!
You can get tulle in several colors, so depending on the theme or character you choose you can make a fun tulle skirt or dress! Think blue tulle for a Frozen inspired dress, a black one for a Halloween witch costume, an orange skirt for a cute pumpkin costume, a yellow skirt for a Snow White costume… The tulle possibilities are endless!
That first tulle skirt I gave her was not made by me. (Shame on you, mom! I know…) I had never sewn with tulle before and I always procrastinate when I have to make something for the first time… (I wonder if I am the only one here…) Until I make it and realize how easy and fun it was and laugh at myself for not having made it before…
Today I am sharing with you how to make a tulle skirt in a few different ways and options!
We will start by learning how to make a standard tulle skirt and then we can sew the tulle skirt to a t-shirt to make a full costume – it is great for a last minute princess costume! – or sew the tulle skirt to some leggings, so our little girls can play around, jump and run with no problem!
Basic Quick Skirt Tutorial With Tulle
DIY Tulle Skirt Supplies:
1 to 3 yards of tulle (It depends on the girl's waist size and how much gathering you would like it to have. For this tutorial I have used 1 yard for a 21 inch waist.)
2-inch elastic with waist measurement width
Skirt Instructions:
1. Fold the tulle. Depending on how long you want the skirt to be, you can fold the tulle in two, three or four layers. I was able to fold it parallel to the skirt length, so I have it folded twice – four layers – for a length of about 13.5 inches (tulle usually is 54" wide, so 4x 13.5"). If you need to cut it, then cut it folded with a rotary cutter along a ruler. Cut desired length + 1 inch.
2. Pin one of the long edges and run a gathering stitch (maximum length) about 1/2 inch from the edge.
3. Pin sides and stitch with a 3/8" seam allowance. (Make sure not to catch the gathering thread.)
4. Gather skirt by pulling the bobbin threads.
Note: Personally I find it easier doing this way with tulle, but you can stitch the sides together first and then stitch and gather the upper edge.
5. Grab the elastic and overlap raw edges by 1/2 inch. Zig zag stitch on both edges.
6. Pin tulle to the inside of the elastic. Adjust gathering. Stitch with a zig zag stitch or with a stretch stitch.
You're done with the skirt!
Note: If you find that the tulle raw edge on the inside is a bit itchy (when in direct contact with the skin), you can enclose it with bias tape by sewing folded bias tape around the raw edge.
Note: If you want a no see-through skirt you need to either add several more layers of tulle or you can make a simple fabric skirt to add as a bottom layer. You can either make a simple gathered skirt pattern or a circle skirt pattern for a fuller skirt.
Sewing a Dress or Costume With Tulle
Now I'll show you how to make a tulle dress – basically you take the tulle skirt and add a shirt to it. If you want to make a dress or a costume in 10 minutes this is what you need! Make a quick tulle skirt, grab a tee, sew both together and voilá! You can use this method to sew a ton of different costumes depending on the t-shirt you pick..
You will need:
One tulle skirt and one t-shirt (chose the color according to the princess or character dress you want) – it can be color blocked or you can embellish it previously, with an aplique or a freezer paper stencil.
How to make a Tulle Dress:
If you wish to hide the elastic (like I did), pin the tee to the tulle skirt wrong side of tee with right side of skirt. Then, stitch it on the right side, stretching the elastic carefully. There you have it: Tulle Skirt + T Shirt = Tulle Dress.
Adding Leggings to a Tulle Skirt
Next, I'll show you how to add leggings to your tulle skirt. This is another fun addition and could be essential if you only have a few layers to your tulle skirt and its see through. The nice thing is that you can easily attach some leggings to your tulle skirt! It makes the skirt more warm, comfortable and not see through.
You will need:
Some leggings and a tulle skirt.
How to make a Tulle Skirt with Leggings:
Pin the leggings to the skirt. Start sewing with a zig zag stitch or a stretch stitch about .5 inch from edge.
You're done!
I made this diy tulle skirt for my younger girl who turned three last August. Can you tell how happy she is? She is such a doll! (And no, I am not biased… 🙂 )
Feel free to head over Made by Sara or email me to mail (dot) sarahandmade (at) gmail (dot) com if you have any question. I will be more than happy to answer it and get in touch!
We'd like to thank Sara for this amazing tutorial on how to sew a tulle skirt and how to add a variety of important additions or make modifications to make the skirt more versatile or wearable depending on the weather, time of year, or what the application is (clothes, costumes, etc.)
While we have you here thinking about sewing tulle I'll share with you a couple other things I've sewn with tulle fabric throughout the years to get you thinking.
No-Sew Tulle Skirt Tutorial
Back when Anne was tiny I made a quick no-sew tulle skirt for her. It's a pretty simple skirt and I'll show you how I did it:
It's your Birthday shout hooray! And of course every birthday kiddo needs a special outfit for their special day. How about a nice fluffy tulle tutu & a big "1" shirt. (or any other number of course)
No-Sew Tulle Skirt Materials:
Tulle: You Need 2 Colors of Tulle. Get About One Yard of Each Color of Tulle
Elastic: Used for the Top of the Tulle Skirt
T-shirt Vinyl: For the Applique on the Shirt
Tee Shirt: You Can Just Buy a Simple Plain White One. We also have several options at Peek-a-Boo Pattern Shop like the Kid's Essential Tee.
No-Sew Tulle Skirt Instructions
Tulle Skirt Step 1. Well, I call this a no-sew pattern and it's true that you don't do any sewing with the tulle but you will have to do a bit with the elastic. First, get the elastic the correct length to fit around your child's waist to make the tulle skirt. Next, sew your elastic together. You can use a sewing machine or sew it by hand. Alright – that's all the sewing – now back to the no-sew skirt! Pretty simple, right?
Tulle Skirt Step 2: It's time to add the tulle! First, stretch your elastic over something. I just used the legs of a chair to stretch the elastic around and it worked perfectly. You do this so that when the elastic springs back together the tulle will be nice and full. After you stretch the elastic, you need tie lengths of tulle onto the elastic with some simple square knots.
That's really all you need to make this simple no-sew tutu skirt. It's a fun idea to get started with tulle and have a tulle tutu ready to go in just a few minutes. I'll also show you how I did this easy Vinyl on T-Shirt to Go With it.
T-Shirt Step 1: Cut a birthday number out of t-shirt vinyl. I used SCAL to make mine. ***With t-shirt vinyl you need to cut out a mirror image or everything will end up backwards! Iron on
There you have it. Anne was ready to party in her tulle skirt for her first birthday!
Tulle Princess Dresses
Now that you have the hang of sewing with Tulle, you might be ready to take it up a notch and use your tulle knowledge to sew a princess dress. We have a couple different princess dresses that use varying amounts and layers of tulle to get the right look.
You can get each of these dress patterns for free when you sign up to our Peek-a-Boo Pattern Shop Newsletter. After you sign-up for the newsletter you'll get a code that lets you get all of the patterns in our Freebie Section for free. That section includes patterns (that include tulle) for Elsa and Cinderella. These patterns only come in one size but work well for sewing up a costume for many young girls.
Elsa Dress with Tulle Train
Let's start with the Elsa pattern. When my daughter was 4 every girl was in love with Elsa. This free pattern is long, sparkly, and has a tulle train. The tulle part here is pretty simple. You basically cut the piece to length, fold it in half, and sew a basting stitch across the top edge and gather. You're then able to sew it to the back of the bodice to complete the train. For full instructions, check out our post HERE.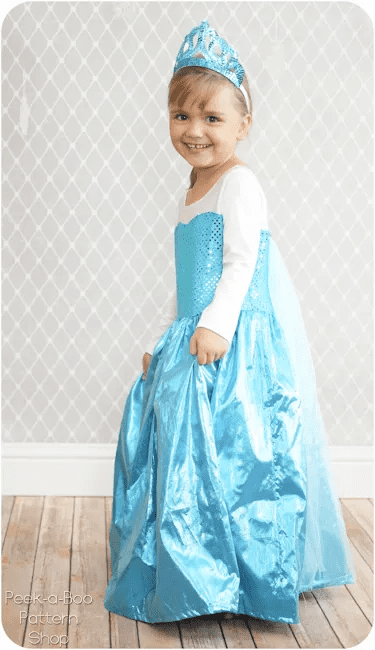 Cinderella Dress With Tulle Skirt
When the new Cinderella movie came out a few years back I had to make my daughter a matching dress for Halloween that year – butterflies and all. This Cinderella Dress has a simple velcro closure for easy on/off and lining. It has layers and layers of tulle – in fact you'll need about 8.5 yards of tulle to complete this sewing project. The tutorial HERE goes over all the specifics to help you get the perfect Cinderella look that your daughter will love.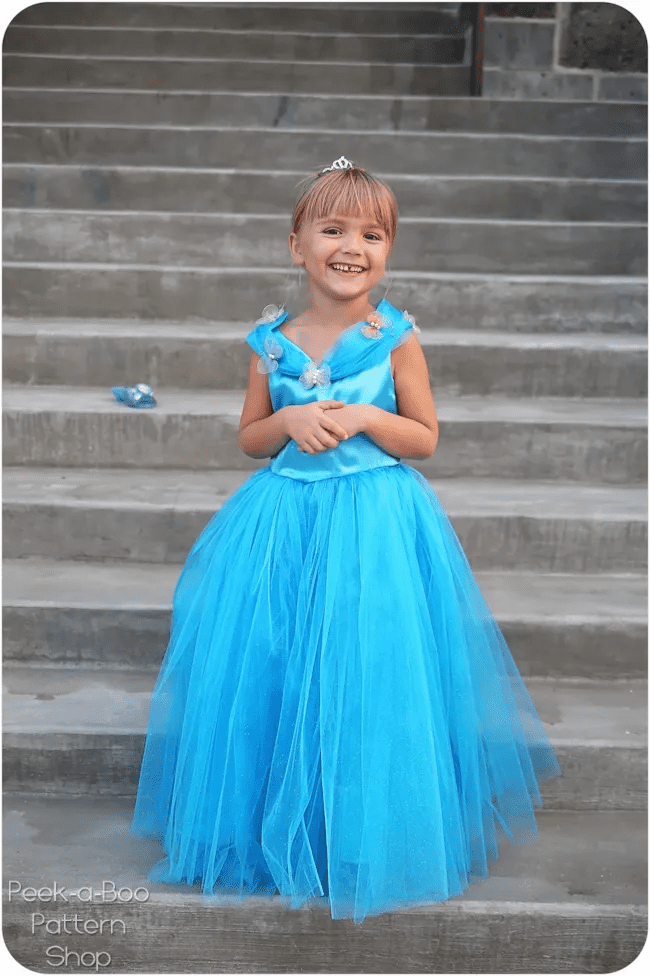 I sure hope you enjoyed all of our tulle info today and that you can incorporate some of these techniques into your sewing projects. If you have questions, comments, or would like to share what you've been sewing with tulle or with any of our patterns over at Peek-a-Boo Pattern Shop then make sure to come over and join our Facebook Group. Also, don't forget to come see us at KnitFabric.com where we offer higher quality fabrics, at better prices, with flat rate shipping.
FAQ When Sewing With Tulle
1. What Are Common Uses of Tulle Fabric?
Tulle fabric is a netting type of fabric used in both sewing clothing and for decorations. You'll see it used for fun or costume skirts, veils, trains, ballet dresses, etc. You'll also see it used to wrap baskets or party favors, make bed skirts, or bows.
2. Are There Different Types of Tulle Fabric?
Yes! Tulle fabric can be made from both natural or synthetic fibers. Most of the tulle you find is usually made from synthetic nylon but you can also find it in silk, rayon, etc. Silk tulle is softer (and more expensive). It's more often used for sewing clothing and you'll see it used quite often in bridal attire like veils. Most of the tulle you see used in costumes is nylon fabric.
3. How Can One Hem Tulle?
Hemming tulle in your sewing can present some challenges. You often won't need to hem it because it won't unravel at the ends and looks good with a simple cut edge. You can also finish the edge of tulle using a ribbon, cord or finishing line.
4. Can You Wash Tulle in the Washing Machine?
Yes. Most agree that you can wash tulle in a washing machine. However, it is a delicate fabric and should be washed with care – cool water, mild soap, and air drying.
5. Can You Iron Tulle?
It is not recommended to iron tulle. Why? Because most tulle is made from synthetic nylon and if you get it hot enough it can melt. To get wrinkles out of the tulle you should use some form of steam.
6. Why Is It Called Tulle Fabric?
Tulle fabric is named after a town called Tulle in France. It's supposedly where Tulle was first made. Tulle became more popular, especially with weddings, after the wedding of Queen Victoria in 1840.
If you liked this tutorial, you might also enjoy the Free Skater Skirt Pattern for Girls.
Happy sewing!
Other Costume Tutorials