Today we have two different DIY Trick or Treat Bag Tutorials to get you ready for getting all that candy this Halloween. First, Crafty Betty will show us her reversible quilted DIY trick-or-treat bag. Following her tutorial we have another fun candy bag tutorial from blog contributor Laurel.
DIY Trick or Treat Bag | 2 Halloween Candy Bag Tutorials
Fall is just around the corner which means Halloween is coming right up! If your kids are like mine and end up trick-or-treating with a grocery sack then you definitely need this tutorial 🙂 Crafty Betty from the contributor team is here today with a tutorial for these darling trick-or-treat bags!
Tutorial #1 | Reversible Quilted Trick-or-Treat Bags
Halloween is right around the corner and every year I try to find some sort of practical treat bag. We have done the $1 buckets and they are great for the day, but somehow they always get commandeered for sick buckets…hey – we have four kids and when one gets it, we all get it. It just doesn't feel right to fill that bucket with delicious candy again (no matter how much it's been bleached out!) Last year, out of necessity (read: mom forgot to get the buckets) I decided to whip together some easy treat bags. How hard could it be right??? Without further adieu…The Reversible Quilted Treat Bag!
Reversible Trick or Treat Bag Supplies:
2-4 Coordinating Fabrics –you can use fat quarters!
Coordinating or Contrasting Thread (depending on the look you are going for)
½" double fold (extra wide) bias tape
Quilt Batting (whatever is on sale – use your coupon!)
Sewing Machine
Serger (optional – if you don't have one, use pinking shears or zig zag stitch)
Cutting Mat
Rotary Cutter
Quilting Ruler
Pins
Iron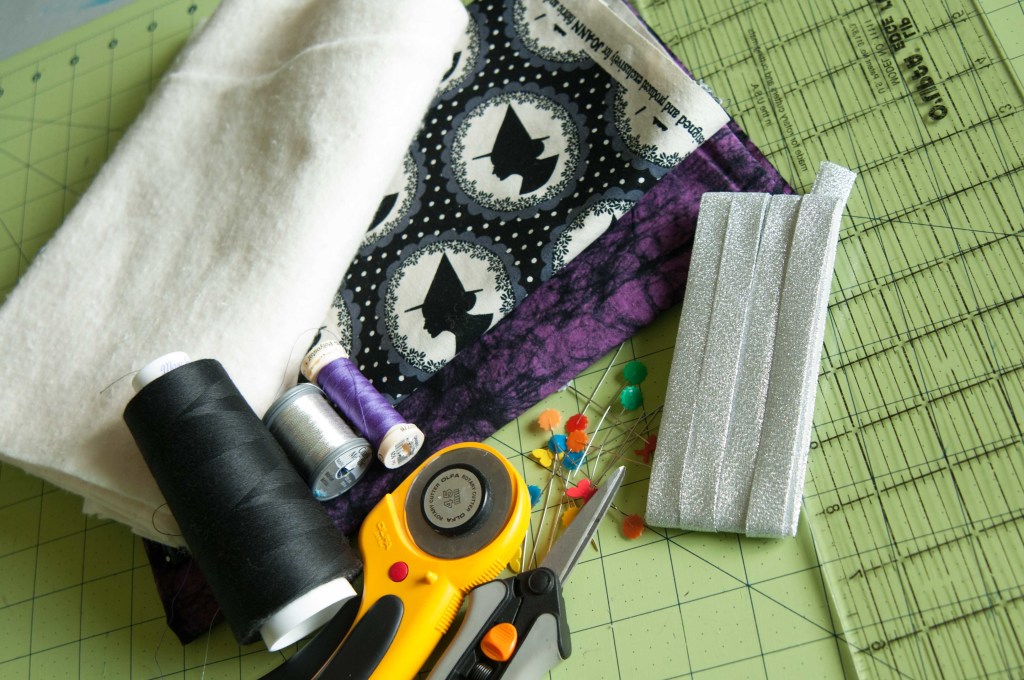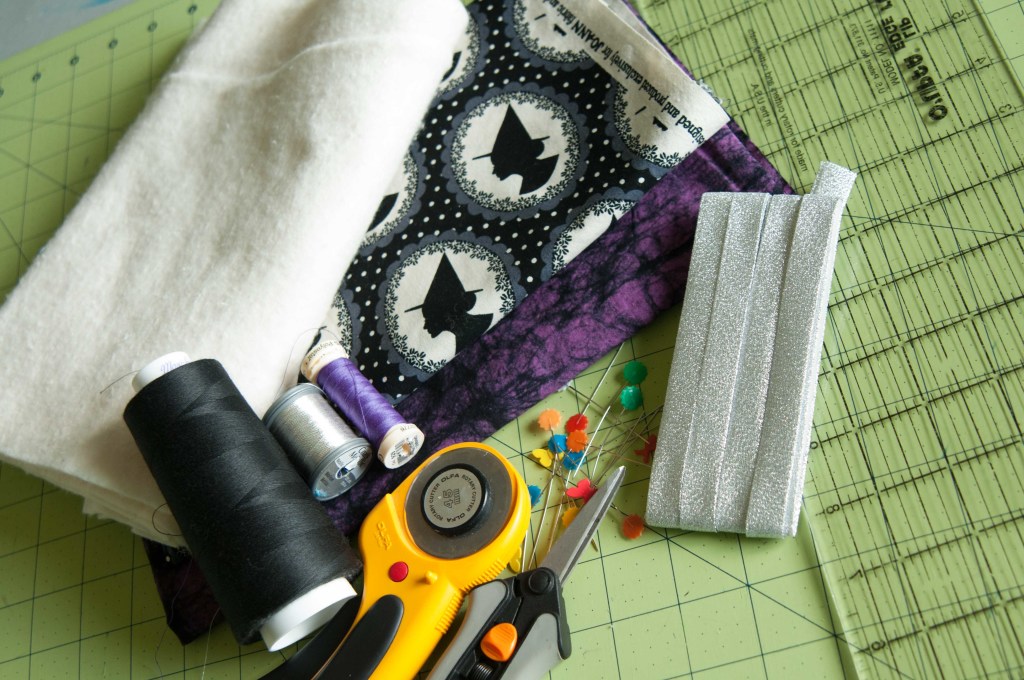 Like I always say, this is a FUN project that is wide open to your creativity. Follow the directions exactly or don't. Every single bag I make is totally different and having this basic pattern will allow you to embellish, piece together fabrics, embroider, monogram, you name it! Gather your supplies and get your fabric ironed. Let's get cutting that fabric!
Reversible Trick or Treat Bag Parts:
4 pieces – 13"x 12" – these will make the insides and outsides of your bag
2 pieces – 13"x 2.5" – these will make the handles
2 pieces – 13.5" x 12.5" – these will be the quilt sandwich guts
2 pieces bias tape – 14" – these are the finishing pieces
**If you are embroidering the main part of the bag, this is the time to do it. Stay away from the edges!**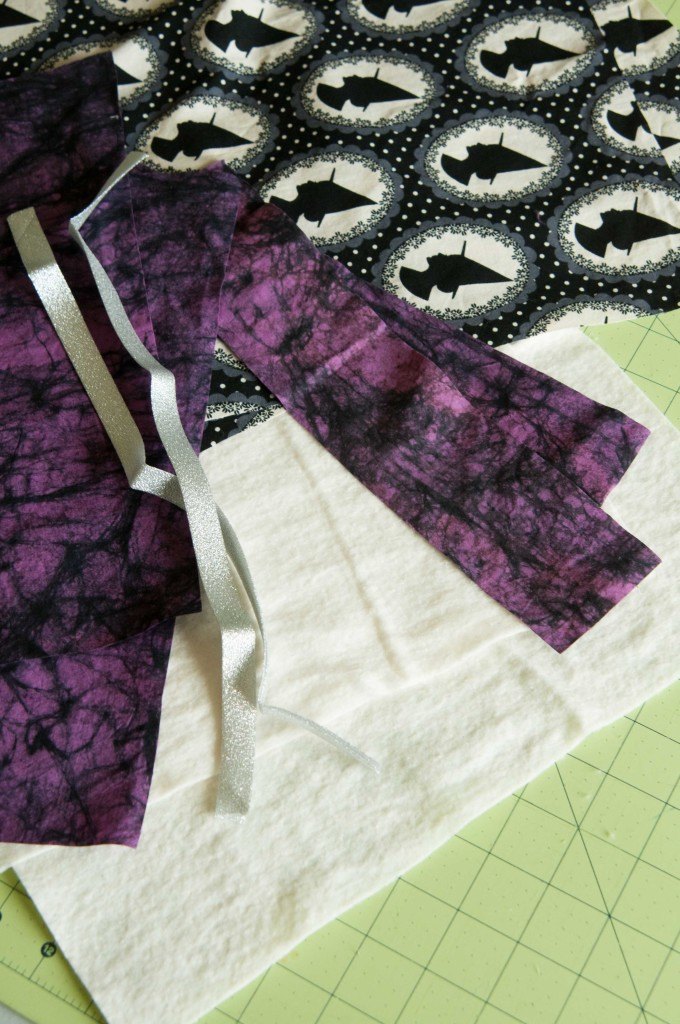 Catch the rest of the tutorial after the jump!
Reversible Trick or Treat Bag Step 1: Alright, we are going to make a quilt sandwich. Fun right? You will lay a piece of fabric with the right side down. Then, lay a piece of quilt batting on top. Finally, lay a piece of fabric right side up. See the sandwich? Some people may prefer to use a quilt basting spray (it's like hairspray for fabric), but this is such a little quilt I like to use pins and speed it up a bit.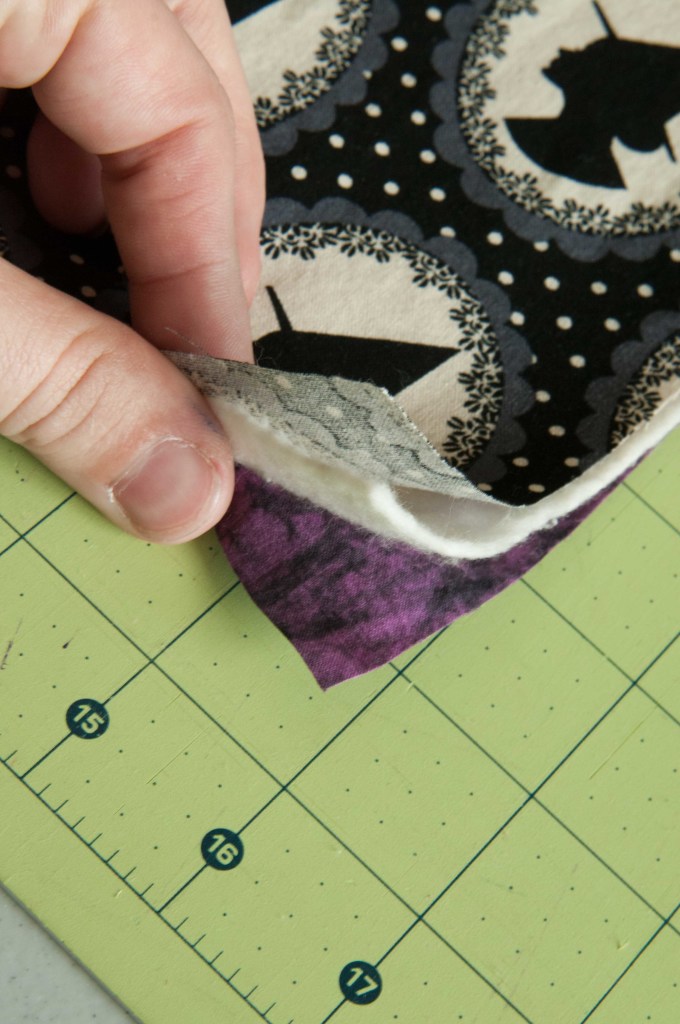 Reversible Trick or Treat Bag Step 2: Pin your sandwich in a few places so when you come to the machine your pieces won't slip and slide all over the place.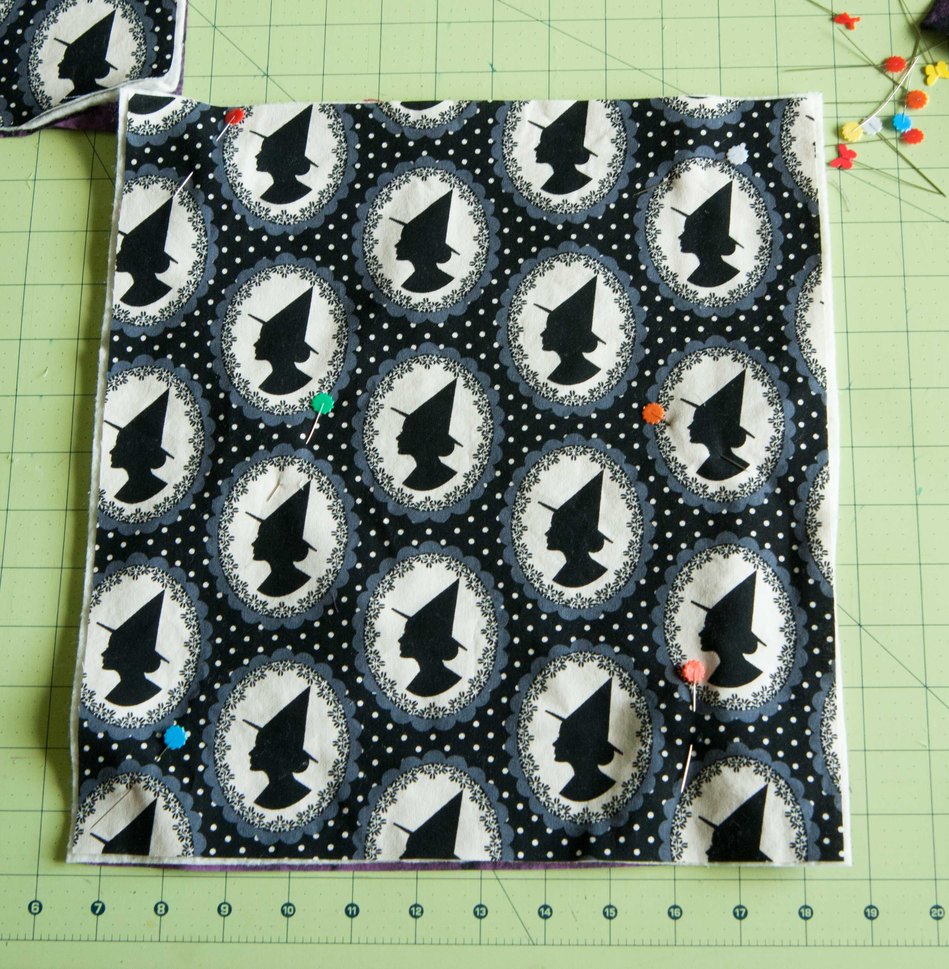 Reversible Trick or Treat Bag Step 3: Repeat. You will now have two quilt sandwiches. Now comes the fun part! You can quilt your sandwich in any way your heart desires. I prefer straight-line quilting so I don't have to fuss too much and don't have to change my sewing machine foot – sew lazy. Hahaha. Some ways I have quilted Bags.
Crazy lines in every direction
Horizontal lines
Vertical lines
Tic Tac Toe
There are so many great machine quilting patterns available. You can tackle really intricate ones or even just take a fabric pen, draw out a shape/letter/whatever and just follow it with your needle. Remember, anything other than straight line quilting will require an open quilting foot. For my bag, I chose crazy lines. Start at one point and straight stitch to the other side of the quilt sandwich at a diagonal. Then, turn the sandwich and do it again.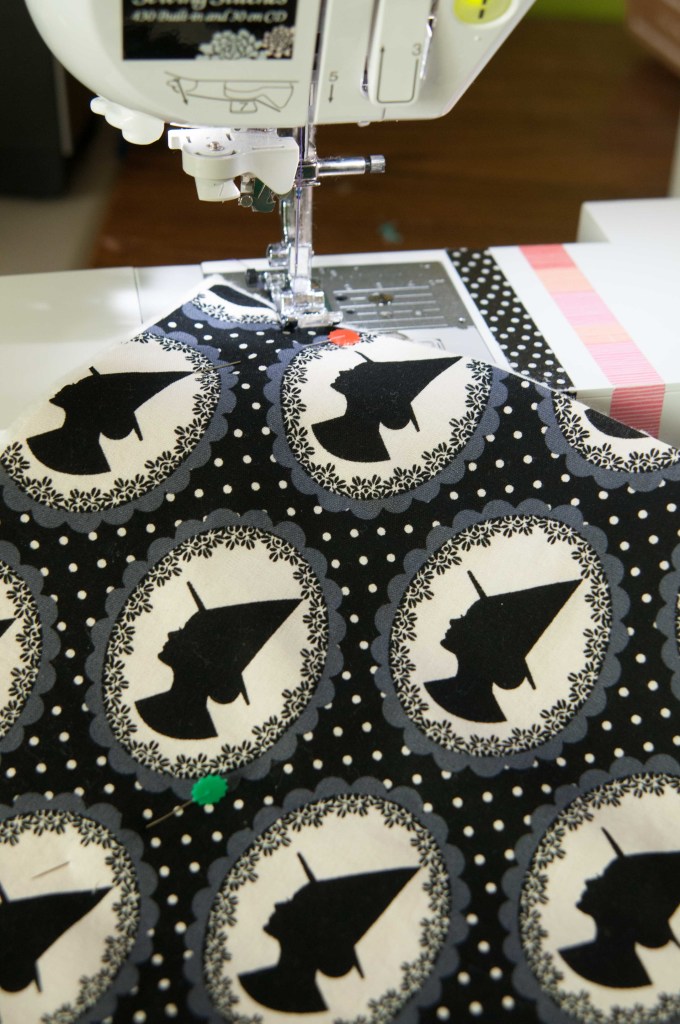 Reversible Trick or Treat Bag Step 4: Vary your angles and hold tight to the layers so they don't slip.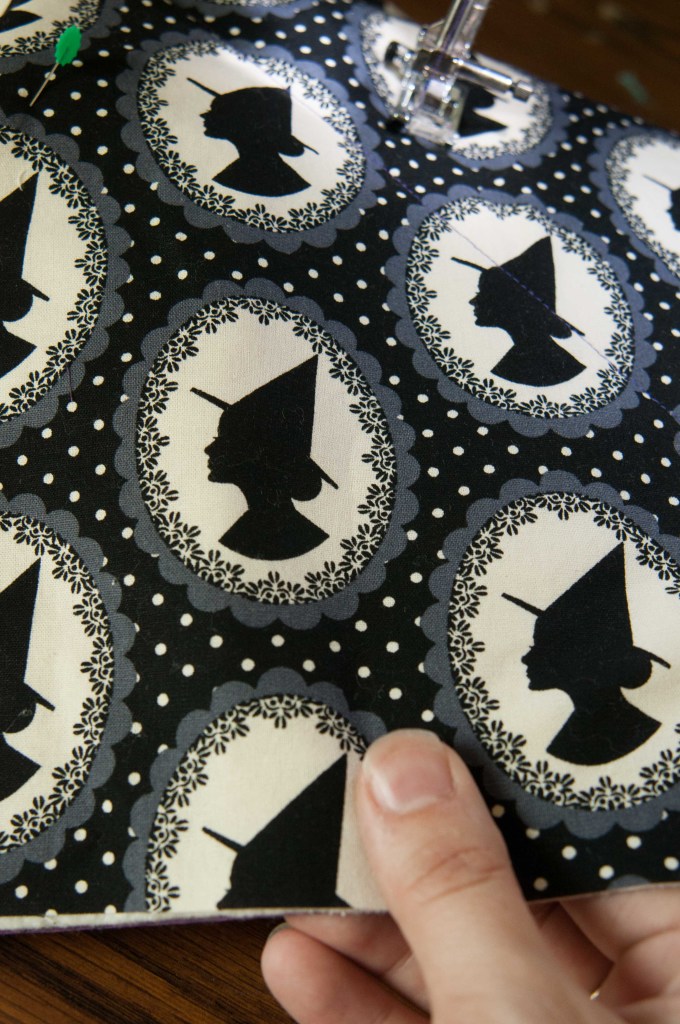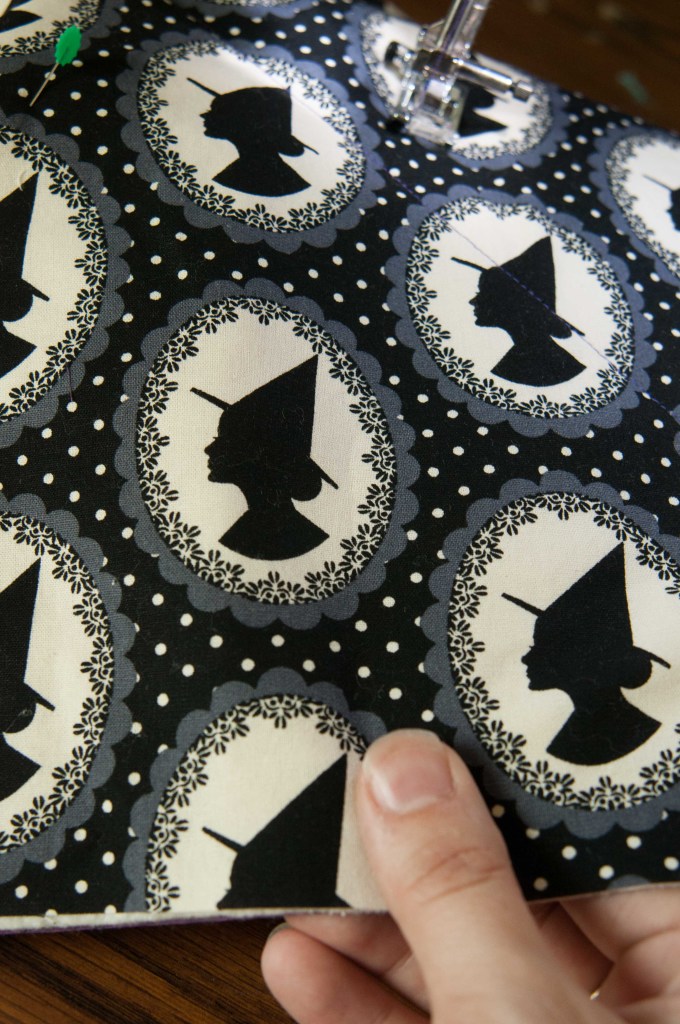 Pro Tip – Go slow to keep your quilt layers together. If you see your fabric slipping, STOP! It's super duper hard to pull stitches out of quilt batting without destroying it. Fix the error if you can and if you can't chalk it up to handmade charm!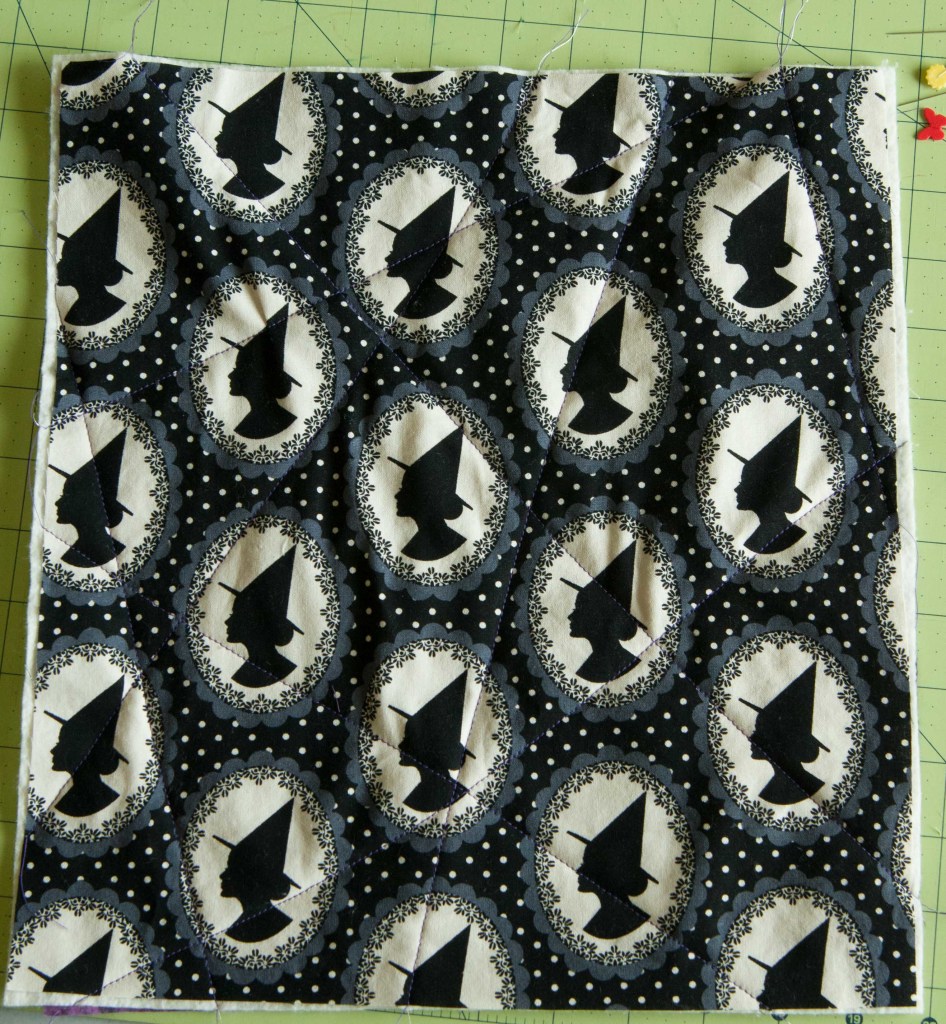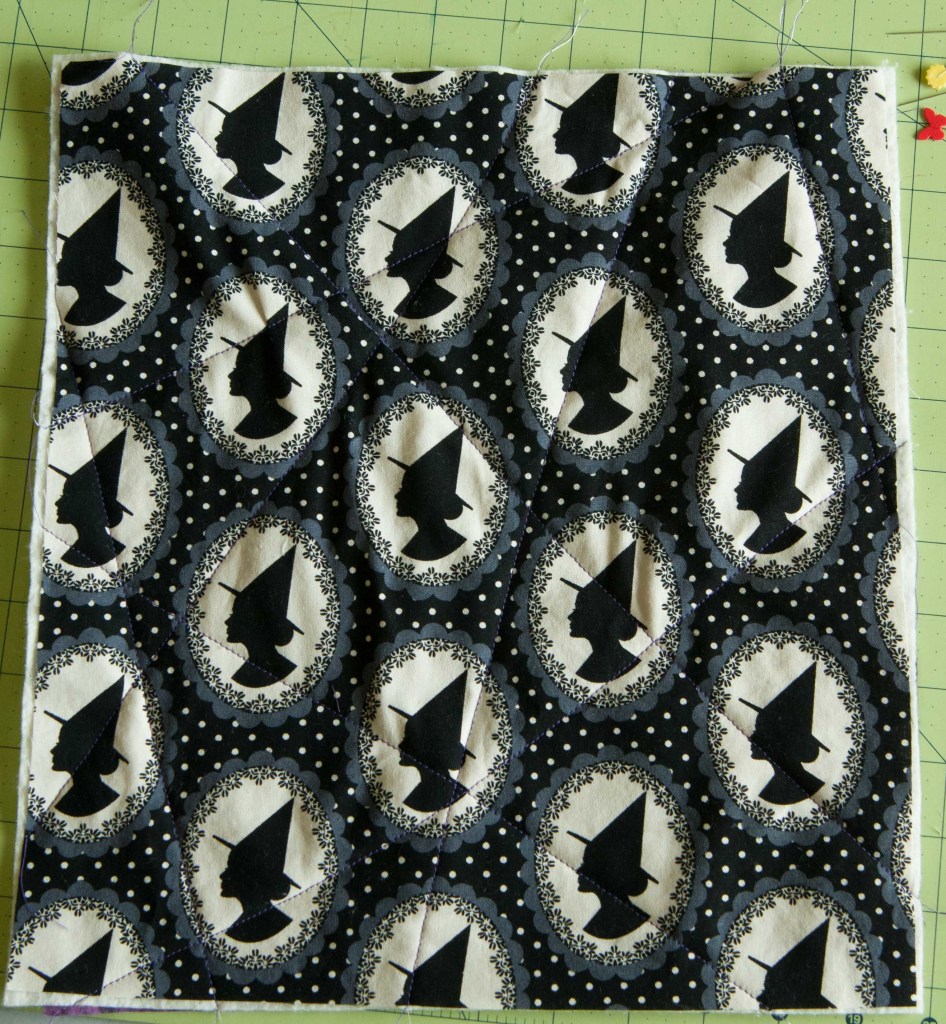 Reversible Trick or Treat Bag Step 5: Right – back to the quilting. Don't you love it? If you have some spots you are not pleased with, don't worry, when you wash your bag it will crinkle up like a quilt and no one will even see the part that bugs you…I promise! Quilt both the front and the back and set them aside.
I used silver bobbin thread to match the silver bias tape. 🙂
Reversible Trick or Treat Bag Step 6: Take your handle pieces and iron them in half the short way so they start to look like handles. I like to use my serger to make things speedy, so serge the long open edge and the short ends. It's super cute to use contrasting threads here!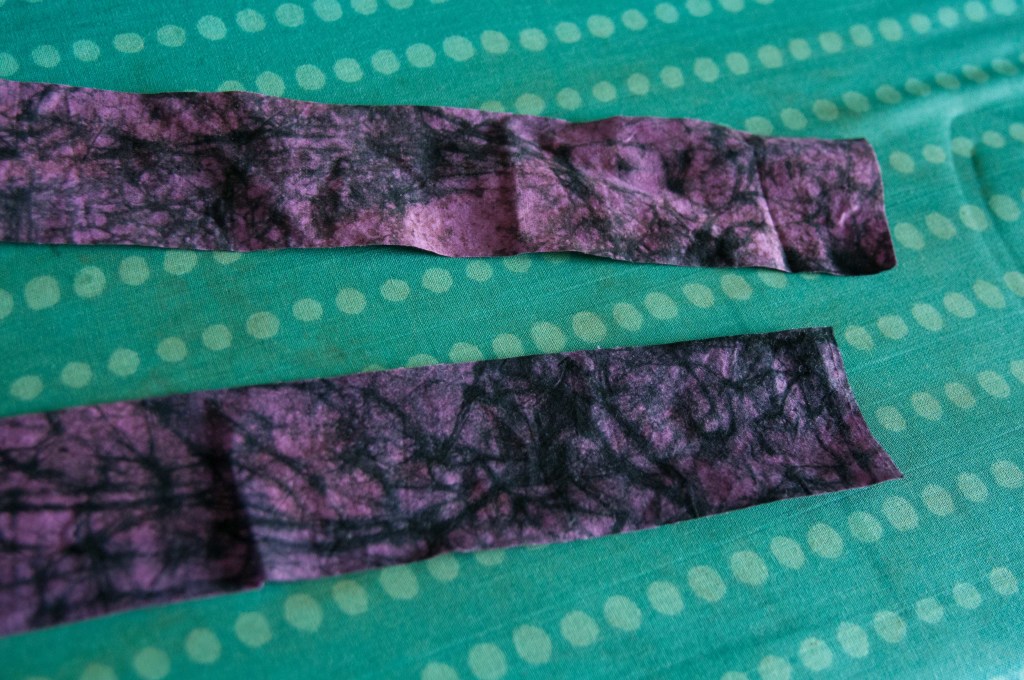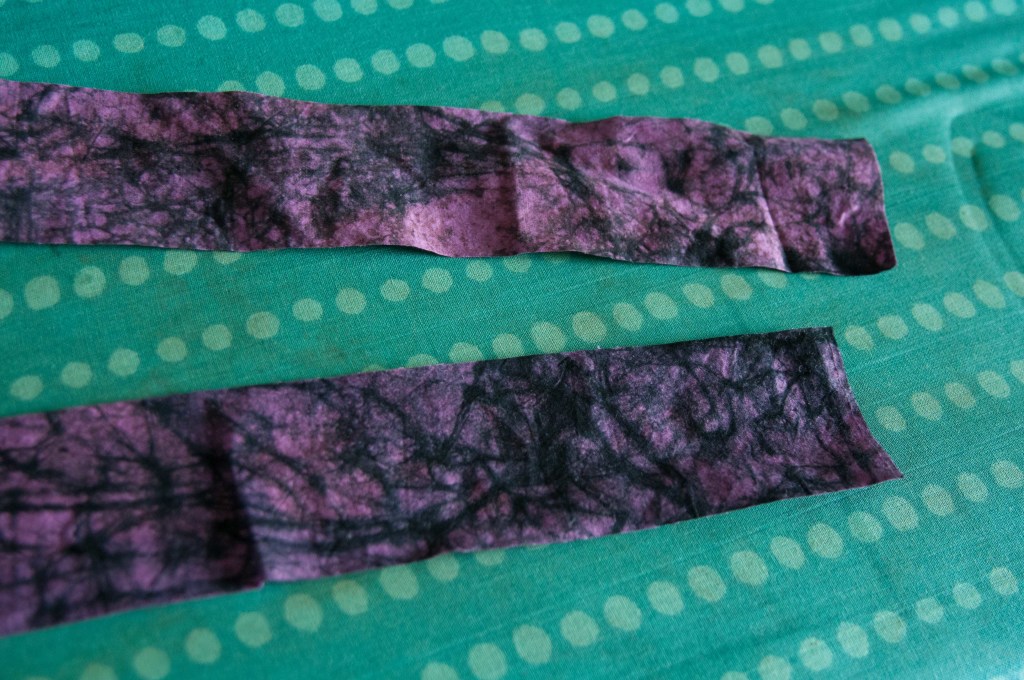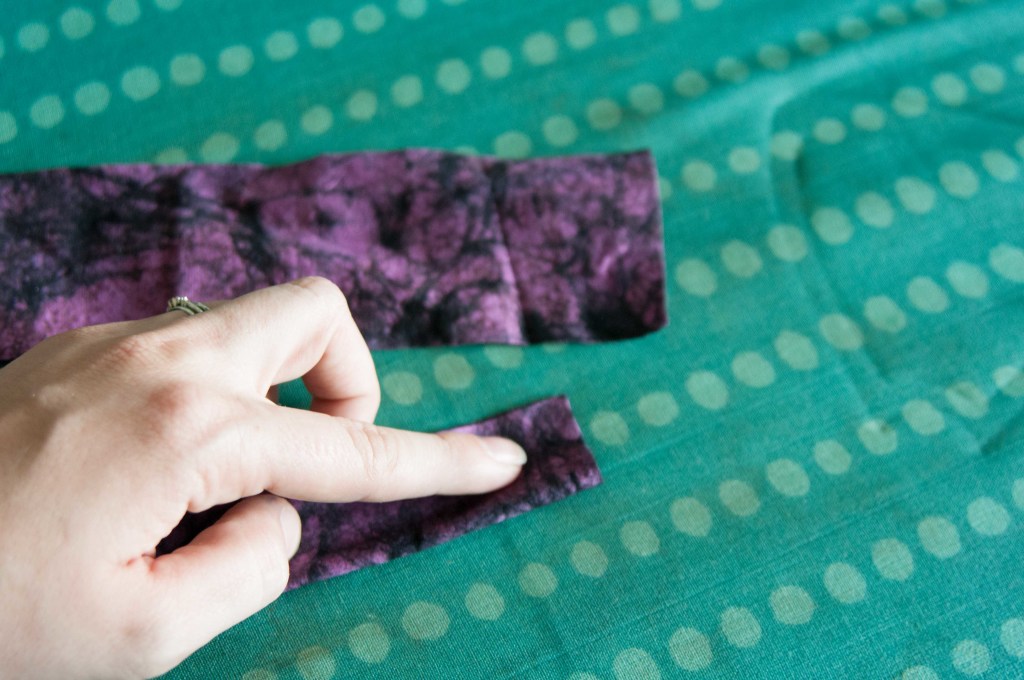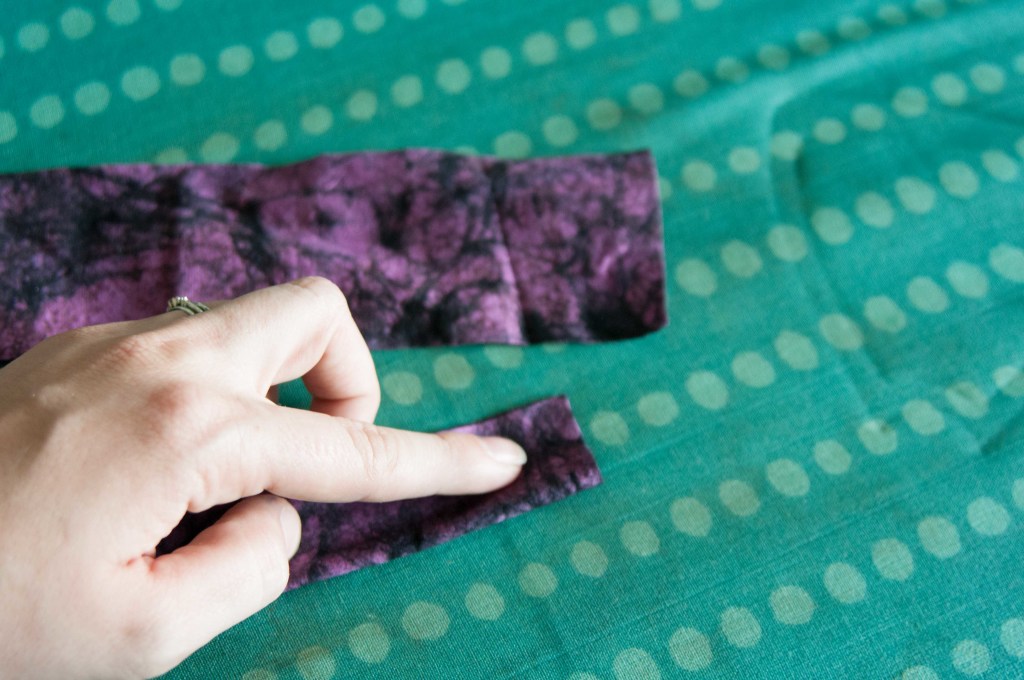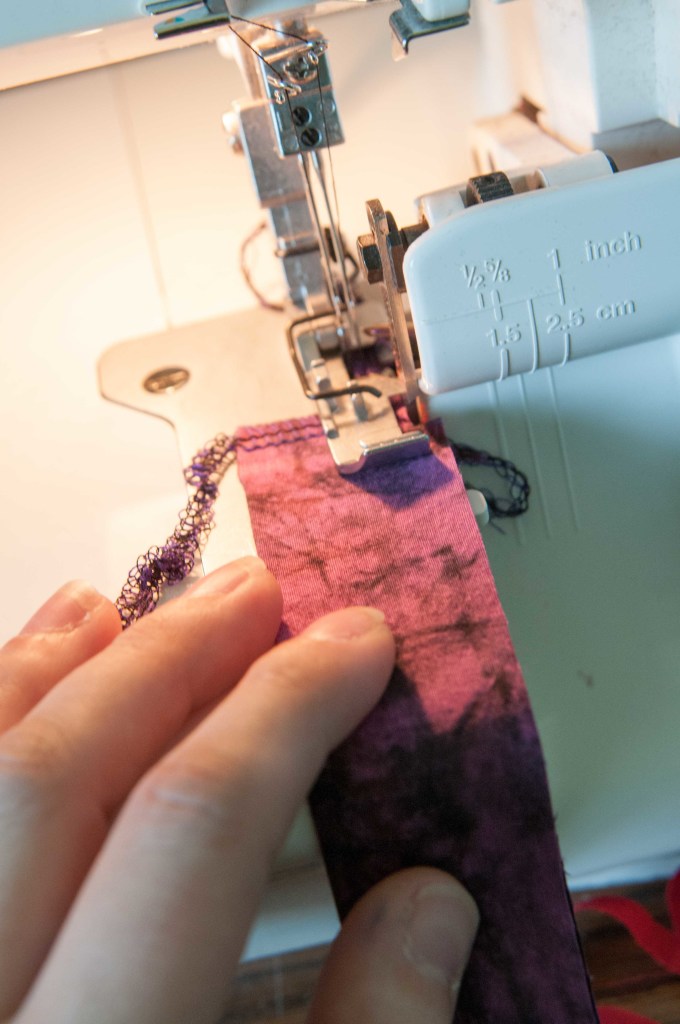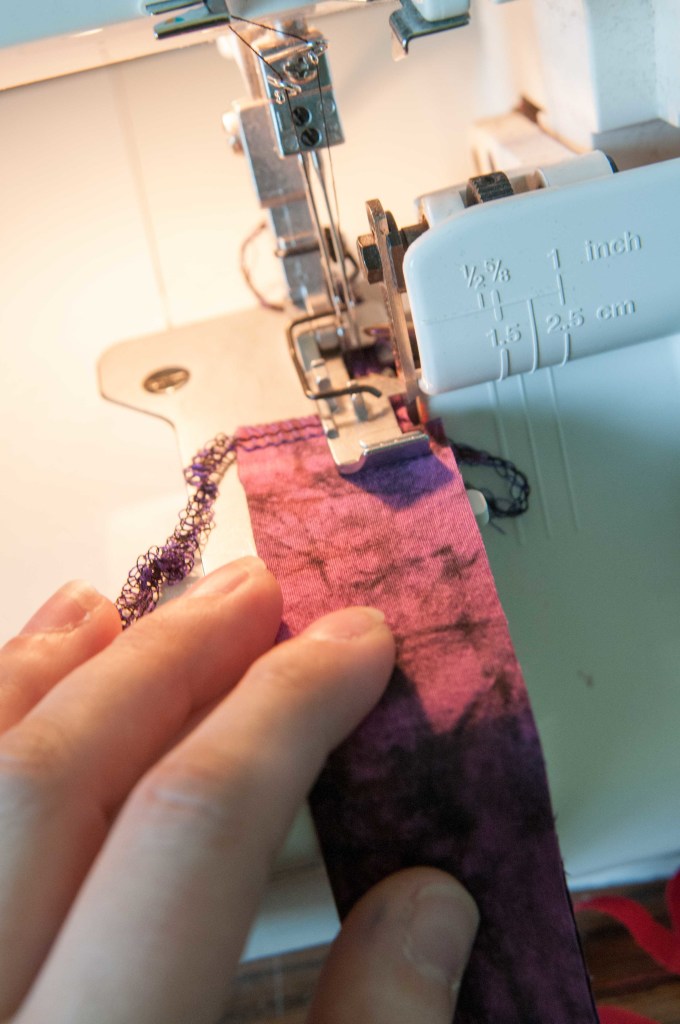 Reversible Trick or Treat Bag Step 7: Your handles should look like this. Go ahead and trim the threads. If you don't have a serger, you can zig zag or create traditional handles by sewing the fabric right sides together and stitching the long end closed and turning it. Another super easy option is using ribbon!
Go back to the cutting table and lay your quilt sandwiches on top of each other. See that quilt batting sticking out? Let's trim that down with the ruler and rotary cutter so we can make a straight edge with the serger.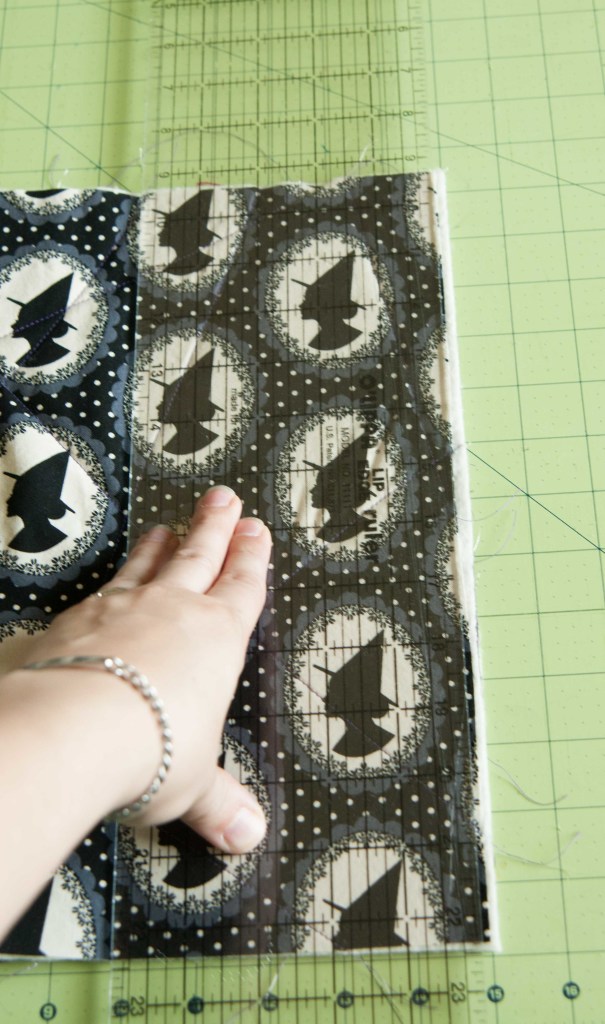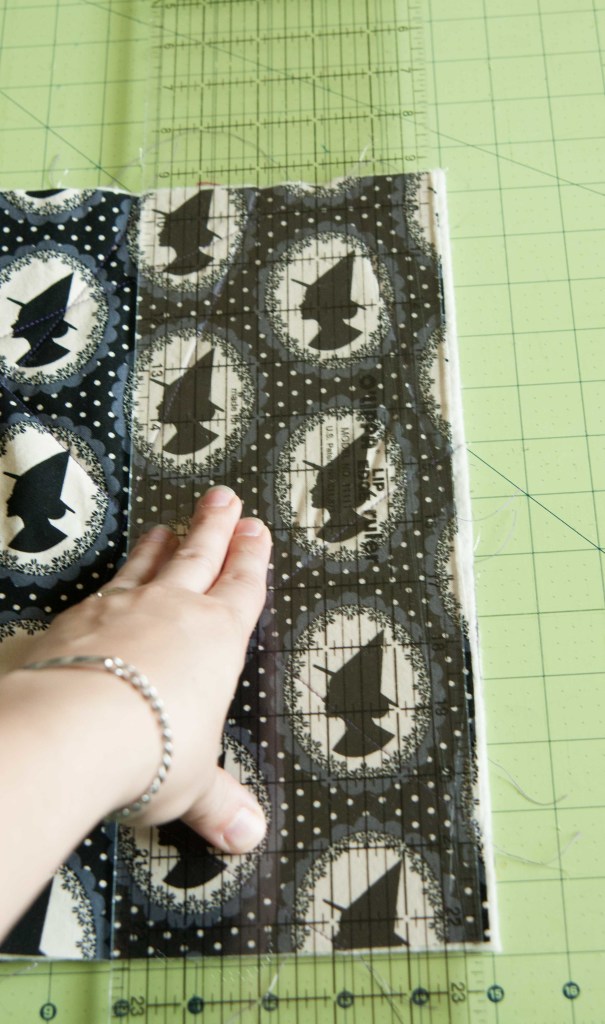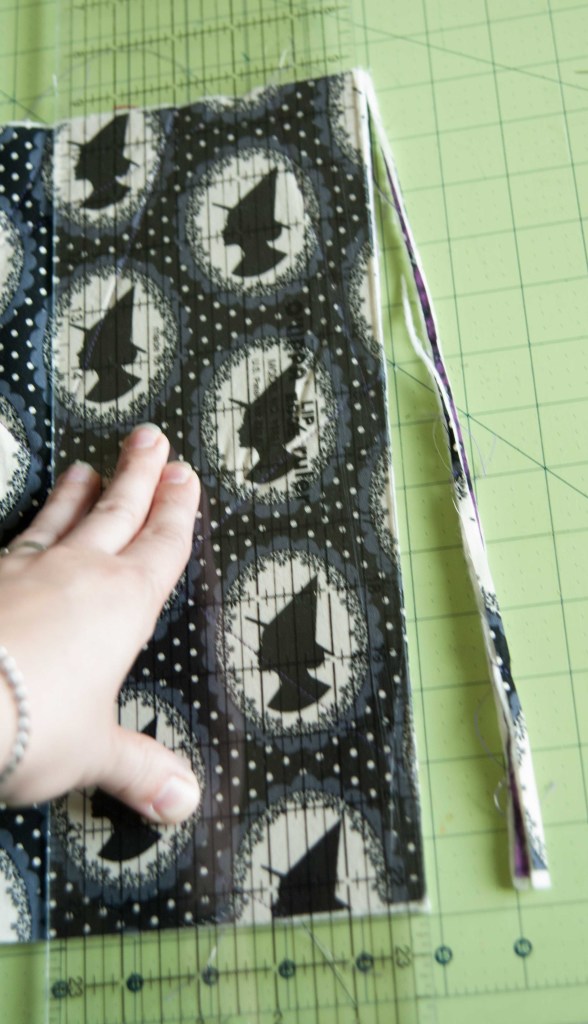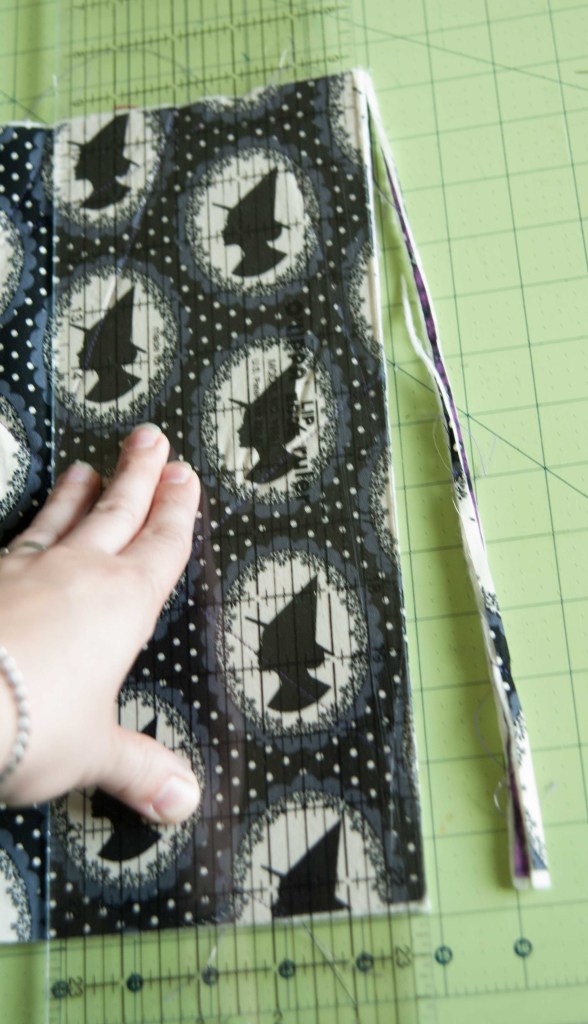 Reversible Trick or Treat Bag Step 8: Grab that bias tape and pin it along the tops of your sandwiches.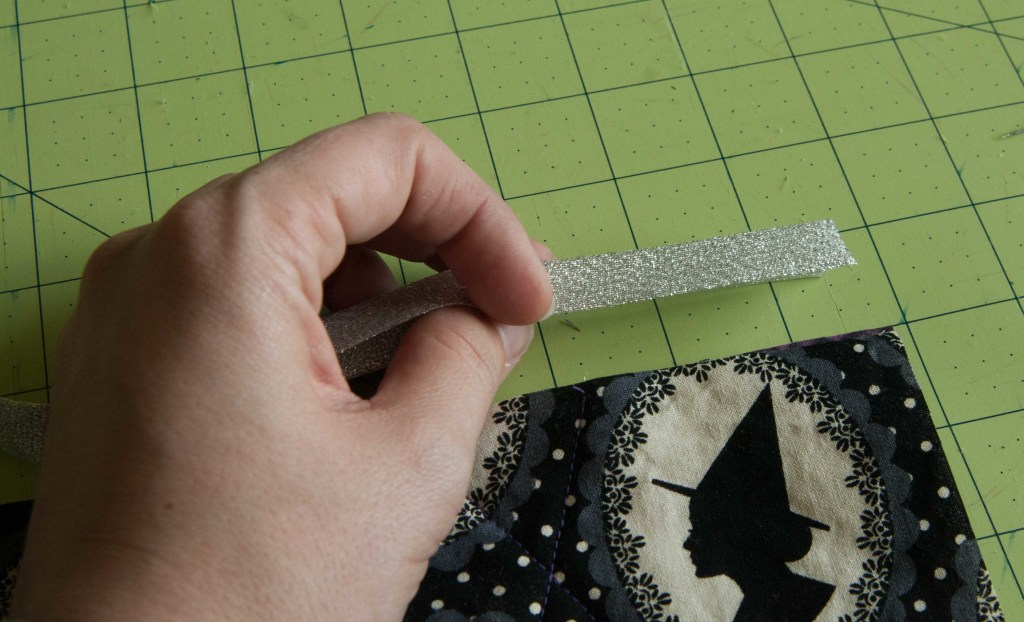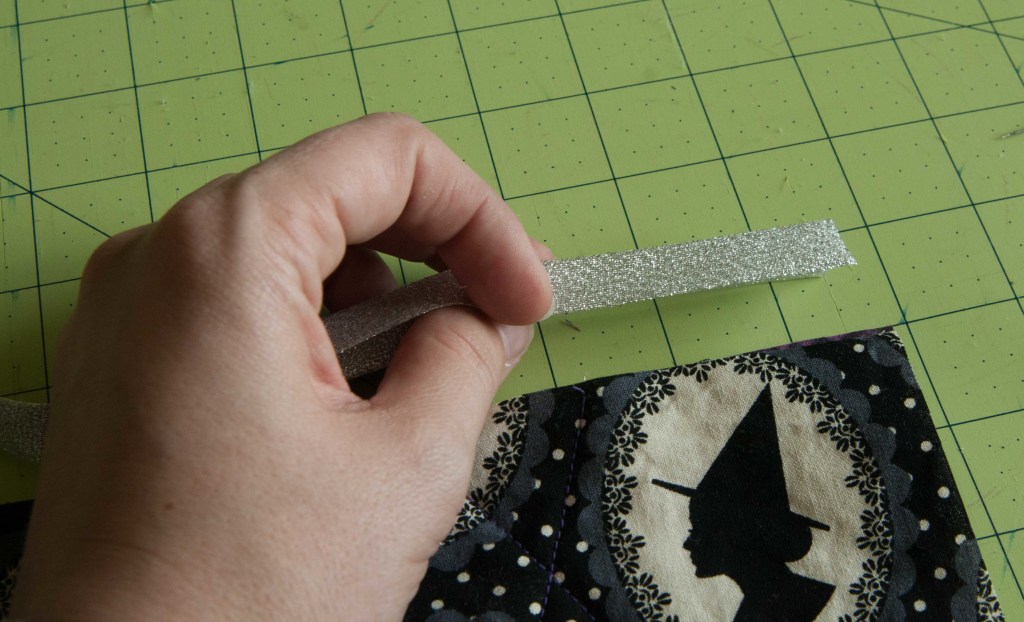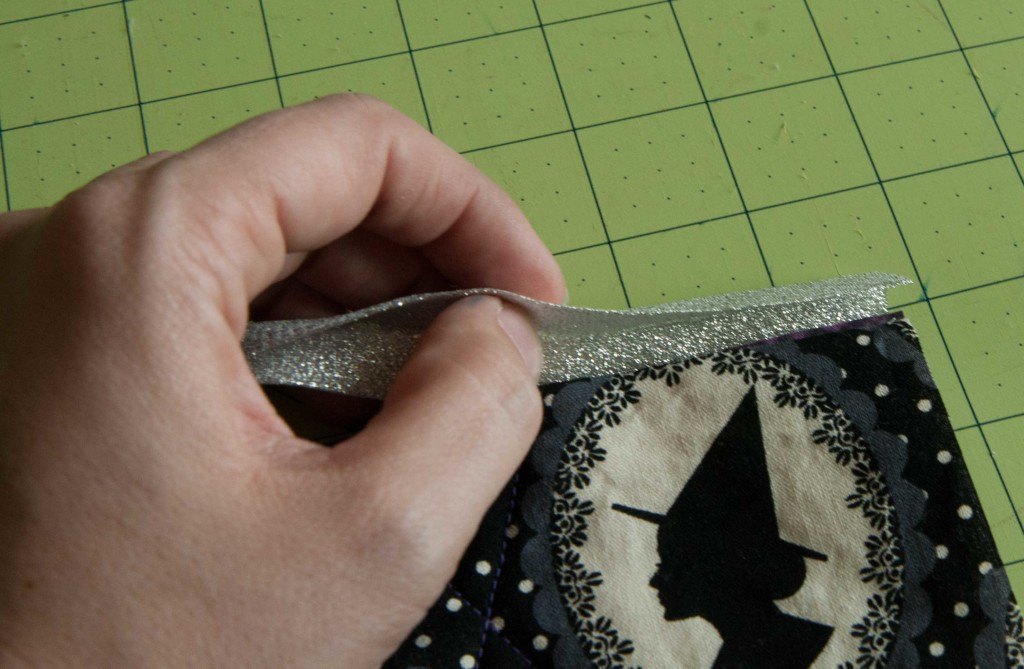 Be sure you are pinning both sides of the bias tape.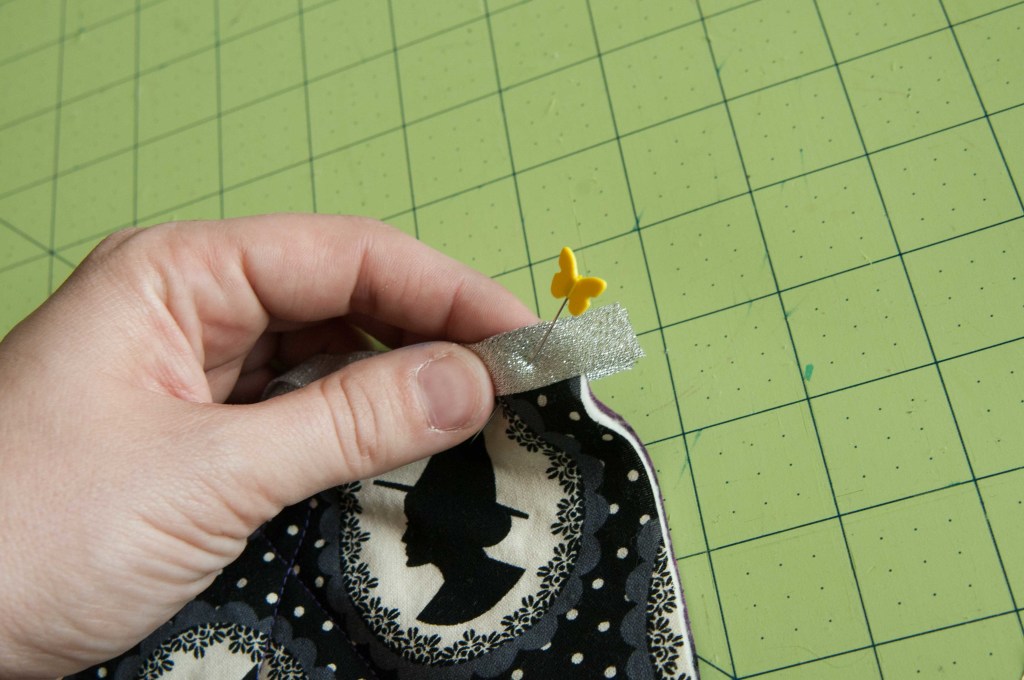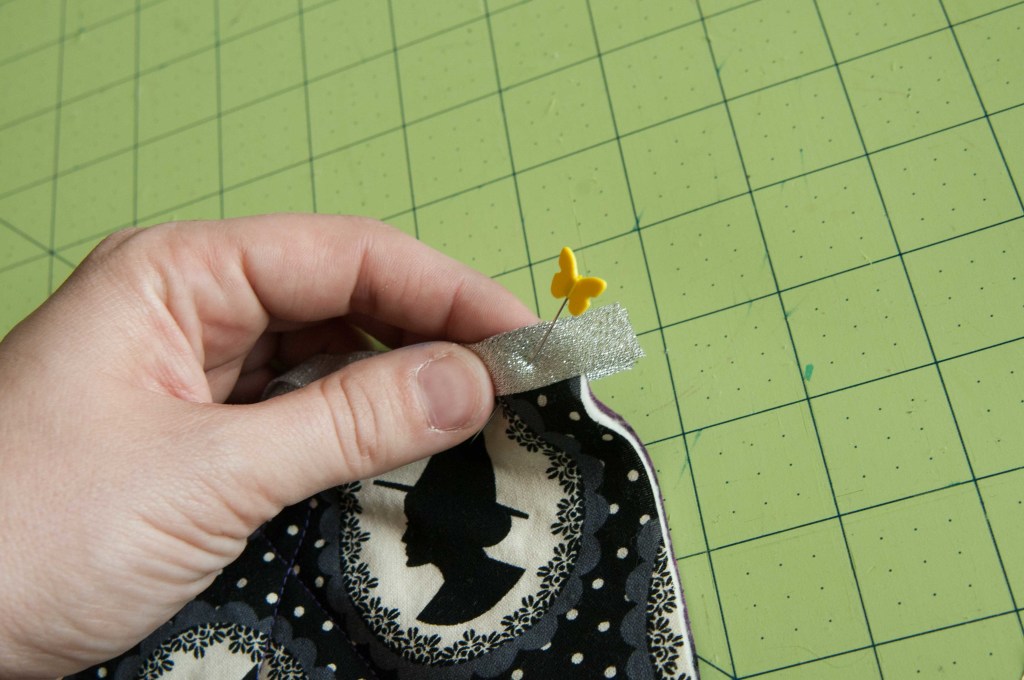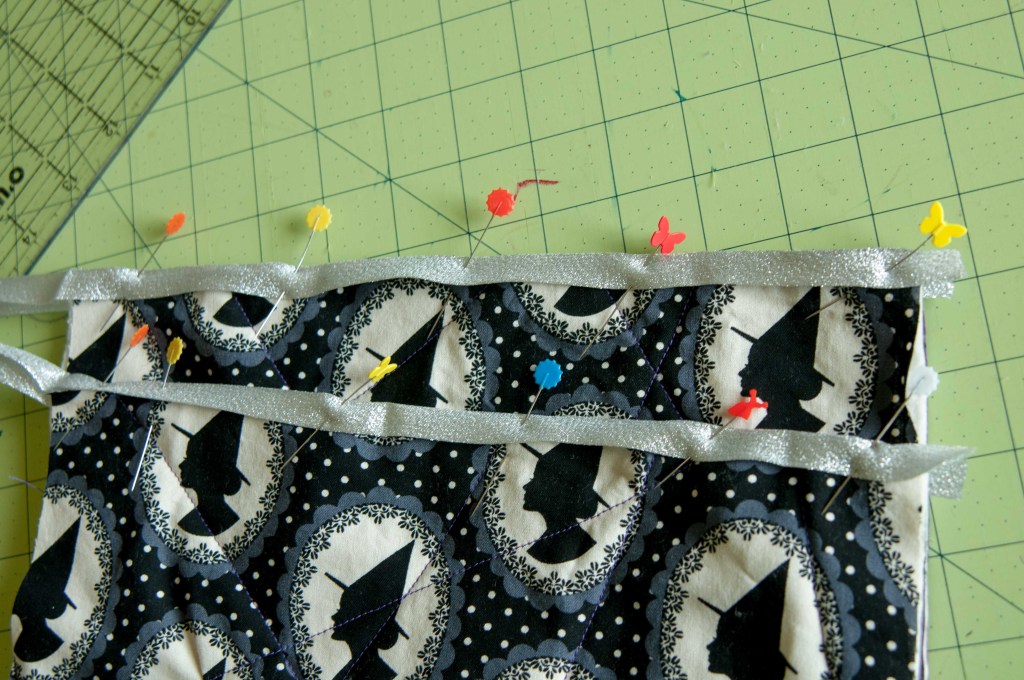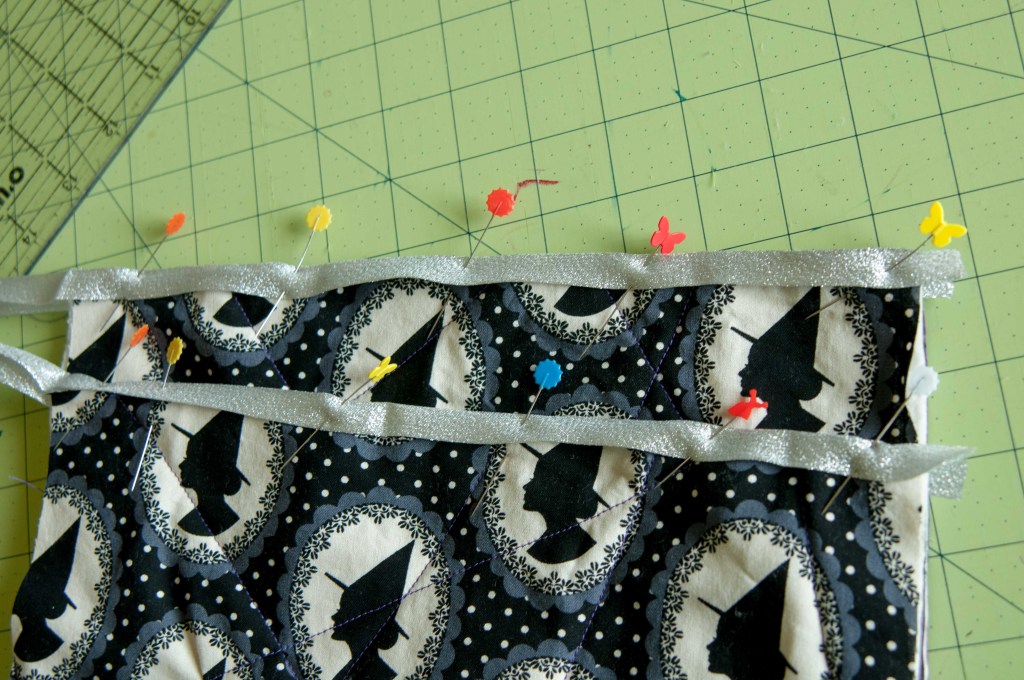 Reversible Trick or Treat Bag Step 9: Sew them down with a zig zag stitch. There will be tails and it's ok, the serger will take care of them.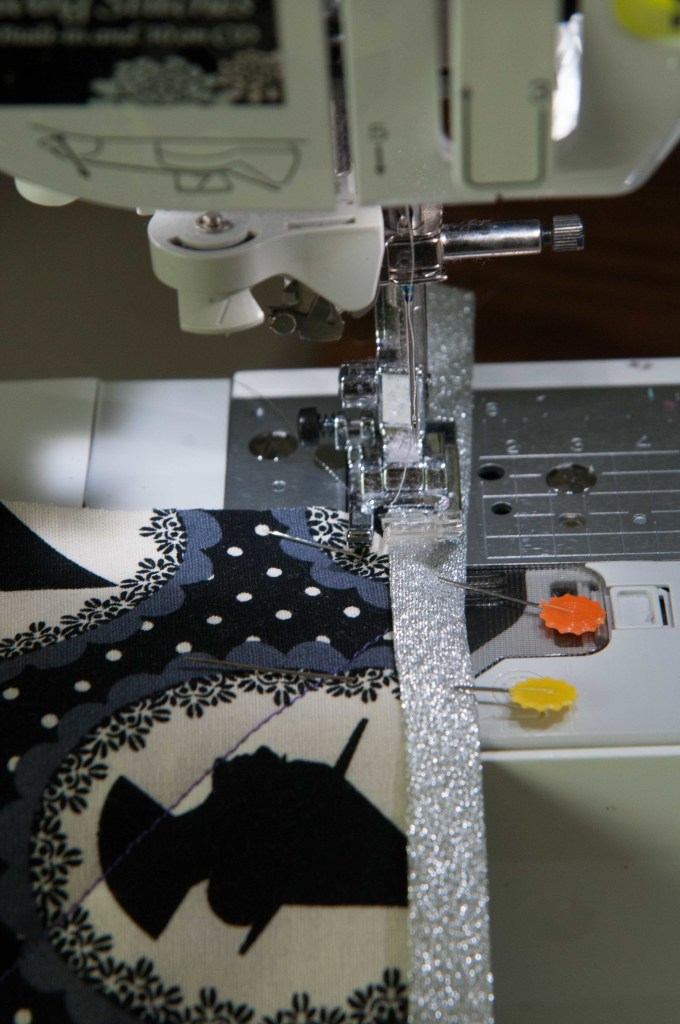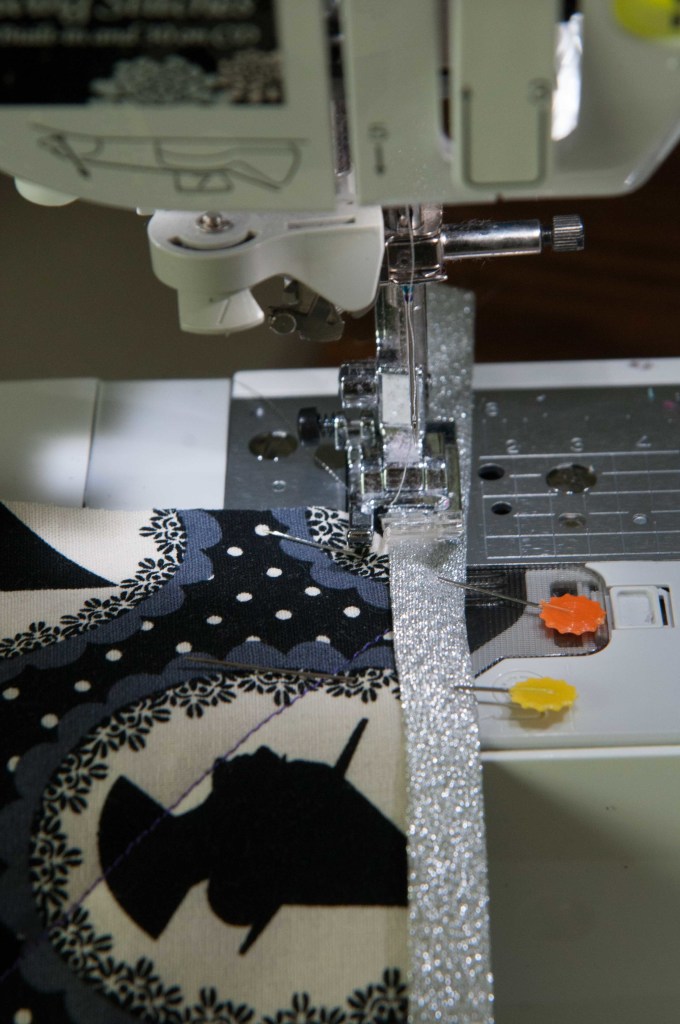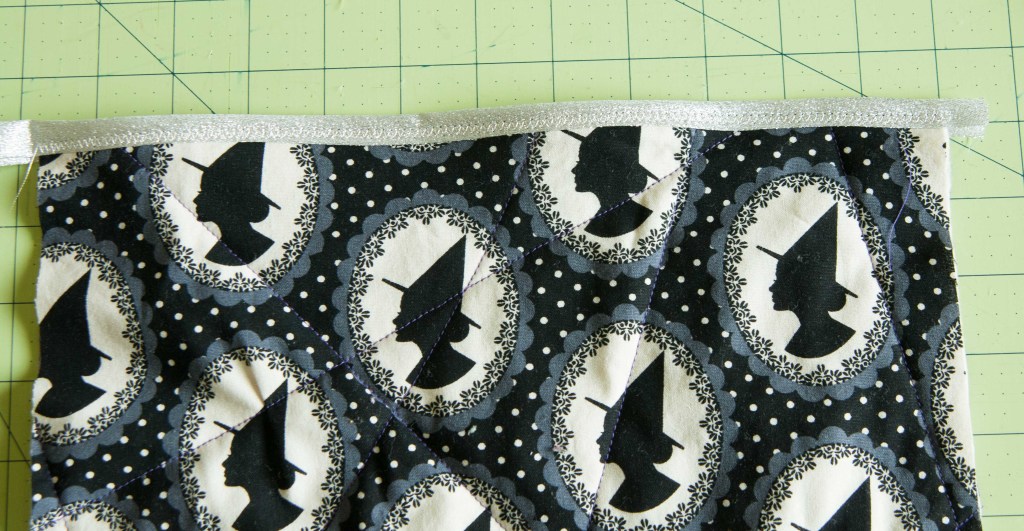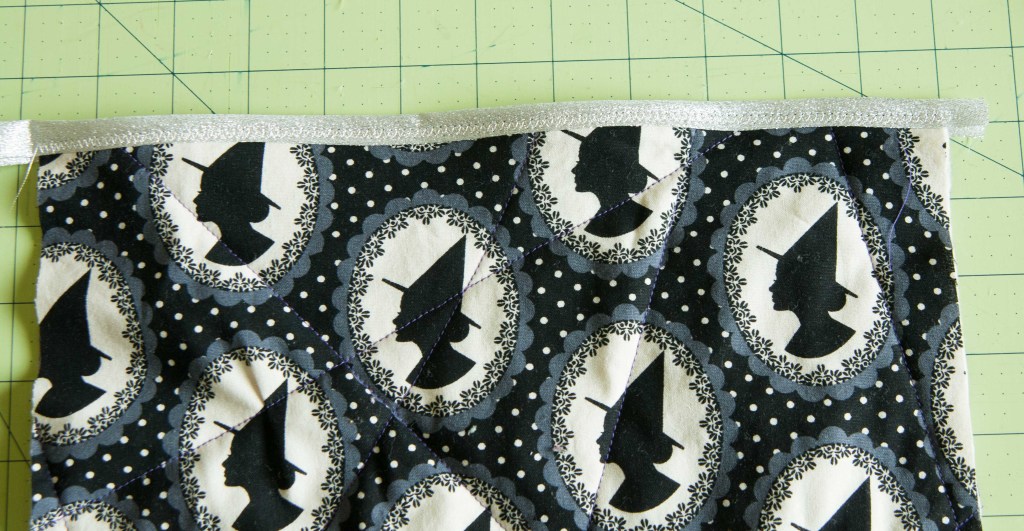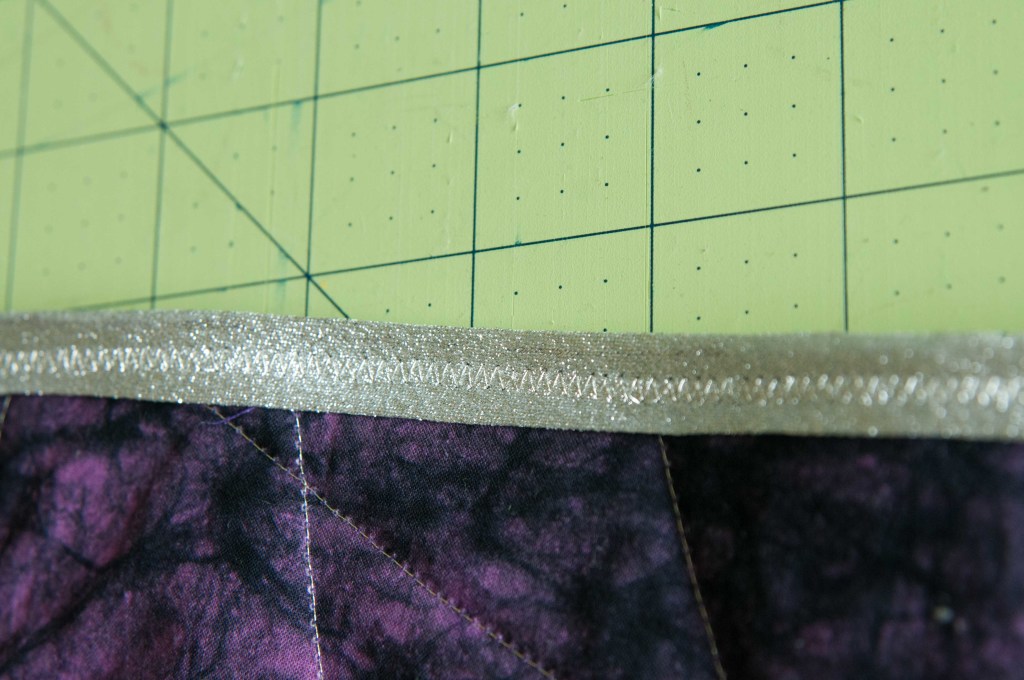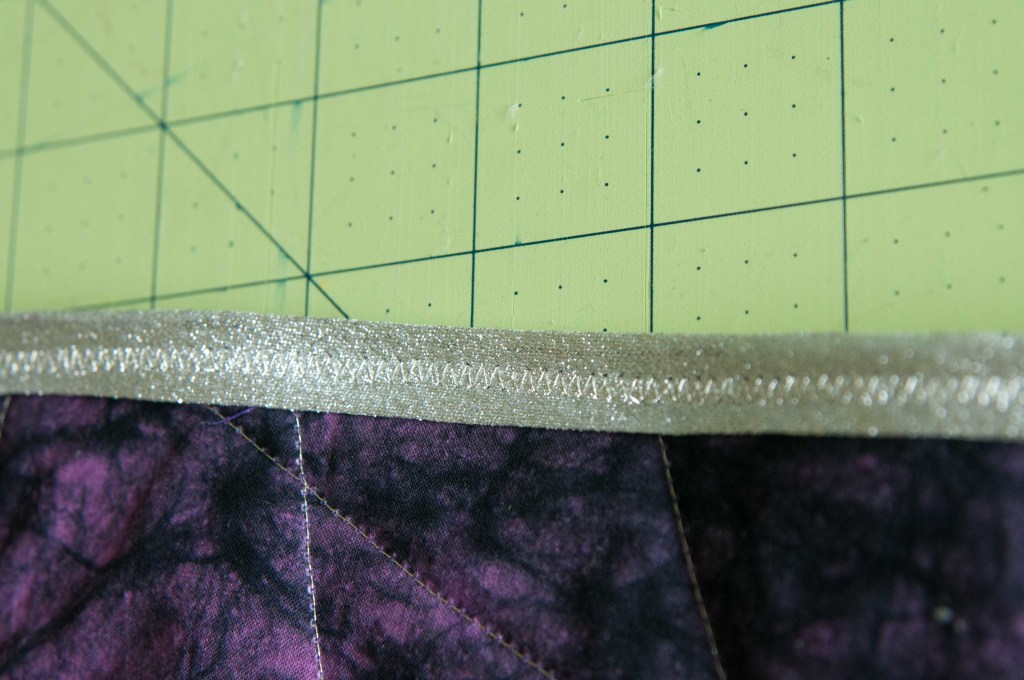 Reversible Trick or Treat Bag Step 10: Stack your quilt sandwiches right sides together and pin in a few places. Serge the ends on three sides (not the top with the bias tape). I used a ¼ inch seam allowance here, but if you need to go a bit bigger to get everything in there go ahead. Go SLOW! Your serger is working through six layers including the batting. If your thread is snapping or not catching, you may need to turn down the tension on the left needle. My machine is set at 3 4 4 4.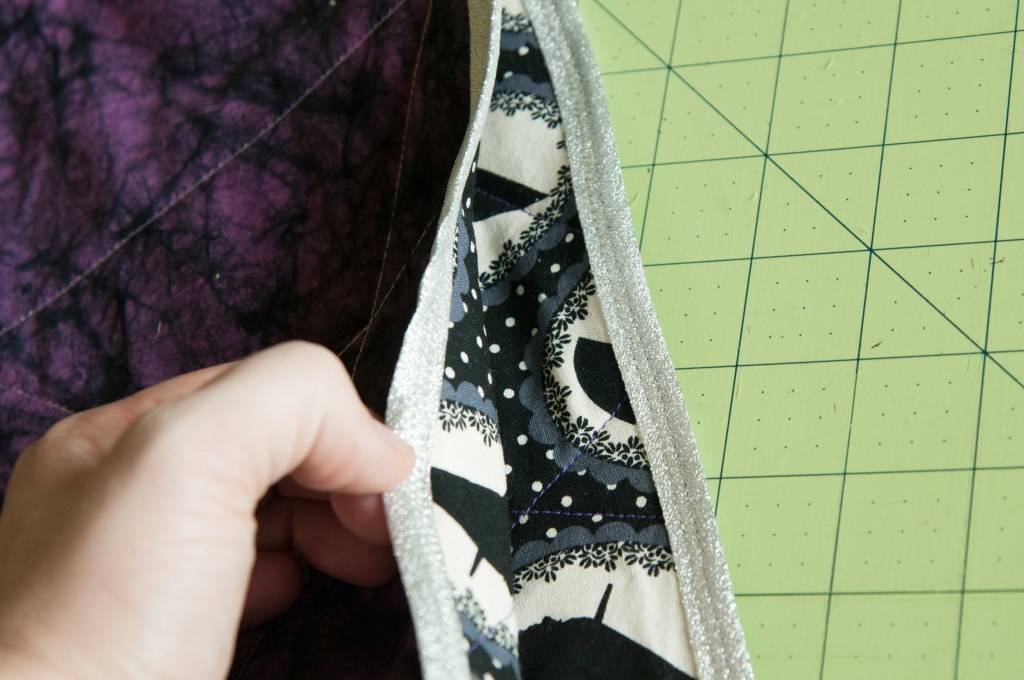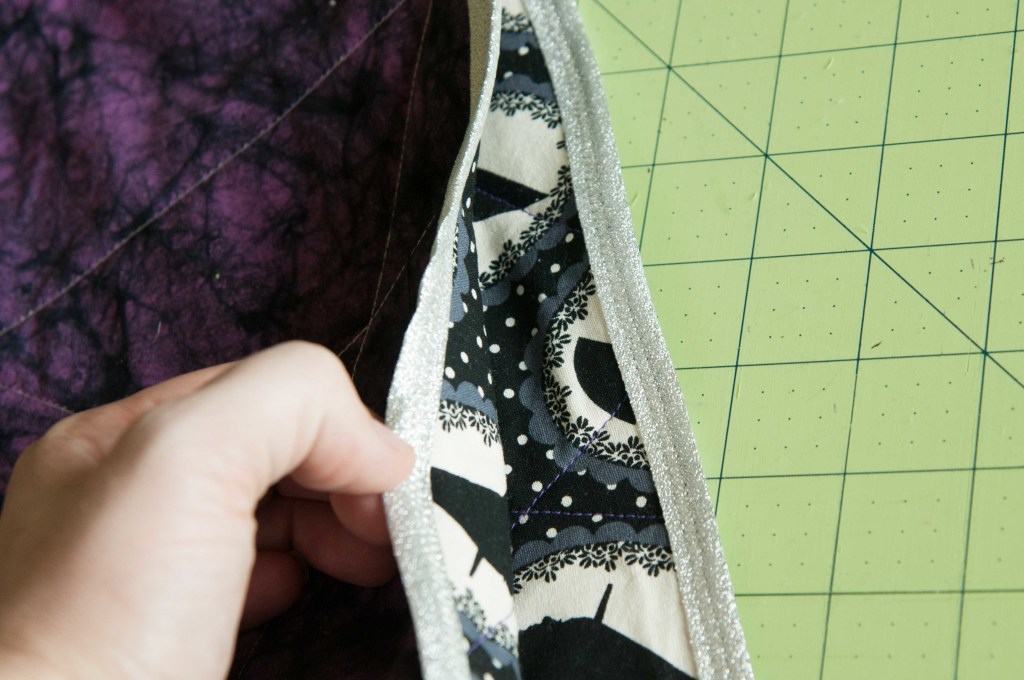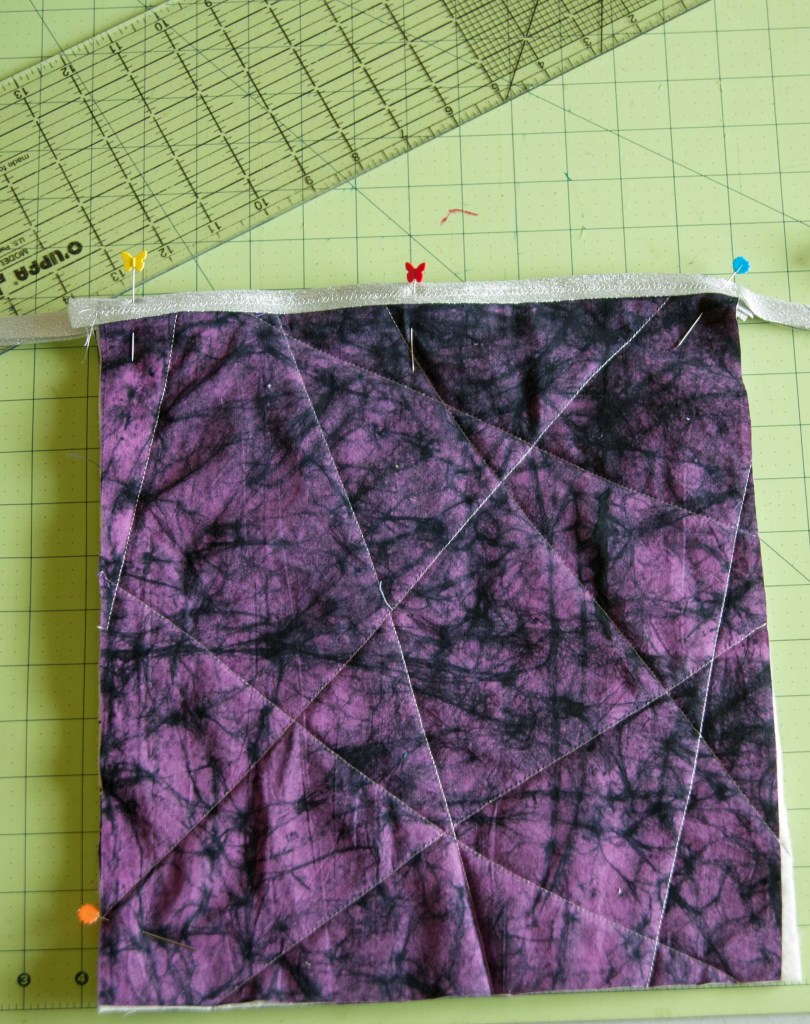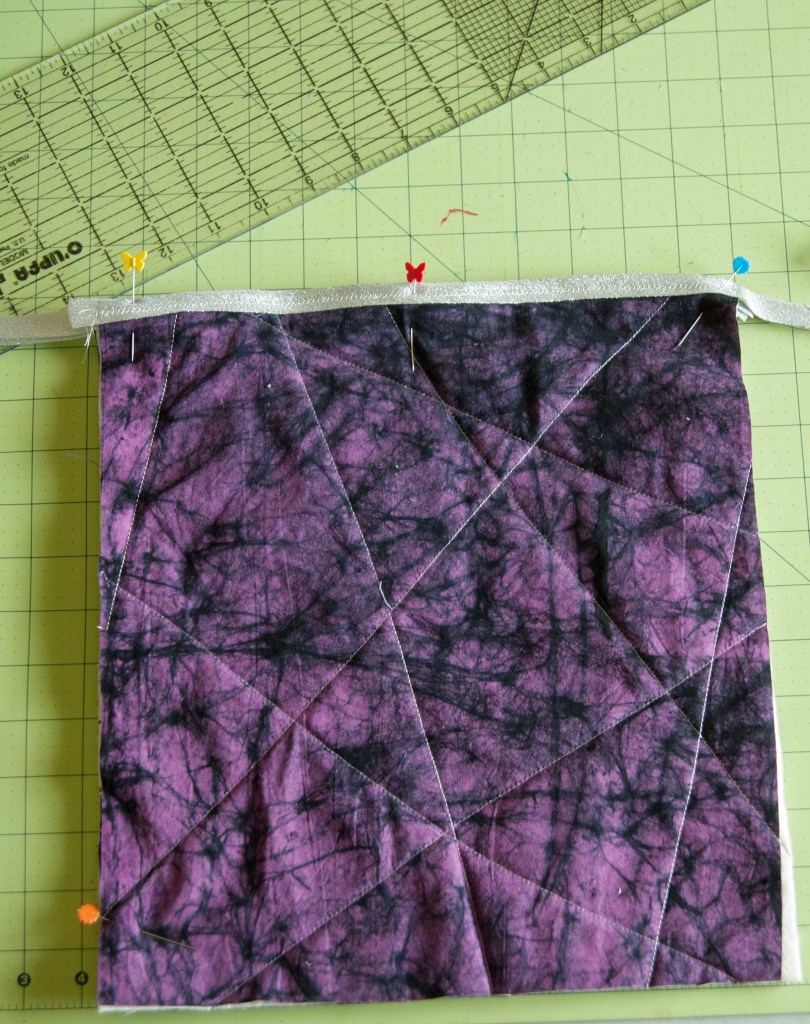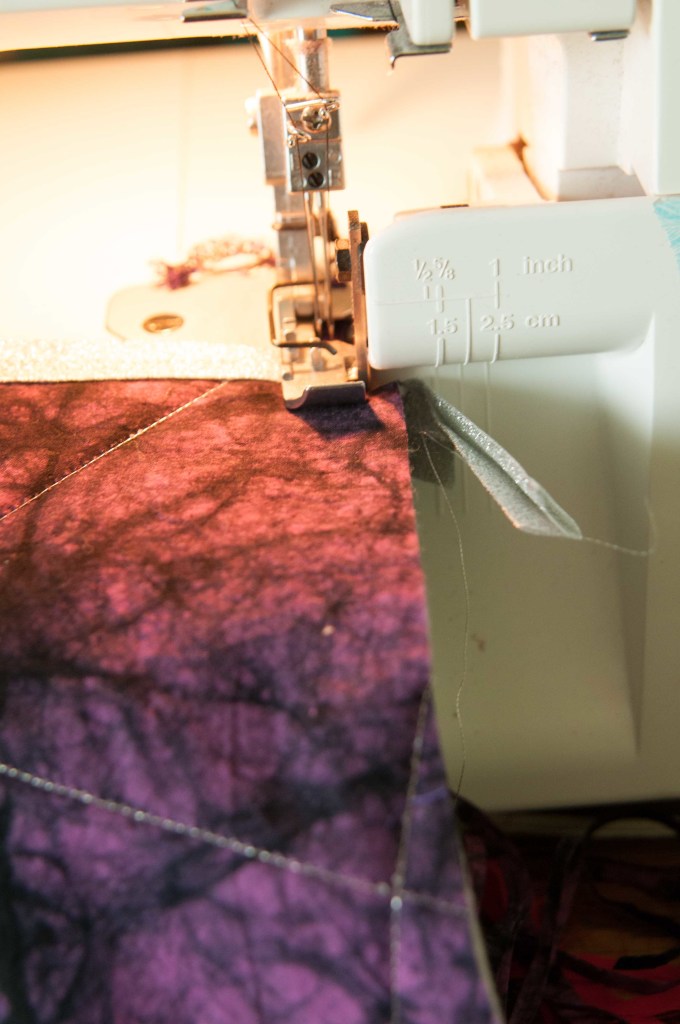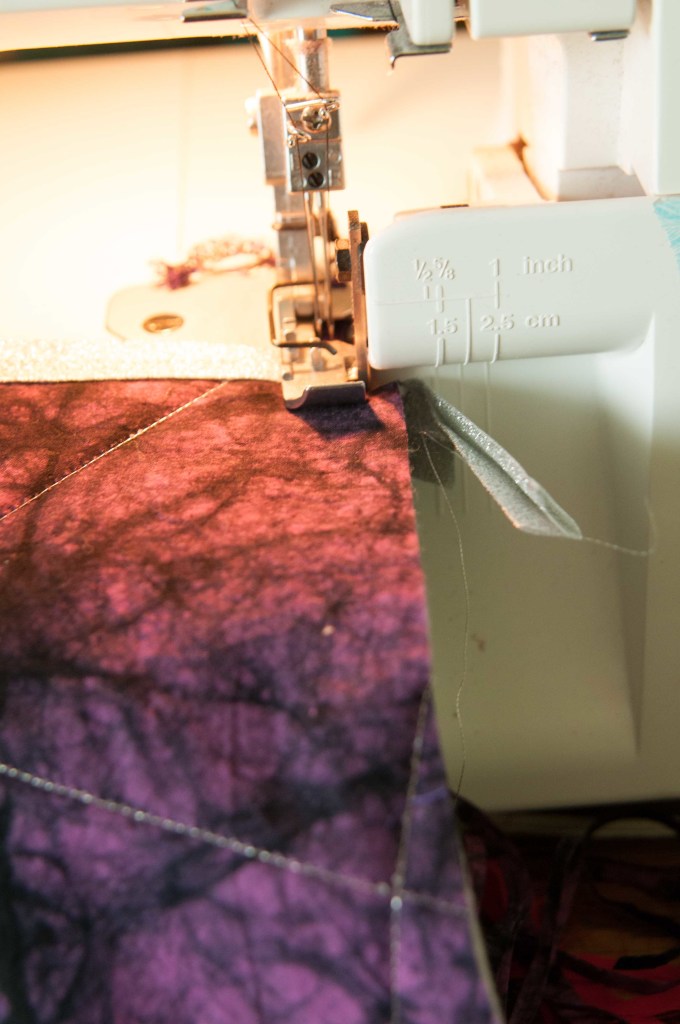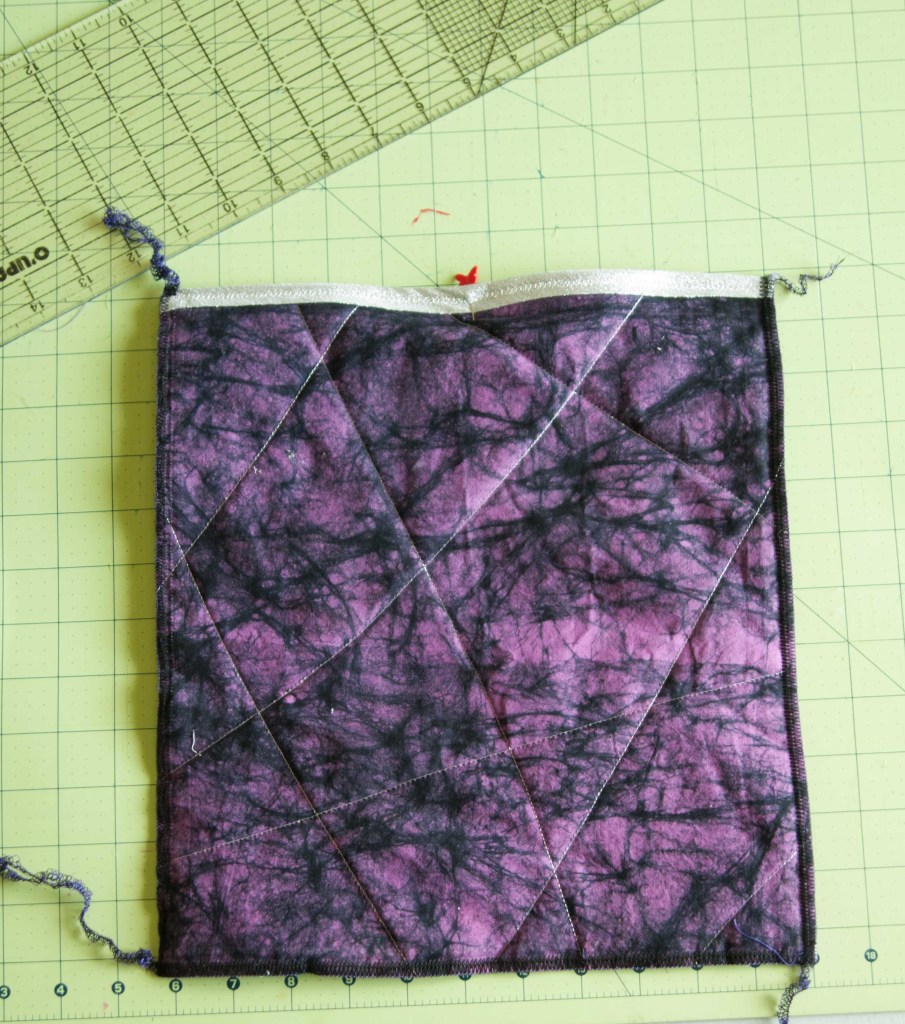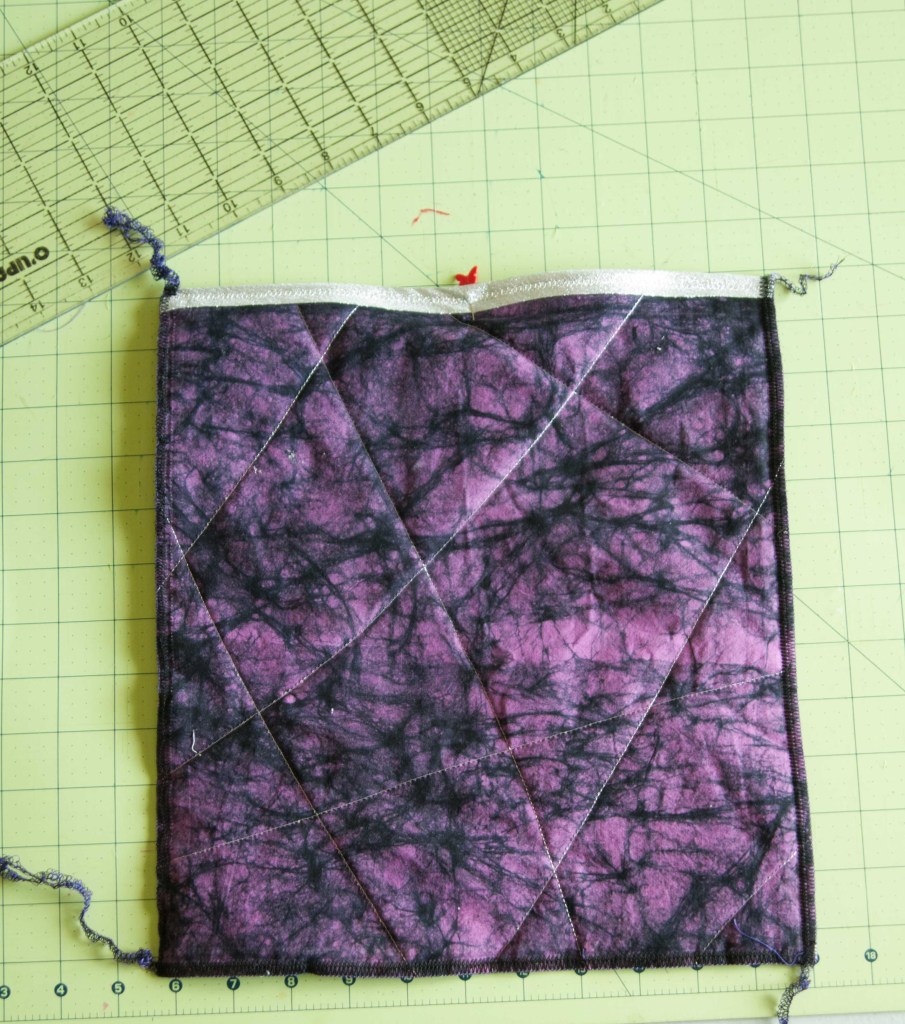 Reversible Trick or Treat Bag Step 11: If you don't have a serger, you can zig-zag stitch over the edge of the bag.
Lay your bag on the cutting mat and trim the threads. At this point, my bag was 11 inches wide (lost a little trimming and using the serger). Find the middle of your bag and place your strap three inches from either side. There should be roughly three inches in the open space of your handle. Pin down the straps and flip the bag over and do the same thing. Make sure the length of the handle matches.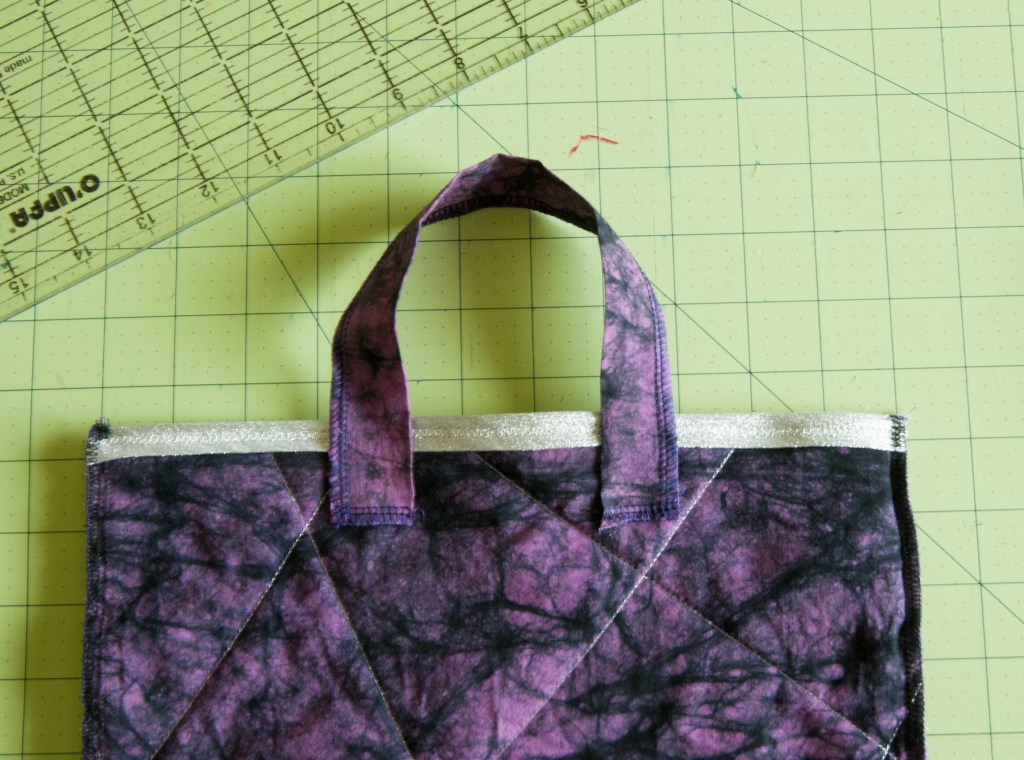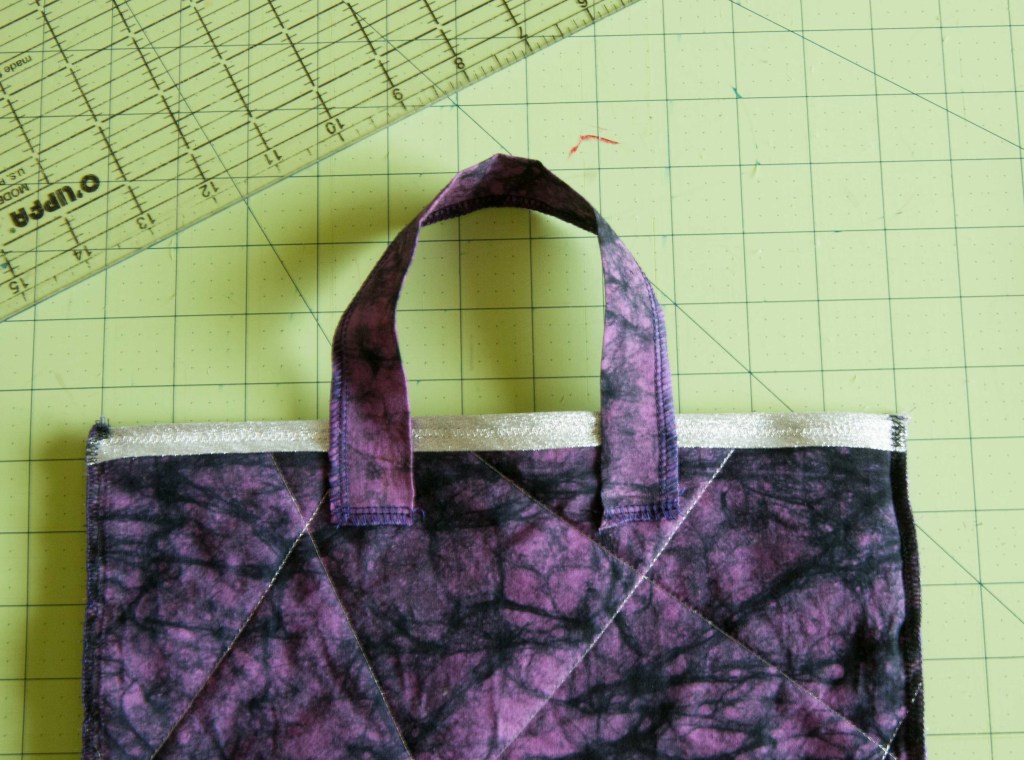 Reversible Trick or Treat Bag Step 12: Using a zig-zag stitch make a square to hold down your handles. Be sure to backstitch here so your handles don't pop off when the bag is filled to the brim with candy.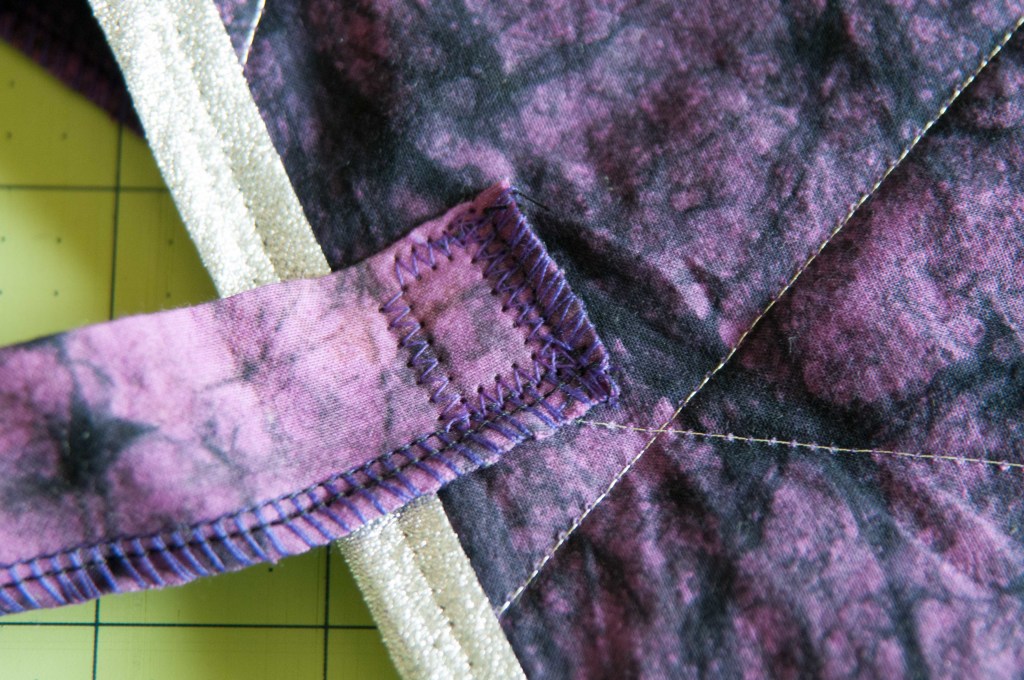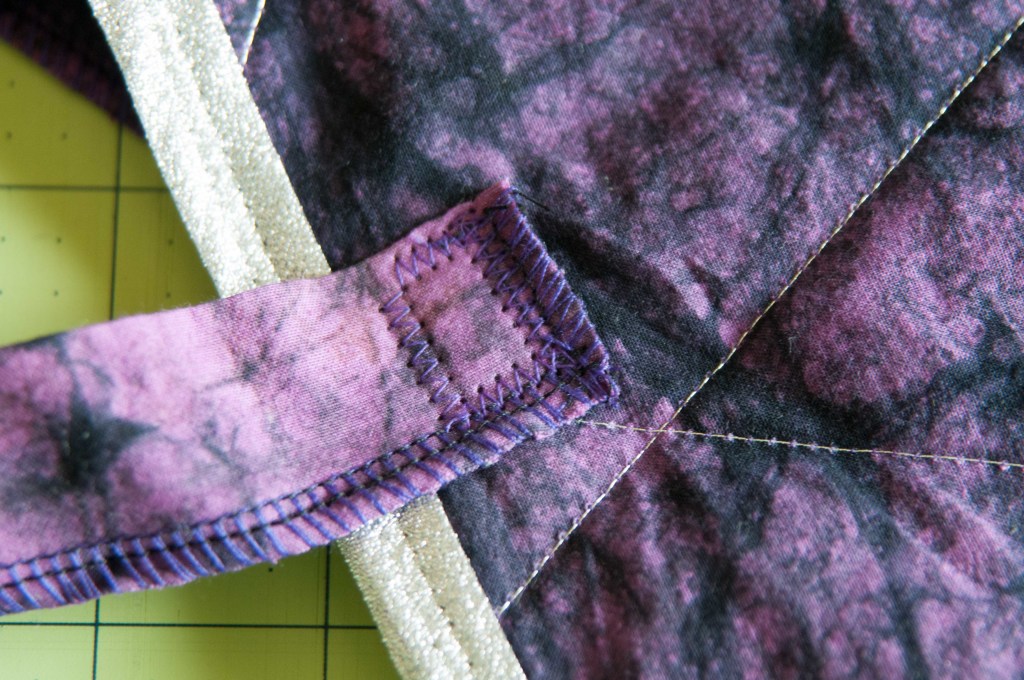 Reversible Trick or Treat Bag Step 13: Turn your bag right side out and admire your handiwork! You are amazing!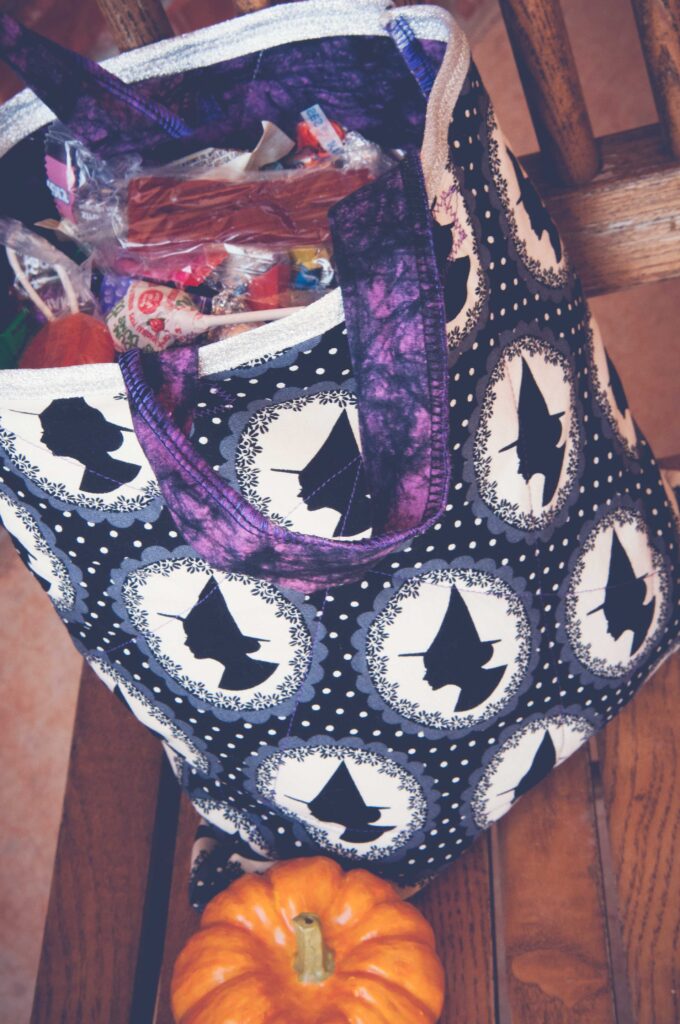 Way to go! Now, you can make the Reversible Quilted DIY Trick or Treat Bag in any size imaginable; but as a mom I like to make my treat bags this size so they fill up a little faster, my littles can carry them, and everyone feels like they got a TON of candy, when they maybe only got a half ton. Be sure to post photos of your cuties with their treat bags and be on the lookout for my next tutorial in October featuring a sweet little costume to match this bag. Can you guess what it will be???
xoxo
b.
Tutorial #2 | Halloween Trick or Treat Bag
Alright – that you Betty! Here's Laurel's take on the DIY Trick or Treat Bag for Halloween:
Halloween is just around the corner, and I have a fun DIY project for you: a fully lined, flat bottom, DIY Halloween Trick or Treat Bag! This easy trick or treat bag tutorial is simple to follow. In no time, you will be able to whip up a trick-or-treat bag for your favorite princess, superhero, ghost, or witch! Let's get started.
DIY Trick or Treat Bag | Halloween Candy Bag Tutorial
DIY Halloween Trick or Treat Bag Supplies
1/3 yard of main fabric
1/8 yard of accent fabric
1/2 yard of lining fabric
1.5 inch ribbon
Basic sewing notions (pins, thread, rotary cutter or scissors, etc.)
Come to KnitFabric.com for your fabric needs!
Halloween Candy Bags or Treat Bags
DIY Halloween Candy Bags Step 1: Cutting the Bags Pieces
Let's start by cutting all the pieces for our bags. Cut two pieces of your main fabric 10 x 12 inches. Cut two pieces of your accent fabric 4 x 12 inches. Cut two pieces of your lining fabric 13.5 x 12 inches. Cut two pieces of your ribbon 16 inches long.
DIY Halloween Candy Bags Step 2: Constructing the Candy Bag
Now we'll begin with the construction for the bags. Take one piece of accent fabric and lay it on one piece of main fabric lining up the top edge right sides together. Pin in place and sew or serge with 1/4 inch seam allowance.
Press the seam allowance down towards the main fabric with a hot iron. Then topstitch your seam allowance down. You can use a straight stitch or do a fun decorative stitch like I did. Repeat these same steps for your other main piece and accent fabric strip.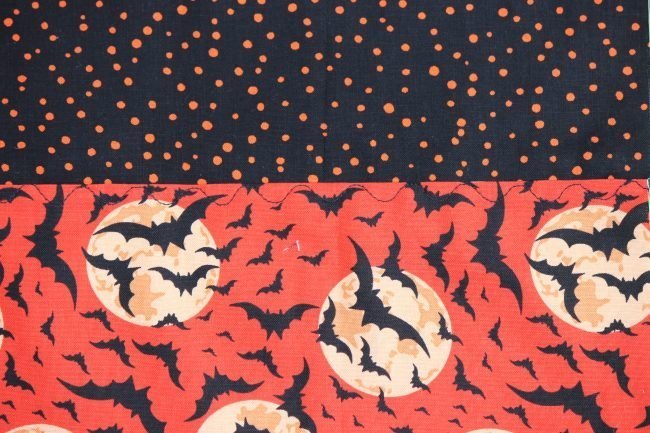 Now, take your front and back pieces of the bag and place them right sides together. Pin around the outside and sew the side seams and the bottom seam. Do NOT sew along the top.
Next, we will create the boxed corners which will give the bag it's flat bottom. It's a little difficult to describe, but it's not tricky at all to sew. You need to use both hands to pinch and pull apart your corner. This will create a peak in the corner and you will line the bottom seam and side seam up. Measure in 1.5 inches from the corner and mark a straight line. Sew down this line. Then you can cut off the excess fabric. I like to use pinking shears for this step but they are not necessary.
Next we'll work on the lining. Place you two pieces of lining fabric right sides together. Pin around the outside. Sew the side seams and the bottom seam but be sure to LEAVE A 3 INCH OPENING along the bottom. This opening will be crucial at a later step. Also, do NOT sew the top seam.
Next, create the boxed corners on your lining piece just as you did with your main fabric.
Now you are ready to put your lining and main fabric together. Leave your main fabric inside out and turn your lining right side out. Place your lining inside your main fabric so right sides are together. Match up the side seams and pin.
Then you are going to slide your ribbon pieces between the two layers to create your handles. Line up your ribbon approximately 2.5 inches from the side seams and place the printed side towards your main fabric piece. Pin in place. Do this for both ends of both pieces of ribbon. Once your ribbon is secured you will sew all the way around your top seam joining your lining piece to the main fabric.
Reach in your bag and pull out the lining. Then reach in the opening you left in the bottom seam of the lining and pull the main fabric through the opening, turning your bag right side out. Next, you can get fancy and hand sew that opening closed, but I chose to machine stitch it closed since it is on the inside of the bag and no one will even see it!
Finished Halloween Treat Bags
Finally, give the bag a good press with the iron, especially along the top seam. This will help the lining stay in place. Be careful when ironing near the ribbon. You don't want to melt the ribbon! Now your DIY Halloween Candy Bag is complete and your little one will be ready for Halloween!
Make Halloween Treat Bags to Hand Out
This trick or treat bag tutorial was focused on making a Halloween Candy Bag to take out trick or treating with you. We also have another amazing tutorial from Stephanie on how to make Halloween Treat Bag to hand out to the trick-or treaters. Also, check out some of our other articles: