DIY Tote Bag Tutorials
Over the years we've had multiple blog contributors right great tutorials on how to make tote bags. Our first tutorial goes into tote bag construction. Our second tutorial take a cheap, pre-made canvas tote bag and customizes into a perfect tote bag to give as a teacher gift.
Before we get to tote bag construction, lets get a couple items out of the way:
What is a Tote Bag
A tote bag is basically a mid to large bag designed with 2 parallel handles. The handles can be attached to the side of the pouch or from the top.
What are Tote Bags Used for
Tote bags can used for about anytime of the year. They're perfect for using as a large purse, shopping, going to the beach or pool, taking to the library, grocery store, or whatever else you need.
Tote bags are becoming increasingly handy for grocery shopping as they're used for reusable shopping bags.
Make Your Own Tote Bag
Tote Bags can be purchased for a lot of money – a designer tote bag could cost you hundreds to even thousands of dollars. That's not why we're here though. At Peek-a-Boo Pages we're all about DIY.
There's a few things to consider when making your own tote bag. First, the material or fabric. Sturdy fabrics like canvas. denim, or twill are nice and durable. Canvas, which is a cotton fabric made using a plain weave is probably the most popular fabric for tote bags. You can even purchase inexpensive canvas tote bags and customize then – and you'll notice that's what's done in our first tutorial.
You can also make your own tote bag out of canvas, cotton, or other fabrics. You'll also see some construct them out of a fabric called Jute. This is a sustainable fiberous fabric with a similar texture to burlap. People like it because its low cost and renewable.
Second, you'll have to decide if you want to line your tote bag. If you want to cover up the unfinished edges in your tote bag then lining with a woven cotton fabric is a good option. Neither of our tutorials today go into lining your tote bag but I found this Article on 2 Ways to Add Lining to a Tote Bag.
With that out of the way lets see the different ways that our contributors Stephanie and Rachel did tote bags:
First Tote Bag Tutorial
Our first tote bag tutorial is from our blog contributor Rachel Boyse. Rachel says:
With summer around the corner, its a perfect time to sew a DIY Tote Bag. Learning this simple method of how to sew a tote bag is an easy beginner sewing project. The tote bag is perfect for library trips, attending swim lessons, and so much more.
Tote Tutorial Step 1: Materials
To start, you'll need to pick out your fabric and cut your pieces for your bag and strap material. The fabric used in this bag was woven cotton but you can use the other fabrics discussed above as well.
There are two ways to cut your fabric pieces:
First, you can cut TWO 18×16 pieces for the bag and TWO 3 1/2 x 30 for the straps. ( you can make your straps shorter or longer based on preference) this is the way I'd cut if you have directional fabric.
OR
Second, if you have a nice tossed print, you can cut ONE 16×36 piece for the bag and your straps would be 3 1/3 x 30 per strap.
Tote Tutorial Step 2: Sewing the Bag Instructions
We'll start off with the bag instructions – we make this tote easy. With right sides together, sew the side and bottom seams together, leaving you with the topopen and ready for hem.
Next, press the top edge over 1/4 inch and then fold over another inch and press again. After that, you will topstitch, and if you like, press once more to have a finished look for the opening of your tote bag.
Tote Tutorial Step 3: Sewing the Straps Instructions
Alright, now you have the bag completed. It's time for the strap. To make the straps, you will press the raw edge under 1/4 inch on each side and then match them up and press it closed. Once you do that, topstitch to sew your strap closed.
You'll then fold the edge of the strap 1/4 inch and then again 1/4 inch to top stitch the edge closed. You could absolutely serge the raw edges instead but this is a great option if you do not have a serger.
Tote Tutorial Step 2: Attaching the Straps to the Bag
First, measure three inches from the seam going toward the center of the tote. Second, place you strap on the inside of the bag and sew in a square to attach your strap. After that, you'll do this step four times to attach the straps.
You'll also notice that some other tutorials make longer straps and attach them to the outside of the bag for a little bit different look.
And there you have it! The perfect summer tote bag! I told you that learning how to sew a tote bag would be easy. I hope you found this tutorial helpful and that you'll make some tote-aly adorable totes.
We'd like to thank Rachel for that excellent tutorial on tote bag construction. Again, you can customize this method in so many ways to come up with your own unique tote bag.
Next is Stephanie with an article on how to take a premade canvas tote bag and customize it for a teacher gift:
Custom Canvas Tote Bag | Perfect for a Teacher
Custom canvas totes are the perfect teacher gift for back to school, end of the school year, or teacher appreciation week! They are personal and useful, and perfect to pack full of goodies or flowers.
It took me about 45 minutes, or half a movie to sit down and make this by hand from start to finish. I used a canvas tote bag from the Target dollar section (2 bags for $5) but I actually think this project would go even faster if you sewed the tote yourself! I'll tell you why down below! This would be a fun activity to do as a girls night together with friends, or on your own with a favorite show!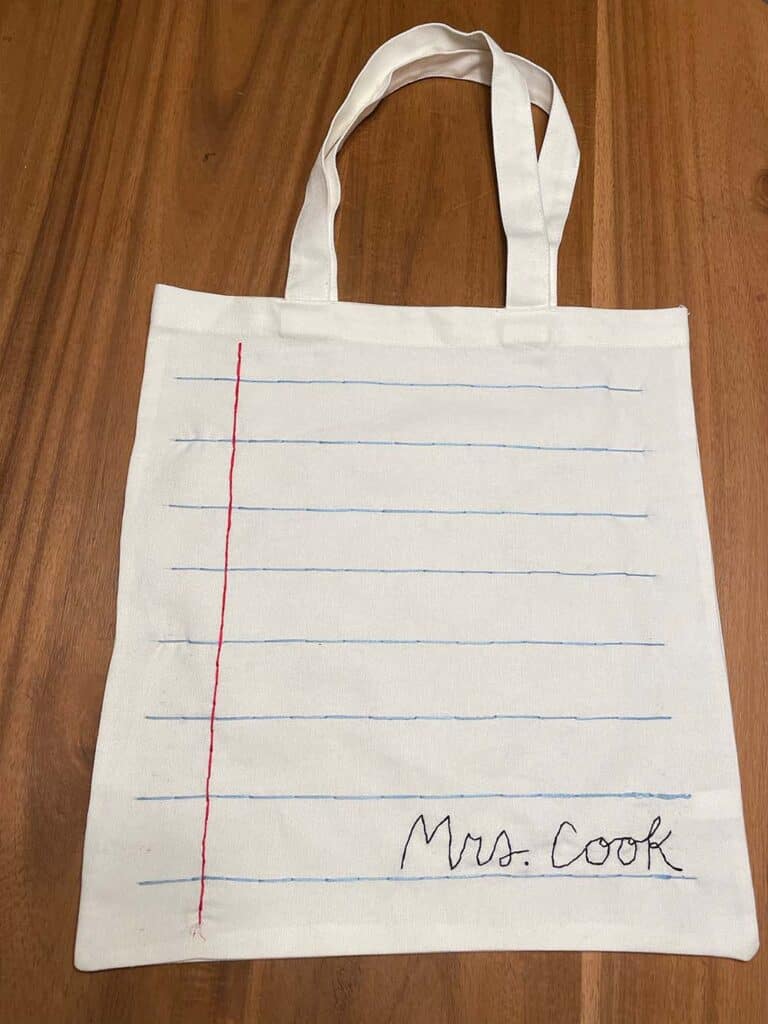 Teacher Tote Bag Supplies:
Premade Canvas tote bag
Embroidery thread in blue, black and red
Pencil or Frixion Pen for fabric
Straight edge
Measuring tape
Hand needle
Little scissors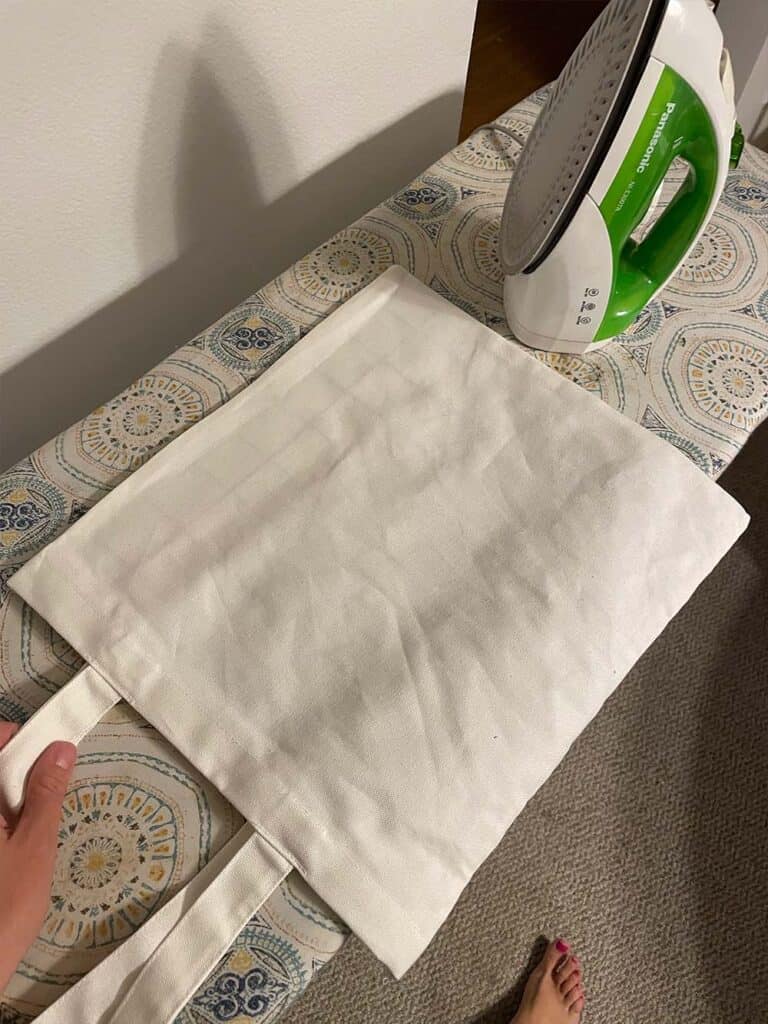 Teacher Tote Step 1: Prepare Your Canvas Tote
First, I recommend ironing the tote first to make sure the lines go on straight! In my project, I hand stitched all the lines on, but if you made your own tote bag, you could machine stitch the blue lines on before constructing the tote which would save a lot of time.
Next, I lightly drew lines all the way across my tote to make sure I stitch in line without getting crooked. I measured down 1.5" on each side and connected the dots together, drawing a horizontal line. Using my straight edge to draw each line, I drew one line and then marked my next measurement. If you mark all the measurements at once, you have a greater chance of getting more and more off with each line. Save yourself the hassle and draw 1 line at a time!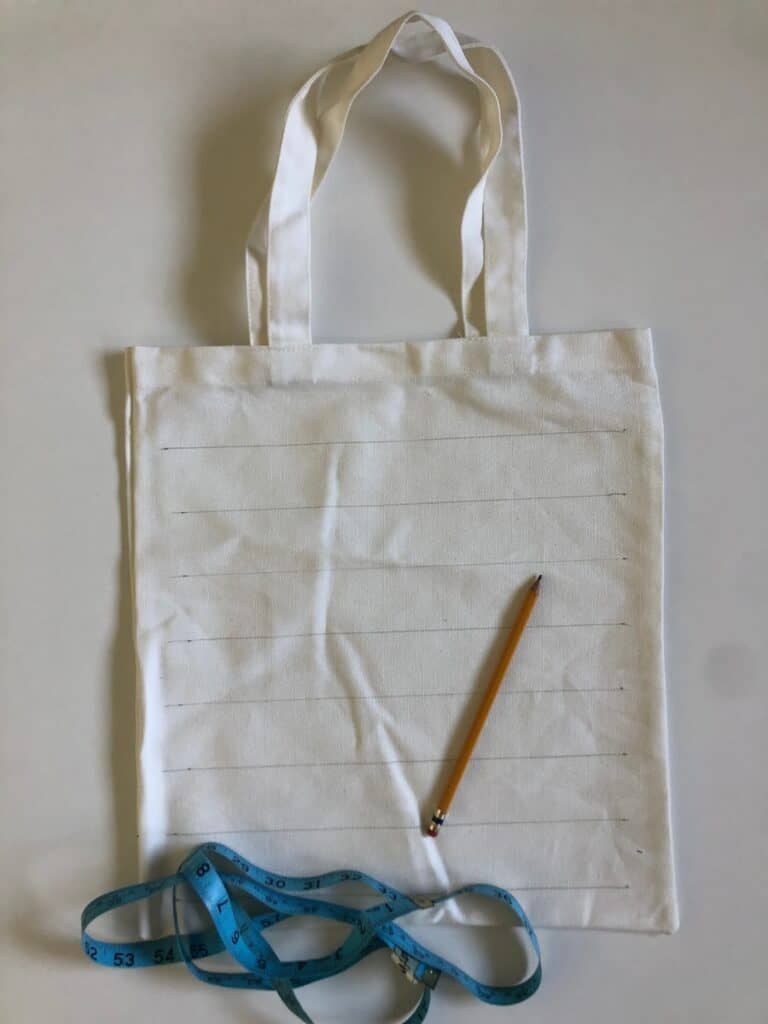 Teacher Tote Step Two: Stitching the Blue Lines
I used the 6 embroidery threads joined together (how it comes out of the package) and casually measured the thread 4.5 lengths of my bag horizontally to determine my thread length. This was enough thread for me to complete two lines with extra length to knot. You will inevitably get better at this hand stitching as you proceed through the project, so think about which line you want to start on while you're still getting the hang of it. I began sewing the line at the base of my canvas tote.
Always double knot the end of your embroidery thread, you don't want it pulling through from the pressure at the end of your line. Once your thread is through the needle and knotted at end, push it up through the inside of your bag. You are going to do what is called a running stitch across your pencil line. When you get to the end, come back across that same line, pushing your needle up through the same hole you already created. The goal is to achieve one straight line, so try to be as precise as possible. When you complete the line, tie it off with 2 knots inside the bag. Complete this step for all your blue horizontal lines.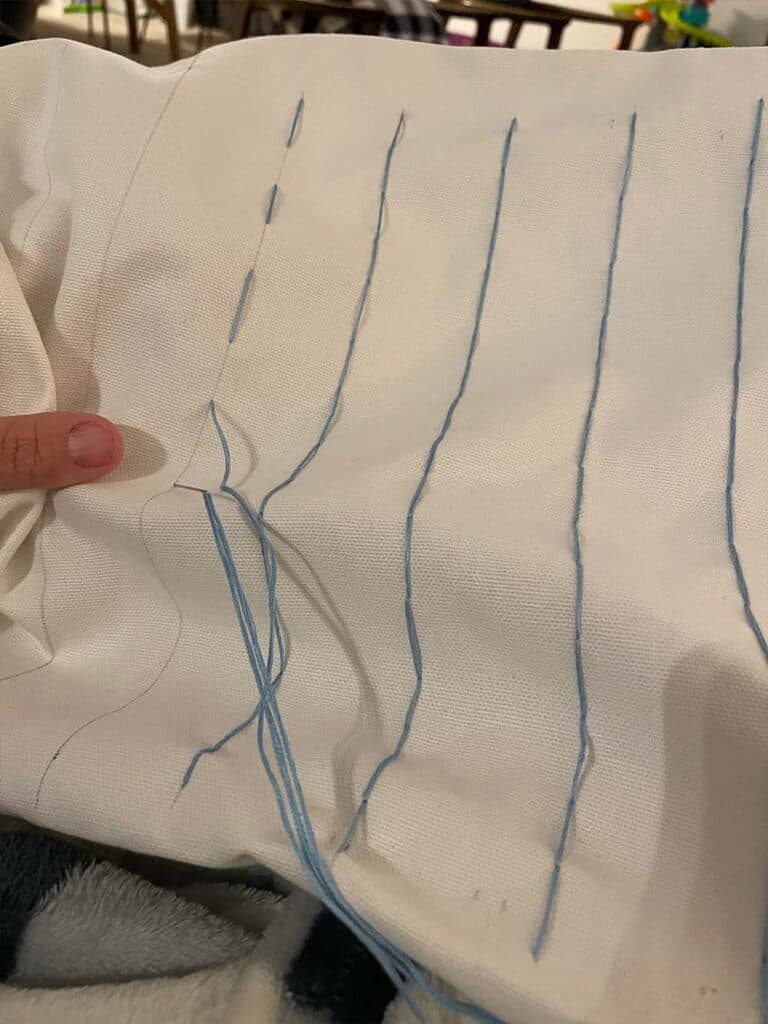 Teacher Tote Step Three: Stitching the Red Lines
Now draw on your vertical red line on the left side of the bag. Use the same running stitch to go up and down that line, knotting off at the end.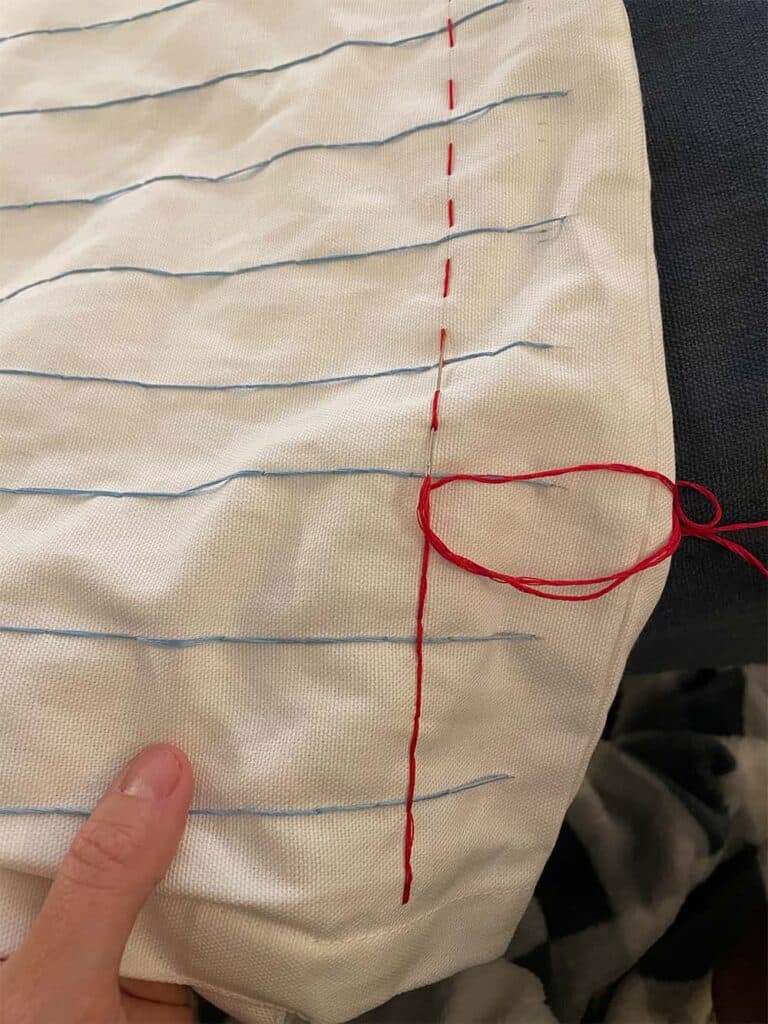 Teacher Tote Step Four: Customize it!
Embroider the teacher's name onto the bag. I put the teacher's name in the bottom right corner. I wrote out her name on a piece of white paper first, to determine style and size. You could print it in a font you like if you're uncomfortable free handing. I liked the style of cursive for this bag, especially since they have learned cursive in my daughter's 3rd grade class this year. You could do it in print and it would probably be a bit easier. So, get a draft of what you want on your bag first, then lightly copy it onto your canvas bag in pencil. I used three threads joined together for the lettering, so half of the thickness as it comes in the package. Again, double knot your ends and start by pushing up through the inside of the bag. Use a running stitch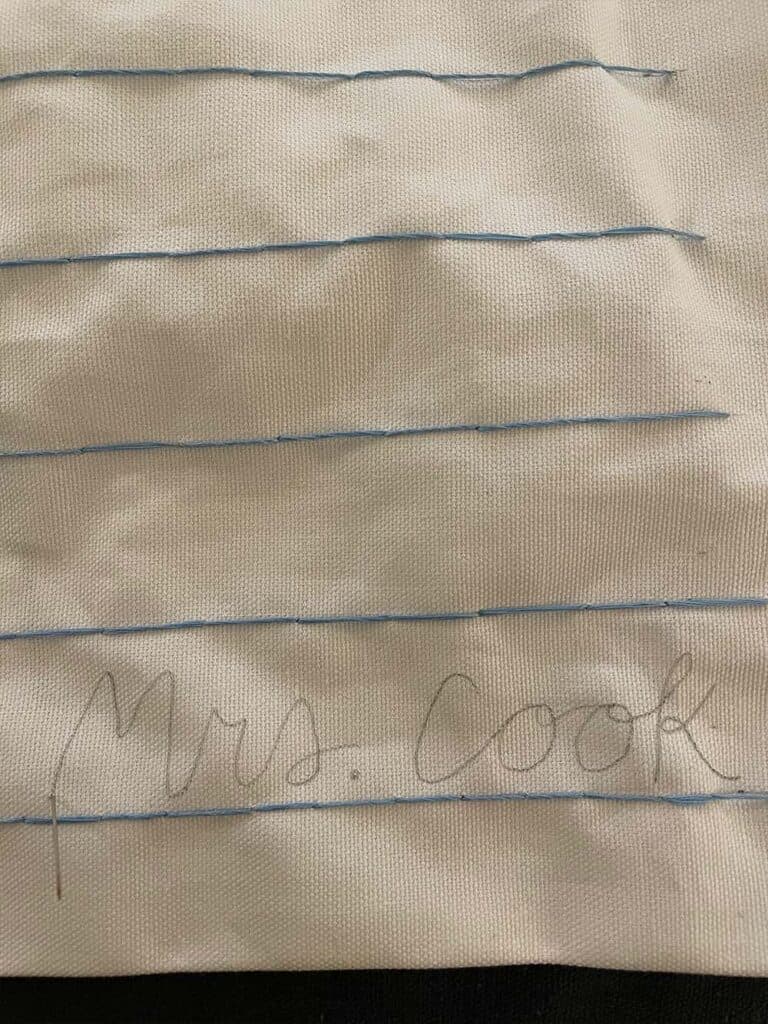 Use a french knot for the period after Mr. or Mrs. This will make the dot stand out and give it a professional finish.
I put flowers in my bag but you could fill this tote with whatever you want to gift to your child's teacher! I know I am infinitely grateful for teachers and the work they do every single day to love and teach my kids!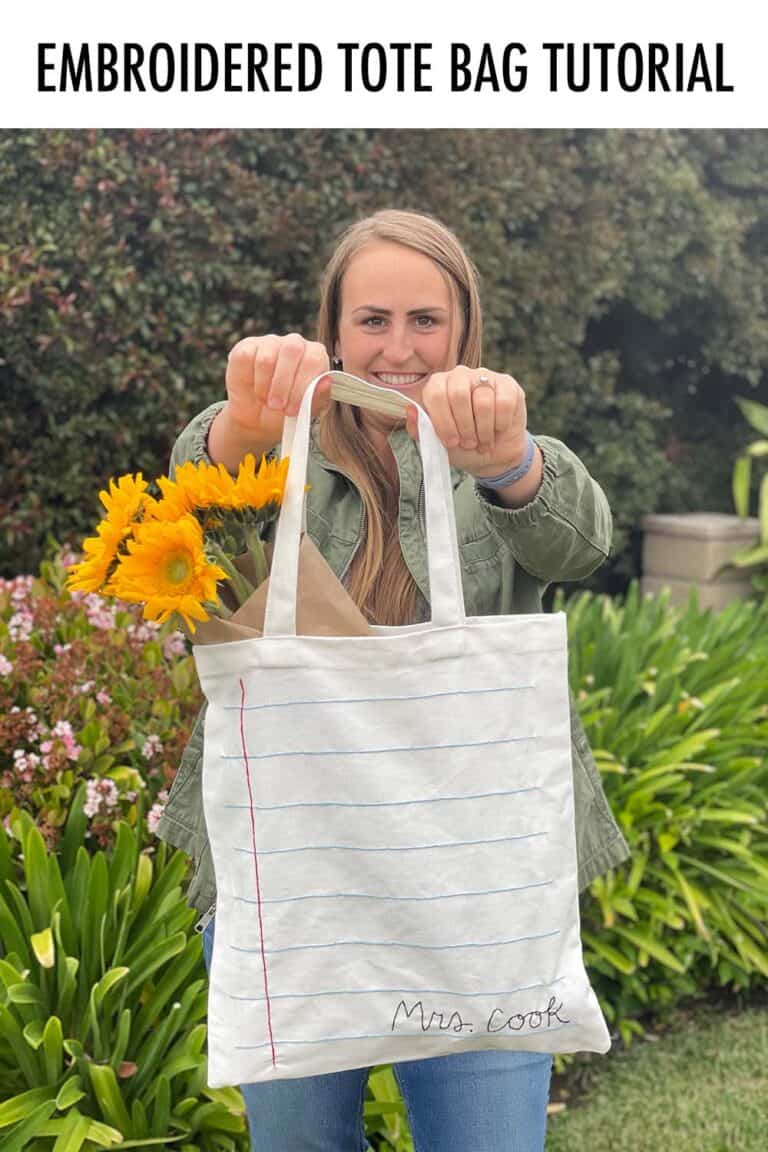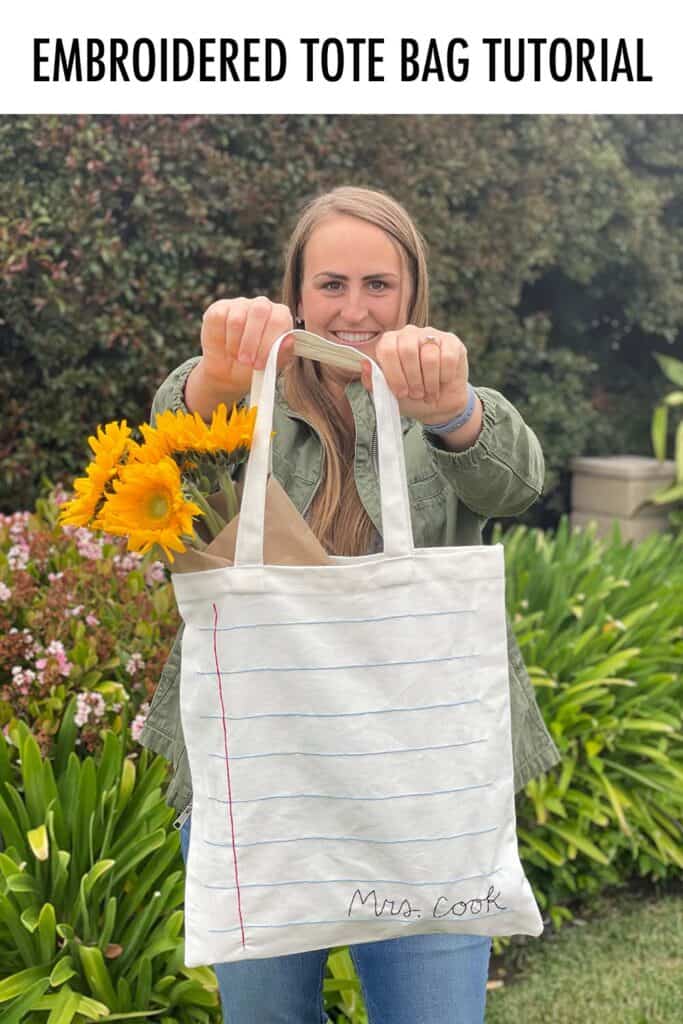 Thanks to Stephanie for that excellent tutorial. I'm excited to see how others customize their tote bags for the beach, the library, grocery shopping, or for a teacher gift like Stephanie.
If you enjoyed learning about tote bag construction then you might also enjoy our DIY Messenger Bag Tutorial or our DIY Drawstring Bag Tutorial.
Also, be sure to join our sewing community at the Peek-a-Boo Pattern Shop Facebook Group.