We have three amazing tutorials for you today on how to make a DIY Table Runner. Whether you want to sew a reversible table runner, a quilted table runner, or a pieced fabric table runner – we have you covered.
DIY Table Runner 101
Tutorial #1: Reversible Table Runner
The DIY table runner. This past year, I've become a fan of table runners and changing them for seasons and holidays. It started with just a left over piece of fabric that I put underneath my clear plastic table cloth on a whim. But I liked so much, I switched to red for Christmas and Valentine's Day. It wasn't hemmed and I tucked under the part that had been cut into so it looked like a rectangle.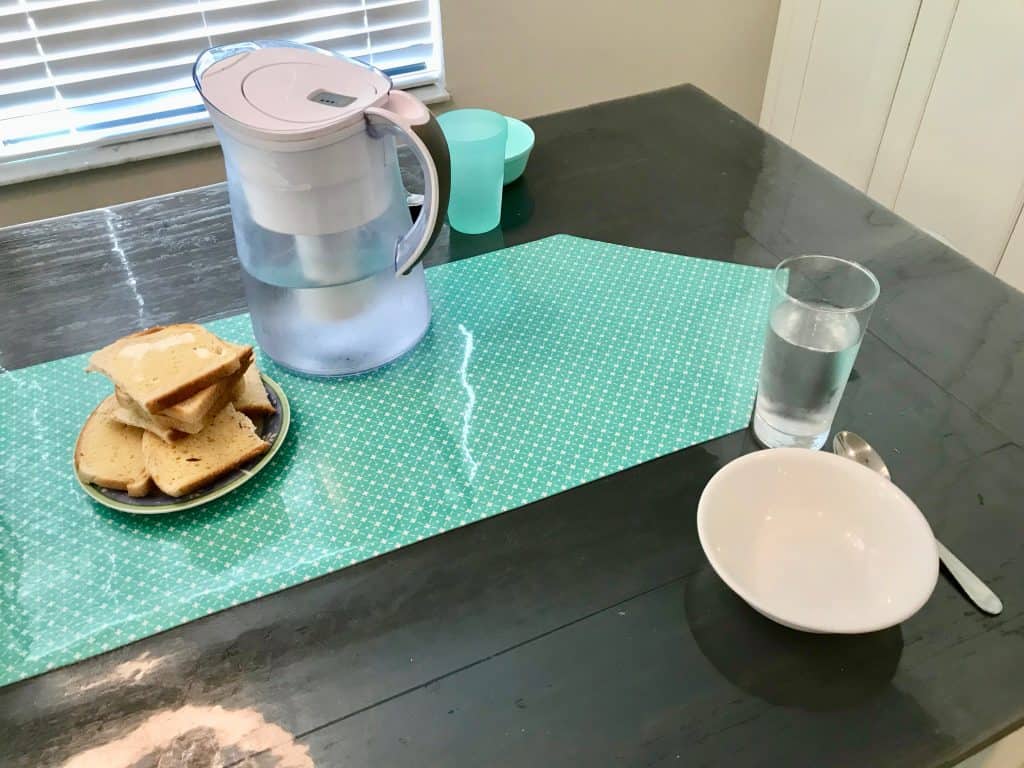 Then for Easter I pulled out a table runner my mother made me. Like all of her sewing-it was made beautifully and inspired me to make a real table runner. And to get more use out of it, I made it reversible! That way when I feel like a bit of change, I can just switch the sides. Here's how you can make one too.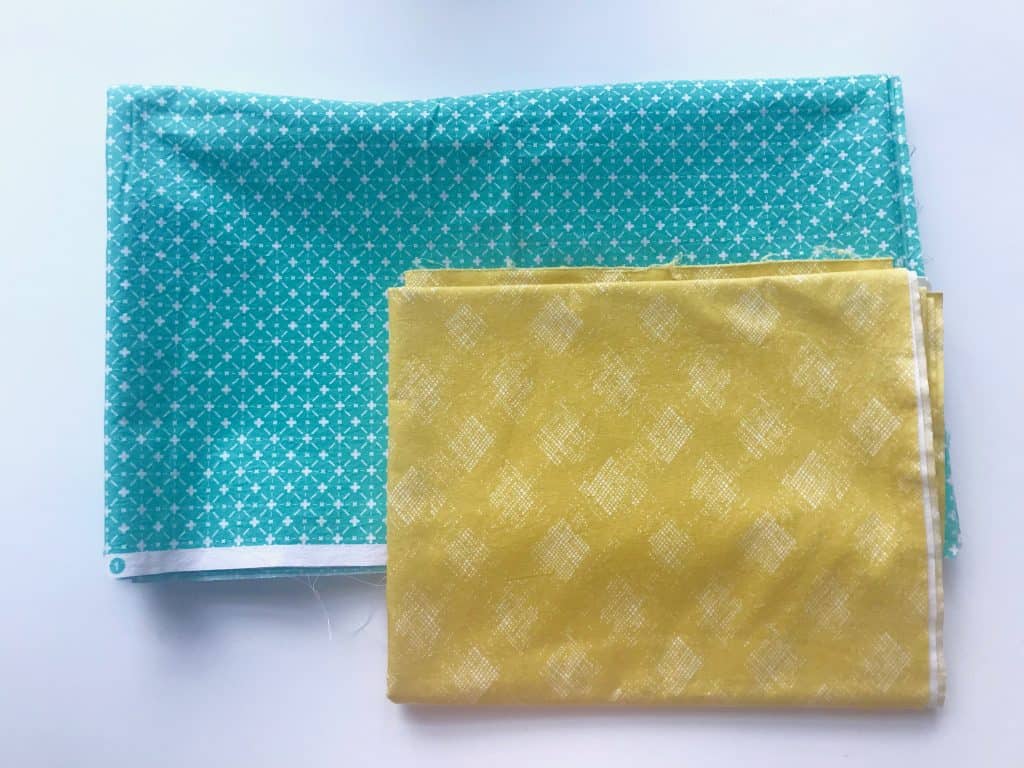 How to Make a Reversible Table Runner
You'll need 2 yards of two different fabrics for your DIY table runner. They can be coordinating or clashing. You won't really be seeing them together. (You can adjust the length of the fabric to fit longer or shorter tables or personal preferences.)
Reversible Table Runner Step 1: Start by cutting each piece of fabric the length of the fabric (parallel to the selvage) 15 inches wide.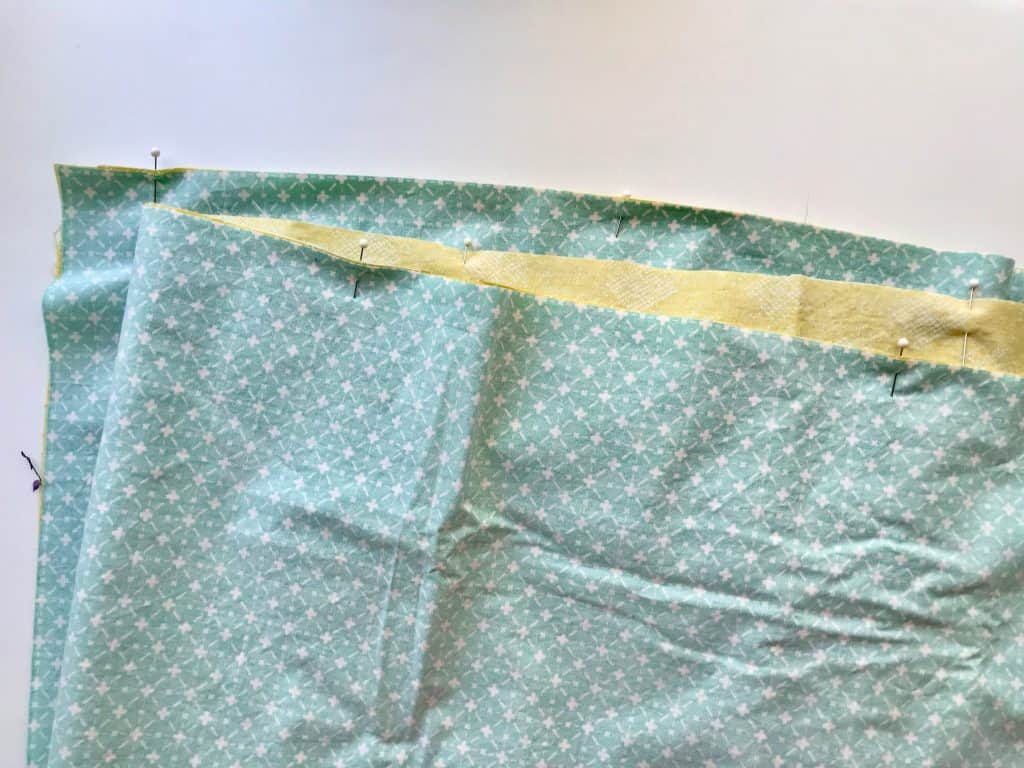 Reversible Table Runner Step 2: Pin the two lengths of fabric right sides together and sew along the long sides. Leave an opening on one of the sides for turning. Do NOT sew the short sides.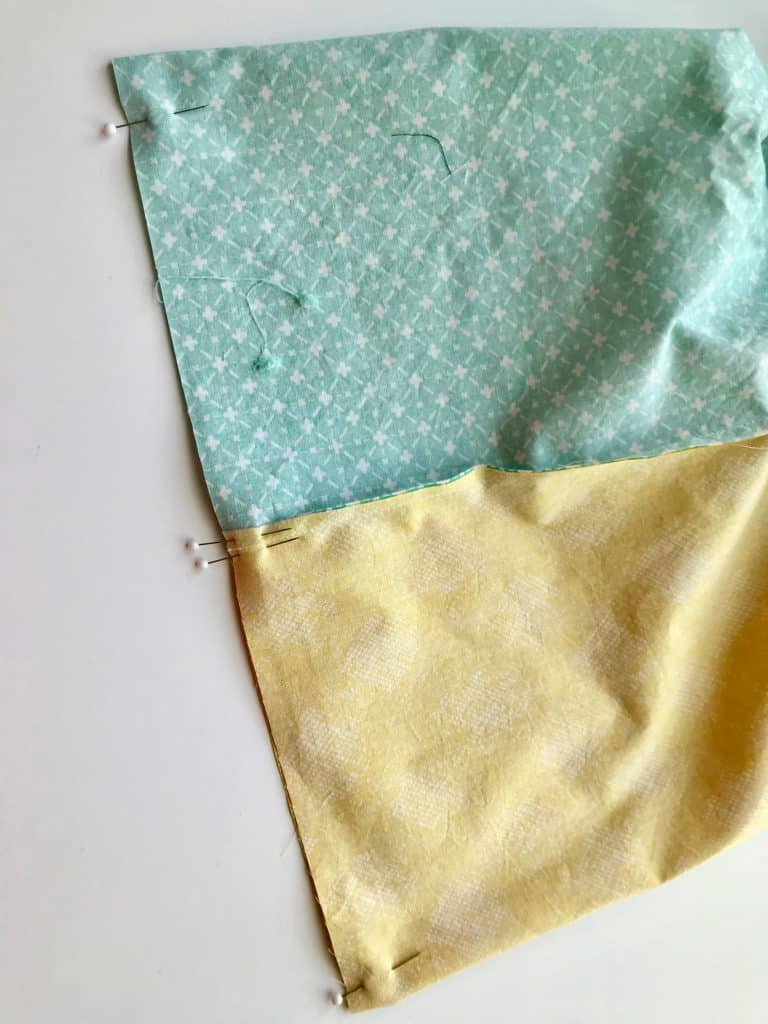 Reversible Table Runner Step 3: Open the short end of the table runner and fold the pieces of fabric in half on themselves. Match the seams from the long sides of the runner and pin the edge of the short side together. Right sides of the fabrics will be together.
Sew along the short ends of the table runner.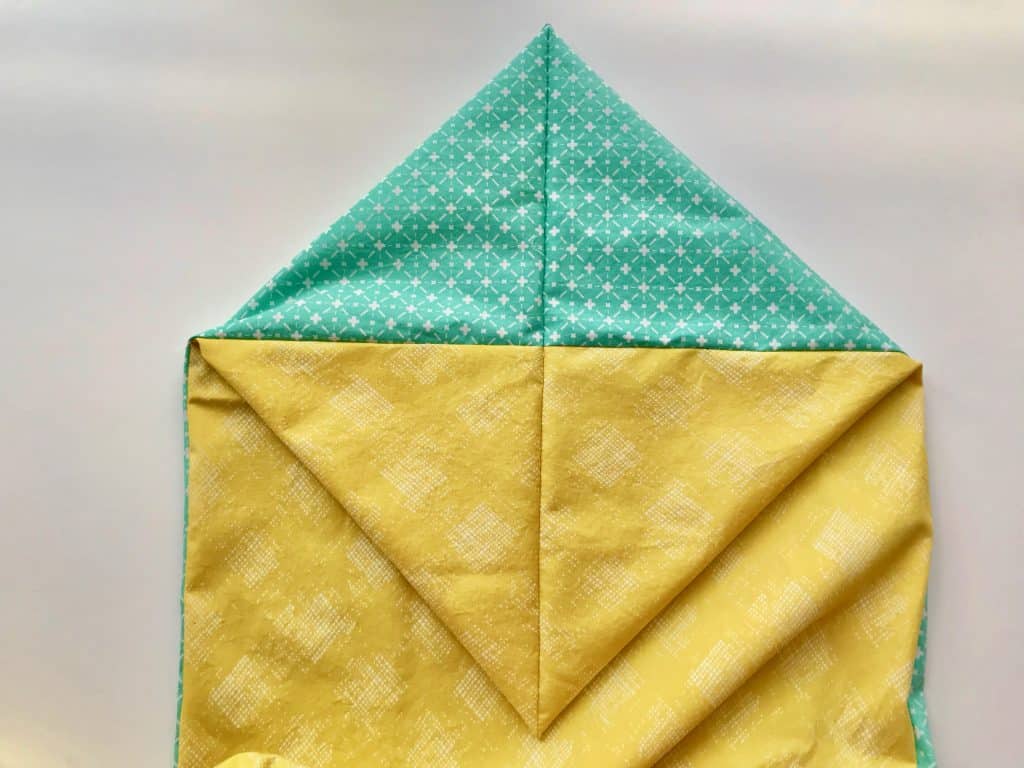 Reversible Table Runner Step 4: Turn the runner right side out through the opening in the long side. Reach into the inside of the runner and gently poke out the corners you made by sewing the short sides. There will be 4 corners-two for each fabric.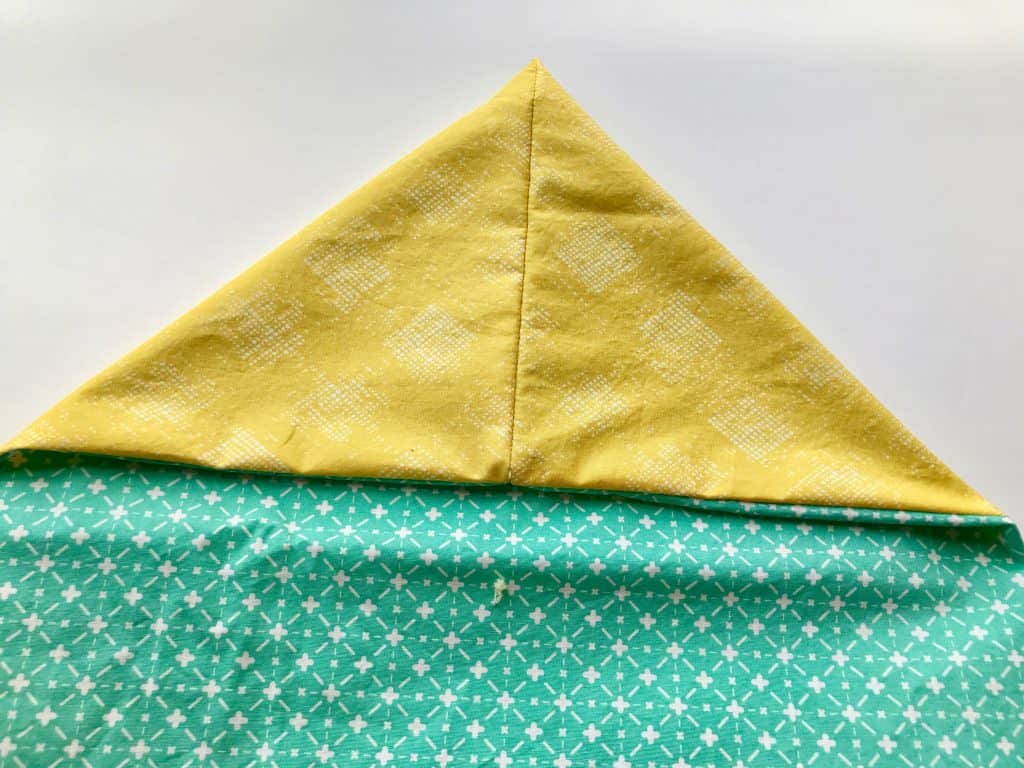 Reversible Table Runner Step 5: Push one set of corners (one color) inside the other set. This makes a neat little triangle on each end of the table runner.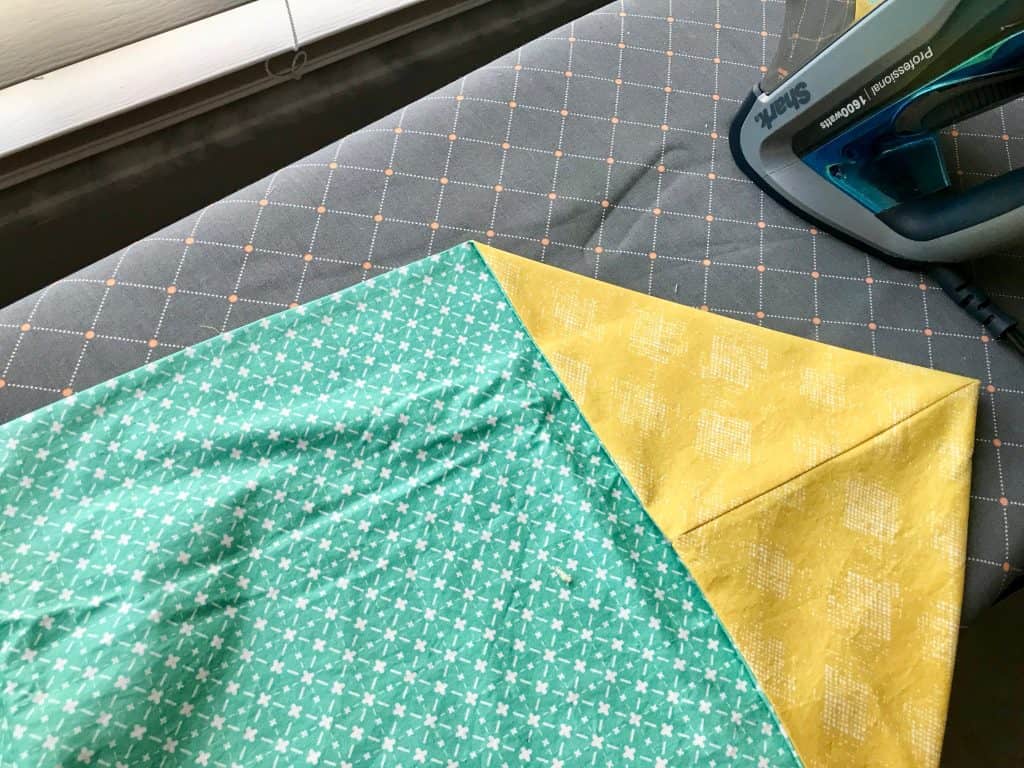 Reversible Table Runner Step 6: Press the side seams and triangles to make the table runner nice and crisp.
Reversible Table Runner Step 7: Sew up the hole you used for turning the runner right side out. I used a ladder stitch (blind stitch) so you can't tell when my hole was. Alternately you can use your machine to sew it closed. If you choose that method I suggest you topstitch all the way around the runner for a nicer finish.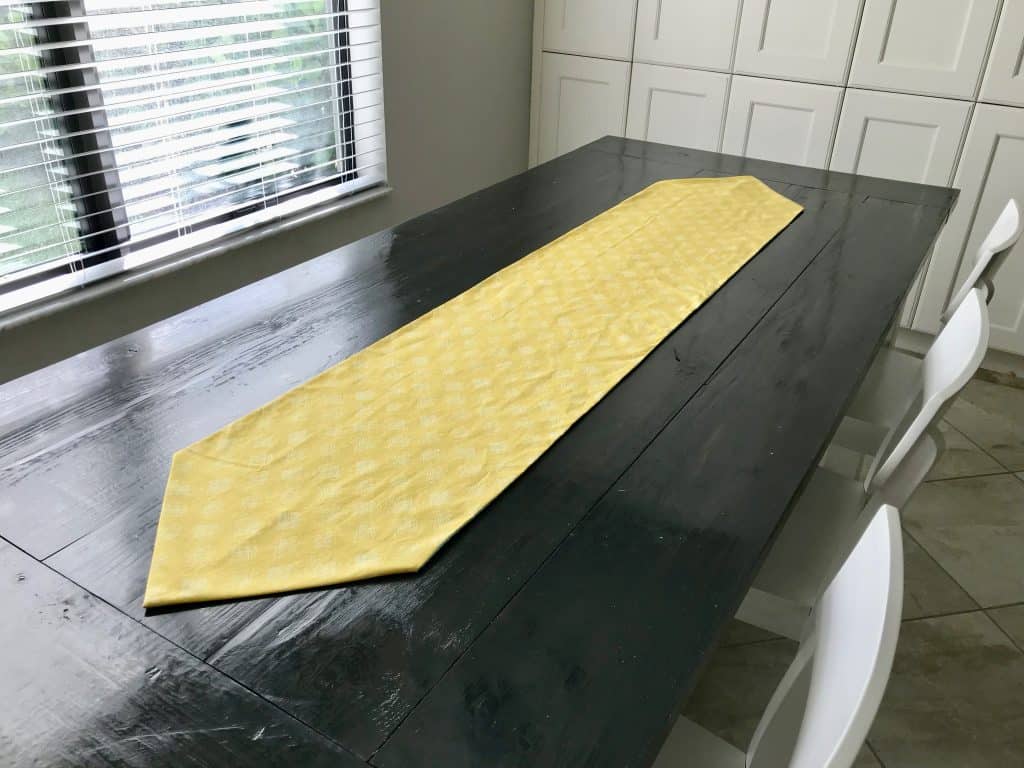 Reversible Table Runner Step 8: Give the table runner a final press and put it out on your table. When you get tired of that side, push the points of the triangles through so the opposite fabric is on top of the table runner.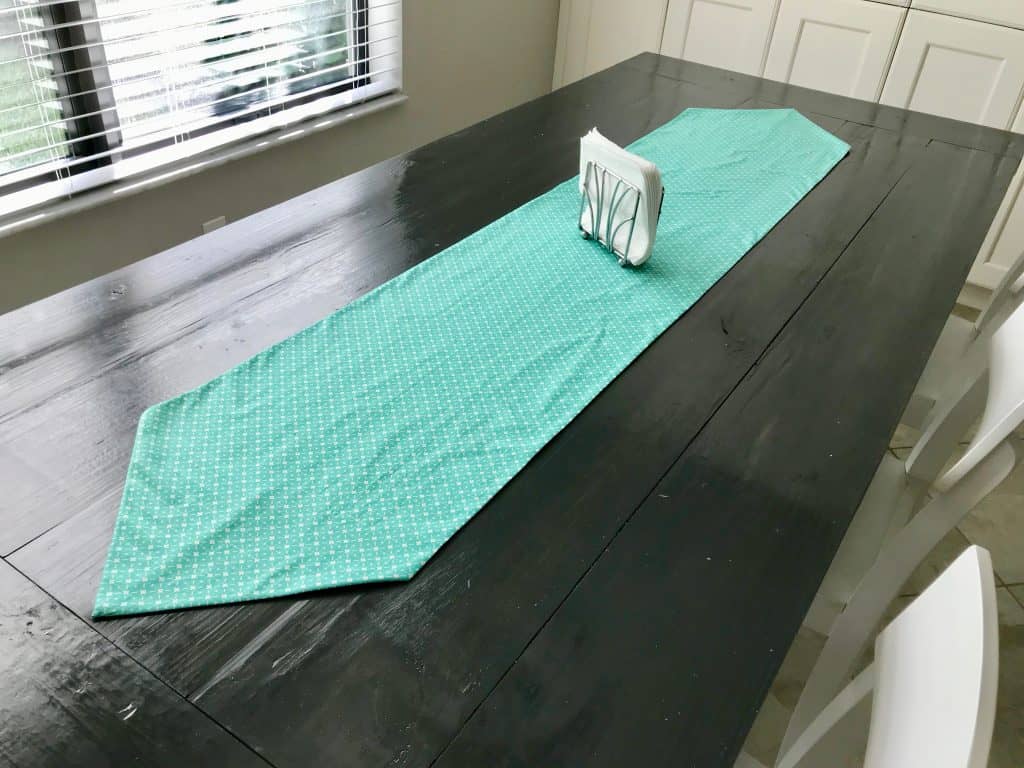 Enjoy changing your table decor without having to store anything extra! And here's a tip if you have small kids like me who spill all over the table. Cover your table and table runner with a clear plastic tablecloth/vinyl.
It keeps the spills and such off the table runner so you can have a cute table and still just wipe if down after meals. No need to keep washing the table runner!
A big thank you to Jillayne for giving us that amazing step by step tutorial on how to make a reversible table runner. Next up we have Genie from the Sew and Tell Project here to show us how to make a quilted table runner.
Tutorial #2 | Quilted Table Runner
Hi there! Genie from the Sew and Tell Project is here today. I'm so happy that it's finally summer here in Michigan, and I'm celebrating by sewing up a patriotic diy table runner…the Fourth of July is coming soon! This tutorial will teach you how to make a table runner. This specific table runner is a simple quilted table runner.
Quilted Table Runner Supplies
Pictured below are the supplies you'll need for the quilted table runner. I have a quarter yard each of the four prints at the bottom, a yard of the checked chambray, and a yard of the Pellon Thermolam (I ended up not using the tan starry fabric…I didn't like it when I started piecing). For batting, you'll want something with a lower loft (thinner), so that it lays flat. I chose Thermolam so this runner could double as a kind of oversized trivet. I strongly recommend using a rotary cutter and mat with a large clear ruler. My runner is roughly 15×30″. I actually laid out my piece of batting on the table to determine what size I wanted.
For your fabric needs, make sure to go to KnitFabric.com.
Quilted Table Runner: Getting Started
First, you're going to cut strips. Lots of strips. I used varying widths (my smallest strips were 1.25″ and my largest strips were 3″). I chose to use the blue on blue floral for my binding, and cut those strips to 1.5″.
Piecing the Quilted Fabric Table Runner Together
Then, start piecing. I decided on a diagonal design, using the 45 degree angle mark on my cutting mat. It would be much simpler to use vertical or horizontal stripes. Just line them up and stitch them with a 1/4″ seam allowance. They should be larger than your final size, and the ends don't need to be even. This will make it simpler to trim it down later. If you're not comfortable with a 1/4″ seam allowance, no worries, but be sure to account for a larger allowance when you cut your strips.
Press each strip as you go. For clothing, seam allowances are often spread to both sides, but for projects like this, I just press them to one side. I don't have to worry about bulky seams here, and it's just quicker and easier. Once you have your topper the size you'd like, you'll cut a piece of backing and a piece of batting. Trim all three down to even edges with nice 90 degree corners.
Quilting the Table Runner
Next, you're going to quilt. Don't panic! It's fun! My quilting is super simple, but feel free to add swirls or stars or whatever your heart desires. I'm simply not that skilled. 😉 I stitched along each of my seam lines on the quilt topper (aka "stitched in the ditch"). I start in the center and quilt to one side, alternating the direction of my quilting.
When the first half is done, I do the other half in the same manner. I really like how alternating my direction makes the back of the quilted piece look. If you don't like those crinkles, you could just as easily quilt in one direction. Here's where I should probably admit that I'm not an advanced quilter; I just do what I like.
Once your quilting is complete, check your edges one more time and square up to account for any shifting.
Finish Sewing the Table Runner Edges
There's two ways you could finish a small piece like this. I chose binding because I like the way it looks. The other way would be done BEFORE quilting; you would just sew the three pieces together with the batting on the wrong side of the quilt topper, and the backing right sides together with the topper. Leave a hole to turn, turn, and top stitch along the edges. Then quilt as desired.
I made my binding by cutting 1.5″ strips and attaching them. If I were making bias tape for clothing, I would have cut the strips on the bias, but I don't need the bend for this project so I kept it simple. I do, however, join my strips at an angle. It makes for less fabric to have to sew over/through at those joining spots. Here, you'd sew from the top left of the square where the fabrics overlap to the bottom right, and then trim the corners off, leaving your seam allowance about 1/4″.
Then you press the seam open (again, it makes the areas where the bias tape is joined thinner and a little easier to sew).
There are a few ways to make the folds in the bias tape. There's an easy set of bias making tips, where you just choose the appropriate size and then pull the fabric through, pressing at the end.
Or, you can press the tape in half lengthwise, unfold, and then fold the long edges into the center crease, pressing as you go.
Next, you're going to attach the bias tape to the quilt. I like to sew it right sides together with the backing because I like to do my topstitching on the topper, but either way is fine. So, unfold one long edge of the bias tape and match it to the edge of the quilt. Sew the tape to the quilt by stitching in the crease.
I prefer to start in the middle because, frankly, I think trying to sew corners and match up edges is a nightmare. At the beginning of your seam, fold the bias tape up like I've pictured. You'll place the unfinished end on top and when you fold it up and wrap it over, all raw edges will be miraculously enclosed.
For your corners, sew all the way to the seam allowance, and then backstitch a few stitches. Pull the piece from the machine and clip the bias tape from the corner to the stitching, being careful not the cut the stitching.
Then, continue on your next edge.
Finally, you're going to trim all of the edges seam allowance roughly in half. Do a little testing to be sure your second folded side of the bias tape can wrap all the way around to cover the stitching on the other side.
Above, you can see the stitching, the way I've pinned the bias tape, and the beginning of a corner. I sew the corner all the way to the edge, and then back the stitching up. I pivot the piece, leaving my needle down, and fold the excess fabric at the corner up. It's kind of like folding military corners on the flat sheets, but with needle and thread.
And, voila, you're done!
I like to choose a more neutral backing piece so that I can flip it over when I don't want the holiday pattern. These are great for any holiday!
Tutorial #3 | Pieced Fabric Table Runner
It's November! I LOVE November! Fall is in full swing, the aroma of apple cider fills my house (hey, who cares if it's a wax warmer?) and the holidays are just around the corner.
Somewhere along the way, holiday gatherings migrated to my house. And while it's small and we don't have enough seats, I love it and wouldn't change a thing. Well, except for the decor. For whatever reason, last year's decorations are never quite good enough. I have been wanting to make a table runner for a while now, and the NEED for new decor is the perfect excuse!
Table runners are fantastic for a pop of color when you have small children at the table. You don't have to worry about moving the tablecloth to avoid stains, and they don't get pulled off the table by little people trying to climb up into their chairs.
This table runner is a FAST project. This means you can make one for every season!
Or make them reversible!
This one has a cute winter look on the front and a bright cheery spring print on the back. Sick of winter? Just flip over your table runner for a touch of spring!
This table runner will fit a 6-person table. Need a shorter or longer one? Just adjust the length you cut your strips! To whip up one of these, you will need the following,
Pieced Fabric Table Runner Materials
Main (center panel) fabric 14″x 42″
Accent (side panels) fabric 14″x 42″
Backing fabric 26″x42″
Rotary cutter and mat
Pins
Basic sewing supplies
Pieced Fabric Table Runner Instructions
Let's sew!! This tutorial uses a 1/4″ seam allowances throughout.
Step 1: Cut your main fabric into two strips measuring 7″x42″ and cut your accent fabric into four strips measuring 3 1/2″x42″ (A way to make cutting long strips easier is to cut them on the fold. For this project, you would be cutting your strips 21″ on the fold.)
Step 2: With right sides together, sew the short ends of your main fabric strips together using 1/4″ seam allowance, creating the center panel. Repeat with accent strips creating your two side panels. Press your seam to one side.
Step 3: With right sides together, line up the long side of the center panel and one side panel. Make sure to line up the seam.
Step 4: To reduce the bulk, nest your seams together.
Step 5: Pin at the center seam and carefully pin along the long end. Sew together using 1/4″ seam allowance.
Step 6: Repeat with the other side panel. Make sure to keep your center panel's seam allowance pressed in the same direction on both sides when you nest your seams. After sewing, press your seams towards the darker fabric.
Step 17: Cut your backing fabric into two pieces measuring 13″x42″. Sew the short ends right sides together and press your seam to one side.
With right sides together, place table runner top on your backing fabric lining up the raw edges and the center seam. Nest your center seams. Pin together and sew around all four sides leaving a 6″ gap for turning towards the center on one long side. Clip your corners to reduce bulk. Make sure you don't clip your stitching!
Step 8: Turn right sides out being sure to push out the corners. I like to use a large, wooden knitting needle.
Step 9: Press your table runner and close up your turning hole. I hand sewed this one shut using a simple ladder stitch to keep a clean look. You can also choose to topstitch around the entire edge to close the hole.
And there you have it! A super quick table runner perfect for a punch of color this fall.
Step 10: I went with a less traditional fall color scheme to get lots of use out of this. The print of this Birch Organic fabric on this yummy jewel tone screamed fall to me. I paired it with a lovely natural cotton woven fabric. I love how it looks with an orange pumpkin.
You can also make them reversible like this one below. A fun, winter print on one side and nice, neutral print on the other allows you to use this one year round.
These would make a fabulous gift this holiday season, like this one above. Shhhh! Don't tell!
You can make them reversible, seasonal, coordinated with their decor, neutral or funky, whatever you want! You can even do panels on both sides if you want. Or just do solids on each side for a super fast project! It really doesn't get faster than that! They are rather addicting to make and a nice stash buster if you have long strips of fabric from previous projects hanging out in a basket like I do.
Before you know it, you will have a stack of your own!
Thank you for coming and seeing our multiple methods to make a DIY table runner. Take a look at some of these other tutorials before you leave:
Be sure to join our Peek-a-Boo Pattern Shop Facebook Group for help with sewing projects and to see our latest deals.