Are you ready to make a DIY Rapunzel Costume! We love sewing costumes (especially princess costumes) over here at Peek-a-Boo Pages. You'll notice on our blog and website that we have free diy patterns for Cinderella, Elsa, Belle, and more……
But the princesses just keep coming. After a few weeks of begging I finally caved and sewed Anne this Rapunzel costume for wearing around the house and playtime. This costume for Rapunzel would also be perfect diy idea for Halloween.
This Rapunzel was made out of woven fabric. I'm also going to show you a second way to make Rapunzel today – you can use our Practical Princess Pattern, explained below to make a costume for Rapunzel out of knit fabric. This costume for Rapunzel will be perfect for an Occasion like Halloween or just for playtime around the house.
Make Your Own DIY Rapunzel Costume Method 1
Well, I guess costumes aren't just for Halloween. Anne has informed me many times that she's the "greatest princess in the land" so naturally she wears a costume almost daily. And yes she's wearing Belle socks while being Rapunzel:) Princess socks are part of her daily uniform. Thank you Target dollar aisle!
This costume for Rapunzel was so easy and I sewed it up in one evening with one yard of fabric. You definitely can do more embellishing to add something to Rapunzel but I really wanted to keep it simple ( I didn't even bother with something special for all that long hair). I intentionally made this Rapunzel dress nice and roomy so she can get several years use out of it.
Materials to Make Rapunzel
If you need to make a costume for Rapunzel for the princess in your house then here's what you'll need to get started:
Basic Peasant Dress Pattern: To make Rapunzel you need a basic peasant dress pattern. I used the Perfect Peasant Dress

from my pattern shop. I started with the size 5 for my 3 year old so she could easily get it on/off herself and be able to wear it for several years.

I lengthened the bodice by 4″ so it would hit at the waist and then cut the front piece into a center and 2 side panels (remember to add seam allowances!)
Tulle: To embellish the Rapunzel bodice I laid down a piece of purple shimmer tulle from my stash.
Pink Ribbon: After I embellished the Rapunzel bodice I laid down some pink ribbon in a criss-cross pattern. Baste together around all edges
DIY Rapunzel Costume Instructions
Piece together the rest of the bodice for the costumes gown
For each I just topstitched on 6 strips of ribbon.
The pattern I used for Rapunzel has an elastic casing at the waist but for this dress I shirred the back panel instead starting at the costumes armhole line and working my way down. Need help shirring? See my tips
here
To finish the Rapunzel dress I just continued with the rest of the pattern instructions. The only change I made was to add a layer of my purple sparkle tulle on top of the costumes skirt before attaching it to the bodice.
There you have it – I basically just took the Peasant Dress and added a few embellishments to get it looking like a gown for Rapunzel.
Another Way to Make Rapunzel Costumes
I hope you enjoyed that quick tutorial on how to make your daughter into Rapunzel for Halloween or any time of the year. Before you leave, I just wanted to share one more way that you could make a costume for Rapunzel or a costume for about any other princess – with our Practical Princess Costume.
We released this pattern sometime after I made the tutorial above and, as you can see below, I made Anne a new Rapunzel dress out of knit fabric.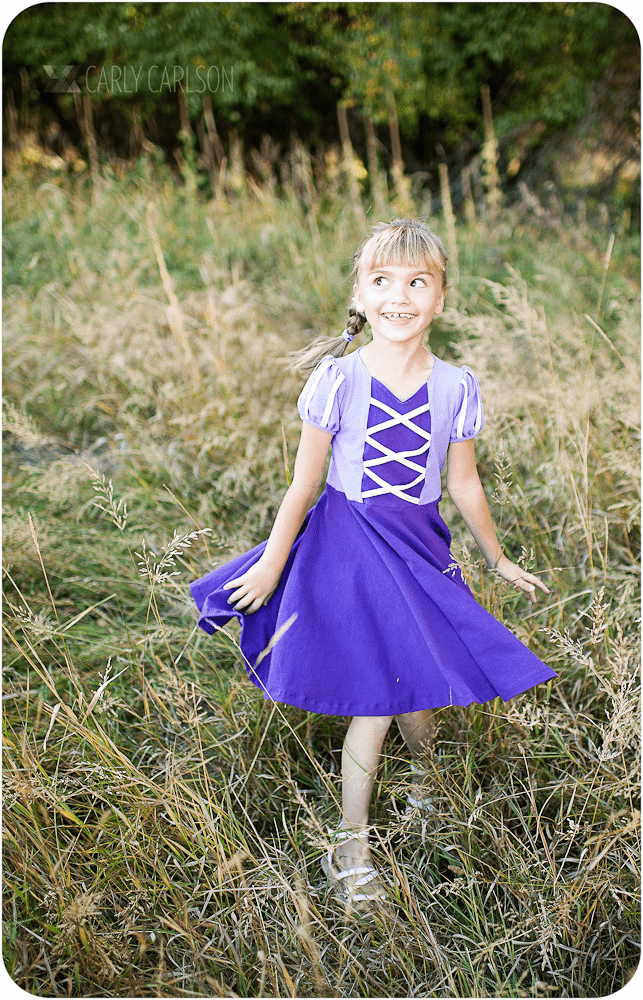 The Practical Princess can help create a number of different dresses and tops inspired by your favorite characters. It's great since it can be made out of knit fabric – it's perfect for Halloween or playtime and far more comfortable than the dress0up option above. The practical Princess includes the following options:
Bodice: Basic or Corset/Embellished
Skirt: Peplum or Dress length
Sleeves: Puff Sleeves, Gathered Sleeves in short, 3/4 or long length or Sleeveless
Optional Apron
Our customers have used it to make a ton of different characters – Rapunzel, Snow White, Cinderella, Sleeping Beauty, Merida, Belle, Ariel, Elsa & Anna, and more! Nikki says, "So many options and so easy to follow! I love every pattern that I have ordered from Peek-a-Boo Pattern Shop. This pattern has so many different options!!! It is perfect! I'm so glad that I purchased it! I was able to use it for each of my daughter's different Halloween Costumes."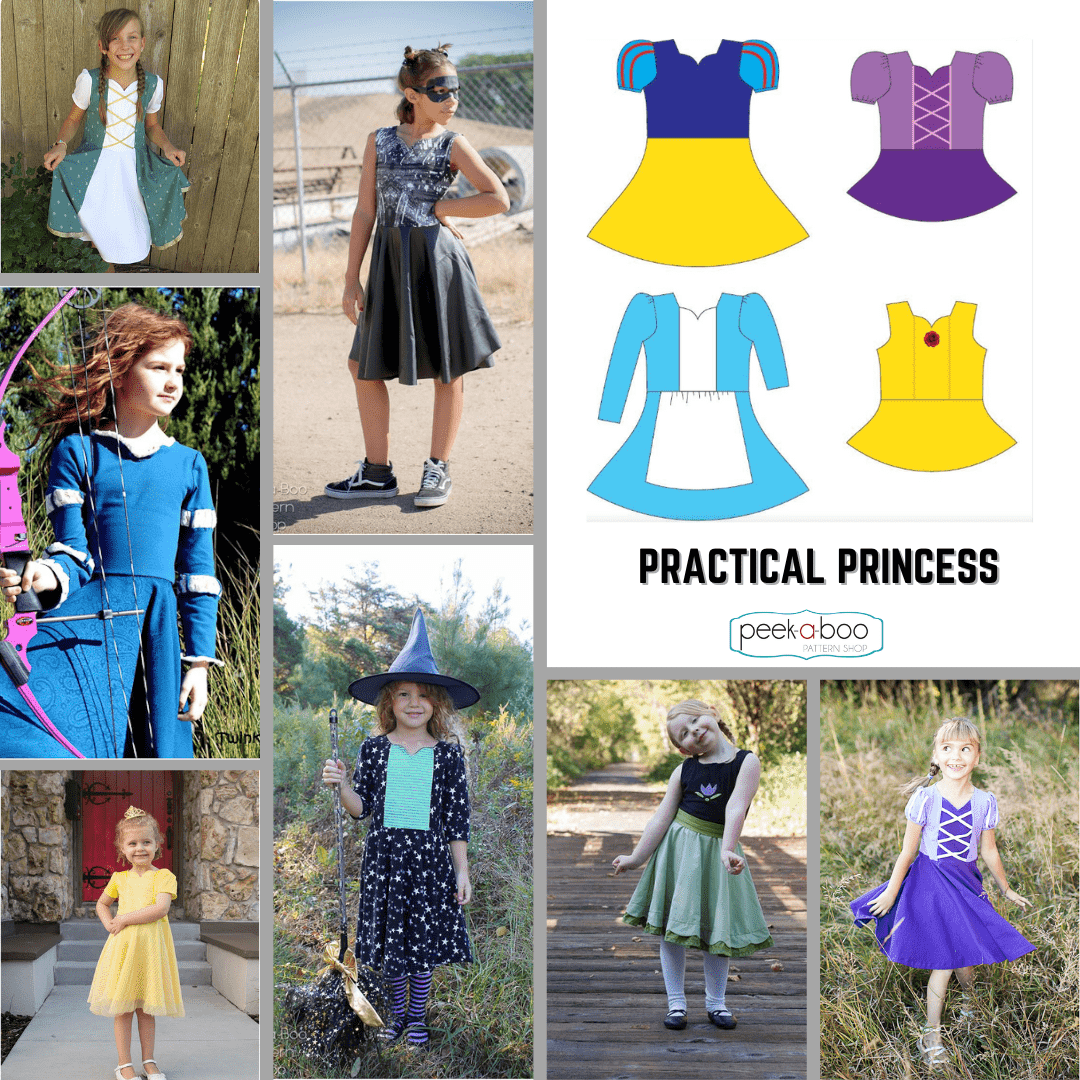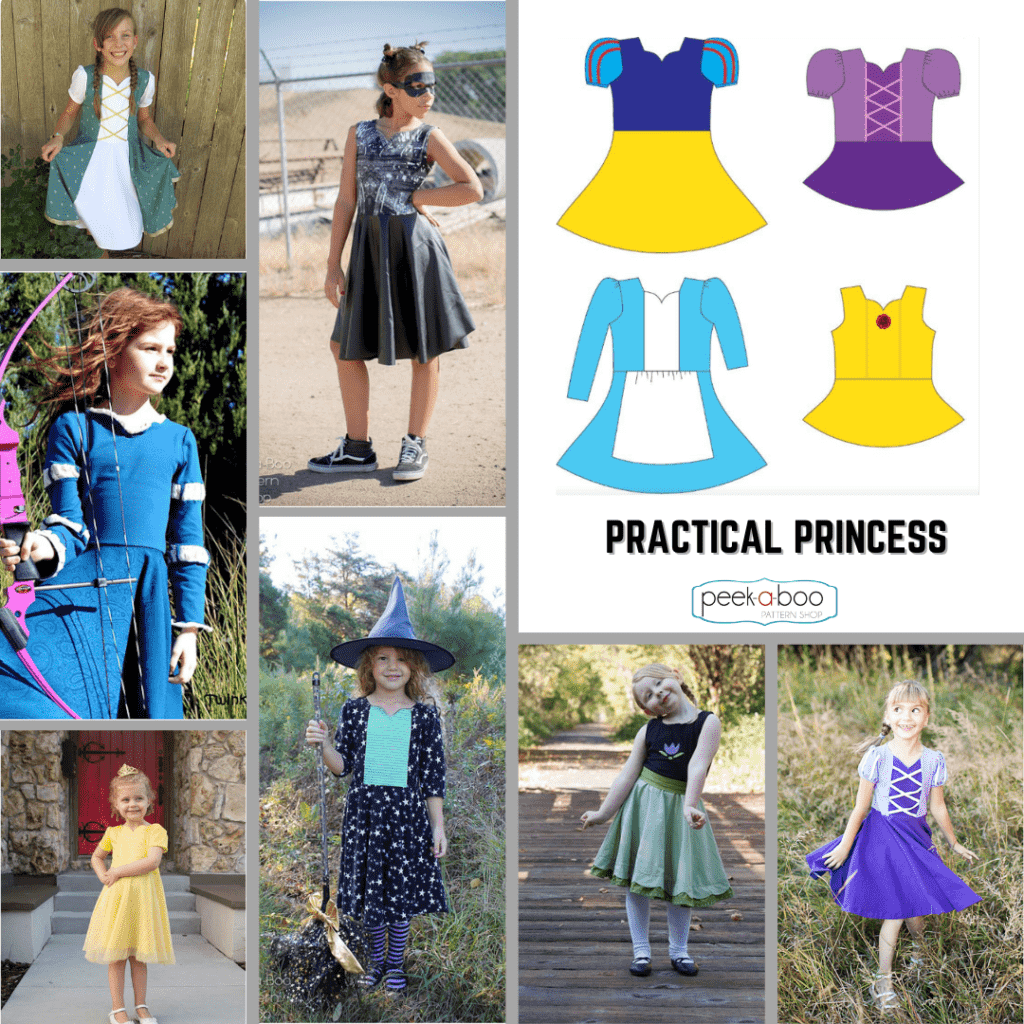 Rapunzel Hair Tutorials
Doing hair isn't our thing at Peek-a-Boo but we have to admit that hair is a pretty important part of Rapunzel's costume. While I wouldn't think it would be necessary for a homemade costume you use around the house, you might want to add something for the hair if you're making this costume for Halloween.
With that in mind, here are a couple hair tutorials around the web to get you thinking about that Halloween Costume:
DIY Rapunzel Hair Wig from Tulle: This hair is made out of braided tulle. This is a unique and inexpensive idea to add hair to the costume.
DIY Rapunzel Hair for Yarn: This idea shows you how to take yarn and put it onto a hat to make Rapunzel's har.
Rapunzel Hair Style: There are plenty of Rapunzel hair styles that you can use if your girl has long hair. Here's one but you can get many more on Pinterest.
I hope you enjoyed the DIY Rapunzel Costume. Be sure to look through the rest of our DIY costume section too. Also, be sure to join our sewing community in the Peek-a-Boo Pattern Shop Facebook Group. Happy Sewing 🙂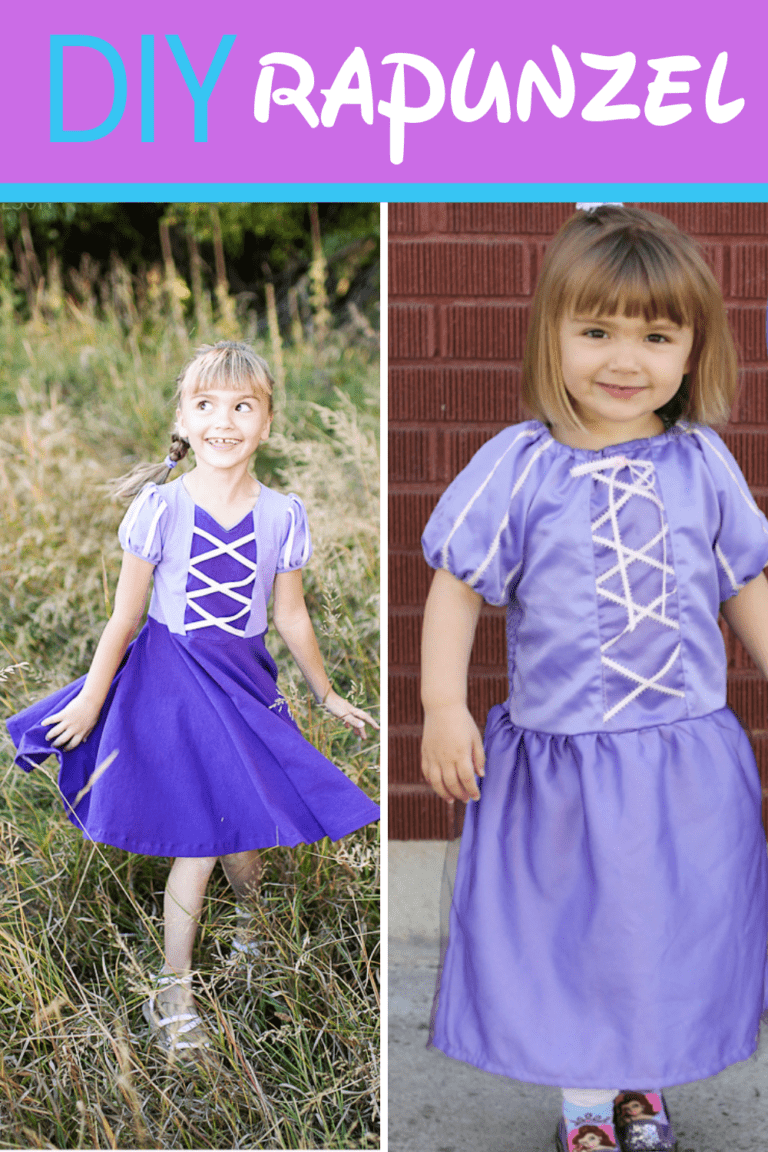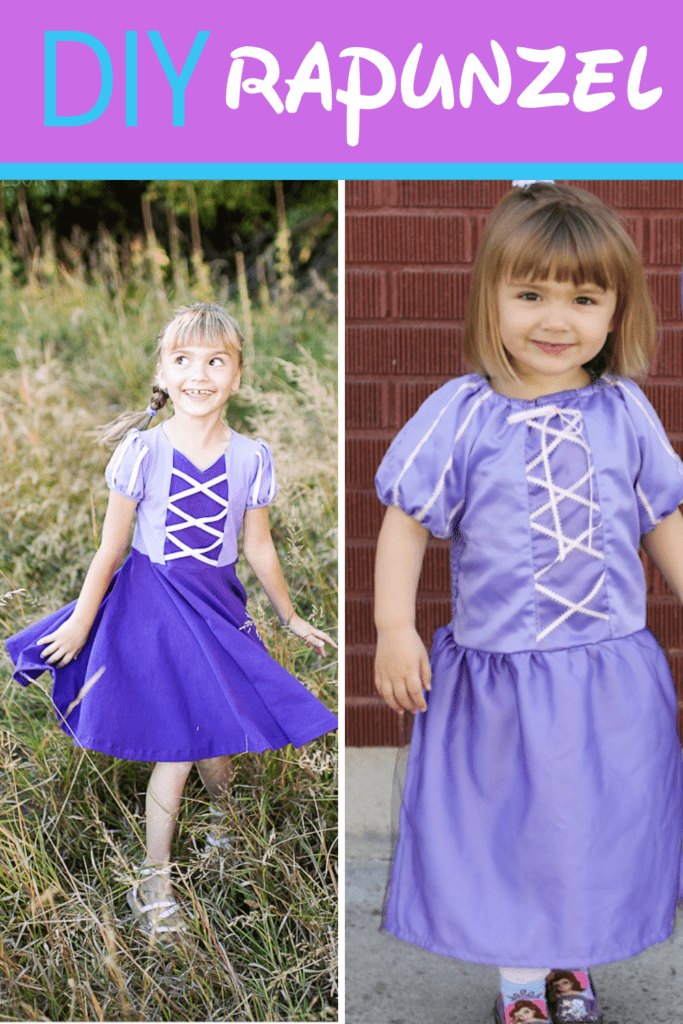 Other Costume Tutorials