My little boy is obsessed with pandas! He absolutely adores them and couldn't wait to be a panda for Halloween. He looked so cute in his diy panda costume!
DIY Panda Costume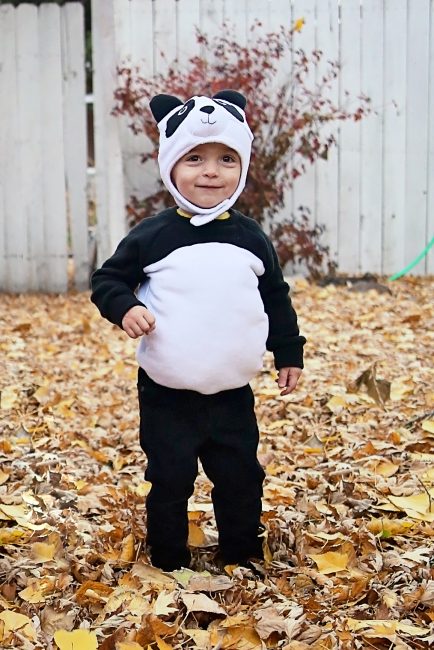 I was pregnant with baby #4 this Halloween and felt horrible so sadly I only have 1 photo of him in his cute diy panda costume and no tutorial photos but it's a pretty simple costume to put together!
He wore black pants, black rain boots and I also got him some black mittens. The only thing you need to sew is the body and the hat.
DIY Panda Costume patterns
For the body I used the Huckleberry Hoodie Pattern and just raised the front neckline a tad and did a neckband instead of a hood. For the front panel I cut 2 fronts and then added some fluff before attaching the bottom band. In hind sight it would've been a good idea to size up because it ended up a bit snug once I added all of the fluff to his tummy.
For his hat I used the Snow Day pattern and added ears, eyes and a snout. The Olaf tutorial has some good tips on adding details to this hat. I made the little mouth with embroidery thread.
Other Costume Patterns for Halloween
We have a whole section of fun DIY Halloween Costumes. Here's a few favorites you might enjoy:
Also, be sure to come join the Peek-a-Boo Pattern Shop Facebook Group to share what you make and ask sewing related questions.