Today I have a simple diy nursing cover tutorial to share with you today. This is such a great gift for a new mom and definitely an essential in my book. Of course, you'll want to make sure she's planning to bf 🙂
I've seen some cute ruffled DIY nursing covers (that I'll point out below), but I personally prefer something as simple as possible so it's not taking up extra space in the diaper bag and/or drawing even more attention to you as you're trying to discreetly nurse.
I added in some boning along the neckline so the cover stands away from your body a bit making it easier to check on the baby and giving them a bit more room under the DIY nursing cover.
And just for fun I added a little pocket in one corner for holding binkies, nursing pads, etc.
DIY Nursing Cover | How to Make a Simple Nursing Cover
Let's get started on that diy nursing cover!
DIY Nursing Cover Instructions
Simple Nursing Cover Step 1: If you want to include a pocket cut that out and hem 2 sides of the fabric for the nursing cover.
Simple Nursing Cover Step 2: Now cut out your cover and baste the raw edges of the pocket into the corner. Topstitch the finished edge in place.
Simple Nursing Cover Step 3: Hem the bottom edge and 2 sides
Simple Nursing Cover Step 4: Cut out your straps. I lost my measurements for this so you may want to double-check the length but 30″ should be just fine. I used 2″ D rings. For narrower rings you'll want a narrower strap.
Simple Nursing Cover Step 5: Fold both straps in half with RST and sew up one long edge. Turn right side out with a safety pin.
Simple Nursing Cover Step 6: Position the seam in the center back of each strap piece. Tuck in the raw edges one the tapered end of the long strap and one end of the short strap and then topstitch around all edges.
Simple Nursing Cover Step 7: Baste the raw edges of the strap pieces to the top of the nursing cover. Then fold the top edge over twice to hem making sure to leave a wide enough gap to slide in your boning. Wrap the short end of the strap around your 2 D rings and topstitch down. You can also add a little tag.
Simple Nursing Cover Step 8: Cut a piece of boning to 12″ and slide it through the casing in-between the 2 straps. Topstitch across the casing to hold the boning in place. I also like to flip the strap pieces up and topstitch to the cover for extra stability.
There you have it – a simple nursing cover. If you want something a little different take a look at these other tutorials I found from throughout the web.
Top 7 Other Nursing Cover Tutorials
This nursing cover tutorial is special because it has a second strap. The second strap is positioned lower and intended to help keep the baby cover in place – even when your baby is busy moving around on you. It's made with two coordinating fabrics and the tutorial comes with detailed step-by-step photography to show you how it's made.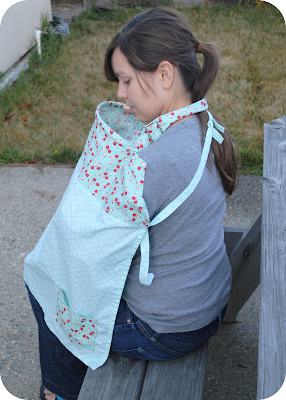 2. DIY Cheap and Easy Nursing Cover
This tutorial is another super simple nursing cover. You'll be able to make it from basically one single fabric and some D rings. With how simple this is to make it makes sense to sew it together yourself rather than buying one of the many expensive nursing covers out there.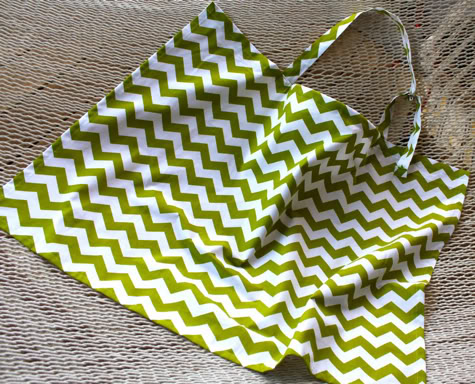 3. Super Easy Knit Nursing Cover
This one is a little unique as it's made of knit fabric and goes on more like a poncho. It's constructed with a breathable knit fabric. The tutorial goes through an easy 5 step process to quickly make this up and start using it.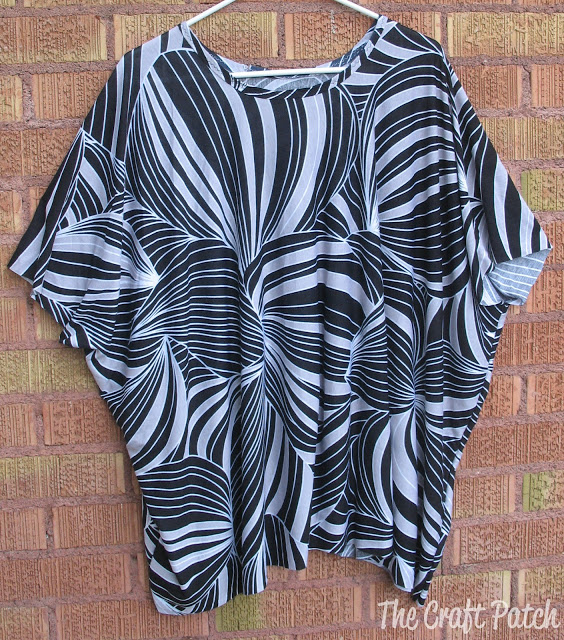 4. Infinity Scarf Nursing Cover
This is a unique idea in that it's an infinity scarf that can also be used as a nursing cover. You use a stretchy knit fabric and follow her four step process to make this and your ready to go.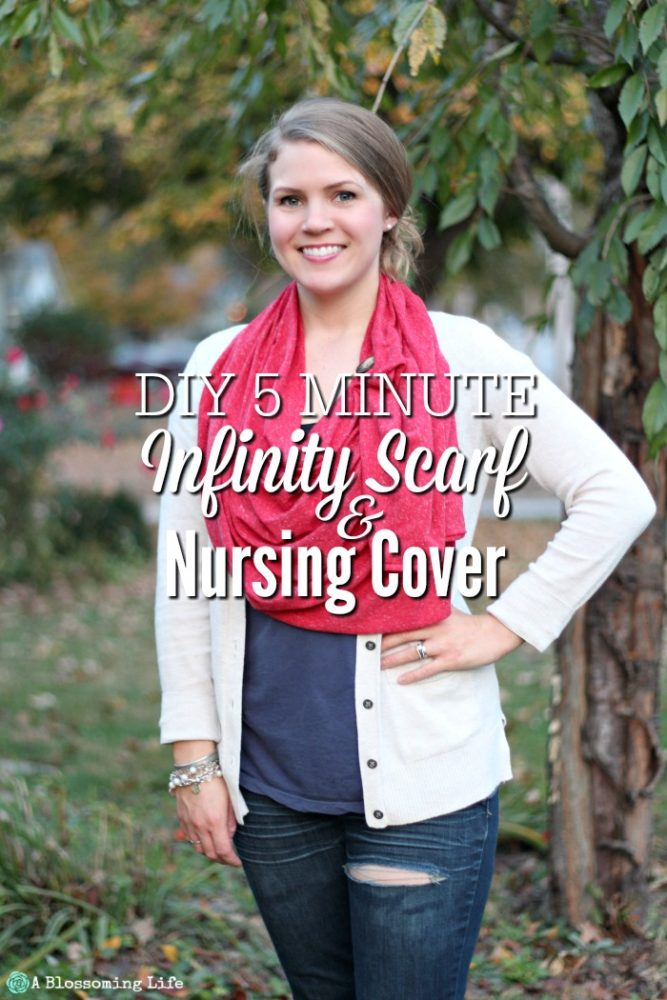 This nursing cover is a bit larger than most and uses boning casing which provides some extra shape and support for garments – you can see it at the top of this cover.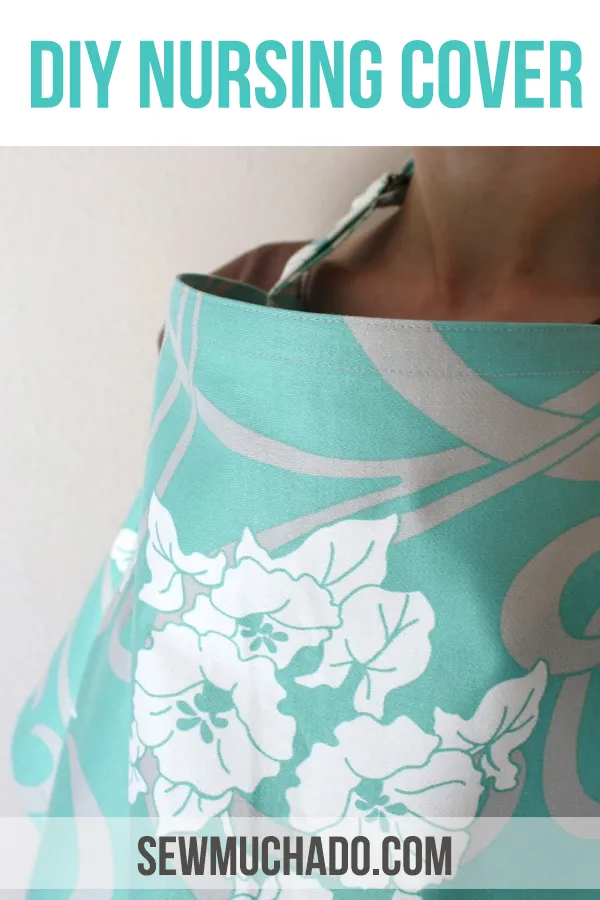 6. Full Coverage Nursing Shall
This full-coverage nursing shawl wraps all the way around you and also has elastic and sewn-in boning. The boning allows you to have some structure to the cover and helps you look in at your baby. This a unique option if you're looking for as much coverage as possible.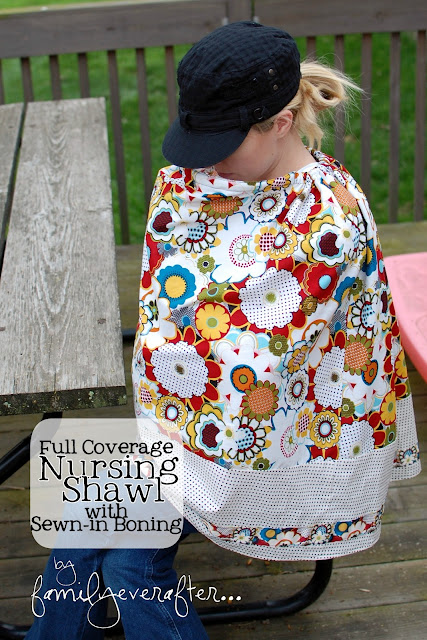 7. Easy Shawl Style Nursing Cover
While we're going over shawl-style covers we have one more for you. This cover is more of a flowing shirt and will help keep you fully covered.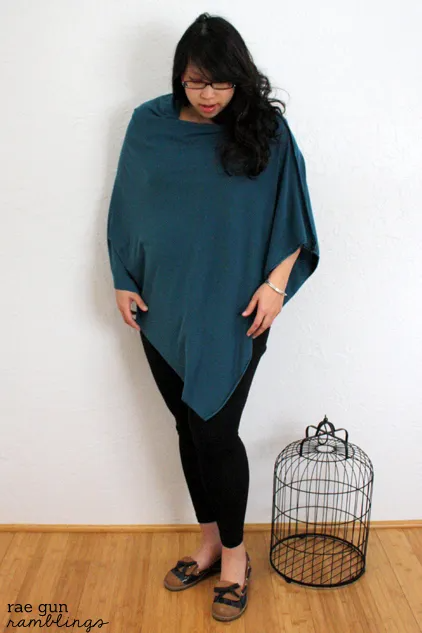 Other Peek-a-Boo Tutorials
We sure hope you enjoyed this tutorial and have some good ideas to make a new DIY nursing cover. You might also enjoy some of these patterns and tutorials: