Our family is doing a circus theme for Halloween this year. My 2 year old wants to be a "MUSCLE MAN" and has been with me every step of the way with his DIY muscle man costume. Here is how it turned out.
DIY Muscle Man Costume
Muscle Man Supplies:
Red/white stripe knit fabric
Nude knit fabric
Batting
Small strip of faux leather
Two 1.5-2″ D rings
1″ dowel
2 styrofoam balls
Eyeliner for mustache
Muscles Come to Life!
After pre-washing all your fabric, start by creating a pattern for your nude muscle suit. I used a form-fitting swimsuit which has a good fit already and added about .5 inch allowance for seams around the edges. Cut two of these pieces, identical pieces for the front and the back. When you cut, be sure not to cut the neckline too low, and leave it longer at the bottom than you think! You can always trim off excess material later.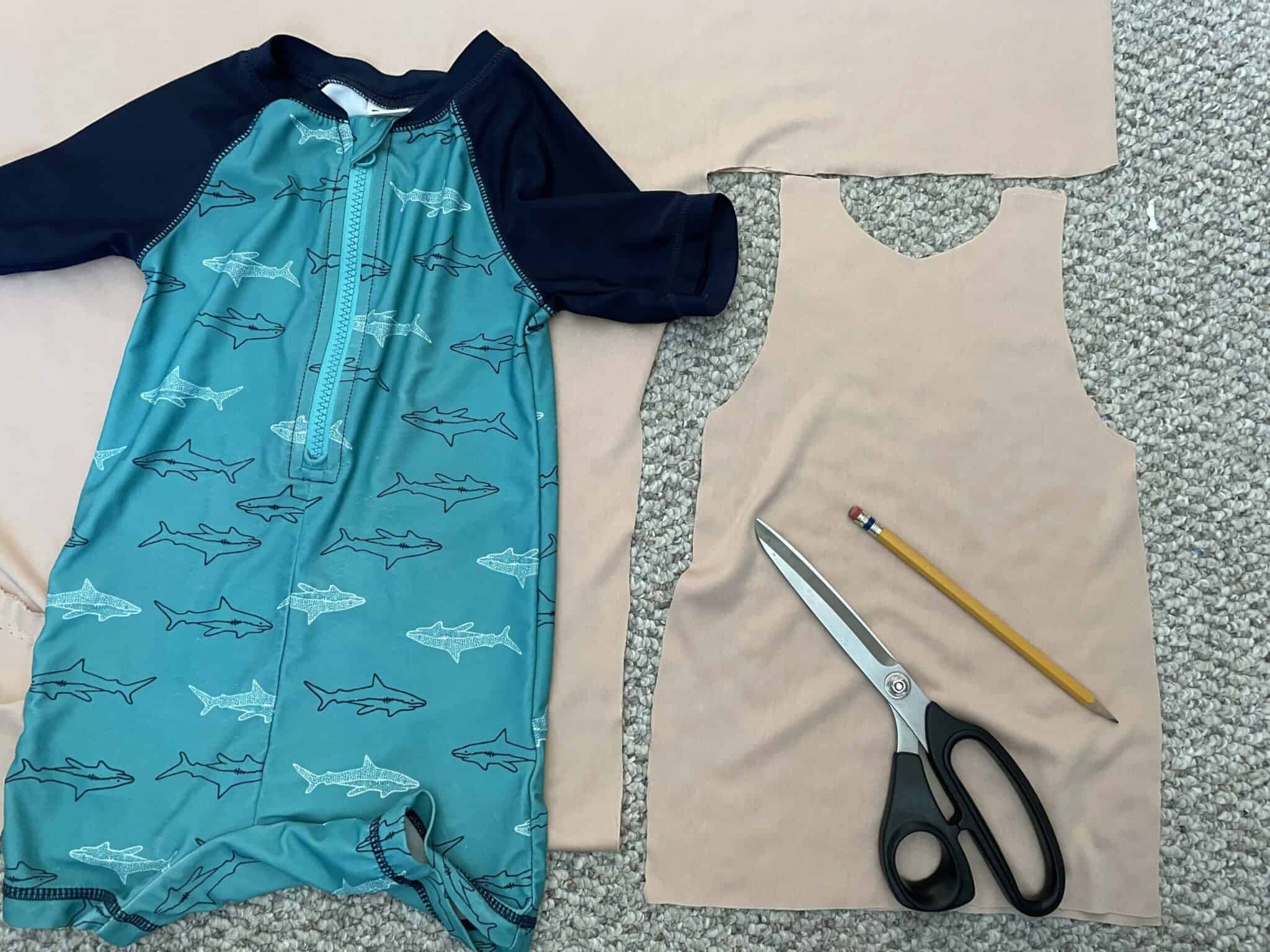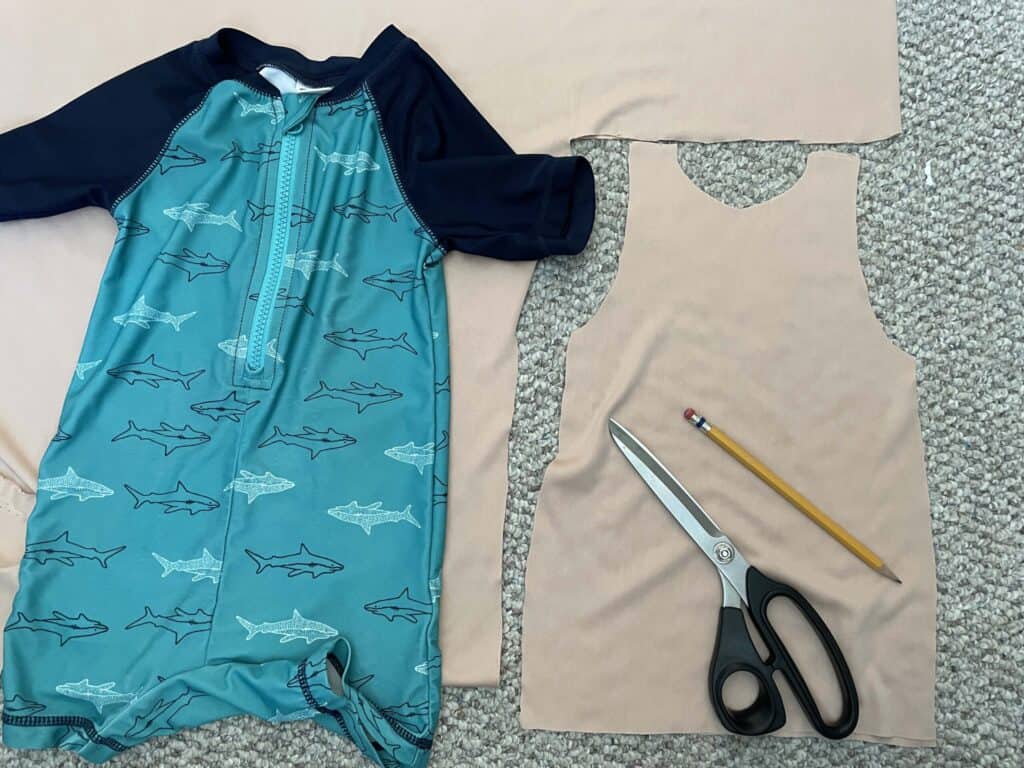 Now cut another rectangle to go over the top and attach to create your muscle suit. I drew with pencil the outline of the 6 pack and pecks and where they should be placed on the front. You'll start by using a long stitch to sew around the big U shape. Also sew the line down the center at this point.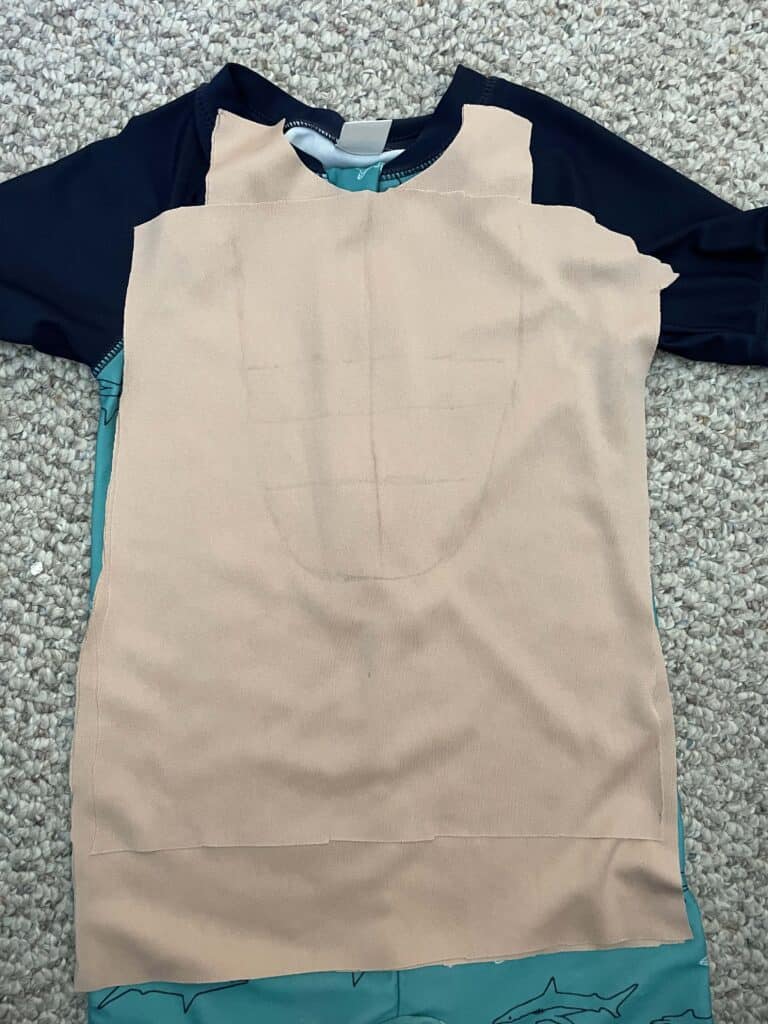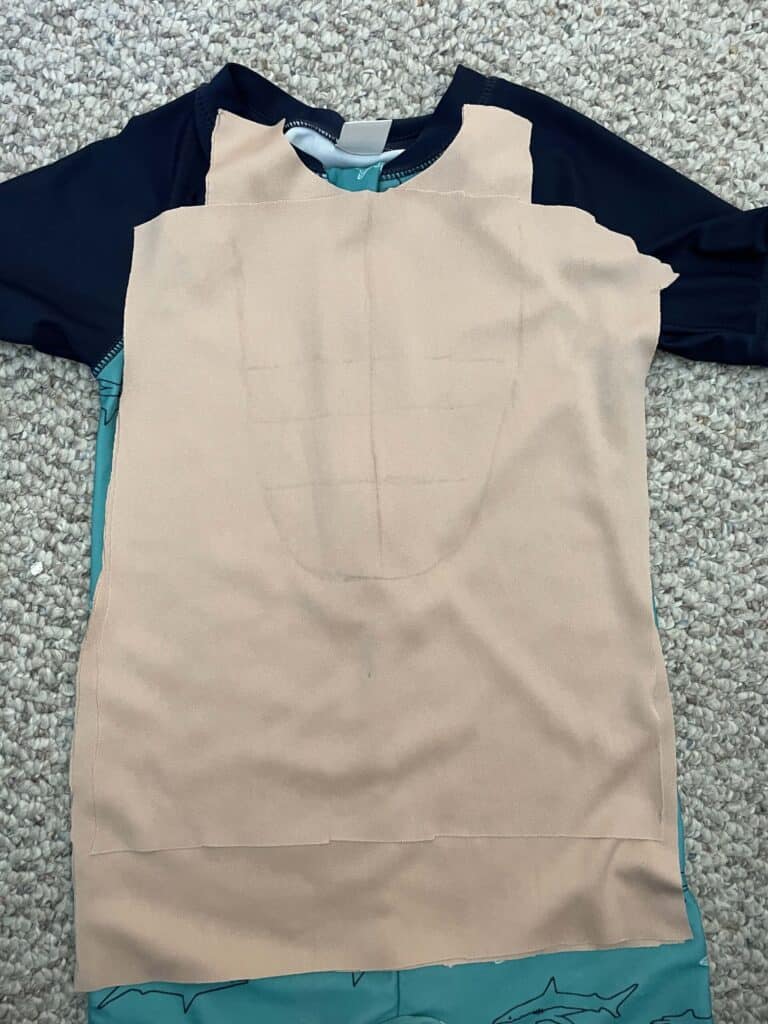 Then use batting to stuff the base of your U shape, this is the bottom 2 sections of the 6-pack.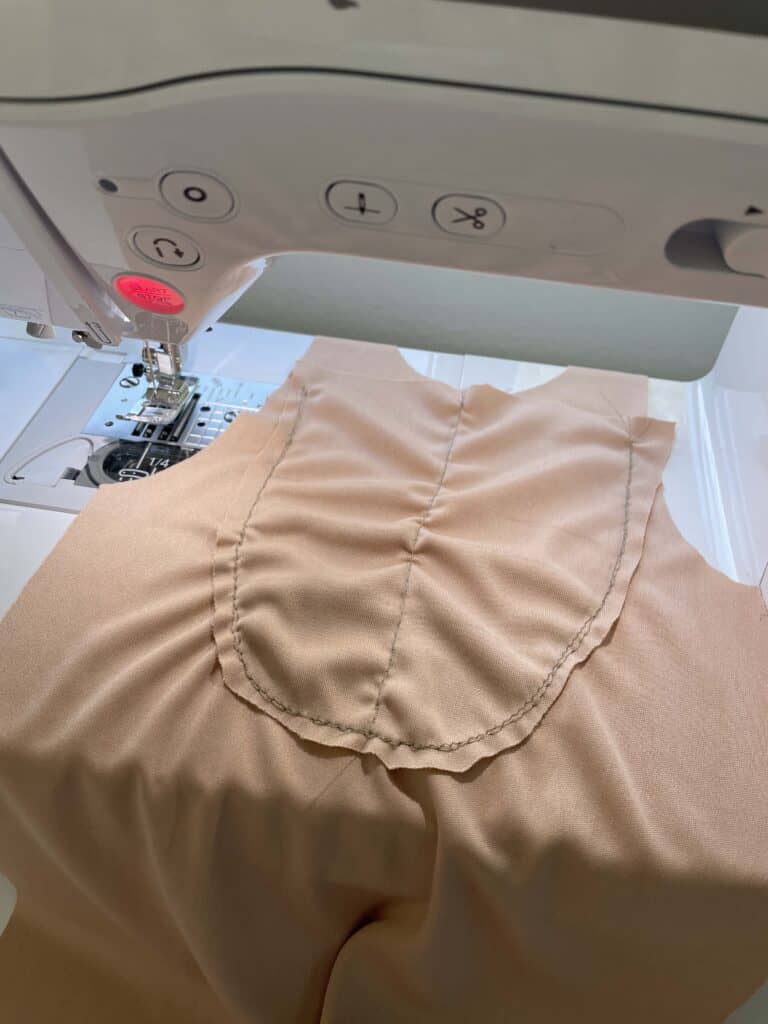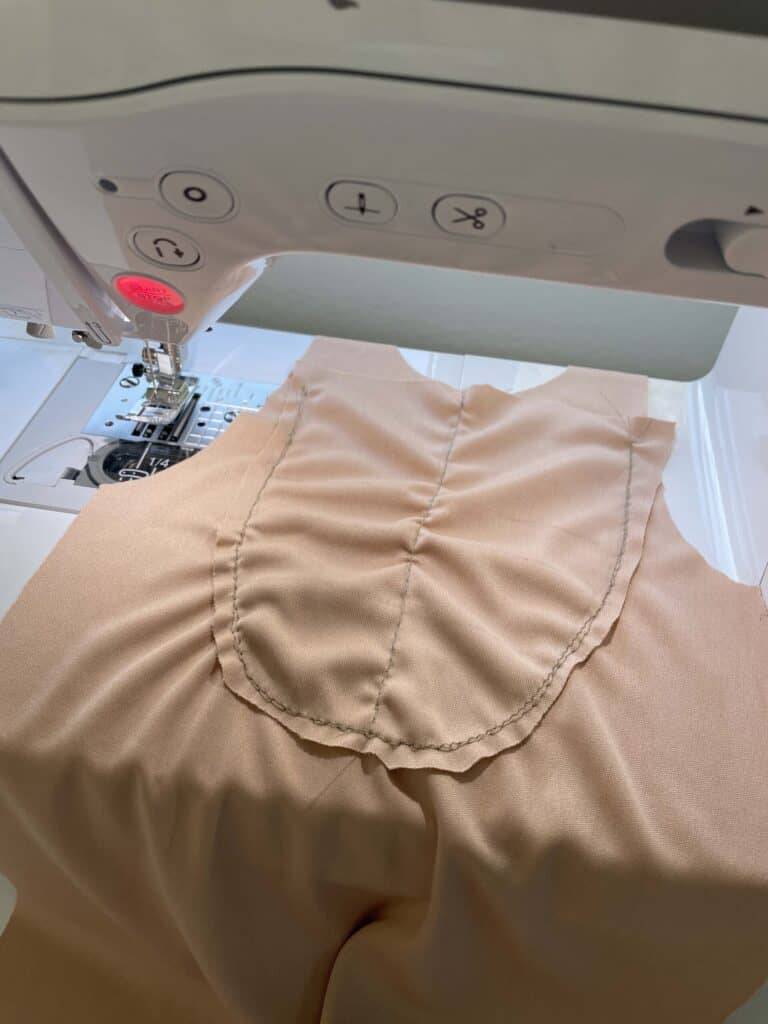 Sew your horizontal lines and continue stuffing batting as you go. Do this until you reach the top of your muscle shirt.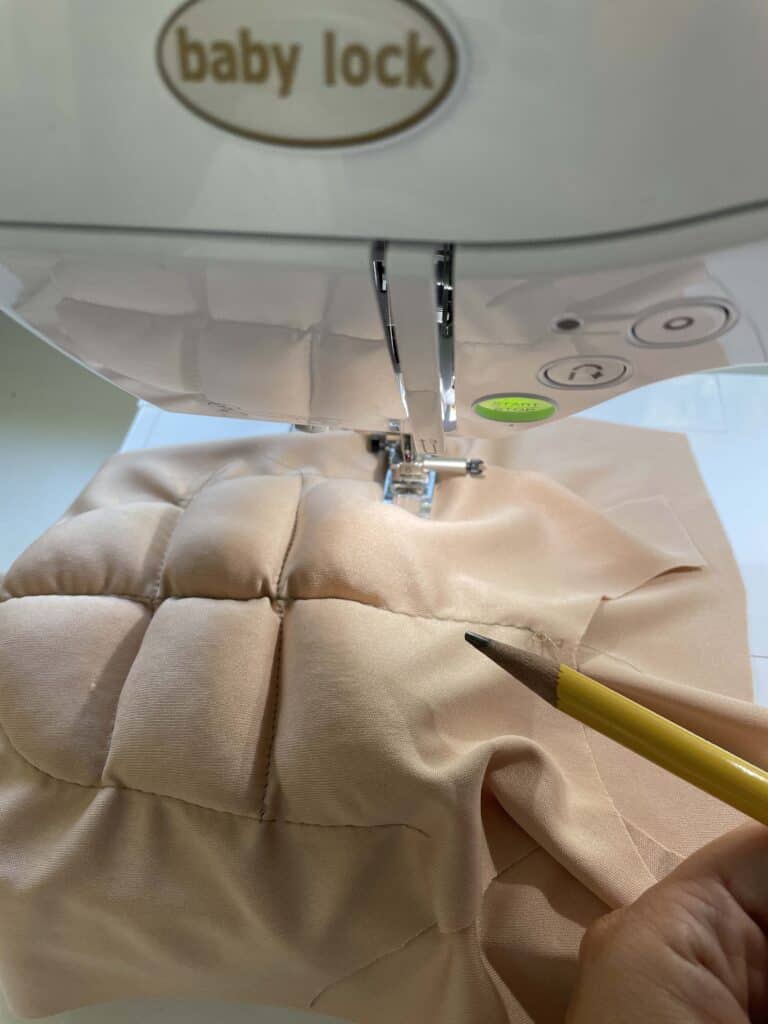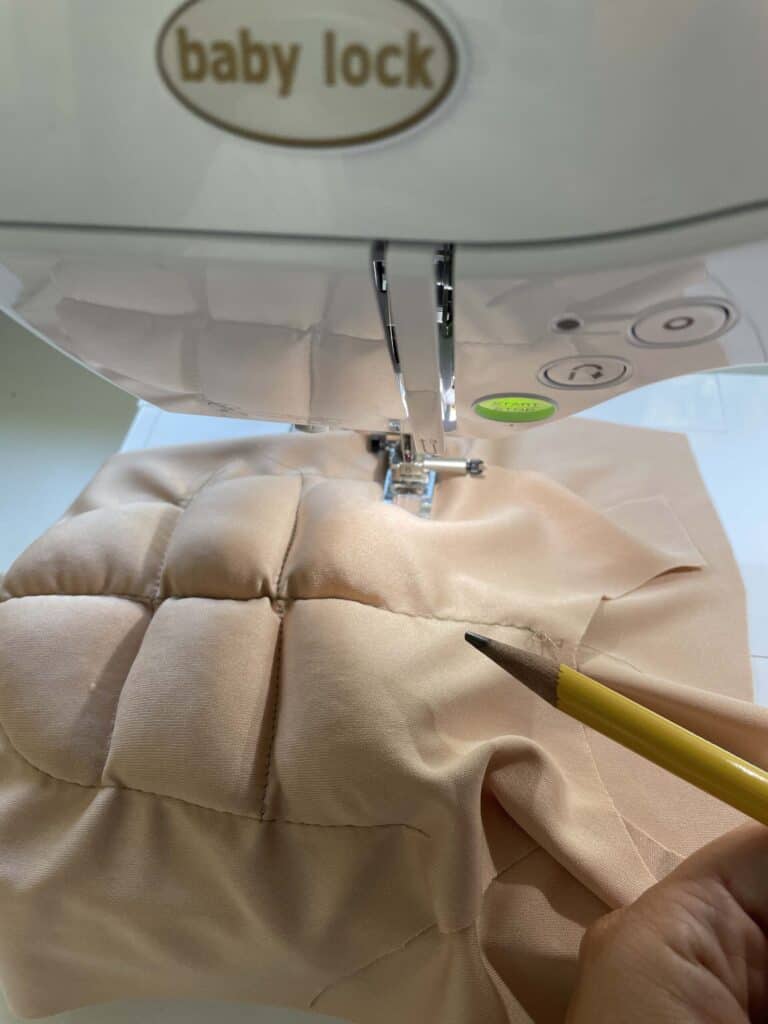 Now sew your front and back shirt pieces together at the shoulder seam. Next it is time to cut your arm piece. I made a pattern using a shirt that fits my son, it is better to cut large and shrink it down as you go if need be.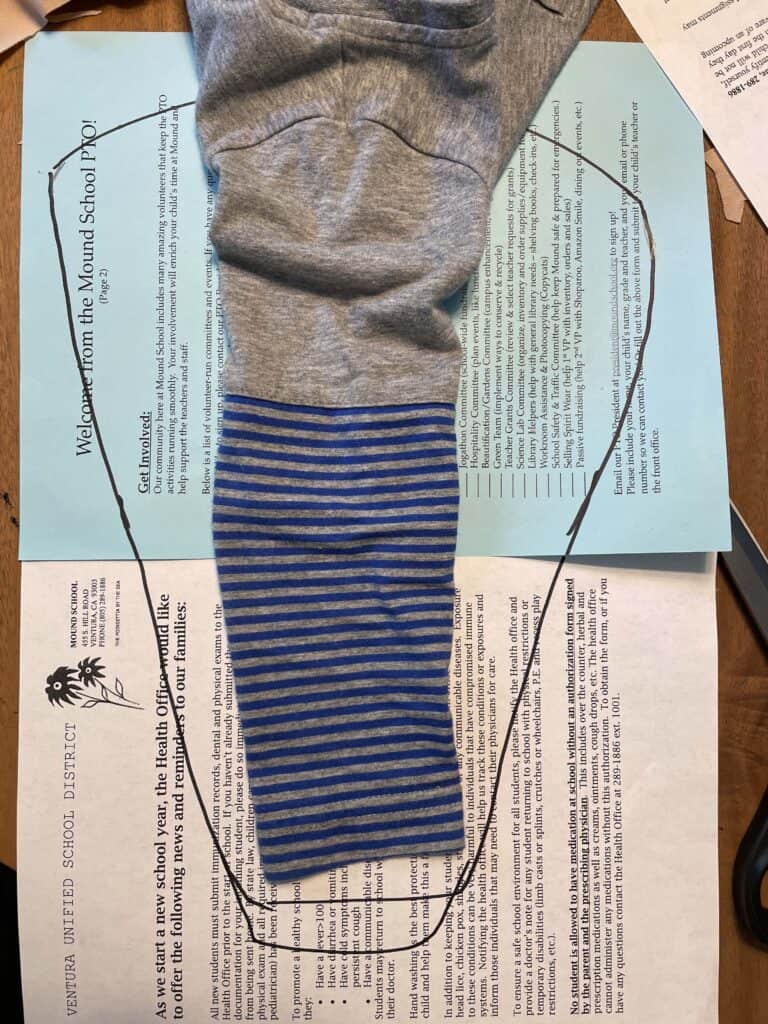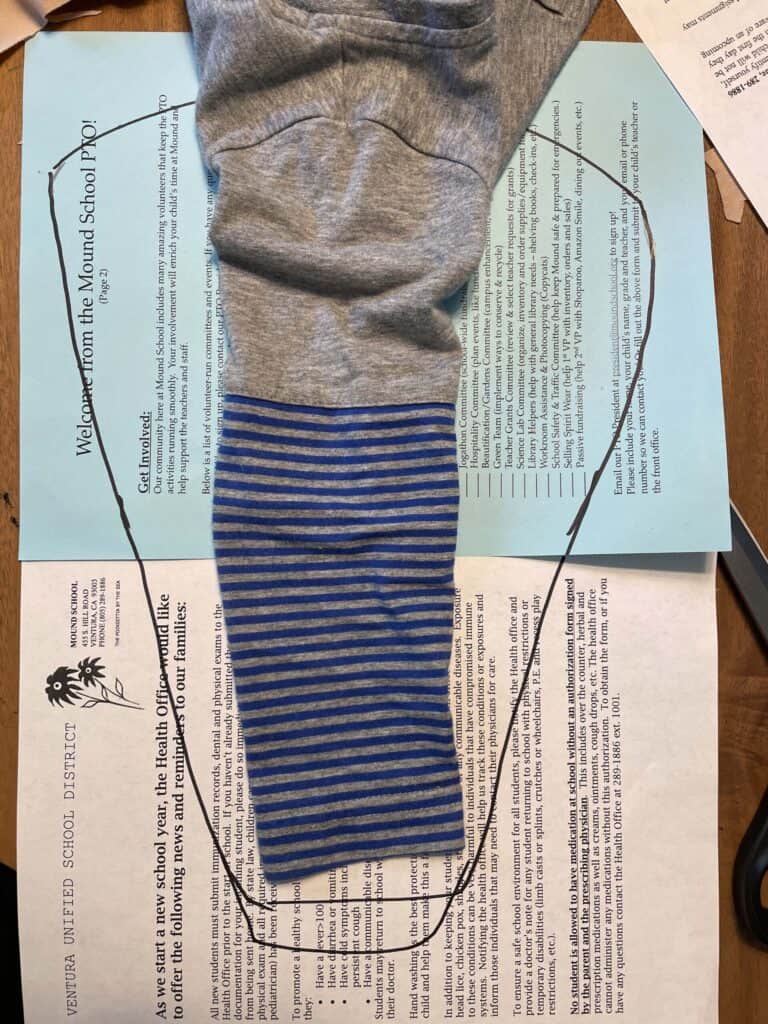 Use the same muscle stuffing method for both arms that you did for the body. See the photo below to see the muscle shape I used for the arms. When you arms are complete, add them to the bodice like typical shirt construction.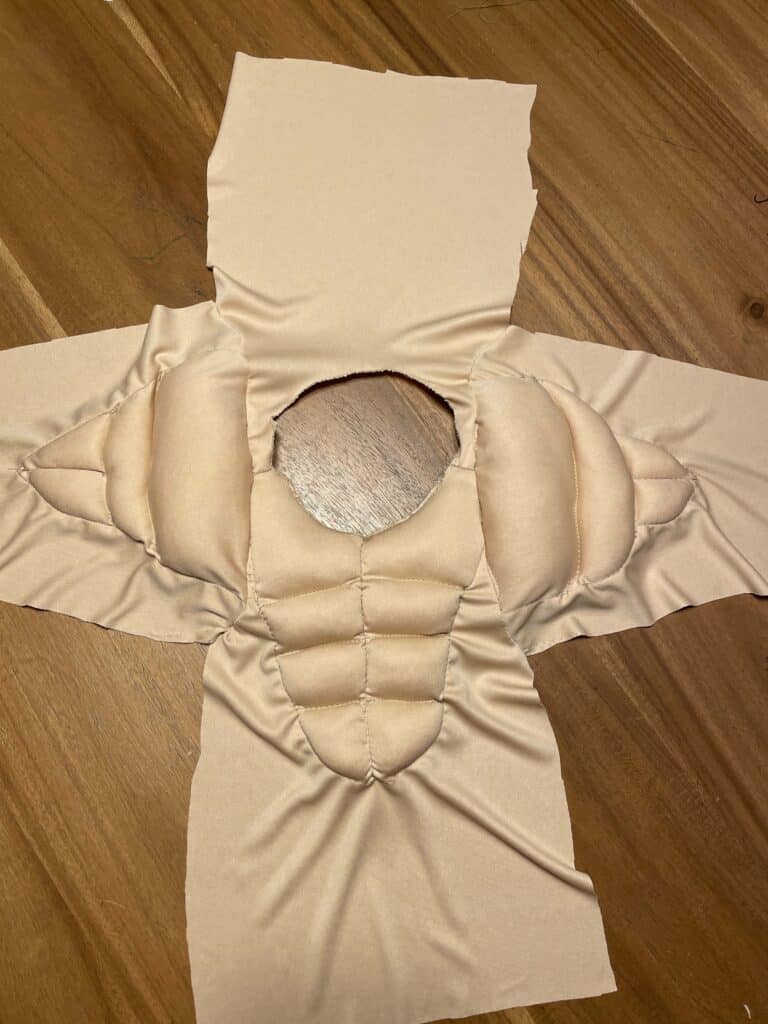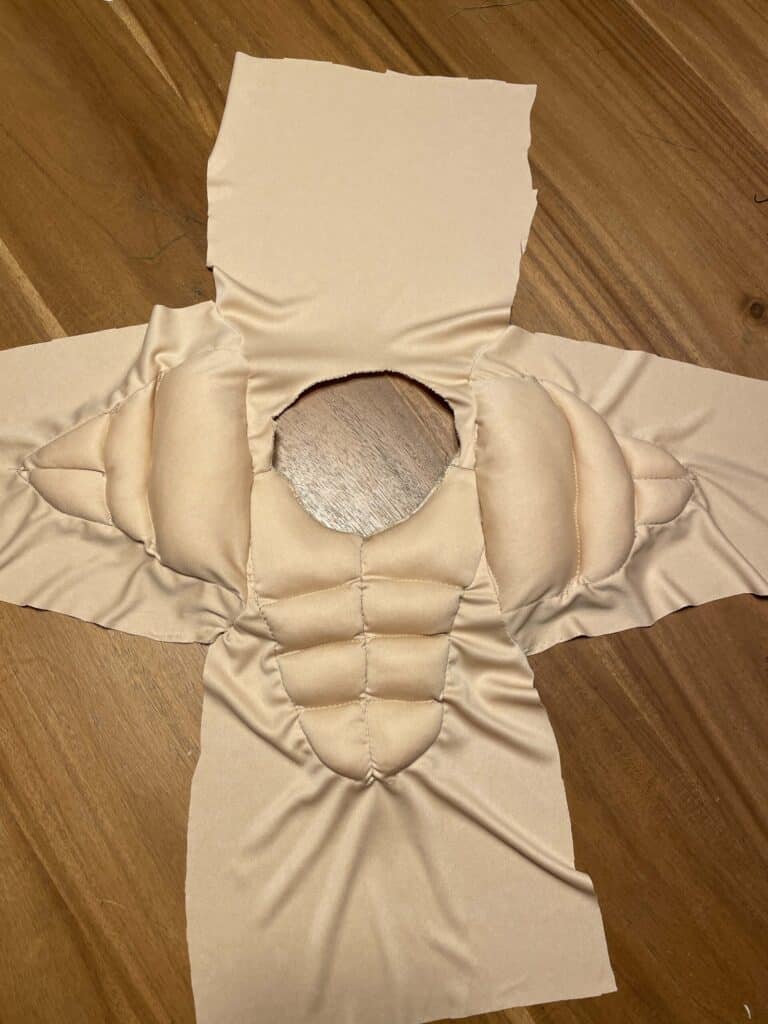 I suggest doing a fitting at this point to make sure your shirt fits the child properly. Hopefully your model loves it as much as mine does!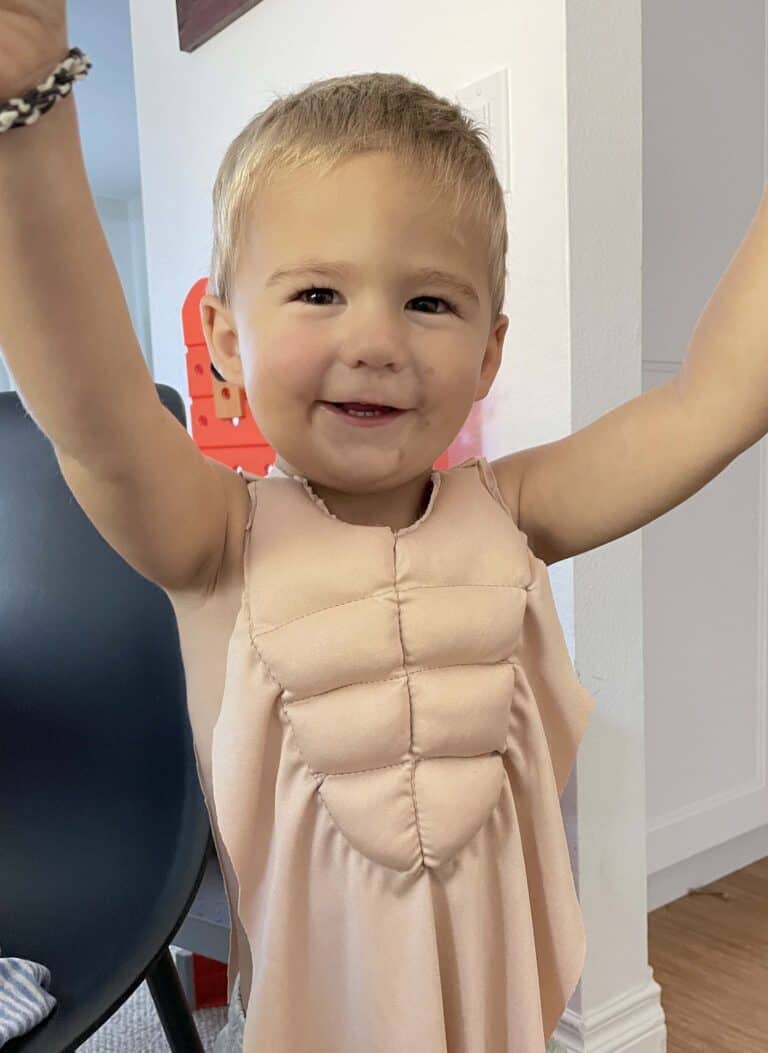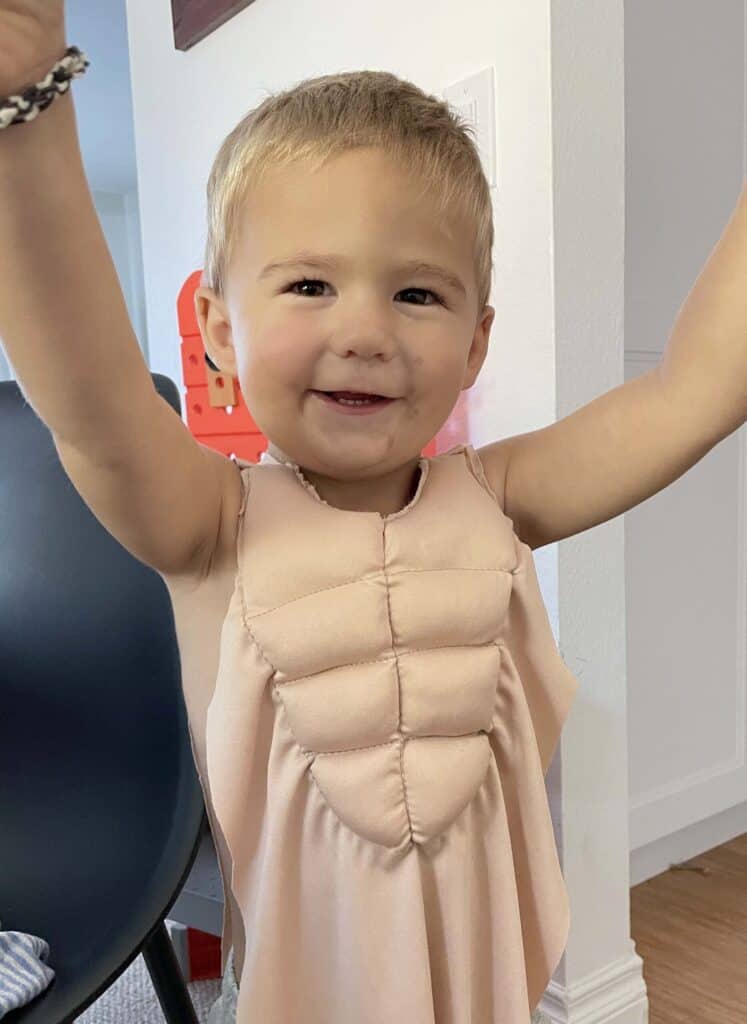 From Muscles to Jumper
Finish sewing the side seams of the muscle shirt, then it is time to start on the jumper. Because this is a costume, I did not do proper finishes, and just left my knit fabric raw at the hem. Line up your fabric to have horizontal stripes, then draw your pattern directly onto the strip material. I used the swim suit again to get a fit estimate, leaving room to spare.
The neckline of the jumpsuit will be cut low to show off the muscles, but be careful not to cut too low. The stretch and torso length of your child will affect how deep it swoops, so cut the neckline high to begin with and then mark and cut to fit once you have tried it on your model. Cut 2 pieces of identical striped fabric then sew together RST at the shoulder and side seams.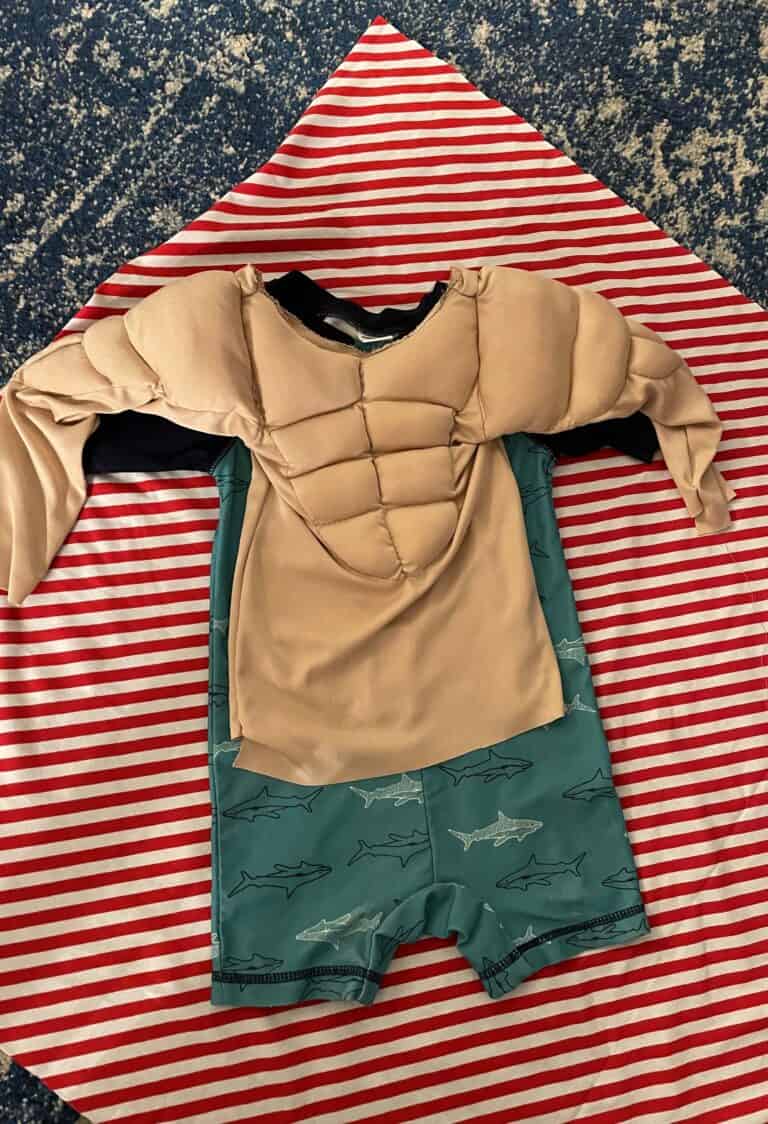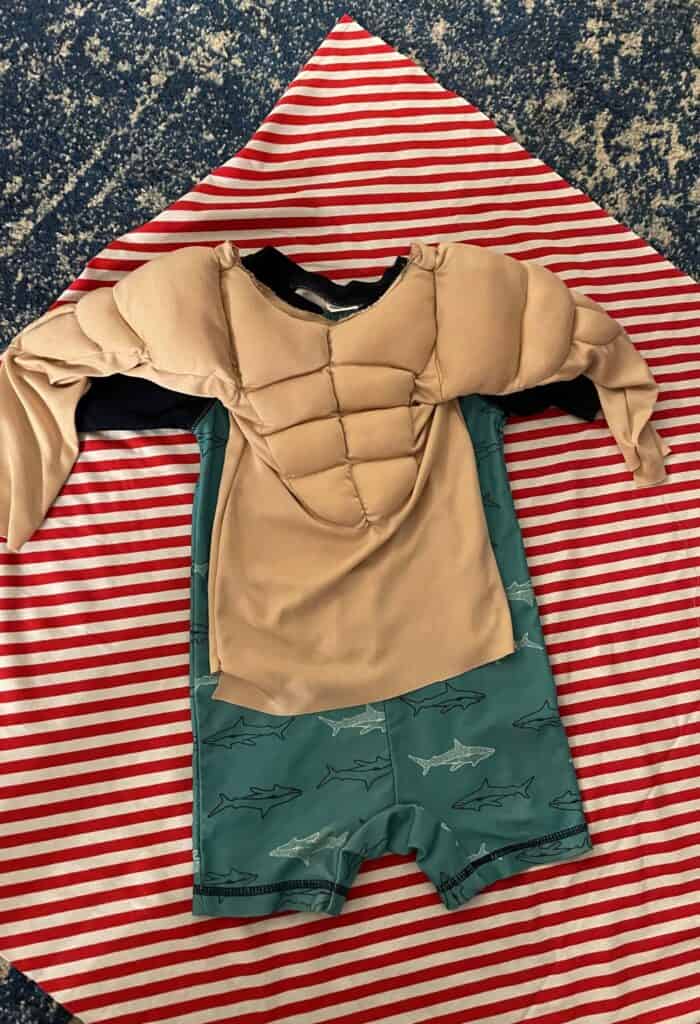 Test the Muscle Man costume on your model and make any adjustments that you need!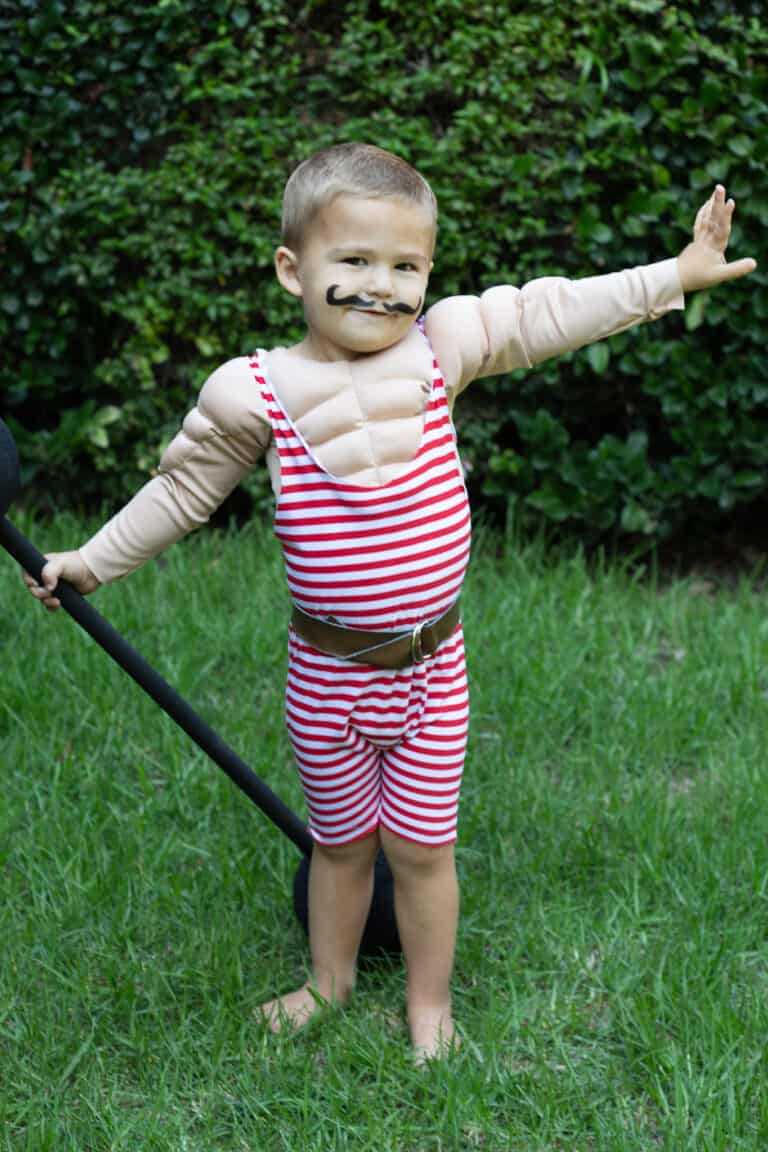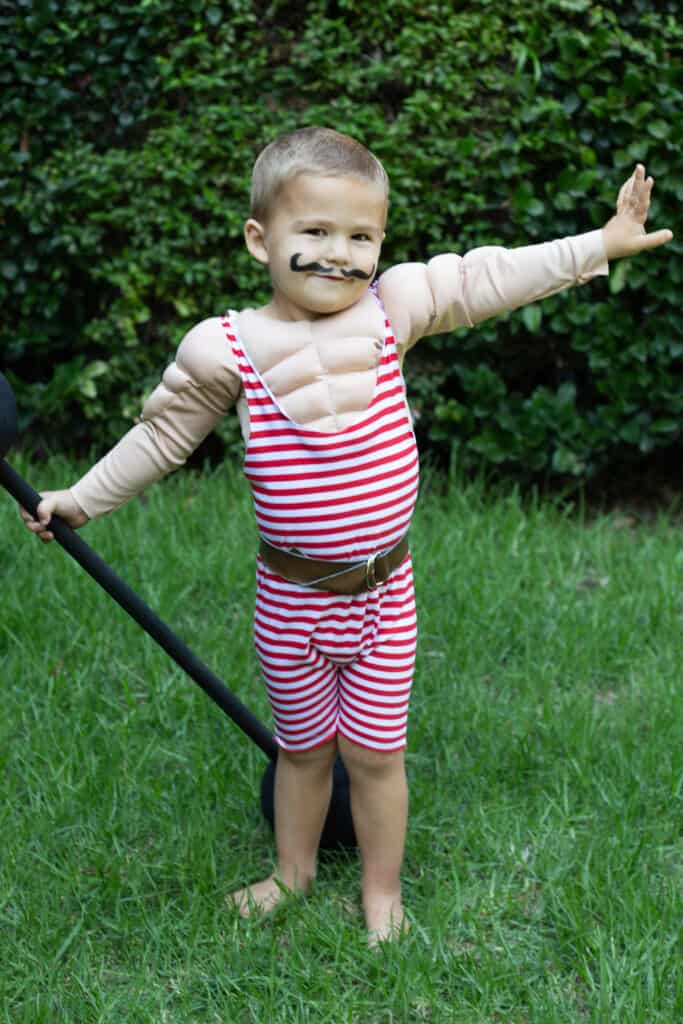 Muscle Man Accessories for the Win!
For the belt, sew 2 strips of faux leather together wrong sides together. Attach one end to your D ring. Now loop it through and ta – da! A weightlifting belt!
To construct the barbell, I put holes in the styrofoam ball and used super glue to secure in place. Do not use hot glue as it will melt the styrofoam or Elmers glue as it is not strong enough. Then, I spray painted the entire barbell black.
Happy sewing to you, and Happy Halloween! Come share what you make in our Facebook Group!
Other Costume Tutorials