Today we're going to show you how to sew a DIY Mink Blanket. Minky is a fun fabric to make blankets out of and we'll show you how. Time to learn how to sew a baby blanket with Minky Fabric.
DIY Minky Blanket | How to Sew a Baby Blanket
Sewing With Minky Fabric?
Minky has an ultra soft, plush, and cuddly surface with slight 2-way stretch. It works well for blankets, apparel, and baby products. KnitFabric.com keeps is in stock seasonally so check it out HERE.
There is nothing that feels softer than a minky baby blanket. And yet, minky is one of those fabrics that even the most experienced sewer is likely to shy away from. It has a reputation, very much deserved, for being hard to sew because of its tendency to slip while sewing.
So, what do you do when you succumb to the urge to purchase that gorgeous minky print? Well, this tutorial will take you through all the steps you need to master sewing a minky baby blanket!
Supplies to Sew a Minky Baby Blanket
minky fabric – KnitFabric.com has a great selection of Minky Fabric
flannelette or cotton (I prefer flannelette as it slips less than cotton)
sewing thread (I prefer rasant, but use your favourite)
scissors or rotary cutter
straight pins
quilting pins or safety pins
chopstick, or your preferred tool for turning out corners
walking foot (technically optional, but worth the investment)
wide extension table or quilting table for your sewing machine (again, optional but it does make things easier, particularly if your machine, like mine, is on the smaller side)
Blanket Step 1: Fabric selection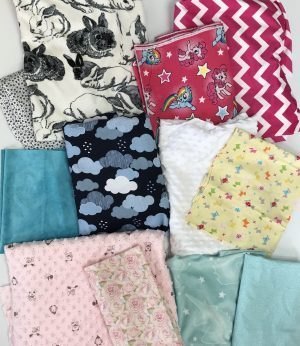 Minky comes in a vast array of colors and prints so really, choose what your heart desires. When you start out I recommend selecting a non-directional print (like the pink bobbles). Better yet, choose a solid color (like blue or white) so that any slippage while you sew will not cause any noticeable effect on your finished project. Once you feel comfortable sewing minky, having mastered the rest of the steps outlined below, you should feel confident to tackle a more advanced minky choice like the pink chevron or black and white bunnies.
For the top of the blanket, you can use any fabric you choose, but most commonly cotton or flannelette is used. I strongly recommend using flannelette for your first blanket. It has a tendency to 'grip' the minky which is a great aid to your sewing. Plus, it feels so soft and comes in a great range of colors and prints. Cotton will slip against the minky more, and so is better left until you have mastered the pin/sew skills below.
Blanket Step 2: Choose your size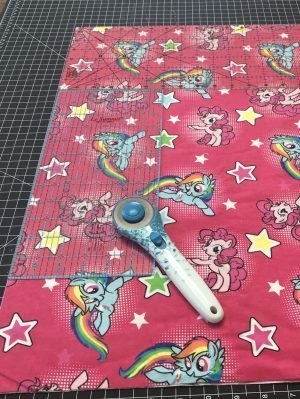 Almost everyone you talk to will have a different preferred size for baby blankets. When starting out with a DIY minky blanket, I strongly recommend starting with blankets on the smaller end of the scale. It is easier to control smaller pieces of fabric. Stroller or receiving sizes (ie somewhere around the 20-35 inch range) are a great place to start. The pink minky blanket pictured here is 22 in x 32. This is my personal preferred size for making minky blankets to give as gifts at baby showers. That size is slightly skinnier than the usual recommendation for a stroller blanket. However, I find it fits perfectly into strollers and car seats, is not overwhelming for newborns and yet later becomes the perfect size for toddlers to tote around.
Start by cutting your top fabric to size. You need to cut a piece that is the finished size of your blanket, plus 1 inch on each side for your seam allowance. So to replicate my blanket your top fabric needs to be 23 in x 33 in.
Blanket Step 3: Oversize your minky cut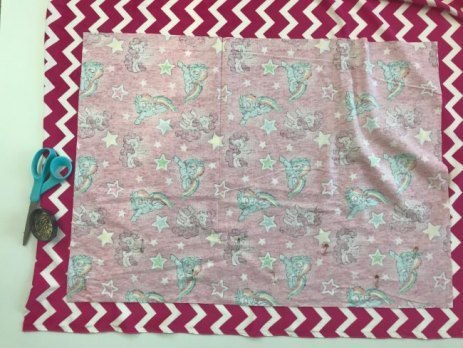 Minky tends to slip while you sew. The best way to prevent your project being ruined is to cut your minky at least 1 inch, preferably 1.5-2 inches larger on all sides than you actually need. This gives you the capacity to smooth out wrinkles and adjust as you sew to meet the top of your blanket. It also creates a margin of error to facilitate trouble shooting if something goes wrong while sewing. It does however, mean you will have some minky waste, so you might like to consider saving it for another project, like using it to stuff pet pillows.
Lay your top fabric right sides together on top of the minky and cut around it leaving the extra large margin. Make sure you have your minky smoothed out flat. You can see in the picture above that I had smoothed the left side but not yet the right side. Smooth both layers by running your flat palm across the fabric from left to right and then top to bottom. You might want to work on the floor for this step if your cutting table is not large. You need to be able to lay the whole of your blanket out flat.
Blanket Step 4: Pin, pin, and then pin some more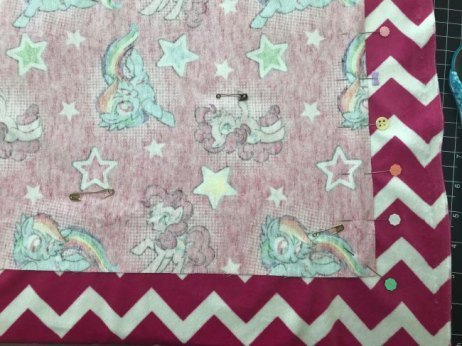 Leaving your fabrics right side together pin them 'quilting style'. If you are a quilter, then you know I mean pin them together as if you were preparing your quilt for quilting, sans batting. If you are not a quilter, all I mean is use quilting pins or safety pins to pin your two fabrics together. You can space the pins about 4 inches apart in a zig zag pattern. This holds your layers together when you later lift it to your sewing machine and takes some of the strain off the pinning around the edge.
Next, using straight pins, pin around the edge of the top fabric, spacing your pins about 1 to 1.5 inches apart. The aim here is to ensure a straight edge for your blanket.
This step is a bit time consuming, and may seem like overkill. However, trust me, overpinning is the single most important thing you can do to guarantee a successful outcome.
Blanket Step 5: Use Half inch seams
As a quilter, I most commonly use a quarter inch seam. However, when sewing minky it is best to use a half inch seam. Once again, it's all about giving you room to maneuver in the event of slippage.
Blanket Step 6: Sew, quilt style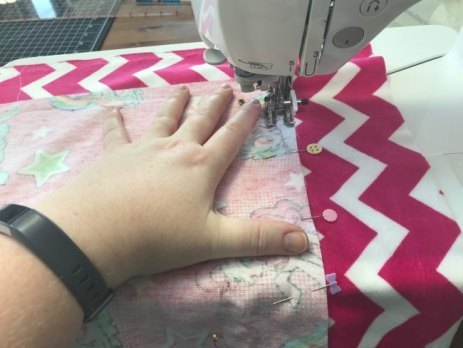 Sewing minky is much easier if you are in a position to invest in some tools – specifically a walking foot and a wide extension table. The purpose of the walking foot is to pull the two fabrics through your machine at an equal pace. It is very useful when quilting or sewing other fabrics that tend to slip, like satin, so it will have use beyond this project.
The extension table helps by giving the fabric a larger surface area at the same height as the sewing foot. Thus, lessening the pull on the minky while you feed it through your machine.
You can, of course, sew minky on a regular sewing machine with a normal foot. However, you will need to go very slow and use your hands to guide the fabric to prevent slippage.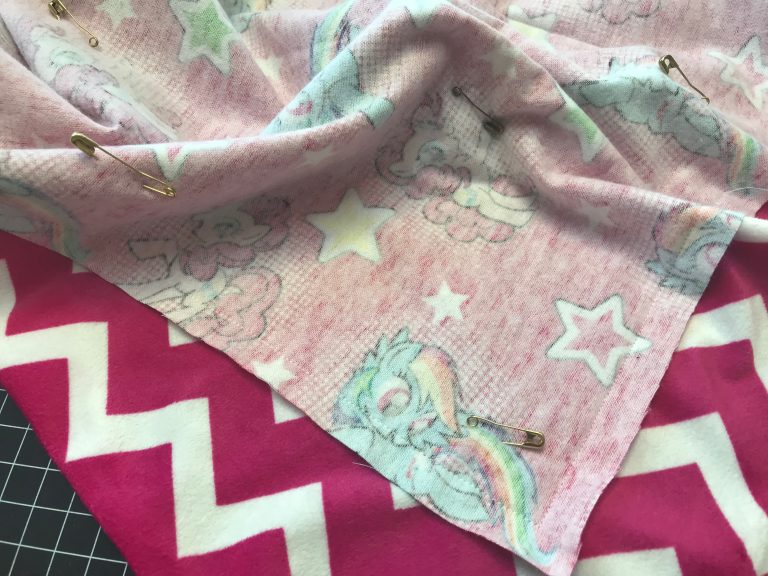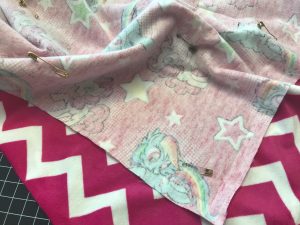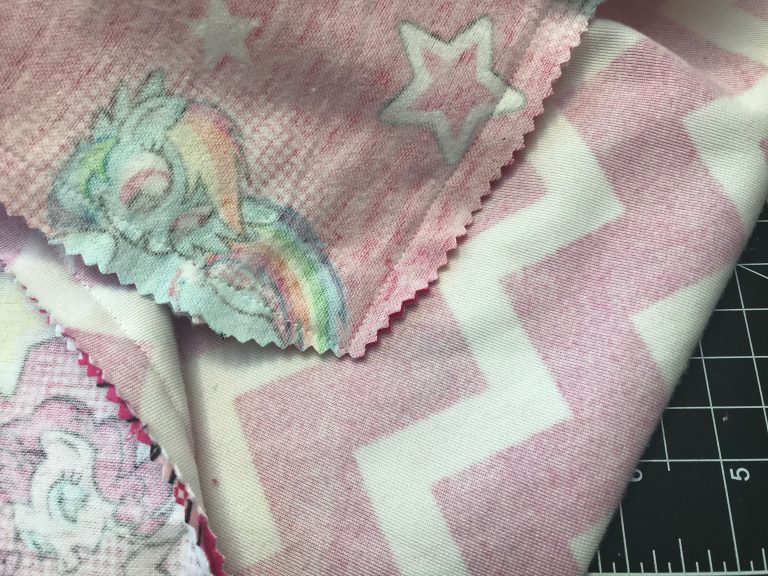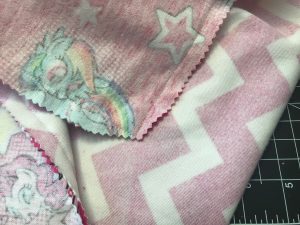 Slowly sew around all four edges with a half-inch seam allowance BUT leave a 4 inch gap on one side for turning. Once you have finished sewing, remove all the pins, trim off the excess minky and trim your corners. You can use pinking shears for this step if you like, but its not necessary as the seams will be fully enclosed.
Blanket Step 7: Flip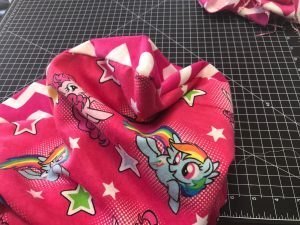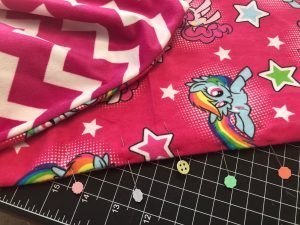 Insert your hand through the gap and turn your blanket right sides out. Using a chopstick or your preferred turning tool, gently poke out the corners to make neat points. Fold in the seam allowance at the turning space and pin it so that the edges of the two fabrics line up with each other. You should form a straight line with that side of your blanket.
Blanket Step 8: Top stitch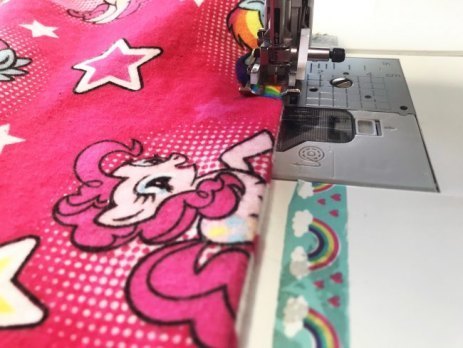 To top stitch the DIY minky blanket, switch to a coordinating color thread and lengthen your stitch. I recommend using a color that blends with your top fabric as this is where your topstitching will be most visible. Top stitching on the minky side tends to get a little lost in the pile of the minky and therefore is a little more forgiving if the color doesn't match perfectly. With your walking foot, stitch around the four sides, at no more than a quarter inch from the edge. This will serve the dual purpose of closing the turning gap, and creating a nice border edge for your blanket.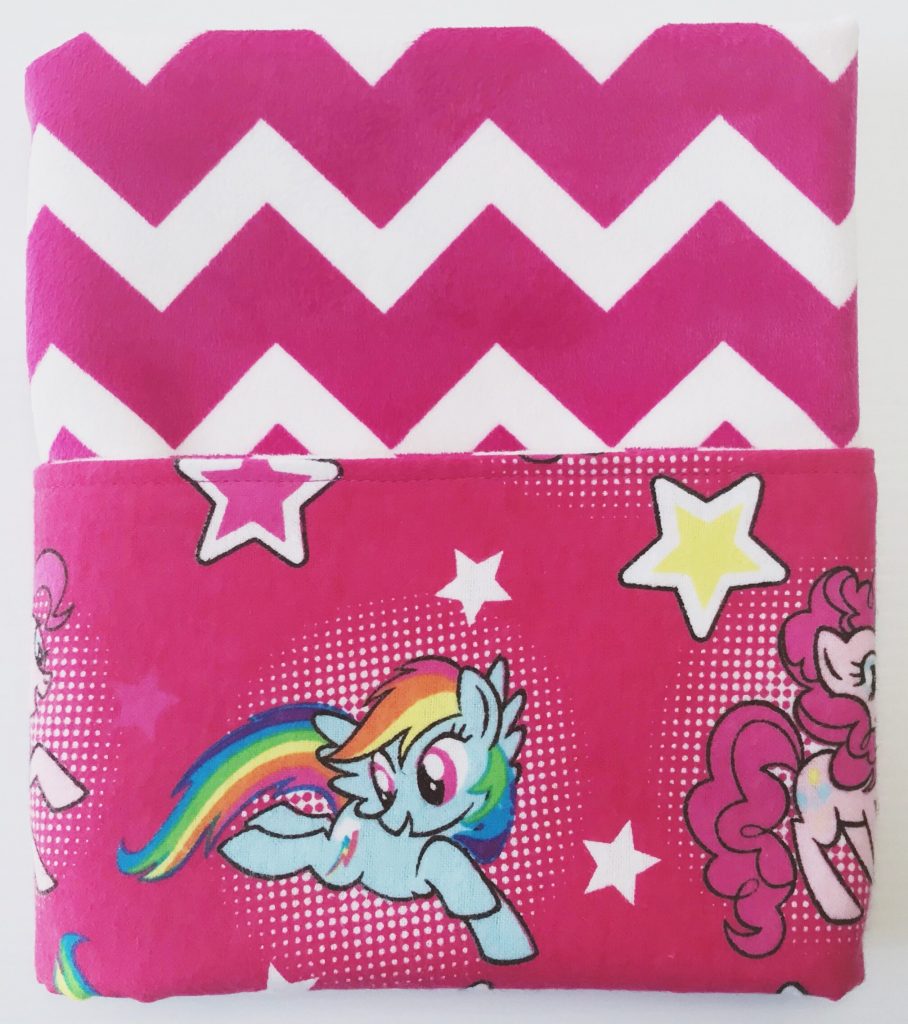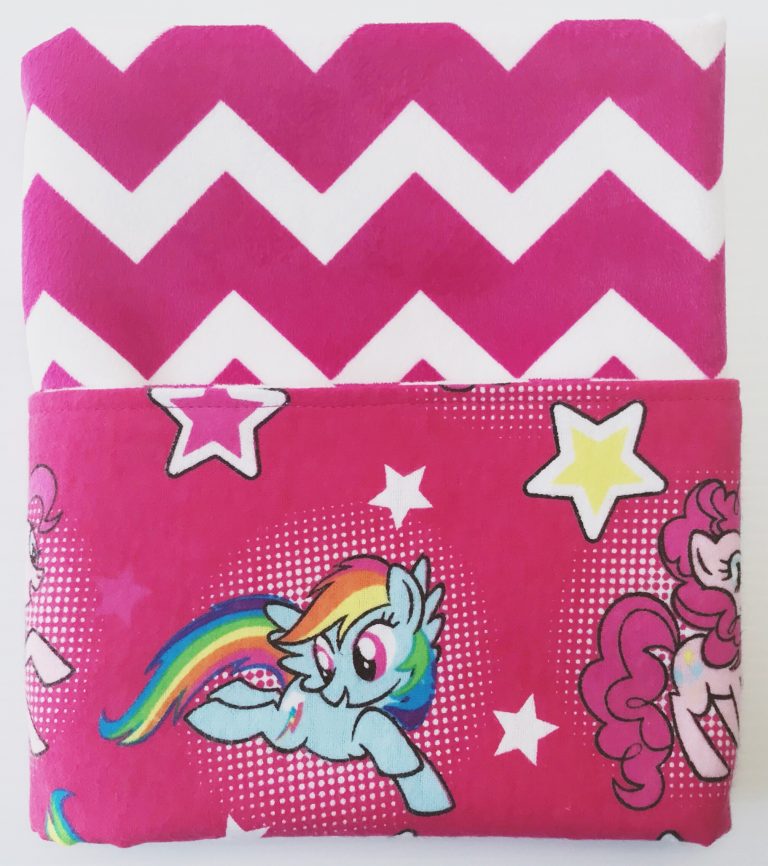 Troubleshooting the Minky
If your minky slips while you are sewing, perhaps because you didn't pin enough or because you used a particularly slippery top fabric, then you will likely end up with a project that has 'bunched up' in the corners, like this.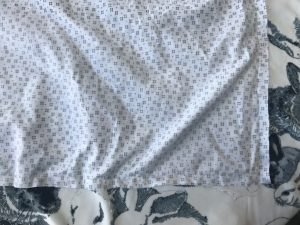 The only thing to do is to unpick the seams where the bunching is at its worst. When you start to unpick your seams, make sure you take great care as minky will rip easily.
Then smooth down the two fabrics, repin and resew. This is the reason why I recommend cutting your minky oversized. You should be able to manipulate the problem away by spreading the top fabric smoothly along the extra minky fabric. If you had cut the two pieces the same size to begin with, you would not have a margin for this error.
Optional extra: Personalisation of the Blanket
Having decided to invest the time to sew a baby blanket yourself, it is a beautiful touch to add some personalization. You can applique, hand stitch, embroider, and paint, the sky is the limit. My personal favorite personalization is to take an element from the fabric design and applique it to one corner. Now, if your personalization requires any sort of ironing, you will have to do it on the flannelette/cotton side as you CAN NOT iron Minky!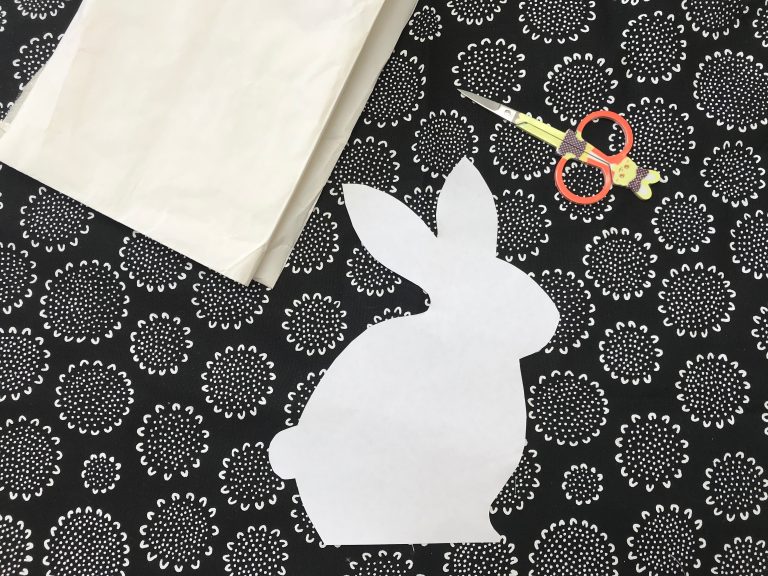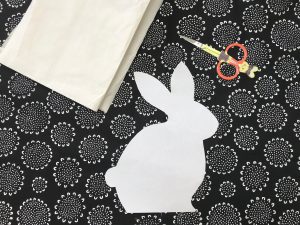 To achieve this effect, I first drew a very simple bunny shape inspired by the bunny print Minky. Then I copied the image, reversed, onto some Heat and Bond before roughly cutting it out and ironing it to the back of the feature fabric (here, the black Blueberry Park print).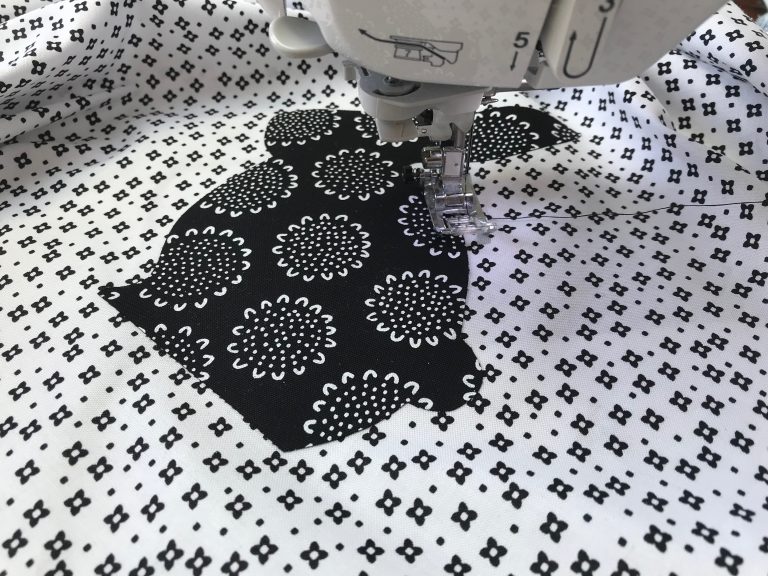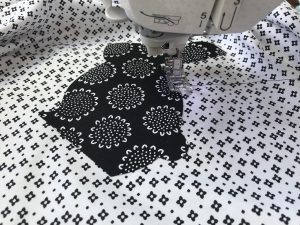 I then cut out the fabric bunny and ironed it to the bottom right-hand corner of the cotton which I had chosen to be the front of this blanket. Make sure you are not so close to the edge that your applique will be caught in the seam allowance. I then used my machine's zig-zag stitch to create a loose satin stitch effect all the way around the bunny. This, in addition to the Heat and Bond, will ensure it stays in place.
To recap, the three key tips to successfully sewing with minky are:
1. Overcut

2. Overpin

3. Sew quilt style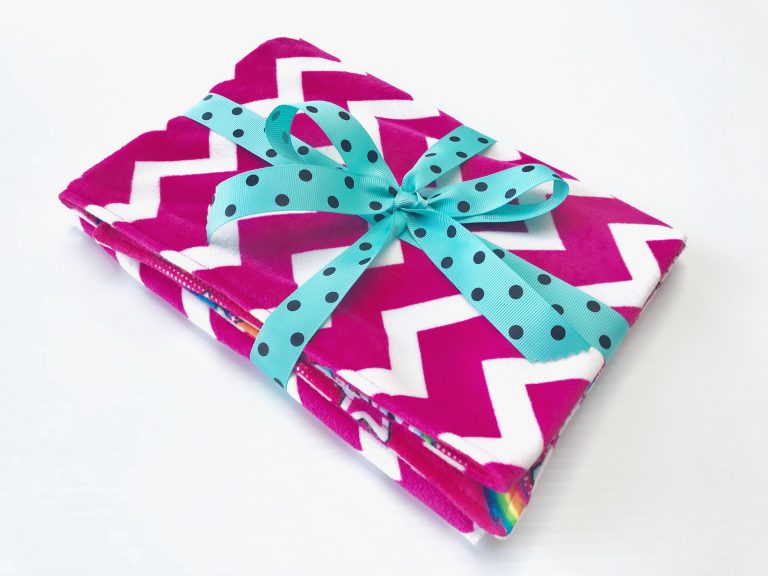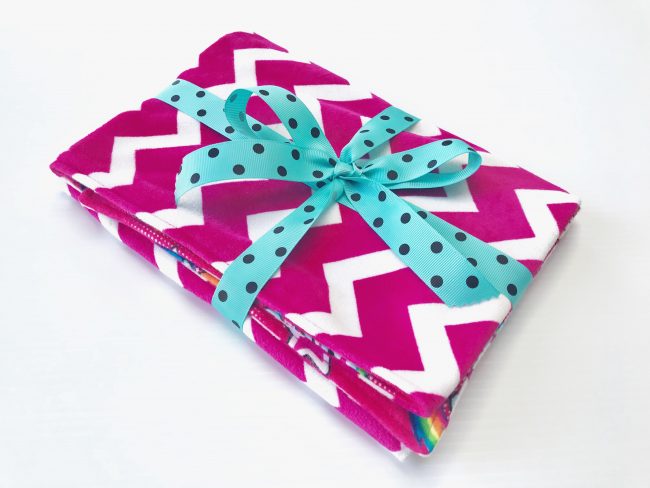 Other Blanket Tutorials
If you enjoyed this DIY Minky Blanket post, you're sure to enjoy some of our others:
Also be sure to join us in the Peek-a-Boo Pattern Shop Facebook Group to share what you make and ask sewing-related questions.