I LOVE maxi skirts! So incredibly comfortable but you can still look put together. I'm going to show you a fun DIY Maxi Skirt tutorial that's super simple for you to make up in a snap. After that, I'm going to show you our top-selling Maxi Dress Patterns from Peek-a-Boo Pattern Shop.
DIY Maxi Skirt | Maxi Skirt Pattern
OK. First up is our simple and easy DIY Maxi Skirt. Big thanks to my little sister for modeling!
I gave her this skirt for Christmas (I know I'm a bit behind blogging…) and one to my older sister who was pregnant. These skirts work for everyone!
Want to make your own DIY maxi skirt???
Instructions for Sewing These Easy Maxi Skirts
These are so incredibly easy I didn't even take photos but I do have a step-by-step for you:
Skirt Step 1: Let's cut our pieces:
Maxi Waistband: For a finished band height of 6″ cut your piece to 13″ tall. For a size small maxi I cut 2 waistband pieces to 15″ wide. I used 1/2″ seam allowances. Measure yourself where you want the bottom edge of the waistband to hit (generally on your hips) and subtract 2-3″ to calculate your waistband width
Skirt: Measure your desired length (you may want a helper) and add 1″ for seam allowances and hemming. If in doubt error on the long side. My skirt was 30″ wide across the bottom and 15″ at the top (same width as the waistband piece).
Make sure you cut all pieces so they will stretch around your body
Skirt Step 2: With the right sides together sew up the side seams of the skirt and the waistband.
Skirt Step 3: Roll the waistband over so the seam is enclosed and you have a double-thickness tube.
Skirt Step 4: Slide the waistband over the skirt so it's on the right side of the skirt and the raw edges are together. Sew together using a serger or zig-zag stitch. I like to include some 1/4″ elastic in this seam for extra stability.
Skirt Step 5: Hem and enjoy!
Make a Maxi Dress Pattern from Peek-a-Boo Pattern Shop
At Peek-a-Boo Pattern Shop we have some amazing Maxi Dress Sewing Patterns – the Madrid Maxi for Women and the Melanie Maxi for Girls. These are some of our most popular dress patterns. Take a look: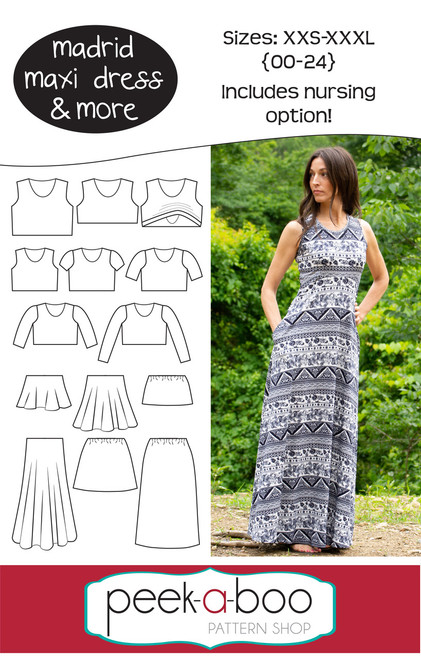 The Madrid Maxi Dress & More has tons of different options to make dozens of different dresses – including nursing and maternity options. Options include:
Empire or Natural Waist Bodice
High or Scoop Back Neckline
Lined Bodice or Unlined Bodice with Bindings
Optional Nursing Access
Sleeveless, Short, Elbow, 3/4 or Long Sleeves
Peplum, Knee-Length or Maxi Dress
Gathered or A-Line Skirt
Optional Inseam Pockets
"Quick and easy sew, love the breastfeeding option (I modified it to be cross over). I have two already and plan to make another 5. Highly recommend for mums great length (great for bending) and POCKETS!" – Krystal
"Cutest top I own. I loved sewing this up! Lots of different options. I made a peplum top in more of a tunic length. It looks great pairs with skinny jeans. Peek-a-Boo patterns are easy to follow and i cant wait to sew more of these." – Melissa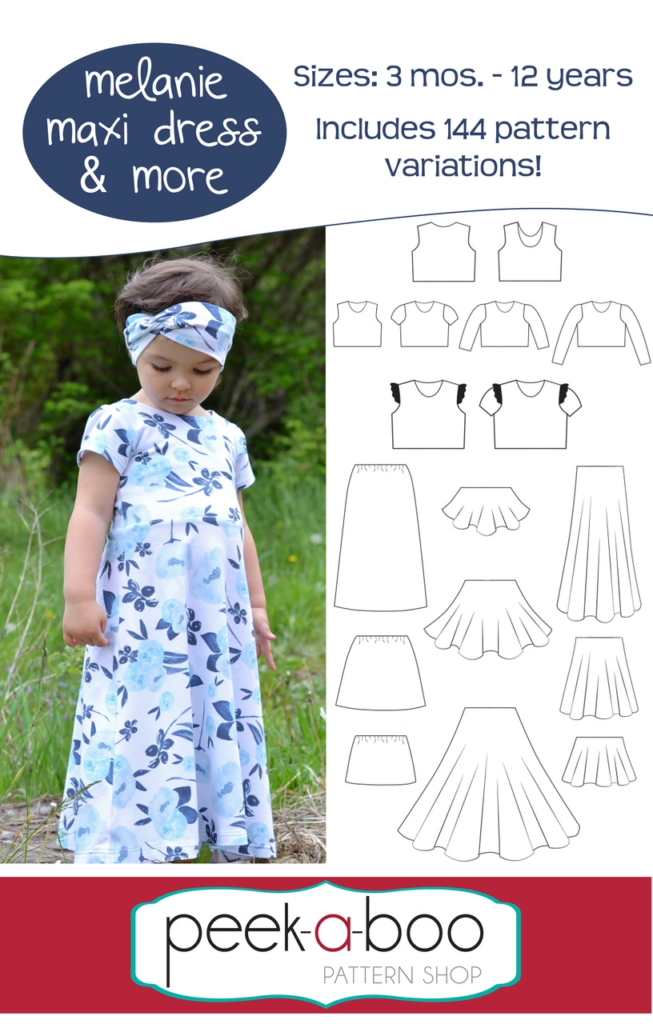 Standard or Scoop Back
Sleeveless, Short, 3/4 or Long Sleeves
Optional Flutter Sleeves
Peplum, Knee-Length or Maxi Dress
Gathered, A-line or Twirl Skirt
"This pattern was so easy to follow (I loved the video for the burrito roll) and easy to print. I loved the guide on which pages to print for what you're making. Being a children's pattern, there were many fewer pages to print and tape than in one for an adult, and that was lovely. The resulting dress is cute and fits my baby. I shall be making many more." – Lauren
"Great pattern – cute dresses. This is an easy versatile pattern that I used for two dresses made for my three year old granddaughter. I sewed one short sleeved and the other sleeveless. Everyone loved the dresses!" – Rachel
Before you leave, be sure to come and join our sewing community in the Peek-a-Boo Pattern Shop Facebook Group. Also, check out some of our other tutorials: