Hello, friends! Genie here from the Sew and Tell Project today, with a fun, easy, and inexpensive project – DIY Kitchen Towels. These towels make great gifts!
DIY Kitchen Towels, Dish Towels, or Tea Towels
I'm not sure what you want to call them – kitchen towels, dish towels, or towels. Regardless, I'm here to show you how to make them into something special. This tutorial goes over how to take a store bought towel and add something to it to make it your own.
To start, I bought a package of 12 flour sack towels from Wal-Mart for $7.88. Then I added some embellishments. All of these were embellished with things I had on hand, but you could easily pick up a fat quarter stack, some buttons, and a couple of packs of ric rak and embellish all 12 towels for under 20 bucks.
Make Appliqued Towels for the Kitchen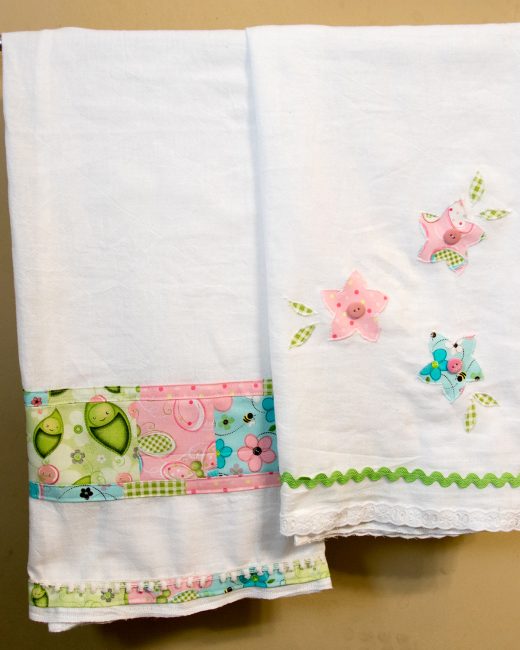 The first pair of DIY kitchen towels I made used a combination of simple strips of fabric, applique, and some trims & buttons from my drawer. For the towel on the left, I cut 6.5″ strips of 5 different fabrics (from a coordinating fat quarter stack), and then sliced them into various widths. I sewed them together, and then cut long strips 1.25″ tall. The smaller strips got attached at the bottom of the towel with a little pom pom trim, and the other two small strips were attached to the wider one, and then sewn onto the towel with some extra top-stitching.
The towel on the right was made with applique. I found a flower outline I liked as free clip-art online and printed it out. I like to use fusible web for applique because I find it so much easier than pinning. It holds the applique in place while I stitch the edging and I don't have to worry about shifting. There are many brands and a few different weights that you can use, but they all work the same. Cut a piece of the fusible web slightly larger than the design you want to applique, and iron it onto the back of the fabric you want to use.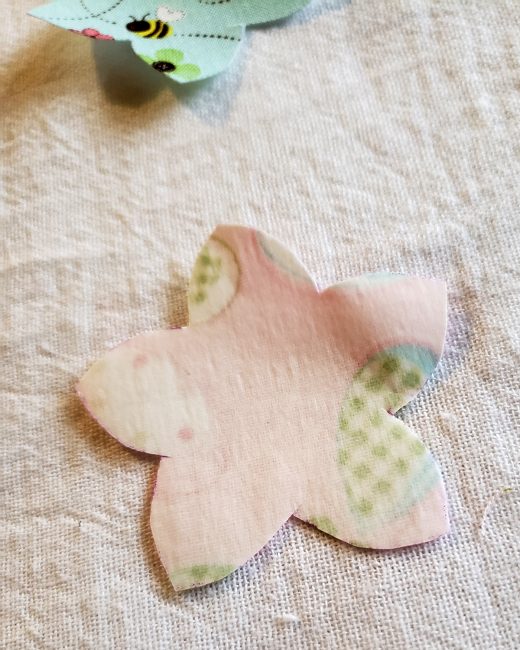 Trace your design; you can use a fabric marking pen or chalk on the fabric, or you can trace it backwards onto the fusible web backing. Cut the piece out, peel off the backing, and then iron them in place on your towel. You'll use a tight zig-zag stitch on your sewing machine around all of the edges. I strongly recommend test stitching on a scrap to make sure your zig-zag has the stitch width and length that you like.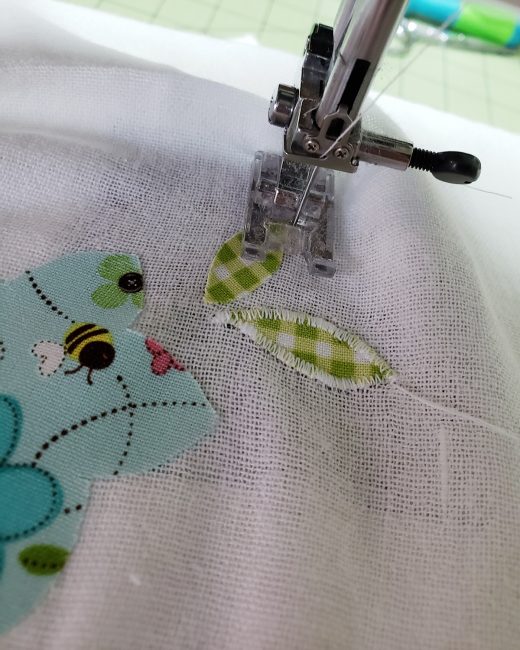 While sewing, be aware of your needle when you need to pivot. It will matter which side it's down on for different shapes. I usually find that my sewing looks neater when I have the needle on the left while I lift my foot and pivot.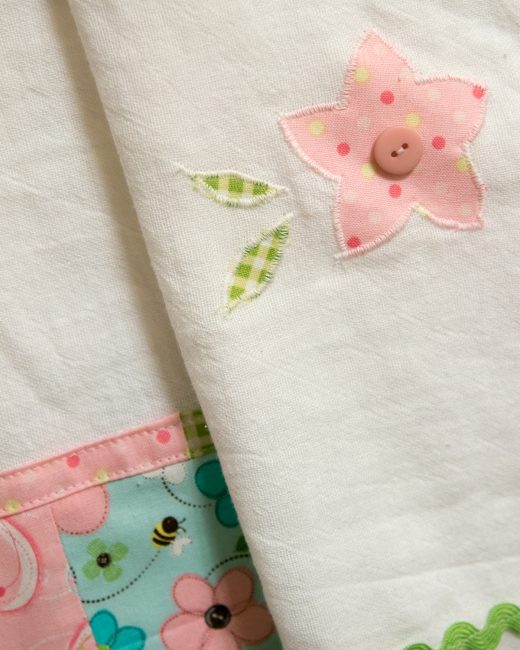 After completing the zig-zagging and any other top stitching, embellish and press. Cute, right?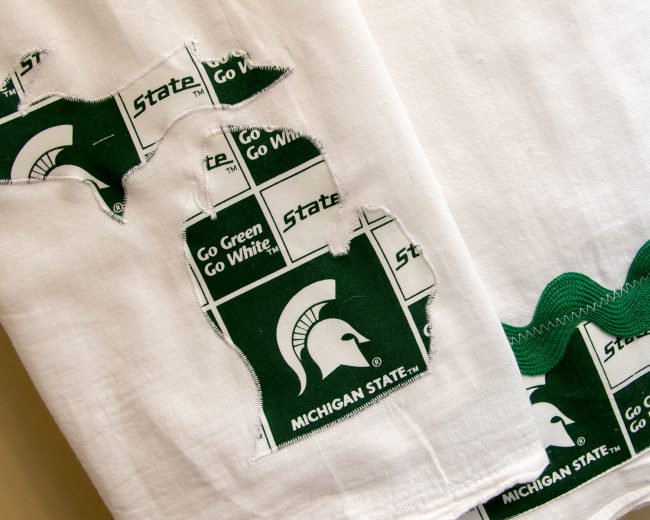 This set is another applique with a simple strip. Super easy and really cute. Those state shapes are so trendy right now, I couldn't resist giving my Spartans a shout out. Go Green!
Make a DIY Hanging Towels for the Kitchen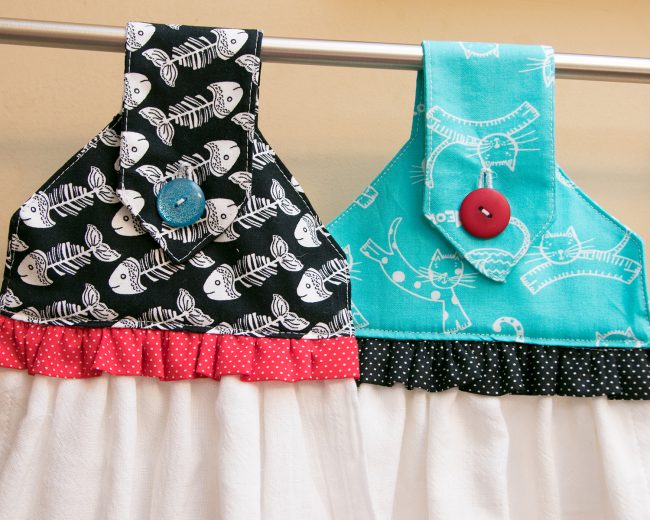 My final set is the ever handy hanging kitchen towel. Between my toddler and my dog, I can't keep towels hanging in our kitchen unless they're firmly attached! I used a free pattern from this blog, but you could probably free hand a simple design pretty easily, too. I did not use the tutorial with the pattern as I really wanted to add a ruffle and didn't use fluffy towels. My flour sack towels were roughly 30″x30″.
I cut two in half, hemmed the raw edge, and then folded them in half. I gathered across the folded edge. So I didn't have to mess with hemming the ruffle, I just cut it twice the size I wanted, folded it in half, and then gathered the raw edge. I cut two pieces of the pattern in the fabric I wanted to use and one in interfacing. I applied the interfacing to the wrong side of one of the pieces and then sewed them up, right sides together, leaving the bottom open. Trim your corners, and then turn right side out, making sure to poke out your corners. Press the bottom raw edge in. Are you still with me? 🙂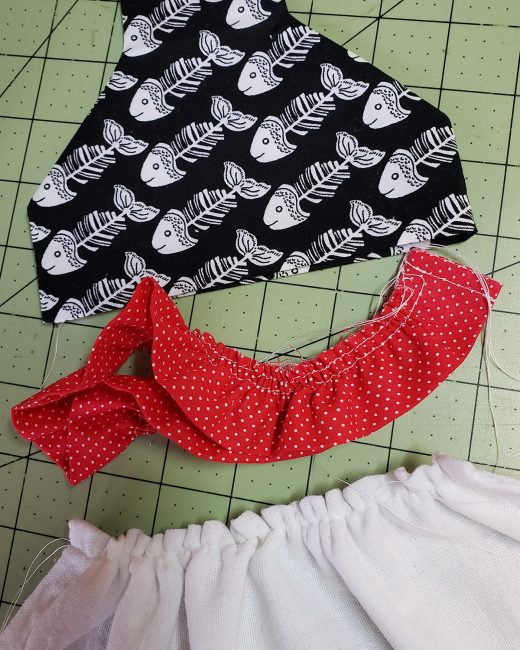 Next, sew the ruffle into a loop. Adjust the gathers on the towel to fit inside the "handle," and then adjust the gathers on the ruffle to fit around the towel. Baste it in place.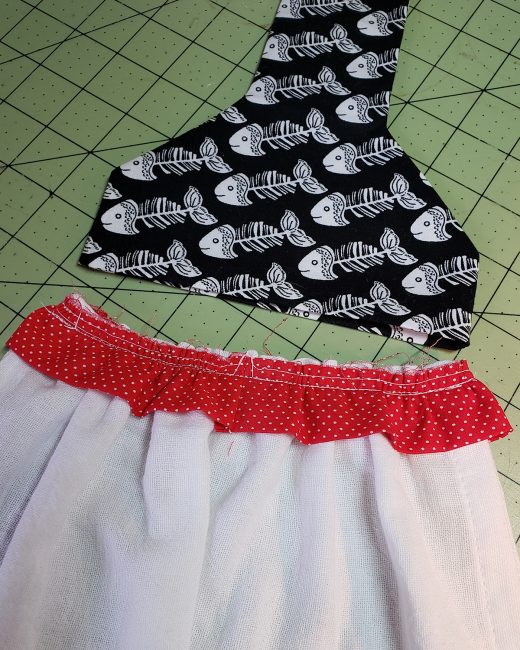 Your final step to the hanging diy kitchen towels is to insert the towel/ruffle combination into the handle, neatly up under the edges you pressed in. Sew across, and then top stitch all around the outer edges of the handle. Add a button and buttonhole (or a snap), and hey presto! I added a strip to the bottom of both sides of these towels, too, because I just love these cat prints.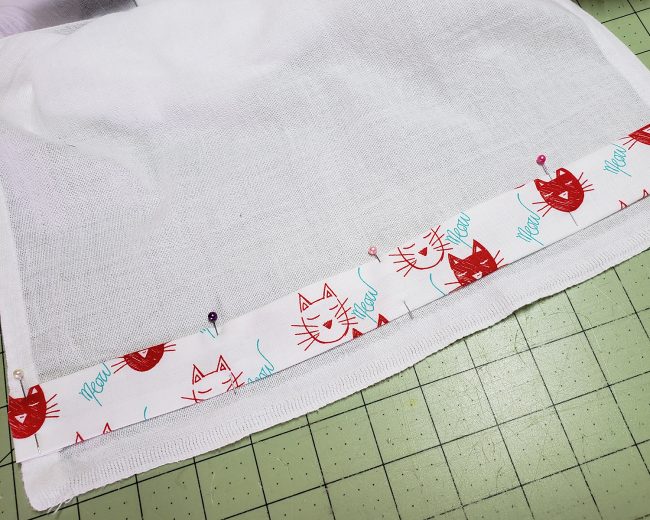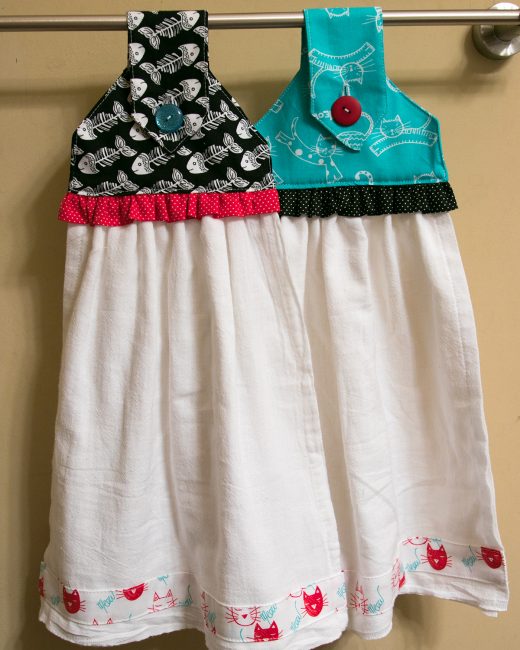 I'll be making a bunch of these for Christmas gifts over the next few weeks. I hope you found some ideas, too! Thank you for joining us to make these DIY Kitchen Towels. If you enjoyed this, you might also like our Vintage Kitchen Towel Tutorial. We also have a fun tutorial for a Half-Handmade Appliqued Tea Towels that you might enjoy.
For your sewing pattern needs, be sure to join us at Peek-a-Boo Pattern Shop. If you need help sewing, come join our Peek-a-Boo Pattern Shop Facebook Group.
Make Other DIY Kitchen Towels or Dish Towels with These Tutorials
We hope you liked Genie's DIY Kitchen Towel tutorial. If you want to make a fun appliqued towel or a diy hanging towel then these are perfect tutorials.
Still, no matter how hard we try there's no way we could cover every way to make a DIY Kitchen towel with this one blog. It's also not something you just need to make once. I don't know about you but at our house we go through dish towels pretty quickly. Life is hard on them.
Here are a few other towels or dish towel patterns from around the web that we think you might like. You can get out your sewing machine, paint, a cricut, or whatever you have laying around the house to make a unique tea towel.
(1) Sew Pretty Dish Towels from More Like Grace
These towels are an easy project for beginners if you can sew a few straight lines. All they require is for you to take a few store bought towels and sew a little bit of ribbon, rick rack, or fabric on the bottom of the towels to give them a unique design. Just like our appliqued towels above, the number of possibilities you can make using these towels are endless.
You can make these as complicated or easy as you want depending on how many things you want to add.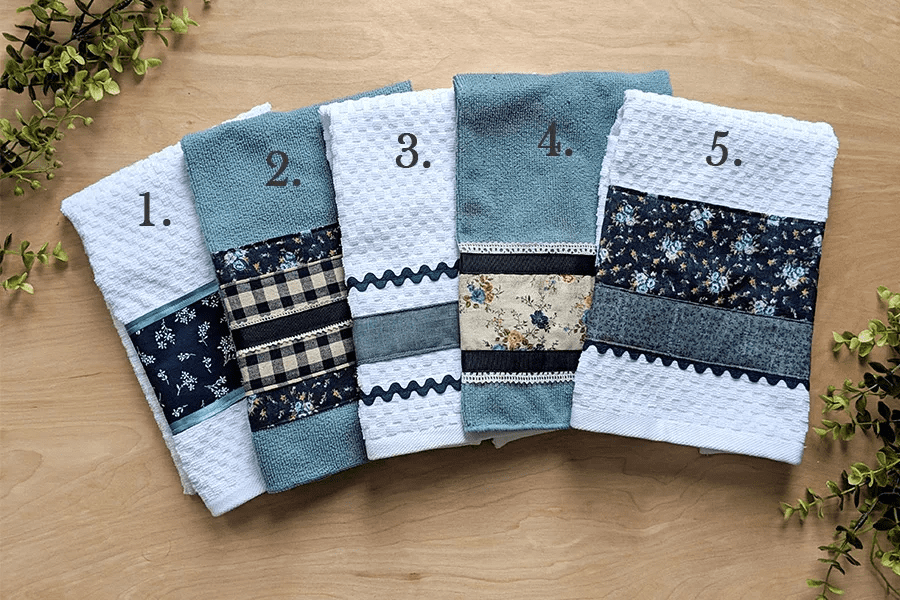 (2) Place to Bloom Embellished Kitchen Towel
These DIY kitchen towels from Place to Bloom are far more fabric heavy but add a little more to the store bought towels than some of the other tutorials shown. Again, these are easily done with some fabric scraps and a sewing machine at home.
(3) Quilted Kitchen Towels from Fat Quarter Shop
These fun hanging kitchen tea towels provide an easy video tutorial that shows you how to take some store bought towels and a couple pieces of your favorite fabric to make a fun, new, customized tea towel for the kitchen. I went through the tutorial and found it super easy to follow and easy to make something fun and unique.
This tutorial also comes with a free template from Fat Quarter Shop. Head over there to download it and get started. The possibilities are endless here.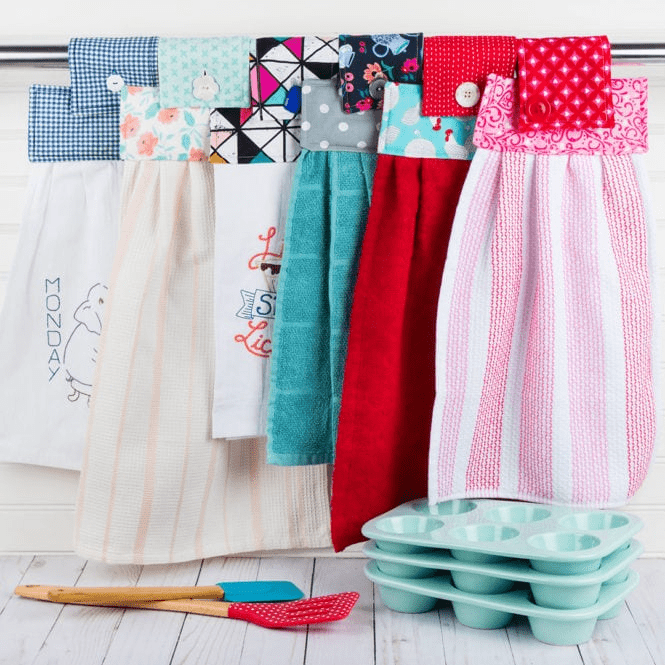 (4) Iron On Kitchen Towels from Mom Endeavors
These towels are different and a little unique compared to our tutorial above and the other tutorials we've been sharing here. These are the first towel tutorial with words on them.
These towels use a Cricut to make an iron on design that you can place directly on the white, store bought kitchen towels. Click on their link for the tutorial and access to their Seasoned with Love design. You can also use the process they went through to make pretty much any design you can think of. If you do a quick search through etsy you'll find a number of fun designs you can make yourself. There are also some shops that you can get custom kitchen towels from through Etsy.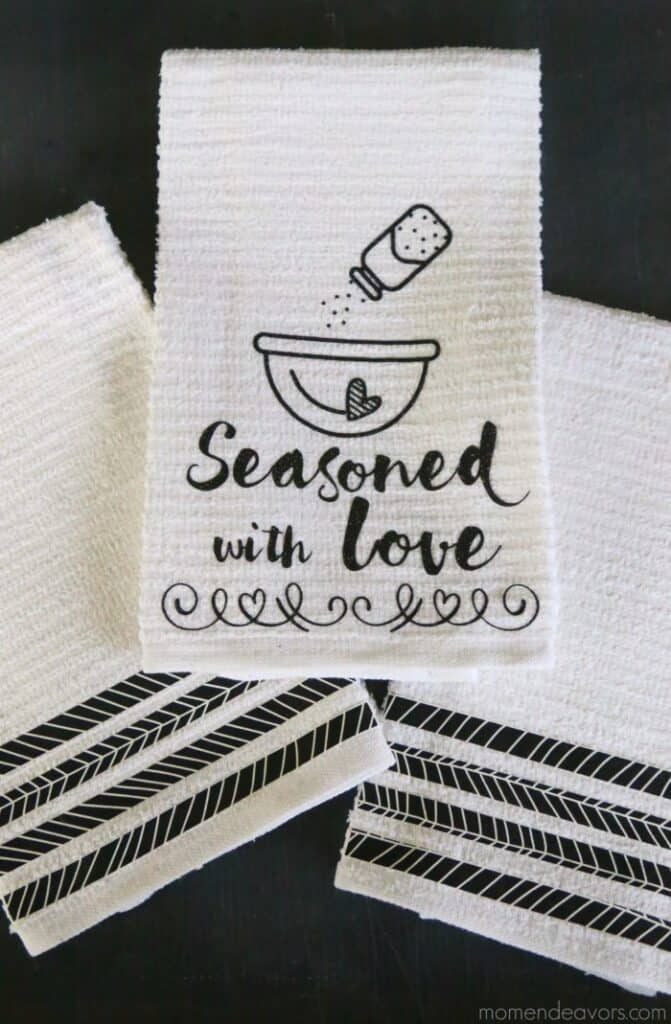 (5) DIY Painted Kitchen Towels
I guess you can make a kitchen towel in about a million different ways. Here, they used the SVG files a little differently than the towel tutorial above.
Rather, Addicted 2 DIY used some SVG files, cut out the designs on their cricut with some vinyl, and then painted these designs onto store bought kitchen towels. You can go to their article to get their SVG files, see their process, and even purchase their towels if you don't want to make one yourself.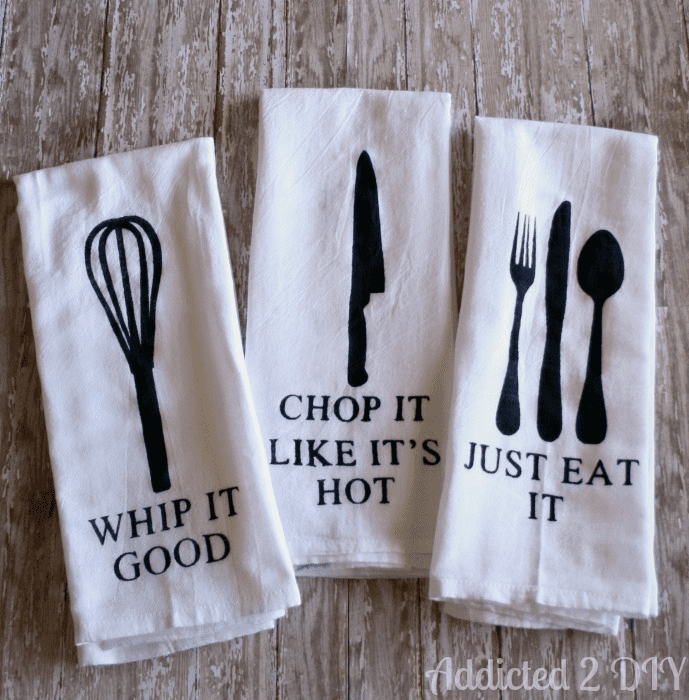 (6) Easy to Make Mason Jar Tea Towels
This tutorial is all about the graphic. They have a free graphic for a vintage mason jar that you can place onto your store bought Tea Towels. This has the perfect shade of blue and vintage lid and great for someone looking for a fun vintage look for their towels.
The rest of the process is pretty simple. They use transfer paper to transfer the graphic to the store bought dish towel. This gives them a unique classy look for very little money.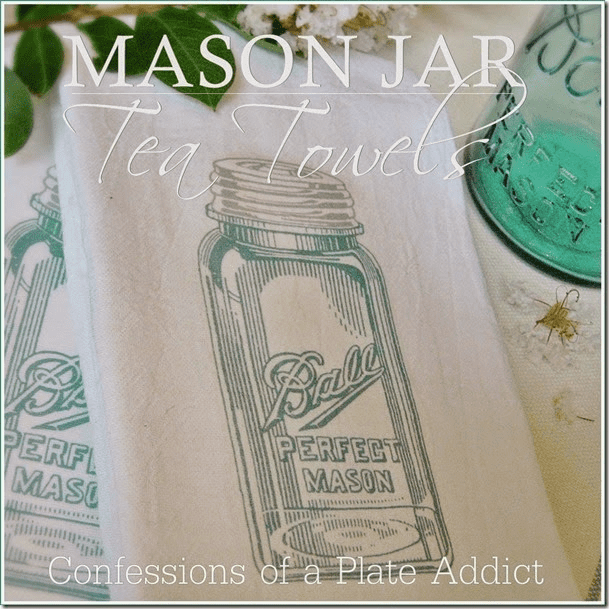 (7) Kitchen Hanging Towel with Hot Pad
The Happiest Camper made these towels up that feature a pot holder and kitchen towel combo. They only take one row of sewing plus a button and make a fun durable towel that can double as a pot holder.
I don't know about you but sometimes its nice to have as many pot holders around the house as you can for getting things out of the oven or putting a hot dish on.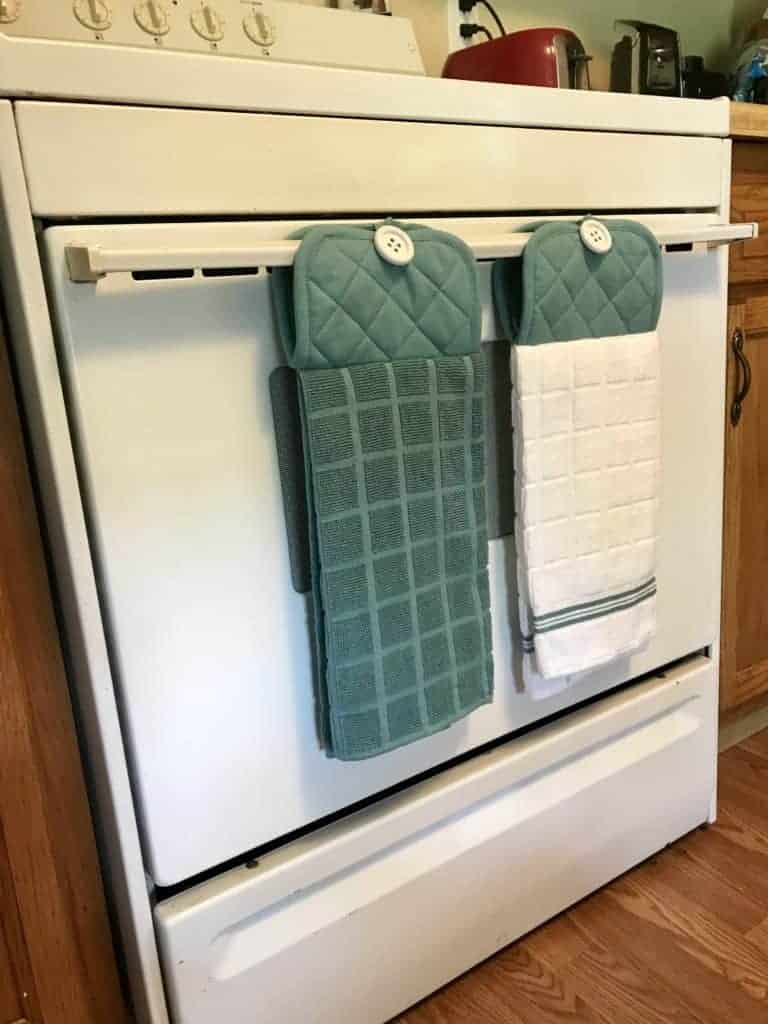 (8) Bunny Ruffle Towel from Jedi Craft
These towels are perfect for Easter. Jedi Craft girl goes into detail about how she made these bunnies with her Sizzix Bunny Die. She also shows you how she uses a ruffling foot to sew the ruffle on, places the bunnies on the towel with her iron, and comes up with the perfect kitchen towel for Easter.
Of course, you can get your own SVG files and use their process to make towels for Christmas, other holidays, or about any time of the year.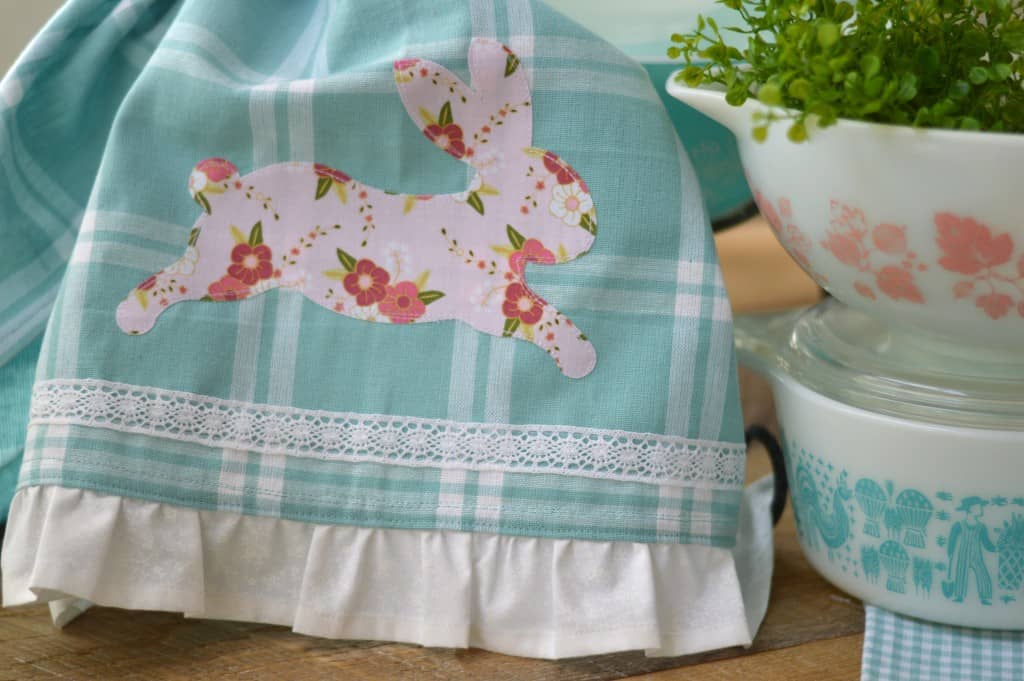 Most of the DIY Kitchen towels on this list just use a store bought towel and add a few things to make it unique. This tutorial actually shows you how to make a tea towel from scratch. They go over proper fabric choices, proper sizing, and materials. After that, there's a step by step tutorial on how to sew a dish towel or tea towel. It even shows you how to properly make a mitered corner. There's also a no-sew method that she links to if that's your thing.
If you're interested in making mitered corners on your towels, we also have an article here at Peek-a-Boo Pages that goes over how to make Mitered Corners on Napkins. The process is similar and sometimes its nice to have a couple different takes on it.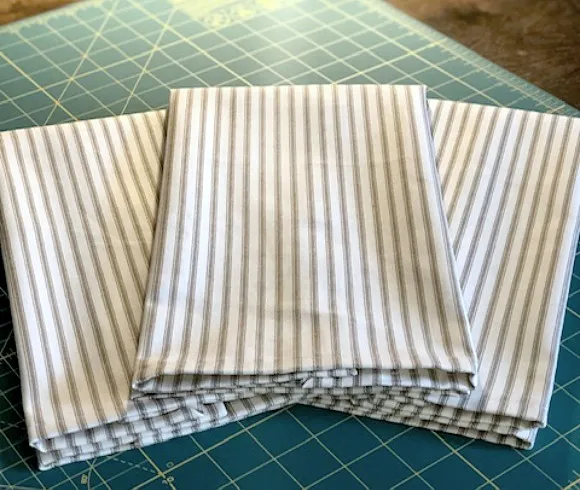 (10) Ruffled Tea Towel Tutorial
Finally, these ruffled tea towels caught my eye. This tutorial goes step by step with diagrams to show you how to make a multi-leveled ruffled tea towel that would be perfect for many kitchens. This takes a bit more sewing than some but their tutorial was very detailed and helpful.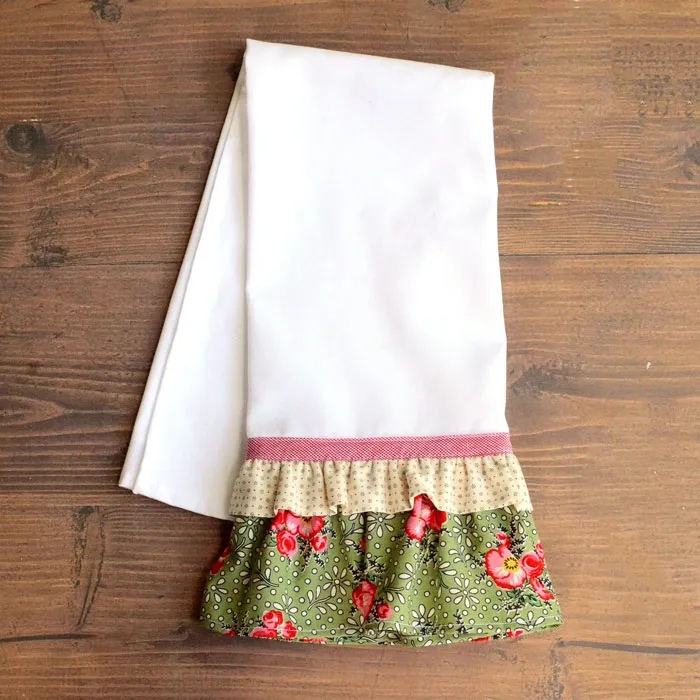 Well, that about sums it up. We've given you our take on DIY kitchen towels and given you a tour around the web to help you find what everyone else is doing out there. We hope you can take what you've seen and make something unique.
Once you do, make sure to come share it with us in the Peek-a-Boo Pattern Shop Facebook Group. Happy sewing!